Detailed guide on how to create a website for an online food ordering system (+ Online ordering statistics)
By

Otilia Dobos

APR 13, 2023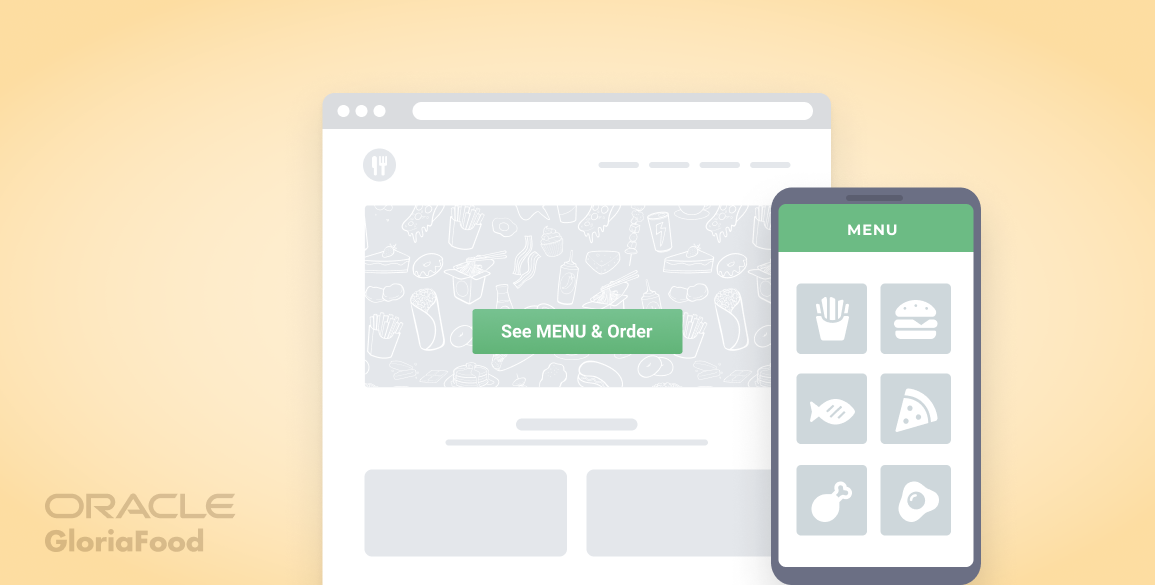 Step-by-step instructions on how to create a website for online food ordering system:
To guarantee online success, every restaurant owner should have an amazing website and an efficient online ordering system. Bonus points if they are perfectly integrated so you can allow clients to place online orders in just a few clicks.
We have the perfect solution that will jumpstart your online restaurant business: a restaurant website builder with an integrated online ordering system.
In this article, you will find statistics about online ordering that will make you understand how important it is to have an efficient system for your online restaurant and detailed instructions on how to create a website for an online food ordering system.
Statistics about online ordering (Infographic)
Your restaurant has a limited number of tables and therefore, can only serve a certain number of clients each day. Thus, if you want to increase your sales, you need the best free online ordering system from GloriaFood so you can sell more food online.
Check out this infographic with must-know statistics about online ordering:

How to create a website for an online food ordering system
As you've seen in the statistics, clients prefer to be able to order your delicious food directly from your website. Give customers what they want by installing an online ordering system with an integrated restaurant website builder.
Here is what you must do to get access to a food ordering website template:
1. Get the best free online ordering system for small business
Register on GloriaFood, go to admin -> Setup, and start completing the required information, such as name, address, contact info, type of cuisine, working hours, available services, payment information, and much more.
All this information will be visible on your website to make it easier for clients to reach you. Therefore, ensure you fill in all the required fields.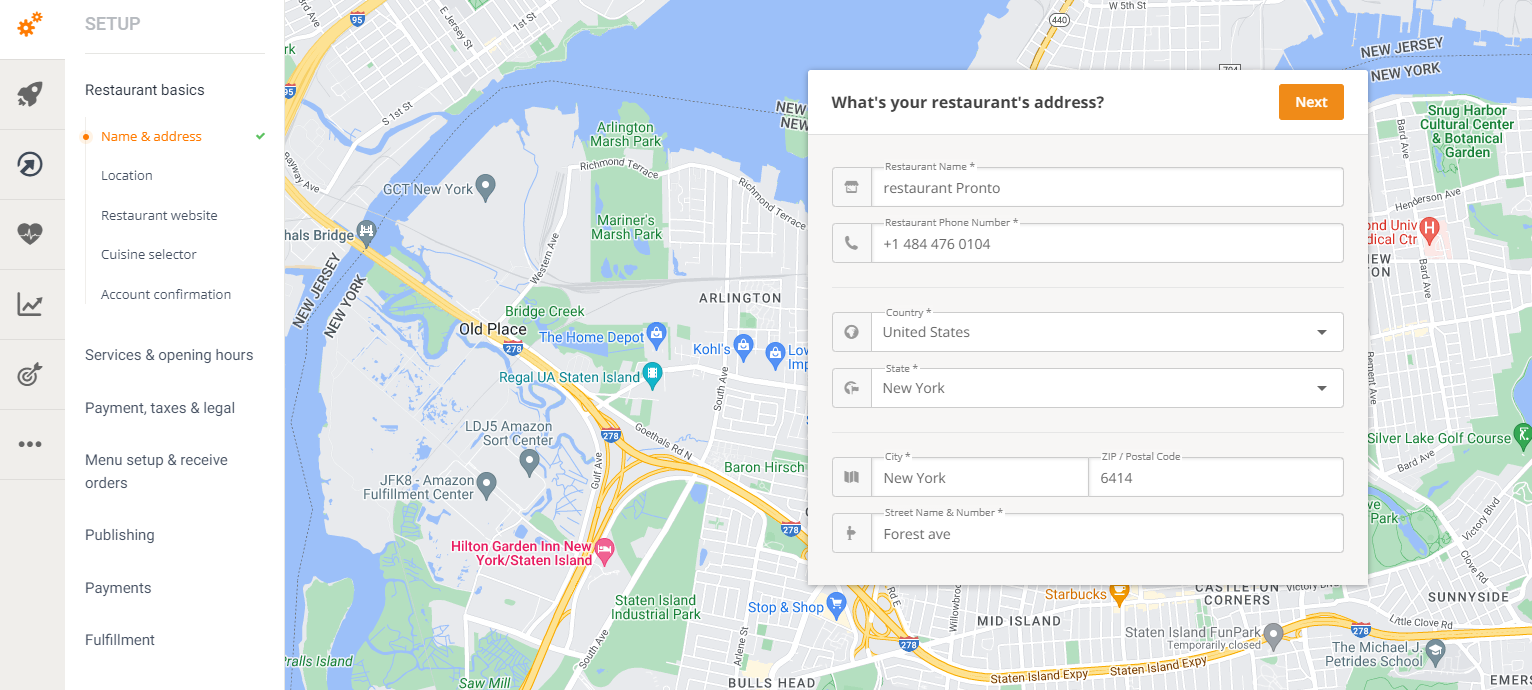 2. Create an enticing menu that makes ordering a breeze
To allow clients to order directly on your website, you need a great online restaurant menu where they can browse your delicious dishes and add them to their cart.
Go to admin -> Setup -> Menu setup & receive orders -> Menu setup, and our wizard will guide you through the simple steps of creating a restaurant menu, such as creating categories, adding menu items, and customizing them.

The process is easy and intuitive, so you can set up the menu and publish it on your website in no time. Check out this video for more detailed instructions:
On top of the basic customization (photos, image descriptions, and minimum order amount), you can also delve into more advanced settings. For example, you can allow clients to personalize the size of their dish and add a bunch of different toppings to their items to increase the profit margin.
Watch this video to learn more:
3. Generate your online ordering website template
How to create a website for an online food ordering system? Simple, you just need 10 minutes! Go to admin -> Publishing -> Sales optimized website and click on Yes and then Next.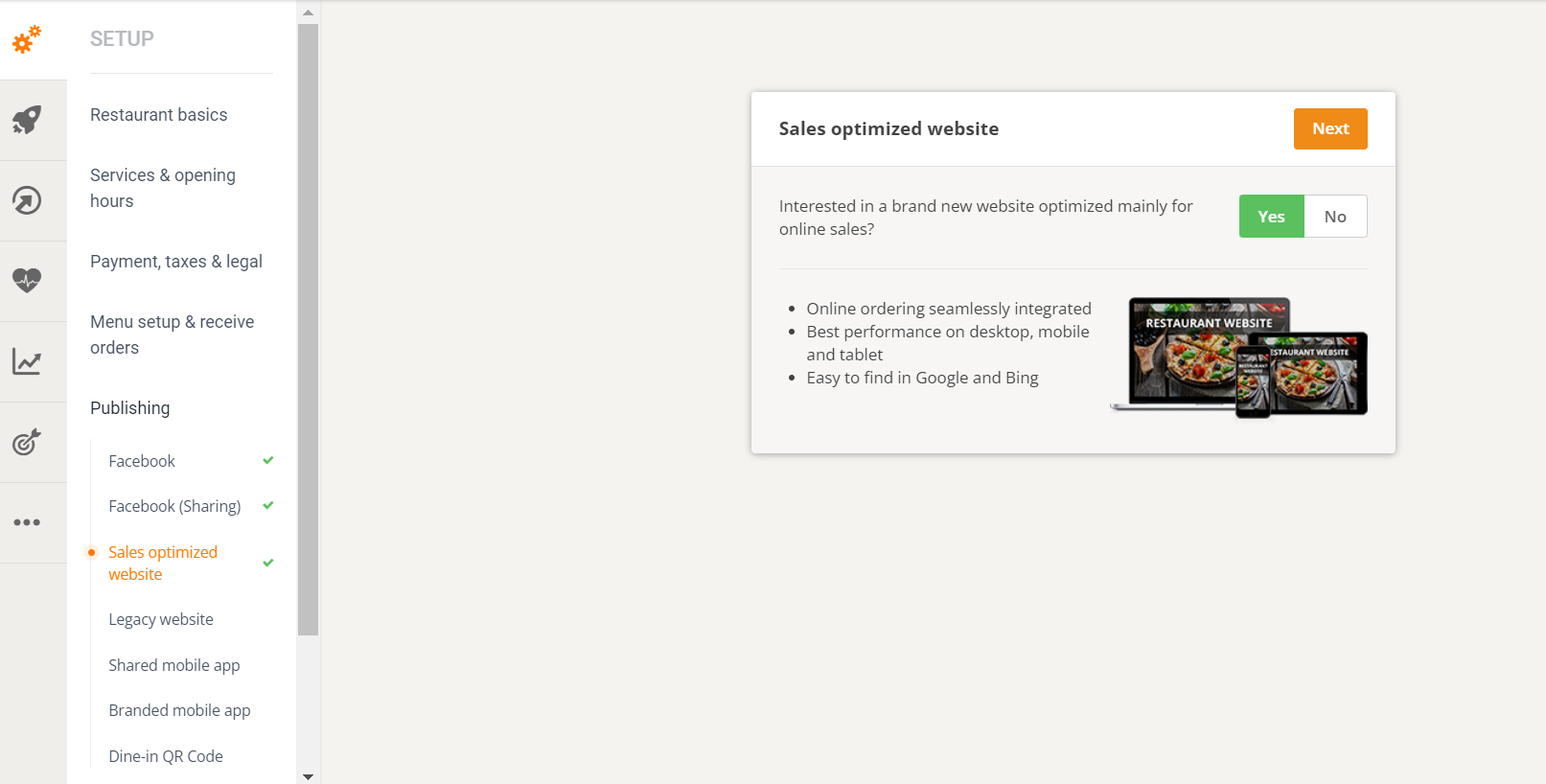 We provide a restaurant website template with online ordering that is personalized with customized SEO-optimized text and keywords relevant to your cuisine that will help you rank high in Google searches.
The restaurant website made with GloriaFood is responsive and loads fast on any type of device, so your clients can easily place orders, no matter if they are using a desktop or smartphone. The one-page design leads customers directly to the menu button to increase conversion.
You can change the logo, pictures, and text and play around with the widgets to add and remove sections on the website. For example, you just need to drag & drop to add a job listings section to attract new employees or a map that directs customers to your location.
Watch this video to learn how to create a website for an online ordering system in under 10 minutes:
Conclusion
Statistics show us that having a restaurant website with an incorporated online ordering system is a must if you want to attract more clients and increase your sales.
Is this the best food delivery website design? We think so! Try it for yourself!