How to ace the restaurant hiring process and get top employees
By

Otilia Dobos

JAN 19, 2023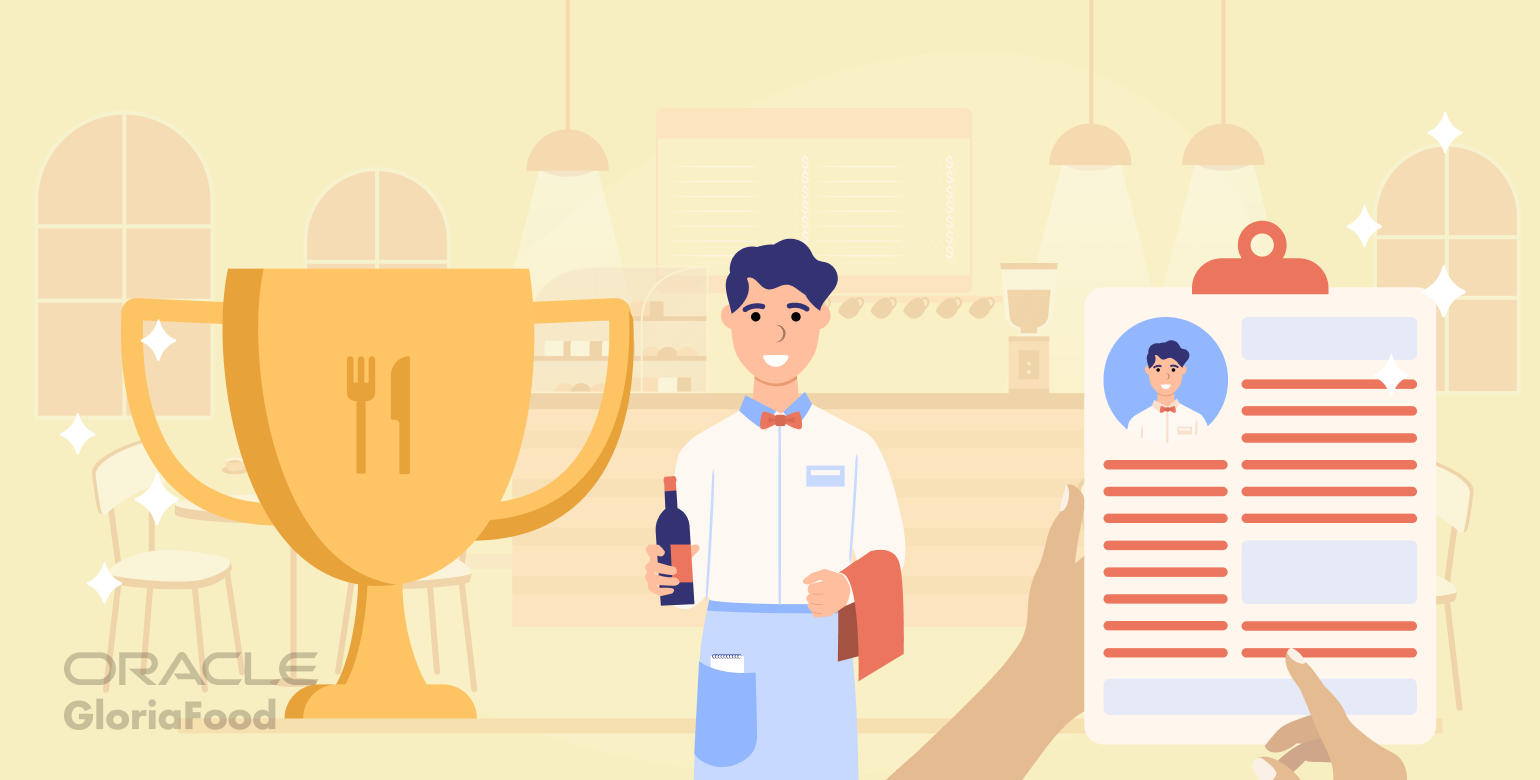 How to hire staff for a restaurant:
It is no secret that the restaurant industry has been facing a job crisis in the last two years. For example, according to the National Restaurant Association, restaurants were still 6.4 % below pre-pandemic employment levels in April 2022.
Businesses have trouble attracting and retaining new staff, leading to a high employee turnover that hurts their profit. But your restaurant doesn't have to fit into the problem mold.
While you may face the same challenges as other restaurant owners, with the right information, you can get productive employees that will help your business succeed.
In this article, you will learn how to ace the restaurant hiring process.
Create an accurate job description
Most restaurant hiring problems start with the job description you use to advertise your job opening to potential candidates. If it is too short, it seems fake or portrays you as an unreliable employer. If you list only a few of the future responsibilities, you risk people quitting as soon as they discover the truth.
So how do you create the perfect job description to make the restaurant hiring process a breeze? Follow this advice:
List employee responsibilities
The first step in the restaurant hiring process is to decide what positions you need to fill. Do you need a waiter, dishwasher, bartender, chef, etc.? Is your waiter also expected to greet people at the door? Is your restaurant manager expected to also confirm online orders?
Don't leave room for interpretation. State the new employee's responsibilities as clearly as possible to prevent misunderstandings along the line. You can chat with your staff working in a similar post to get a better idea of their full duties.
Determine the necessary skill set
You've written down what you want your future employee to do, but you still have to determine how you want them to be. Your job description must have a skill set section that can help candidates realize if they are a good fit for the position.
Answer these questions to find out what the perfect skills for your restaurant and open position are:
Do you require experience? Are you open to hiring seasonal staff, such as students, with no previous work experience and providing them with the necessary training? When you hire waiters for a restaurant, you may not have the same expectation as for a manager. State the level of work experience required clearly!
What is your type of cuisine? Do you own a fine dining restaurant or fast food? For the first, you will look for people who know more about social etiquette, wine pairings, or expensive ingredients. For the latter, you will look for candidates that are fast, friendly, and can handle a stressful environment.
Read more: How to Attract Restaurant Employees to Ensure Your Business's Success
Focus on the benefits
A job description is as much for you, the restaurant owner looking to hire, as it is for the candidates searching for a job. Therefore, you can't just list what you expect from them (responsibilities, skills, experience), but also what you offer candidates.
The description is your chance to convince people to choose your restaurant as a place of work over your competitors. Make sure to include the following:
Accurate salary + percentage of tips if included: don't waste your and their time by holding an interview, only to find out at the end that the candidate will not work for the offered amount;
Any type of insurance included can be a good selling point as insurance, especially health, is expensive. Candidates may choose your restaurant because you show you care about your employees by offering insurance;
Any type of benefits: do you offer lunch on the house? Extra free hours? Mention anything you offer on top of the required compensation;
Restaurant culture: do you celebrate birthdays with a party? Have teambuilding often? Go out as a team? Talk about how great it is to work at your restaurant to attract people to apply.
Read more: How to Build a Strong Restaurant Culture and Increase Employee Retention
Choose the best recruitment channel
You have your job description written down. What is the next step? Publishing it! Where you choose to do so can greatly affect the number and quality of candidates you receive. Here are your options:
Directly on your website
You can't own a successful restaurant in this day and age if you don't have a sales-optimized website. Whenever somebody searches for information about your business (menu, working hours, location, job postings), Google should lead them to your online home: the restaurant website.
Therefore, you need a fully SEO-optimized website through organization, linking, keywords, and much more. No need to empty your pocket or start contacting developers. You can get the best restaurant website from us!
All you have to do is fill in your restaurant information and create a menu to receive access to an optimized website that you can claim to rank high on Google searches and attract new clients. Moreover, it is very easy to use and adapt to your needs.
Make the restaurant hiring process easier with the right technology
Get a sales optimized website to post your job openings
Start now
You get access to countless widgets you can add and move around, including a "Job openings" one. Click here to access a preview website, where you can see how easy it is for candidates to read your job descriptions and apply.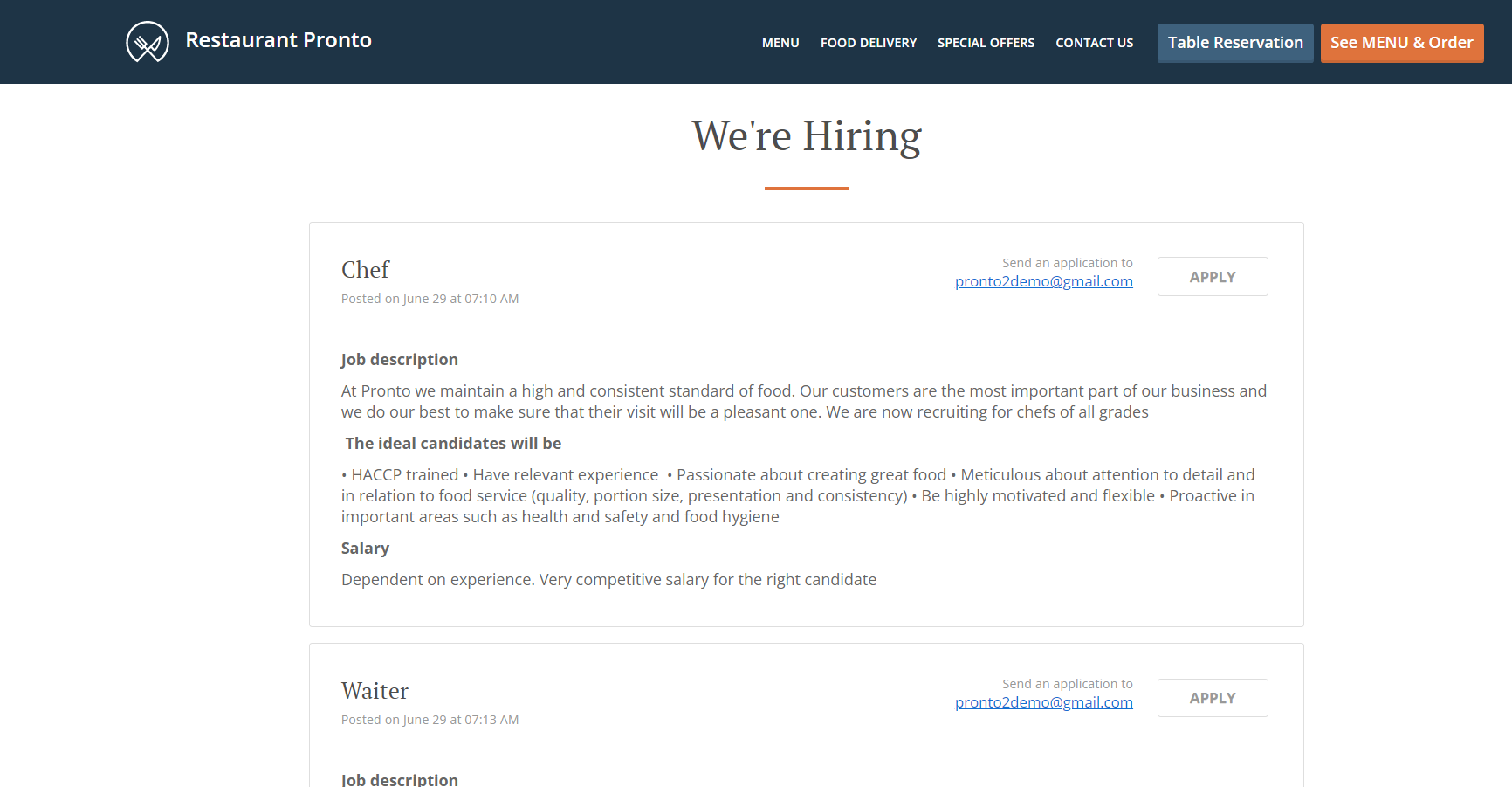 You control every step with no intermediaries. Compared to other recruitment channels, this will create trust with your candidates as they apply on your official restaurant website.
Attract employees on social media
People spend a big portion of their time on social media, so it makes sense to promote your job openings there. You may even discover that your future employees are long-term followers of your restaurant's Facebook, Instagram, or TikTok page.
There are three ways to post your job availability on social media:
An organic post: in addition to regular food photos, you can create a catchy post advertising the available job. Because it is organic, it will only reach your followers, so you may not get the desired number of applicants. Go for an out-of-focus image of your restaurant's interior with the text "Waiter wanted" or "Chef wanted" on it. Keep the description short and send people to your website to find more details about the job;
A sponsored post: you can pay to promote the organic post you created before to a larger audience. For the best results, select the age group you would like to hire and the area around your restaurant as the targeted audience;
In dedicated groups: this only works on Facebook, where you can find groups dedicated to people searching for jobs in your area or maybe even the restaurant industry. Even if you post the entire job description on social media, encourage people to apply on your website. This way, it will be easier to organize, and you won't miss out on good candidates because you didn't see their Facebook messages.
Try job aggregators
This is the classic way to approach the recruitment process in the food industry, but it usually comes at a price. The job platform may charge you, as a recruiter, to post jobs. To ensure your job posting will attract candidates, do the following:
Choose platforms active in your area: countless job aggregators like Indeed, Adzuna, and Glassdoor are out there, but not all are efficient in your location. Check the other job listings to see the most often used locations and notice if there are many posts related to the restaurant industry;
Check out the competition: where do they post their job openings? You can try using the same platforms to see if they work for your restaurant.
Have all candidates apply in the same place: it can be hard to keep tabs on all job applications if you have to log in to different platforms to see them. Instead, have candidates apply directly on your website or by mail so you can centralize all the information and choose the best option.
Read more: Restaurant Staff Hiring: How to Recruit & Onboard New Employees
Create an interview outline beforehand
Just like you are interviewing several candidates before choosing one, so are potential employees applying for a job at your competitors. Time is money, especially in the restaurant industry, so it shouldn't be wasted on either side.
Use outlines to help you organize and get a new employee in a timely manner! Set a time frame for the job opening to be up on the website, let's say two weeks. Afterward, give yourself a week to review the CVs and choose the best fit.
The next step is to call the selected candidates for an interview. Schedule each one for half an hour or an hour and prepare yourself with questions. This way, there won't be any awkward and unproductive silences, and you will be able to find relevant information from the potential employees.
Here are a few ideas for useful interview questions that aid the restaurant hiring process:
How would you react in the following scenario? Then begin to describe a real case your employees faced in the restaurant.
Have you worked in our type of cuisine before? Working in a fast-food is different from working in a more traditional restaurant, so their experience may not be relevant.
What are your career goals? If they hope to get hired in a different field, you will know they won't last long in your restaurant.
What is your availability? Ensure there are no scheduling conflicts.
Tell us about an event in your professional life where you proved a "certain characteristic." It could be teamwork, proactivity, problem-solving, etc.
Offer training before the start date
Even if the newly hired employee has experience or not, they haven't worked in your restaurant before. If you want the new addition to work with you for a long time, you must offer them proper training.
This way, they know what is expected from them from the start and will be able to provide the service you desire. Furthermore, training can help them adapt quickly and will decrease the chances of them quitting and you having to go through the restaurant hiring process again.
Besides the necessary health codes and safety protocols training, you should include the following:
A shadowing day: in addition to a document with written procedures, allow the new employee to shadow a veteran to see how things work in the restaurant. It is easier to learn by seeing it in action rather than reading about it;
Problem-solving training: this should be done periodically for all employees, but it is especially useful for new hires who don't know how everything works yet. List all the previous problems that have been encountered in the restaurant and how they have been solved. Anything from angry customers, faulty POS, or wrong orders should be handled.
Read more: How to Develop a Highly Effective Restaurant Training Manual
Conclusion
The restaurant hiring process can seem scary, especially in the current climate. But it shouldn't be. If you start with a complete and truthful job description and post it on your sales-optimized website and social media, the hard part is mostly over.
All that's left to do is hold interviews with the help of some standard questions until you find the right employee for your restaurant. Ensure you offer the proper training at the beginning to keep the restaurant attrition rate low.