Why you need to have a restaurant with online ordering [Plus a HOW-TO blueprint]
By

Silvia Palasca

FEB 13, 2020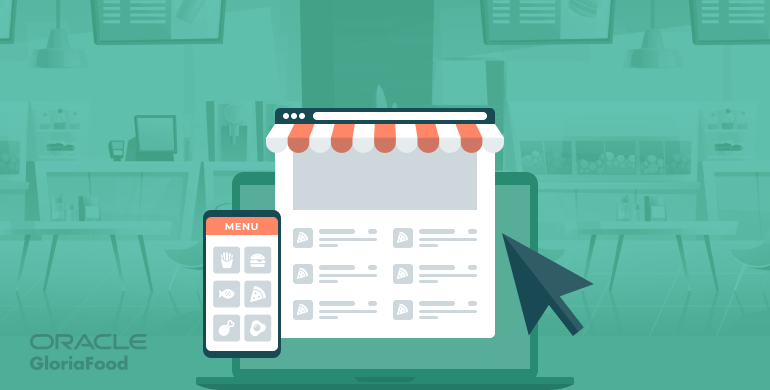 Online ordering for restaurants is has become common practice, people are spending less time cooking, and prefer to utilize it on the things they like and need. Even though dining out can be a wonderful experience, some people prefer the comfort of their home or workplace so they search online for restaurants that deliver. Here's where you come in: a restaurant that offers online ordering.
Why You Need a Restaurant with Online Ordering and How to Get One
1.

The How:

2.

The Why: you get to enjoy the following benefits:
Why You Need a Restaurant with Online Ordering and How to Get One
According to statistics, 34% of US customers spend at least $50 on a meal, and more than half of consumers order takeout at least once a week. Individuals often order takeout because it makes their life easier, it's more convenient than going out plus there is no need to do the dishes after.
1. Get an up-to-date website
A modern restaurant website with an integrated food ordering system, a specialized food-ordering app, or a membership to a third-party online food delivery app like Uber Eats, Caviar, or GrubHub are all options for restaurants to receive online orders.
We suggest building, optimizing, and regularly updating your website. Use it as a central location to accept online restaurant reservations and orders. You don't need anything fancy, keep it simple, people just want to order good food fast. A good website should appear on the first page of Google in your neighborhood for a search like "restaurant with online ordering near me". Your restaurant ought to appear among the top 3 results when customers search for keywords, such as the kind of food you serve or specific meals. This indicates great SEO (search engine optimization) practices. You can hire a business or a freelancer to assist you in making the most of your existing website. Ensure sure it complies with SEO guidelines and obtains quality backlinks from other pertinent websites, such as blogs or news sites.
If you only have a Facebook page for your business, you are in a vulnerable position. You might be tempted to outsource the ordering and delivery system. Stop procrastinating and invest in your web presence as well as a reliable delivery system.
With the help of the Gloria Food Restaurant website builder, you can quickly get online and have a site that is SEO-optimized. The website is already designed to rank highly on Google, and it complies with the most recent trends to provide your users with a simple and enjoyable experience. It's comparable to getting a free restaurant ordering app.
Learn more: Must-Have Restaurant Website Features
2. Own your restaurant's online ordering system
As a restaurant owner, you need to know there are several ways you can upgrade your restaurant with an online ordering system. Only one of these can offer you all the advantages, with no drawbacks. As you can probably guess, it requires some initial effort but eventually leads to genuine growth and success.
You might be tempted to use a well-known online food ordering platform like Glovo or Uber Eats to outsource this process. This just makes these companies richer while you work hard and accumulate negative reviews that have nothing to do with your food.
The primary fear here is that you won't be able to configure software because you know more about food than you do about computers, and hiring a developer is expensive. You are not the first restaurant owner to have these concerns and we've already found a solution for them.
The solution we propose is either building a new page with an integrated ordering system for your restaurant onto your existing website or adding a restaurant ordering system software to it. This is possible with the GloriaFood system, which transforms your smartphone into a free restaurant ordering app.
Learn more: How to Set up Online Ordering System for Your Restaurant's Website
Looking for a restaurant website with online ordering already integrated? Find out how you can make one with little technical skills by watching this video tutorial.
Get your first online orders within minutes
Your customers will love you for adding this feature
Get Online Ordering Now
3. Learn from data
Having excellent chefs and creating top-quality food is just a part of a restaurant's success story. To be ahead of your competitors, you need to look at the data and come up with the right propositions.
Do you know what the most ordered item from your menu is? Which dish makes you the most profit? How many portions of each item do you sell every week so that you can negotiate with your suppliers? What is the average value of an order? All these are essential business questions that can make a difference for your revenue.
An online ordering system should come with an integrated dashboard that can give you answers to the previously mentioned questions and many more.
Restaurant analytics can also help you manage your employees more effectively by displaying more pertinent data, such as the busiest days or rush hours.
If you use a third-party app, all this data is in their possession, and you are merely carrying out their requests while getting no genuine insights. You won't know how to expand your business if you don't have access to data or don't care about it. You will be continuously doing the same thing until competitor with cheaper prices comes to the market and replaces you.
Learn more: Restaurant Data Analytics Tips
Benefits of Online Ordering for a Restaurant
Get to know your clients better
Being in charge of your restaurant's online ordering system means that you have a list of what customers order and how frequently they order it, allowing you to develop targeted business strategies to expand your restaurant.
The contact information of the client is concealed by third parties. As a result, you can never be sure who is placing what orders. You may discover that the same customers routinely place orders if you manage this system yourself, in which case you may opt to reward them with special restaurant promotions.
Having access to all of your customers' data enables you to be a little more personal, such as by recommending complimentary products to them. Imagine gifting their favorite pizza sauce on the house on their third order or saying, "Happy Birthday!" with their favorite dessert.
Cut out the middleman, improve reviews
Customers who purchase using a third-party app, such as GrubHub or Doordash, are aware that you are not responsible for completing their orders, yet if their burgers arrive already cold, they will still post a poor review on your restaurant's social media pages.
Using a restaurant ordering system software on your website, you will have rely on members of your staff to make delivers or you hire a delivery service. However, you will at least have full control over this aspect.
Stop paying commissions
Just look at the numbers if you want to believe that working with a third-party food company is a good deal. You will quickly start looking for an online ordering system for your restaurant when you realize that once you sign up for these systems, you are forced to work harder, charge your customers more, and make less money.
If you want to avoid these problems altogether, keep in mind that all third-party online apps like Uber Eats, take between 30-50% commission for each order as the middleman. Some of these services also keep the tip, if any. When you do the math, all that money could quickly pay for the delivery personnel's salaries and still make you some profit.
Create a seamless ordering process that attracts clients
Install an online ordering system to your website for free
Start now
Give it a try
Remember that your online ordering system is your primary or secondary source of business. As a result, it plays a crucial role in your overall strategy. The key takeaway from this experience is to manage your online orders, have a simple and user-friendly website, and monitor your statistics to identify opportunities to expand your business.
By simply setting up a restaurant with online ordering functionality, such as the free system from GloriaFood, you can accomplish all these things and much more, such as take online restaurant reservations.