How to Set up Online Ordering System for Your Restaurant's Website
By

Silvia Palasca

FEB 29, 2020 (Updated: Jul 28, 2023)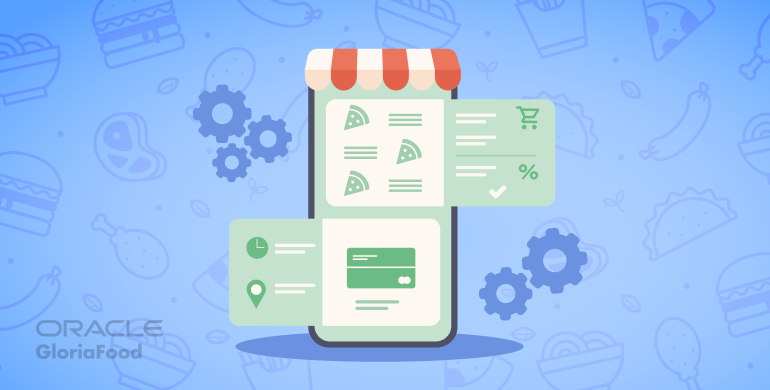 How to install the best online ordering system for a small business:
Despite the many crises the restaurant industry has faced lately, the revenue in the restaurant-to-consumer delivery is predicted to reach $124.80 bn by the end of 2023. If you want a share of the success, you need to find out how to set up an online ordering system on your website.
Luckily, it is easier than you think. In just a couple of minutes, you can start increasing your revenue by selling your amazing food. We'll guide you through each step so you can accept online orders by the end of the day.
How should a restaurant menu ordering system be?
The best online ordering system is a natural extension of your restaurant's website. It follows your branding, offers an intuitive interface, and minimizes the pain associated with paying.
Bespoke look and feeling
It would help if you had a tool that you can easily tailor to your needs. The online ordering system can be part of your website, much like a webshop, or it could be a standalone app. Whatever technical solution you choose, you should be able to make it follow your branding. Add your logo, change the colors and even the fonts, and use your pictures, so that your clients feel no transition from the website.
Related article: Hire a photographer
Seamless integration
Online food ordering is just a step in a much larger process. The solution you choose should be easy to use with your POS to allow clients to pay with their credit cards or online tools like PayPal.
Once the client has placed an order, a good system will allow you to automatically process your orders and retrieve the online menu.
Some restaurant owners will look for integrations with other selling platforms like Facebook or Google My Business.
No hidden costs or fees
While third-party providers let you use their platforms for a commission, which is either a flat rate or a percentage of each order, having your own online ordering system should cost significantly less.
One option is getting a custom-built solution that will be more expensive upfront and have maintenance costs.
The other, budget-friendly solution is to sign-up for a free online ordering system for restaurants like GloriaFood. You only pay if you need additional services, and most of those are not more expensive than a pizza a month.
User-friendly
Online food ordering websites should always consider the journey of their potential visitor. At every step, from selecting the food categories to adding extras (bread, sauce, etc.) and paying, the interaction needs to be comfortable and user-centric.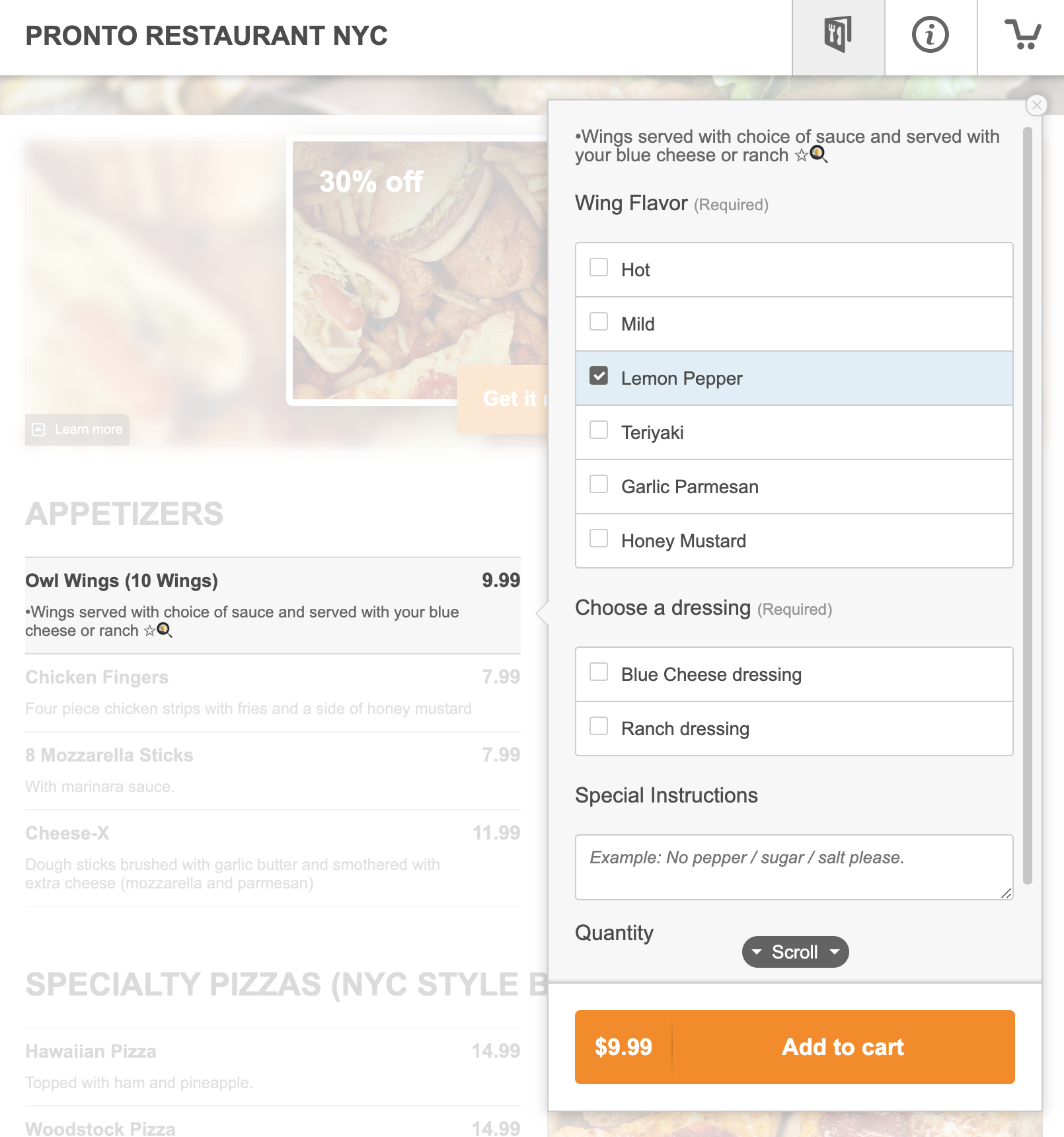 Always use pictures to help your visitors decide what they want faster. After the client has chosen the main dish, display the extra options for upselling and the suggested drinks or desserts for cross-selling.
Read more: Why Food Photography Is Important
Offer to remember their details and log-in credentials to make ordering easier next time. Send all order details via email so they keep track of every order they make.
How to add online ordering to your website
As we've mentioned before, there are two options to turn your restaurant's website into a digital order-taking portal. The first and very expensive one is to hire a team of developers to create a tailored system that can set you back a few thousands of dollars and also requires constant maintenance.
Are you wondering "how to set up online ordering for my restaurant"? The solution we advise you to consider is an out-of-the-box, free online ordering system with an intuitive interface and excellent integration options, like GloriaFood. This way, you risk nothing and can grow your business starting today.
First, create a free account and provide details about your address, operating hours, the type of cuisine you offer and more.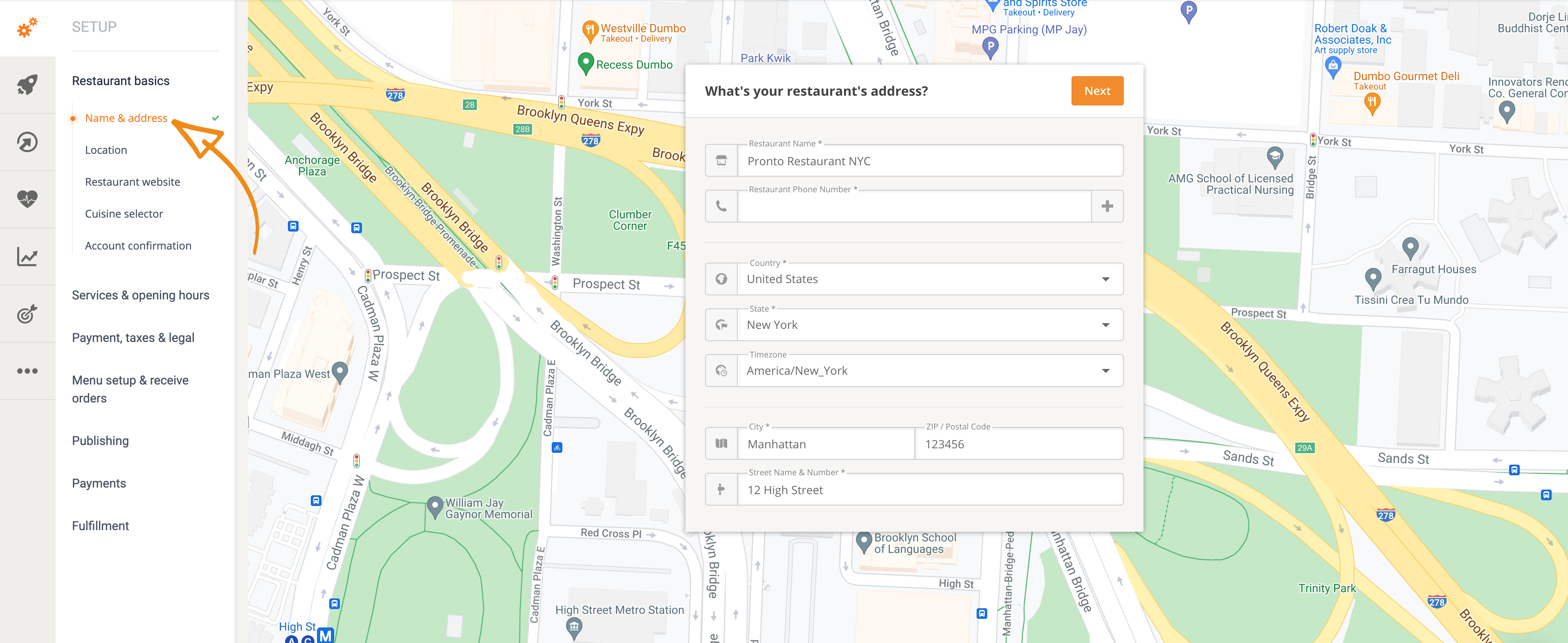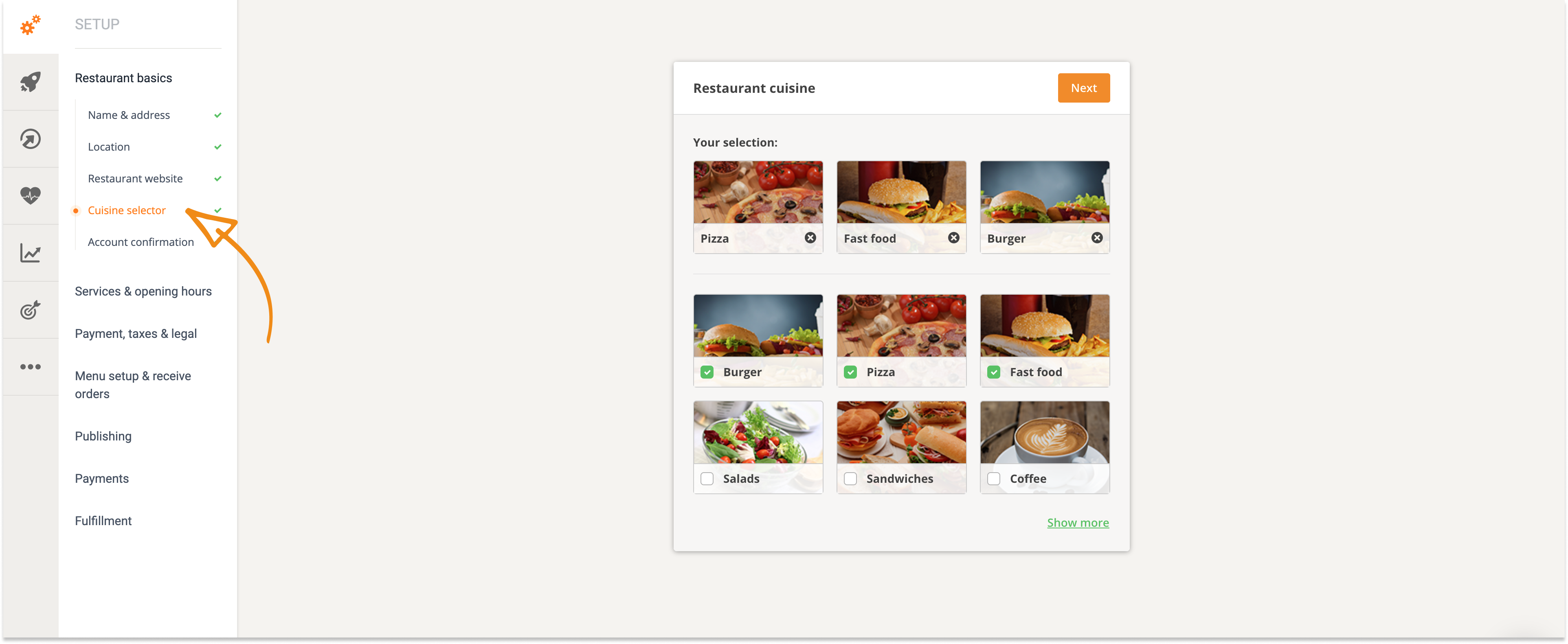 The platform then asks you details about the areas you deliver to and the fees associated with different distances from your central catering location and if you take reservations.

Next, fill in the menu list with your dishes, ingredients, and prices. Don't forget to add an appetizing image to each of them to help your patrons decide faster and maybe order an additional dish just because it looks delicious.

After you've created representative categories and added your dishes, you must know you can further personalize your menu items to increase sales. For example, you can offer different sizes for a dish (small or large pizza) or allow clients to customize their items with toppings.
Check out this video to learn how easy it is to increase your profit margin with personalization options:
Furthermore, if you change your menu often, you can create a different menu for each weekday. Also, if you cater to different allergies or preferences, you can mark your dishes as Hot, Vegan, Vegetarian, Gluten-free, Halal, Nut-free, Dairy-free, or Raw.
What's more, if by the end of the day you run out of certain ingredients and can't prepare a dish, don't disappoint customers. Just mark the menu item as Out of Stock to let clients know it is no longer available.
Learn more about how to use the advanced menu settings available with this online ordering system for small businesses:
Once your menu is ready, a code will be generated. Copy and paste it on your website to create a button for online ordering.
If you also need to customize your order button, check out our dedicated video below:
You can modify the menu as many times as you want, free of charge, and the changes will be immediately visible on your website. If you don't already have a website, you can request a SEO-optimized restaurant website from admin.
The sales-optimized website you will get from us is perfectly integrated with the online ordering system. Therefore, you create the perfect restaurant customer journey: ranking high on Google -> more potential customers -> website that converts visitors to clients -> easy way to place online orders.
You are almost set. The only thing you still need to do is to download the free restaurant ordering app on your restaurant's smartphone or tablet and start serving clients.
Tips and tricks for having the best online ordering system on the market
There are a few ways to take advantage of this free online ordering system for small businesses beyond the streamlining of online orders. Check out these amazing GloriaFood restaurant features that can help you improve your profit margins:
1. Use promotions to increase order value
Since people who use these apps are already in a buying state of mind, tempt them to spend more. Create special offers or tell them to add something of low value such as a sauce for their pizza or a soda for free if they order a second dish or a dessert. Additionally, offer free delivery over a certain threshold.
Check out the tried-and-tested promotion templates that can be customized for a variety of purposes: attracting new customers, encouraging clients to order again and increasing order value.
This video will show you how to add a promotion to your online restaurant menu in seconds:
2. Send customers discount coupon codes
You can easily create a restaurant promo code that you can send online or print on flyers to increase your restaurant's visibility. Here's how:
This online ordering system is also equipped with the Autopilot module that takes care of all your SMS and email marketing campaigns. The feature segments clients according to their purchasing history to deliver them relevant campaigns.
Learn how Autopilot can bring you more repeat customers:
3. Monitor your restaurant's success
This online ordering system has an integrated restaurant analytics module that allows you to monitor how your business evolves over time. Furthermore, the Reports feature provides tips on how to constantly improve your restaurant, such as get more visits to your website, attract more customers, and retain them.
Final thoughts
We live in an era where restaurant visits are declining, and online orders are surpassing phone orders. Sooner rather than later, restaurant owners will be asking how to set up an online ordering system to avoid losing their clients. It's no longer a price war; it's about convenience and user experience.