Implement these 10 best restaurant promotions right now to increase your sales
By

Otilia Dobos

MAY 23, 2023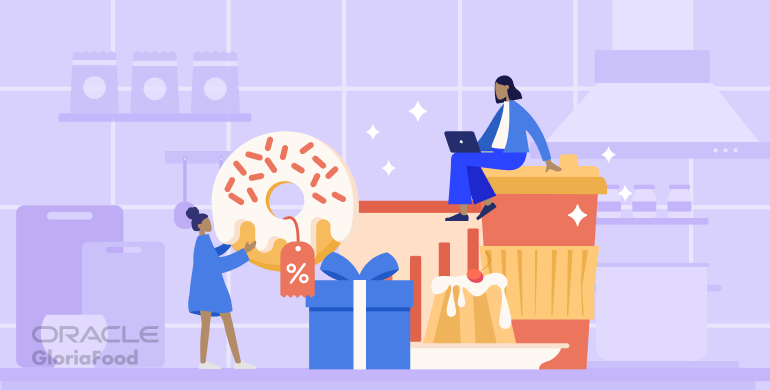 Restaurant offers ideas you must try today:
Adding deals to your restaurant menu is a common marketing technique and for good reason. Attractive offers can transform your business into a money-making machine in a short time.
Are you looking for the best restaurant promotions right now that you can use to attract more customers, incentivize clients to order again, and increase your order value?
Look no further, this article has all the answers you are looking for. Read on to find effective restaurant promotions and how to easily add them to your menu.
10 best restaurant promotions right now
Restaurant promotions change over time, just like people's preferences. You must use deals that persuade more people to buy without cutting into your profit. Here are some of the best restaurant promotions right now:
1. Free delivery
Free delivery is one of the most popular restaurant promotions today. When potential clients have to decide between a restaurant that has a free delivery promotion available and one that doesn't, they will pick the one with the deal most times.
Furthermore, it is the type of offer that encourages people to spend more. Always pair the promotion with a minimum order amount such as $60 to tempt people to add more dishes to their order, so they can take advantage of the deal.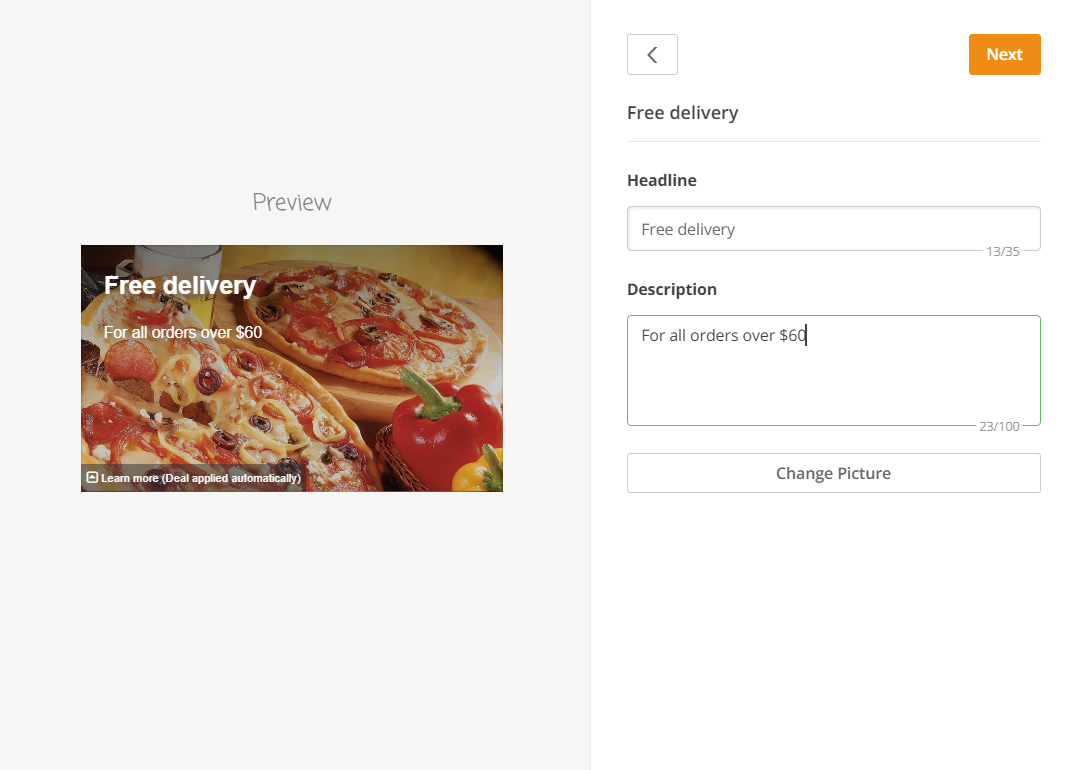 2. 5% discount on cart
One of the best restaurant promotions right now to persuade people to place the first order is to offer a discount on the whole cart, be it 5% or more. With our online ordering system, you can customize the deal to only be available to first-time clients.
Increase your sales with the best restaurant promotions right now
Add them to your menu in seconds with our online ordering system
Start now
You can also create a rewards system with promotions. For example, make a 10% discount on cart promo that can only be redeemed by people who have already placed three orders.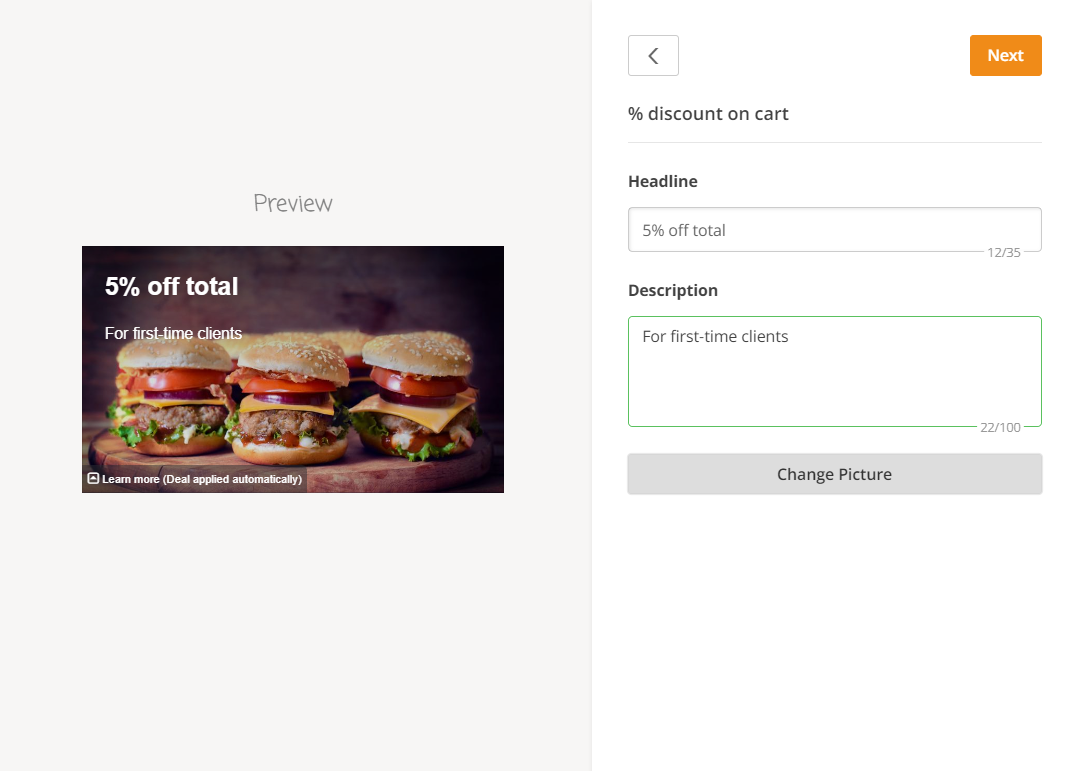 3. Buy one, get one free
Every restaurant has dishes that sell very well and menu items that usually get ignored. You can encourage people to order the least bought items by adding a buy one, get one free promotion. For example: buy one muffin and get one for free.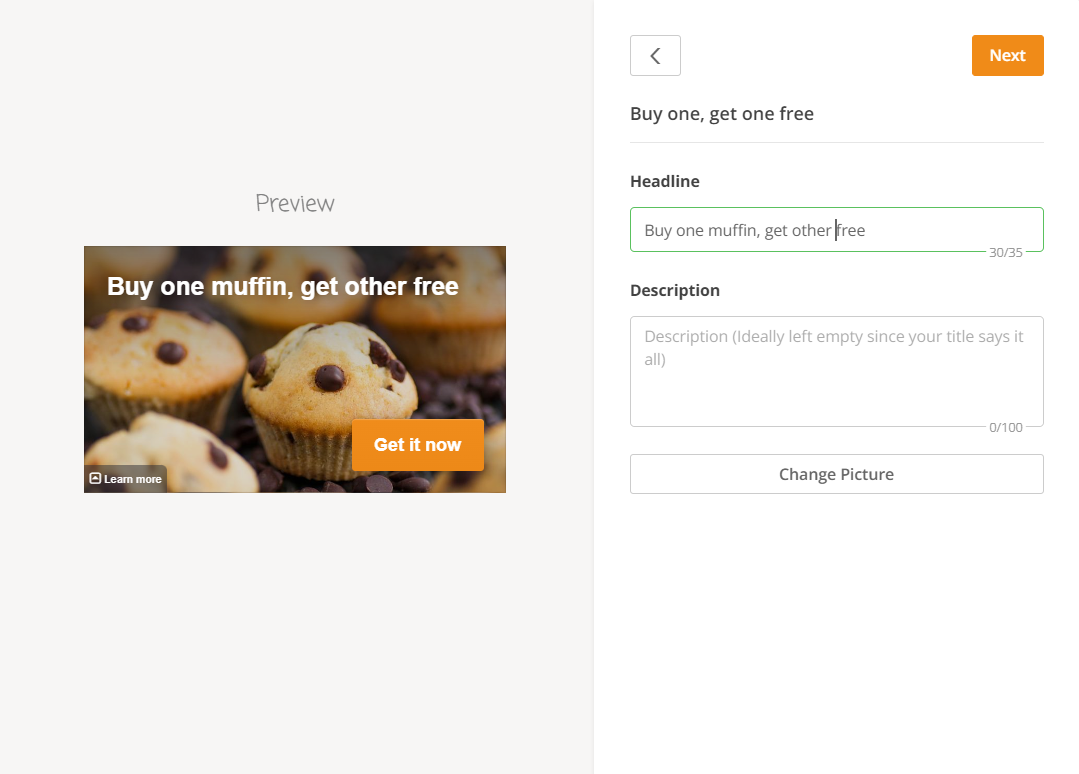 4. 10% discount on selected items
One of the best small restaurant promotion ideas, especially if you just launched your business, is to offer a discount for selected items. It can be as low as 10% and as high as 50% to stand out from your competitors and become a known name in your area.
For example, attract a lot of orders on the first day you offer online delivery by having a 30% discount on all sandwiches from the menu.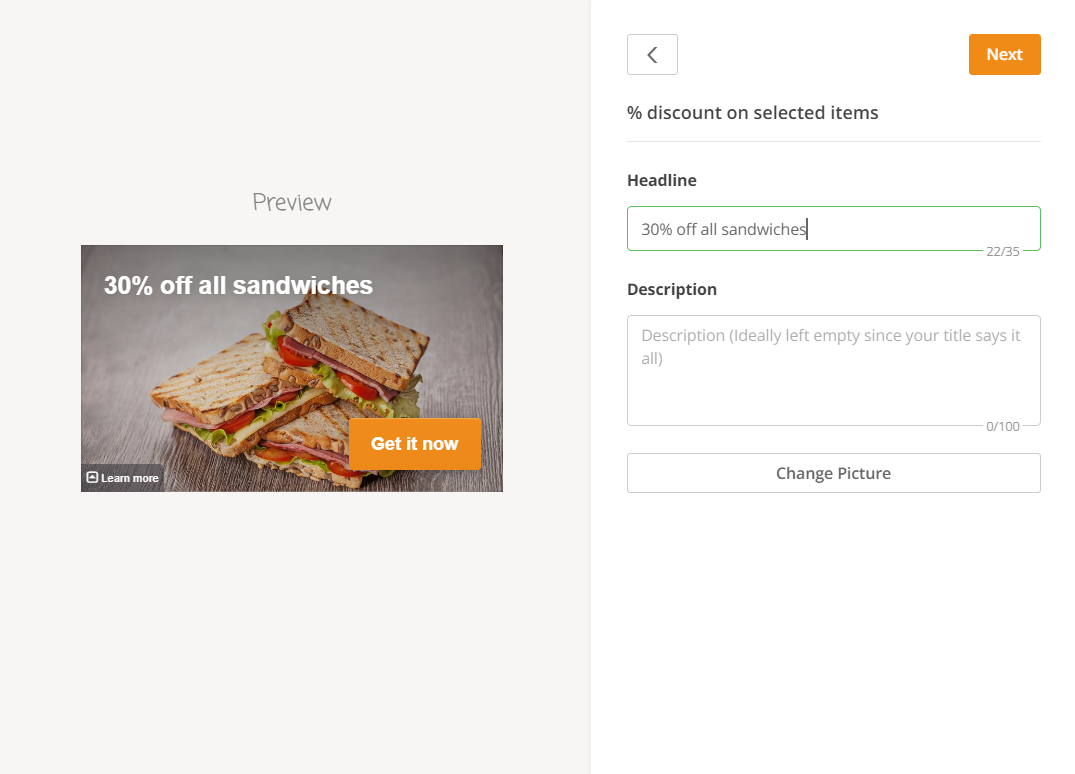 5. Get a free item for orders over a certain amount
Getting people to place an order is great but persuading them to place a big order is even better. And what better encouragement is there than a free item that everyone wants?
Check your restaurant statistics and find the most popular dessert on your menu. Afterward, create a get-a-free item promotion for every order over $70, using a photo of the mouth-watering dessert for advertisement.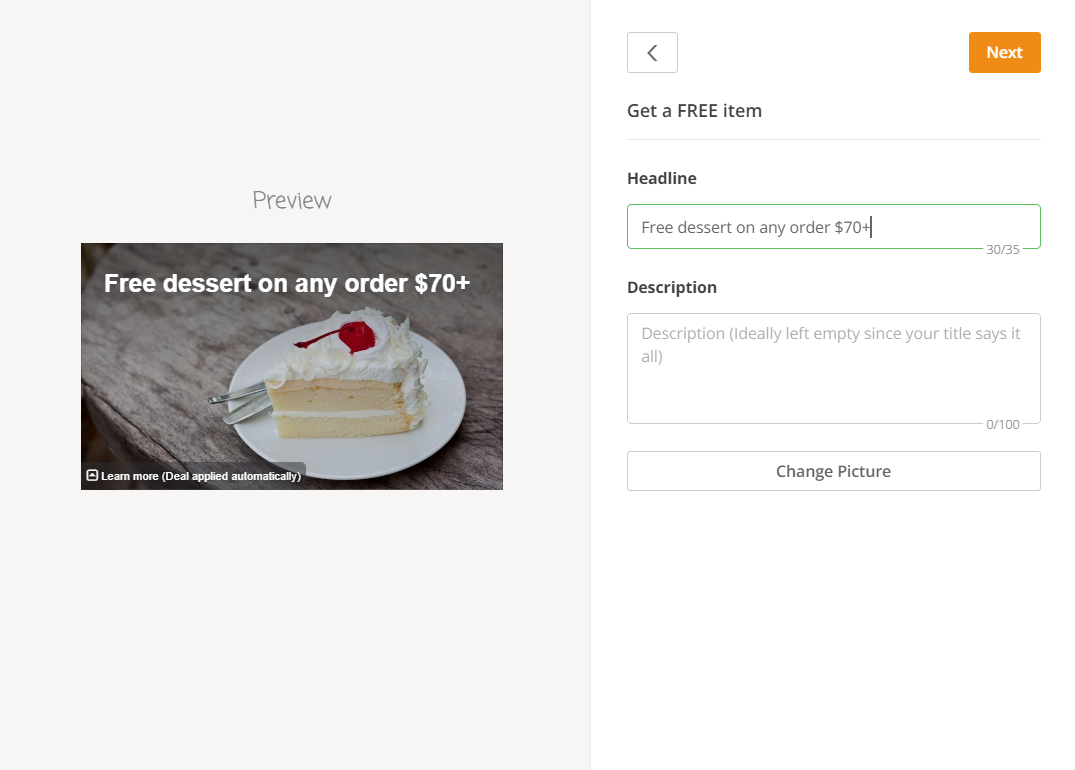 6. 10% off for online payment
Considering the rise of technology and the constant move to online, one of the best restaurant promotions right now is a reward for online payment.
Not only is it easier for both you and your clients if they pay online because the delivery person doesn't have to handle cash, but it is also safer. What's more, if people pay online when they place an order, you don't risk it being a fake order and losing money.
Therefore, give clients a little push and implement a 10% off cart deal if they use any form of online payment.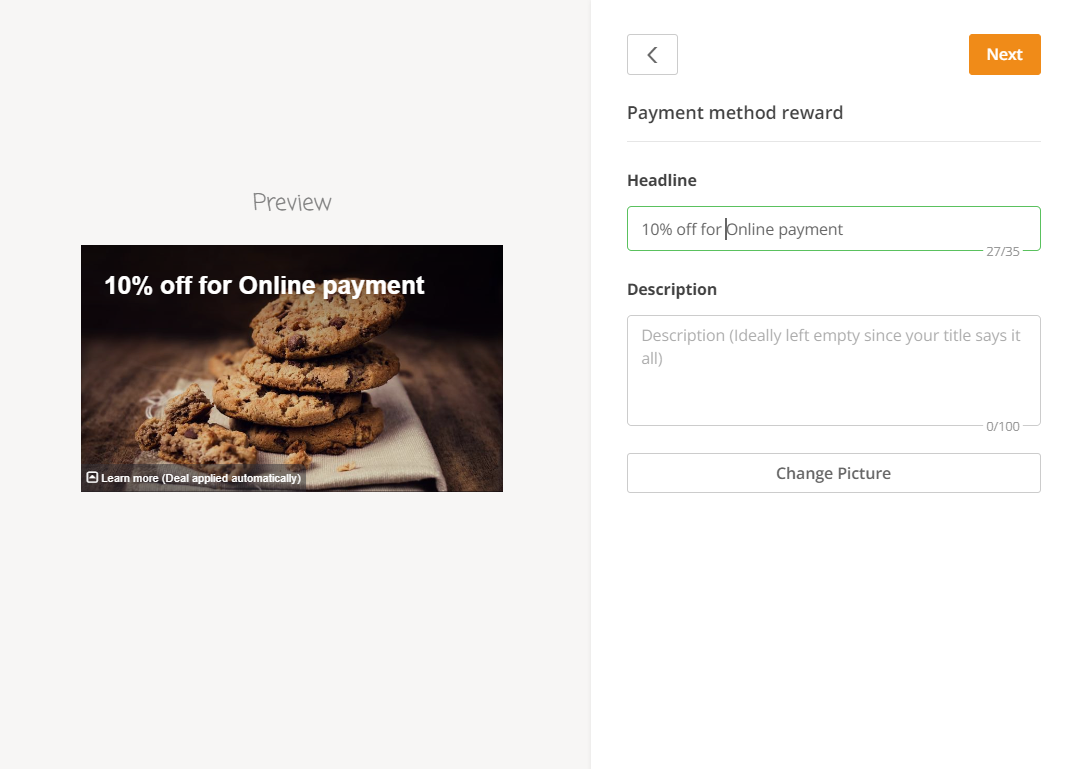 7. Buy 3, get one free
Sometimes hunger comes in numbers. People also place online food orders when they are at a gathering or at work and they place a single order for the entire office.
A buy three, get one free deal will motivate potential clients to choose your restaurant because they will get to enjoy your delicious food while paying considerably less.
8. Purchase a starter and a main and get a free dessert
If you want to be known as an amazing place to order lunch from, you must implement one of the best restaurant promotions right now: purchase a starter and main and enjoy a free dessert.
Our online ordering system allows you to customize the hours when a certain deal will be available for potential clients. Therefore, you can make this promotion available only during lunch hours and only on working weekdays.
9. 10% off combo meal
It is a known fact that one of the best restaurant promotions right now is offering combo meals. People enjoy the convenience of choosing a single menu item that includes all they want to eat, rather than wasting their time browsing the whole menu and deciding what they want to have.
Add in a small discount, such as 10% off for every combo meal, and you will be sure to notice an increase in your restaurant's sales.
Check out this video to learn how easy it is to set up some of the best restaurant promotions right now:
10. Meal bundle
A meal bundle usually includes enough food to properly feed two or three people at a fixed price. It will attract groups of people because they can place their order fast and receive a delicious and satiating combo.
How to add a restaurant promotion to your menu
Now that you know what the best restaurant promotions are right now, you must also find the easiest way to implement them, so you can focus on other important aspects of your business.
We have the perfect solution both for you and your clients: the online ordering system from GloriaFood. The system not only helps you sell your delicious food online but also has an integrated Promotions module that makes adding deals to your menu a piece of cake.
Adding restaurant promotions to your menu can be easy and fast
Try our efficient online ordering system and enjoy the benefits
Start now
Don't waste any more time, go to GloriaFood, sign up, complete your restaurant's profile, and create an enticing menu to which you will be able to add amazing restaurant promotions in no time. We'll show you how:
Go to admin -> Marketing -> Promotions -> Self-made promos and choose any of the tried-and-tested promotions templates;

After you choose your promotion, you can customize the picture, text, minimum order amount, and much more.

Click on Save and then go back to the Self-made promos screen. Slide the button next to the desired promotion to green and the promotion will be immediately visible at the top of your online restaurant menu.
For more detailed instructions on how to set up the best restaurant promotions right now, watch this video:
What's more, you can further customize a restaurant promotion with a specific goal, such as to reward loyal customers, to upsell an item, or to entice people to place their first order. Delve into the advanced promotion settings:
While the promotions are only visible on your online restaurant menu, don't let people who choose to dine at your place miss out on great deals. Generate a QR code restaurant menu with our online ordering system, print the code on flyers, and add them to every table.
That way, any offers of your choice will also be available to dine-jn customers.
Final Words
If you want to see your restaurant succeed, you must implement the best restaurant promotions right now! Get inspired by the deal ideas in this article and use our online ordering system to make the process of setting up an offer as easy as possible.