How to Increase Your Restaurant's Profit with an Online Table Booking System
By

Otilia Dobos

JAN 16, 2023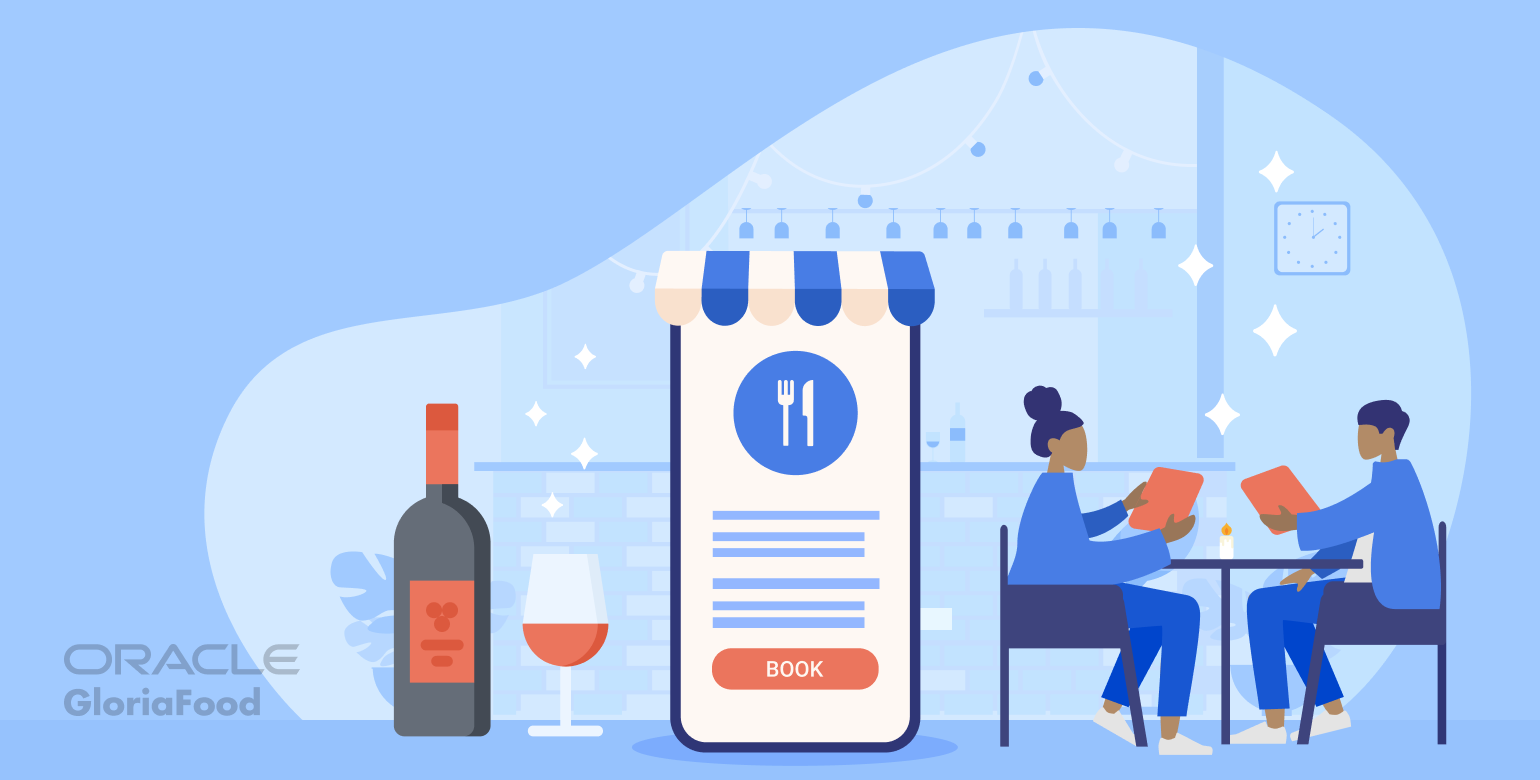 How to efficiently manage an online restaurant table booking software:
Making a steady profit is the key to a successful restaurant that remains open no matter its challenges. As a restaurant owner, you must analyze every key component to find ways to make it more profitable.
This includes the table reservation element. Forget about wasting human resources and errors. You can streamline your table occupancy process with an online table booking system.
In this article, you will learn about the benefits of an online reservation system and find some useful tips on how to use it to increase your restaurant's revenue.
What are the most important online booking system benefits?
You are misplacing resources and losing clients if you don't have an online table booking system. With the technology available nowadays, people expect to be able to reserve a table fast and easily, without having to interact with people over the phone.
Here is what you can expect to gain if you sign up for an online restaurant table booking software now:
Increase customer satisfaction
An efficient reservation system will allow clients to book a table with just a few taps on a screen. Therefore, clients will be satisfied with having an easy way to get a table for their chosen hour without going through the hassle of phoning the restaurant.
Fill more tables
Without reservations, you just rely on walk-ins to fill your tables. But some clients prefer to only go to restaurants where they have a booked table to avoid finding all the tables occupied.
If you promote the online table booking system on your website and social media, you will have your tables occupied most of the time.
Grow your business
To get ahead in the restaurant business, you have to focus both on attracting new customers and getting more repeat customers. An online reservation software can help with both as it is intuitive to use, requires almost no effort, and is efficient every time.
How to get the best free restaurant reservation system
Maintaining a restaurant already implies countless costs, so why not take advantage of the free options? You don't have to splurge to get a table reservation software. You can get an efficient online table booking system for free!
Furthermore, you can do it in a matter of minutes. No need to wait! Follow these simple steps to start accepting table reservations by tonight:
Create an account on our website and fill in the required information about your restaurant;
Go to admin -> Setup -> Services & opening hours -> Table reservation, select "Yes" and choose your preferred settings;

Publish the "Table reservation" widget on your website or get a sales-optimized website from us with this option included;
Allow customers to easily book a table in your restaurant
Install an online table booking system in a matter of minutes
Start now
This is not a simple online table booking system, it also has the "Order Ahead" feature. You can allow customers to pre-order their food when making a reservation and pay online or at the restaurant.
Enabling ordering ahead can help increase table turnover as customers will spend less time waiting for a menu, deciding what to order, and eventually ordering. Furthermore, it will be incredibly popular with the lunch crowds who only have a limited amount of time to eat out.
Check out this demo website and click on the "Table Reservation" button to see how easy it is to make a reservation and pre-order with this intuitive system.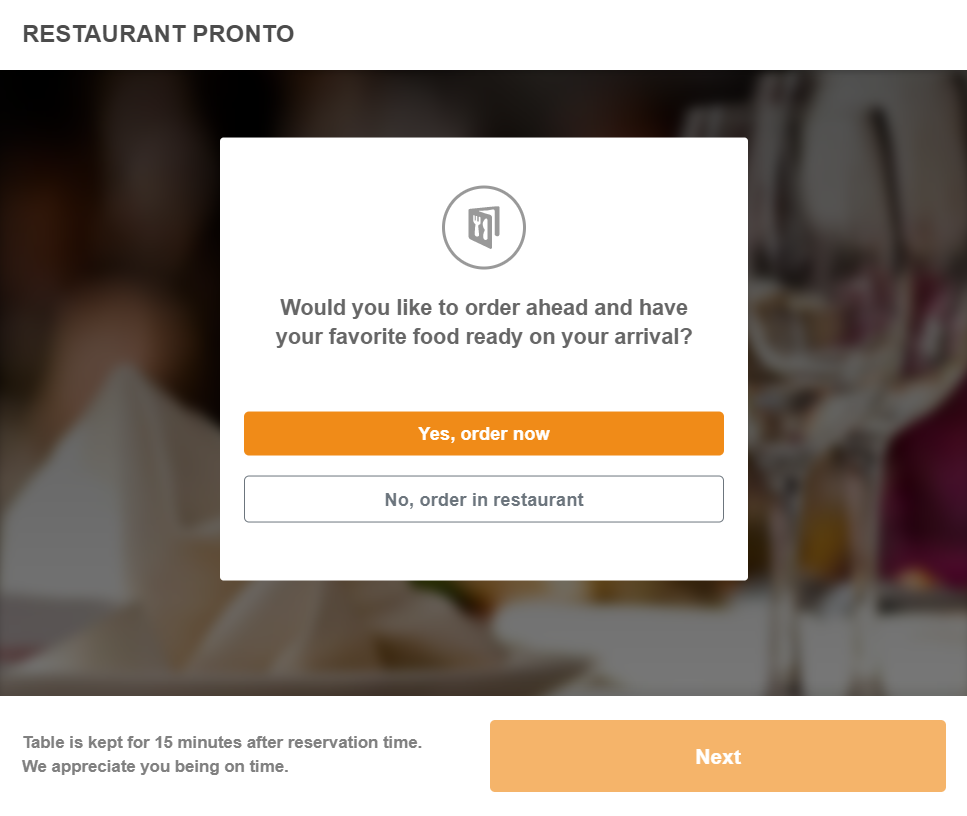 Tips to make the most out of your online table booking system
Online restaurant table booking software is the first step, but if you want to increase your revenue, you need to learn how to manage it efficiently. Some classic mistakes are:
Overbooking, which leads to unhappy customers that can't enjoy your food anymore;
Booking reservations back to back leading to customers waiting for a long time while your employees clean the tables.
Establish a time limit for reserved tables
If you want to increase an online table booking system's efficiency, you need to establish some limits. You may be wary of doing it so as to not scare customers away, but, don't worry, these new rules will help you increase your profit:
How much time do you wait for a party: Let's say somebody booked a table for 2 p.m., how long after the hour has passed will you keep the table reserved? We recommend going for the standard 15 minutes that should cover any problems in traffic, but no longer. You need your tables free, so you can serve more people;
How long can the party occupy the table: if you want to sell more, you need to serve more people. You have a limited number of tables, so the solution is to place a time limit for every party. If you decide to add this rule, make sure you communicate it clearly to the clients before they reach your restaurant. You can also enable pre-ordering to encourage people to spend less time in the restaurant.
Don't book every table on a busy day
Because you have previously experienced no-shows, you may be tempted to overbook on a busy day to ensure your profit. But what happens if all of them do show up and you can't accommodate them?
Not only will you lose the customers that couldn't be seated, but you will also hurt your reputation. People nowadays tend to review every business they visit, especially if it is a negative experience. Consequently, their bad review will deter other people from eating at your place.
It is a much better alternative to leave a few empty tables. If it is a busy day, they surely will be occupied in no time.
Encourage ordering ahead with online payment
Unfortunately, people making reservations and not honoring them is a regular occurrence for a restaurant. Emergencies happen, and plans change, and you can't do anything to prevent them, just protect your profit with a reservation time limit.
But there is a way you can encourage people to show up for their reservations. If you enable the pre-ordering function with online payment, clients will be less likely to miss their booking because they have already spent the money.
One way to stimulate people to pay ahead is to offer multiple payment methods. To do so, go to admin -> Setup -> Payments -> Online Payment. Thus, clients can pay with different credit cards (Visa, Mastercard, etc.) or even PayPal or Apple Pay if they prefer.

Encourage pre-ordering by offering multiple payment options
Install an online table booking system in a matter of minutes
Start now
Use a mobile-friendly booking system
People are not always in front of a desktop when they want to make a restaurant reservation. They may be on the road and only have access to their phone. But why should this prevent them from making a table booking?
Ensure you install an online table booking system that is mobile-friendly and loads fast on mobile. The one provided by us is guaranteed to run smoothly and without errors on any type of device.
Use small promotions to encourage reservations
If people are not used to booking a table, they may need a small incentive to do so. Therefore, if you want to increase your table reservations, you could offer a small promotion to encourage people to book their place before visiting your restaurant.
It could be anything from a discount for selected items, a drink on the house, or a coupon code they could use for online orders.
Conclusion
An online table booking system can help you get more new and repeat customers and increase your revenue. Choosing a reservation software that will help you run your business smoothly by being easy to use for you and your clients is important.
Furthermore, ensure you don't overbook your restaurant so you don't get negative reviews, and make it a goal to encourage people to use the pre-ordering feature so you can increase table turnover.