5 Simple & Effective Customer Retention Strategies for Restaurants
By

Laura-Andreea Voicu

DEC 21, 2021 (Updated: Jun 8, 2023)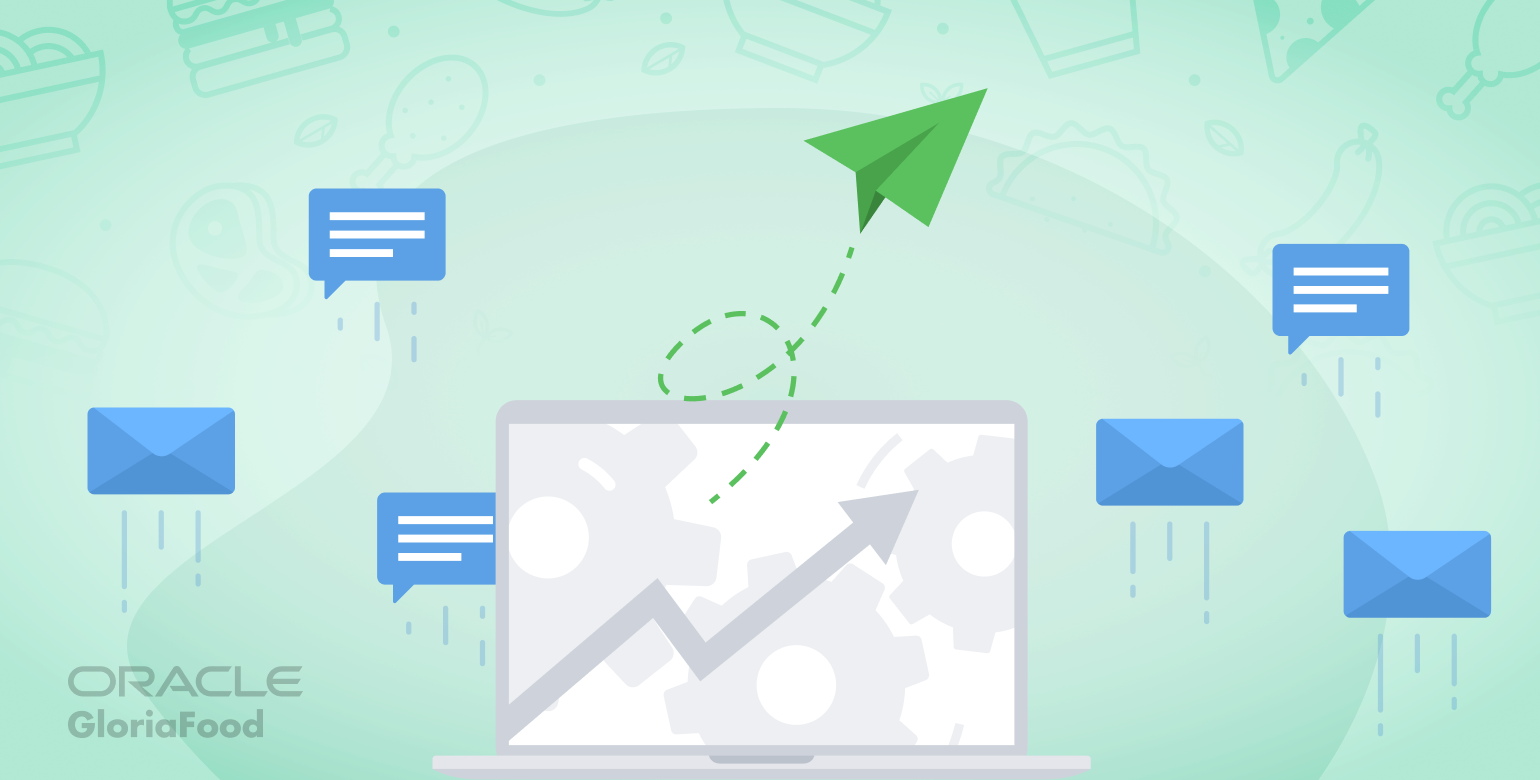 Restaurant Customer Retention Strategy
Are you looking for a way to increase restaurant sales, engage customers, and secure their loyalty? Then you're in luck. All these things can be achieved using customer retention strategies for restaurants. Keep on reading to unlock the secret to customer loyalty.
Average Customer Retention Rate for Restaurants
Looking at theaverage customer retention rate by industry, the restaurant industry isn't one of the top examples. These are taken by media (84%), insurance (83%), IT services (81%), telecom (78%), banking (75%), and retail (63%).
The restaurant customer retention rate sits at about 30%, which also means that more or less 70% of customers don't come back to the same restaurant after visiting it once.
At the same time, it's common knowledge that repeat business is what makes restaurants profitable. We've got the stats to prove it:
With these statistics in mind, it's no wonder that most businesses are striving to retain existing customers. And you should too. If you're not convinced yet, let's look at the main benefits of restaurant customer retention.
5 Benefits of Customer Retention for Restaurants
1. Cheaper than acquisition
As we've shown above, the main benefit of retaining customers instead of struggling to acquire new ones is that it will cost you less.
While preserving customer loyalty isn't always easy, and you might feel it's often more difficult than acquiring new business, it's easier on the pocket.
You might also like: 10 Low Budget Restaurant Ideas to Help You in Hard Times
2. More profitable
Profitability comes hand in hand with affordability. The more a customer gets to know you and enjoys your delicious dishes, the more they'll be tempted to spend.
Customers who are loyal to brands often feel an emotional connection to them, and slowly, they become the brand's biggest supporters.
3. Enables word of mouth marketing
Speaking of brand support, satisfied customers are an invaluable source of business for your restaurant. They will tell their friends, family, and social media followers about you.
Based on age group, millennials are most likely to talk about their favorite brands, with 90% of millennials in the U.S. sharing their brand preferences online.
4. More responsive customers
Loyal customers tend to be more responsive and open with the brands they love. They are willing to provide feedback, so make sure to ask them for a review.
Read more: The Importance of Online Reviews for Restaurants & How to Get More
They'll also feel flattered when you reach out to them with news or promotional offers, as opposed to new customers who might be a bit reluctant at first.
5. More adventurous customers
Once you've sold them on your base menu, your customers will be more open to trying new things and cheering on your limited-time menu items.
And that's not the only thing you can experiment with. From a new logo to a new slogan, regulars will support you if your keep what makes you special intact.
However, make sure you don't take advantage of their loyalty by unwarrantably raising prices. While regulars will be more open to it, don't go overboard or you'll lose them.
How to Calculate Your Customer Retention Rate
Now that you know how important customer retention is, it's time to learn how to measure customer retention by calculating the customer retention rate. Luckily, all you need to do is follow this easy formula:
( (Number of customers at the end of a period (week, month, etc.) – Number of customers acquired in that period) / number of customers at the start of that period) ) x 100
Let's break this down by using an example. Let's say you started the quarter with 1,000 customers and ended it with 1,200. Out of those customers, 300 were newly acquired. Using the formula above, we would have:
( (1,200 – 300) / 1,000)) x 100 = 90% customer retention rate
Easy enough, right?
5 Customer Retention Strategies for Restaurants
Check out these customer retention strategies examples that can help you win loyal clients and increase your revenue:
1. Encourage second orders
The key to unlocking repeat customers is to motivate them to order from you a second time. One of the main ways in which you can do that is to offer them a tempting, limited-time discount code.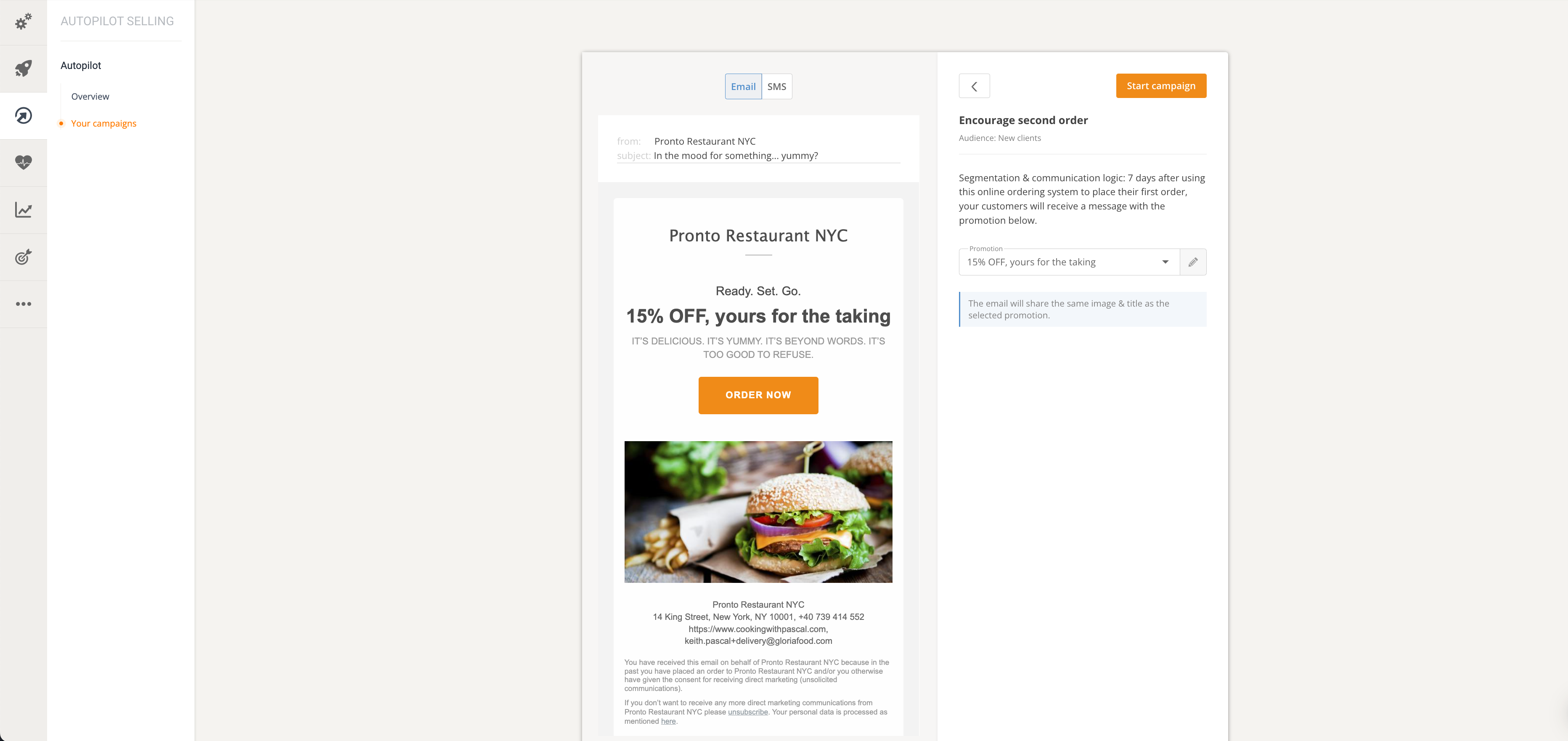 Recommend items that you think they might like based on their first order and don't forget to create urgency with your message.
Because you don't want your customers to feel pressured by your brand, send this promotional message a week after they've placed their initial order. This strikes the perfect balance because they have just enough time to miss you.
Start Taking Orders on Your Restaurant Website
Enable online ordering for free to boost sales
Get Started
2. Re-engage older customers
Do you ever struggle with convincing older customers to come back to you and give your food another chance? To foster loyalty, you must constantly try to re-engage them.
Identify customers who are slipping away and target them with regular offers until they order again.
You might also like: 10 Restaurant Website Promotion Ideas for Delivery & Takeout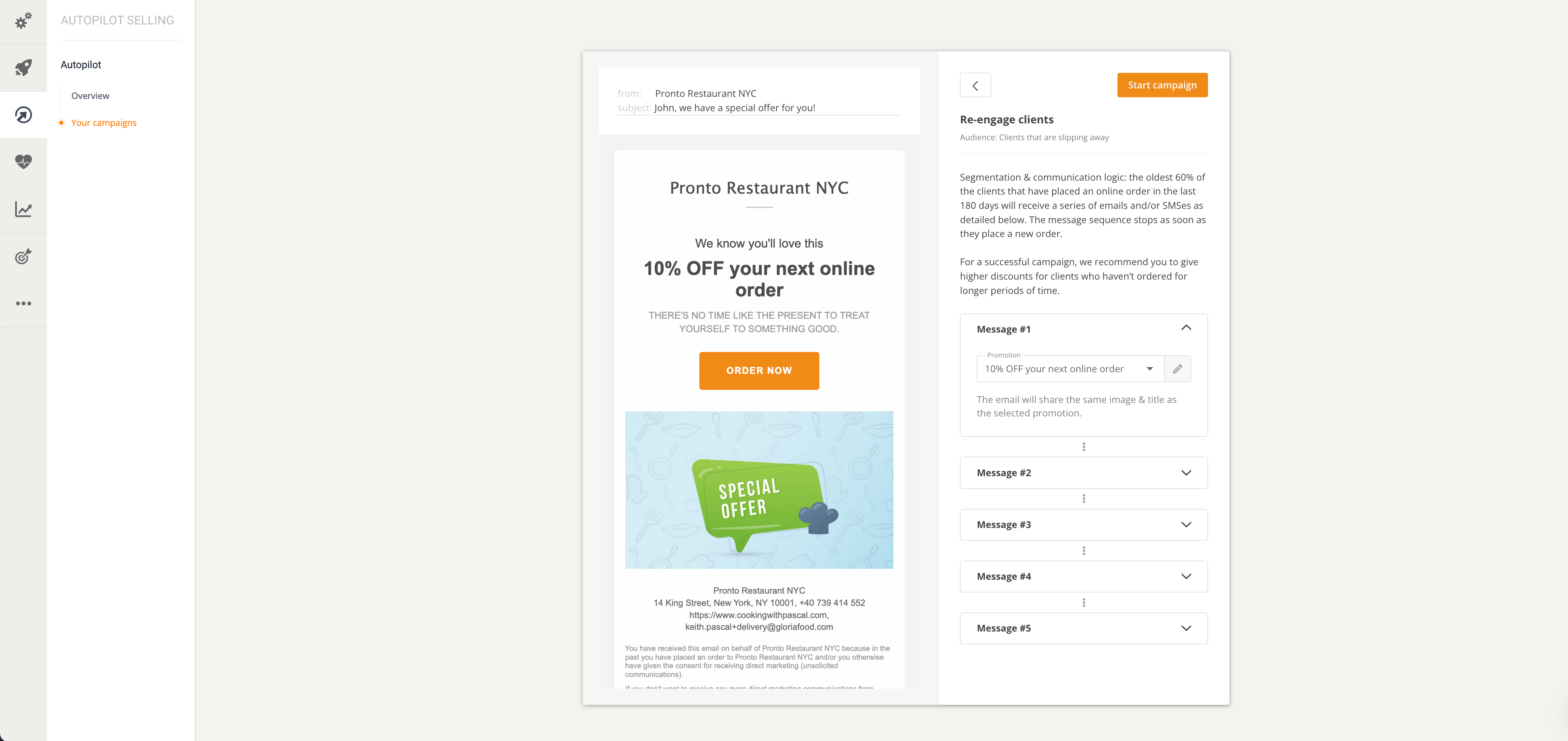 When choosing the customers you want to target, keep in mind that order frequency depends heavily on major events like the current pandemic, as well as seasonality. These are factors you need to account for when you look for "at-risk" customers in the last 6 months, for instance.
3. Prevent cart abandonment
One of the most common ways in which businesses lose potential customers is by them abandoning their cart before completing the order. If that has happened to you too, it's time to remind those customers to come back and finish their order.
It is much easier to get their attention by sending a message 1 to 2 hours after they started the order than to persuade them to order in the first place.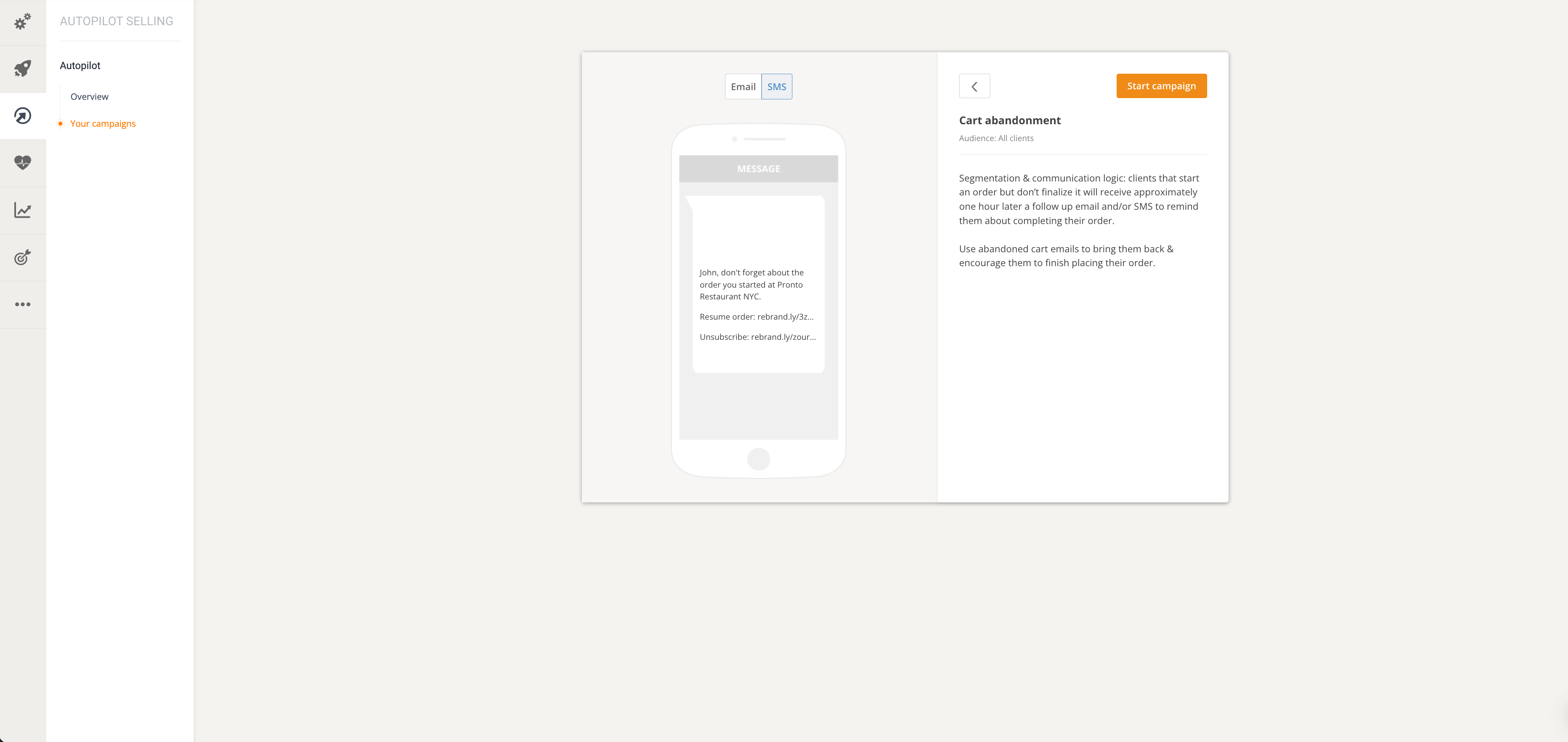 4. Engage food clients on social media
Social media is a fantastic tool for engaging with your customers and securing their loyalty. Each time you put out a new promo or special offer, make sure to also promote it on every social media platform.
Related: Why Restaurants Need Social Media
With our online ordering system, you can encourage client retention by creating promotions that can only be redeemed by return customers. Check out this video to learn how to create a restaurant promotion in a few minutes:
Implement promotions relevant to your audience and type of cuisine. For instance, client retention in the fast food industry could be increased by offering free sides and drinks for the main dish, while for a high-end restaurant it may be more profitable to offer free delivery or a dessert on the house.
Use social media to say "thank you" to customers who have always been with you and feature loyal customers on your Facebook page or on Instagram stories. They'll be motivated to share your post, which will bring even more attention to your restaurant.
One more way to show appreciation and increase customer satisfaction at the restaurant is to advertise content created by your clients on your social media pages.
For example, inspire people to photograph their experience in your restaurant and share it on their Instagram story for the chance to win a voucher worth a free meal for two.
You might also like: How to Promote Your Restaurant Website and Online Ordering Service
5. Ask for feedback and listen to your customers
One of the golden rules of restaurant service is to listen to your customers. If you listen carefully, you will find out everything you need about keeping them happy and satisfied.
Offer the best customer experience at the restaurant by actively seeking your customers' opinion and using it to improve your services. They will feel listened to and become regulars.
If you are using WordPress, you can create customer satisfaction surveys using a WordPress Survey Plugin.
Monitor your reviews on all platforms and learn how to respond to negative restaurant reviews without damaging your brand reputation.
Read more: 10 Restaurant Review Sites You Need to Be on Right Now
How to Put Customer Retention on Autopilot [Video Tutorial]
Are you too swamped with other restaurant tasks to focus on customer retention strategies? We can make the role of restaurant manager easier for you. How? By helping you run your customer retention campaigns on Autopilot.
That is the name of our newest service targeted toward busy restaurant owners and managers. It can help you boost sales and customer loyalty without breaking a sweat. We do that by sending automated emails or SMSs (your choice) to your customers.
Boost sales and increase client loyalty with email campaigns
Efficient marketing starts with an efficient online ordering system
Start now
Autopilot automatically segments your customers based on their total number of orders and last order date. That way, it identifies customers who order often, recent customers, and customers who are slipping away.
This service comes with three pre-built campaigns:
Encourage second order
Re-engage clients
Cart abandonment
Once you activate a campaign, Autopilot keeps a close eye on your client segments and delivers the messages you've approved. While we provide a message template you can use, the text is also fully customizable. So, you decide what your customers see.
To activate this service, you have to create an account with GloriaFood, and then go to your restaurant dashboard -> Autopilot Selling. Next, simply follow the steps on the screen.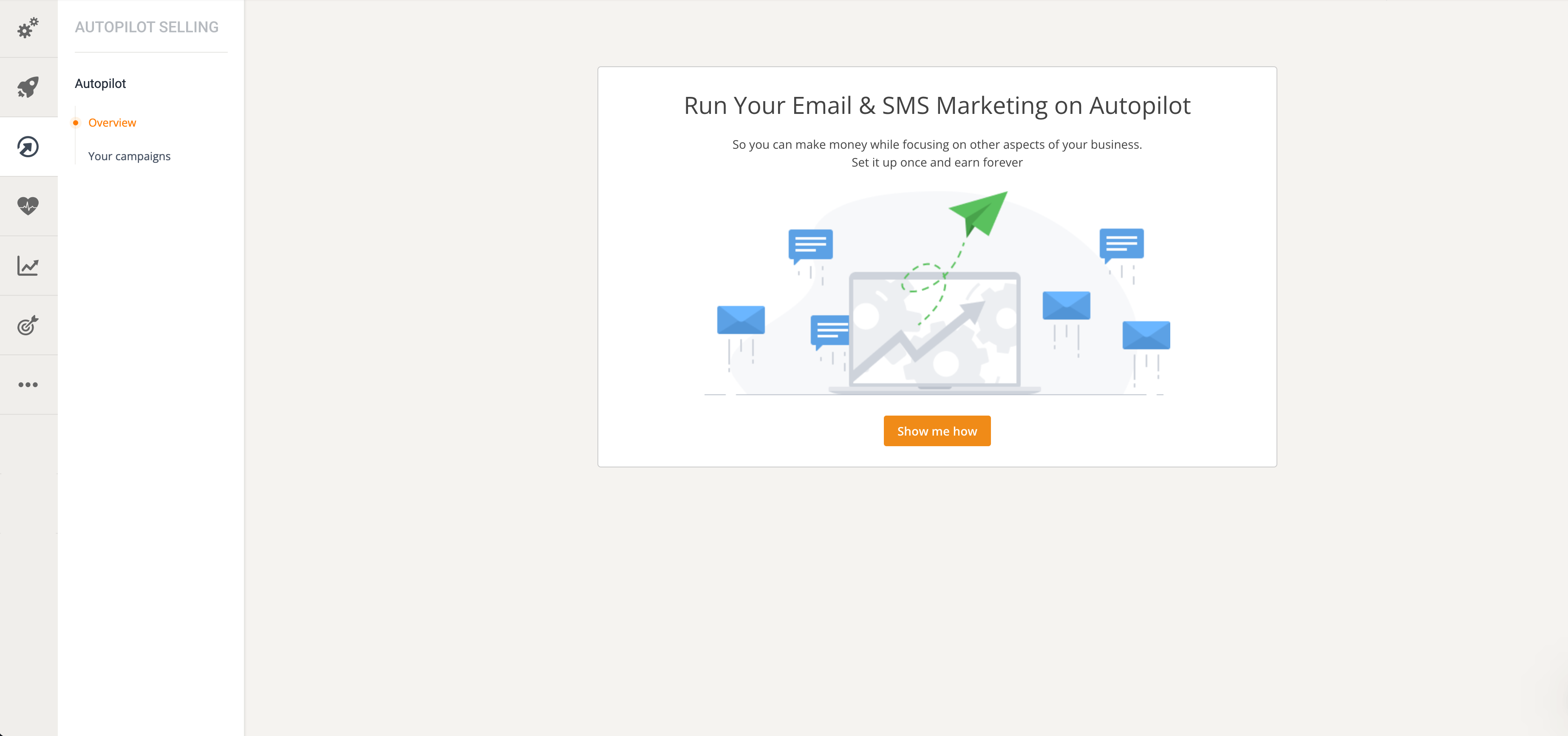 If you're more of a visual learner, check out our latest YouTube video for a step-by-step tutorial on how to activate Autopilot and create campaigns that will drive new business.
Bottom Line
Retaining customers and securing their loyalty can often be challenging, but infinitely rewarding. Start by investing some time in these customer retention strategies for restaurants and you will become the most popular restaurant in town in no time.