Restaurant TikTok: 10 Content Ideas to Help You Go Viral
By

Otilia Dobos

SEP 28, 2022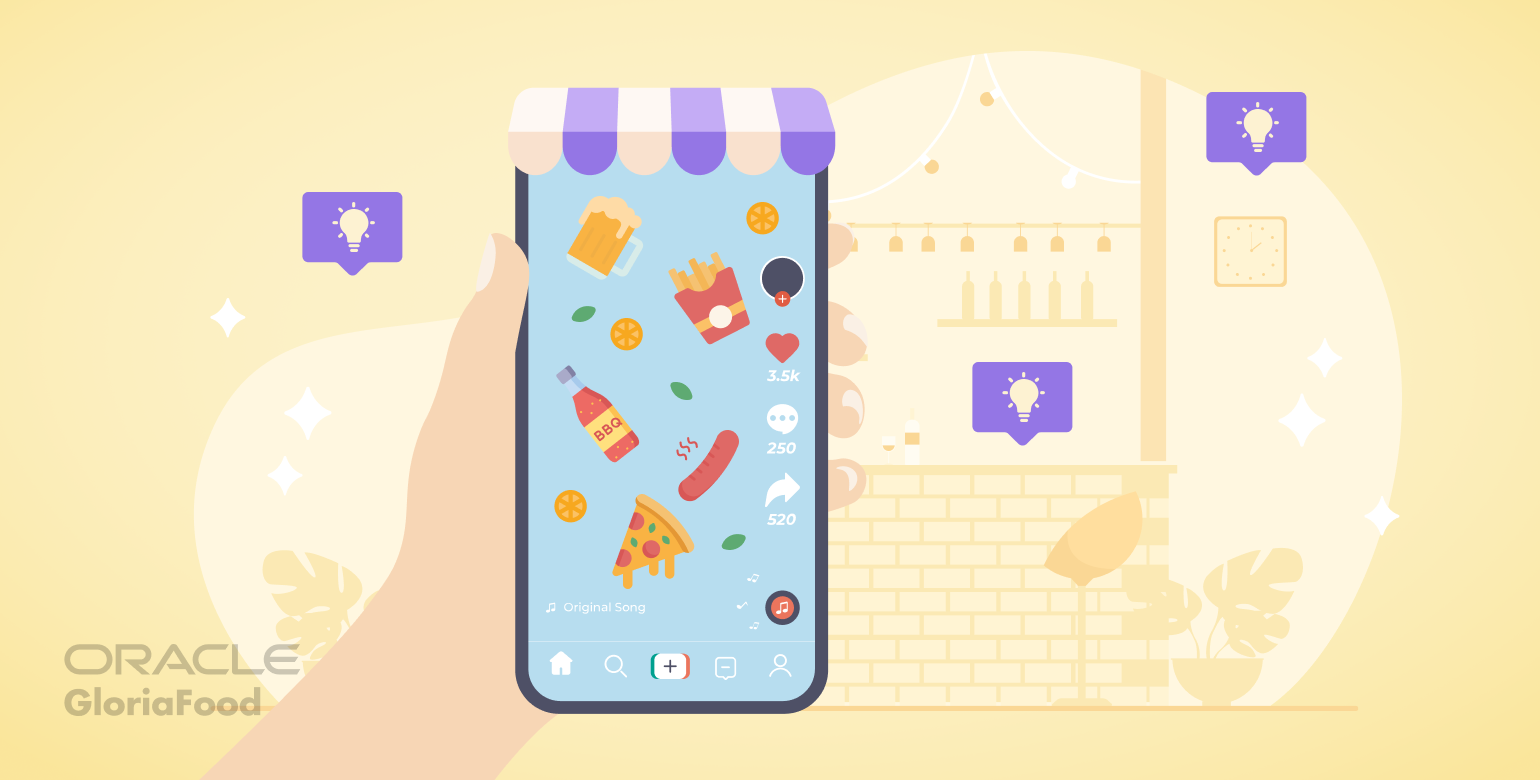 Online marketing is constantly evolving to adapt to technological developments and customer preferences. While a website was the only way to promote a business online at the start, you now have access to many social media platforms to get the word out, such as Facebook, Instagram, and TikTok.
In January of 2022, TikTok had 1 million active users, a big audience that could be converted to clients for your restaurant with effective marketing. Keep up with the times and give people what they most crave: video content.
In this article, you will find out about the benefits of TikTok marketing for restaurants and ten creative ideas you must try for your restaurant TikTok:
How to effectively promote restaurants on TikTok:
How does Tiktok for restaurants work and how can it help your business
While Instagram is for photos and Twitter is for text, TikTok is for the most prized type of content, video. You may mistakenly believe this platform is only for children that enjoy dance videos. Those are indeed popular, but so are a lot of other topics such as education, beauty, travel and…food!
The basics for restaurants on TikTok
To start your journey on TikTok, you will first need an account. All you have to do is download the app, sign up using basic information and switch to a business account. Now you are set up to post catchy videos to increase your restaurant's visibility.
The platform allows you to post videos up to 10 minutes long, but the best-performing ones have no more than 40 seconds. People's attention span is short, and they want information delivered fast.
Are you not convinced you should put in the effort to market your restaurant on TikTok? You must know the engagement rate on the platform is 5,96%, way more than Instagram with 0,83% and Facebook with 0,13%.
What's more, the high engagement rate actually translates to new clients. 55% of TikTok users confirmed they dined or ordered in from a restaurant after seeing an interesting video about the food on the platform.
The benefits of TikTok marketing for restaurants
You have seen the numbers. TikTok is popular and here to stay. Here are the benefits of creating a restaurant TikTok to promote your food:
Attract new customers: you get access to a new, younger audience that is keen to order from a restaurant that promotes tasty-looking food;
Pop up in more local searches: when posting videos on TikTok, add your restaurant's location so customers can easily find your place when they are hungry;
Create engagement: your content reaches a big audience that is open to engaging without having to pay for sponsored posts. If you create quality videos, people will like and comment;
Connect with small influencers: broaden your horizons by collaborating with small influencers that will promote your food to their followers.
10 Ideas you must try to up your restaurant TikTok marketing game
Now that you know how much a restaurant TikTok would benefit your business, you have to learn how to do it right.
The platform recommends you post 1-4 times a day to get the best results, so start filming! Monitor your results so you can change frequency, the time you post, or the type of content to get the best engagement rate.
You don't need fancy equipment, just a phone that can film in Full HD or 4K quality. Use the app to film when you want to add special effects or just add videos taken with your phone camera. Don't forget to keep it short and get straight to the subject.
Check out these ideas that will help you get started with your restaurant TikTok:
Behind-the-scenes videos
Not many people get to see life behind the scenes at a restaurant, so you already have the unique factor going for you. Show people snippets of your life by capturing interesting moments that will create engagement, such as:
How you organize the mise-en-place;
How many cooks does it take to do just one meal;
How you plate the food;
How you make sure everything is sanitary;
How you choose the best ingredients.
You can also have short presentation videos for each of your staff members. They could tell the audience an interesting fact about them or recommend their favorite dish from the restaurant.
Funny videos made by staff
Funny content is the one that generates the most engagement as people like to relax after a long day by scrolling through humorous videos. Get inspired by scrolling TikTok and come up with some ideas that could be easily filmed at the restaurant.
You could also encourage your employees to create funny videos by offering a bonus for the most popular posts at the end of the month. They could be anything from applying a talking effect on a pizza and a salt and pepper shaker having a conversation to a chef dropping the pizza dough while stretching it.
New menu item launches
Get people excited about your new menu items by sharing videos featuring them. You can create teasers showing the ingredients and asking people what they believe the dish is, or maybe the other way around, show the final item and have them guess the ingredients.
Make sure to film it in natural light for the best results, and have fun coming up with ways to introduce it. For example:
A short video with satisfying slow-motion sequences with the ingredients, ending with a picture of the new menu item;
The chef describing how they came up with the idea to cook it;
Various members of the staff trying the new dish and rating it;
Read more: How to Build a Restaurant Menu That Will Skyrocket Your Online Sales
Promotions advertised on TikTok
Promotions are a good way to attract customers and encourage them to buy more. Before advertising them, you first need an easy way to implement them. With the online ordering system from GloriaFood, adding promotions to your menu is intuitive and fast.
Attract new customers on TikTok with the best promotions
Install an online ordering system for free
Start now
You have many popular promotions you can choose from, and you can even segment them to achieve a specific goal (e.g. get more return customers).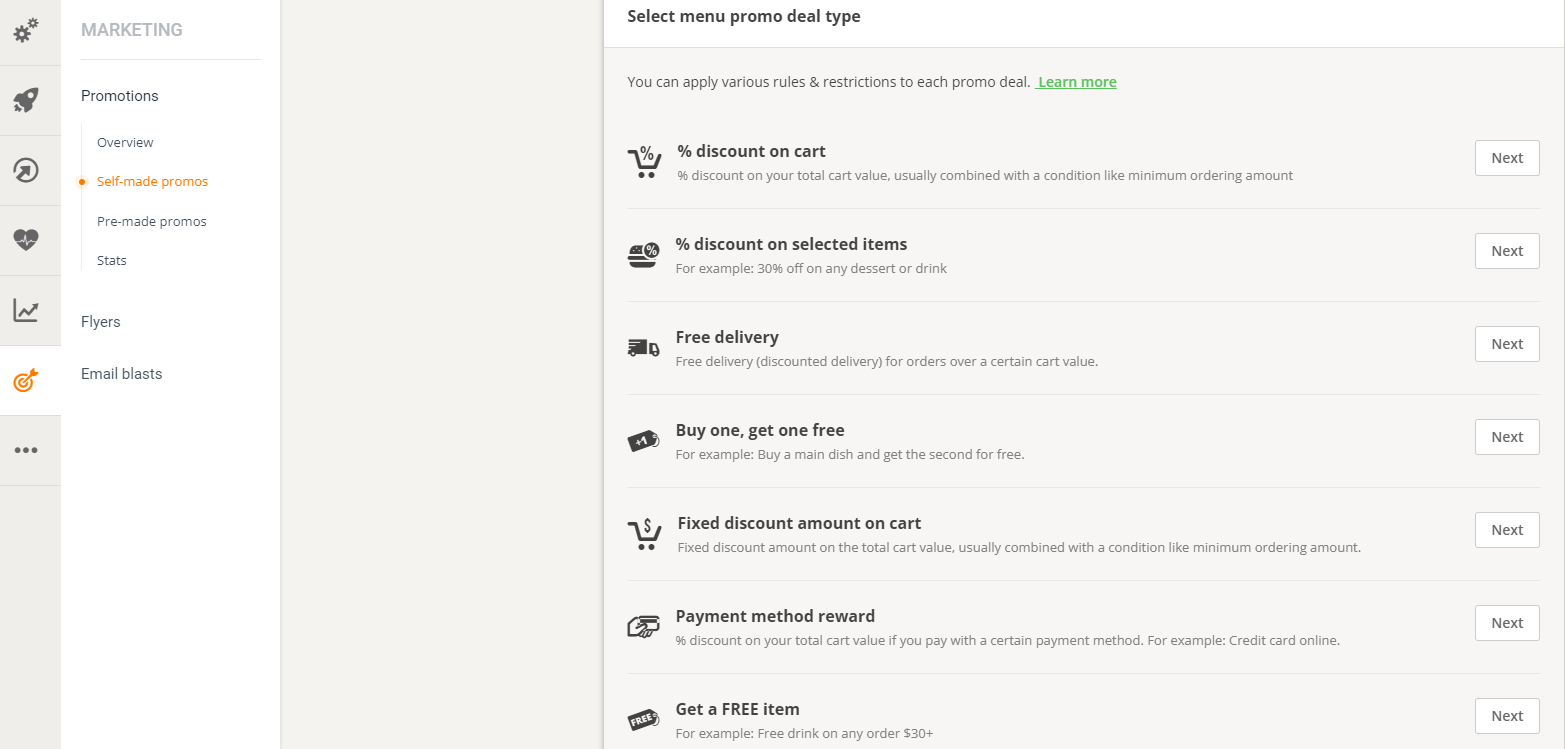 Let's see how easy it is to add a promotion after you sign-up and create a delicious menu. Go to admin -> Marketing -> Promotions -> Self-made promos, and choose the promotion you want. For this example, we'll go with free delivery. Click the "Next" button to reach this screen: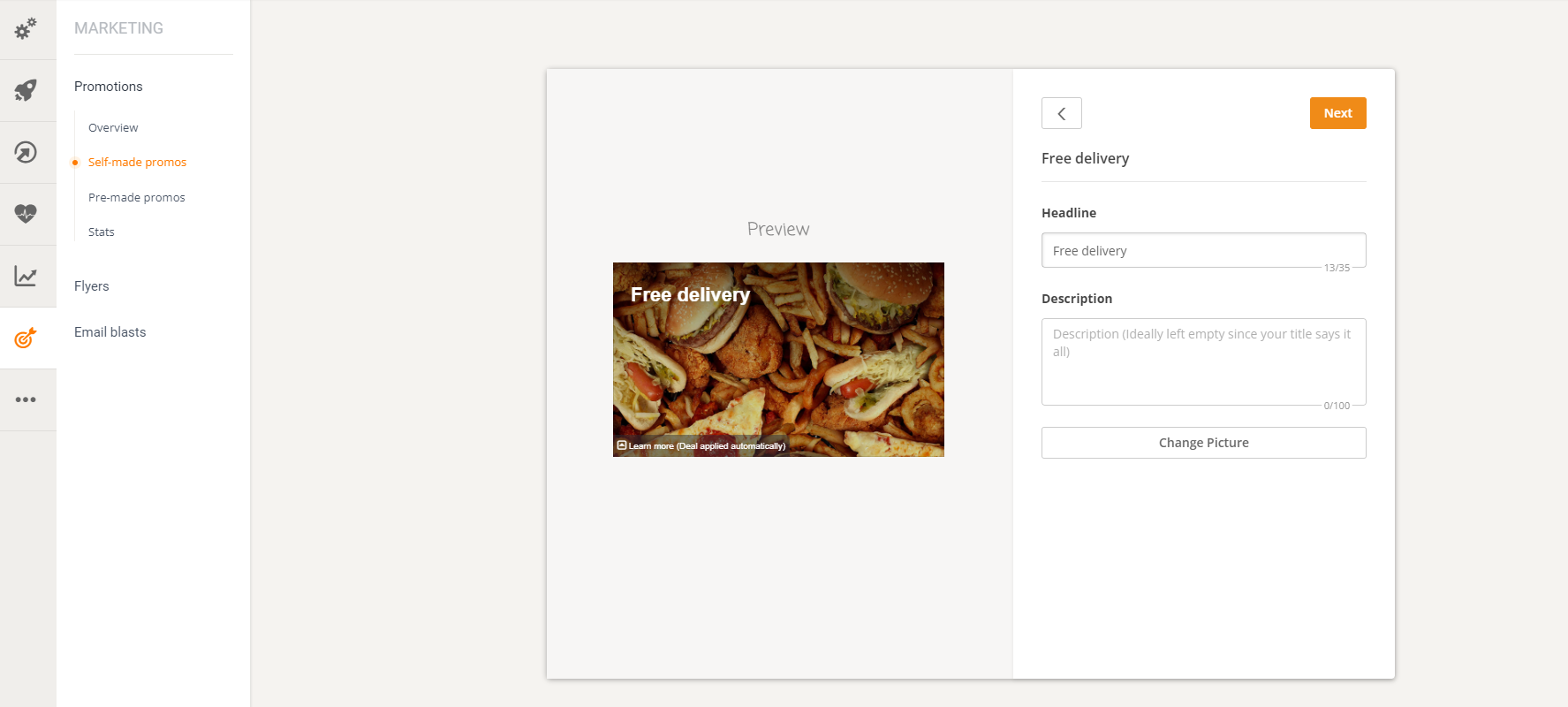 You can easily modify the text and description and select a picture to your liking. Click next to choose the discount you wish to offer and the minimum order amount for which the discount applies.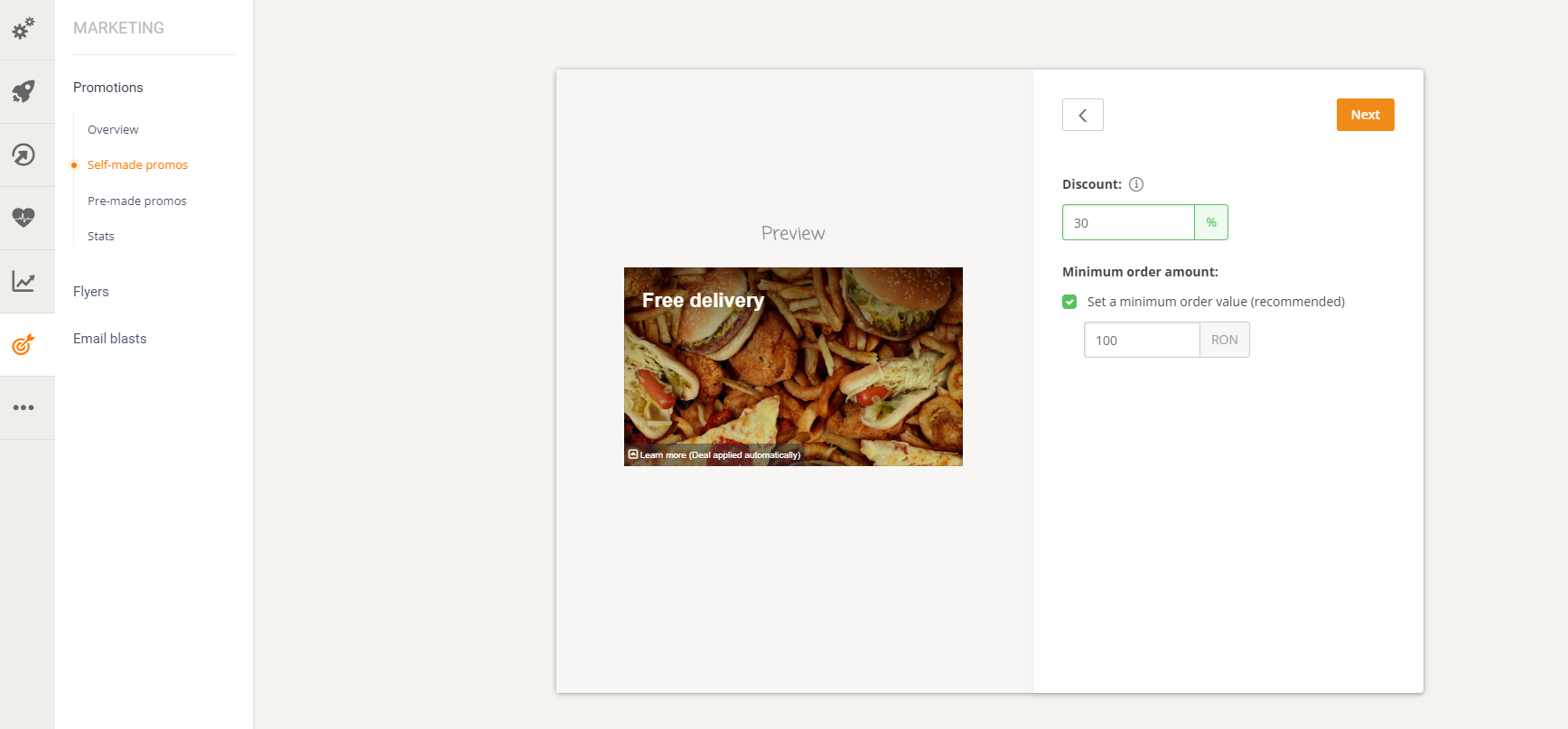 By clicking next, you access the last screen needed for the configuration where you have more advanced settings, useful for client segmentation.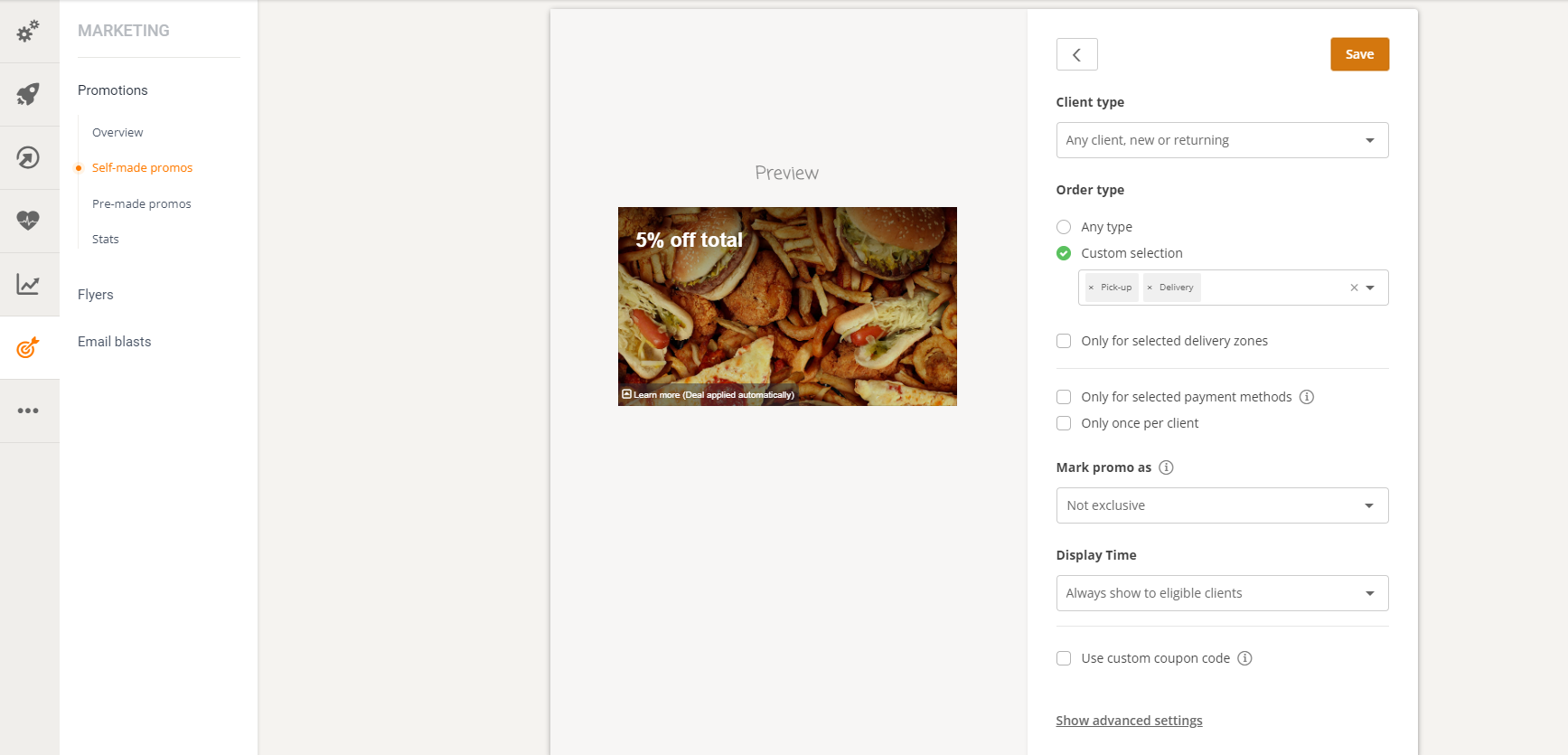 After you add your promotions to the menu, you can share them on TikTok in various attractive ways. For example, you can easily film yourself ordering, being surprised by the great promotion, and then happily enjoying your food. Or you could show a small amount of money and wonder what you could do with them… buy food from your restaurant!
Read more: 10 Restaurant Website Promotion Ideas for Delivery & Takeout
How-to videos
Remember the popular tomato feta pasta that was done in only one dish? It took over TikTok, everybody wanted to try it. This engagement shows you people are open to learning about food, how to cook new dishes, and trying new techniques.
Dedicate a part of your time to creating how-to videos where you teach your followers various things related to the specific food you serve at your restaurant. Here are some examples:
How to make quenelle with one spoon;
How to roast veggies to bring out the flavor;
How to properly season every type of meat;
How to season a cast iron;
How to cook a simple recipe.
Collaborations with influencers
Collaborations with influencers on TikTok work just like on every social media platform. Look out for local ones that share your values and check out their previous content to see what type of videos they would make to promote your restaurant.
A partnership with a food influencer can help you gain visibility if you are at the start. Still, it is equally as helpful to work with popular people on TikTok when you become established to attract more customers.
Experience videos from the client's point-of-view
Get people to visit your restaurant by showing them how great the experience is. Shoot a video highlighting the most important moments, such as walking in and admiring the décor, the friendliness of the waiters, and how good the food looks.
If you have an online ordering system, you can also make a video to show them how easy it is to order by filming the steps on the screen and the delicious food once it has arrived.
Install the most intuitive online ordering system you'll ever see.
Show customers how easy it is to order food in minutes.
Get started
Giveaways and contests
Increase awareness for your restaurant TikTok and drive engagement by hosting giveaways or contests with great prizes. They could be as simple as the classic "comment on this video to win a free meal" or as complicated as a cooking challenge to get free meals for a week.
If you are at the start, you can go for a simple contest requesting people to follow your account and then randomly pick a winner to receive a $100 gift card.
Participate in TikTok trends
To make the best restaurant TikTok videos, you must also be an avid user. You should monitor how other restaurants promote their business and the current trends (effects, music, challenges), so you can also participate.
But don't participate in any trend just because everyone is doing it. Ensure it fits your brand persona well and will help your channel grow.
Start a TikTok challenge
Sometimes you don't want to follow the trends, you want to start them. All you have to do is think of a fun challenge that is a bit complicated and invite people to try it at the end of the video. Catchphrases like "bet you can't do this" or "only real cooks can do this, can you do it?" will spark engagement.
Try to make it related to the food you serve at the restaurant. For example, if you serve pizza, film yourself stretching the pizza dough in the air and ask your followers to do the same.
Best restaurant TikTok accounts to get inspired by
Before you start creating your own engaging restaurant TikToks, you must do some research and get inspired by other restaurants that have successfully marketed their business on this platform. Check out these examples:
1. Popeyes
With 53K Followers on TikTok, Popeyes knows when to join the trends and how to make funny videos promoting their food and promotions. They have a combination of eye-candy videos of food and promotions to satisfy every type of client.
2. Pizza Hut
Pizza Hut knows you have to constantly post content if you want to remain relevant. With 258.9 K followers, they can't afford not to participate in every trend to promote their products, be it ASMR, a new music fad, or…pizza plant?
3. Wendys
Sitting at a comfortable 1.3M followers, Wendys knows what their audience likes. They check all the boxes: short descriptions, relevant hashtags, engaging videos, and promoting user-generated content.
Conclusion
Drive up engagement and get more clients by making a restaurant TikTok. It may seem like a lot of effort at the start, but once you start making a few videos and get the hang of it, you will be hooked!
By promoting your food on TikTok, you not only increase your restaurant's visibility but also create the fear-of-missing-out effect that encourages people to try out the delicious food you serve at your restaurant.