Instagram for Restaurants: How to Successfully Promote Your Business
By

Otilia Dobos

JUL 26, 2022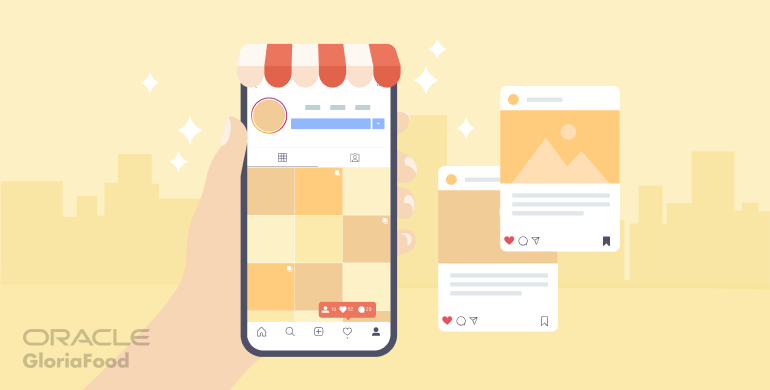 How to promote a restaurant on Instagram:
28% of the world's internet users spend their time on Instagram, amounting to 1.21 billion monthly active users in 2021. Go where your audience is and start promoting your restaurant's business on Instagram.
In this article, you will find an easy-to-follow guide to Instagram for restaurants that will help you gain visibility and attract more customers:
1. Why you should promote your restaurant on Instagram
In 2022, Instagram is the fourth most used social media platform, so it makes sense for you to promote your restaurant there. Check out the benefits of Instagram for restaurants:
Create a community: in time, by constantly posting and interacting with your fans, you will build a loyal fan base. They will help you grow by liking, commenting, and sharing your posts so you can reach an even bigger audience. Moreover, some of them will turn into repeat customers that are the backbone of your business.
Get more traffic to your website: your restaurant's website is your online business card that can also be your money maker if you install an online ordering system. With GloriaFood, you can easily install a "See MENU & Order" button that allows people to order from your website directly. Therefore, more traffic to your website from Instagram, more money!

Turn your restaurant into a brand: the first step to success is increasing your visibility, and Instagram can do just that for your restaurant. Be it through organic posts or paid ones, you will reach a bigger audience. If you devise a wise content plan and keep it consistent, people will recognize your business's name in no time.
Get more clients: include many Calls to Action in your Instagram content plan to convert followers into clients.
Read more: How to Increase Restaurant Website Traffic for Online Ordering
2. How to promote your restaurant on Instagram
You can't think about Instagram for restaurants promotion if you do not have an account. So, let's create one, and make sure you choose a business profile, not a personal or creator one. This gives you access to some features you will need later on, such as:
Instagram Insights: to grow your business on Instagram, you must be able to measure it. You will have direct access to audience demographics, reach, and interactions;
Swipe up on Instagram Stories: you can only add links in your bio and your stories on a business account. They are handy for converting because you can add direct links to your menu;
Instagram Ads: reach more people by using paid ads.
Read more: How to Promote Your Restaurant Website and Online Ordering Service
How to write a restaurant Instagram bio
To set up your profile, you will need to choose a name – your restaurant's name, a profile photo – you can use your logo, but a food picture would be more descriptive, and write a bio.
The best advice for writing a bio is to keep it short and sweet. Our attention span has diminished over the years, and people don't have time to read elaborate restaurant descriptions on Instagram. Here is a simple formula that you can follow and adapt:
Qualities – Call to action – Link to menu – Address
Restaurant Instagram bio examples
The qualities you describe in your biography can be anything, from a funky decorated location and extra friendly waiters to food made with local ingredients or no waiting time. Identify a Unique Selling Proposition that differentiates your restaurant from other businesses and use it to sell yourself.
A call to action should incentivize people to either follow you or click on the link included. Let's see some restaurant Instagram bio examples:
Fresh food with locally sourced ingredients.

Follow us for delicious dishes and advice for a clean diet!

Link to website

Address

The best cauliflower-crust pizza in the West.

Discover a variety of flavors!

Link to menu

Address
How to add a restaurant menu on Instagram
Adding a link to your restaurant menu is simple if you are using the online ordering system from GloriaFood. After configuring your menu with images and descriptions, go to Setup -> Publishing -> Facebook and copy the link provided there.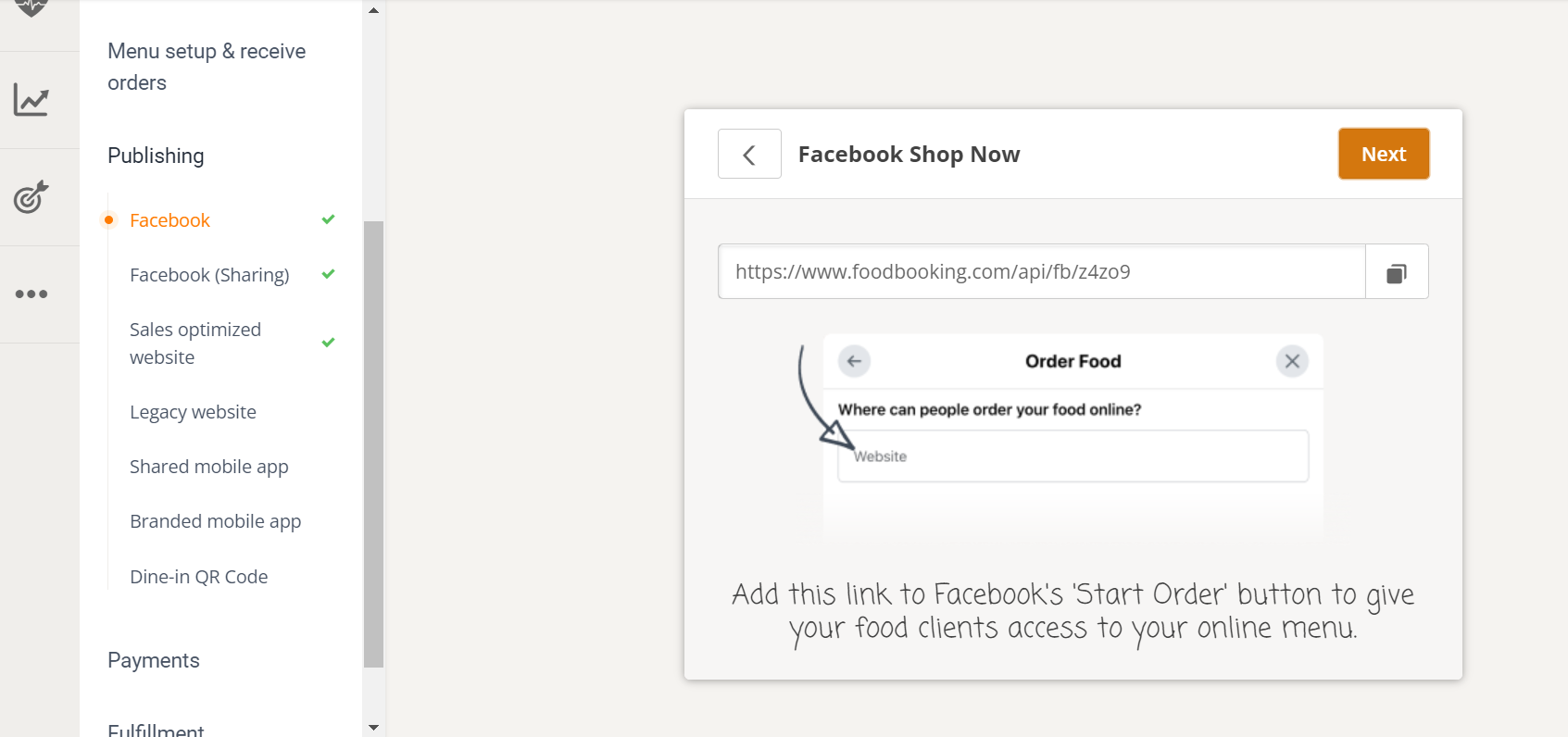 Afterward, go on your restaurant's Instagram, click Edit Profile, then Add Link and paste the link from above. Voila, a direct link to your menu that potential customers can easily access. The link works just as well on Facebook or even Twitter.
Read more: How to Write Delicious Restaurant Menu Descriptions That Sell More Food
Use your Instagram page to increase restaurant sales
Directly link to your delicious menu with our free online ordering system
Start now
How to create a content plan for your restaurant's Instagram
A content plan will help you be more organized with posting on Instagram, and keep you accountable, so you don't end up posting two days in a row and then forgetting about it for a week. Consistency is vital if you want your posts to reach as many people as possible.
How often should a restaurant post on Instagram
Ideally, you should have a new post every day, but quality should always matter more. So, if you cannot come up with seven valuable posts a week, go for three, it is more attainable. Avoid posting more times a day, people don't enjoy spam.
Best time to post on Instagram for restaurants
The best time to post on Instagram for restaurants can vary and is determined by several factors, such as location, followers' lifestyle, type of posts, or day of the week. Try to think when your audience is most active, experiment with different hours, and keep track to see which one performed best.
Instagram content ideas for restaurants
Manage your content plan with a simple Microsoft Excel or Google Sheet:
Choose which days you want to post: it is better to post great pictures three times a week than try to have seven mediocre ones;
Come up with a topic for each day: this way, you will have consistency but will be able to add more posts for important events. For example, share a dish on day one, a picture of the restaurant's interior on day two, and the chef recommending a type of food on the final day;
Plan at least two weeks in advance: this will give you time to gather quality pictures and great descriptions, and never be rushed;
Have mouth-watering pictures at the ready: consider hiring a professional photographer or learning how to take good photos, as they are the most important medium on Instagram.
Read more: Why Restaurants Need Social Media to Promote Their Online Businesses
3. Types of Instagram content you should use for your restaurant
There are three main types of Instagram content: posts (photo or video), stories (photo or video), and reels. Use all of them to reach more people, keep your community engaged, and encourage followers to become clients.
Restaurant Instagram post ideas
Captions are important, but the picture is the one that will stop people from scrolling to read it. Therefore, a successful post starts with good photography. But what exactly constitutes a great image? Well, emotion is the secret to Instagram for restaurants.
An excellent photograph won't make viewers indifferent but will provoke emotion in them, be it awe, joy, serenity, tranquility, or more. Tell a story with your food to help people engage with your restaurant's Instagram.
Here are some restaurant Instagram post ideas that you can try:
Candid photos of staff: show the human part of your business in impromptu images with a relaxed atmosphere. Who doesn't want to visit a restaurant where the employees have a good time?
Cooking photos: everybody likes to see behind-the-scenes pictures. Go for dramatic images if you can, such as pizza coming out of the oven, making pasta by hand, or an employee stretching the pizza dough in the air;
Staff presentations: let the audience know who makes the food and who they will interact with when they visit your restaurant;
Mouth-watering food photography: pictures that make you instantly hungry are the ones that usually convert; add as many as possible to encourage people to order;
Contests: occasionally, offer a food experience in exchange for likes and shares.
Instagram captions for restaurant pictures
The first rule for every caption: make it short. People don't spend that much time reading captions, so you must get to the point quickly.
Successful restaurant Instagram captions describe the picture in a few words (the type of food, ingredients, who are the people in the image) and end with a CTA or question to increase interaction.
Simple questions like "Which ones of our dishes would you like to try next?" or "Who is your favorite employee?" work well.
Instagram stories for restaurants
While posts don't always reach the follower's feed, stories are people's favorite as they can rapidly scroll through them and get instant gratification with so much diversity.
Stories allow you to share more personal images and videos and create a stronger bond with your audience. Here are some fun ideas for Instagram for restaurants stories:
Quizzes: for example, have them guess what a dish is just by the picture when launching a new menu item;
Questions: these can be serious or fun and will help you gather more information about your audience, so you can better cater to their needs;
Repost client's photos: grow your restaurant's community by sharing pictures clients took at your restaurant. Don't forget to give them credit for the image.
Another story feature you must use is Instagram highlights for restaurants. These are saved stories that appear under your bio.
The first highlights should be about your working hours and menu, so followers can easily find them. The next ones can be from events, experimental food, or anything else you deem important in the long run.
Instagram reels for restaurants
Reels are an addictive feature on Instagram that billions of people use for entertainment. These are short videos, between 15 and 60 seconds, with various themes. They can be educative, present a city, a type of food or just be fun.
Don't miss out on the feature and add reels to your Instagram for restaurants content plan! Hire a videographer or get familiar with phone videography and editing as quality reels get more views Start with these ideas:
A tour of the restaurant: film the instagrammable parts of your interior and exterior, use short sequences, and add fun music to encourage people to stop scrolling and enjoy your video;
Present your food: check out some YouTube tutorials on how to film food so you can impress your audience with a delectable movie;
Videos from events: capture the fun atmosphere of various events, so you can create FOMO for the followers that could not attend.
4. Tips and tricks for your restaurant's Instagram success
In the past, people got their restaurant recommendations through word of mouth. Now, it's more word of Instagram, as pictures often speak louder than words, and a tasty food photograph is the ultimate recommendation. Here are some Instagram for restaurants tips and tricks:
Use Instagram hashtags for restaurants
First, you need a restaurant hashtag that people can use when they visit your restaurant or post something that has to do with your business. It should be simple, just your restaurant's name, #restaurantname. Add it to your posts and share stories to encourage your followers to use it.
Secondly, every post you make should include relevant hashtags. This way, you increase your reach, as more people will find your page when they search for those hashtags. But how do you know what hashtags to use? Here is what you must do:
Research your competition: sift through your competitor's posts to find hashtags appropriate for your business;
Use hashtag aggregators: with a simple Google search, you will find many aggregators that will suggest hashtags based on a keyword;
Search Instagram: start typing food and industry-related words on Instagram, and the platform will show you if it is trending and what other similar words you can use;
Interact with users
You can have a beautifully curated content plan, but your restaurant won't become popular on Instagram without you interacting with your followers. People need to feel like the interaction goes both ways. They expect you to respond if they take the time to comment on your post.
It is a best practice of Instagram for restaurants to interact with the audience through direct messages or stories and by replying to every comment. Your time is precious, so the answer does not have to be elaborate, a simple emoji will often suffice.
Yes, this also applies to negative comments. By replying, you let the audience know you care about everybody's opinions and want to improve. Remember to be polite, say sorry when you need to, and devise solutions to make the customer happy.
Implement promotions
Promotions make the restaurant's world go round! A post about a food offer will undoubtedly see more engagement than a simple image of a dish, so try to implement promotions constantly to encourage people to order from your restaurant.
With the online ordering system from GloriaFood, adding promotions to your menu is intuitive thanks to the streamlines process. You can choose from a variety of tried and tested free restaurant promotion templates and target them to your audience. We also offer premium promotion templates for a monthly fee.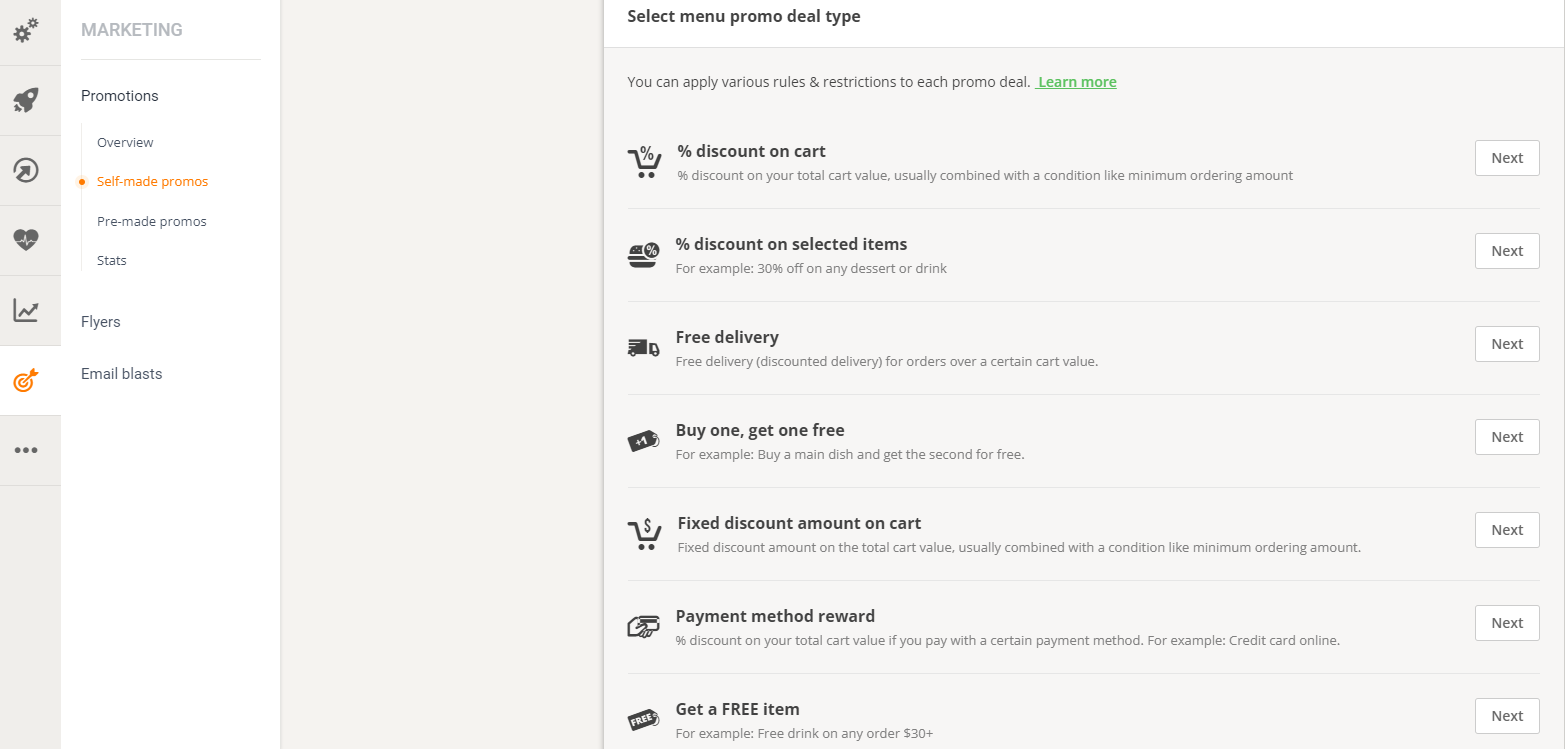 Afterward, add the smart menu link we mentioned above in your bio and promote it in your stories to get more clients.
Implement food promotions fast and easy
Install an online ordering system to your website for free
Start now
Collaborate with influencers
Influencers are the ones that make the law on Instagram, as they have already achieved your goal of becoming popular. The good news is they can help turn your restaurant into a brand if you collaborate with them.
Choose local influencers so they can have the same audience as you, and check out their content to get an idea about how they could help you. Afterward, send them a message to establish the terms for promoting your restaurant, barter or paid.
Read more: How to Invite Influencers to Your Restaurant for a Successful Collaboration
Conclusion
Instagram for restaurants is no easy feat, but it is a necessary part of promoting your restaurant business.
As long as you get organized and make a content plan ahead of time, you can go ahead and have fun posting stories and interacting with your followers.
With time, consistency, and attention to detail, your restaurant's Instagram will grow and eventually become an easily recognized brand.