How to Build a Restaurant Menu That Will Skyrocket Your Online Sales
By

Laura-Andreea Voicu

APR 26, 2021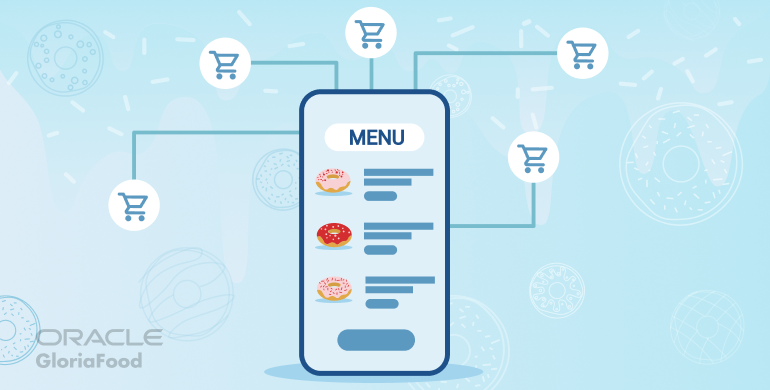 Tips & Tricks on Building a Restaurant Menu Online
Did you know that 77% of customers check a restaurant's website before visiting? What do you think they're looking for there? Obviously, the answer is an online menu. If you want to sell more food online, posting the same menu you have in your restaurant won't work. You need to create an exclusive online menu. Below, we will teach you how to build a restaurant menu optimized for online sales.
Why Building a Restaurant Menu Online is Necessary
Creating a digital menu in this day and age is necessary for any restaurant that wants to boost its online sales. One of the main reasons why building a menu for a restaurant online is a good idea is simply exposure.
By having a website and posting your menu there, potential customers can discover you online. This comes as a response to our increasingly digitalized world. The more time we spend indoors, the less we're likely to discover restaurants the old-fashioned way, by walking around town. Now, most people find restaurants online, and that's where you need to be to make a splash.
Seeing restaurant menus online helps customers decide whether they want to eat there or not. And not just that. If you build a restaurant menu with online ordering included, they can even place an order on the spot.
Posting a menu online will also boost your SEO efforts. Search engines such as Google will crawl it and later rank your restaurant on the first page for search results that include keywords you've used in the menu. Let's say you serve traditional Italian pasta. People searching for this keyword might stumble upon your restaurant's menu and become your customers.
How to Build a Restaurant Menu Online: Tips & Tricks
1. Include mouthwatering pictures of food
One of the most important aspects of any restaurant menu is the photos you use to capture people's attention and persuade them to try your dishes. Especially useful in online menus, high-quality, good-looking pictures will make customers salivate, anticipating the actual product.
If you want to make a lasting impression, invest some time and resources into taking professional photos of your food. You can try to do it yourself if you have some knowledge of food photography. Still, you won't regret hiring a professional photographer either.
Read more: Why Food Photography Is Important for Your Restaurant Website and Menu
2. Highlight promotions and special offers
When you build a menu online, remember that people love discounts and special offers. Make them the highlight of your menu by placing them at the very top and including a delicious-looking picture of what they're going to get.
Showing customers a promotion right when they're deciding what to order can serve as an extra incentive. This might increase cart value and leave the customer with a sense of fulfillment and the idea that you offer promotions regularly.
You might also like: Restaurant Website Promotion Ideas for Delivery & Takeout
3. Consider having a separate menu for takeout and delivery
Not all items you serve in your restaurant also travel well for delivery. Instead of sacrificing customer experience, build a menu that is separate from your brick-and-mortar menu. Choose only the items that are suitable for travel and consider adding some exclusive menu items only available for delivery.
This will help prevent bad reviews and make your customers' and delivery riders' lives easier. On that note, limit your delivery radius, so it doesn't compromise food safety and quality. Delivering far away from your restaurant doesn't make sense if the food will arrive cold to your customers.
4. Don't upload the menu in PDF
One of the biggest mistakes you could make when building a menu for your restaurant website is uploading it in PDF. First of all, PDFs are more difficult to crawl and index by search engines, so your menu might not appear in people's searches.
Secondly, they make for a bad customer experience. They are difficult to read, don't load properly on mobile devices, and remove customers from your site by opening in a new window. All in all, it's time you moved on from the PDF menu.
You might also like: How to Use an Online Menu Builder to Boost Restaurant Sales
5. Add a "See Menu & Order" button in your website's header
When learning how to build a menu for a restaurant online, consider where you're going to place the menu button. If you're offering delivery as well, merge the two call-to-action buttons into one: See Menu and Order.
The best place for this button is your website's header. That way, it will be one of the first things customers see when accessing your website. Don't make them look for it because they will leave your website in the blink of an eye.
Read more: How to Place the Order Online Button on Your Restaurant Website to Sell More
Get your own Sales Optimized Menu
High-resolution images & online ordering built-in
Get started now
6. Make sure the menu is responsive and mobile-friendly
Nowadays, many people look up restaurants and place food orders on their phones. Not having a mobile-optimized website is a travesty, and it will actively lose you money. No one has the patience to try and navigate a menu that doesn't load properly on their device anymore. They'll just skip to the next restaurant.
Remember, you have to build a restaurant menu that automatically adjusts to the screen size and orientation of the device customers use to view it.
7. Don't overwhelm customers with too many menu choices
One of the basics of restaurant menu design is to keep it simple. If you have an abnormally long menu, not only will it be challenging to browse through, but it will also bring about what is called the "paradox of choice."
This happens when people have too many options and, instead of that bringing them satisfaction, it induces stress and decision paralysis. This is one of the reasons why restaurants with small menus are more successful.
8. Use upselling and cross-selling to increase cart value
One of the most profitable restaurant menu ideas for increasing online sales is upselling and cross-selling. This is much easier to do when using an online restaurant menu template than in the actual restaurant, on printed menus.
Upselling is the tacting of adding menu modifiers that people can select for their order. These include toppings, desserts, beverages, and even the choice to supersize a menu for a few extra dollars.
Cross-selling involves recommending items that are frequently purchased together. For example, if a customer has ordered vegetarian pasta, suggest a vegetarian dessert to go with it.
9. Save customers' info so they can order faster next time
Make your customers' lives easier by memorizing their name, address, and phone number the first time they place an order. That way, when they come back, they can place a new order in just a few clicks, skipping over the process of inserting their delivery information.
It might seem like an insignificant detail, but it will make customers happy. If there's one thing they don't like, it's spending much time ordering food (especially when they're ravenous).
10. Offer multiple payment and fulfillment options
Speaking of customer satisfaction, the more options you give them in terms of delivery and payment, the happier they'll be. Allow them to pay cash, card to the delivery person, or online to maintain social distancing and avoid exchanging bills.
When it comes to fulfillment options, we suggest no contact delivery. The rider will ring the doorbell and leave the order at the door. You can also offer curbside pickup where a staff member will bring the order to the customer's car.
Try the GloriaFood Restaurant Menu Maker
What if we told you there is a restaurant menu template you can use to do all of the things we've mentioned above in just a few minutes? That's right. You can use GloriaFood's blank menu template to add your menu items and customize them according to your needs. We take care of the rest.
Our free menu maker comes with online ordering already built-in, so you don't have to pay anything to start taking online orders on your website. And if you're wondering how to build a menu in WordPress, just download our WordPress restaurant menu plugin.
If you are interested in a restaurant menu app to complement your online menu, we also offer that as a premium service. Read more about it here.
Get more clients with an attractive online menu
Try our free menu builder and start taking orders in minutes
Start now
Conclusion
Learning how to build a restaurant menu might not be rocket science, but it's also not something you should ignore or take lightly. Design your restaurant menu to be optimized for UX and sales, and you will notice your income soar. Luckily, you can use restaurant menu design software to generate an online menu, which takes a lot of the pressure off your back.