How to Use an Online Menu Builder to Boost Restaurant Sales
By

Laura-Andreea Voicu

DEC 14, 2020
If you are looking for ways to boost your restaurant sales in these tough times, look no further than selling food online. For that, you need an online ordering system with an easy to use online menu builder. Restaurant menus online play by different rules than printed menus. They need to be more visual and emphasize mouth-watering images of food to persuade customers to place an order.
In this article, I'll show you how you can use an online menu builder to craft an optimized, easy-to-use ordering experience for your customers, and what you should focus on to boost sales.
How to Set up a Restaurant Profile in Under 30 Minutes
I know that this is a difficult time for restaurants everywhere and that no one wants to waste time and money setting up an online menu for food delivery. You need a simple solution like the GloriaFood online ordering system that allows you to set up your restaurant profile in under 30 minutes and start taking online orders within hours for free.
After you sign up, you will get access to a restaurant dashboard where you can add your restaurant details and use our visual menu maker to configure your online menu. First, fill in your basic restaurant information such as opening hours, location, services (takeout, delivery, or both), main cuisine, and so on.
Learn more: How to Set up Online Ordering System for Your Restaurant's Website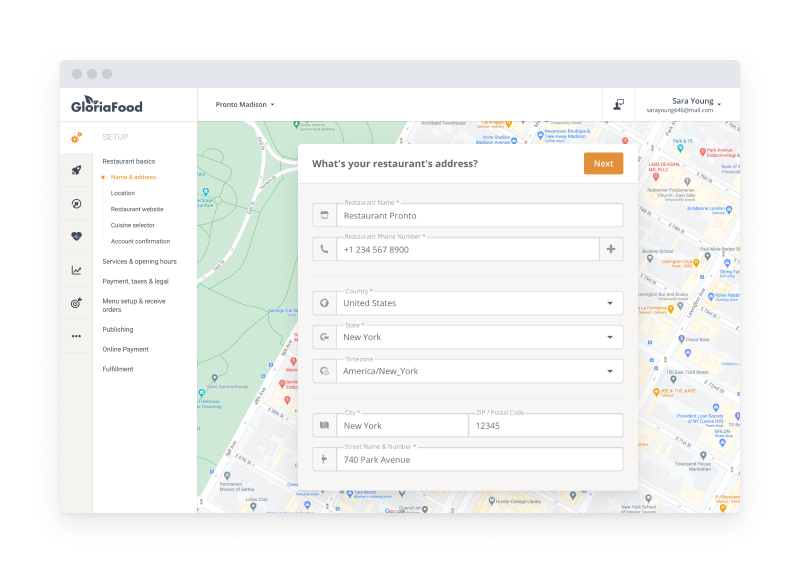 Then, use our online menu builder to configure your restaurant menu. Included in the builder, you will find tutorials that will help you put everything together.
Related: How to Build a Restaurant Menu That Will Skyrocket Your Online Sales
To start taking online orders, you just need to publish the "See MENU & Order" button on your website. If you don't have a website yet, you can use our restaurant website builder to generate one that is optimized for both sales and SEO.
Read more: How to Place the Order Online Button on Your Restaurant Website to Sell More
Keep in mind that you can also publish the order online button in other places if you want to take orders from multiple channels:
Once you've published the order button on your website, you can start taking online orders. It's that easy! This is how our sample takeout menu looks like from the perspective of the food client: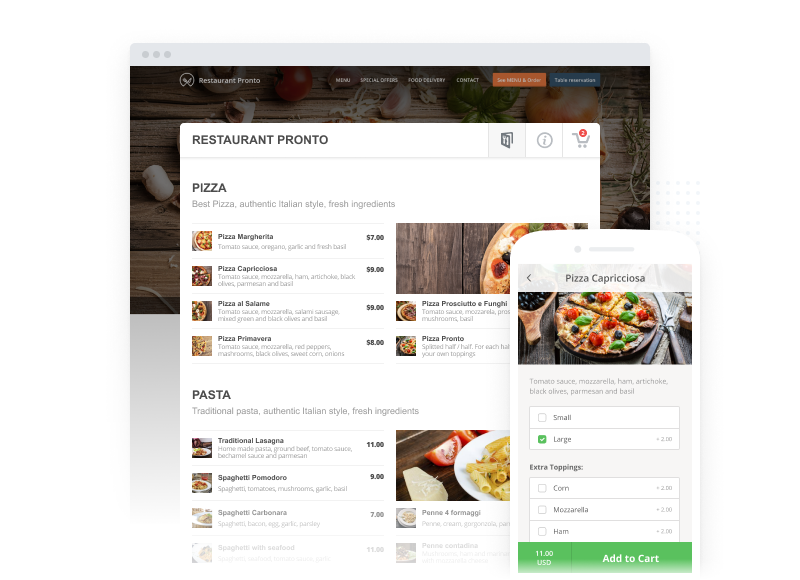 Now, let's see how you can use our online menu builder to personalize your delivery service and bring in more customers.
You Might Also Like: Menu Design Ideas to Help You Sell More Food Online
Build attractive menus that will entice your customers to order more
Start by creating a free account with us
Build online menu
Deliver Around Your Restaurant to Boost Sales Locally
If you're just getting started with online ordering, the best strategy is to set tiny, granular delivery zones so you can focus on your local community. Particularly now in the climate of the pandemic, you should consider asking your front of staff workers if they would want to deliver for a while until in-store business picks up again.
The good news is that with our system, you can draw your own delivery map, no matter how small.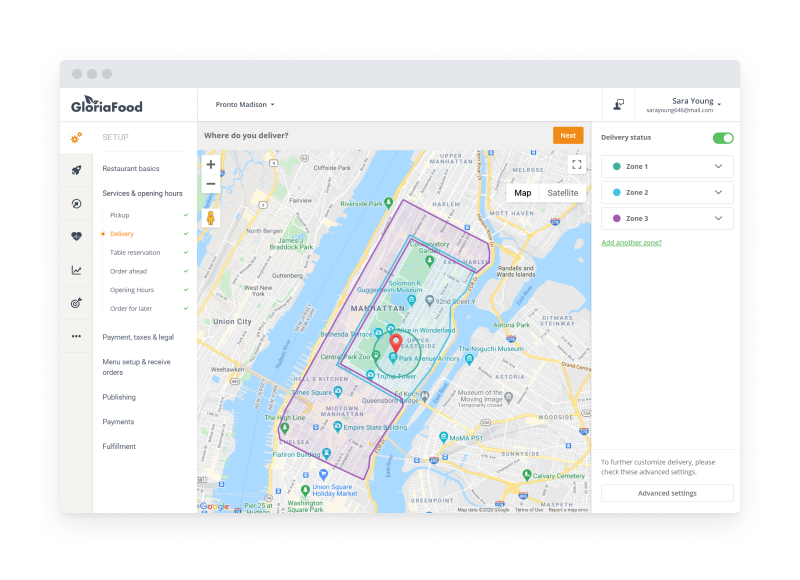 You can also use delivery heatmaps to find out where high-paying customers are and target that area specifically to increase your sales. The brighter the color on the heatmap, the bigger the sales potential of that area. As next steps once you've pinpointed the areas you want to target, you can:
Distribute flyers advertising your delivery service in areas with greater promise;
Set up a minimum order value in areas that don't show that much promise;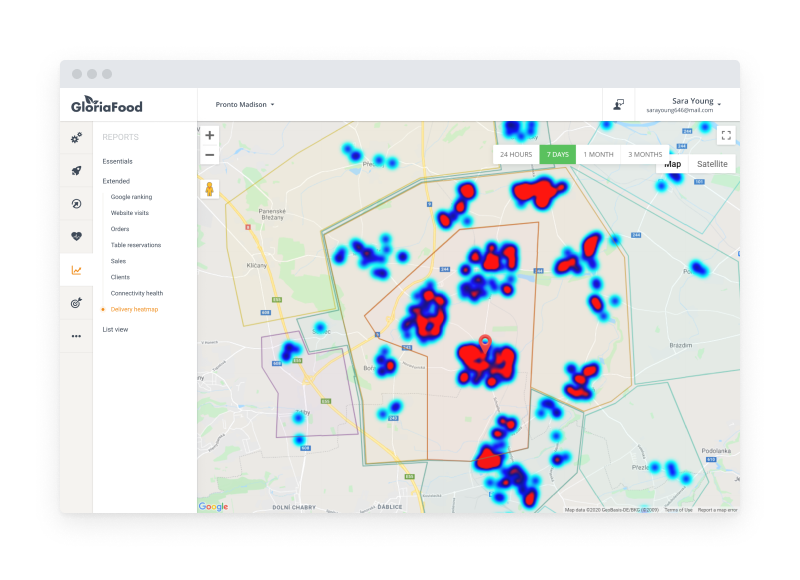 Create Online Promotions to Draw People in
The best way to spread the holiday cheer (or simply get a boost in orders on slow business days) is to offer exclusive online promotions. It will help you secure customer loyalty and increase cart value with little effort on your part.
Why am I emphasizing that? Because our free online menu builder comes with a promotions module built-in for free. The builder is visual, which makes customizing the promotions a piece of cake. Among our most popular promos are:
Free delivery -> for when you want to stimulate spending and increase order value.
Buy one, get one free -> a great promo for slow days when you have few orders to encourage people to order more.
Get a FREE item -> for when you want to increase order value and make it easier for customers to spend more by offering a sweet reward.
Discount on first buy -> to attract new users with a discount on their first buy (typically for a minimum order value).
Meal bundle -> to cater to people who are looking for a full, three-course meal or to families.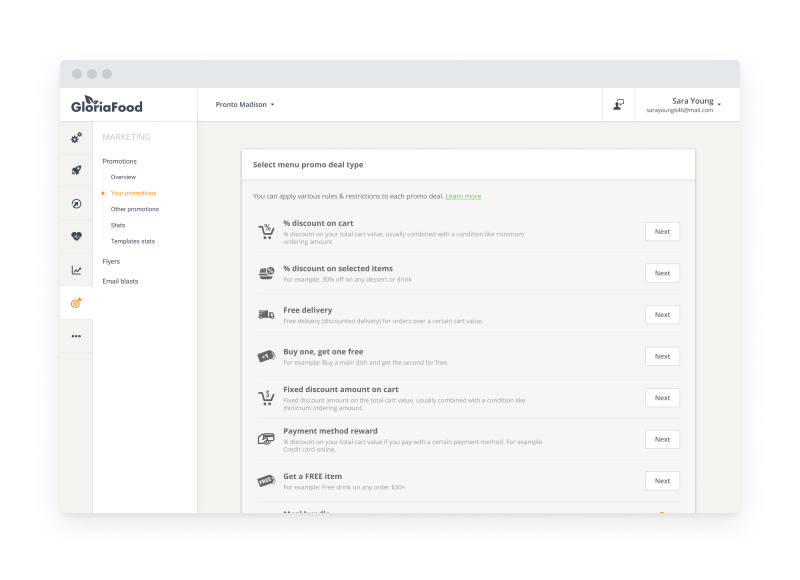 Once you activate a promotion, it will show up at the top of your online menu to attract people who are thinking about placing an order.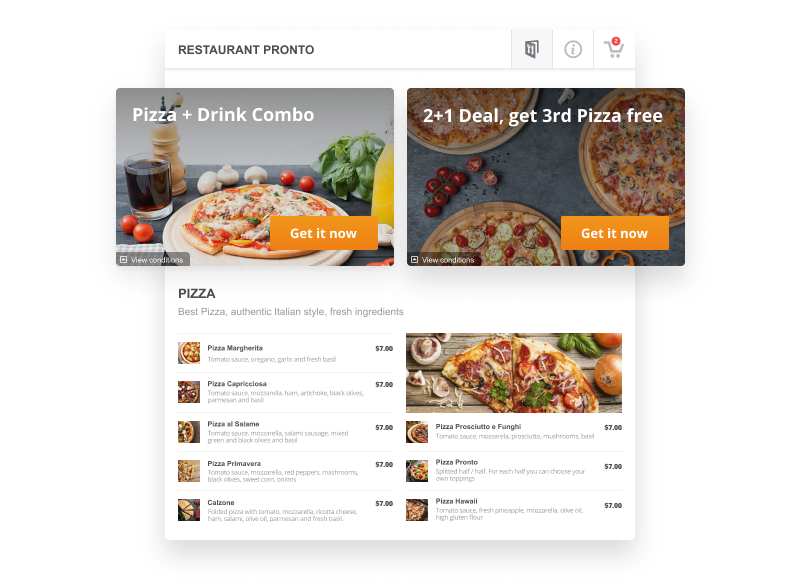 For the % discount on total cart value (usually combined with a minimum ordering amount) promo, once customers approach the minimum ordering amount you've set, the system will notify them of how much more they need to add to the cart in order to benefit from the promotion.
You might also like: 10 Restaurant Website Promotion Ideas for Delivery & Takeout
Invite Existing Clients to Order from You Online
The main purpose of digital menus for restaurants is to attract as many new people as possible to your restaurant. But what if I told you you can just as easily convince people who've dined with you before by sending them an attractive email or SMS featuring a sweet deal?
Our online restaurant menu design software also includes the option to invite clients to order online in just a few clicks. All you have to do is import your existing clients' list and customize the first-order promo you want to offer.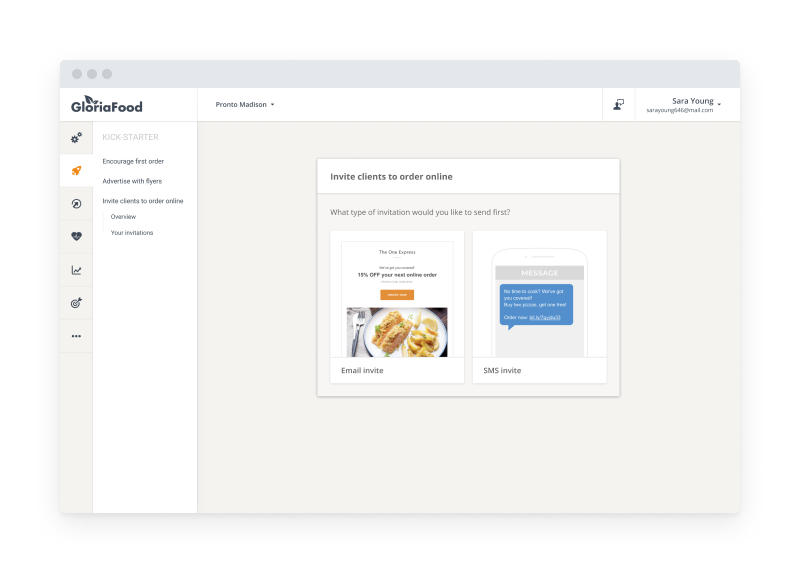 Pause Services Whenever You Need a Break
Are you feeling overwhelmed by the number of online orders coming your way? Are you closing your restaurant on national holidays or do you want to take a day off? No worries! The best take out menu design out there should include a Vacation Mode. And it does!
From your restaurant dashboard, you can pause your services for a short period of time or operate on a special schedule. You can even add a notification message that customers will see when visiting your website.
For example, if you're closed for New Year's Eve, you can display a message saying "Happy New Year's from all of us here at [restaurant name]! We'll be back on the 2nd of January."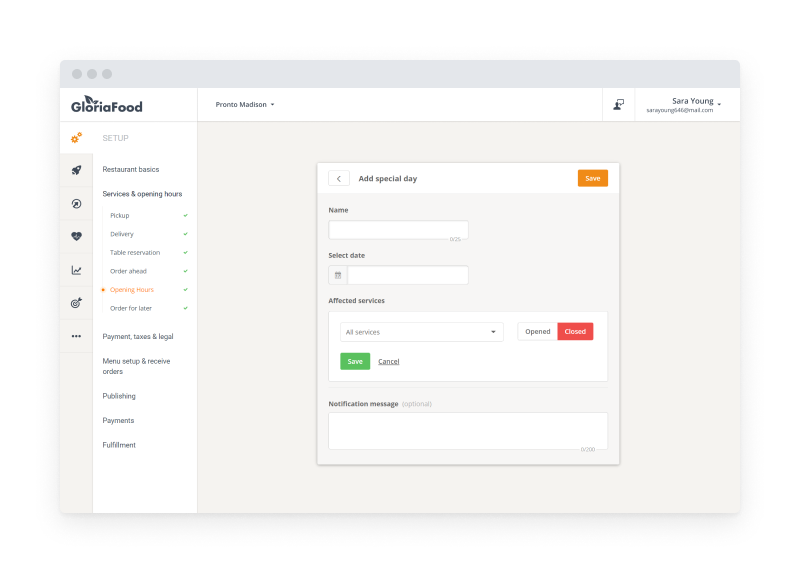 Final Words
Restaurant menu design doesn't have to be a hassle. With the right online restaurant menu builder, you can customize and configure your menu in a matter of minutes, and take your first online orders by that same evening.
The key to a successful online menu is to keep it simple and visual. If it's easy to understand and order, customers will flock to it with just a little nudge from your part. To check out a simple menu example designed using our online menu builder, click here.