5 easy tips on how to get more positive Google Restaurant reviews to boost order
By

Otilia Dobos

OCT 21, 2022 (Updated: Sep 22, 2023)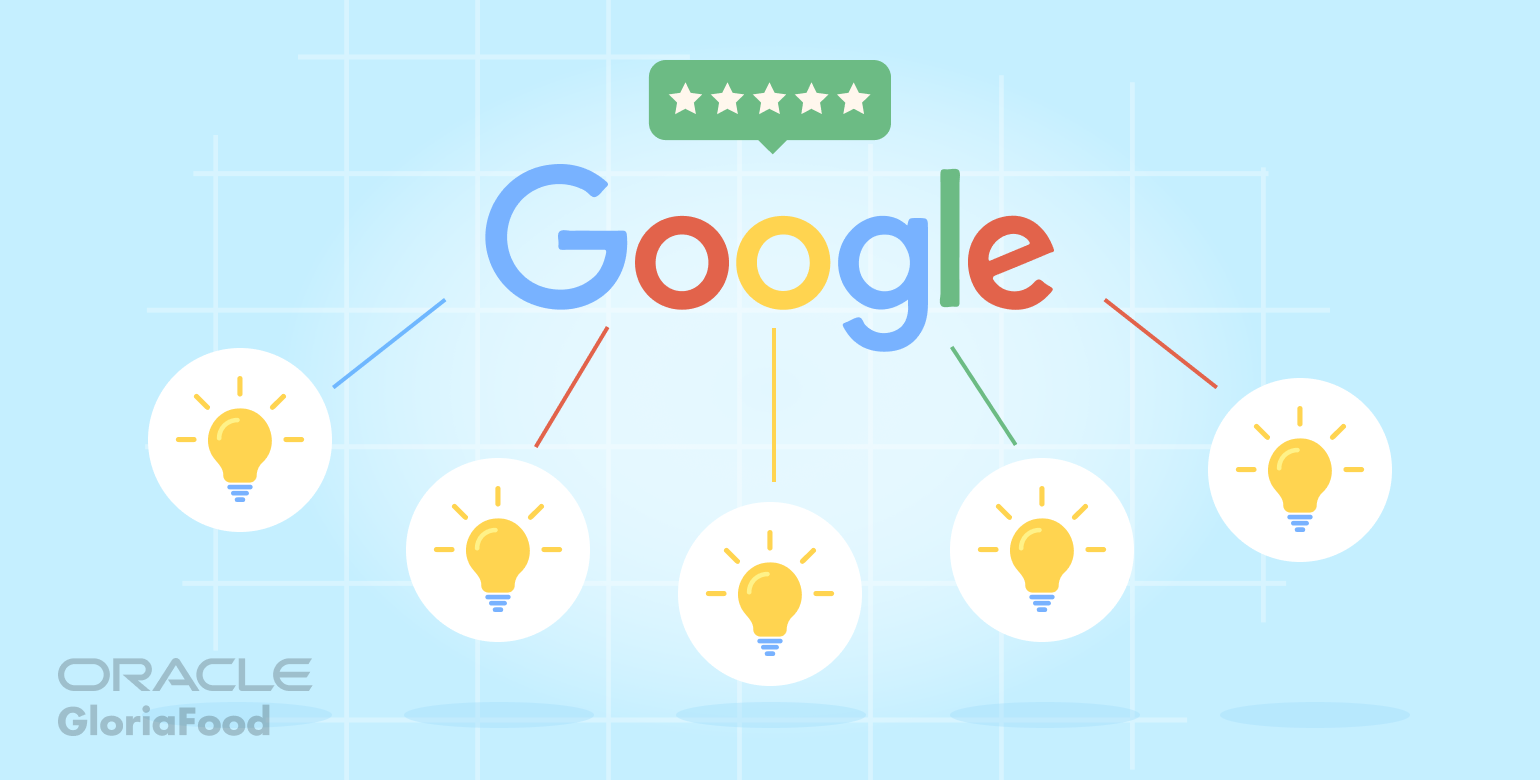 Before the internet played such an important part in our lives, you could only get restaurant reviews and recommendations from friends and acquaintances. But now that technology is a common occurrence, word-of-mouth has transformed into Google restaurant reviews.
98% of consumers read online reviews for local businesses, and 81% use Google to either read or leave a review. Therefore, if you want to increase your restaurant's visibility and attract more clients, you need to go where they are, on Google.
In this article, you will find out how important restaurant reviews on Google are, how to get more, and why you should make a habit of replying to them.
Why Google restaurant reviews matter for your business
The restaurant industry is incredibly competitive, and you must jump on every trend that can help your business stand out. There are many review platforms out there that can help your restaurant grow, but Google is the one people use the most, so you should focus your attention on optimizing your Google My Business profile.
Compared to other restaurant review websites, Google is also the most popular search engine, and good reviews can help with a lot more than making a good impression on review readers. Let's see what the benefits are for encouraging customers to leave you Google restaurant reviews:
Positive Google reviews for a restaurant will help you rank higher online
Google reviews are used as a ranking factor for both Map Pack and Local Ranking. Let's see what each of them does.
When you search for a business using location-specific keywords such as near me or the name of the city, you will see a map with place marker icons at the start of the search. Map Pack is the most sought-after position on this map, and reviews account for 17% of the ranking factors. Google considers the high star ratings, the positive sentiment in review text, and the quantity of Google reviews.
Map Pack is the most sought-after position on this map, and reviews account for 17% of the ranking factors. Google considers the high star ratings, the positive sentiment in review text, and the quantity of Google reviews.
Local ranking is how high your website will be shown in the same local searches as above. Reviews only make up 5% of the local ranking factors, the rest focusing on on-page and off-page optimization.
Google reviews allow you to manage your reputation
Google reviews are not a one-sided street. While people get to voice their opinion of your restaurant on the platform, you also get the chance to respond and mediate the situation, maybe even change their mind.
It is important to reply to every review, be it positive or negative, so other readers can see you value clients' opinions and are open to change for the better.
Google reviews bring more traffic to your website
Most people type a simple keyword on Google when searching for a place to eat, such as "indian food near me" or "pizza place in Boston". After finding your Google My Business profile and checking out the reviews, they want to see what your menu looks like.
This will lead them to click on your website link, creating more traffic for your restaurant's website. Make sure you have a sales-optimized website, like the one provided by GloriaFood, that will offer clients a seamless browsing and ordering experience.
More restaurant Google reviews, more sales
People read google restaurant reviews because they believe them to be an accurate description of the restaurant. One person may have disliked your food, but if many others praise your restaurant, you will constantly get more clients.
Reviews aren't relevant just for the search engine, but for the large audience that reads them and will be encouraged to become customers.
The huge impact Google Maps restaurant reviews have on your customers' actions
To understand why Google marketing for restaurants is so important, you must be aware of how the Google Maps search looks when someone searches for a place to eat in their area. Let's say a person is craving a pizza and they search for "restaurant pizza".
People can search on the search engine and then access maps, or search directly in the Google Maps app. They will be shown a variety of restaurants in their area that advertise they sell pizza through sustained SEO efforts.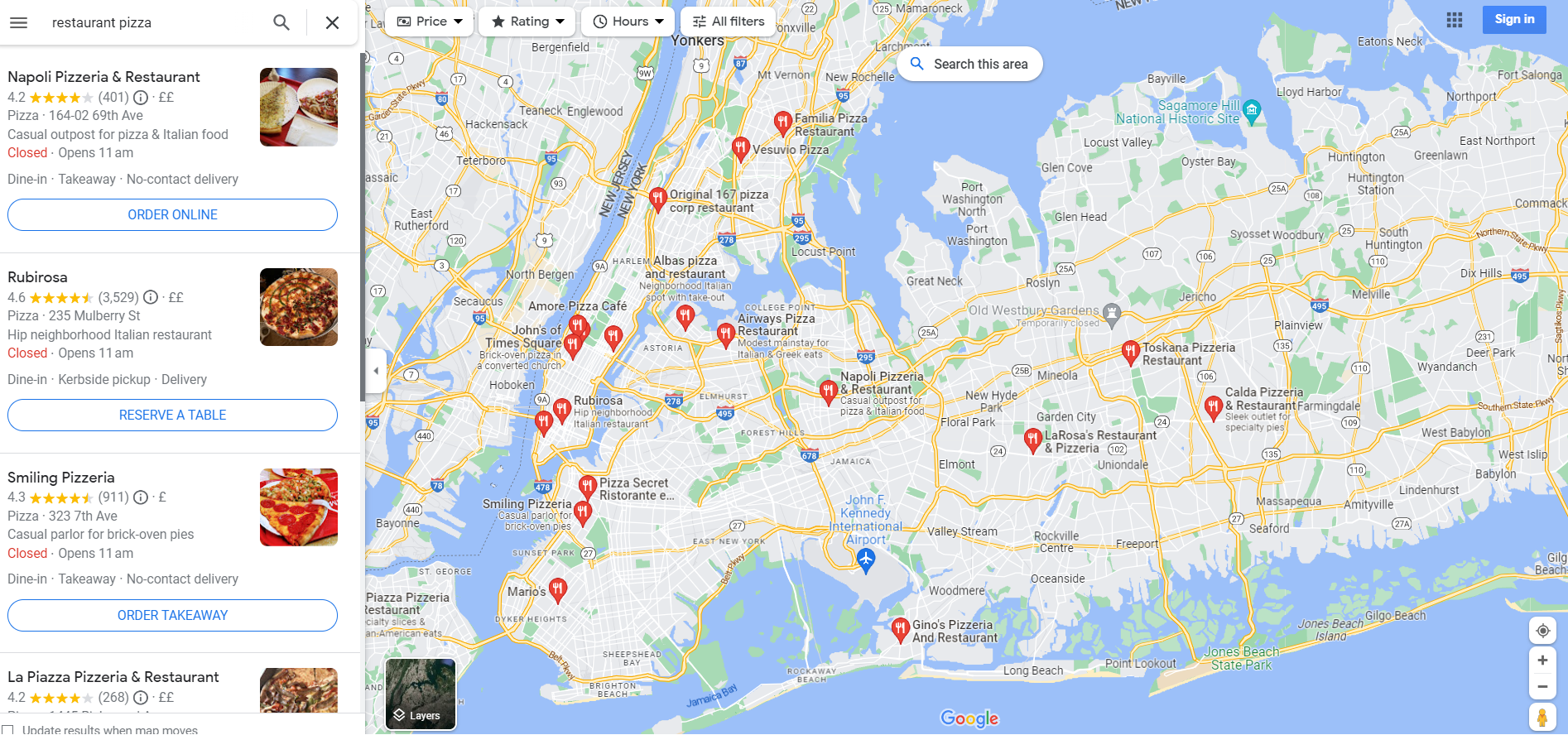 You can see at the top that people can use different filters to choose a restaurant, including price, working hours and Google restaurant ratings.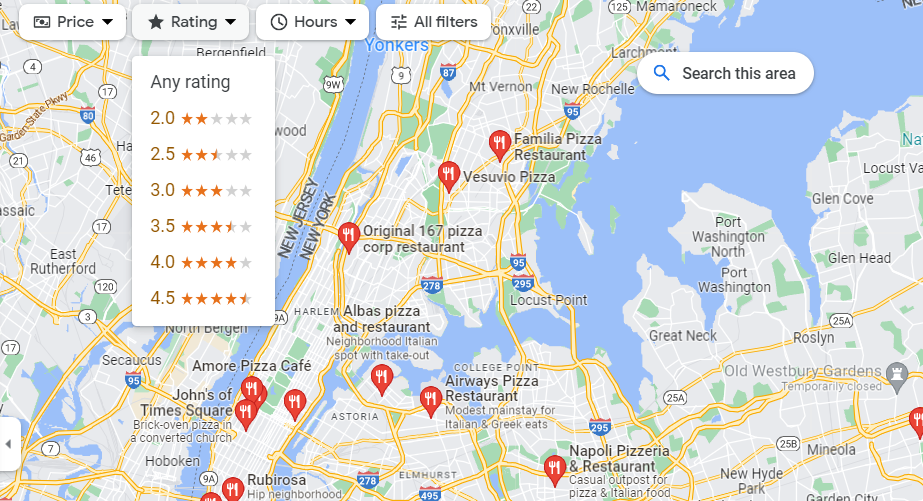 People will surely select the highest rating, why would they choose a lower one if they want a great food experience? Therefore, if you want to attract clients, you must ensure your have a lot of good ratings.
The way you update your Google Business Profile is also important because when people click on a restaurant's name that they see on the map or in the enumeration on the left, they will see a short preview that can make a difference.
For example, if you have your website listed, clients can easily click the link and access your menu to order. Attract customers by offering them convenience right at their fingertips.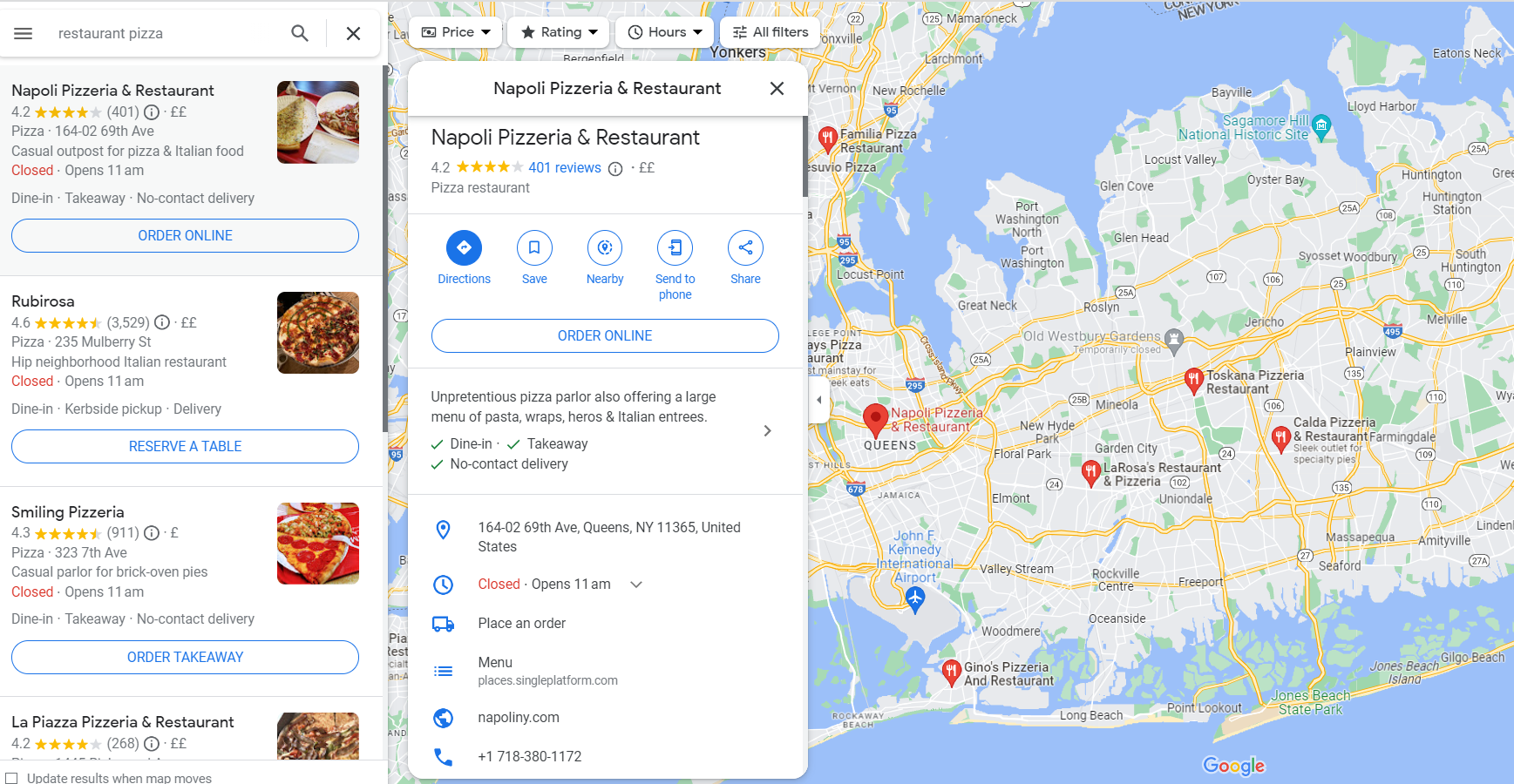 5 ways to encourage clients to leave restaurant reviews on Google
How to get google reviews for your restaurant? The first step to getting Google restaurant reviews is to claim your business on Google My Business and complete your profile with as much relevant information as possible, such as:
Location: include directions to help people easily reach your restaurant;
Working hours: avoid bad reviews by having updated working hours available, complete with national holidays or vacation days;
Link to website: drive traffic to your traffic website by making it easy for people to find your menu;
Many pictures: include images of your menu, menu items, the location from the inside and outside, and candid pictures of your staff to show how great the atmosphere is at your restaurant.
Google restaurant reviews are the recommendations you need to build trust with potential clients and are the most important search engine. Not all people make a habit of leaving reviews, so you may need to give your clients a little nudge to review your business. Here are five efficient ways to encourage clients to write positive reviews:
1. Link to Google reviews on your website
First of all, you need a website that offers people a great experience and easy access to all the relevant information about your restaurant. Here are some of the essential features of a high-ranking website:
Mobile-responsive: the mobile version of your website should load as fast and be as responsive as the desktop one because you don't want to lose the clients that prefer to browse from their phones;
Easy to navigate: you don't need a complicated website with many hard-to-reach pages. Go for a simple, intuitive design, with all the important information easily accessible (location, working hours, and especially, a menu link);
SEO-optimized: if you want to see your website on the first page of Google, you must ensure your content is full of relevant keywords.
If you want to skip a step and get a sales-oriented website in just a few minutes, become a GloriaFood member! No need to stress about technical knowledge. You get access to the easiest website builder that is all visual. Click here to see a demo of our sales-optimized website.
Grow your business with more positive Google reviews
Get a sales optimized website for your restaurant
Start now
The best part is you will receive a personalized website with customized texts and images, already SEO-optimized! Sign up on GloriaFood, go to admin -> Setup -> Publishing -> Sales Optimized Website, and you are ready to impress visitors with a seamless browsing experience.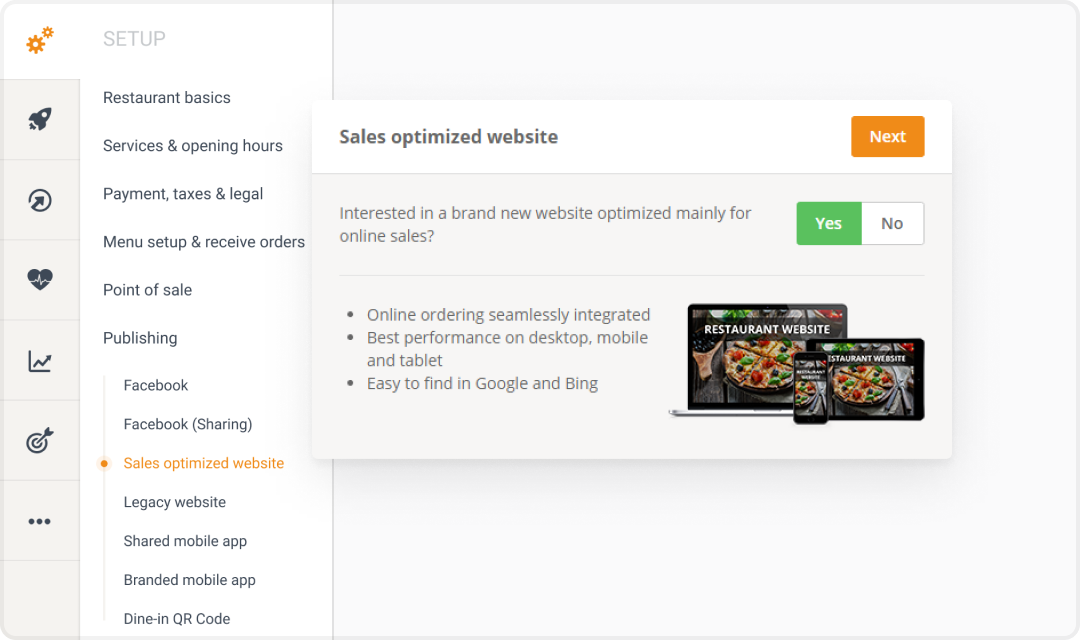 You can personalize the sections on your website, so you can add a banner where you encourage clients to review your restaurant. Here is an example of a message you can add to entice people to add Google restaurant reviews:
"Did you enjoy your experience dining in or ordering from Pizza Pronto? Spread the word! Share your opinion on Google reviews so we can continue improving our business and offer you delicious food daily!"
You can also add the direct link that leads clients to the Google restaurant reviews section in the External links section.
You can customize the name and message to persuade clients to leave a review, such as "Don't forget to review our restaurant!" or "Please help us grow by reviewing our business on Google!"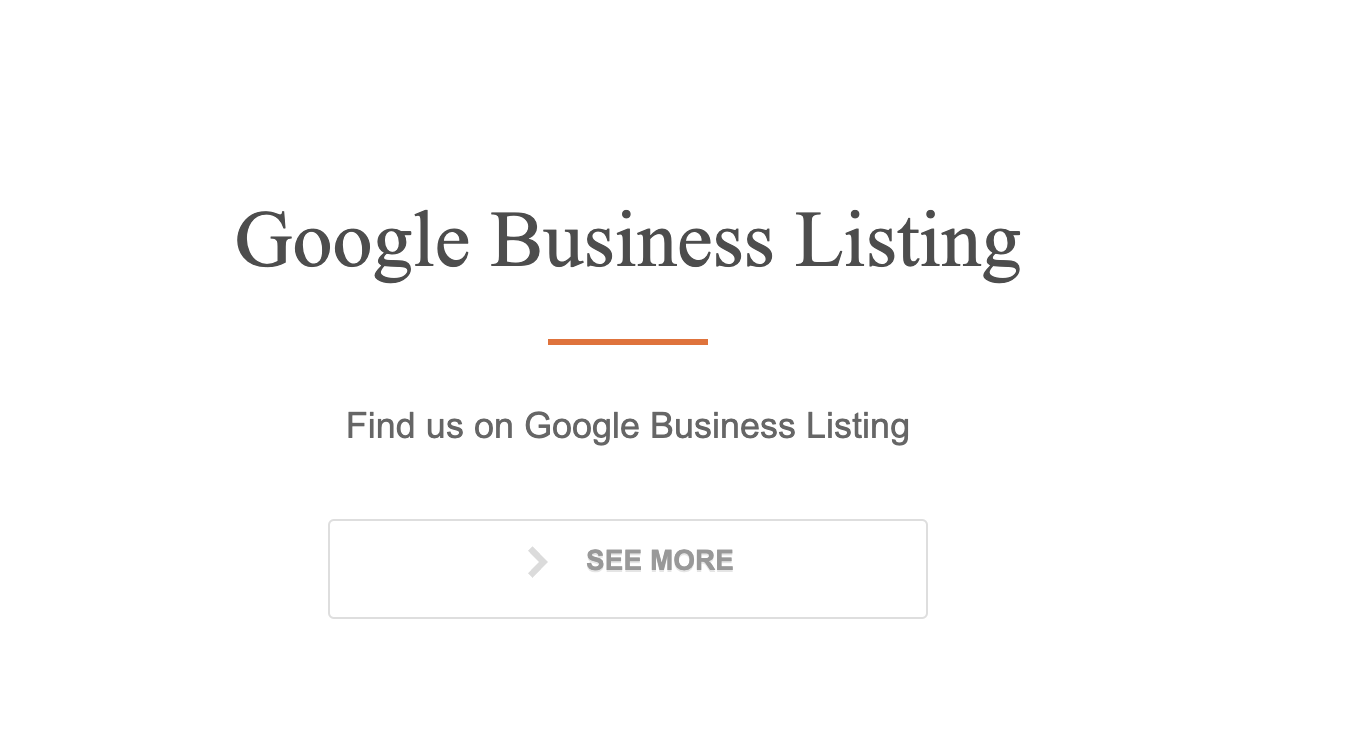 2. Have a card placement on every table to ask for Google reviews
Make it visible to your clients that you have claimed your business on Google and would like their help getting more positive reviews. A card placement with details on how to reach your page and leave a review is a very subtle hint, without being intrusive.
The best part is that the card will be in their line of view the whole time and will subconsciously remind them they should leave a review. You could also offer a small incentive to encourage them, such a free dessert or soda.
This tactic can also be applied to online orders. If you go to your Google Business Profile and browse the widgets, you will notice one named "Ask for reviews".
Click on it and Google will generate a personalized link for you that you can send to clients. When customers click on it, they will automatically be sent to the Google restaurant reviews form, so they can leave a review fast and easy, with no extra steps.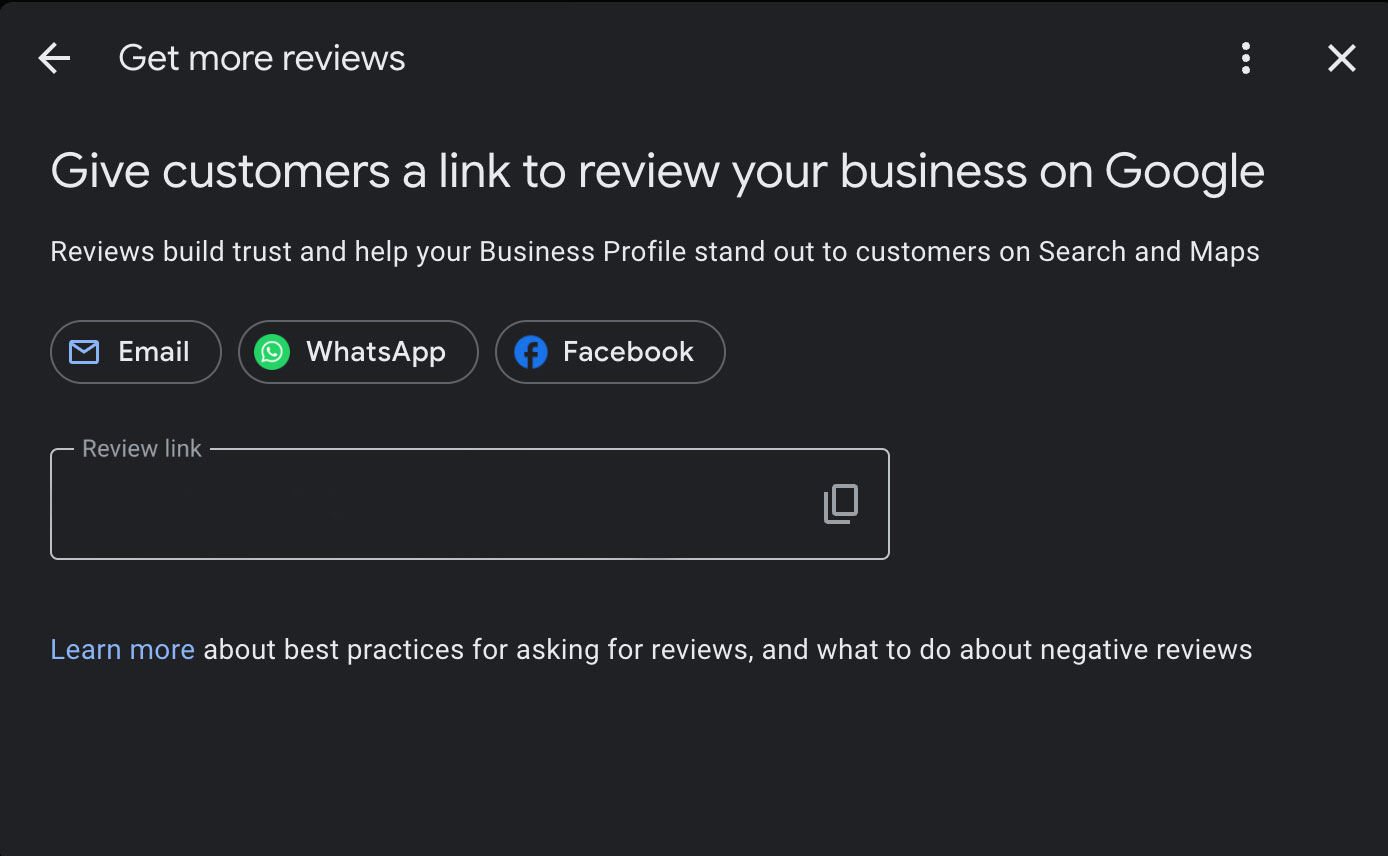 3. Train your employees to encourage clients to review
Your employees interact the most with your clients, they seat them, bring them the menu, and give them recommendations. So, you can say they form a connection with every customer in the small amount of time they are in the restaurant.
The staff can notice when somebody is having a good time and estimate the perfect timing to ask the client to leave you a review, be it when bringing the check or when they are leaving the establishment.
Train your team to do it in a natural, friendly way, for example, "If you enjoyed your experience at Pizza Pronto, you could leave us a review on Google. We would appreciate your help as we are constantly trying to improve our business." No need to insist if the customer doesn't seem receptive, as it could have the opposite effect.
4. Offer incentives for Google restaurant reviews
A sure-fire way to persuade customers to review your restaurant on Google is to reward them for their time and effort. And what better recompense than a finger-licking good dessert?
The easiest way to promote this incentive is to use our restaurant menu maker and add a category at the top of your menu with a catchy name such as "Free dessert for a great testimonial".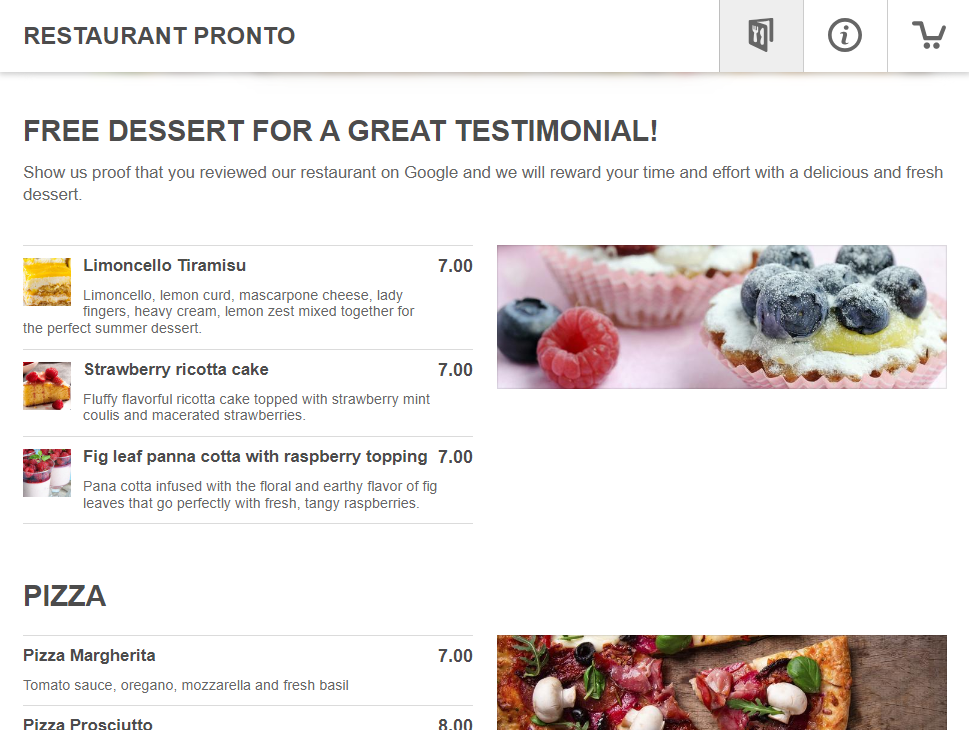 It will be the first thing clients see when they browse your menu, and they will be tempted to take advantage of the great offer. To get the free dessert, all they must do is show the waiters proof of the Google restaurant review they just left.
The deal can also be available for online orders, just ask clients to leave a comment with the name they used for the review. As reviews appear on Google in an instant, you can check your Google Business Profile for their name when confirming the order.
Check out this video that will show you how to customize your online restaurant menu in no time:
Don't forget to share the news about your new offer for Google restaurant reviews on social media to build hype around your business and get more orders and positive testimonials.
5. Ask for reviews on social media
Social media is where you can easily interact with your followers and build a community of loyal clients who enjoy your delicious food. You can share professional pictures of your dishes, behind-the-scenes images, tasty video content and…ask people to review your restaurant!
When you create a content plan for social media, ensure you add at least one post per week where you encourage people to leave you Google restaurant reviews. Here are a couple of ideas on how to promote them:
A photo of one of your bestselling menu items: ask your followers if they have already tried it and encourage them to leave you a Google review if they enjoyed it;
A video with a nicely arranged spread of food: "how many of our menu items have you tried? Please leave us a Google review so we can continue to create new amazing dishes for you";
Host a giveaway: the mechanism could be "leave us a Google review, send us a print screen in a private message, and we will randomly pick a winner that gets one free dinner for two".
Promote your Google restaurant reviews offer: let people know that they can get a free dessert if they write a testimonial for your business;
Tips to share with your customers: How to review a restaurant on Google
If you want to get more Google food reviews, you need to make it easy for clients to rate your restaurant. We've already talked about how to encourage customers to review your place, but what about the people who don't know how to write a review?
For a part of your clients, it may be complicated to write Google reviews for restaurants because they didn't do it before. Help them by adding a short guide on your website, social media, or email marketing campaigns.
Here are some pointers and a positive/ good restaurant review example to gain inspiration from:
"Tips for writing a great restaurant review in no time:
When did you visit the restaurant?
List a thing or more you enjoyed while dining or ordering from the restaurant;
Let people know what menu items you liked, and you would recommend to other people;
Were you impressed by the restaurant's décor? The waiter's friendliness? Or maybe by the great-tasting food?"
Print the image above and have it in visible places at the counter and on tables to encourage people to write Google restaurant reviews for your business.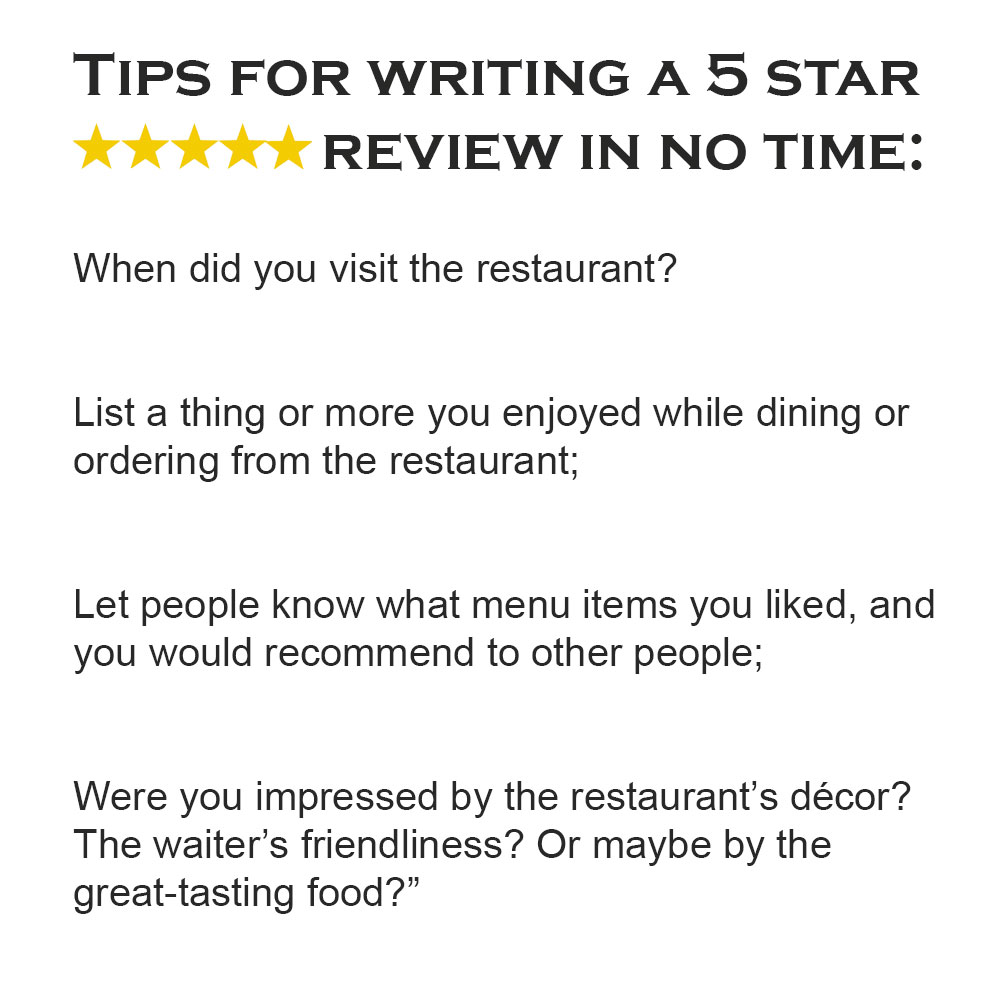 Here is an example of a great Google restaurant review:
"The best restaurant for families! I've celebrated my 50th birthday with my whole family and waiters were very attentive the whole time. The food was amazing, every member of my tribe was happy, even the little kids. I truly recommend the Sicilian pizza, you can not go wrong with it!"
Why you should reply to every Google review, positive or negative
It can be tempting to ignore all negative reviews and only reply when you receive a great review that makes you smile. While replying to all Google restaurant reviews can seem tedious, be time-consuming and, other times, be truly annoying (if it is a very nasty review), the benefits outweigh the negatives.
If you start seeing more negative reviews, don't automatically search for "how can I delete restaurant reviews on Google", take a breather and take it as a learning experience.
If you're wondering "can restaurants delete Google reviews?", the short answer is no. The long answer is, if you suspect you received a fake review, you can submit a query to Google detailing your problem, but, most often than not, you will not be able to erase a posted comment.
The better question you should be asking yourself is how to improve Google reviews. When Google's restaurant review system analyses your reviews for ranking, it also considers your replies. Therefore, if you want to improve your rank, you should make it a habit to reply to every review every two days because promptness also matters.
Moreover, clients will also look for your answers when reading restaurant reviews. Even if you receive negative reviews (often inevitable), potential clients will appreciate you taking the time to respond and offer a solution. Here is a simple formula to use when responding to negative reviews:
Thank them for their time - Say sorry – Empathize with their situation – Offer a solution – Invite them to discuss further in private
Read more: How to reply to bad restaurant reviews: easy-to-follow tips and examples
Conclusion
Encouraging Google restaurant reviews is imperative for your business's success. It can help increase your visibility on the most used search engine and attract more customers. Use every type of communication to let people know you need more restaurant reviews, starting from your website and cards on the tables to social media and email marketing.