Focus on local SEO for Restaurants
Local on-page restaurant SEO can help you market your restaurant to people in your area. But what is local SEO? What's the difference between local SEO vs SEO? Local SEO is optimizing your content for local searches. To better understand how local search engine optimization can help you, let's look at a couple of general searches vs local searches.
These are all general searches:
how to make paella
tips on cooking a turkey
beginner's guide to SEO
These are local searches:
best restaurants near me
fast food restaurants in Colorado
food near me delivery
As you can see, they either include a specific location or the keywords "near me." The benefits of local SEO are plenty, chief among which:
Building visibility in your area.
Increasing foot traffic.
Increasing website traffic for relevant search terms.
Building visibility in Google Maps.
To learn how to do local SEO, check out our local SEO tips below.
Get listed in restaurant directories
Your local SEO strategy should include listing your website in directories like Yelp, TripAdvisor, Zomato, or Foursquare. There, you can post pictures of your dishes, more details about your restaurant, and, most importantly, get reviews by the community!
Strive to get reviews
A considerable part of local SEO marketing is getting reviews to rank in Google's local pack (those three businesses that appear at the top of a Google search). Not to mention reviews increase trustworthiness and social proof. If you have many 5-star reviews, customers will be more likely to click on your business listing.
Google reviews are not the only reviews that matter. All local directories that aim to help customers find the business they're looking for are a great place to collect reviews that will boost your online presence.
Read more: 10 Restaurant Review Sites You Need to Be on Right Now
Create a Google My Business profile
Claim and list your business so that Google will display a content box on the right side of the search results page whenever a user searches for you.
Usually, this works for branded keywords (that involve your restaurant's name). Still, in some instances, it can also be displayed for similar searches where you may be relevant for the user.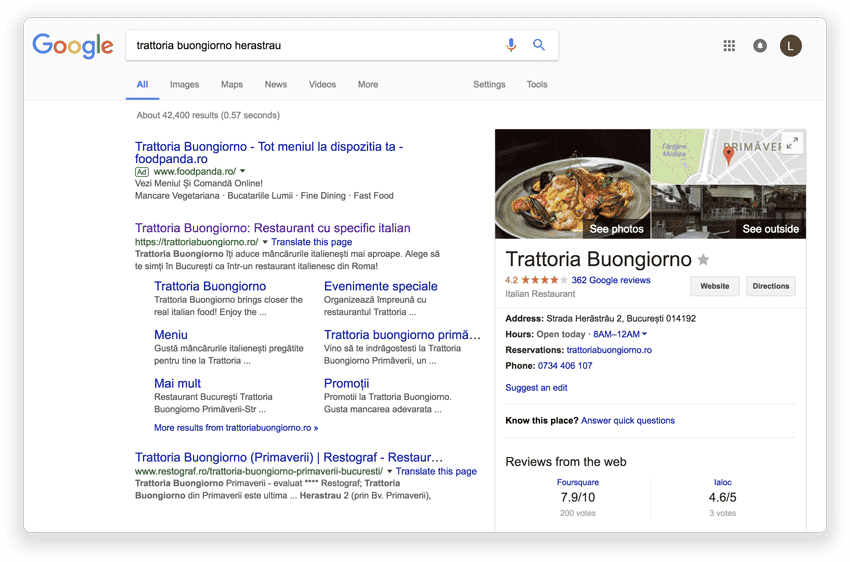 Not only does it attract a lot of attention, but it will also level up your SEO efforts. However, don't rely on these alone; everything has to work in tandem!
If you optimize your Google My Business profile right, Google will list your restaurant with all the useful information users might need, based on relevance and proximity.
Some things that you'll need to have in place to stand out in the sea of Google local business listings:
Images of the place and the dishes you serve;
Location – both written address as well as a pin on Google Maps;
Opening hours;
Contact number;
Website address;
Business description.
Learn more about how to optimize your Google My Business restaurant profile in our full guide.
Create a landing page for each of your locations
You can improve local SEO optimization by adding different location pages to your restaurant website. If you manage several locations, each one should have its own landing page optimized with keywords relevant to that area.
For example, let's say you own a pizza place that has 3 New York locations: one in East Harlem, one in the Theater District, and one in Lincoln Square. Create three landing pages just like in this example from our demo website:
Do local link building
Link building is an off-page SEO tactic that we're going to explore in more detail in our off-page SEO guide for restaurants. However, it's worth mentioning that one of the most valuable local search marketing tips is to do local link building. Look for businesses in your area that you could build a relationship with and that could link to your content, and get in touch with them.
Read more: The Secret Ingredients of Link Building for Restaurant Websites
Align contact details across all directories and social media profiles
Make sure that your website, your social media pages, and all local directories have been talking to one another before the interrogation :-)
It would be embarrassing to have conflicting opening hours, address, or phone numbers on all of these different directories and profiles. Aside from this, make sure that all of your local directory accounts have been verified, as this adds credibility.
Moz Local is a very nifty tool that can help you manage your location data across multiple platforms, delete duplicate listings, manage your reviews, and more.