10 Restaurant Review Sites You Need to Be on Right Now
By

Laura-Andreea Voicu

FEB 22, 2021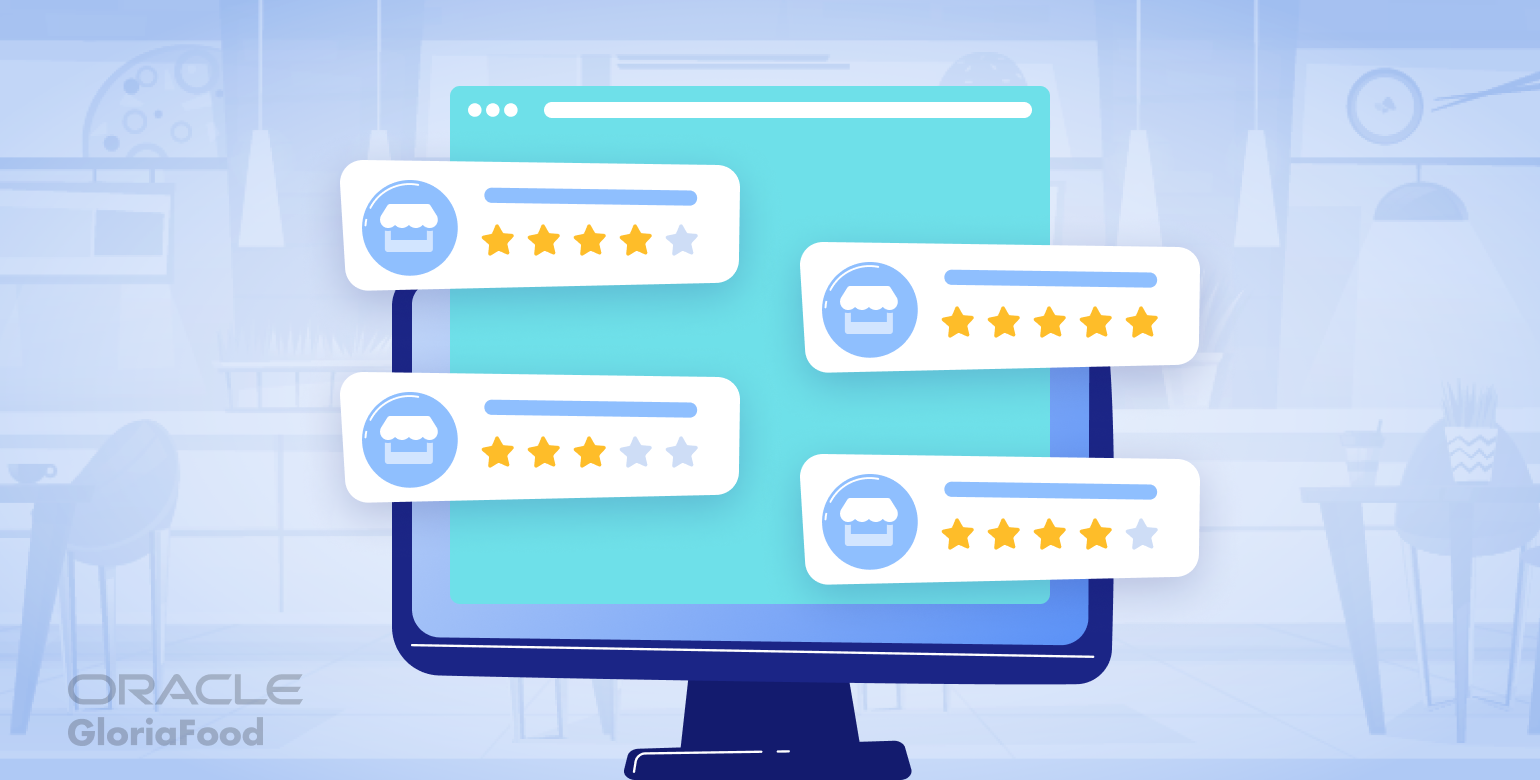 Restaurant Industry Review Sites to Monitor
If you've never read a restaurant review online before deciding on a place to eat, you're one of the few. Most people check online reviews of restaurants and even post reviews themselves. What this means for you as a restaurant owner is that you should monitor and reply to these reviews to show customers that their experience is of the utmost importance to you. Well-optimized profiles on restaurant review sites will also boost your off-page SEO.
Below are ten restaurant review websites you should have a presence on.
The Best Restaurant Review Sites to Be on
1. Google My Business
Google My Business (GMB) is not just the most popular review site around but also a potent tool that can help you rank high and get more visibility in search results. Filling out your GMB profile with information like opening hours, location, photos, online ordering links, and so on is necessary for any restaurateur.
63% of customers check Google for reviews before they visit a business, so it's easy to see why having many positive reviews on there can help you boost your sales. Constantly read your Google restaurant reviews and reply to all of them, addressing issues and complaints as they arise.
Get access: To claim your business on Google My Business, go to their homepage and click on "Manage now." If you can't find your restaurant, that means you have to add it yourself.
Read more: How to Optimize Google My Business for Your Restaurant: Must-Know Tips
2. TripAdvisor
TripAdvisor may be an online travel site that features all kinds of businesses, but restaurants are one of the main attractions on the platform. Travelers check TripAdvisor restaurant reviews when out of town. To rank high on TripAdvisor and be featured in tops like "Best Restaurants in [Location]," you need many recent, positive reviews.
Besides monitoring and replying to reviews, you can and should enrich your TripAdvisor profile with photos and vital information like opening hours, website, phone number, etc.
Get access: To claim your listing on TripAdvisor, go here. If you can't find your restaurant, get it listed here.
Read our guides to TripAdvisor for restaurants to learn everything you need to know about the platform:
3. Yelp
Yelp is somewhat similar to TripAdvisor, except it's not explicitly designed for travelers but for everyone looking for a particular business in their area. Yelp restaurant reviews are very popular, and a one-star increase in your rating can lead to a 9% increase in your revenue.
Again, fill out your Yelp profile in its entirety and make sure all the information coincides with what you've added to other platforms. Conflicting data like opening hours can really damage your business.
Get access: Claim your Yelp business page by going here and clicking on the "Manage my free listing" button. If your restaurant isn't on Yelp, you will have to add it.
Read more: Complete Guide to Yelp Restaurant Marketing: How to Get Ahead of the Competition
4. Facebook
Facebook might not be the first platform that crosses your mind when thinking of restaurant review sites, but it's one of the most valuable. If you don't already have a restaurant Facebook page, it's long overdue. Every business should be active on Facebook if they hope to gain new customers.
72% of consumers use Facebook when choosing a place to eat. Do your best to collect positive reviews and show your page visitors that they have every reason to want to dine with you.
Get access: You can use Facebook for Business to set up your restaurant's page and add location, photos, a link to your website, and more.
Tip: Facebook's call-to-action buttons allow you to add a "Start Order" button on your restaurant's Facebook page. Do that to redirect customers to your online menu where they can place an order. Here's how.
Stop missing out on potential orders!
Get your restaurant online with our free online ordering system
Get Access Now
5. Foursquare
You might remember Foursquare as a check-in app, but now, it's one of the best places for restaurant reviews out there. It works similarly to Yelp by helping people find local businesses according to reviews and recommendations.
Their tool is called a "city guide," and the people who contribute, "local experts." Foursquare boasts an impressive 75 million tips that can help people find what they're looking for.
Get access: Go to this page to search for your restaurant on Foursquare and claim it. Then, it's just a matter of filling out your profile and getting access to tools like Analytics to get to know your customers.
6. Zagat
Zagat has a long and interesting history of helping people figure out where to eat. The company was founded in 1979 but purchased by Google in 2011. This made Zagat reviews part of the Google My Business service, but only for restaurants in 38 select cities around the US. To be listed on Zagat, you needed to fill out your GMB profile first.
While the company has been sold by Google and purchased by The Infatuation, another review site, in 2018, it would appear that their reviews are still somewhat tied to GMB. On their contact page, they advise you to update your information on Google My Business if you want it updated on Zagat as well.
Get access: Try looking for your restaurant on the Zagat homepage. If you can't find it, contact the company at feedback@zagat.com to inquire about your restaurant being added.
7. The Infatuation
Zagat's parent company, The Infatuation, is one of those online restaurant review sites built to appeal to younger generations. Instead of relying on customers' reviews, they have a team of writers who put them together. They are only available in 12 cities, though: Atlanta, Austin, Boston, Chicago, London, L.A., Miami, N.Y.C., Philadelphia, San Francisco, Seattle, and Washington D.C.
If your restaurant is located in any of these cities, you could definitely benefit from an in-depth positive review from their team.
Get access: While you can't create a profile for your restaurant yourself, you can get in touch with anyone from their team to discuss the possibility of a review here.
8. Zomato
Previously Urbanspoon, Zomato is definitely one of the most popular restaurant review sites around. Love it or hate it; you need to claim your restaurant listing and reply to the reviews you get there. The unique thing about this platform is that it collects reviews from everyone, from food critics to actual customers.
Just like you do on TripAdvisor and Yelp, you can build your profile by adding your website URL, opening hours, photos, and more.
Get access: To add your restaurant on Zomato, go here. Again, you might notice that it's already listed, and you have to claim it.
9. Gayot
Another restaurant review site that relies mainly on reviews from food critics and experts but also includes some from customers, Gayot stands out due to its unique 20 point-based rating scale that looks at more than just food but also ambiance, service, and more.
With a long tradition behind it and named after a famous French food critic, it might not be every restaurateur's cup of tea, but it's worth taking a look.
Get access: Unfortunately, you cannot get listed on the website or claim your listing. What you can do is advertise with them to become more visible on the site, but that will, of course, cost you.
10. AllergyEats
Finally, because not all restaurant review websites offer users the possibility to filter restaurants based on allergies and intolerances, this is one you should be on if you hope to cater to everyone. It's only available in the US, and it allows people to find allergy-friendly restaurants based on user submissions.
Get access: Add your restaurant on AllergyEats by filling out this form.
Bottom Line
Reviews are the bread and butter of your restaurant. You can't survive without them and, if handled properly, they can skyrocket your profits and help you build your brand. To be where your potential customers are, you need to sign up for the restaurant review sites above or get in touch with them for an individual review.
Attract good reviews by offering the best experience possible
Install a free online ordering system to your website
Start now