Off-Page SEO for Restaurants: How to Boost Your Online Visibility
By

Laura-Andreea Voicu

MAY 18, 2020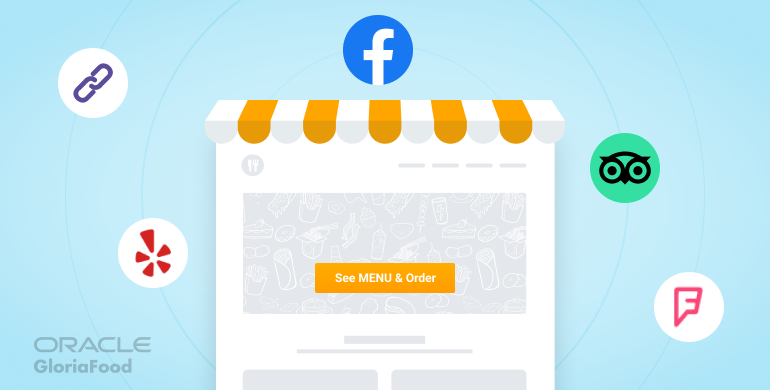 Off-page search engine optimization is all about building authority for your website outside of your website. To signal to Google and other search engines that your website is valuable and trustworthy, which will boost your rankings, you need other sites to "vouch" for you. Successful off-page SEO for restaurants relies on two main things: backlinks and social media. Here's how you can use them to increase your site's authority.
Off-Page SEO for Restaurants: Backlinks
Link building outreach and guest posting
An essential step in increasing your domain and page authority is to get links from high authority websites. To that end, try to reach out to online businesses in the food industry.
You could propose to write a guest post for them using your expertise as a restaurant owner/manager and include a link to your domain in the article or author bio. Restaurant guest blogging is a market worth tapping into.
If they make lists of recommended restaurants, try to get yours included. Throw in a bargaining chip as well, perhaps a coupon code for their visitors.
What we don't recommend, however, is spamming their comments section with links to your restaurant's website. Not only is that a capital sin in the eyes of Google, but it will benefit you much more to create a rapport with that person. Who knows, it could even lead to a long term partnership.
Remember that the website you choose to approach should be relevant for your industry. Having a backlink on a website dedicated to cars, if you are a restaurant, won't help you. And, as a rule of thumb, if you have a restaurant blog as well, strive to put out great content that people will want to link to naturally.
Read our guide to link building for restaurants to learn more about this side of off-page SEO for restaurants.
Local influencers
You can also do email outreach to influencers and bloggers in your area. Restaurant influencer marketing is a growing industry that can increase restaurant traffic as well as search engine rankings.
Local foodies might want to promote your restaurant to their fans and followers in exchange for free meals or a sum of money. Having trustworthy food lovers say nice things about your dishes can go a long way.
Search for foodies in your town – it might seem like a chore at first, but it will pay off. Where to find them, you ask?
Search on Meetup.com to see if any food lovers are gathering in your city. See if you can attend and if so, don't be afraid to bring some treats from your restaurant. Mingle with the attendees and see if any of them have blogs where they review places to eat. Ask them if they're willing to come by your restaurant and try some of your dishes for free. In exchange, they would write an article on their blog and link back to your website, maybe even with a coupon code for their readers.
Find /subreddits for food bloggers and see if any of them are from your town; a good tool to snoop them is SnoopSnoo. Then, contact the bloggers and propose a partnership.
Find lifestyle bloggers and see what they're about. If they like making recommendations to their readers, perhaps they would be open to writing something about your business and include a backlink. This is how the best backlinks for local SEO are born. You can use a tool like GroupHigh's blogger outreach software to find, contact, and measure the results of your outreach efforts.
If you organize events or special promotions (Taco Tuesday, anyone?), see if you can find any event aggregators online and list yourself there.
Learn more about restaurant influencer marketing in our guide.
Business Listings
Apart from having backlinks on high-authority websites in your industry, an easy way to get more links is to add your restaurant to compelling business listings like Google My Business, Yelp, and TripAdvisor.
Creating a Google My Business profile will not only get you a high-quality backlink but will also help more people find you online. The same goes for TripAdvisor and Yelp. Use the platforms to add information about your business, starting with your website URL.
This also works the other way around. Don't forget to add your GMB, TripAdvisor, and Yelp profiles to your website so customers know they can find you (and review you) on those platforms as well.
Take a look at our guides to learn everything about adding your restaurant to these business listings:
Off-Page SEO for Restaurants: Social Media
While the correlation between social media and off-page SEO results is less obvious, that doesn't mean you should neglect the importance of social media for restaurants. Social media won't directly boost your SEO efforts, but having a social media presence and optimizing your profiles will work for your benefit. These profiles should all link back to your website and help bring you more sales.
Social media is perfect for interacting with customers and getting them to share your content. This will get you more followers and ultimately help with SEO as well because social shares provide authority and trustworthiness in the eyes of Google.
Need a Table Reservation System for your Restaurant?
Let your restaurant appear in more search engine results with our Sales Optimized Website
Get Access Now
Facebook SEO for Restaurants
Use your Facebook profile to post information about your restaurant (website, opening hours, menu, special offers, etc.) and interact with customers. Make sure the data coincides with that on your website and other business directories. Neither Google nor your customers will like it if you have different opening hours on various platforms.
You can also consider ads if you want to promote an offer, a daily deal, a giveaway, and so on. Make the ad button send customers to your website where they can order food or book a table online.
P.S.: Get extra orders on Facebook by adding our "See MENU & Order" button to your Facebook page. Here's how.
Additional resources:
Instagram SEO for Restaurants
Instagram is where you can post delicious photos of your food, interior, employees, behind the scenes sneak peeks, and so on. Basically, anything that will make the customers feel closer to you. Turn your profile into a business profile so you can add a link in the bio. The link should send either to your homepage or the online ordering page.
When using Instagram, don't forget about the geotag feature. Geotags are the locations that you can add to any Instagram photo. When you add a geotag, you are helping customers who search for pictures in a specific area find you on that list. You also let people know where your restaurant is located, thus enticing local foodies.
Read more: Restaurant Instagram Marketing Ideas That Will Help You Increase Sales
Final Words
Have you ever wondered how people find new restaurants? Many Google "restaurants near me" and that's where on-page restaurant SEO and off-page restaurant SEO come into play. A successful website for a restaurant that is just getting started can't exist without proper SEO. To take advantage of off-page SEO for restaurants, come out with quality content for your restaurant website and focus on getting links and having a strong social media presence.
Help potential clients find your restaurant on Google
Get a sales optimized website in minutes
Start now