How to use the GloriaFood features to increase your restaurant revenue
By

Otilia Dobos

APR 4, 2023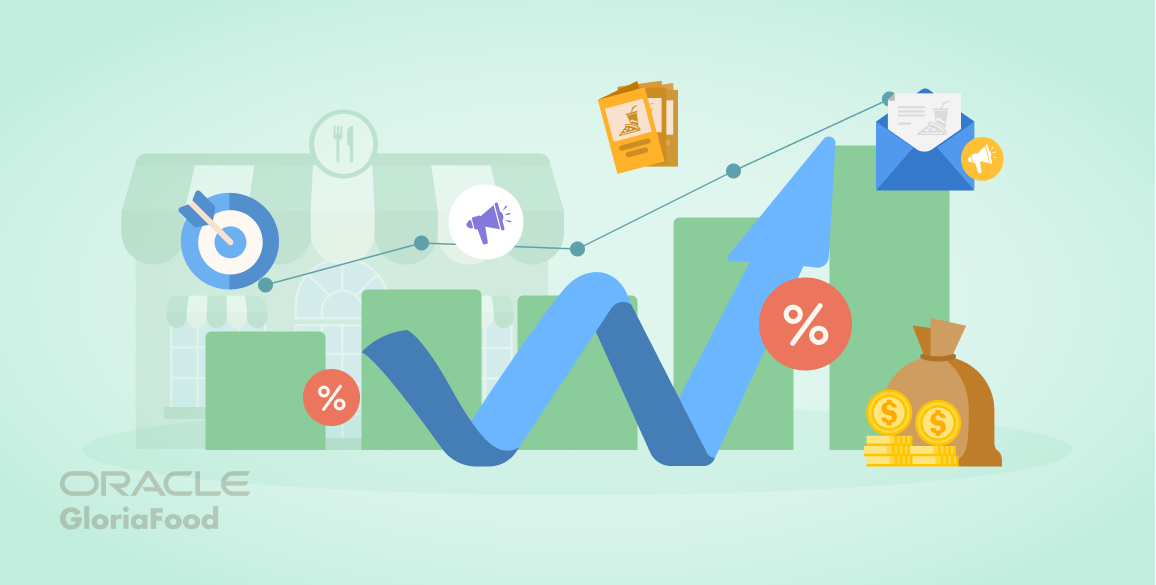 Tips for increasing restaurant revenue with the GloriaFood online ordering system:
When you create a website with our restaurant website builder, you get the added benefit of an incorporated online ordering system that will help you increase your restaurant revenue by selling more food online.
But this is not just a simple online ordering system. On top of streamlining your online ordering process, it also has an integrated marketing engine that will up your marketing game and make you shine against the competition.
Check out these GloriaFood features you must use to make your restaurant successful.
How to increase food sales in a restaurant with the Promotions Module
Adding attractive promotions to your restaurant menu is a great way to attract new customers and increase order value. When clients see an offer for a free dessert or a 2+1 deal, they will hurry to press the order button, so they don't miss out on a great promotion.
Promotions should always be at the top of the menu, so they will be the first thing customers see when they browse your website to influence their buying decisions. Let's see how easy it is to add restaurant promotions to your online restaurant menu.
Increase your order value by adding attractive Promotions to your menu
Install an online ordering system with a built-in Promotions Module
Start now
First of all, you need to create an attractive menu with all your delicious dishes. After you sign up on GloriaFood and complete your restaurant profile with basic information such as name, address, and contact info, go to admin -> Setup -> Menu setup & receive orders -> Menu setup.

There, you will be guided by our wizard to create food categories and add menu items. Include mouth-watering photos (you can choose some from our free gallery if you don't have your own) and enticing descriptions.
Check out this video to learn how to make an online restaurant menu for your website:
After you have your menu set up, go to admin -> Marketing -> Promotions -> Self-made promos. There, you will find a variety of tried-and-tested promotions templates you can use to persuade customers to order more.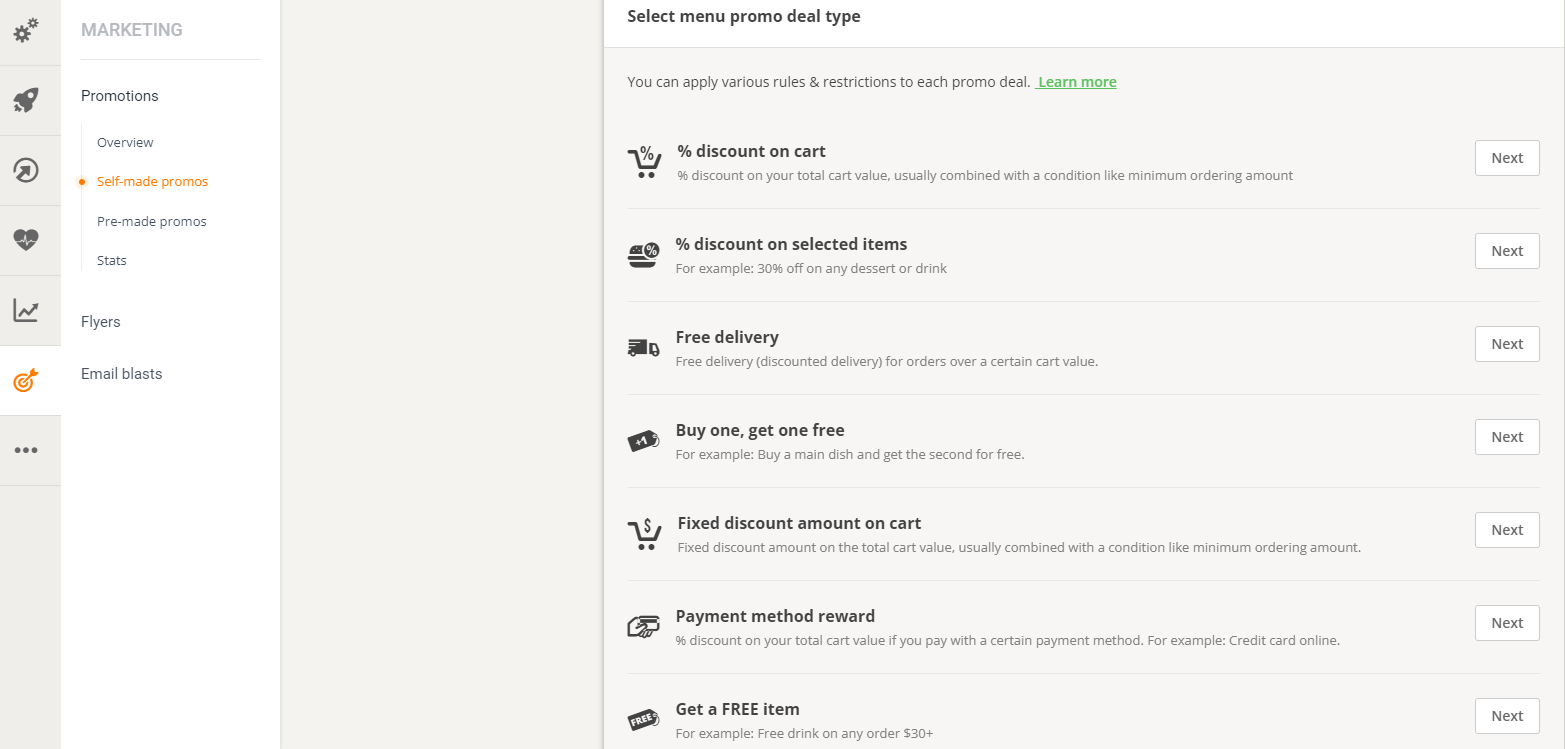 Choose the one you want to implement and let's get to customizing it. You can change the picture, description, and minimum order value and even delve into more advanced settings such as the availability time or the type of clients that can redeem it (new or returning).
Let's see an example so you can get a better understanding of how selecting a promotion looks: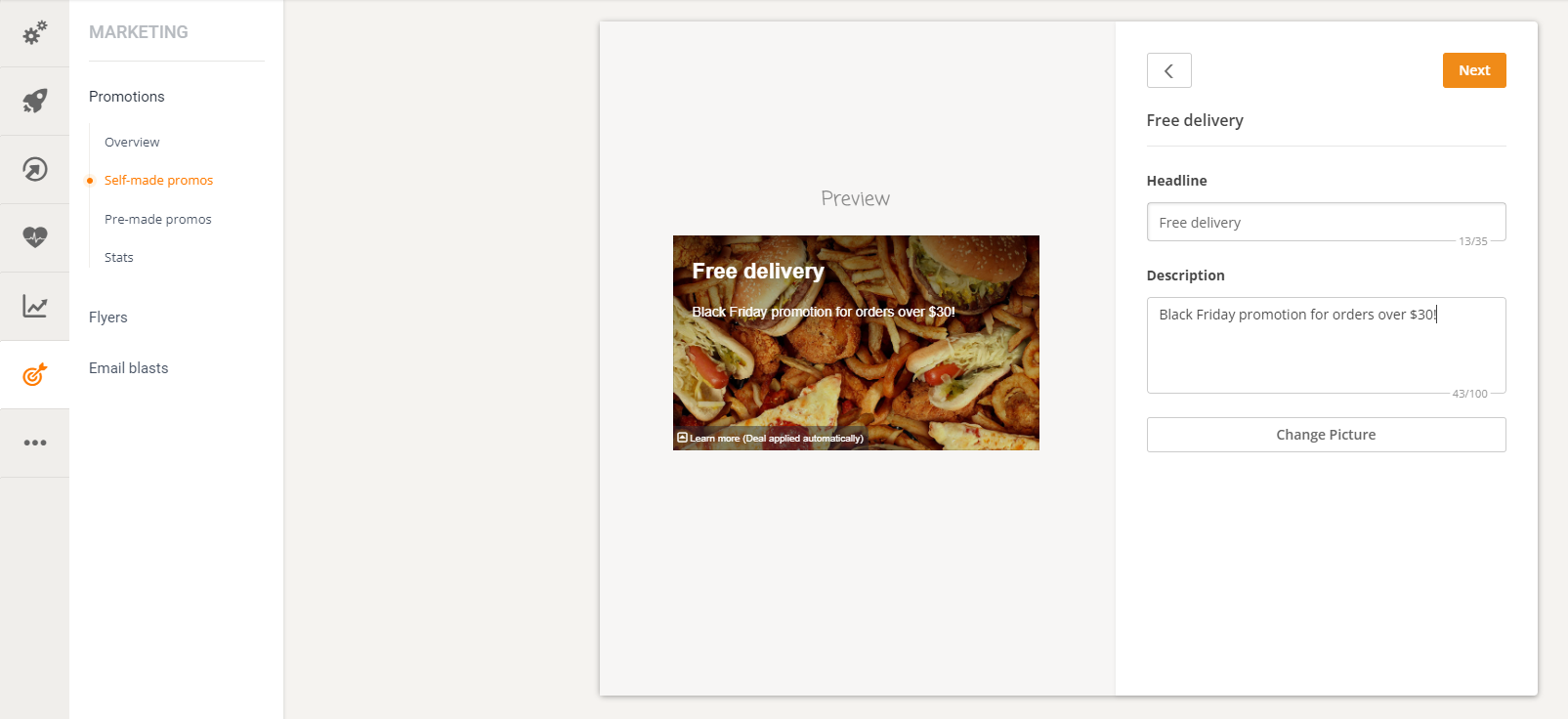 Watch this video for detailed instructions on how to set up a restaurant promotion in seconds:
You can also use this promotions module to create restaurant promo codes. All you have to do is click on "Use custom coupon code" in the last screen of setting up a promotion and add a name people will use to redeem the offer, such as "5%OFF".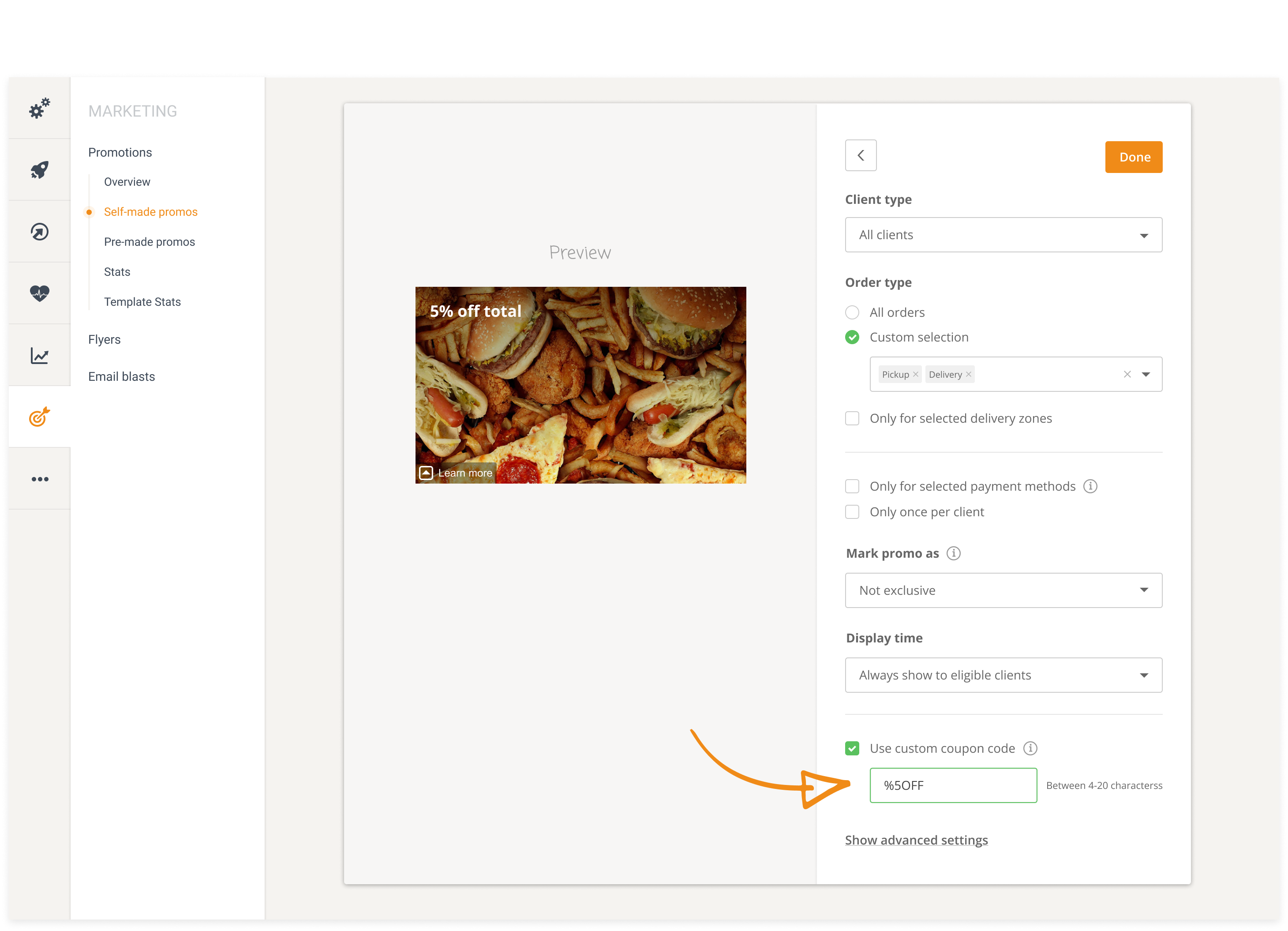 For example, you can create a promotion for 5% off the entire order for first-time customers. You can print the custom coupon code on flyers and spread them in your area to attract more clients.
Furthermore, you can send a coupon code for free delivery to previous customers to encourage them to order again. Check out this video to find more ideas for restaurant coupon codes:
How to increase restaurant sales online with the Autopilot Module
The Autopilot Module helps you send SMS and email marketing campaigns to attract new customers and persuade old clients to order again. We have pre-built campaigns that are proven to drive up engagement.
Why waste your time with complicated campaigns when you can use our software, as the name suggests, on autopilot? To ensure you get the results you desire, Autopilot segments previous customers according to their purchasing history to deliver them relevant campaigns.
Get more returning customers with the Autopilot module
Set up your marketing campaigns once and let them run in the background
Start now
Don't let customers forget about you! Tempt them with the creative campaigns made with Autopilot that will create repeat business for your restaurant.
To get started, go to admin -> Autopilot Selling -> Autopilot -> Overview.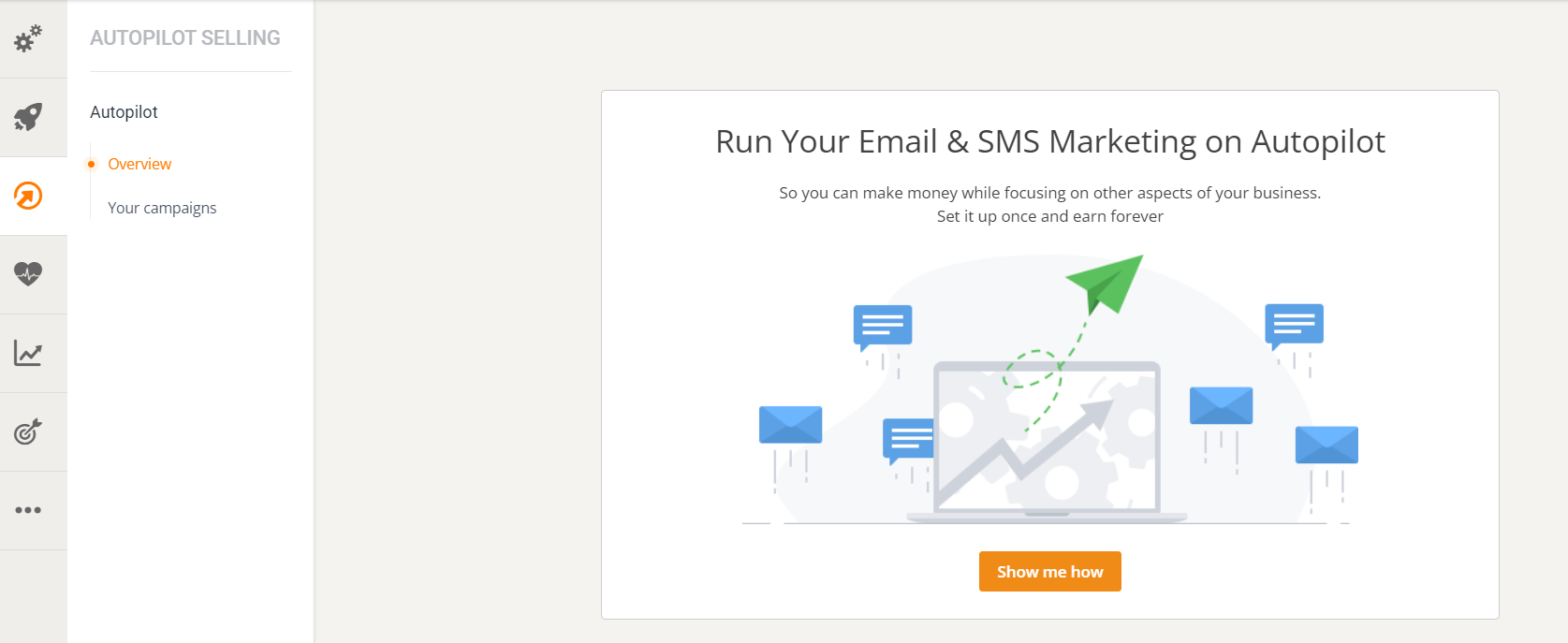 Check out this video to learn more about how you can increase restaurant revenue using Autopilot:
If you navigate to the section below titled "Your campaigns," you can see how the marketing campaigns are performing: how many were sent and how much business you gained from them.
Action plan to increase sales in a restaurant with the Kickstarter Module
The Kickstarter module is the perfect tool to attract new customers. Do people who have visited your restaurant know you now offer delivery and pick-up? It is time to let them know! Start by going to admin -> Kickstarter to discover your options.
We've created an action plan with three effective strategies to increase your number of customers:
1. Add a first-buy promo
When you browse an online shop, some, if not most of them usually advertise a small discount for every order. As a first-time customer, you are tempted to order because you get a better offer.
The same marketing technique can be used for restaurants. You can encourage clients to place their first food order by adding a 5% off promotion that can only be redeemed by people who have never ordered from your restaurant before.
2. Advertise with flyers
Marketing your restaurant with flyers is a classic strategy because it works. You can spread flyers around your restaurant location or have your delivery drivers place them in mailboxes when they transport the food.
With the Kickstarter module, you can easily create a flyer that will increase your restaurant revenue in just a few clicks. Check out this video for more detailed instructions:
3. Invite clients to order online
Having a database of willingly given client contact information comes in handy when you want to promote new services, menu items, or offers. You can do so by offering Wi-Fi access conditioned by an e-mail address, having a newsletter subscription, organizing a competition, etc.
Afterward, use the Kickstarter module to import the contact data and send these previous clients compelling SMS or email messages persuading them to try your online ordering system.
How to monitor your restaurant's sales with the Reports module
How can you know if all the work you've done with the GloriaFood features delivers the results you were hoping for? Easy, check the Reports module that gives you access to useful restaurant analytics. This way, you can monitor your success, identify where your problem areas are, and find solutions.
Go to admin -> Reports -> Essentials -> Overview to find general information about your restaurant, such as:
The number of accepted orders and reservations;
The value of accepted orders;
Your website rank on Google;
The number of website visitors;
The number of new and returning customers;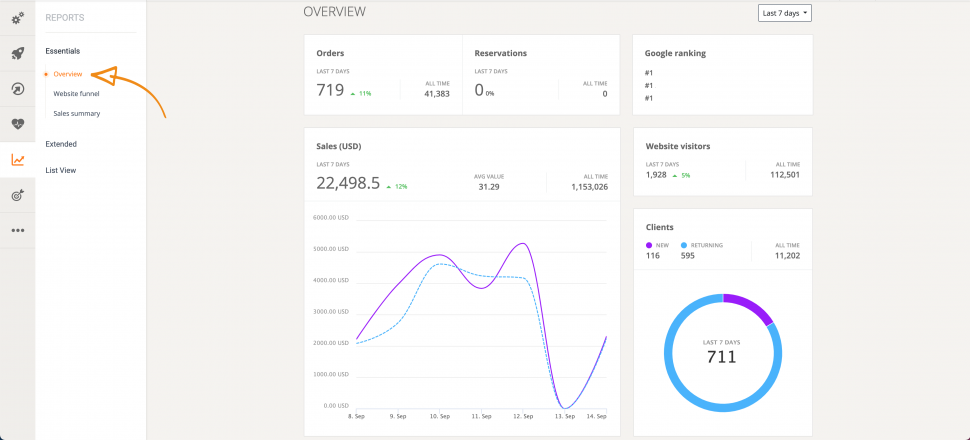 If you scroll down the page, you will find tips on how to increase website visits, convince more people to order, and increase the number of returning clients.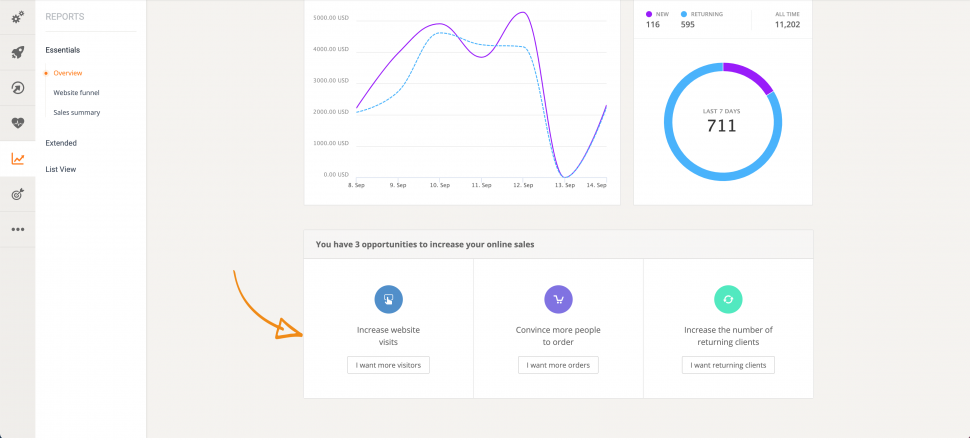 Here is some information you can access by exploring the Reports Module:
Website funnel: you can see the restaurant customer journey map and track where you are losing clients from the moment they access the website and open the menu to when they go to checkout, send the order, and receive confirmation;

List view: restaurant customer data with detailed descriptions of every order that you can export in excel or PDF to increase restaurant profitability;

Delivery Heatmaps: find out what are the delivery zones with the highest order density, so you know what zones you should target.
Conclusion
The GloriaFood online ordering system is all you need to start a successful restaurant business online. Use all the features available, from Promotions to Autopilot, Kickstarter, and Reports to increase your restaurant revenue constantly.