Google restaurant ranking: 11 local SEO factors to guarantee your success
By

Otilia Dobos

OCT 18, 2022 (Updated: May 4, 2023)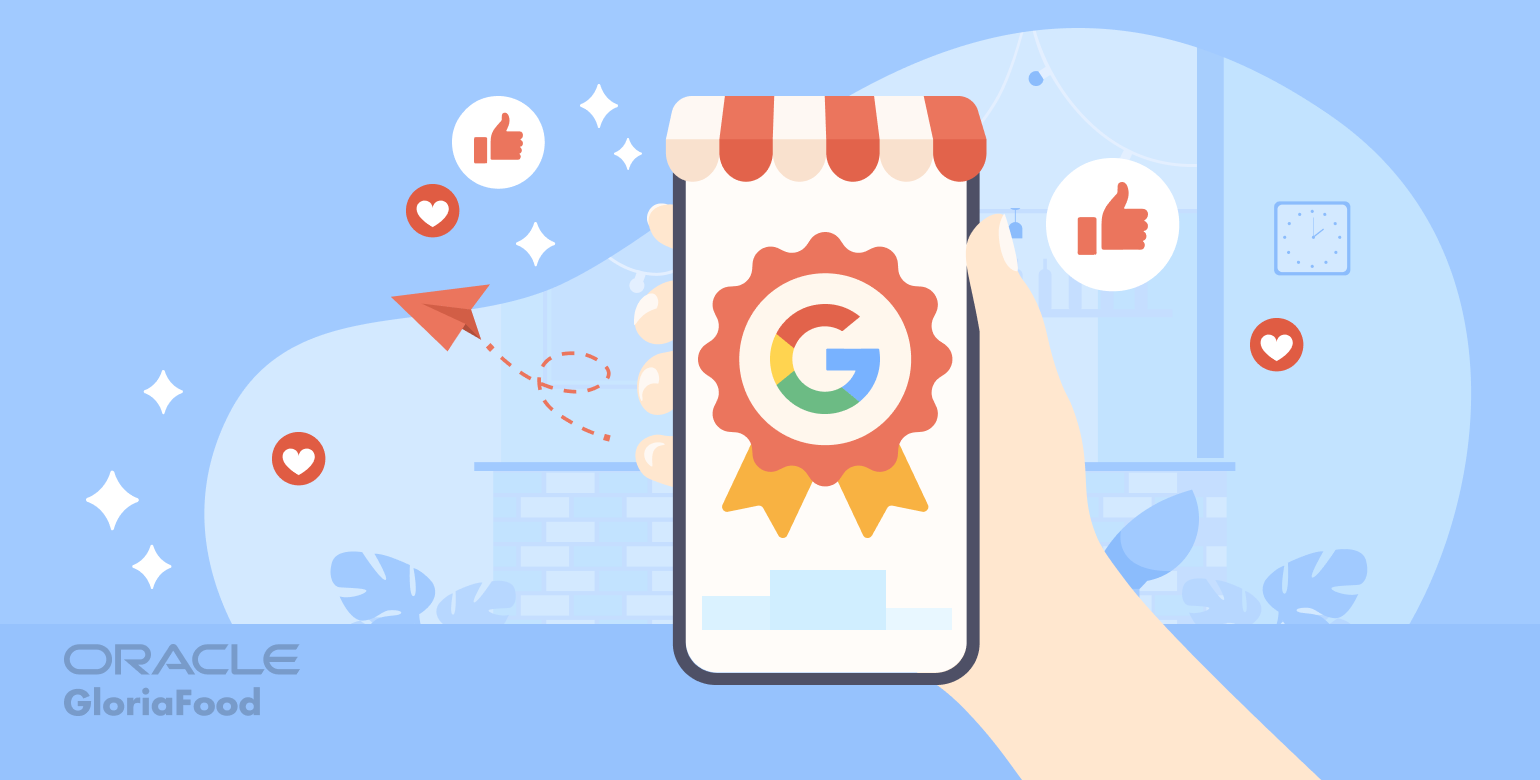 Top Google restaurant ranking factors you must consider to gain more online customers:
99% of customers searched the internet for information about a local business last year, using local keywords such as "best pizza restaurant near me" or "pasta carbonara in Manhattan".
In this highly technology-dependent age, people rely on Google searches to find places to eat around them and will only visit or order from the first results the search engine displays. Therefore, if you want to increase the traffic to your website and attract more clients, you must ensure your website will be shown on the first page.
But how can you determine the search engine to promote your restaurant? Google uses a series of factors to analyze how optimized, genuine, and trustworthy a business is and ranks it accordingly. In this article, you will learn about the most important Google restaurant ranking factors and how to use them to your advantage:
Why you should care about Google restaurant ranking factors
Let's paint the picture. It is Friday night, and you are craving pizza. You would like to try out a new place as you have not been satisfied with your previous experiences. What is the first thing you do? Surely, you go on Google and search for pizza restaurants near you.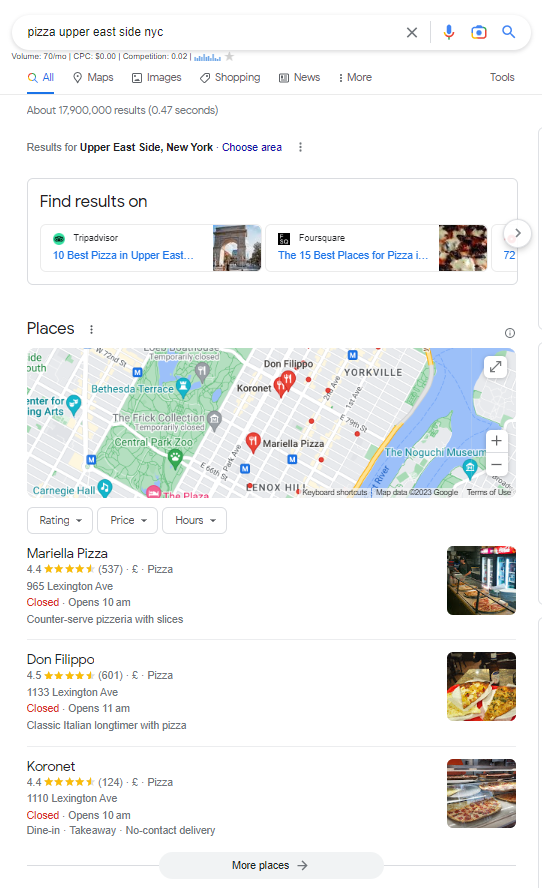 The first results are the ones that Google deemed to be the best, using its Google restaurant ranking factors. You can also click on the Map (you may even begin your search directly in Google Maps) and see restaurants that worked hard on their local SEO so they could have increased visibility.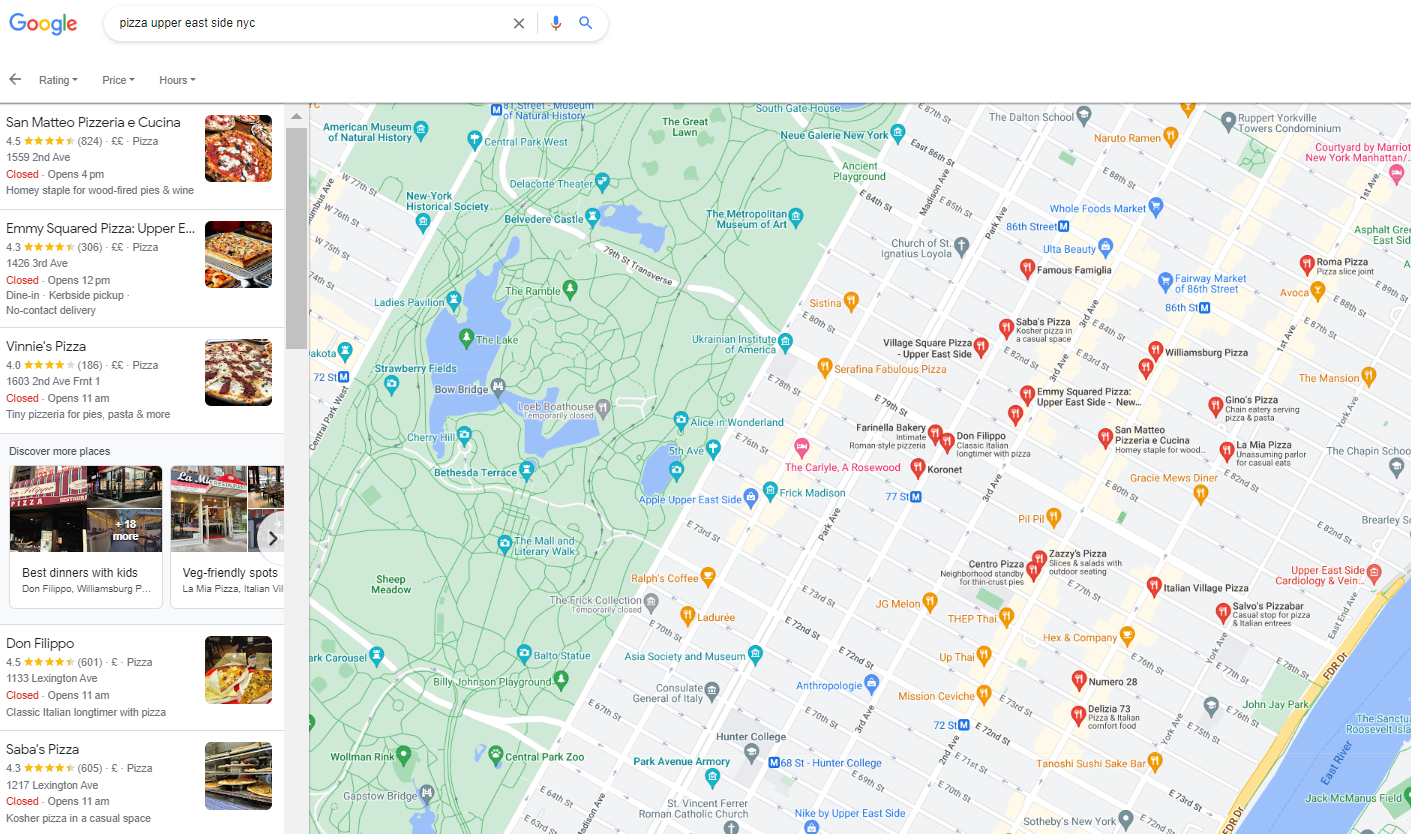 If you own a restaurant, your goal is to be as good and even better at SEO as the first results that appear when people search for your type of cuisine in your location.
You are now surely wondering "How do I get my restaurant at the top of Google?". With knowledge and a bit effort. Take notice of all the Google restaurant ranking factors we present to you in this article and follow our advice for perfect optimization that helps you rank high.
With increased visibility on Google comes a bigger number of clients -> constant large orders -> a successful restaurant.
On-page factors to help you rank in Google "restaurant near me" searches
Local SEO optimization focuses on two main areas: On-page and Off-Page. On-page strictly refers to the factors that Google uses to analyze your website's relevance, while Off-page are factors that examine outside actions that can grow your online presence.
Check out these Google local ranking factors and optimize your website to have a big chance of ranking high:
Read more: Complete On-Page Restaurant SEO Practical Guide: How to Rank High
1. Domain name
Your domain name is synonymous with your brand identity. If you put in the effort for constant optimization and marketing, people will start to remember your name. Therefore, what would you like to be remembered as?
Your domain name should perfectly represent your brand but should also include a bit of local SEO optimization. For example, if you can do so naturally, include a relevant keyword and your location. Use this advice to create a domain name that will appease the Google restaurant ranking:
Keep it concise: you want people to easily remember your name, not to struggle every time;
Avoid hyphens and exact match domains: Google interprets these tactics as spam and will disregard your website. For example, "best-pizza-in-London" will not see results. Go for specific and brand centered, like "sourdoughpizzaeastlondon";
Add your location: as most of your customers are local, it is useful to signal your exact location to Google directly in your domain name.
2. Domain authority
Your overall domain authority can give you an idea of how high you will be ranked on Google. You can measure it by using SEO tools such as Ahrefs or Moz, and you can improve it by doing the following:
Improving your link profile: you need to up both your internal marketing game and get many backlinks from other authoritative websites;

Mobile-friendly: 62% of internet traffic comes from mobile devices, so you need to make sure your website is mobile responsive;

Create a responsive restaurant website with GloriaFood in minutes

Take online orders by tonight on your new website

Start now

Fast loading speed: Google analyzes how much your website takes to load and will demote it in rank if it is slow.
3. Page Authority
Your domain authority is composed of every single page's authority. Therefore, you will never rank high if you only concentrate on one page and ignore the content and links on the others. You should also concentrate on creating relevant content for your pages:
Content should be easy to read and understand: you may have valuable knowledge to share, but you must do it in an easy-to-read way to succeed. Use paragraphs, lists, and headlines.
Content must be useful for your readers: don't write just to achieve a certain number of words. Think about what your clients would like to know about your restaurant, maybe your business's story, how you acquire certain ingredients, or how you cook their favorite dishes.
You must constantly update: the information you offer should always be updated. For example, if you change your menu or working hours, let people know you made these changes on your website. It's good practice to also post these changes on your social media accounts.
4. Optimization
The website's optimization is one of the most relevant Google restaurant ranking factors. How can people find your restaurant if you don't create content rich in relevant keywords? Here are some things you can do to improve your SEO optimization:
Add specific keywords: before creating the content for your website, do some research and find keywords related to your restaurant niche that have a high number of organic searches. To find those keywords, you'll need to use tools like Google Keyword Planner or Ahrefs. Afterward, naturally integrate them into headlines and content;
Add alt tags to your photos: keywords aren't just for content, you can add them in the images' description for better optimization.
Do internal linking: for example, if you talk about your working hours, provide a link to where they can find them. Don't make people search for the information, give them a link to reach it fast.
If all this seems like a lot of work, there is a better way. You can get a sales-optimized website without putting in all the effort to optimize it, you just have to sign up on GloriaFood.
After creating an account, providing the basic information, and creating a menu, you get access to the easiest website builder that is all visual, with no technical knowledge needed. In just a few seconds, you will receive a personalized website with custom texts and images to help launch your restaurant.
The sales-optimized website from GloriaFood is already optimized with relevant keywords that will help potential customers in your neighborhood or city find you online and order from you. Because that's what SEO can do for you: put your business on your customers' radar.
Get better restaurant ratings on Google with an easy-to-use website! Sign up on GloriaFood and go to admin -> Setup -> Publishing -> Sales optimized website.
Read more: How to Optimize Your Restaurant Website to Increase Traffic & Sell More Food
5. Quality
The content you put on your website matters! You can't just quickly write two phrases, add a menu and call it a day. Quality is a Google restaurant ranking factor, so you must ensure you present the information in a way that pleases both the search engine and your audience.
Here are a few tips to help you write quality content for restaurants:
Pay attention to spelling and grammar: a website represents your restaurant, so you want to make a good impression on people who visit it. Double-check all your content for mistakes as you don't want people exiting immediately because of bad grammar;
Prioritize formatting: no matter how relevant your information is, if it is not formatted in short paragraphs with headlines, it will be very hard to follow. Break down the chunks of text into shorter sentences and try to use as many bullet points as possible;
Start a blog: if you want to share your knowledge with your audience and keep them updated about new releases, you can start a blog. This new addition will help with SEO and will allow you to create more quality content that people will appreciate.
6. NAP (probably the most important)
NAP is short for Name, Address, and Phone number. This is the information Google looks for on a restaurant's website because customers find these three essential when reaching out to a business.
You must have the NAP information in a visible spot on your website. Try adding it in the footer of every page so a client can easily contact you or find your address (include a link to Google Maps) when they want to eat out.
It will also help with your Google restaurant rating to have your NAP information present on many platforms outside your website, but we will discuss this subject in the Off-page factors section.
Off-page factors to help improve your Google restaurant ratings
After you have made sure you completely optimized your website or got an already SEO-optimized website from GloriaFood, it is time to focus on growing your restaurant's rank off-page. These are not a do it once and forget it type of deal.
Google constantly crawls your website and other platforms, and if you want your restaurant to rank on the first page, you need to know the Google ranking factors and do constant SEO optimization and maintenance.
Read more: Off-Page SEO for Restaurants: How to Boost Your Online Visibility
7. Google Business Profile information
We can't talk about Google restaurant ranking without discussing Google Business Profile. I can't stress this enough; you need to add your restaurant to Google if you want to gain visibility and clients. Check out these tips & tricks on how to fill in your information for maximum benefits:
Optimize the title: try to include the location in the title if you can do so naturally, for example, "Pizza Pronto New York" or "Pasta Bar Berlin";
Add categories: when you create your profile, you can select ten categories that your restaurant fits in. Choose the ones that best fit your niche, so Google knows what type of restaurant you are and what type of food you serve;
Add your website URL: adding a link to a strong website with a high domain authority will help you rank higher than simply linking to your Facebook or Instagram page.
Update working hours and location: make it easier for people to find your place and know when you are open. Also, check that the NAP information you have on your website matches the ones on your Google My Business restaurant profile.
Read more: How to Optimize Google My Business for Your Restaurant: Must-Know Tips
8. Online reviews
Online reviews not only have a big impact on your potential customers – a big percentage of them check reviews before visiting or ordering from a restaurant – also influence your Google restaurant ranking. Here are the main places where you should encourage reviews, as they are considered ranking factors by Google:
Google reviews: where you can find Google restaurant ratings measured in stars; If you are wondering "Are Google reviews a ranking factor?", the answer is YES, they are taken into consideration when deciding your place in Google search. If your next question is "How do I increase my restaurant rating on Google?", check out this article for a detailed answer.
Review platforms: you must claim your business on every platform used in your location, such as Yelp or TripAdvisor;
Website reviews: you can allow customers to publish reviews directly on your website or add testimonials that clients sent you.
But just having an account on review platforms isn't enough, you need to constantly encourage clients to leave positive and descriptive reviews with food promotions or free items. Moreover, you also need to respond to them. Make a habit of replying to every review, be it positive or negative, at least once every two days.
Read more: 10 Restaurant Review Sites You Need to Be on Right Now
9. Citations
Citations refer to the NAP (Name, Address, Phone number) information we have talked about previously in the On-page section. Citations are one of the google SEO ranking factors and can be structured and unstructured.
Structured citations are more important for local ranking and are usually formal listings on platforms like TripAdvisor or GlassDoor. Here are some things you should be looking out for when getting new citations:
Accuracy: it is extremely important that the NAP information matches, regardless of the platform it is published on;
Distribution: you must publish your NAP information in as many places as possible. For example, on all your social media accounts. Relevance is also a factor, so limit yourself to websites related to the food industry;
Quality: Google also considers the domain authority of the website your information is published on, so avoid websites with no traffic.
You can get citations by making an account on all the review platforms, adding the NAP information to your social media, and inviting food bloggers or the local newspaper to write about your restaurant.
10. Links
One of the top Google ranking factors is link building. We have talked about internal linking on your website that helps build an architecture, and now it's time to talk about external links, specifically backlinks – links from other websites to yours.
It is important to get many backlinks, but not any type of link. They must be relevant to your restaurant. Here is what you should focus on:
Domain and page authority: try to get backlinks from websites with a bigger authority than you so you can grow;
Relevance: get backlinks from websites that are important for your industry, for example, a food blogger, not a website that focuses on cosmetics or child care;
Anchor text: ask for the backlink to be added to a relevant keyword for your website (we call that "anchor text)", such as "delicious pasta with fresh ingredients", not "click here" or "this link";
Diversity: it will help your local SEO optimization to have links from many platforms, not just three you have a partnership with.
Read more: The Secret Ingredients of Link Building for Restaurant Websites
11. Audience interaction
Google restaurant ranking is also influenced by how your audience interacts with your website, such as the bounce rate, how many people click on your menu, and how many actually order. Here are some actions you should be encouraging through smart design and Calls to Action:
Click-Through Rate: you must ensure the title and meta description that show up in the search listing are very enticing, so people actually click on the link to your website;
Dwell time: a one-page website template with well-structured information like the one provided by GloriaFood can encourage people to spend more time browsing your website;
Clicks-to site: is your Google Profile enticing enough so people click the link to your website to find more information?
Click to order: if you want a website that converts, you need to have a contrasting menu button in a visible place. Click here to see a demo of a perfectly placed button that encourages immediate orders.
If you use the free version of GloriaFood, you will get access to this funnel, and many other relevant sales reports:
Conclusion
To make sure your restaurant has the best chance to rank on the first page of Google, you must be aware of the relevant Google restaurant ranking factors. Start with optimizing on-page or opt for an already sales-optimized website, and don't forget about all the off-page factors such as backlinks, Google Business Profile optimization, encouraging reviews, and getting citations.