Online Restaurant Ordering App: Advantages and How to Get the Best One
By

Otilia Dobos

AUG 29, 2022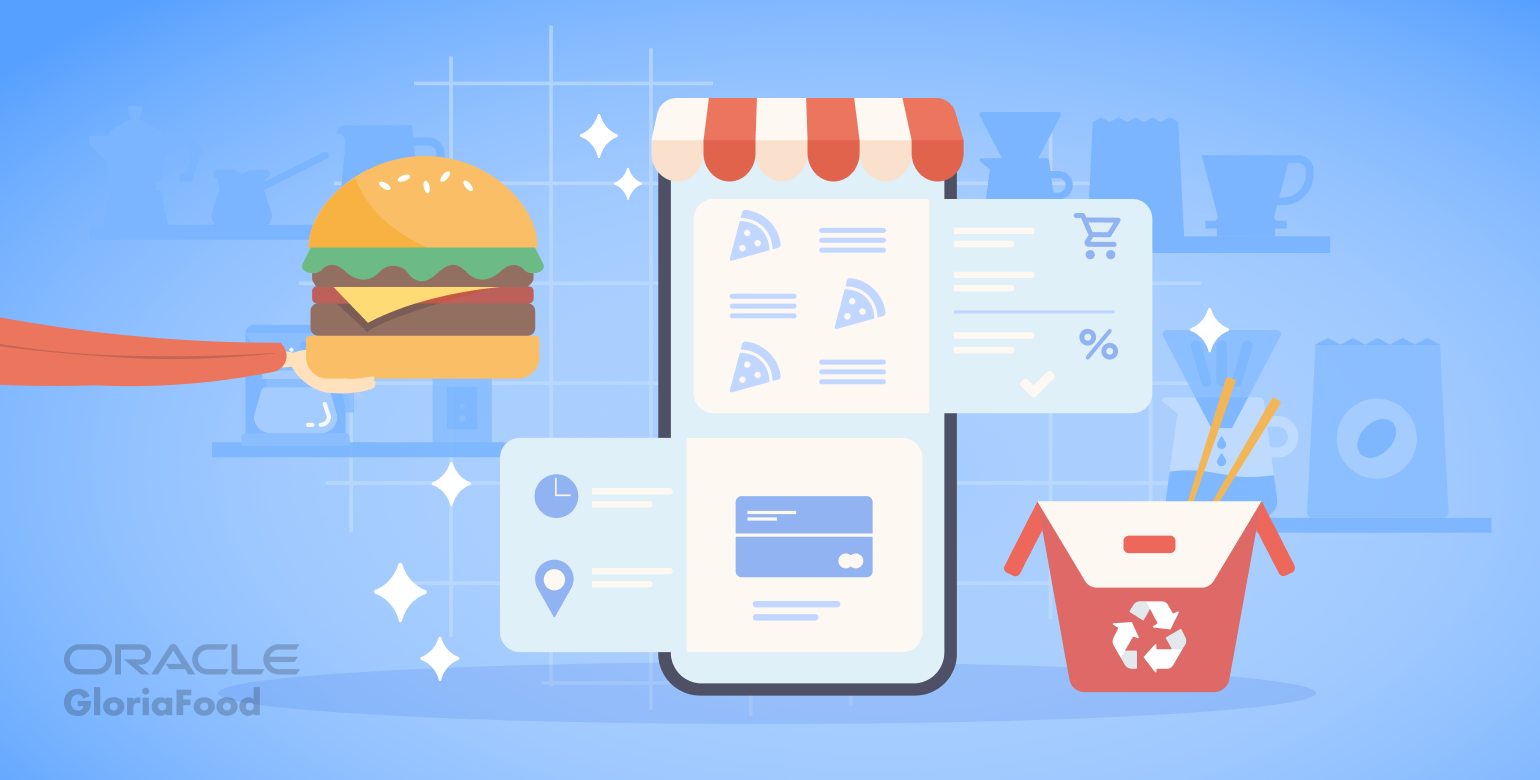 In the last few years, mobile devices have been predominantly used to access the internet, be it for social media, watching movies, or ordering food. Gone are the days of printed menus and calling the restaurant to get a delivery. Now everything is done strictly on the phone, with just a few taps on the screen.
You are missing out if you have a restaurant but don't have an online ordering system implemented! Think about how many more orders you could take on top of the dine-in ones. If you promote your restaurant successfully, your profit will sky-rocket with the help of an ordering system.
In this article, you will find out what are the advantages of an online restaurant ordering app and how to choose the best one for your business.
Restaurant online ordering app benefits and how-to guide:
Advantages of an online restaurant ordering app
The trick to efficient marketing is to go where your audience is. Or, better said, to promote your product (in this case, your restaurant) on the channels most used by the people you target. You target hungry people and foodies looking for something good to eat on their phones as a restaurant owner.
If only there were a place they could find delicious food delivered straight from your restaurant…there could be if you decide to use an online restaurant ordering app. Here are the benefits you could reap from this type of app:
Streamline the ordering process
You are always walking on a tight rope between chaos and organization in the restaurant business. From the kitchen to serving the clients, there is a lot of room for error as the people responsible are only human.
But when it comes to ordering services, you can bypass the errors by using an online restaurant ordering app. If you have an efficient online ordering system implemented like the one from GloriaFood, you will get an alert the second somebody places a new order, and you have three minutes to confirm it.
Streamline your order-taking process
Install an online ordering system to your website for free
Start now
Say no to order errors
If you still take orders by phone, many things can lead to unhappy customers. The person responsible for taking orders could be unavailable, misinterpret a quantity, or forget to write down a dish.
With an online restaurant ordering app, all of that is forgotten. The system knows exactly what the client ordered and will communicate all the information from the customer directly to you, including sensitive topics such as allergies.
Say yes to time optimization
With an online restaurant ordering app, your employees will have more time to focus on important tasks, such as preparing the food and serving the customers in the restaurant.
Because the orders appear in the app and the only action needed is to accept them, there is no more hassle with answering calls in the middle of doing other tasks.
Retain your customers with app promotions
Attracting new clients is a great marketing strategy, but so is retaining the existing ones. If you offer customers a great experience and access to constant promotions, they will be incentivized to keep ordering from your restaurant.
Implementing promos is made easy with an online restaurant ordering app. For example, GloriaFood's online ordering system has a proficient promotions module that contains a series of free and paid promotion templates, all tested for efficiency.
You can also do advanced targeting, such as offering a discount only for certain delivery areas or users that spend over a certain amount of money. Here are some promotion examples: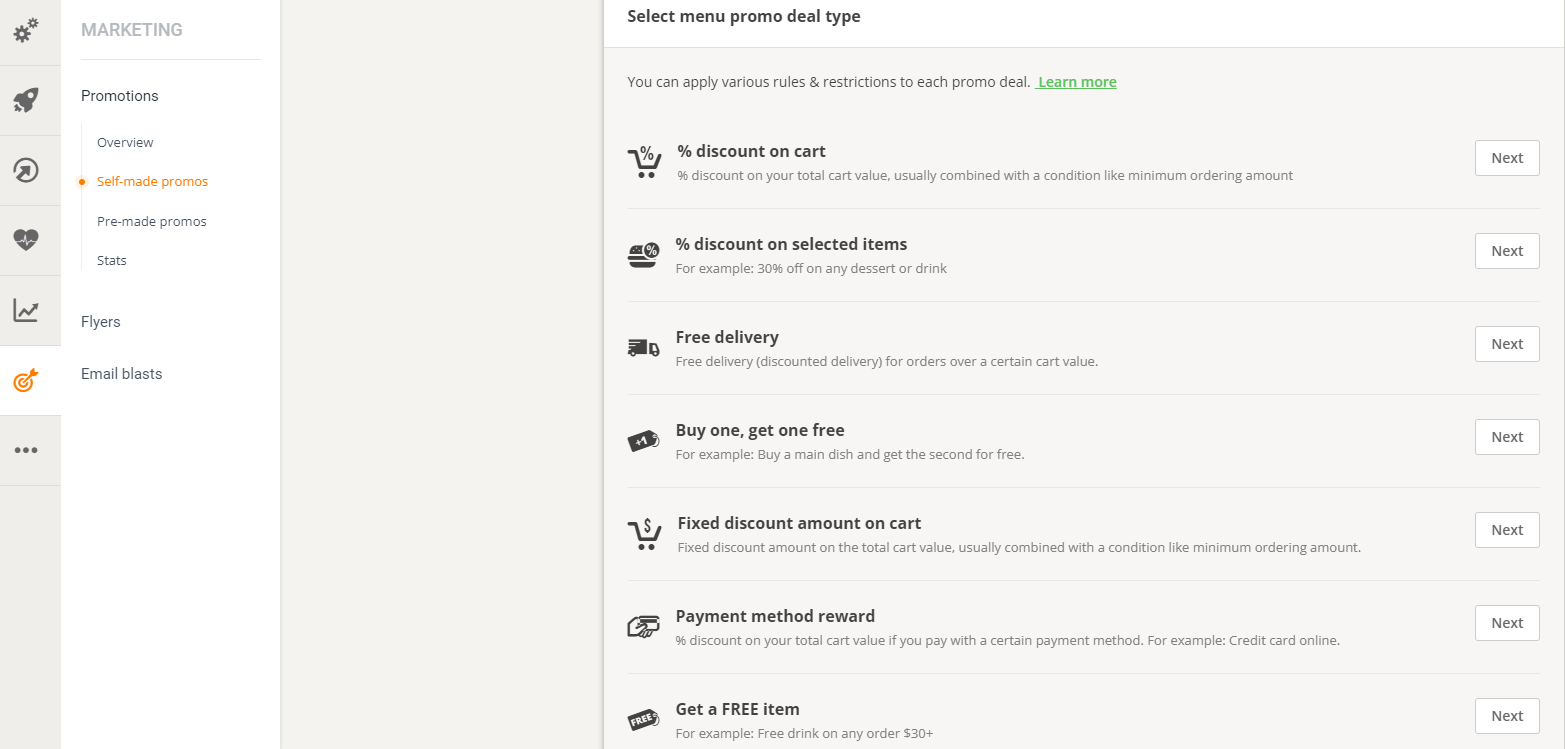 To increase client retention, think about implementing SMS and email campaigns. An efficient solution is Autopilot, one of GloriaFood online ordering system's features that sends out campaigns on autopilot after you set them up.
Autopilot segments customers according to their purchasing history and sends out success-proven campaigns to encourage repeat customers. To activate this attribute, go to admin -> Autopilot Selling -> Overview, and follow the provided steps. Watch this video for more details:
Read more: 5 Simple & Effective Customer Retention Strategies for Restaurants
Better experience, better reviews
Your restaurant's image depends on the reviews you get. Most people check online reviews before ordering and will avoid your restaurant if they are overwhelmingly negative. Replying to negative reviews and finding solutions will help, but it is best to prevent them from happening.
A negative review can be about dine-in experiences in your restaurant, but also about ordering. Choose an online restaurant ordering app that runs smoothly and allows people to place an order in a few clicks without any need for future interactions.
The app's visual appeal is also part of the experience, so make sure to choose your best photos for the menu.
A good food image should make the viewer instantly hungry and scramble to find the check-out button so he can enjoy the dish as soon as possible. Consider hiring a professional photographer or educating your staff on the principles of restaurant food photography.
Read more: How to hire a restaurant photographer and make the most of your food pictures
Increase your profit
Increasing the number of platforms you sell your menu items on is an excellent recipe for increasing your profit.
As more people shy away from ordering over the phone, you have to give them an option they are comfortable with. Not to mention, an app is a great place to implement promotions so you can convince the client to order more.
While, in the beginning, you may be tempted to join one of the known food ordering apps where many restaurants can be found, think about the costs. It may help you gain visibility, but the commission you have to pay will eat into your profit in the long run.
On the other hand, you will have to pay a small price to buy a restaurant online ordering app, and maintaining and updating it will usually not imply additional payment. You get to keep all the money you make from your orders.
Promote your business
Repetitive exposure is key to efficient marketing. An online restaurant ordering app is practically a walking advertisement as the clients will see your name daily on their phones. Because it is a native app with your logo as background, customers will be constantly tempted to order your delicious food.
You can also use the app's existence and the smooth experience it offers to promote your menu on your website and social media. For the app to have many users, you must let people know you have your own restaurant-branded app.
Here are a few ideas for promoting your restaurant ordering app:
Add a banner on your website to announce clients can now download your native app;

Activate a promotion that only applies to the first 200 people that order from your own app;
Share the promotions on a sponsored post on Instagram and Facebook;
Organize a contest in which people get a free meal if they share your post announcing the app launch.
Read more: How to Promote Your Restaurant Website and Online Ordering Service
How to get the best online restaurant ordering app
The best online restaurant ordering app starts with an efficient online ordering system. GloriaFood is free, you won't need additional equipment, and, within minutes of implementing it, you are ready to take orders from hungry clients.
The online ordering system comes with three practical mobile applications to make your life easier:
Restaurant order-taking app: you can take orders directly from your mobile or tablet. When an order is placed, you get a real-time notification, and you have three minutes to accept the order with a simple tap on the screen. The client receives real-time info while you prepare the order with no need for additional calls;
FoodBooking: a free marketplace app where you can submit your restaurant and sell your dishes;
Restaurant branded app: a white label app that can be customized with your info.
Check out this video on how easy it is to accept orders with GloriaFood's online order taking app:
FoodBooking
You can think of FoodBooking as a virtual food court with a spin. All the restaurants on the online food ordering app are curated and a GloriaFood member. And the best part? It is free for all members, with no hidden commissions or listing fees.
The restaurant food ordering app has a simple and functional design. Users can see the restaurants around the chosen location, easily scroll through menus, and order in no time, by paying cash or online.
To get your restaurant on FoodBooking, there are specific criteria you have to meet, such as:
Having a restaurant website with its own domain;
Having a visible order button on the front page of your website;
Using the right pictures to illustrate your menu, appropriate for the cuisine and attractive for clients;
Having a connectivity score of at least 0.9 on the Order Taking App.
To submit your restaurant on this online ordering restaurant app, go to Setup -> Publishing -> Shared mobile app.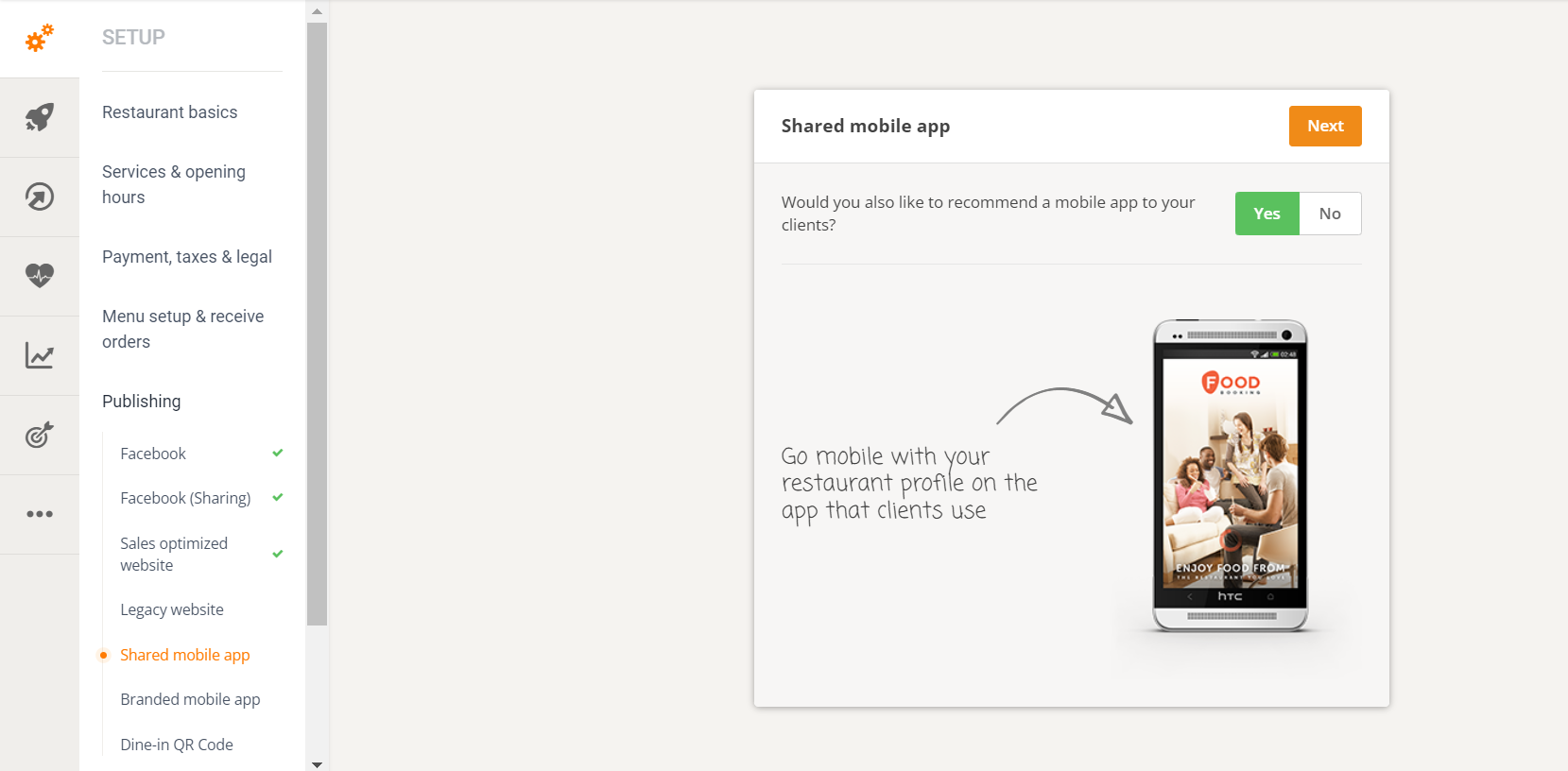 Restaurant branded app
Promote your restaurant and give your clients a seamless ordering experience with a restaurant-branded app. With GloriaFood, you can get a white label restaurant ordering app customized with your logo, background, and slogan.
Your customers will get the smooth experience of a native app they can download from Google or Apple stores and order from your restaurant in a few minutes using their smartphone or tablet. Click here to see a demo for a white label restaurant app.
Offer clients a seamless food ordering experience
Install the best free online ordering system in minutes
Start now
The app has intuitive navigation that will satisfy every client:
Customers can see when your restaurant is available to take orders and easily browse the menu;
The contact information will be pre-filled for the second order to encourage loyalty and optimize time;
Clients are kept in the loop the whole time with pickup/delivery estimation;
You will confirm the orders in real-time, and clients will have the satisfaction the order reaches you directly, with no middle-man involved.
The process of getting your own online restaurant ordering app is made easy with a restaurant app builder. All you have to do is choose a name, upload your photos, and you are ready to roll. If you want to make changes, no worries, the app will be automatically updated.
The app is a paid feature that will increase your restaurant's worth. Promote your branded app on your website and your socials to let potential clients know how easy they can have your dishes delivered to them.
Sign up for a free account with GloriaFood and get your restaurant branded app by accessing Setup -> Publishing -> Branded mobile app.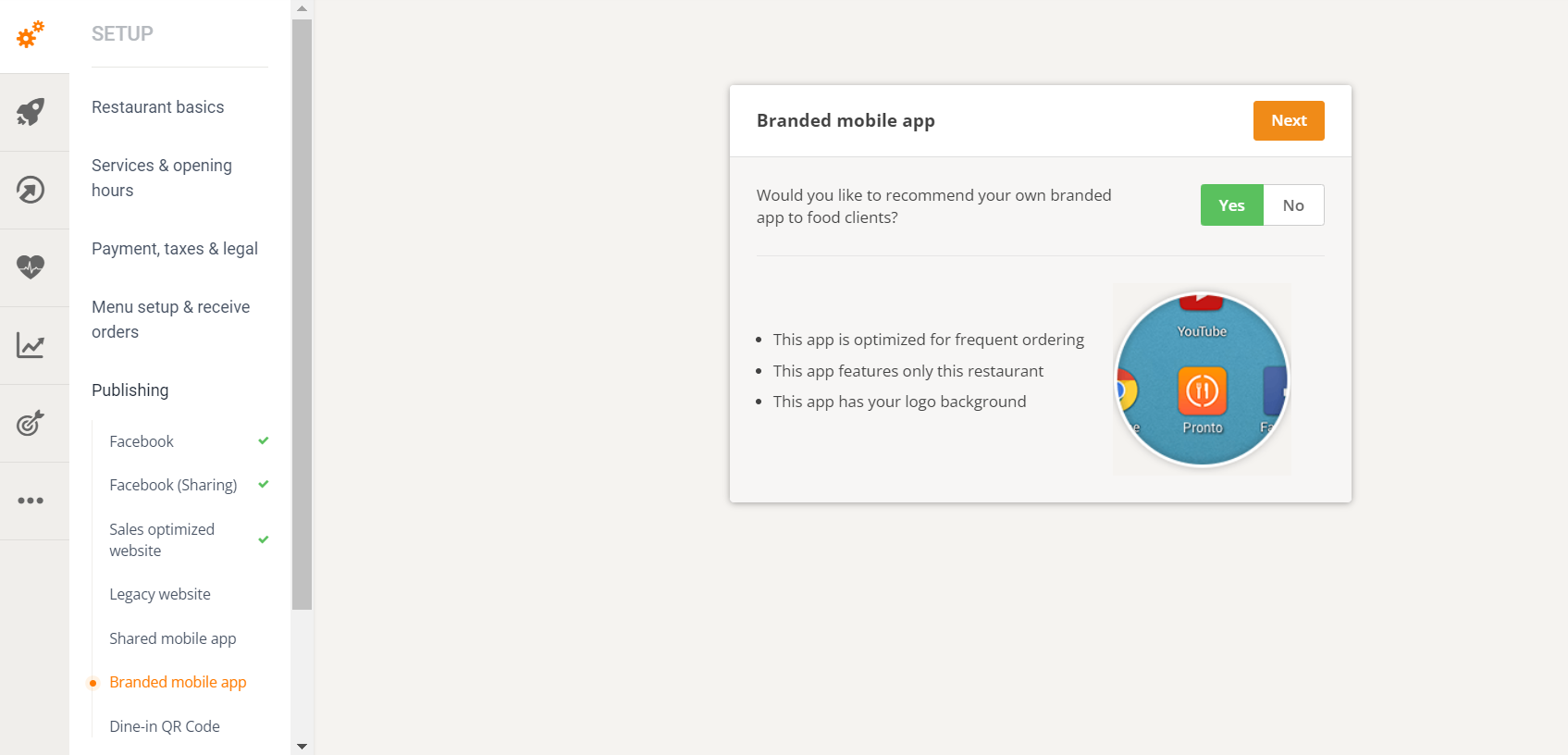 Conclusion
An online restaurant ordering app is a must for a restaurant's success. It allows you to serve more clients, reach a bigger audience and deliver the smooth ordering experience every foodie craves. You will enjoy a streamlined process with no errors or time loss.
With a branded restaurant app, you promote your menu with the added benefit of comfort: native installation and ease of use, both for your staff and your clients.