10 Low Budget Restaurant Ideas to Help You in Hard Times
By

Laura-Andreea Voicu

FEB 01, 2021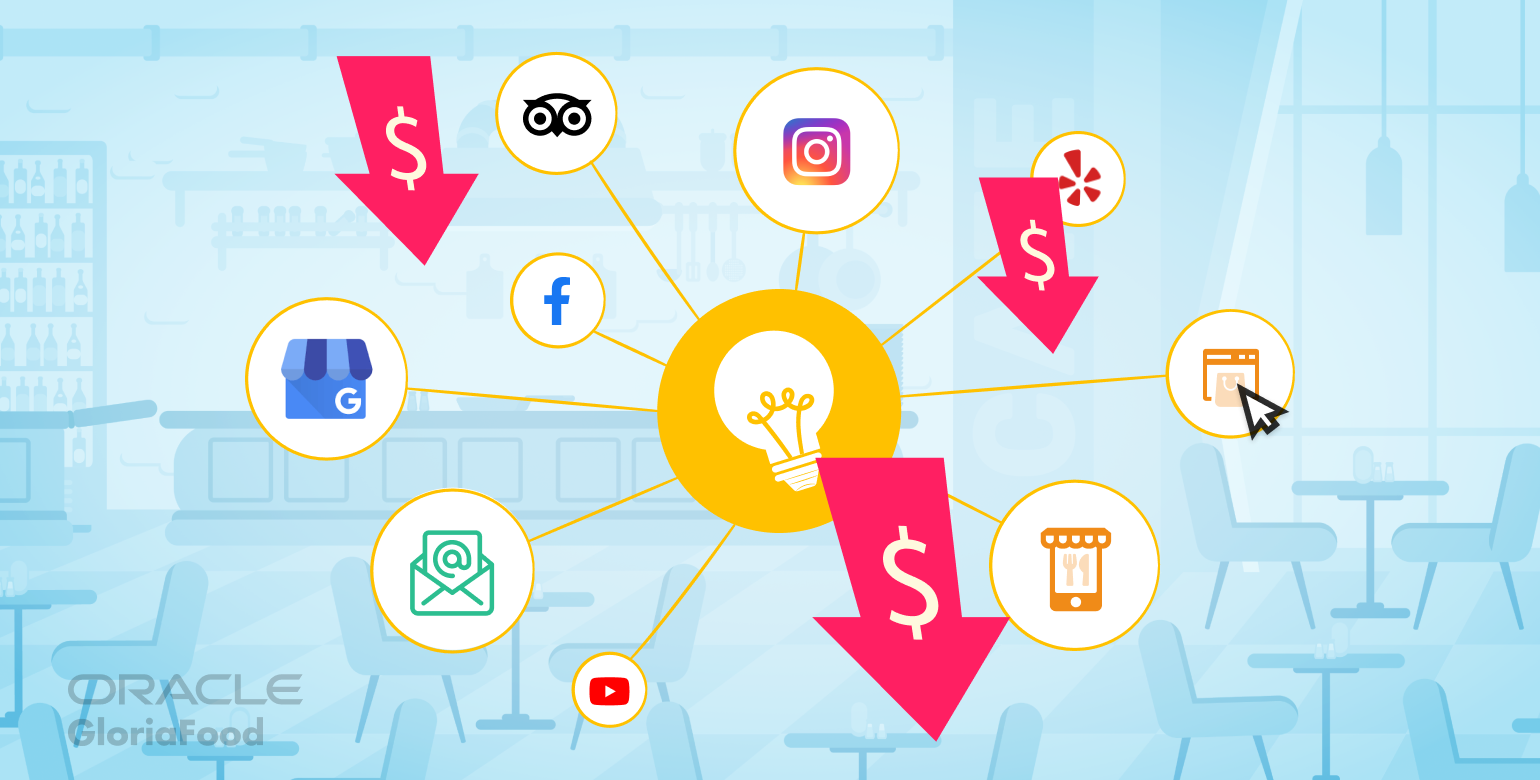 10 Low Budget Restaurant Marketing Ideas to Try ASAP
Times are tough, especially for the restaurant industry, and I understand that not many restaurateurs can afford to spend a lot of money on marketing right now. That's why I'm here to suggest some low budget restaurant ideas that will help you market your restaurant to people without spending any (or hardly any) money. Let's get into it!
Use These 10 Low Budget Restaurant Ideas to Boost Your Profits
1. Be active on all major social media platforms
This is no longer optional if you're a restaurateur, it's necessary. You have to be where your customers are, especially now, when we're communicating mostly online. That said, here are the major social media platforms you should consider being on and how to promote your restaurant on social media.
Read more: Why Restaurants Need Social Media
Facebook
The OG social network, Facebook still has the biggest following and it provides businesses with plenty of reasons to be active on the platform. The most important one being that you can add a "Start Order" button to your Facebook page for free and redirect users to your restaurant website where they can place an order.
If you'd like to optimize this experience for your customers even further, and make the transition between your Facebook page and your menu seamless, click on the "Sign up" button at the top of this page. Once you've set up your profile, we provide you with a Facebook smart link that you can add to Facebook's "Start Order" button to send customers straight to your online menu.
Read more: Facebook Marketing for Restaurants: 10 Tips & Secrets
Twitter
Twitter is a great platform to increase engagement and brand awareness, as well as a place where you can reply to your customers' questions and concerns. Twitter users are very supportive of the businesses they follow and that can translate into increased conversions.
Read more: Why Using Twitter for Restaurants Can Spark Your Sales
Instagram
Instagram is where photos of food thrive, so you shouldn't miss it when looking for food product marketing ideas. The platform is all about visual communication, so upload photos of your food that will leave customers drooling.
Plus, you can also sell food through Instagram even if you're not listed on any food delivery portal using an Instagram action button workaround.
Pinterest
Another visual social media platform, Pinterest is quite advanced in terms of how you can use it to promote your restaurant. You can post your menu, create recipe boards, repin images from other people in the industry, organize giveaways, or even promote your pins for extra engagement.
Read more: Pinterest for Restaurants: How to Visually Promote Your Business
Snapchat
Targeting a slightly younger audience, Snapchat allows you to interact with customers on a more personal level and send them offers directly into their DMs. One of Snapchat's highlight for restaurants is the possibility to create a Snapchat Geofilter and choose the location where it will show up. This will help you attract more people to your restaurant.
Read more: How to Use Snapchat for Restaurants to Get New Customers
TikTok
Finally, a network that is still growing but one that is increasingly popular, especially among Gen Zers, TikTok can help you become viral even if you don't have a lot of followers thanks to its unique algorithm. It is an opportunity for you to show your lighter side and have fun with your customers.
Read more: How TikTok for Restaurants Can Shake up Your Marketing Strategy
2. Optimize your Google My Business profile
Google My Business is incredibly useful for any business to have. But it's not enough to create an account, you have to fill it out entirely to take advantage of all the benefits it has to offer. Your goal should be to rank as high as possible on Google so that more people find your restaurant.
Here are the main things you should do on GMB:
Add your opening hours
Add your location
Upload photos of your food and restaurant
Include a link to your website and online ordering page
Add your menu
Reply to customer reviews
Read more: How to Optimize Google My Business for Your Restaurant: Must-Know Tips
3. Have a sales optimized website
Since all of your social media profiles, as well as your Google My Business page will ultimately redirect customers to your website, it's important to give them a flawless experience once they get there.
For one, that means a fast path to your online menu. The online ordering button should be visible on the homepage as soon as they land on it. Once they open your online menu, they should be greeted by attractive, eye-catching images and promos.
Learn more: How to Make a Food Ordering Website
4. Activate online ordering
Since we've been talking about online menus, you should know accepting orders online is one of the easiest ways to boost profits as a restaurateur. That is, if you know which online ordering system to choose so that it doesn't cost you an arm and a leg.
I would suggest avoiding food delivery portals like Uber Eats or GrubHub because they charge restaurants hefty sums and you'll end up barely making a profit. The better alternative is an in-house online ordering system where you keep all the profits and control the customer interaction from beginning to end.
Read more: Top 15 Online Ordering Systems for Restaurants in 2021
5. Create accounts on review portals
Review portals like TripAdvisor and Yelp are free to sign up for and can bring you new customers just by you filling out your profile. Make sure that essential data such as opening hours and location is the same on every platform and that it coincides with the one on your website.
These portals are also helpful because people tend to use them to leave reviews, so they are a great place to interact with your customers, secure their loyalty, and show newcomers that you treat all your clients with care and respect.
Learn more: 10 Restaurant Review Sites You Need to Be on Right Now
The golden rule on these platforms is to reply to all reviews. Thank positive reviews and invite them to return to your restaurant and try to solve the problems people raise in negative reviews to show you care.
Read more:
6. Partner up with local businesses
In terms of offline marketing ideas for restaurants, we suggest taking a walk around the neighborhood and seeing what businesses would be willing to partner with you for events and mutual promotion.
For example, you could visit corporate offices and inquire about the possibility of becoming a location for their parties and events. Here are some ideas for restaurant events that you could throw for corporate employees:
Food eating competition
Bingo evening
Karaoke bash
Quiz night (You can also create online quizzes using a WordPress Quiz plugin)
Hollywood themed party
Magic show
Open mic night
Board game extravaganza
Cooking class
Make your own meal
Similarly, get in touch with local hotel and Airbnb owners to see whether you could leave some menu flyers in their establishment in case tourists need recommendations of places to eat.
Don't get left behind! Start taking online orders in as little as 5 minutes
Take your business to the next level with our free online ordering app
Get access now
7. Do email marketing
Email marketing is one of those small restaurant business ideas that will never get old. It's an affordable and reliable way to secure customer loyalty and get new customers without having to go through too much trouble. These are just a couple of restaurant email marketing ideas you can try:
Send a welcome email
Send a birthday email
Celebrate holidays with special promotions
Showcase new menu items
Promote new features like online ordering
Share your recipes
Promote events happening at your restaurant
Read more: Ultra-effective Email Marketing Ideas for Restaurants
8. Invest in flawless customer service
And by invest, I don't mean money. This is something that you build in time and that will lead to excellent word-of-mouth marketing. Providing flawless customer service means to pay close attention to every aspect of your business, from the quality of your food to the people you hire, the environment you create, and so on.
Over time, these things will add up and help your restaurant get noticed. People will rave about it to their family and friends, and you will get new customers without paying money or making a conscious effort at that time.
Read more: How to provide excellent customer service in a restaurant [List of Tips👌]
9. Be creative with your menu
Your menu is your bread and butter so you have to make the most of it to stand out. When designing a menu, you can stand out in many ways, from the ingredients you use to the names you give to the dishes.
Changing your menu periodically or introducing limited-time menu items will also attract more people. Celebrate famous holidays with unique menu items to entice people to visit you. Here are some restaurant food ideas for 3 major holidays:
Christmas: Slow roast beef, butternut squash with bay leaves, buttery roasted chestnuts in foil.
Halloween: Dead velvet cake, swampgria, grated knuckle pizza.
Thanksgiving: Spiced and glazed roast turkey, spicy cranberry sauce, squash and caramelized onion tart.
You might also like: How to Build a Restaurant Menu That Will Skyrocket Your Online Sales
10. Offer irresistible food promos
You may think this doesn't belong in the category of low budget restaurant ideas but the truth is you will make more money by charging less from time to time than by never offering a special promo or discount. Brainstorm some food and beverage promotions ideas and showcase them at the top of your menu so they're the first thing customers see.
From free delivery to discounts on orders that surpass a certain value, to meal bundles for the entire family, there's no shortage of promos you can use. Remember to also draft some unforgettable restaurant promotion messages for social media to share the news.
Read more: 15 Unique Restaurant Promotion Ideas that Will Increase Loyalty in 2021
Final Words
While you could try traditional restaurant advertising like newspaper or radio ads, and there are also a lot of new restaurant ads you can invest in on social media, you should start with free or almost free marketing until you find your feet as a restaurateur.
These low budget restaurant ideas cost nothing (or next to nothing) to implement, and they are guaranteed to help your restaurant grow and ultimately increase sales.