How to write a menu for a restaurant: complete guide with examples
By

Otilia Dobos

JUL 4, 2023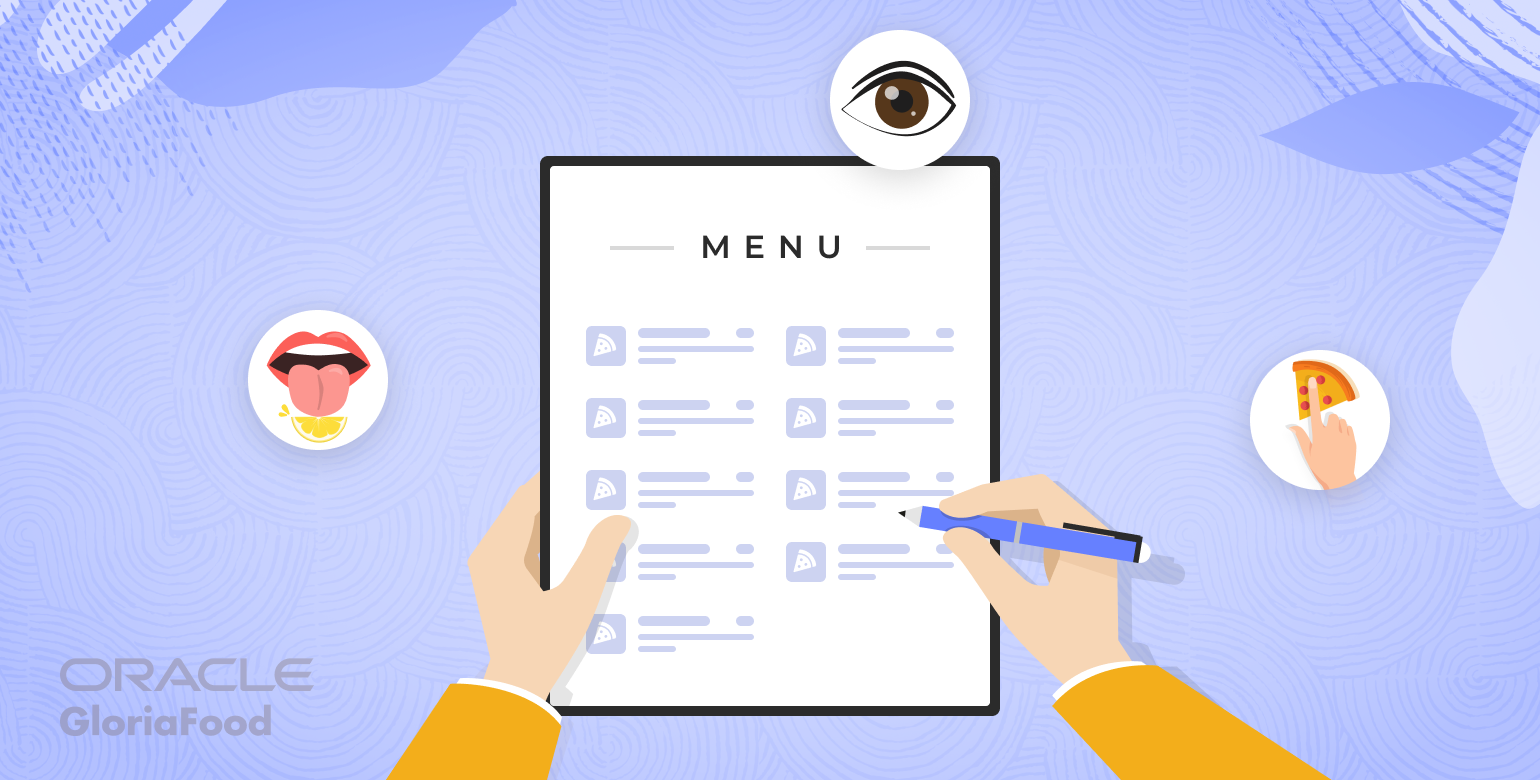 How to write a menu book for a restaurant:
Are you just opening a restaurant or want to make a change for the better at your existing one? Then you must focus on the element that can make or break your business: the restaurant menu.
If you are wondering how to write a menu for a restaurant, you will find all the answers here. Because the restaurant industry has become irreversibly intertwined with the online world and online ordering has become a must, we will focus on how to create an online restaurant menu.
But no worries, you can get a free QR code restaurant menu with our online ordering system so clients that order in the restaurant can still use the online one. Furthermore, clients can also order online at the table, so your staff members can focus on providing the best service possible.
Let's dig in and find out how to write a food menu:
How to write a menu for a restaurant: what to do before you delve in
One of the key elements of a successful restaurant is branding. Ideally, you should do it before opening your business, but you can always rebrand your place if you are not happy with your image.
Branding is about finding out what makes your restaurant special and positioning it on the market to create an image that will be easily remembered by people and that will promote loyalty.
In the process of branding, you will have to do two things that will also help you develop a great menu: identify your audience and choose a tone of voice you will use on all your channels.
Once you know who the people most prone to visit and order from your restaurant are, you will cater all media to their liking to convince them to become clients. For example, if you mainly target Gen Z, your menu descriptions should be more fun and in tune with the latest trends.
Developing a tone of voice and using it when you write the menu item names and descriptions will help create a unitary image together with your website, social media channels, and other promotional endeavors.
Step 1: Keep it short and sweet
If we're talking about how to write a menu for a restaurant, we must settle on the length. Many restaurant owners tend to go for long menus with lots of options because they want to give clients the freedom to choose.
But they are wrong. Researchers showed that smaller menus are better because people actually prefer fewer items to choose, leading to an easier choosing process.
Having a short menu also has lots of benefits for your business:
It builds trust with your customers: a short menu lets people know you care more about quality and not quantity. Moreover, your clients will appreciate that they can look over the menu in a single glance and decide fast.
It reduces food waste and increases your profit: when you have a big variety of items on your menu, you also have a lot of ingredients. But because not all of your menu items get ordered, some of your perishable items will go bad and have to be thrown out. Instead, if you choose a smaller menu, you use more of your ingredients, so you don't have to practically throw money away.
It makes it easier for your staff: your employees must know all your menu items by heart to make recommendations. It is way easier for them to remember 15 dishes than 40, so they will surely be happier. Happy employees -> Successful restaurant.
Step 2: Divide and conquer into categories
To make a menu easy to browse, you can't have all the menu items mixed. This will only lead to frustration because clients will have a hard time finding what they want to order.
The best strategy is to organize all dishes in logical categories and order. Follow the order you would naturally eat the items. Start with appetizers, main dishes, and sides and end with desserts and drinks.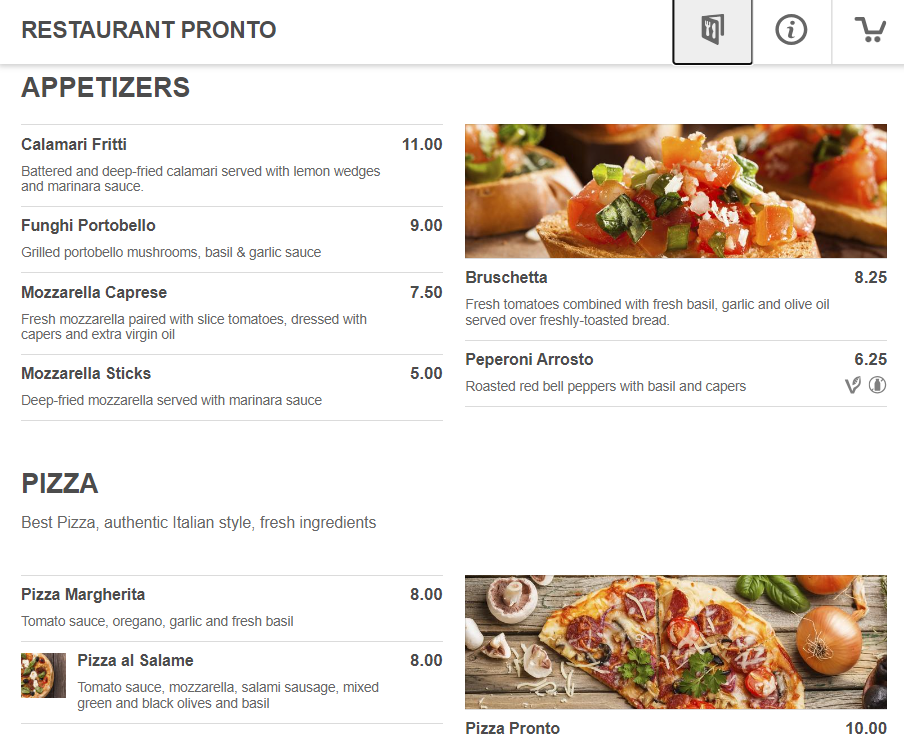 You can use our menu creator to easily build a menu that will make clients happy. The wizard will guide you through every step, including creating categories. Check out the video instructions:
Also, consider adding a special category at the start of the menu where you feature your best-selling dishes or menu items that can be ordered at a special price.
Step 3: Price your menu items for profit
You could serve the most delicious food and have clients ordering non-stop, but if you don't price your menu items right, you won't make a profit and your business will inevitably fail.
One of the most common ways used by restaurants to price menu items is the ideal food cost formula:
Price = COGS/Ideal Food Cost
The ideal food cost is usually between 25 to 35%, but the lower you go, the bigger the profit is. The COGS (cost of goods sold) is the price you pay for the ingredients you will use to prepare the specific menu item.
Let's see an example. Let's say you pay 5$ for ingredients and you want an ideal food cost of 30%.
Price = 5$/0.3 = 16$
Always keep an eye on the competition and their pricing and change your price according to the demand. If you start to sell more and have a big base of reoccurring clients, you can start slowly increasing your prices to make more profit.
With our menu maker, you can make any number of changes to your menu (including prices) at no cost.
Step 4: Make your dishes pop with mouth-watering pictures
When you create a paper menu for your restaurant location, you can skip pictures for a cleaner look. But an online restaurant menu relies on images to convince people to click on the order button.
But not just any kind of photos. If you add blurry pictures taken with your phone, they will look unprofessional and they won't build trust with your clients. Instead, consider hiring a professional photographer or learning more about food photography so you can impress your clients.
Create a mouth-watering menu clients won't be able to resist
Use this free online ordering system with a built-in menu-maker
Start now
When you use our menu builder, you also get access to a gallery of free images you can illustrate your menu items. Alternatively, you can upload your own.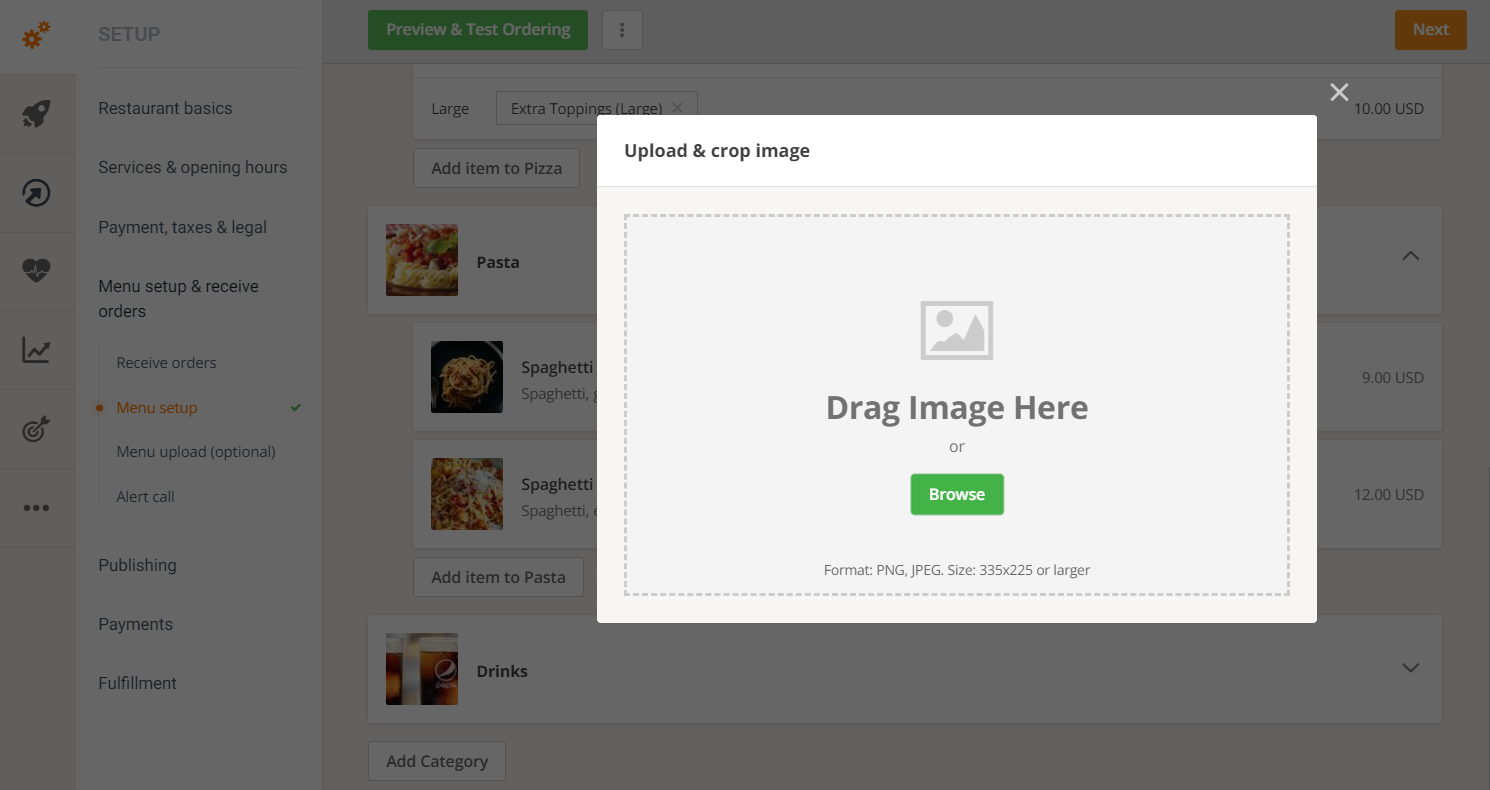 Step 5: Persuade clients to order with menu descriptions
The pictures will capture the potential customers' attention, but restaurant menu descriptions can convince them to take the final step and order. Use the branding and the established tone of voice to help you write enticing descriptions.
Here are a few pointers for writing restaurant menu descriptions that convert:
Go for funny descriptions: if it matches your restaurant's persona, you can have fun.
Focus on the cooking process: people are impressed by a more complicated cooking process and will want to try the menu items to see if they are as special as promised; Therefore, mention the type of cooking in the description, such as

charred, sous-vide, braised, poached, blanched, steamed, sauteed

, etc.
Emphasize what makes the ingredients special: people can buy dishes with ordinary ingredients from anywhere, why should they choose your restaurant? Try to show why your ingredients are different: maybe they are locally sourced or from a specific region in Italy, or maybe they are organic or foraged.
Be descriptive: try to paint a picture for your clients of how great the dish will taste. Using descriptive words and plenty of adjectives will get the job done. Take inspiration from the following infographic.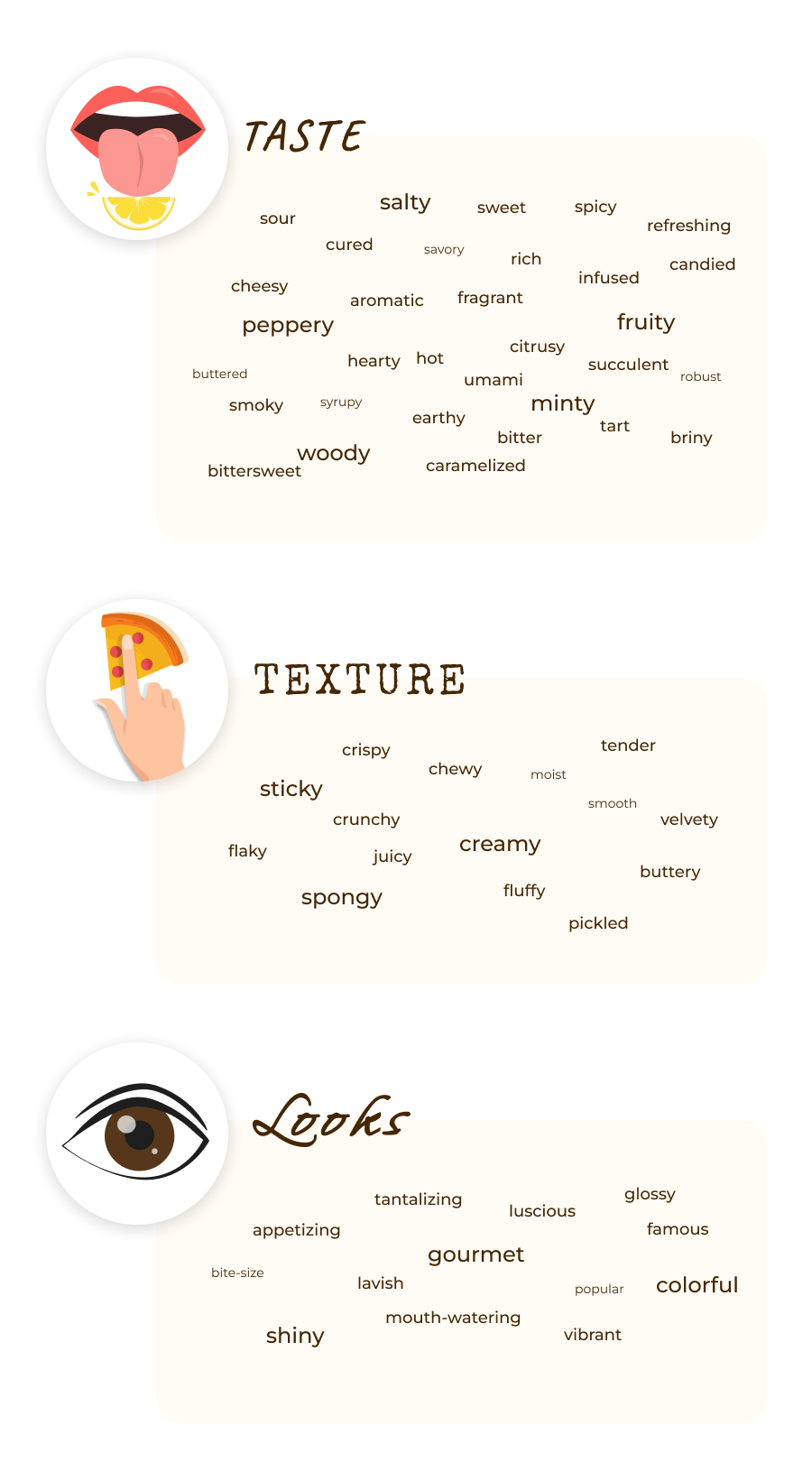 Step 6: Add allergen information
If you want to own a successful business, you need to appeal to as many people as possible. This includes people who suffer from food allergies. How to write a menu for a restaurant that is inclusive? Add allergen information to your menu.
If you mention all the allergens that a dish contains, when someone with allergies browses your menu, they can easily identify the problematic ingredients and choose a menu item that is safe for them. If you choose to cater to specific diets, you can also mark items as Vegan, Dairy Free, Raw, etc.
If you use our menu creator, adding allergen information is a breeze. We'll show you how. Go to admin -> Setup -> Menu setup & receive orders -> Menu setup. Choose a menu item, click on the three dots next to the pencil, and go to Item settings.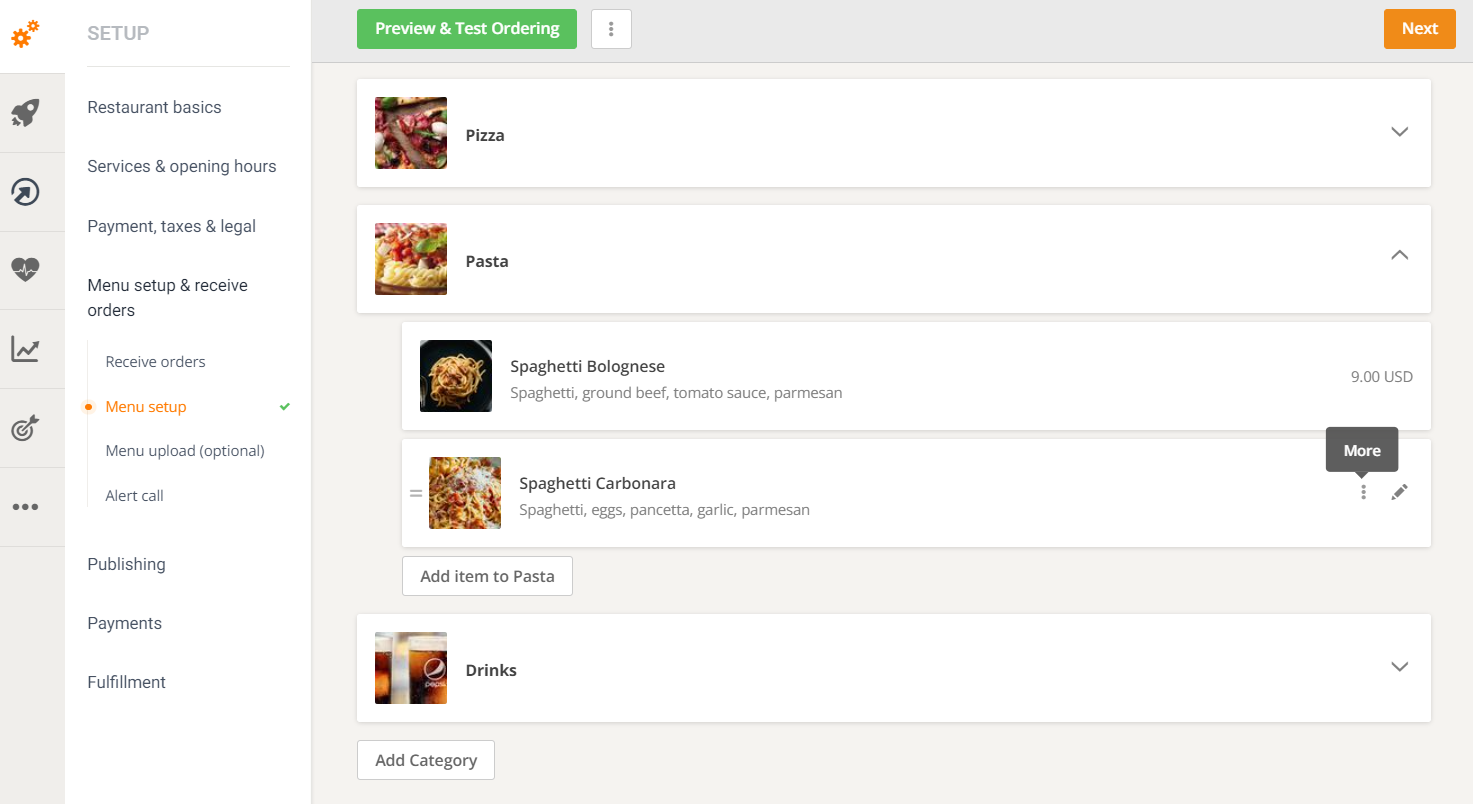 Afterward, a screen will pop up and you must go to the "Allergens" tab. Here you can select some of the most popular allergens such as milk, eggs, fish (and more) or add more specific ones. Just click on Save and the information will be immediately visible in your online menu.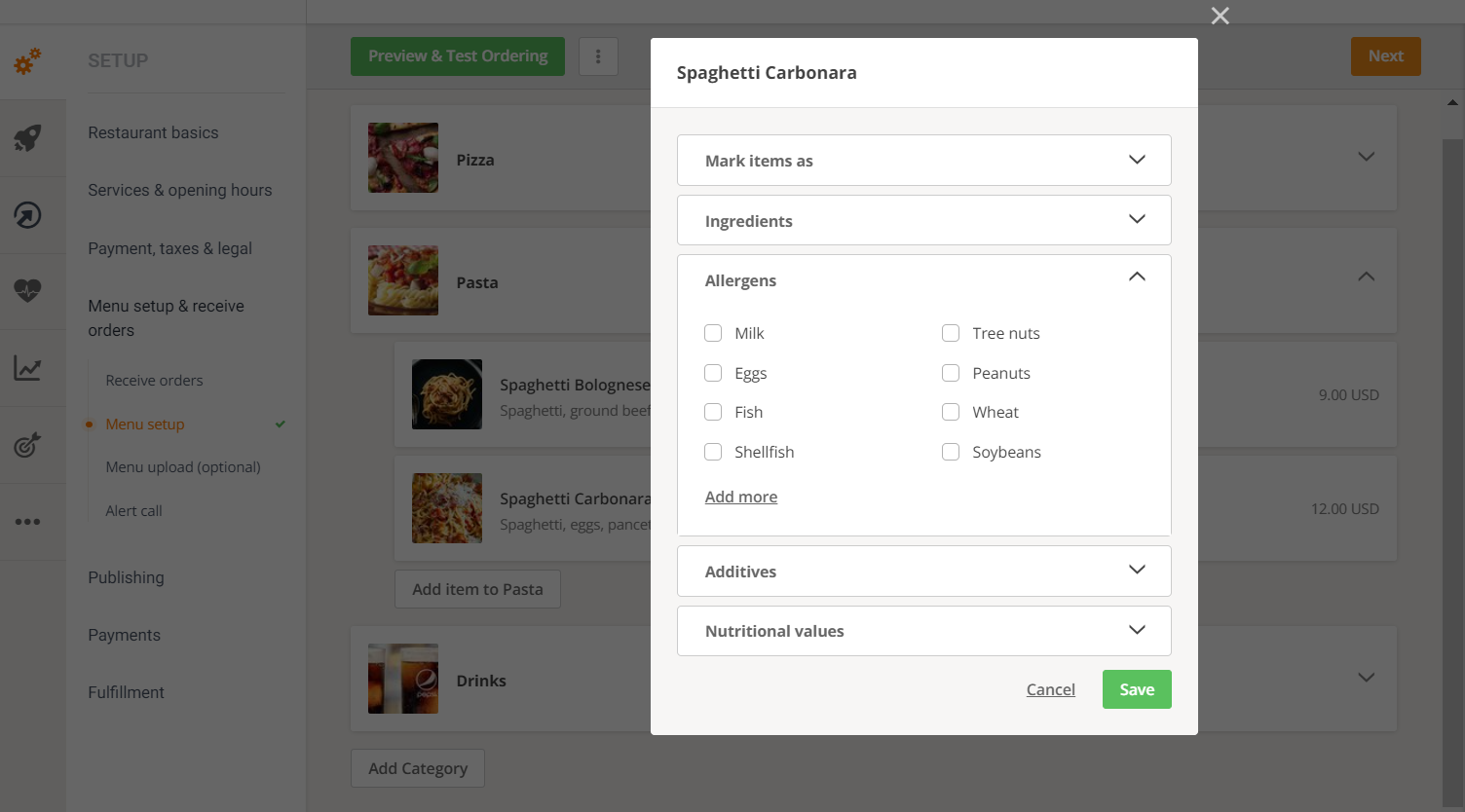 Click on Preview & Test Ordering to see what the allergen information will look like for your clients when they want to place an order.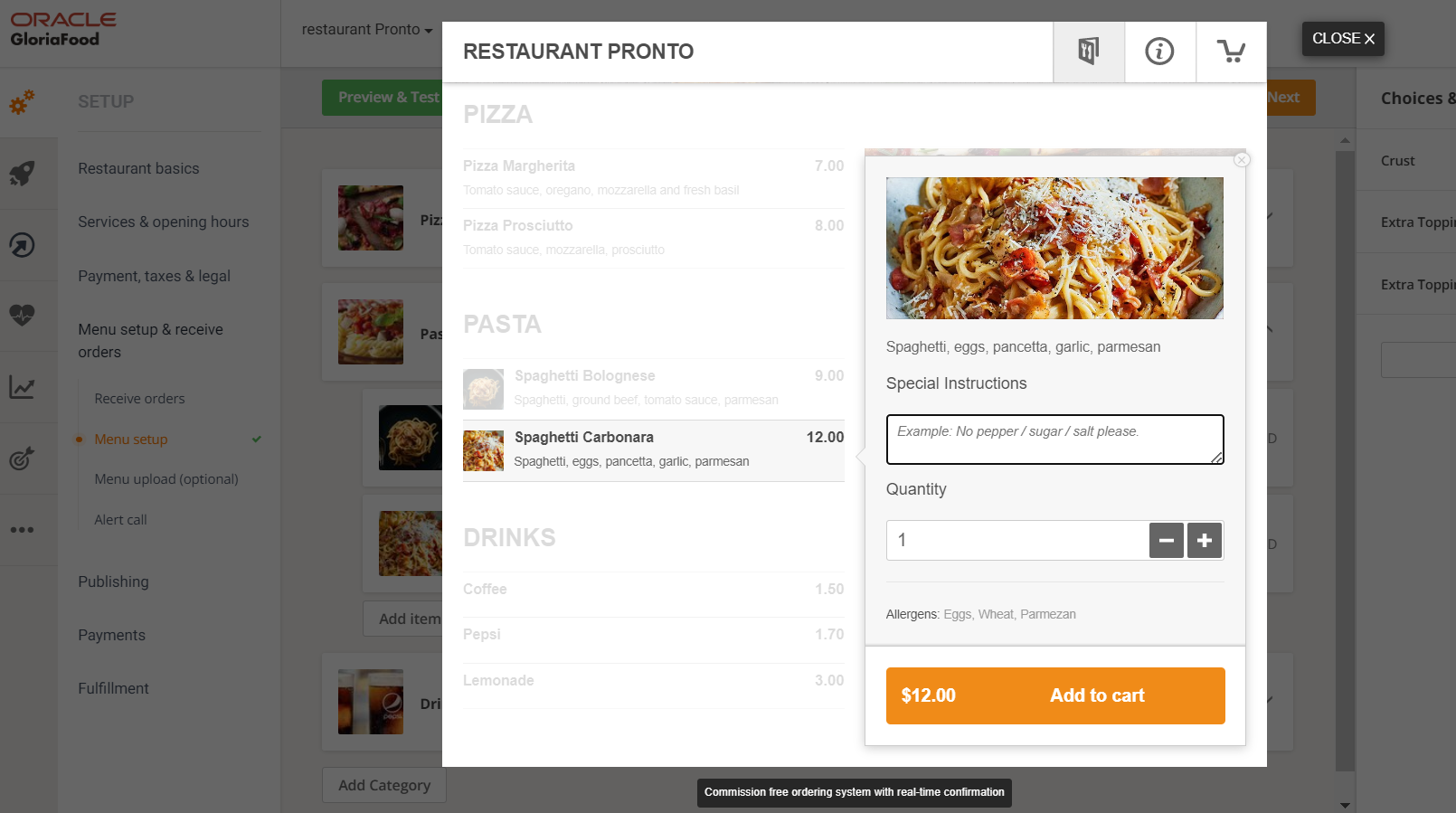 Step 7: Go a step further with nutritional information
If you want your restaurant to be the preferred spot for all gym-going or health-conscious people, you must also add nutritional information to your dishes. The only hard part for you is doing a bit of research to see how many proteins, carbohydrates, and other nutritional values the ingredients in a dish have.
Afterward, you just add them up and you have the final values. Using exact measurements every time you cook a certain dish will also help the kitchen crew to deliver the same perfect menu item every time and will result in happy clients.
The easiest part is adding nutritional information to your menu. Just go through the same steps from the previous point about allergens and choose the "Nutritional values" tab.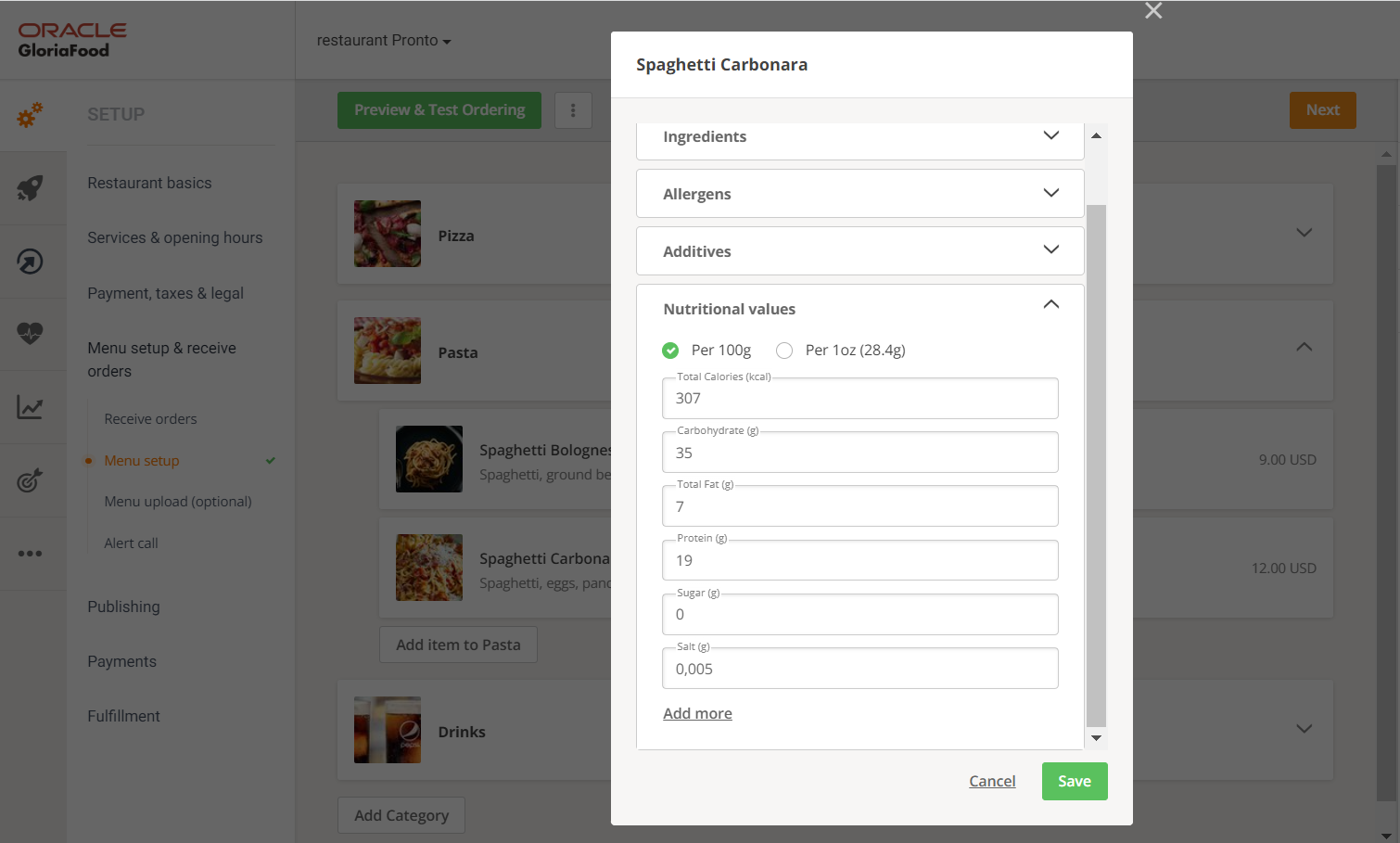 Fill in the information and click Save. Click on Preview & Test Ordering to see how the nutritional values will be displayed for your clients, just at the bottom of the menu item description.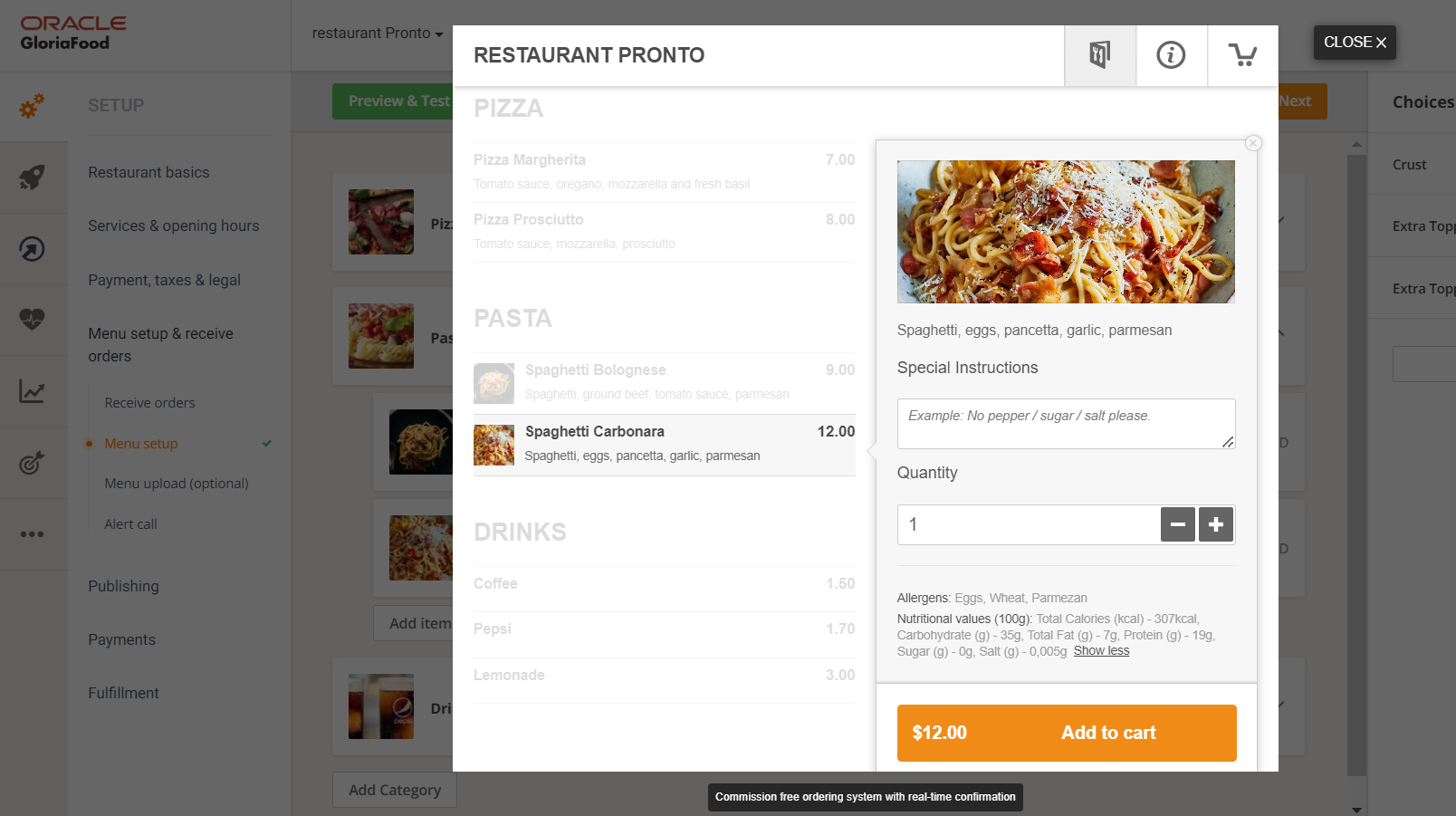 Step 8: Increase order value with promotions
If you are searching for how to write a menu for a restaurant, you surely want to create a restaurant menu that persuades people to order more. A great technique to increase average order value is to add great offers at the start of the menu.
Free delivery for orders over $60? 5% off the entire order? Free dessert for orders over $50? These attractive promotions, coupled with a convincing photograph will encourage people to order more of your delicious items so they can take advantage of the deal.
Increase your average order value with attractive promotions
Use this online ordering system to set up any promotion in a matter of seconds
Start now
Good news, our online ordering system is also equipped with a great promotions module that will help you set up any promotion in a matter of seconds. Take advantage of the tried and tested promotion templates to attract more customers and more big-value orders:
You can go a step further and delve into the advanced settings of the promotion module that allows you to choose a time slot when a promotion is active, target specific customers, and much more.
Extra tips for creating a restaurant menu that converts
The guide above provides you with all the information you need when you search for how to write a menu for a restaurant. But we want to make sure you create an unforgettable menu that impresses clients and persuades them to order and visit your restaurant numerous times.
Here are a few more tips for creating a restaurant menu that converts:
Proofread your menu descriptions twice: mistakes are normal, but they can deter clients from ordering from your place. Customers that see a spelling error may believe you did the description in a rush, and that you are not a professional business. To prevent this situation from happening, spellcheck your descriptions twice, leaving at least a day before you look over them again so you can have fresh eyes. If you are not sure about something, use a tool like Grammarly for proofreading;
Constantly update your menu: any update you make to any of your menu items should be immediately visible in your online menu. If you add an ingredient or remove one, make the changes using our online ordering system because it is fast and it costs nothing. Clients want to receive exactly what they ordered.
Final Words
If you want to lead a profitable business for years to come, you must know how to write a menu for a restaurant. Your success is almost a given if you use our online ordering system and the guide provided above to create a restaurant menu that converts and convinces people to order more.