Restaurant allergen information: how to make customers with food allergies happy
By

Otilia Dobos

MAY 31, 2023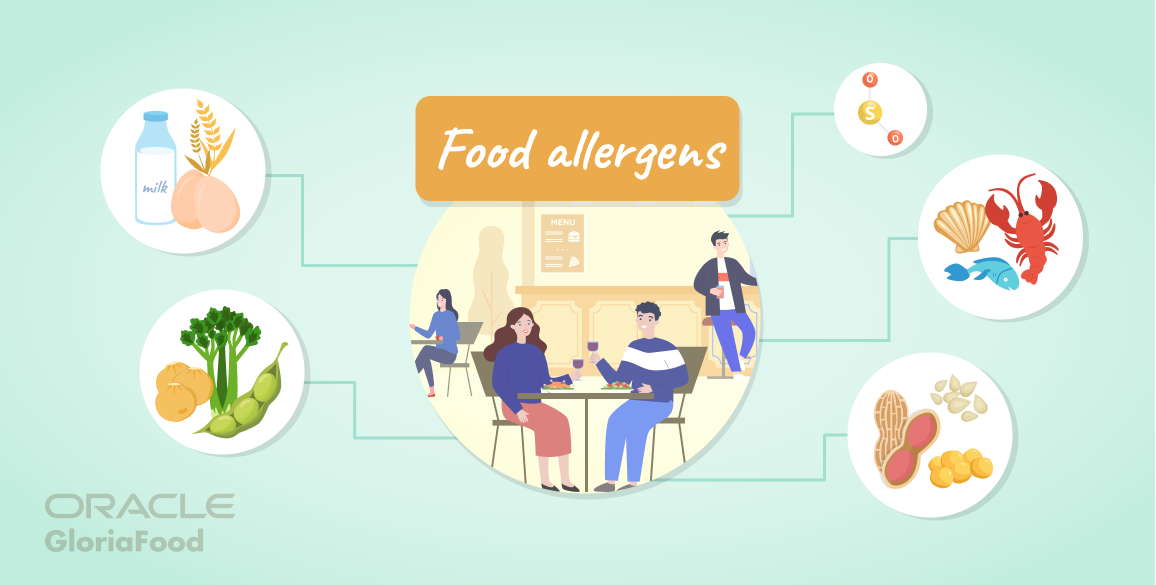 Scientists concluded that 32 million Americans suffer from food allergies, translating to 1 in 10 adults and 1 in 13 children. Considering the large number, it is safe to say that if you don't cater to people with food allergies, you are losing business.
Therefore, if you want to increase your revenue by catering to allergic clients, you must implement a variety of safety measures such as providing restaurant allergen information, further training your staff, and having dedicated kitchen equipment.
In this article you will find out what are the most common food allergens, what you can do to provide allergy-safe meals, and how to make a restaurant menu that lists allergens and nutritional values.
What are the 14 main food allergens?
People can be allergic to almost any ingredients, but the 14 most common food allergens are:
Celery
Cereals that contain gluten, for example, barley and oats
Crustaceans that include prawns, crabs, and lobsters
Eggs
Fish
Lupin
Milk
Mollusks, such as mussels and oysters
Mustard
Peanuts
Sesame
Soybeans
Sulfur dioxide and sulfites
Tree nuts: almonds, hazelnuts, walnuts, brazil nuts, cashews, pecans, pistachios, and macadamia nuts
Check out this link for a complete list of food allergens you should be aware of.
What are the 4 pillars of food allergy restaurant responsibility?
When you decide you want to grow your business by providing allergy-safe food, there are four main things you should focus on:
1. Clearly mark your menu items with restaurant allergen information
When you create a menu, it won't suffice to just list the ingredients and have the clients look over them to see if they identify their allergen. What if they just browse and miss the ingredient that can make them ill? Or what if you used sesame oil for cooking but didn't mention it in the menu item description?
You need to be more specific. You must add all the food allergens your dish contains to your restaurant menu. Furthermore, when you create an allergy-safe menu item, be sure to mark them, such as nut-free or dairy free.
We'll show you how to easily add restaurant allergen information to your menu in the next chapter.
2. Have dedicated parts of the restaurant to cook allergy-safe dishes
Firstly, ensure you check your local laws, so you are up to date with all regulations regarding food safety. One of the basic rules of cooking for people with allergies is to have completely different working stations and equipment for allergy-safe dishes to prevent cross-contamination.
No matter how well you clean the stations between a normal dish and one that doesn't contain a certain allergen, there is always a chance you miss something and endanger someone's life. It is better to be safe and use a designated space to cook, for example, a peanut-free dish.
3. Train your staff to ask about food allergens
When people order online, they usually spend more time browsing the menu and checking the restaurant allergen information you provide. However, in the restaurant, some people like to ask for food recommendations and may not refer back to the menu to check for allergens.
Therefore, train your restaurant employees about the importance of food allergies, where they can find the allergens listed on the menu, and what dishes are safe for what type of allergy.
Make it a habit for them to ask diners if they have any food allergies so you ensure every client enjoys a delicious meal with no unpleasant surprises. Also, establish a knowledge chain, so employees know what manager or cook they can ask if they don't have information about a certain menu item.
4. Have a plan for emergency situations
Mistakes happen and the only thing you can do is plan for them. Let's say a client in the restaurant ordered a dish that contained their food allergen, be it by their fault or yours, the outcome is the same.
You should have a designated person that handles emergencies every day, preferably a manager. They should try to help the client in any way possible, even reaching out to emergency services for severe cases.
How to easily create a menu with restaurant allergen information
While clients are responsible for their food choices, you can attract them to your restaurant by providing them with a full list of food allergens, so they know they will be safe any time they choose to visit or order from your business.
The good news is you can do this in just a few minutes using the free menu builder from GloriaFood. We'll show you how in detailed and easy-to-follow steps:
1. Create an account on GloriaFood
In the competitive restaurant industry, you can't survive if you don't expand your business online. That's why you need a reliable online ordering system that can help you streamline your online orders and market your business.
The online ordering system from GloriaFood is a perfect choice. Have we mentioned it is free? It also comes with a built-in menu maker, table reservation system, promotions module, and many more useful features.
Customize your menu with restaurant allergen information in minutes
Install an online ordering system to your website for free
Start now
Go ahead and sign up on GloriaFood and fill in your restaurant's basic information such as location, opening hours, cuisine, services, etc.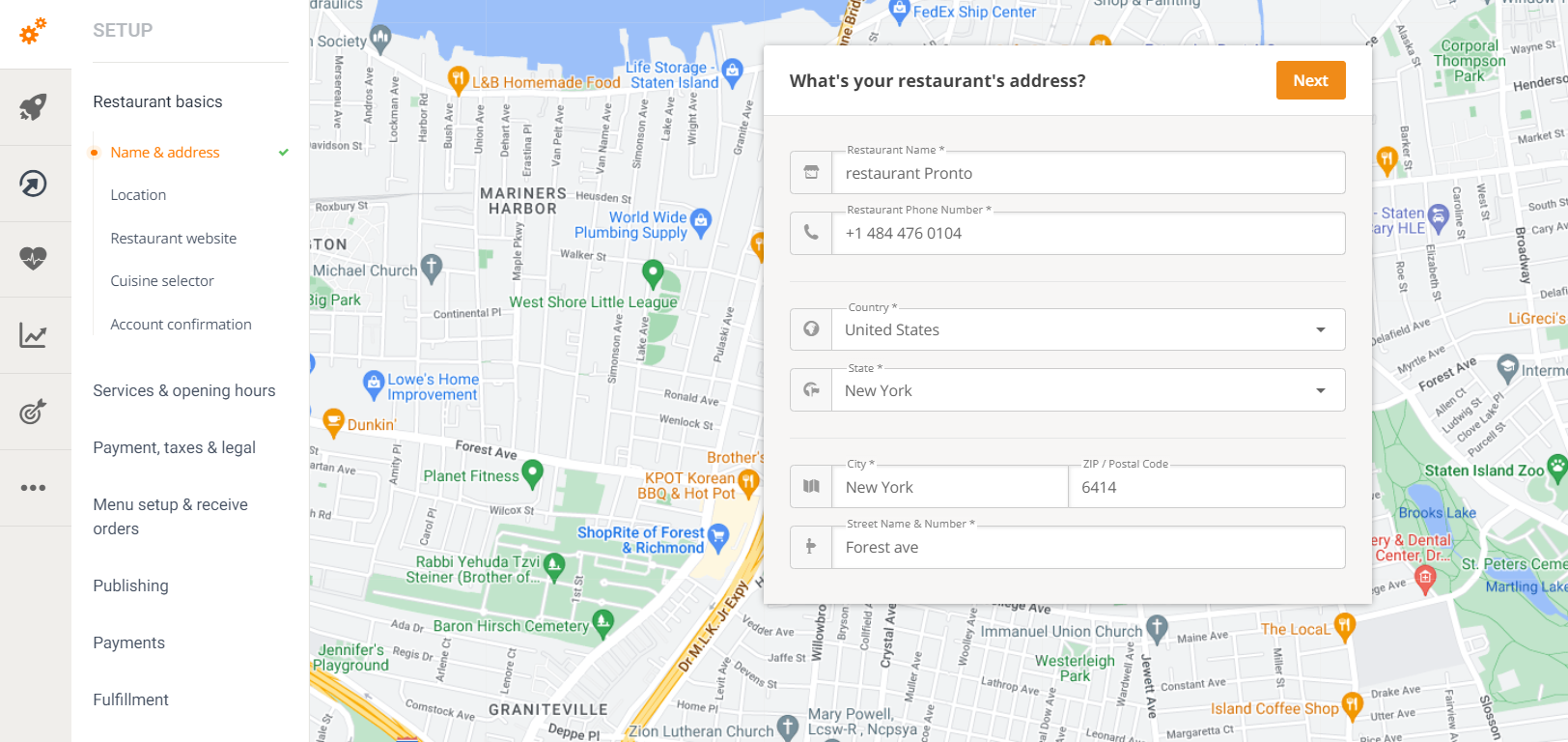 2. Create a mouth-watering menu
After you've completed your restaurant profile, go to admin -> Setup -> Menu setup & receive orders -> Menu setup to start building an online restaurant menu clients won't be able to say no to.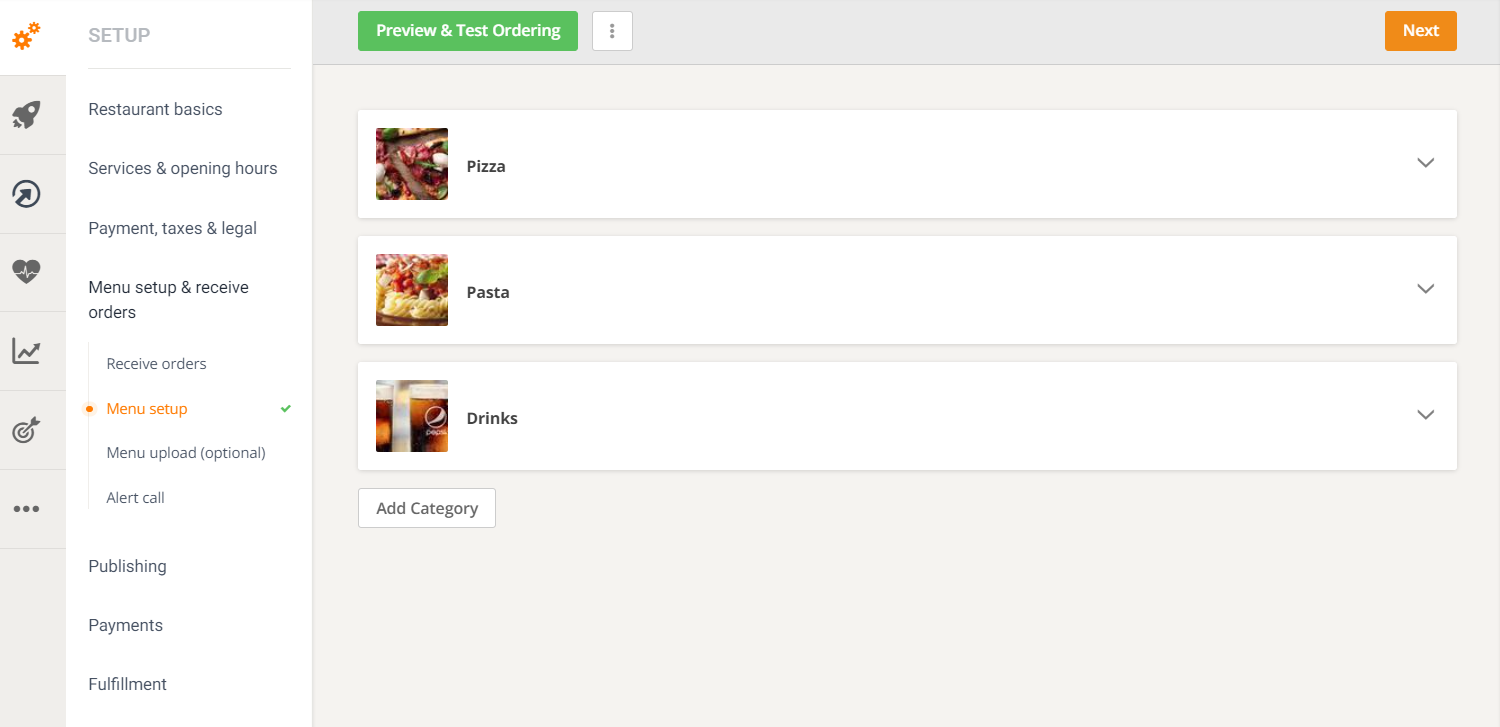 Start by clicking on "Add Category" to add the types of categories relevant to your cuisine, such as pasta, pizza, burgers, desserts, etc. This organization helps customers easily browse your menu and find the dish they are looking for.
Then click on the arrow on the right of each category to add menu items. You can customize the photo, descriptions, and price.
Check out this video for more detailed instructions on how to create the perfect restaurant menu:
You can also customize your restaurant menu with Choices and Add-ons. For example, you can offer different sizes or types of crust for a pizza and offer countless toppings with a high-profit margin. Watch this video to learn more:
3. Mark your allergy-safe menu items
Offer clients the gift of convenience! Instead of them browsing every menu item and checking every ingredient to see if it's okay for them to eat, you can just add a small icon to every dish to mark it as Dairy-free, Gluten-free, or Nut-free.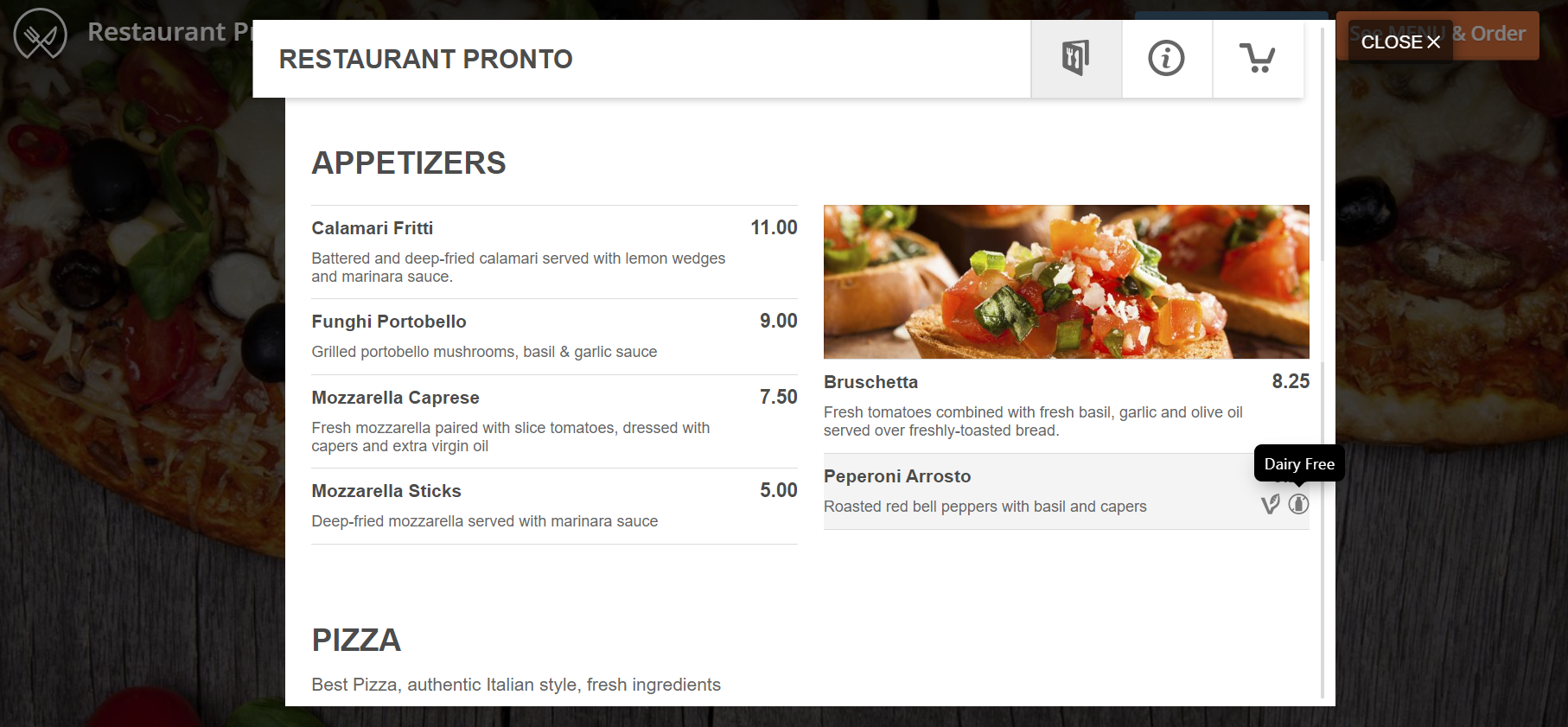 Watch this video to learn how to mark your food items as allergy-safe:
4. Add restaurant allergen information to your menu items
How do you list allergens on a menu? To add food allergen information, you must edit every menu item. Hover the mouse over the chosen menu item and click on the three vertical dots next to the pencil. In this example, we will choose Spaghetti Carbonara.
A pop-up screen will appear where you will have access to multiple settings. Click on Item settings, followed by Manage.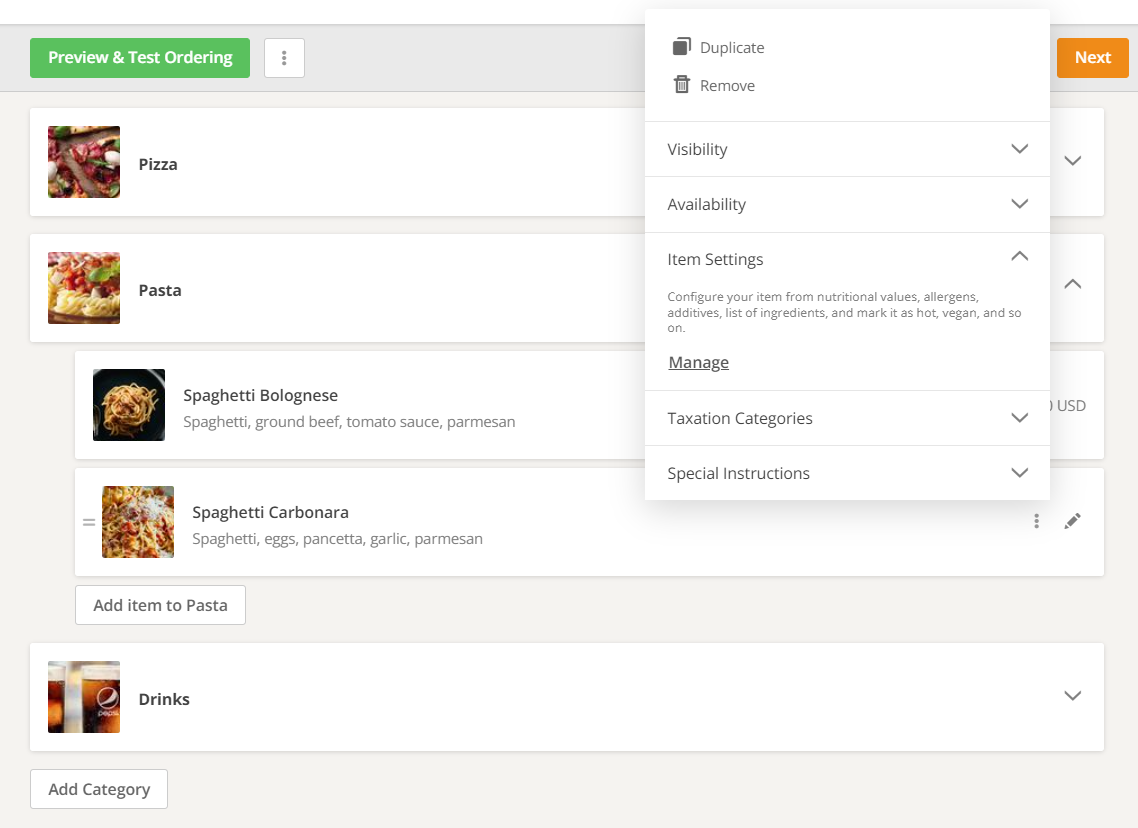 The first part of the screen will allow you to mark the menu item as Hot, Vegan, Vegetarian, Gluten-free, Halal, Nut-free, Dairy-free, or Raw. The second is for ingredients. And the third is the one we are looking for, the allergens.
You will find a series of pre-set allergens in the list, but you can add your own by clicking on "Add more". Check the list we provided in the beginning and your ingredients so you can provide complete restaurant allergen information.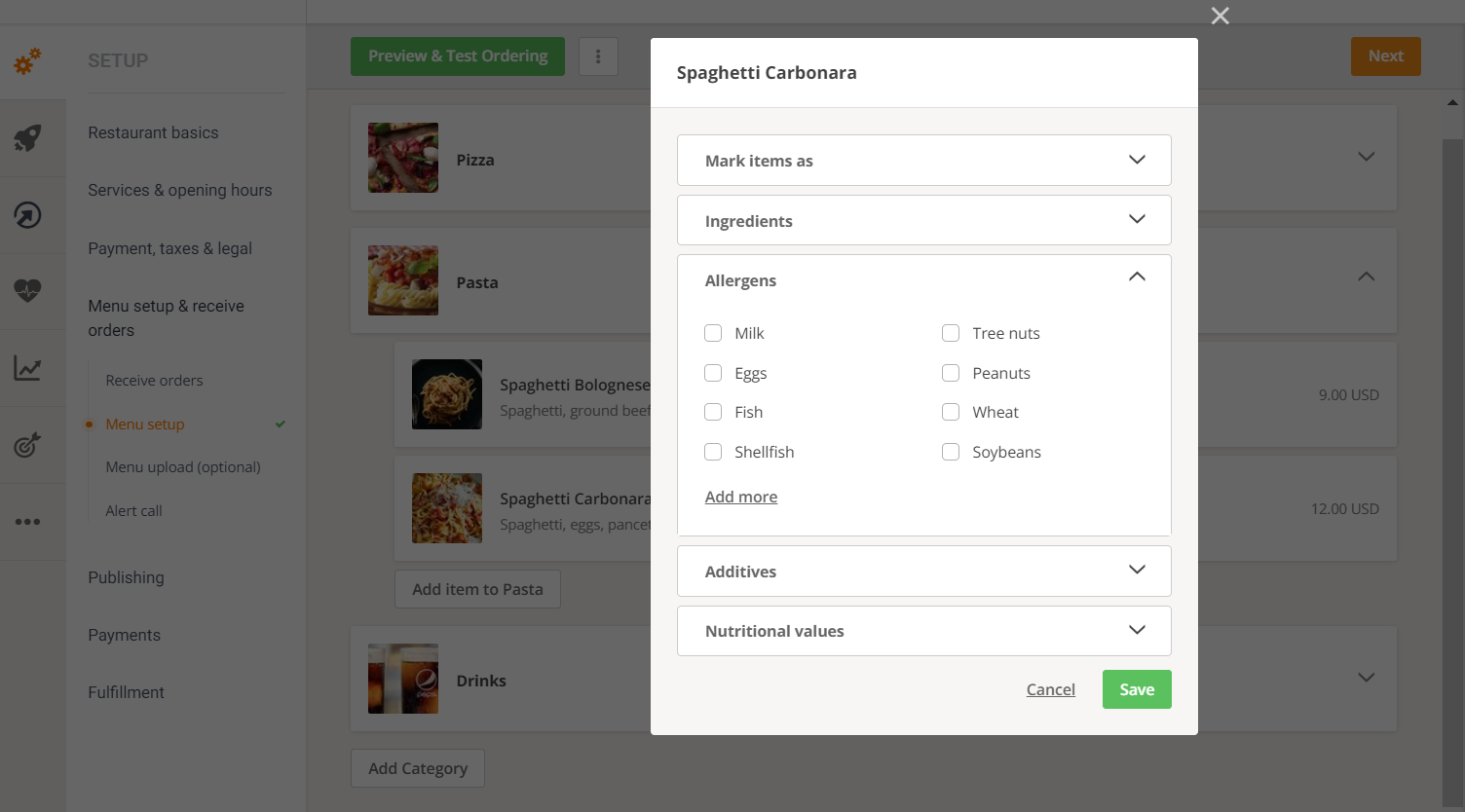 For the carbonara pasta, we added the allergens eggs, wheat, and parmesan. Click on Save. Afterward, click on Preview & Test Ordering (the big green button) to see how the menu item will look for your clients.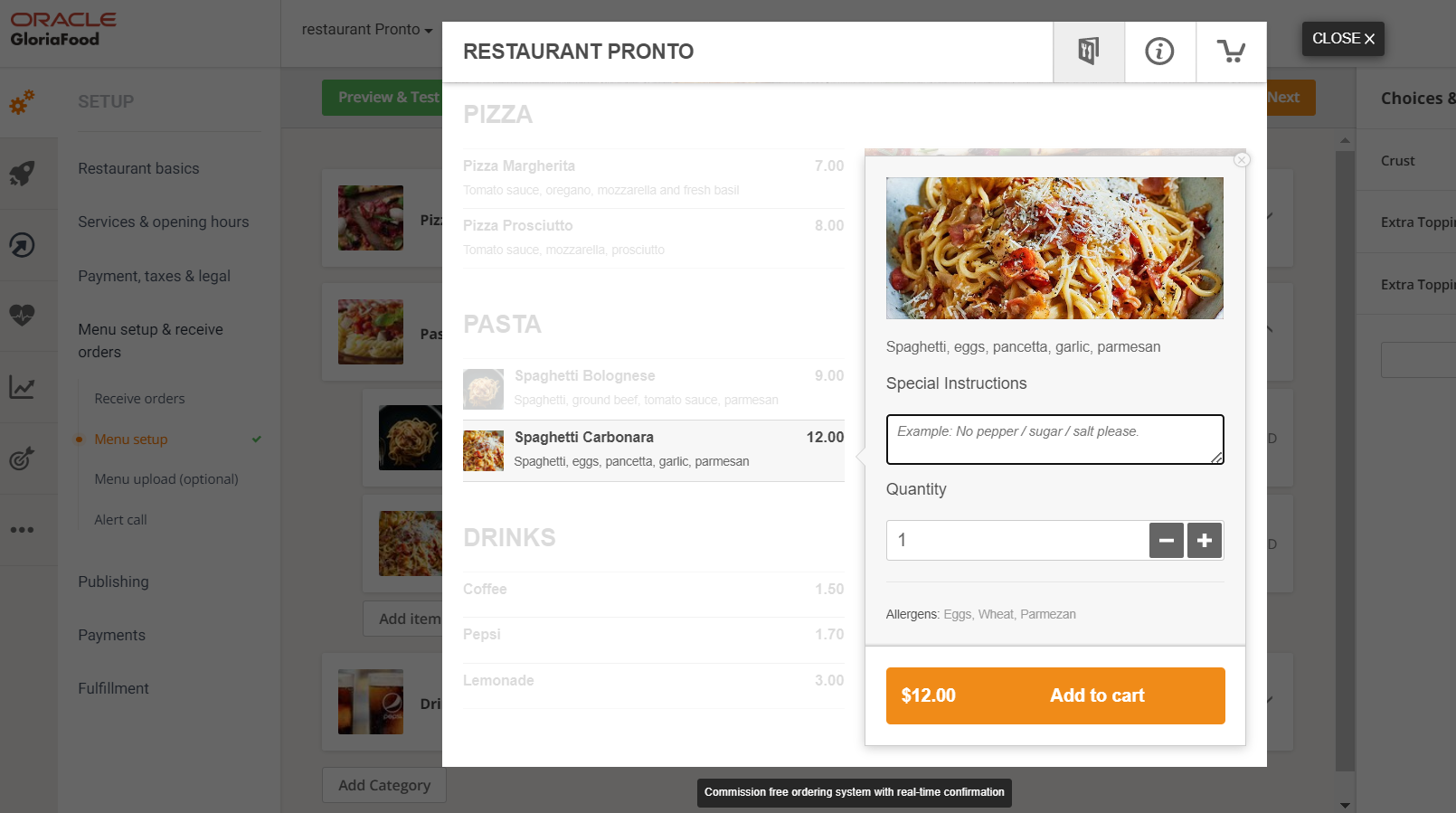 You can see the allergens listed at the bottom of the dish, just above the "Add to cart" button. That's it! It is this simple to customize your dishes with restaurant allergen information.
5. Add nutritional values to your menu items
Adding nutritional values to your menu items can help you attract a new category of clients: the health-conscious ones, that want to be able to see a dish's number of calories, carbohydrates, fat, protein, sugar, and salt.
If you go back to the Item settings we have accessed before, you will notice there are two more sections after Allergens: Additives and Nutritional values. Click on the last one to provide clients with nutritional information.
The data can be offered either for 100g or for 1 oz. Click on Save and then on Preview & Test Ordering to see the Nutritional Value on your online menu. They will be displayed just under the restaurant allergen information.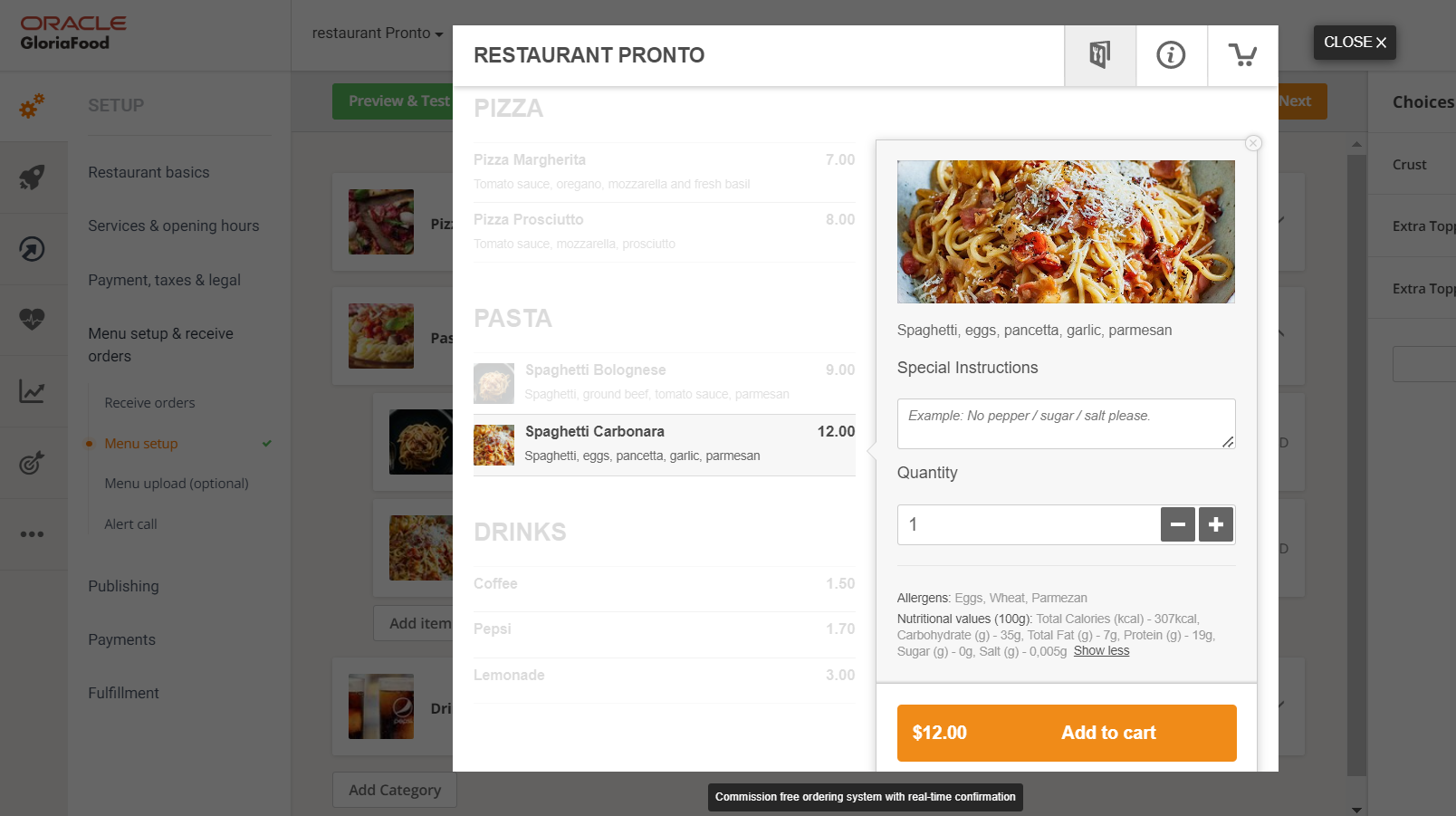 6. Publish the online menu on your restaurant's website
The next step is to publish the newly-created menu, full of restaurant allergen information and nutritional values to your website. This way, clients who suffer from allergies can browse for a safe dish and order with just a few clicks on your website.
If you don't have a website, don't worry, we can help you with the best restaurant website builder. Go to admin -> Setup -> Publishing -> Sales-optimized website to create a website that is designed to convert visitors to clients.
Allow clients with food allergies to order directly on your website
Generate an SEO-optimized website that will help you sell more
Start now
You will receive a complete restaurant website with texts that have already been SEO-optimized so you can rank high on Google searches and attract more clients.
Watch this video to learn how to create a restaurant website in under 10 minutes:
7. Download the order-taking app
There is one more step until you can enjoy the benefits of a menu customized with restaurant allergen information. You need to download the order-taking app on iOS or Android to easily manage all your online orders on any type of smart device.
The app will notify you when you receive a new order, and you can accept it with just a tap on the screen. Don't waste any more time, start catering to people with allergies now to increase your restaurant's revenue!
8.Convert your menu for dine-in with our QR code menu generator
With just a few clicks, you can have your restaurant allergen information available for clients that choose to eat at your restaurant. All you need is a QR code that leads people to your beautifully crafted online menu, adorned with countless allergy and nutritional data.
Watch this video to learn how to get your QR code restaurant menu in no time:
Afterward, all you have to do is print the QR code on flyers or place cards and have them available on every table.
Conclusion
Adding restaurant allergen information to your menu should be a must for every business because it gives people a clearer view of what they are eating, especially if they suffer from an allergy. Furthermore, it is also beneficial for you, as a restaurant owner because you can serve even more clients leading to your business's success.