How to Attract New Clients with an Automated Ordering System for Restaurants
By

Otilia Dobos

JAN 10, 2023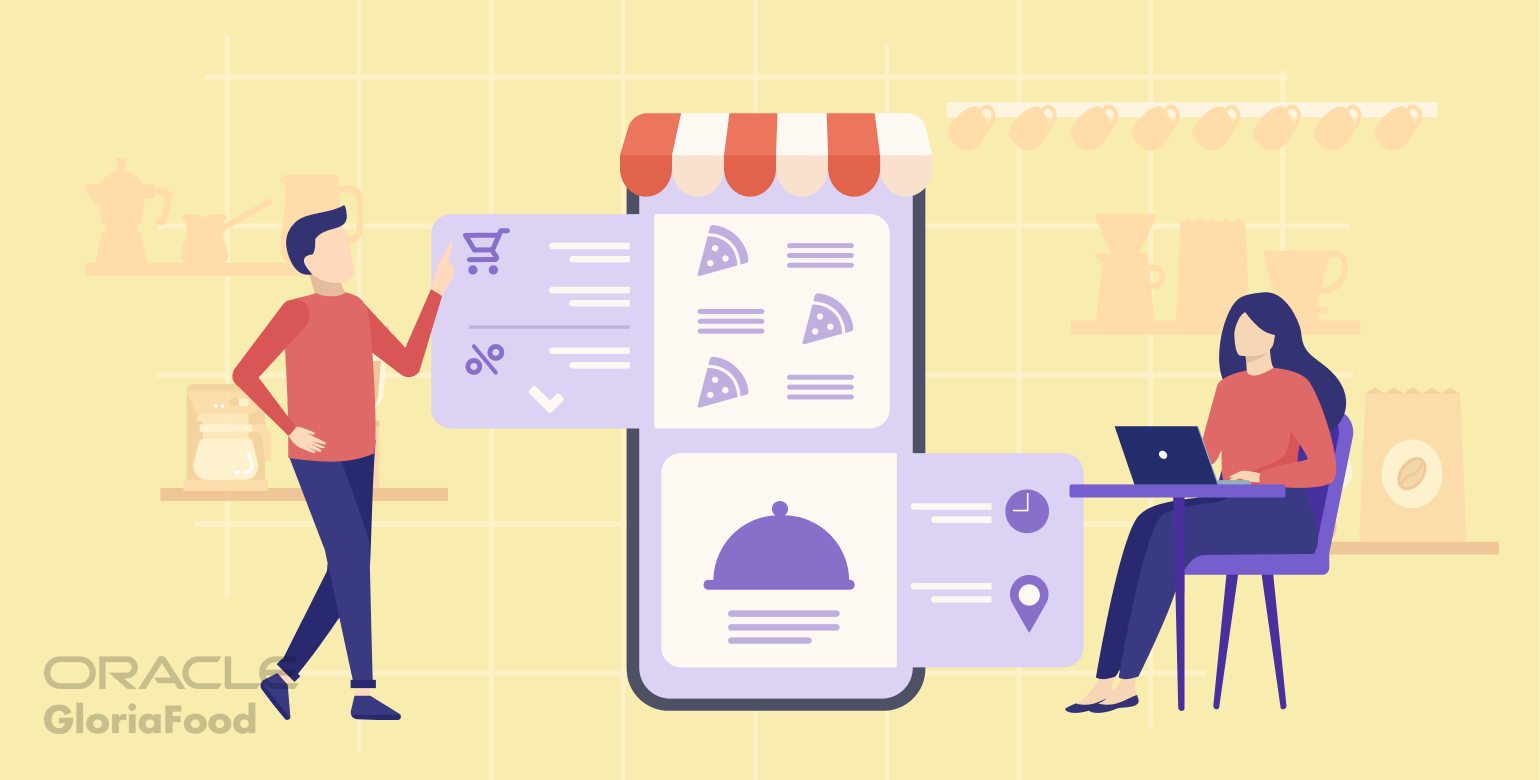 How to increase sales with an automated food ordering system:
To succeed in the competitive restaurant industry, an automated ordering system for restaurants is imperative.
The revenue from restaurant-to-consumer delivery increased from 60.24 billion $ in 2019 to 115.30 billion $ in 2022 worldwide. Therefore, only focusing on selling in the restaurant and ignoring online deliveries simply will not do if you want a big profit.
Due to the pandemic, there was an even bigger increase in the number of online orders customers placed. People still enjoy eating delicious food cooked by trust-worthy restaurants, but they want to be able to do it from the comfort of their own homes.
The way you choose to handle deliveries can make or break your business. For example, taking orders by phone can lead to human errors, and a delivery platform may charge too much. An in-house online ordering system is the most cost-efficient solution that will streamline your online ordering process.
In this article, you will learn how to get the best one and how to use it to make your restaurant stand out from the competition.
How to get the best online ordering system for restaurants
Sometimes, the best option is actually the free one. The automated ordering system for restaurants from GloriaFood is easy to use, delivers amazing results with no errors, and comes with powerful marketing tools that help promote your business.
You could be confirming online orders by tonight in just a few simple steps! Here is what you must do:
Fill in your restaurant information;
Create an attractive menu with the help of our instructional videos;
Publish our "See Menu & Order" button on your website and social media;
Start taking orders online!
Attract more clients with an intuitive online ordering system
Get the best one and start accepting orders by tonight
Start now
Watch this video to see how easy it is to install an online ordering system for restaurants:
How to use an automated ordering system for restaurants to increase revenue
This online ordering system can do much more than handle your online orders! It can help you add promotions to attract new customers, handle your email marketing, and allows you to monitor your growth.
Learn how to make the most of it:
Create a restaurant menu customers won't be able to say no to
We eat with our eyes first, so the way a menu looks can persuade a client to either leave the page or click add to cart on a few dishes.
We've created a structured menu design that guides the eye logically through all the categories, and we made sure the menu loads fast every time and on every type of device.
All you have to do is add your menu items following our friendly instructional videos and this advice:
Pictures matter: Encourage people to order by using mouth-watering images of your dishes. If you don't have any yet, you can choose some that fit your cuisine from our free gallery;
Create long descriptions: you have an opportunity to catch the client's eye with the description and a short one just won't do it. Emphasize the unique way you prepare food, the origin of the ingredients, or any other interesting fact;
Enable customization options: increase your profit by offering clients the opportunity to personalize their dishes at an added price. For example, if you sell pizza, you can offer different types of dough and the option to add toppings. Watch this video to learn how to easily enable choices and add-ons:
Read more: How to customize your restaurant's menu
Protect clients with a QR code menu
The Covid-19 pandemic sparked worry in patrons about how hygienic sharing a menu is. Germs, colds, and diseases will always be here, and, as a restaurant owner, you have the duty to protect both customers and employees.
Apart from upholding a high cleaning standard, a great way to show clients you care about their health is to provide a QR code menu. You can get a free one with our automated ordering system for restaurants by accessing admin -> Setup -> Publishing -> Dine-in QR Code.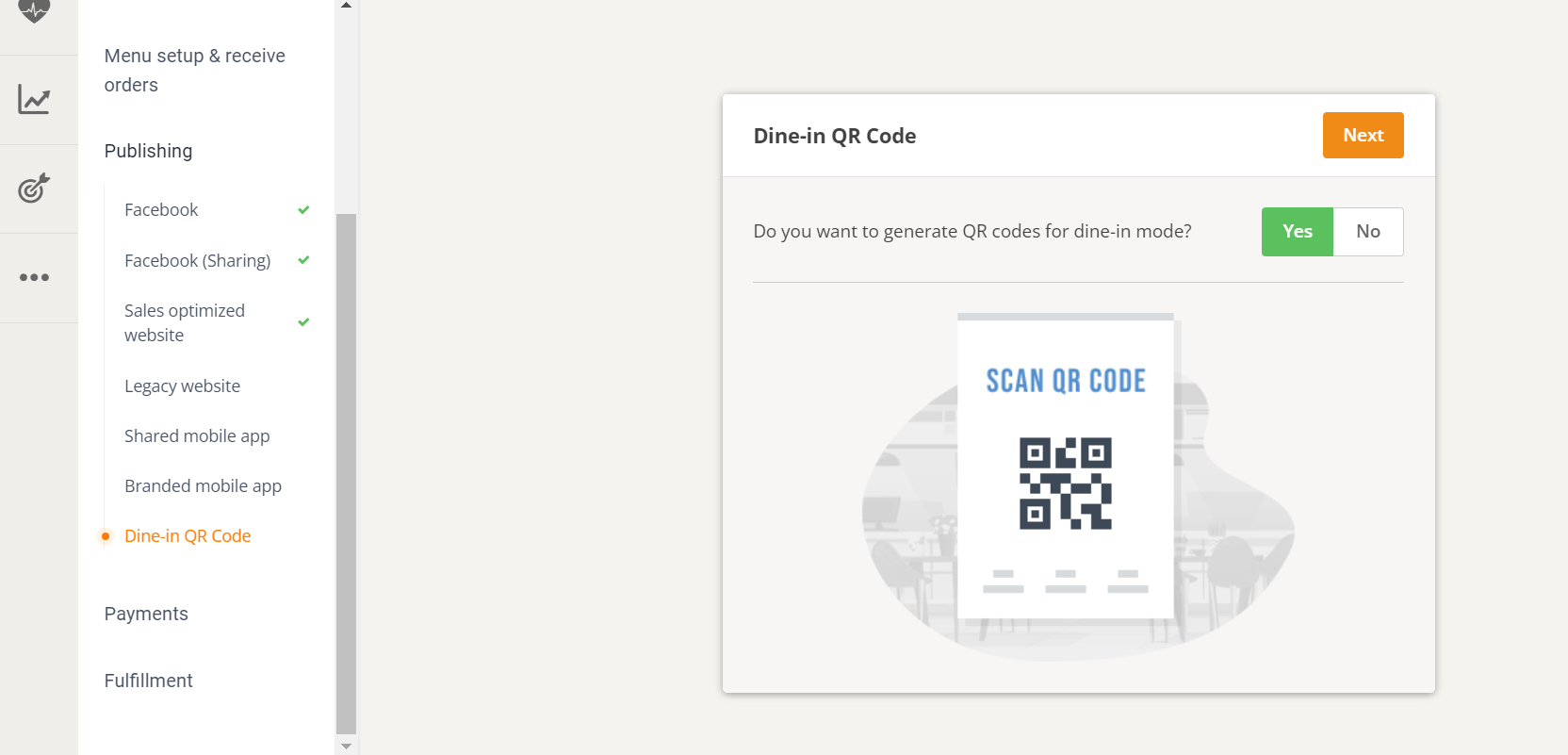 Check out this video to see how easy it is to get a QR-code menu that allows clients to order directly from their phones:
Offer a table reservation system with the option to order ahead
This automated ordering system for restaurants helps you prevent many types of errors, including reservation ones. Forget about writing down the name wrong or double booking and enjoy the benefits of an included table reservation system.
Moreover, this system also allows clients to order and pay for their food while making a reservation. This allows them to enjoy their food as soon as they reach the restaurant and helps you increase table turnover.
See how easily a client can reserve a table and order by visiting our demo website. To activate the table reservation system, go to admin -> Setup -> Services & opening hours -> Table reservation.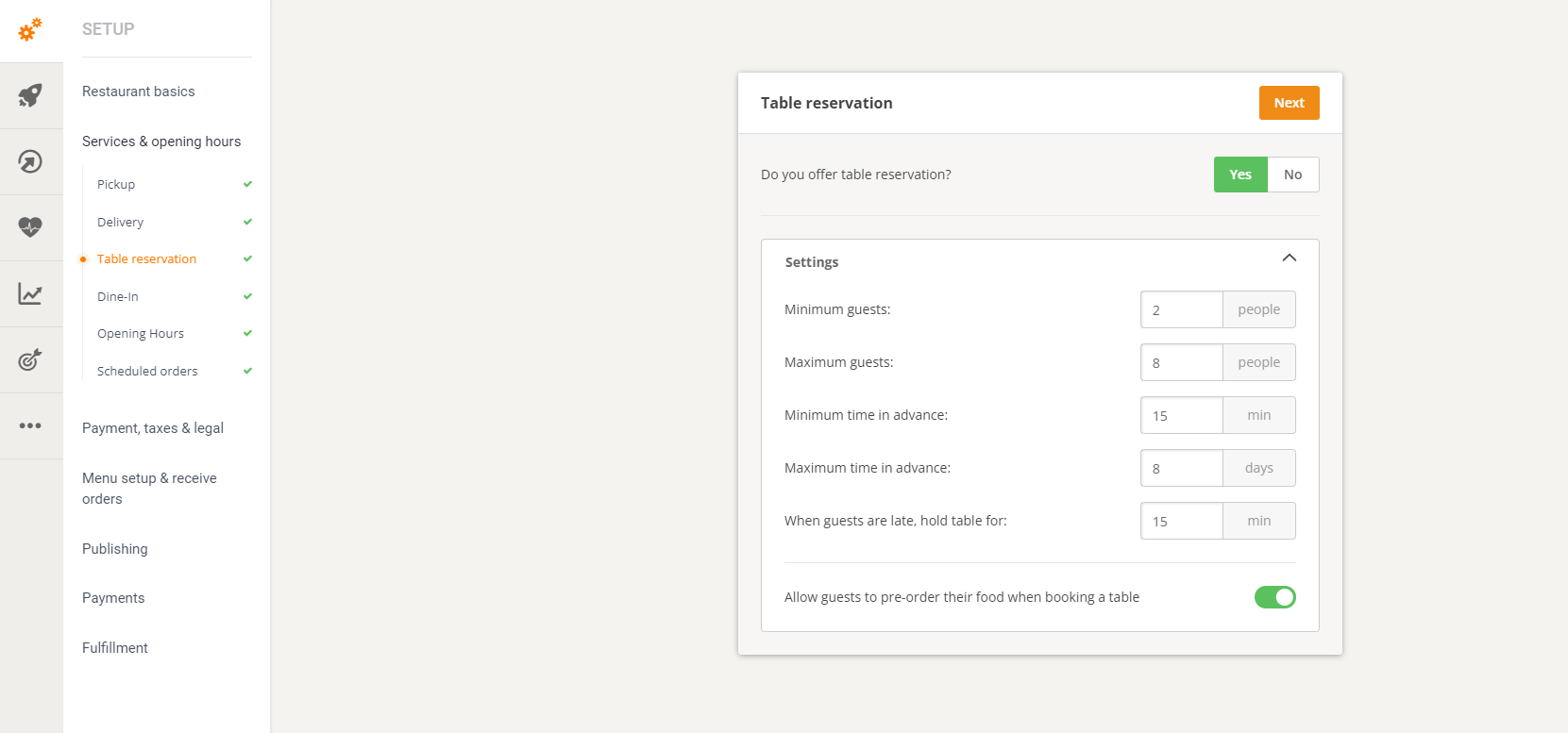 Enable scheduled orders
When you set up your online ordering system, you choose the working hours when you will receive orders. If you don't work non-stop, you will have a huge non-profitable window of time.
Don't worry, we're not encouraging you to forego rest. We just want you to make the most of our technology by enabling the "Scheduled orders" function.
By activating it, you allow clients to place an order when you are closed. You will see the pending orders when you open the order-taking app and can choose if you want to accept them.
This feature can be incredibly useful for people who want to order a large amount of food for a party and want the food delivered at a specific time. To enable scheduled orders, go to admin -> Setup -> Services & opening hours -> Scheduled orders.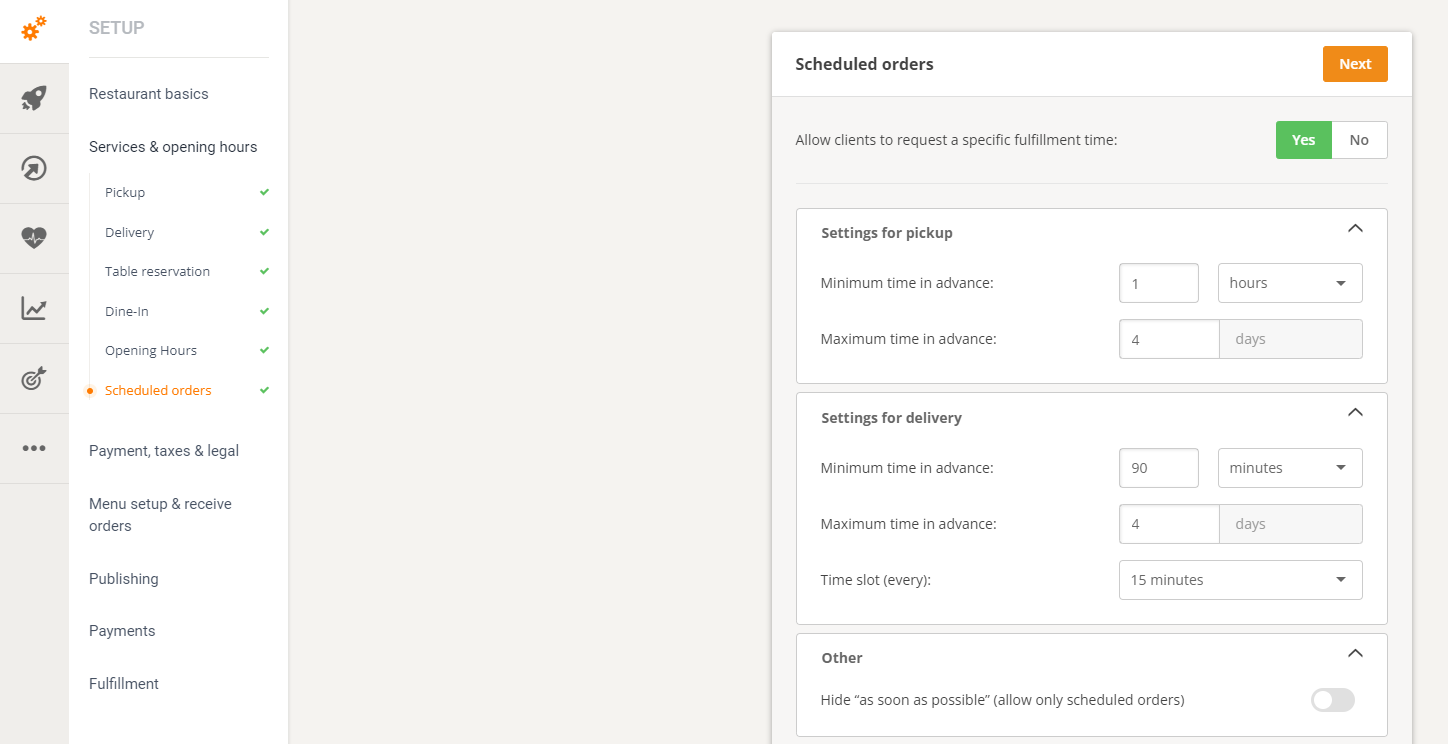 Allow customers to pay online
Let's imagine this situation: a customer is hungry and is craving some delicious dishes from your restaurant. The problem is they don't have any cash. What can they do next to enjoy the food but not have to go out of their comfort zone?
Simple, you can allow them to pay online! By going to admin -> Setup -> Payments -> Online Payment, you can accept online payments with both credit cards and PayPal.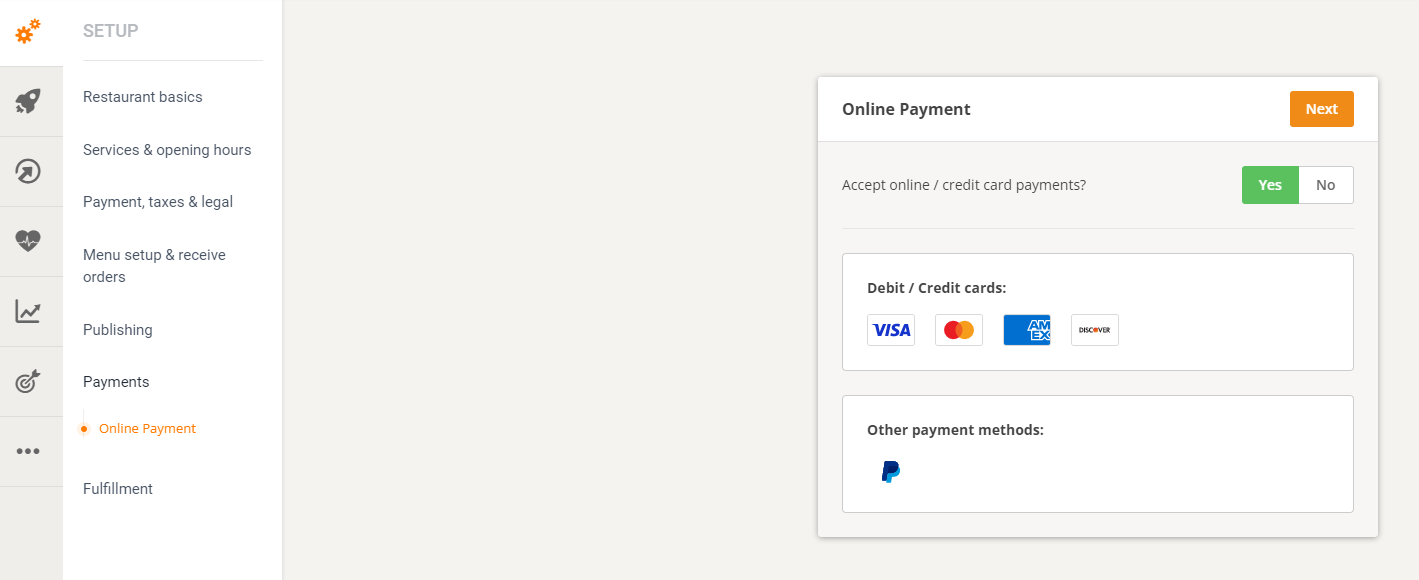 Offer customers a branded mobile app they can download on their smartphones
Adding an online ordering system to your website is a great way to receive online food orders. People can scroll your website and see you are a trustworthy business, and afterward, they can easily click on the menu and add any items they desire to eat to their cart.
But you can go a step forward and make it even easier for them. Instead of several clicks to reach your online menu, they could simply open your native branded mobile app. It can also act as a great advertisement for your restaurant as they see your app daily when they play with their phone.
No need to contact developers. You can get an app branded with your logo, slogan, and picture that only displays your menu from our automated ordering system for restaurants.
Go to admin -> Setup -> Publishing -> Branded mobile app to request a better experience for your customers.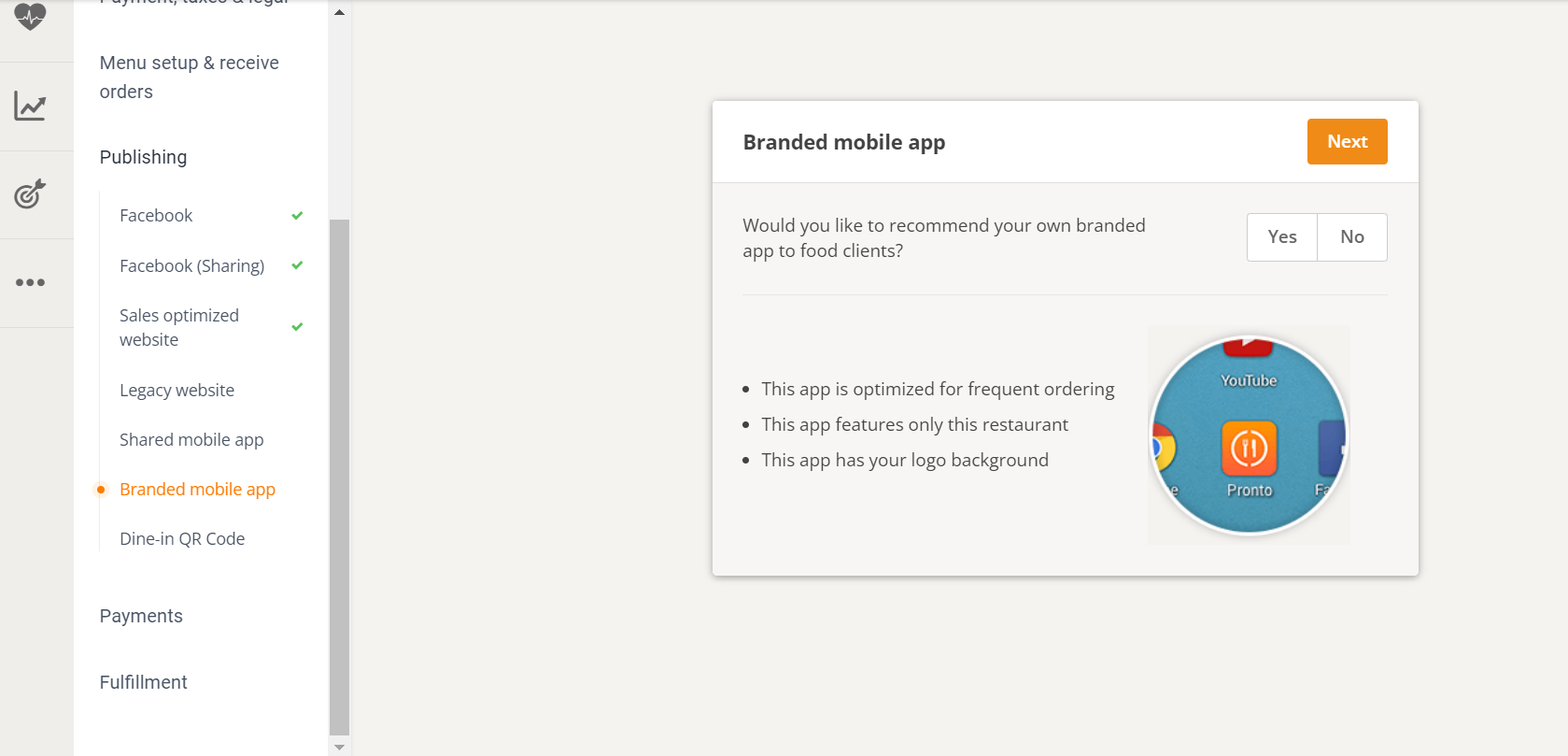 Read more: Online Restaurant Ordering App: Advantages and How to Get the Best One
Accept orders on Facebook
To increase your sales, you must make it easy for your customers to order. The less effort they have to put in and the fewer clicks they need to make, the higher the chances they will actually place an order.
Therefore, why not allow clients to order directly from Facebook? All you have to do is customize the "Start Order" button with a link we provide you in the online ordering system's admin. Customers will be automatically sent to your online restaurant menu by clicking it.
Get your personalized link by accessing admin -> Setup -> Publishing -> Facebook.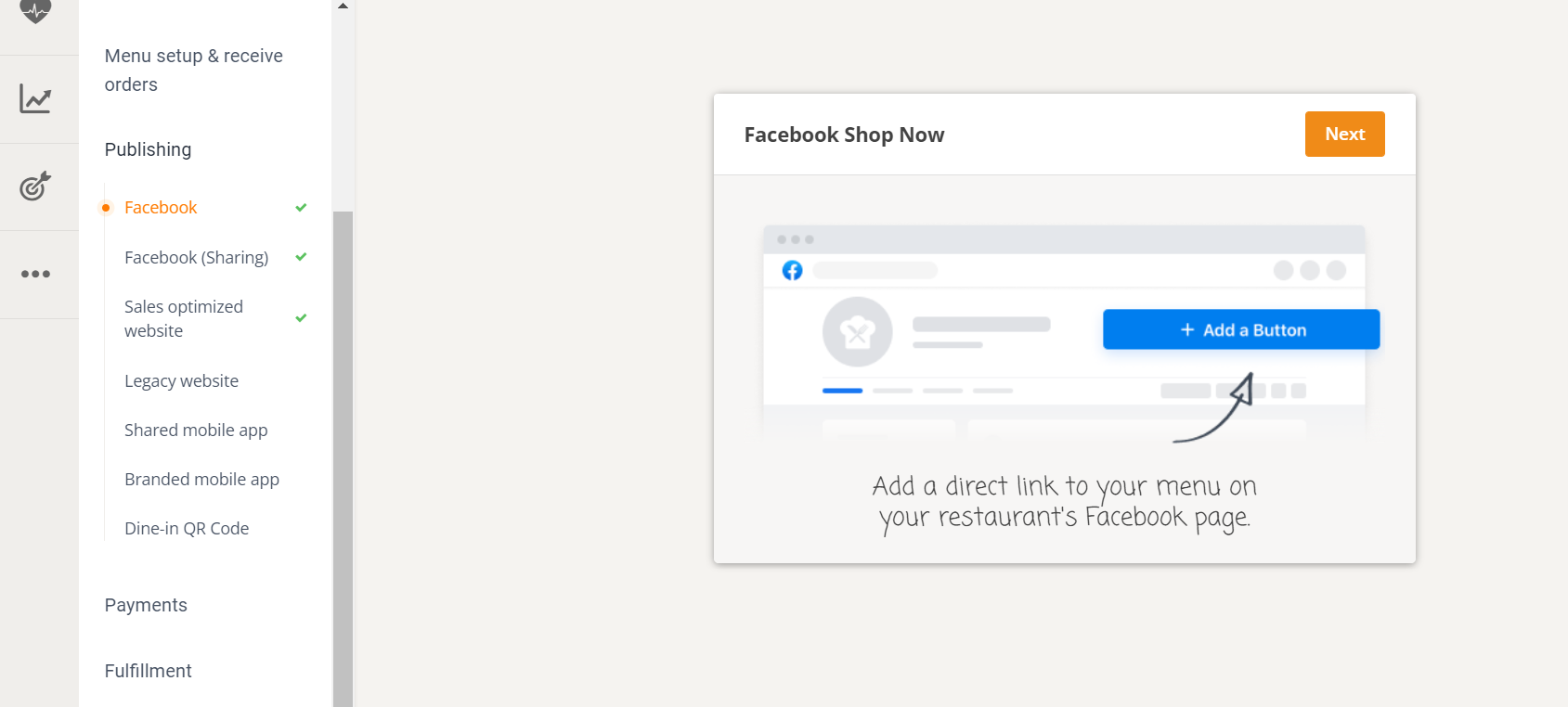 Read more: How to Take Restaurant Orders on Facebook with Our Facebook Ordering System
Try efficient email marketing
The key to a restaurant's success is getting a high number of loyal customers that choose to order regularly from your place. Implementing an email marketing campaign is a good way to get more return clients.
This automated ordering system for restaurants takes the stress away from you. Discover the Autopilot module that comes with pre-built campaigns to encourage sales and segments customers according to their purchasing history.
You only have to set up the campaign once, and then it runs, as its name suggests, on autopilot. Learn more about how efficient this method is for increasing your profit from this video:
Read more: Ultra-effective Email Marketing Ideas for Restaurants
Implement segmented promotions
Promotions are an efficient way to get more new and return clients. Who can say no to a good deal? With this automated ordering system for restaurants, adding a new promotion is extremely easy as we already provide you with some tried and tested promotion templates.
Just choose the one you want (free delivery, get a free item, etc.), and you can change the text, picture, and minimum order value. You can also go a step further and customize it to get better results. Here are some of the options:
Choose the type of customer it applies to – new or returning;
Choose the hours between which the promotion is available;
Choose the delivery zones where you want the promotion to show up;
Choose if the promotion is enabled only for certain payment methods.
Check out this video to learn how to set up a promotion in just a few minutes:
Read more: 10 Restaurant Website Promotion Ideas for Delivery & Takeout
Constantly improve your business with the Reports module
This automated ordering system for restaurants provides access to a powerful Reports module that allows you to monitor your progress. By constantly checking your statistics, you can identify what works and doesn't and take action to improve your business.
Here is some data you will be able to access if you go to admin -> Reports:
Number of orders;
Number of reservations;
Google ranking;
Website visitors;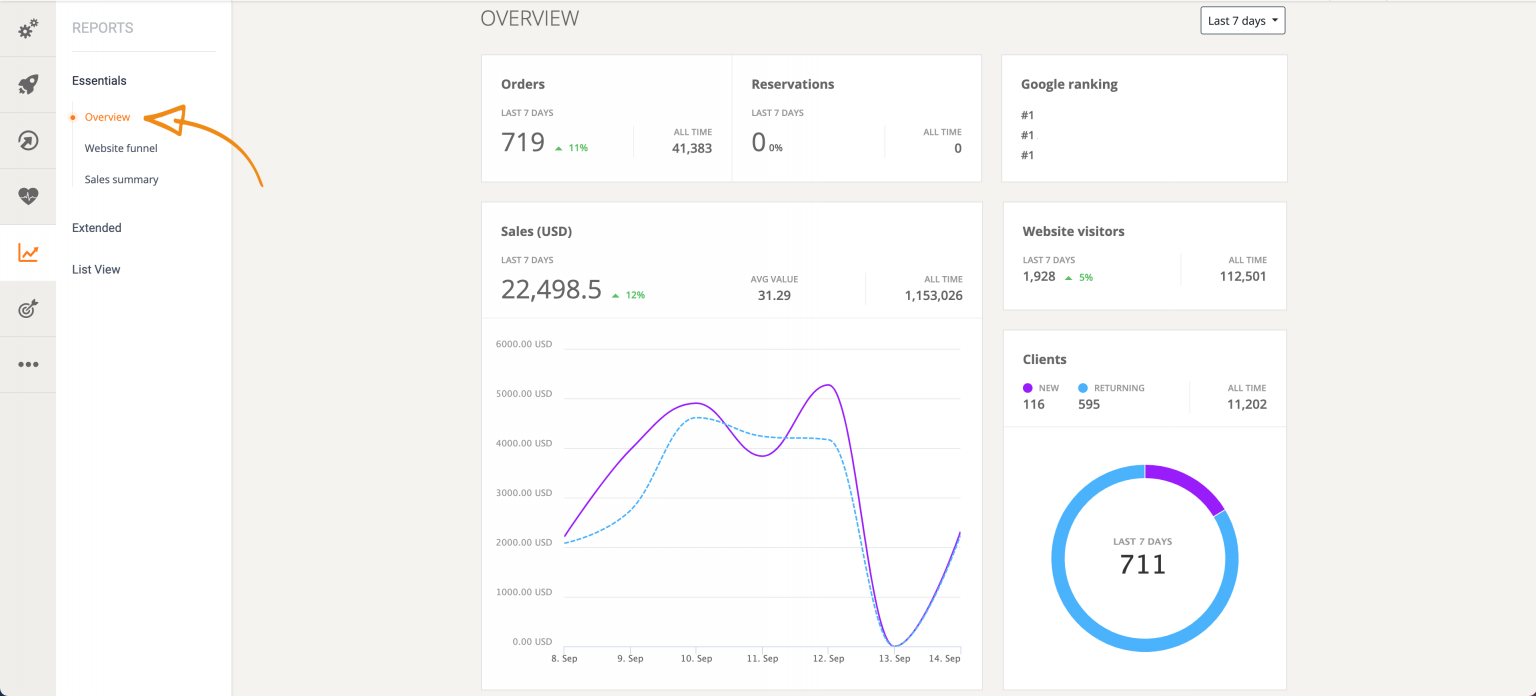 Improve your business by monitoring your restaurant's statistics
Install an online ordering system with a built-in Reports module
Start now
Conclusion
This automated ordering system for restaurants is not just a tool to help manage your online orders. It is a powerful marketing engine that can help you attract new clients and increase sales. Discover and enable all the modules described above to ensure your restaurant's success.