How to Easily Create Restaurant Promo Codes and Attract More Customers
By

Otilia Dobos

JAN 23, 2023 (Updated: Feb 22, 2023)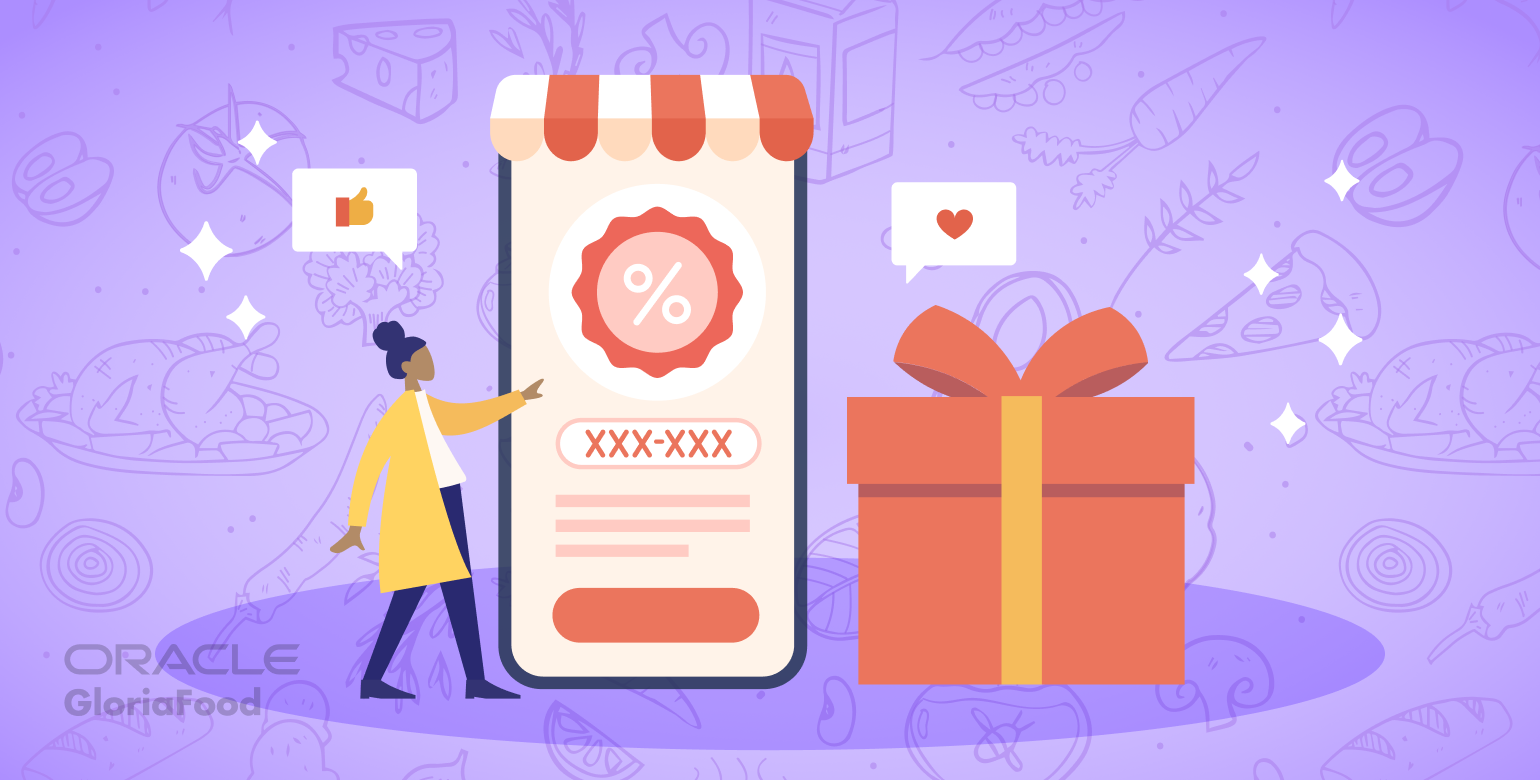 How to set up restaurant coupon codes:
Some marketing techniques have remained constant through the years for one important reason: they work. Offering restaurant promo codes is one that never fails to increase a business's visibility and attract more clients.
But to unlock those restaurant vouchers benefits, you must learn how to create them, what type to use and when. Let's delve into it.
How to create restaurant coupon codes in minutes
No need to contact a marketing agency or start learning to program. You can find everything you need to create efficient restaurant promo codes in our online ordering system.
Create promo codes in no time and discover even more powerful marketing resources by signing up on GloriaFood and following the steps below:
Attract more customers to your restaurant with a free online ordering system
Easily create coupon codes in minutes and boost online sales
Start now
Afterward, go to admin -> Marketing -> Promotions -> Self-made promos to set up a restaurant code. Click on "Add promo deal", select the promotion you want to offer with the coupon code, and click Next.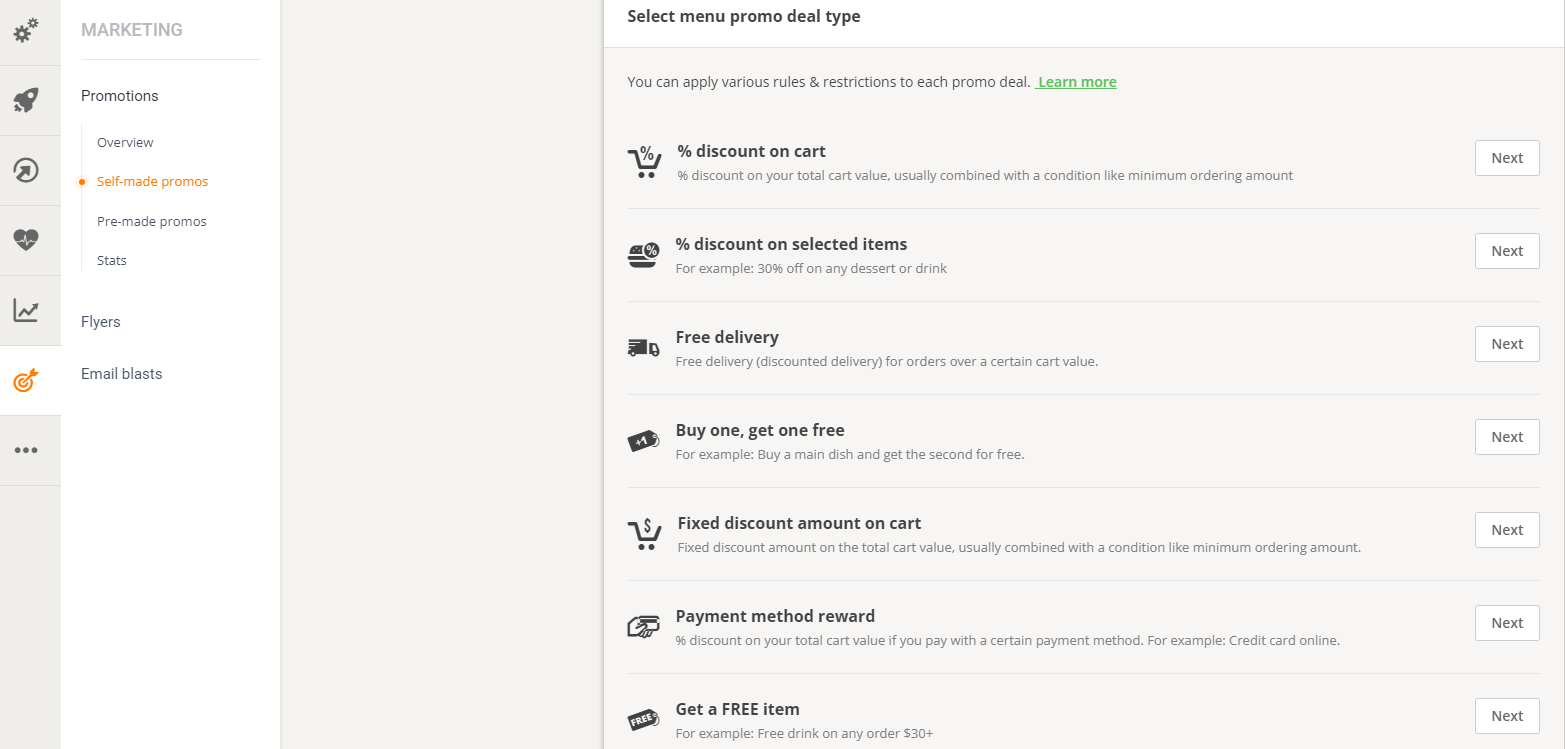 Select the name and text for the promotion and advance to the next screen. After establishing the discount amount, click Next, and you will get access to more advanced settings. To create a restaurant promo code, select "Use custom coupon code" and choose a name that will appear on the coupon.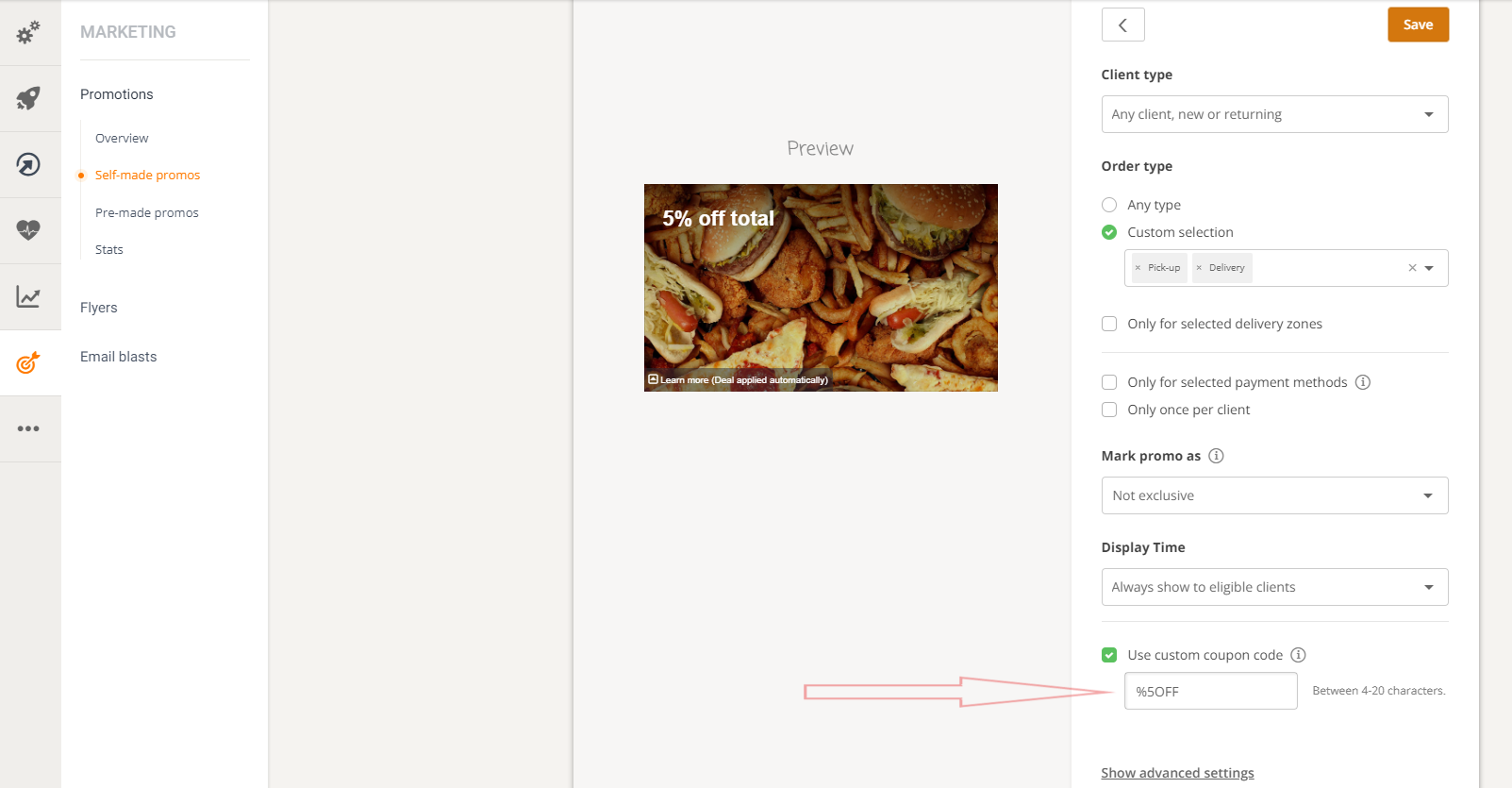 Learn more about how to set up restaurant discount coupons from this detailed instructional video:
4 types of restaurant promo codes you must try
To attract a variety of new clients, you can experiment with different restaurant promo codes and discover which works best for your business. You can even implement multiple promotions at once and choose if clients can redeem them for the same order or only for separate ones.
Here are some restaurant coupons you can easily create with our online ordering system:
Free delivery
Encourage big orders by offering a coupon code with free delivery for orders over a certain amount, such as $40. For example, after someone places a sizeable food order, you can send them a thank you email in which you include the voucher for their next order.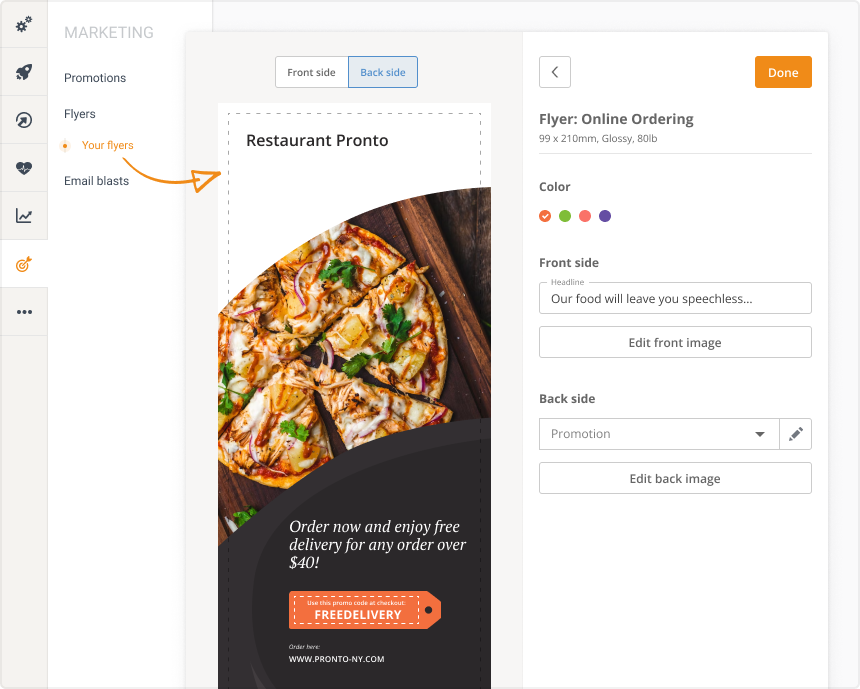 Buy one, get one free
This type of restaurant promo code can be used to promote a new menu item or to incentivize people to buy more of an item that is often overlooked. You can also organize a simple contest and offer this promotion as a prize.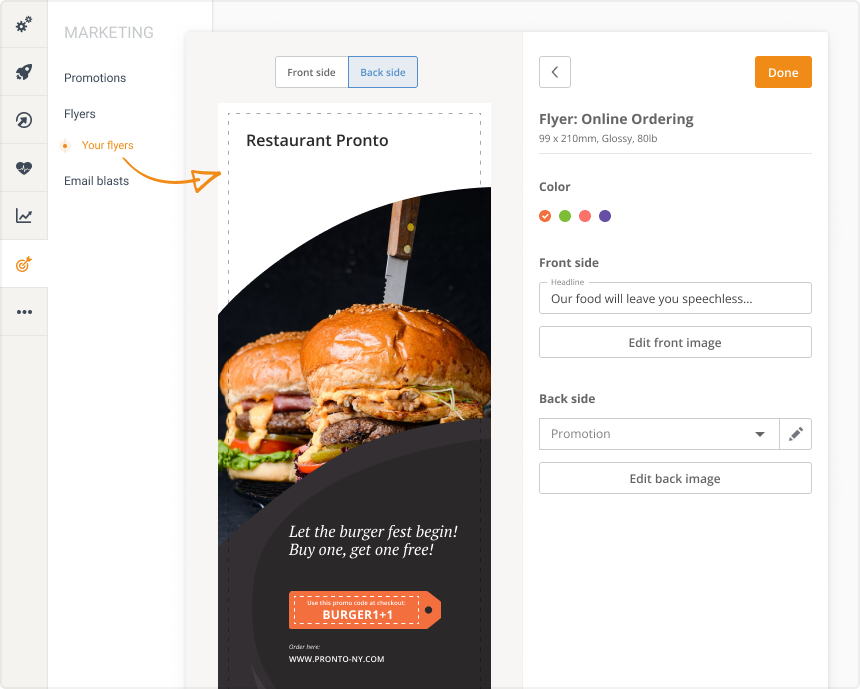 % percent off the total value
Clients tend to become loyal to a certain restaurant if they feel appreciated. For example, you could include a flyer with every food delivery that includes a 5% off the next order promo code.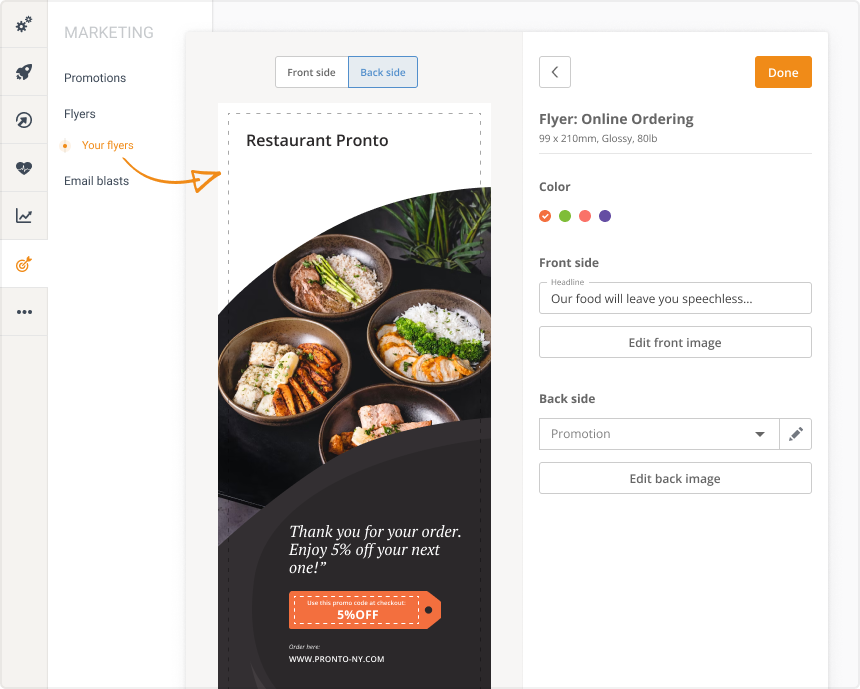 % discount on selected items
Do you have some menu items that don't bring you enough sales? Or other dishes, such as desserts or drinks with a high-profit margin, that you could afford to reduce the price of without affecting your revenue? This is the promotion for you!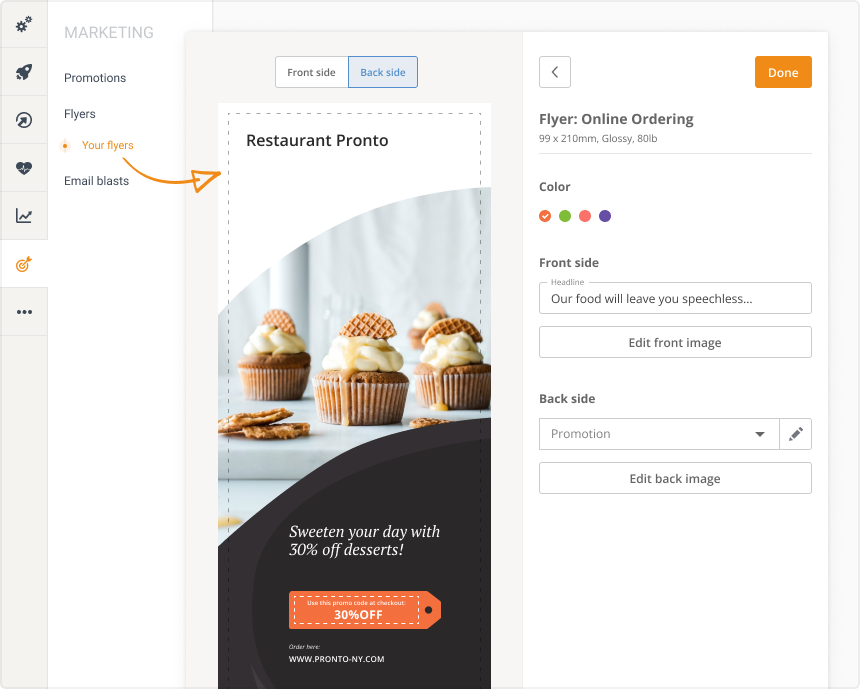 The next obvious question is, how do you offer restaurant promo codes to your clients? You have two options:
Online: it is the easier way that doesn't involve any added costs; You can send the coupon code over email or even private messages on social media;
Printed on a flyer: having the coupon code on a flyer adds a personal touch, especially when it is included with delivery. You can also share flyers with promotions in delivery zones where you want to increase the number of orders.
Read more: 10 Restaurant Website Promotion Ideas for Delivery & Takeout
Increase your revenue with restaurant coupon codes
Install an online ordering system and start reaping the benefits
Start now
3 opportunities to use restaurant offers
You don't need a specific occasion to give out restaurant promo codes, but there are certain times when a promotion is expected. For example, on Black Friday, everyone is on the lookout for a deal, and there is a better chance people will offer from your place if you offer a discount.
Moreover, restaurant offers can help promote certain menu items and increase sales on a slow day or period. Here are some opportunities to use restaurant coupons:
Social media contests with a restaurant promo code prize
An active presence on social media is a great way to increase your online visibility and build a community of loyal clients. When you create a restaurant content plan, go a step further from the classic food shots and team presentations and include contests.
Social media contests can help you:
Reach a bigger audience: especially if you just made a Facebook or Instagram account, you won't have any followers. Get the word out about your restaurant business by organizing the classic contest: "share this post on your story to win a restaurant promo code prize." Consider making it a sponsored post to target the food lovers in your area;
Get more loyal customers: you can encourage people to repeatedly order your food by giving out prizes. For example, they can post a picture from your restaurant or a photo of their food delivery to win a restaurant voucher;
Grow your social media page: a restaurant page with many followers that constantly interact with your posts will seem trustworthy to any visitor. Furthermore, there is a bigger chance a follower will become a client. You can organize a contest where participants must follow your page and comment on a post to receive a restaurant coupon.
Read more: 21 Restaurant Competition Ideas to Gain Visibility and Attract Customers
Seasonal restaurant vouchers
Celebrations create a great opportunity for you to get more clients by implementing restaurant promo codes. Here are a few examples you can't miss:
Black Friday: people are already on the lookout to buy reduced items, and if you have the best offer, you will win new customers:
Christmas time: clients will get too busy with shopping, cleaning, and other errands to cook. This is your opportunity to create a restaurant voucher for busy people who just want to relax with a delicious plate of food;
New Year's: while people will spend a lot of time getting glamorous for a New Year's Eve party or gathering, they won't enjoy wasting time in the kitchen. It isn't a real party without food, and that is where you come in. If you offer restaurant coupons that encourage big orders, you will have a very productive end of the year.
Mother's Day: Choosing the perfect gift for your mother is hard. Why not play it safe and go for something everybody loves: food? Offer a restaurant code to people who want to make their mothers happy without stress.
Earth day: create a restaurant promo code that enables clients to claim a free earth-themed dessert for any order over a certain set amount.
If you want to come up with even more ideas for seasonal restaurant promotions, download our free Food Holiday Calendar which covers the most coveted food holidays of the year.
New menu item launches promoted with restaurant coupons
Adding a new menu item shouldn't go unnoticed. If you want people to order it, you must efficiently promote it. Sharing a mouth-watering picture of your new dish on your website and social media will help, but a promotion is the biggest incentive.
Encourage people to order the new menu item by creating a restaurant voucher offering a 10% discount. You can offer the coupon to loyal clients or people who placed their first order.
Read more: Menu Marketing Tips: How to Promote New Menu Items Online & Offline
Conclusion
Restaurant promo codes are a great way to increase your business's sales and attract more customers. Creating a restaurant voucher will be simple and time efficient if you use our online ordering system.
Take advantage of all the celebrations to offer appropriate codes with the goal of getting more loyal customers. Don't be afraid to experiment with different types of restaurant coupons until you find the one that best suits your audience.