21 Restaurant Competition Ideas to Gain Visibility and Attract Customers
By

Otilia Dobos

SEP 19, 2022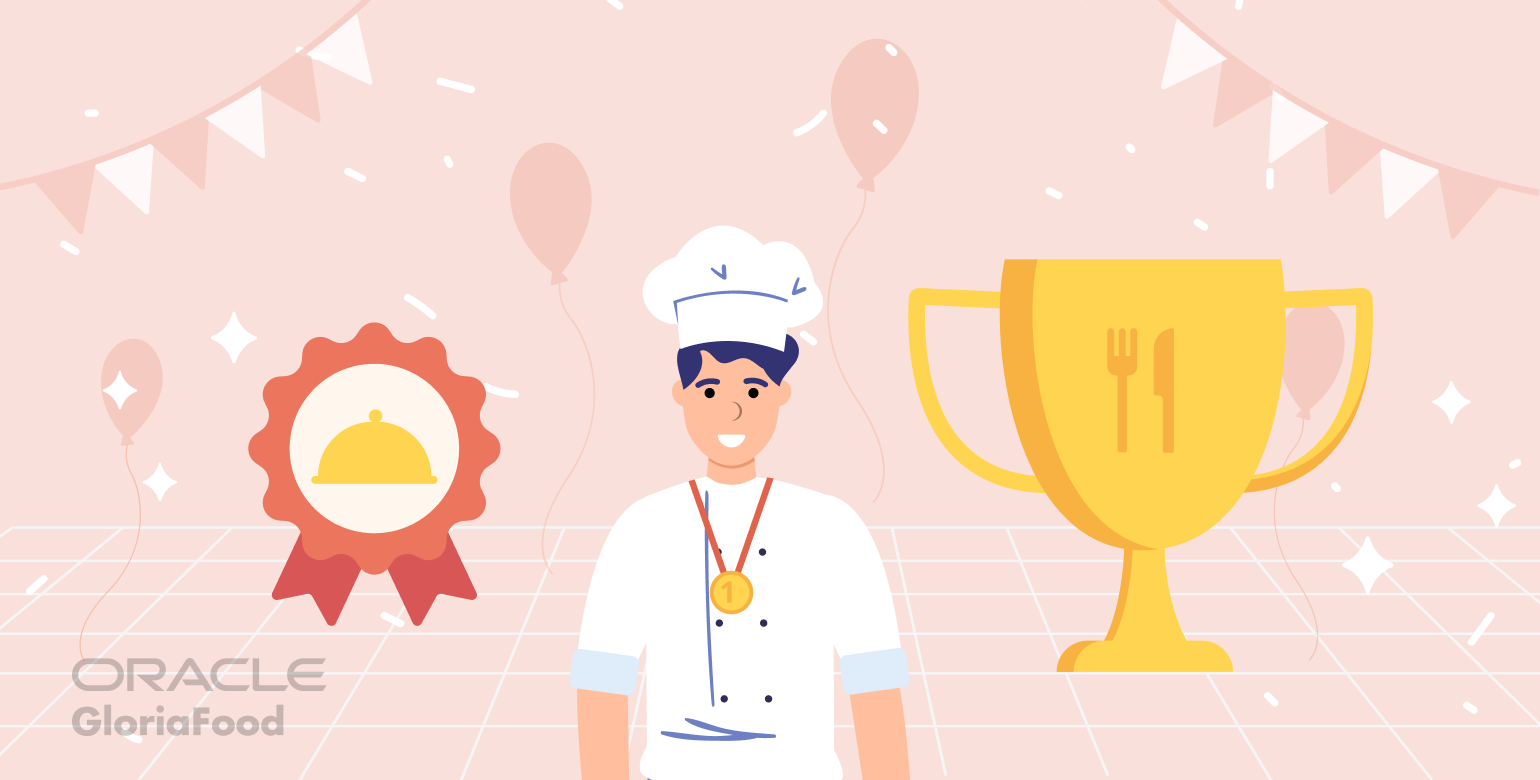 As a restaurant owner, you are always on the lookout to gain more visibility and attract new business. Restaurant competitions can do just that! Who doesn't like to win free stuff with minimal effort?
In this article, you will learn more about the benefits of hosting contest and find several restaurant competition ideas that you can try to promote your business.
Why you should have regular restaurant competitions
When devising a marketing strategy, you must consider all the ways you can reach a bigger audience and determine them to make the big step of converting from visitor to client.
Social media is the perfect platform to try restaurant competitions ideas that have multiple benefits for your restaurant:
More visibility: if you are just opening a restaurant, you need to increase your number of social media followers fast. Achieve this goal by organizing contests where it is mandatory to share your post to reach a bigger audience in a short time frame;
Attract new customers: when people enter your competition, they will surely check out your social media, website, and menu. Make sure to optimize them with mouth-watering pictures and attractive descriptions to encourage visitors to order your delicious food;
Increase client engagement: grow your socials with regular restaurant competitions that will keep them engaged with your page by liking, sharing, and commenting. You can also organize a contest directly targeted at people that have previously ordered from you to increase customer retention.
5 Instagram restaurant competition ideas
While both Instagram and Facebook are social media platforms, how you can organize and implement a competition differs slightly. Here are some restaurant competition ideas that everybody on Instagram will want to participate in:
1. Tag a friend to win a free meal for two
It is one of the most common and simplest Instagram contest ideas for a restaurant. All you have to do is post a picture of a beautiful dish with the rules in the descriptions: Tag a friend and only one entry per person.
Afterward, you can use a random extraction tool to choose the winner who will get to enjoy a free meal from your restaurant.
2. Guess the new menu item and get it for free
An excellent way to build interest around the launch of a new menu item is to post a professionally taken photo of the dish with no description detailing what it is. Have people guess the ingredients for the new menu item and choose a winner from all the correct answers.
3. Caption this photo to win a $50 gift card
Everybody likes to have fun. Capitalize on humor and post an interesting or funny behind-the-scenes photo from your restaurant (waiters dropping something, cooks preparing food in an unusual way) and invite people to caption it in the most amusing way possible.
4. Tell us our favorite menu item and win a training session with our chef
Food is a great prize, but so are experiences, especially for people passionate about cooking. Increase engagement by asking people to comment on a post telling you about their favorite dish on your menu and offer a three-hour training session with your head chef. Present the advantages: they can ask the chef for advice and learn to cook a dish of their choice.
5. Tell us why you love your significant ones and win a free romantic meal
You must incorporate restaurant competition ideas in your seasonal marketing strategy. Christmas, New Years', Valentine's Day, are all good occasions to get more orders. Encourage people to post a story detailing how special their significant one is so they can win a great meal in a romantic atmosphere.
Read more: Instagram for Restaurants: How to Successfully Promote Your Business
5 Facebook restaurant contest ideas
When coming up with restaurant competition ideas, you must consider the demographics of the platform you will post them on. As Facebook is used predominantly by the older generation, ensure you cater to their knowledge and needs. Check out these restaurant sales contest ideas:
1. Share a post to win a free meal for you and a friend
Gain visibility for your restaurant by posting an image of a good-looking dish and asking people to share it on their wall if they want to win an all-inclusive meal at your restaurant. The winner should always be chosen randomly and transparently so everyone can see they have a chance when they enter.
2. Leave a review to win a night out for a group of four people
People check restaurant reviews before choosing a restaurant to eat at, so you need many positive ones to appear trustworthy. Encourage your clients to leave reviews on your Facebook page by leveraging a great prize. You can make this a recurrent contest, where you randomly choose a winner from the previous week's reviews.
3. Name the dish and get it for free
Launch a new menu item with a teaser! Post a picture of your new dish without details and invite people to get creative and name the dish. Engage with as many answers as possible and randomly choose a winner.
4. Share this post and get an invite to an exclusive tasting event
If you change your menu often, make it a big exclusive event to attract attention. Ask people to share a carefully chosen image so they can get an invite to a party where they will be able to taste your new menu items and have a great time, all for free.
5. Cook with us and win a free meal every Friday for a month!
Publish a simple recipe for a beloved dish from your menu and encourage people to try cooking it at home. Choose a winner from the ones that post a picture with the finished dish.
3 Upsell competition ideas
Restaurant competitions ideas generally imply giving an item or an experience for free in exchange for more visibility. But you can also come up with ideas where the client must purchase a selected item to win the prize. Here are some options you can try:
1. Share a picture of their online order to win a new order for $50
If you just implemented an online ordering system, you can use restaurant competitions to encourage people to discover how easy it is to order your food online.
Create a hashtag, such as #pizzarestaurantonlineordering, and give people one week to post a photo with the food they ordered from your restaurant, using the hashtag provided. You can award the prize by randomly selecting one of the pictures.
Give people the seamless ordering experience they crave
Install an online ordering system to your website for free
Start now
2. Customer of the month wins a full day of goodies
Client retention is incredibly important for a business's success. Therefore, repeat customers should not only be encouraged but also rewarded.
Track your sales, identify the person who ordered the most during a month and offer them a whole day where they can eat whatever they want from your restaurant. Don't forget to constantly post about this competition on your socials.
Read more: 5 Simple & Effective Customer Retention Strategies for Restaurants
3. Post a memory and win a free dessert for every order for a month
Get your clients involved in creating your restaurant brand by asking them to post about a great experience at or with your restaurant. Offer them a code that can be used for every order to get a dessert of their choice.
3 Restaurant contest ideas for employees
For a restaurant to succeed, it needs both loyal customers and hard-working employees. The good news is both can be motivated by creative competitions and great prizes. If you want happy and productive employees, try these restaurant contest ideas for servers:
1. Queen/King of the employees
Incentivize camaraderie among your staff members by organizing a party every few months where you celebrate your employees' work.
The queen and king of this party will be established through voting between them. You just have to install a ballot in the back of the restaurant where they can vote confidentially.
2. Get a bonus for most desserts sold
One of the best food contest ideas for work is to encourage employees to upsell by giving them a goal to work for. A hearty bonus will surely determine them to try to sell as many desserts as possible. You can change dessert for the menu item with the biggest profit margin.
3. Encourage clients to leave positive reviews and get a free day
Your employees value personal time, and they would like to get more. You would also like to get more positive reviews so you can get more clients. Why not link the two? Train your employees on how to get a happy customer to leave a review and reward those who get more reviews.
5 restaurant promotions you must try
Do you know what people love just as much as free food won in a contest? Promotions. They help them get a better deal on the food they are craving.
With the online ordering system from GloriaFood, you get an integrated promotions module that allows you to easily set up a discount in your online menu.
All you have to do is create an account, set up your menu with great photos and attractive descriptions, and start implementing tried and tested promotions using our promotion templates.
Moreover, you have the option to segment your audience to reach certain targets. For example, implement a promotion for new customers and another for returning clients.
Attract more customers with creative promotions
Install a free online ordering system with a built-in promotions module
Start now
Here are some ideas for restaurant promotions you must try to increase your profit:
1. Buy one, get one free
This can be applied to any item, for example, you can get a second free pizza when you order a rustic pizza, or an extra burger when you order your favorite burger. You can use this promotion when you launch new menu items to encourage people to order them.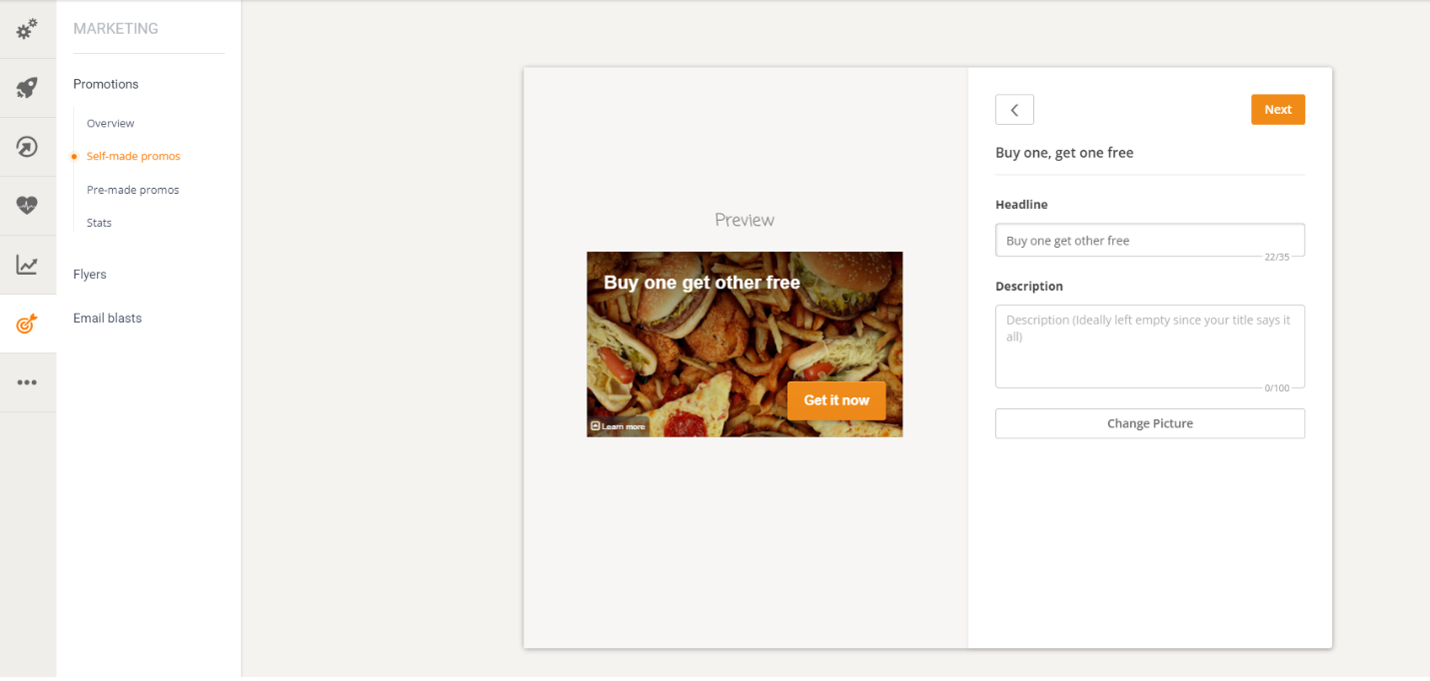 2. %discount on selected menu items
One of the most common restaurant promotion ideas is a discount for a specific item. You can use this for items that maybe don't sell as well to determine people to order them. Who doesn't like getting great food at a lower price?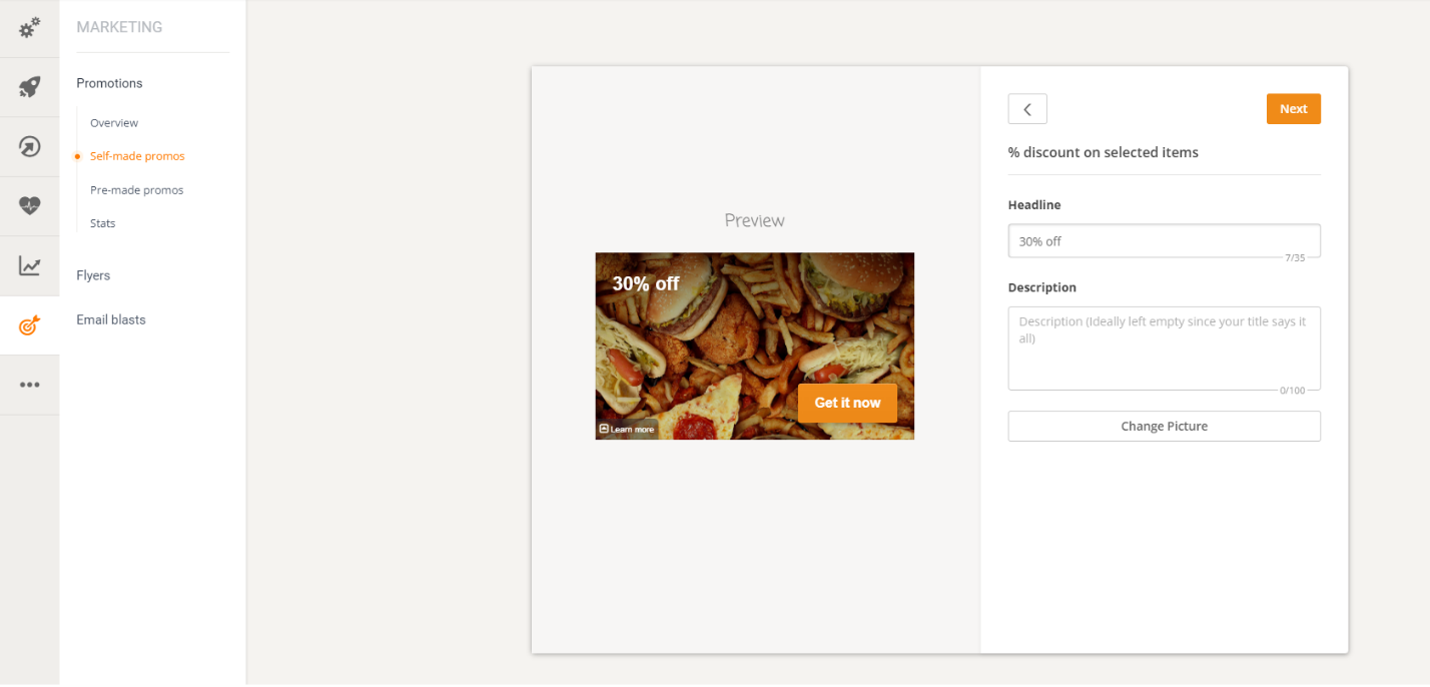 3. Fixed discount amount on cart
Encourage big orders, be it from a single person or a group of people, by offering a discount for a big cart. Get all of the lunch hour sales as workers would rather gather and make a single order if it means they get to pay less.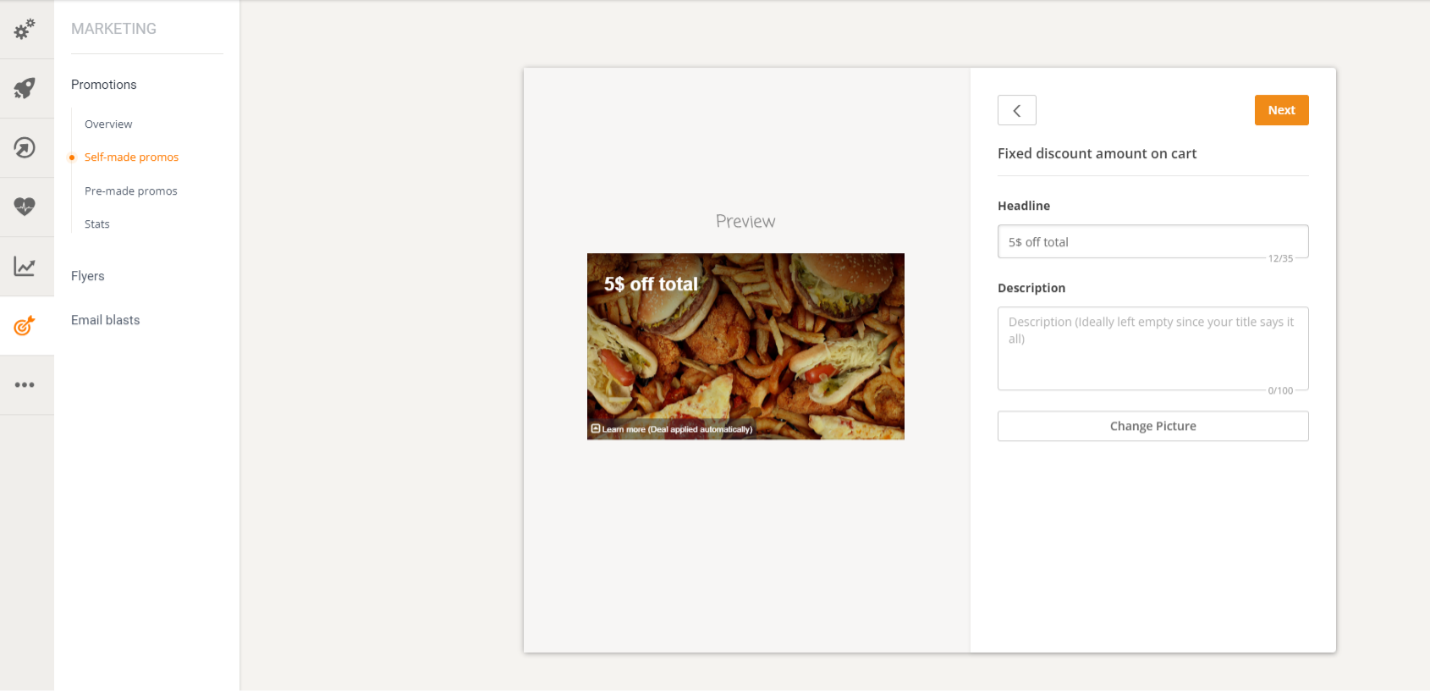 4. Free delivery
Incentivize big orders by offering free delivery over a certain amount. You can choose the delivery zones from which you don't get as many orders to implement this discount.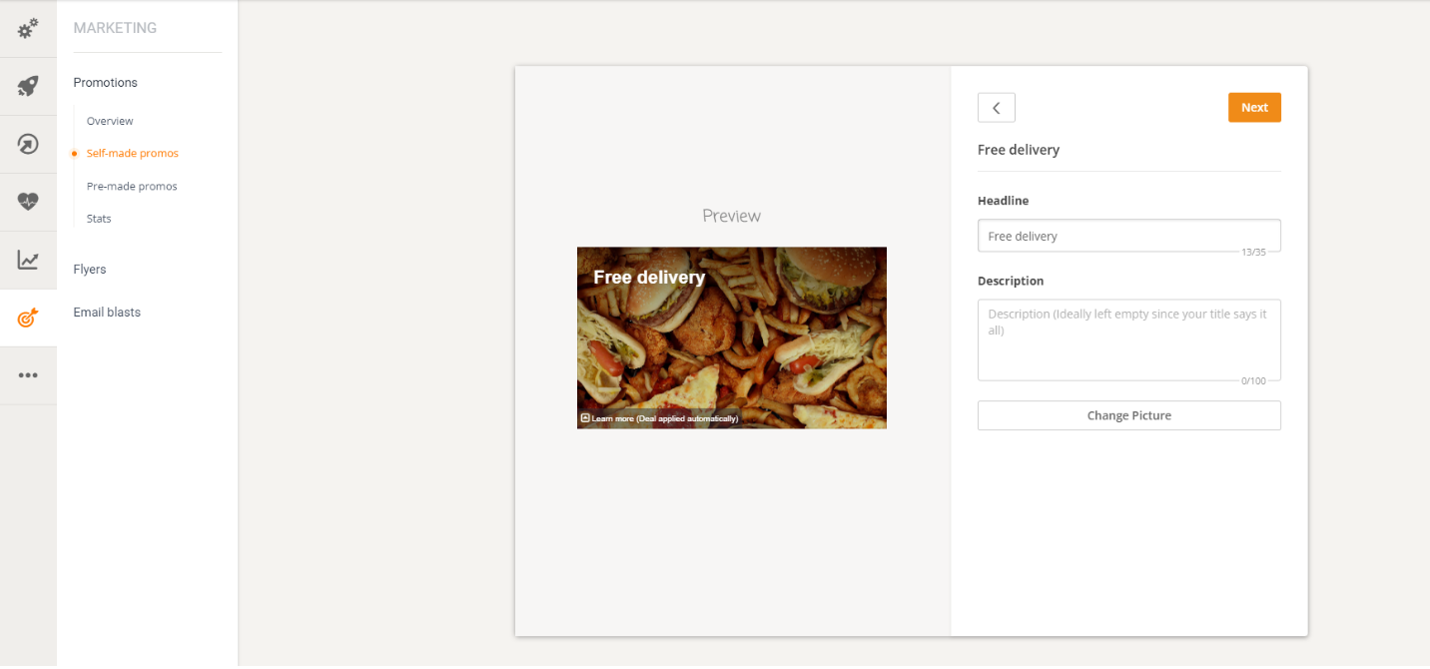 To find out where most of your high-paying orders come from, check Delivery Heatmaps, a feature of the reporting module. Go to admin -> Reports -> Extended -> Delivery Heatmaps. Check out this video to learn how it works:
5. Free menu item
Offer a free item to determine people to order more, such as a free dessert or chips. You can select a required spending amount to get the free dessert, so people will be motivated to spend more.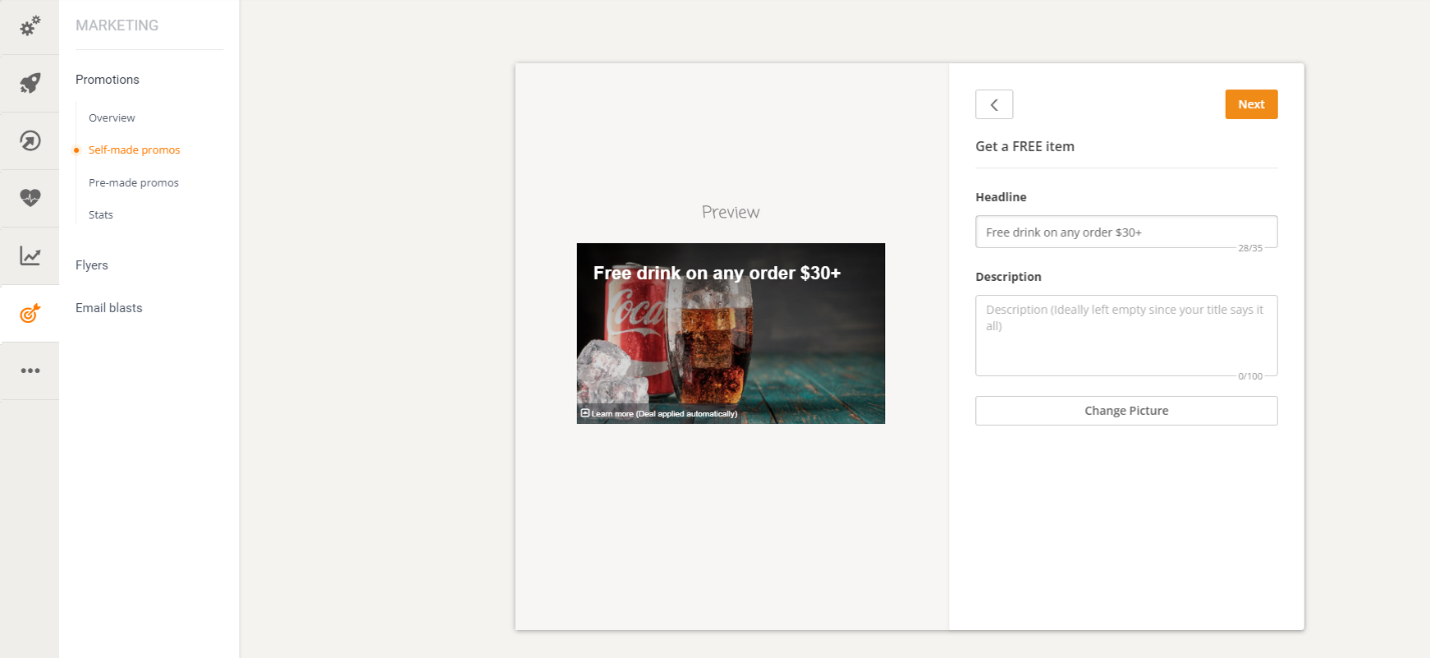 To add any of the promotions above, you must go to admin -> Marketing -> Promotions and select the template you want.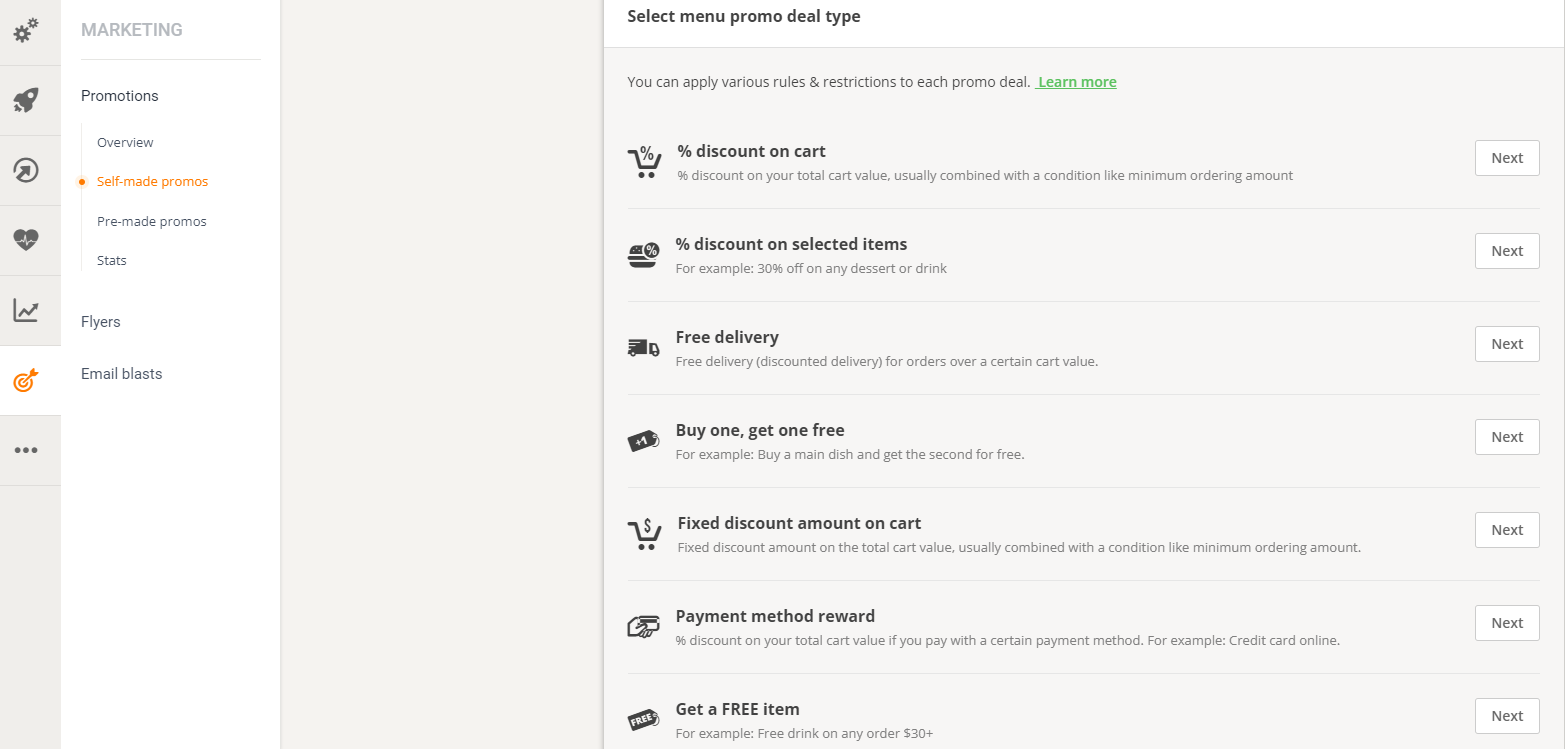 After you publish a promotion, it will be visible at the top of your online menu, so it will be the first thing people see when they look for food. Click here to see an interactive preview by clicking on the "See MENU & Order" button.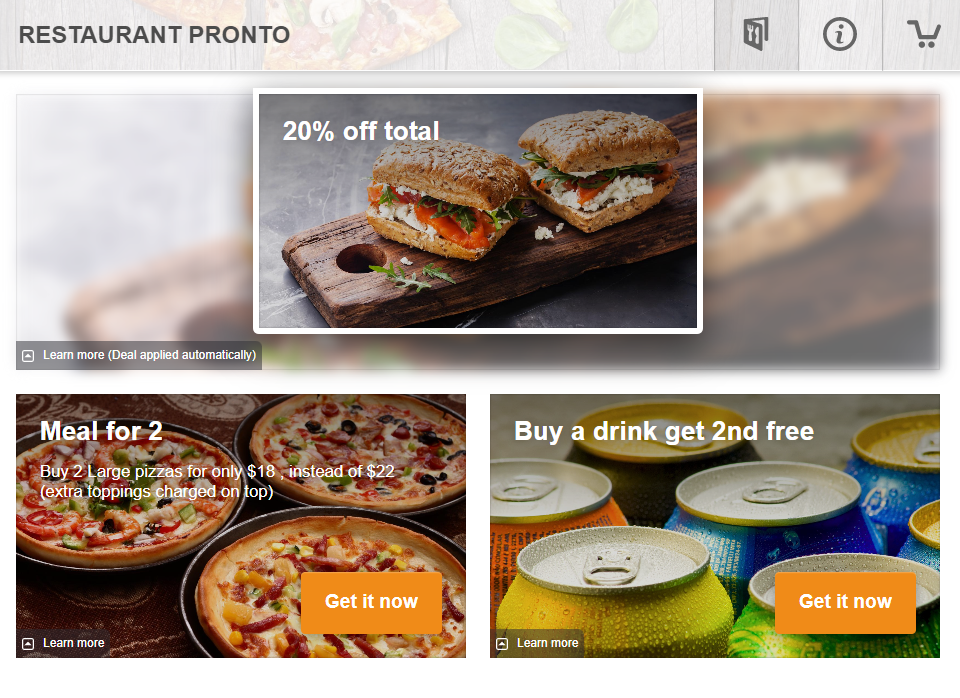 Read more: 10 Restaurant Website Promotion Ideas for Delivery & Takeout
Conclusion
If you want to up your marketing game and gain visibility and new clients, you need to implement as many restaurant competition ideas and menu promotions as possible.
They will help you reach a bigger audience, increase your sales and profit and build a great community around your restaurant, always interested in engaging with your content.