How to introduce your food business online and leave a mark
By

Otilia Dobos

JUL 28, 2023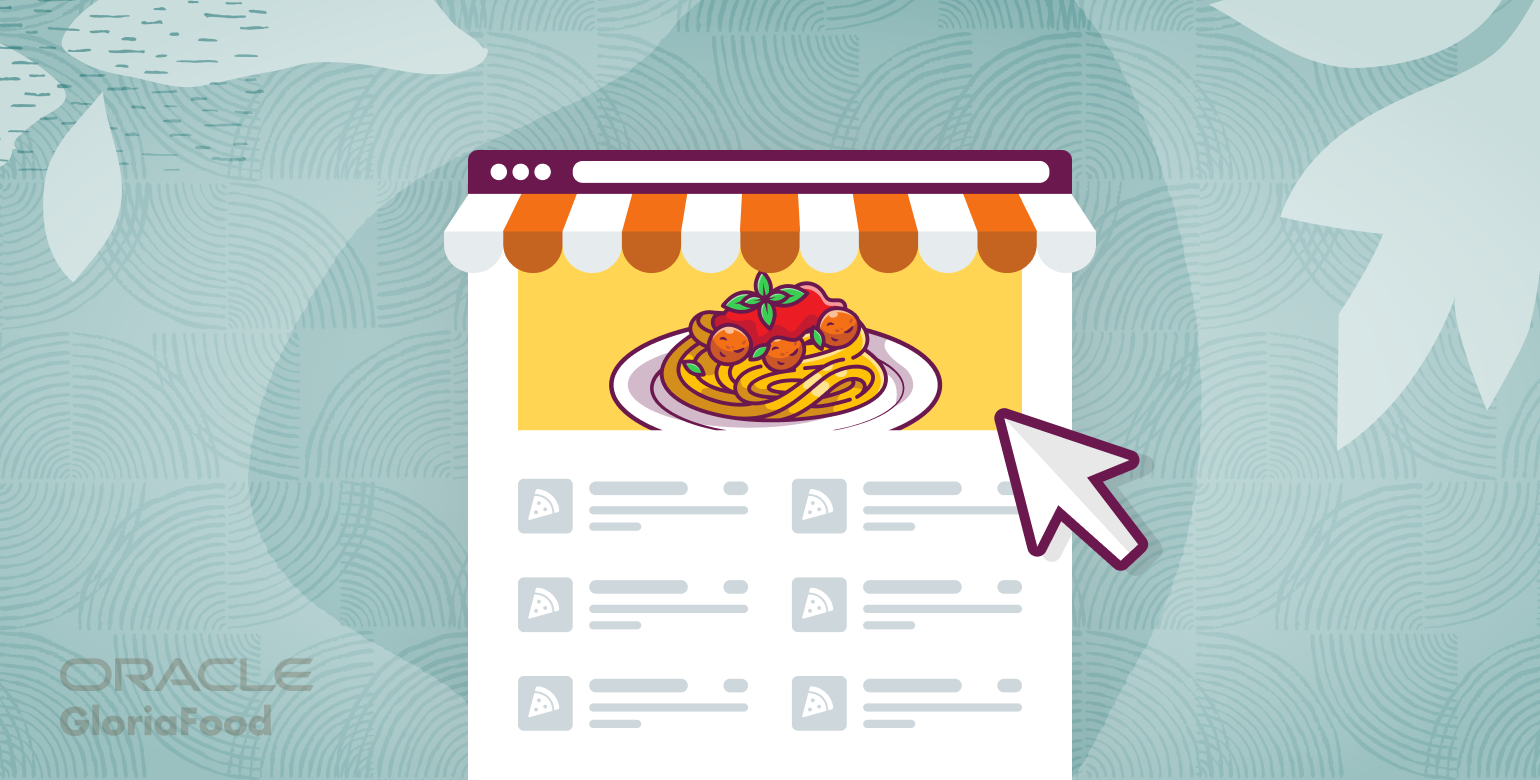 If you are thinking of opening a food business, you are surely focusing on having a great launch day, preparing the location, and amazing food, and hoping you will have all your tables filled from the beginning.
But, in order to have a successful opening, you must first learn how to introduce your food business online. By creating a virtual presence for your restaurant, you get people interested in your menu items and ensure potential clients will visit your establishment from day one.
In this article, you will find an in-depth guide on how to launch a restaurant online:
Ensure you have the online ordering process set up
The main thing that affects your restaurant's profit is the number of sales. The more you sell, the more chances you will be a successful restaurant owner for years to come.
No matter how big or small your food business's location is, you will have a limited number of seats. Therefore, you can only sell a rather small number of menu items per day. If you want to increase your sales, you need to allow potential customers to order online.
Online orders can't be an afterthought. If you want to know how to introduce your food business online, one of the first steps is simple: enlist the help of a powerful online ordering system like the one provided by GloriaFood.
The online ordering system will not only help streamline your online ordering process once you open the restaurant, but it also comes with a variety of useful features for marketing your food business. Furthermore, it is free, so you get amazing efficiency without affecting your budget.
Follow these easy steps to install an online ordering system before the opening day:
Sign up on GloriaFood and complete your restaurant's profile with basic information such as an address, type of cuisine, and contact info;
Create a menu that will persuade clients to click the order button. If you don't have the final version, don't worry, you can change it as often as you want, free of charge;
Publish the order button on your website. If you don't have one, you can generate a sales-optimized restaurant website from within the system. We will delve more into the importance of a website in the next section;
Introduce your food business online with the best online ordering system
Start your online journey in just 10 minutes
Start now
If you want to learn more about how easy it is to install an online ordering system on your website in just 10 minutes, watch this video:
Prepare your online location for visitors
Before you prepare your physical location to be ready to serve customers, you must first prepare the online location that will be visited first: your restaurant's website.
One of the first steps you must take when you learn how to introduce your food business is to get a sales and SEO-optimized website that will get the word out about your restaurant.
If you want clients to find out more about your business and your products, you must offer them a trustworthy place to get this information.
Furthermore, you need a website that runs smoothly on any type of device so clients have a great browsing experience that encourages them to order from your restaurant.
No need to start researching developers and agencies, you can generate your sales-optimized website using our online ordering system. After you sign up on GloriaFood, go to admin -> Setup -> Publishing -> Sales optimized website.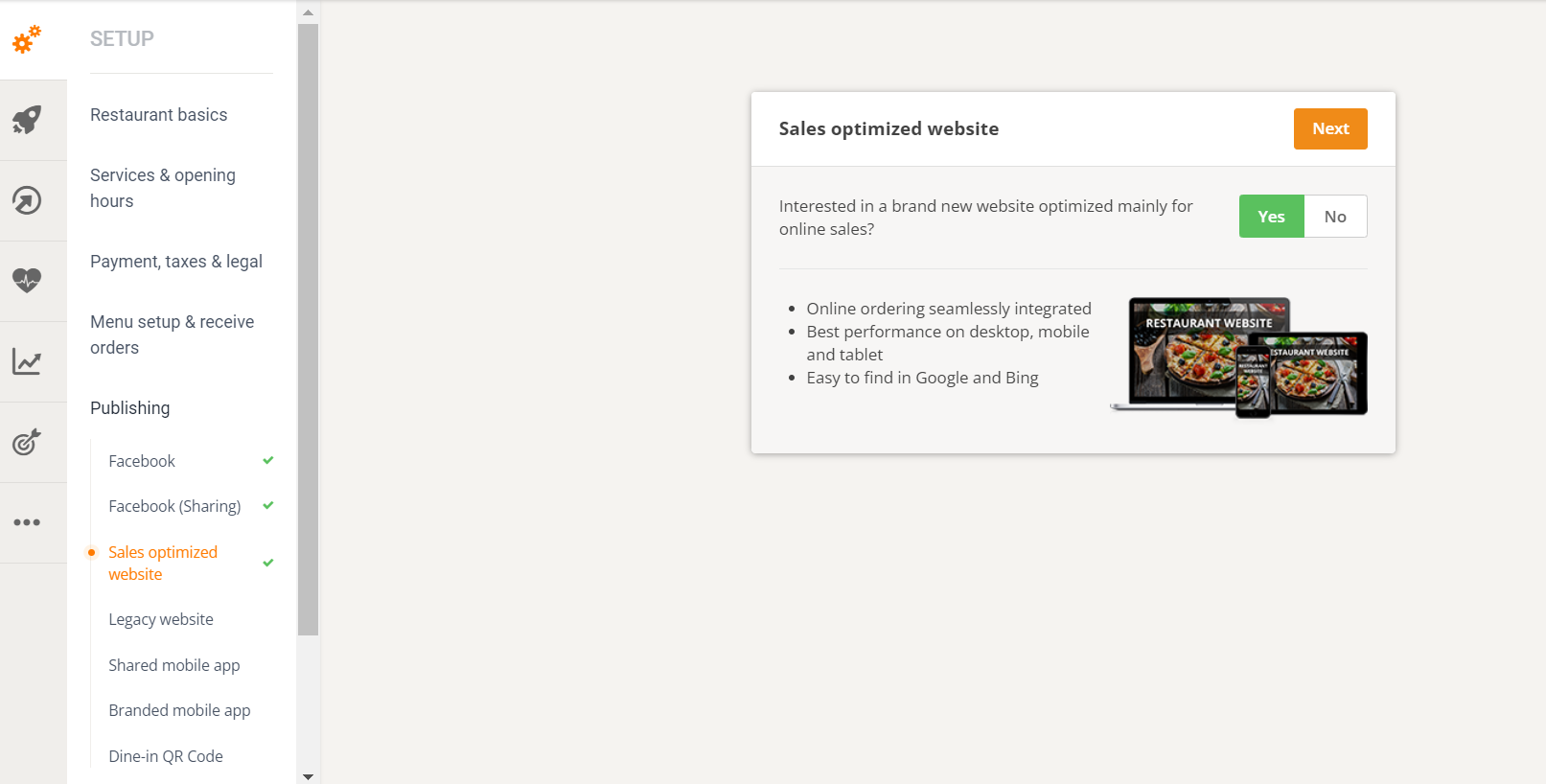 You then get access to an intuitive restaurant website builder you can use to personalize your website with different colors, logo, and a variety of widgets such as social media, job openings, maps, or external links.
featured
The great part is that we do all the work for you. After you click generate, you will receive a complete website that has been already SEO-optimized with tailored texts to your cuisine and business. This will help you rank high in Google searches related to your type of restaurant in your area.
Furthermore, the food business website you will create is specifically tailored to persuade visitors to become clients. Not only is it very easy to browse and it loads without problem on any type of device but it also has a very visible order button.
Make your mark online with a sales and SEO-optimized food business website
Use this intuitive restaurant website builder to generate yours in no time
Start now
The "See Menu & Order" button is in a contrasting color to the background and it is placed in the most visible place about the fold, so it will be the first thing a client sees when they open the website. You can see a demo website here.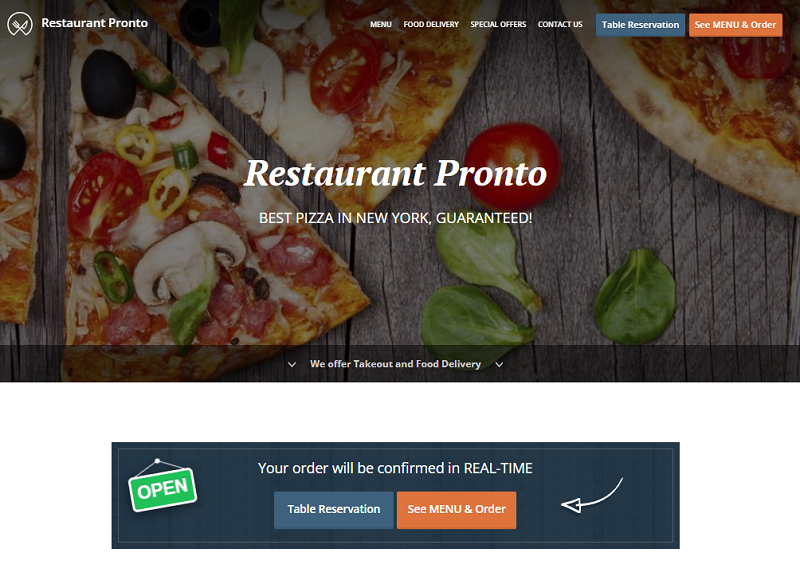 Complete and optimize your Google Business Profile
How to introduce your food business online? You must get the word out about your business to as many people as possible. And what is the most used search engine that countless potential customers use daily to find new places to eat? Google, of course.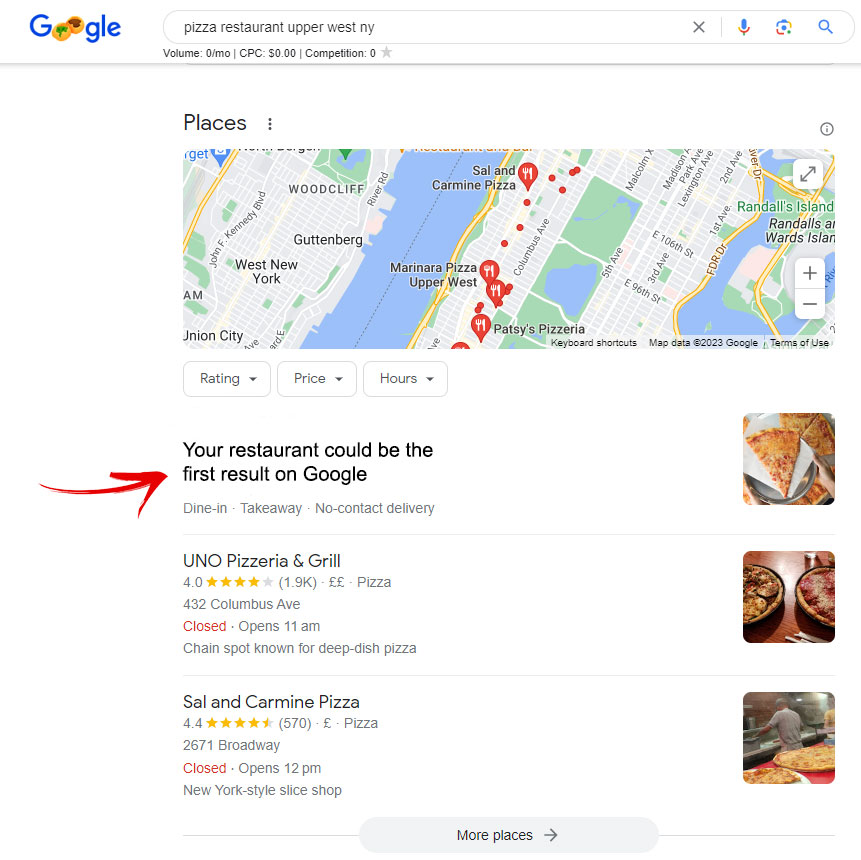 The great part is that Google has a tool that will help you get started on promoting your food business online named Google Business Profile.
Start by creating an account, sign in to Google Maps, and type in your restaurant's address. On the left, in the Business Profile, click Add your business to start customizing your online appearance on Google.
Here is what you can and should add to your Google Business Profile for maximum online visibility:
Mention opening hours: if you haven't opened your business yet, leave this section empty, but don't forget to come back and update it. If clients don't know when they can visit or order from your food business, they may search for other restaurants that provide their working hours;
Add descriptions: this is your occasion to market your food business in a few words. Keep it short, punchy, and interesting. You could use this space to insert your USP (Unique Selling Proposition) to let people know what makes your restaurant special and why they should choose your place over others;
Choose attributes: every type of business has a specific category of attributes they can add to their profile. For your restaurant, you can add ones like Outdoor seating, free Wi-Fi, etc;
Insert link to your website: allow people to learn more about your food business by providing them with a link to your website. You can also include a direct link to your menu so people can order with just one click;
Add Photos: add a variety of pictures of your menu items, of your restaurant interior and exterior, and candid shots with customers once you open. Great pictures can persuade hungry people to order;
Enable reviews: once you open your business, you must be prepared to handle reviews. Moreover, you should actually encourage positive testimonials because they have a big influence on other people's choice to visit your restaurant or not.
While we are on the topic of reviews, go ahead and create an account on all review platforms in your area, such as Yelp and TripAdvisor. It is best to claim your food business at the start, so you are prepared to manage and respond to all reviews once you open, even if some may be negative.
Start a teasing campaign on social media
It is never too early to create social media accounts and start promoting your food business. Start by choosing the platforms where your target audience spends the most time.
For example, if you target millennials and older customers, go for Facebook. If you have a younger audience, focus primarily on Instagram and TikTok.
Even though your restaurant is not open yet, this is a great time to build enthusiasm around your restaurant. You can show people how great your location is and tempt them with mouth-watering pictures of your food.
Wondering how to introduce your food business online? Start a teasing campaign with the following type of social media posts:
Menu items pictures: great hunger-inducing photos with enticing captions such as "Would your order this?" or "Just 10 more days until you can taste this delicious dish";
Countdown: starting a week before you open you can start posting a daily reminder that you will be opening in 3,2,1 days;
Work in progress: show the effort you put into opening your restaurant, some people may find it interesting and you also prove you care about the type of location and services you will provide for your clients.
Sponsored posts: your organic reach may be very low at the start. Therefore, if you want to get to as many people as possible, you should consider investing in sponsored posts. You can target your specific audience and persuade them to follow and interact with your restaurant account;
Final Words
If you want to know how to introduce your food business online, you should always start by leveraging technology. Our online ordering system doesn't just help you manage your online orders, but it also helps you promote your business with a variety of useful features.
Complete your online presence with a sales and SEO-optimized website, a complete Google Business Profile, and carefully chosen and tailored social media profiles. With a bit of time and effort, your restaurant will be ready to launch in no time.