How to use social media for restaurants to easily sell your delicious food
By

Otilia Dobos

FEB 9, 2023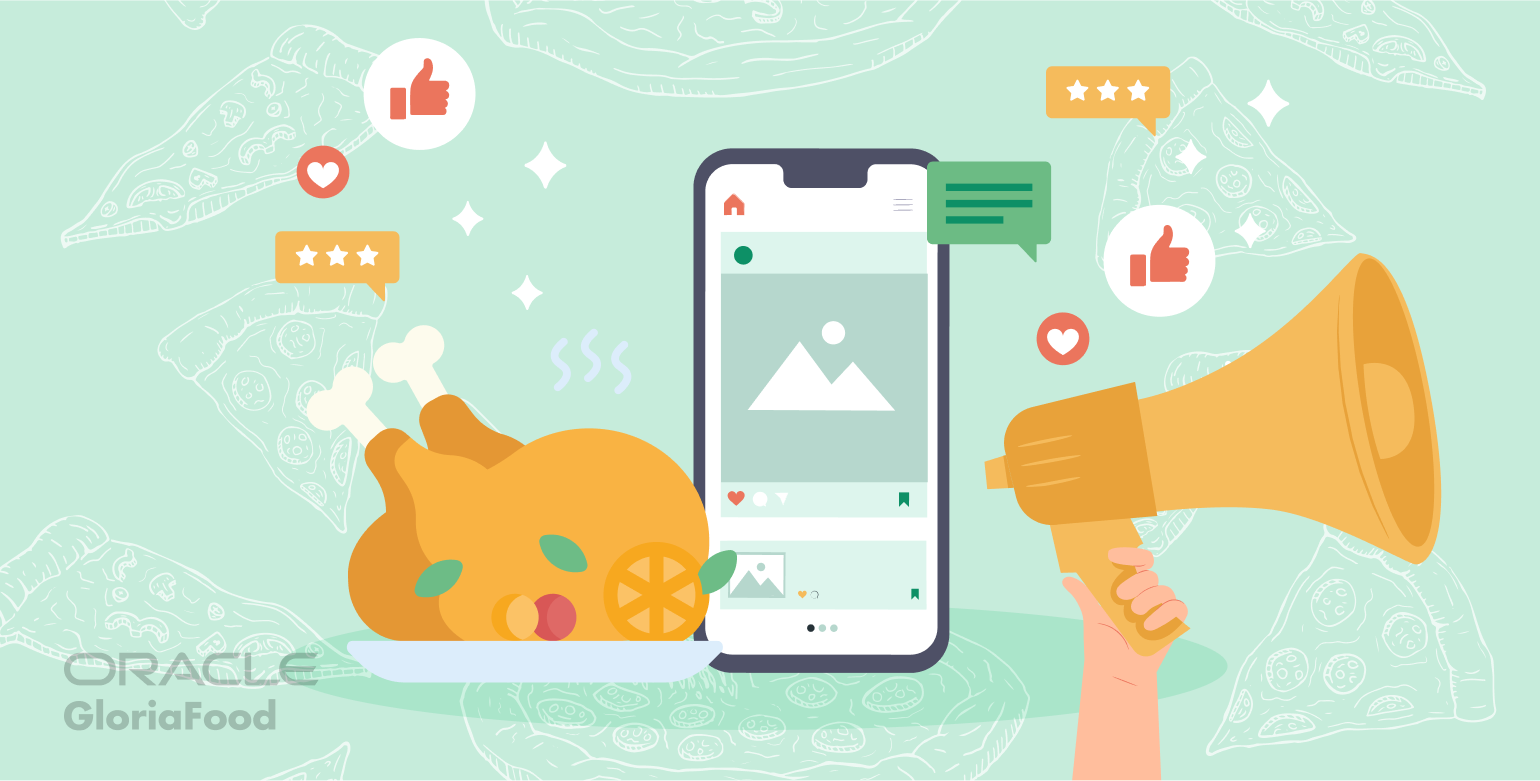 Learn how to start selling food on social media:
A strong presence on social media can do a lot for your restaurant business. Maintaining an active social media account will help you reach a bigger audience, make your name known, attract new customers, and get more repeat clients.
But, with the right tools, it can also aid you in achieving the biggest goal: selling more. In this article, we'll teach you how to use social media for restaurants to sell your amazing dishes.
Why you must start selling your restaurant's food on social media
Imagine this scenario: a restaurant is located in a hidden alley, with almost no foot traffic, and another one is situated in a beautiful plaza, visited daily by a lot of people. Which one of them do you think gets more clients?
The one that chose a place where there are many people that can be tempted by the façade and delicious menu, obviously. So, what is the conclusion? If you want more customers, you must go where they are.
Nowadays, that place is social media. Why limit yourself to passersby when you can have access to a large audience that spends most of their time browsing online?
Advertising your restaurant on social media and interacting with your followers is great, but why not take the next step? You can allow people to order all the delicious menu items you post about with a simple click, directly from social media.
Let's see how easy it is.
What you need to start selling restaurant dishes on social media
Selling on social media implies having the means to sell your menu items online. Therefore, you need an efficient online ordering system that allows clients to order your amazing dishes from the comfort of their own homes or offices.
But you don't need any online ordering system, you need one that is a whole marketing powerhouse that aids you in selling your food on social media. Lucky for you, we have a great solution.
Check out our online ordering system that not only helps you streamline your ordering process but also comes equipped with:
A promotions module to help you sell more;
Email marketing feature to help you attract loyal customers;
Reports module to help you monitor your progress;
And much more.
Increase your profit by allowing clients to order directly from social media
Get a direct link to your restaurant menu with our free online ordering system
Start now
And you know what the best part about it is? It is free! Follow these simple steps to get the best online ordering system from GloriaFood:
Create a profile on GloriaFood;
Fill in your restaurant's basic information, such as name, address, and contact;
Create a delicious menu with mouth-watering pictures (choose some from our free gallery if you don't have professional ones) and attractive descriptions;
Publish the menu button on your website. If you don't have one, we can also help you with a sales-optimized website in no time;
You are ready to start selling food on social media!
Now, there is one more important step. How will people reach your menu to order from social media? Easily, with a smart link provided by us. Once they click on the link (no matter where they find it: posts, bio, stories), the optimized online menu from GloriaFood will pop out.
The restaurant menu is optimized for every device, so anyone will be able to browse it, choose their favorite dishes, and go to checkout in a few clicks. The interface is so intuitive, they will want to come back and enjoy a great customer experience again.
There are no detours, no accessing the website first and then looking for the menu button, no landing pages where you can see the menu, but not order, and no pdf-menus that need to be downloaded.
Let's see how easy it is to get the link we mentioned. There are two types:
A link that you can insert in bio;
A link that you can insert in posts: this only works for Facebook, as it is the only platform that allows it.
To get a smart link that you can add in bio, go to admin -> Setup -> Publishing -> Facebook: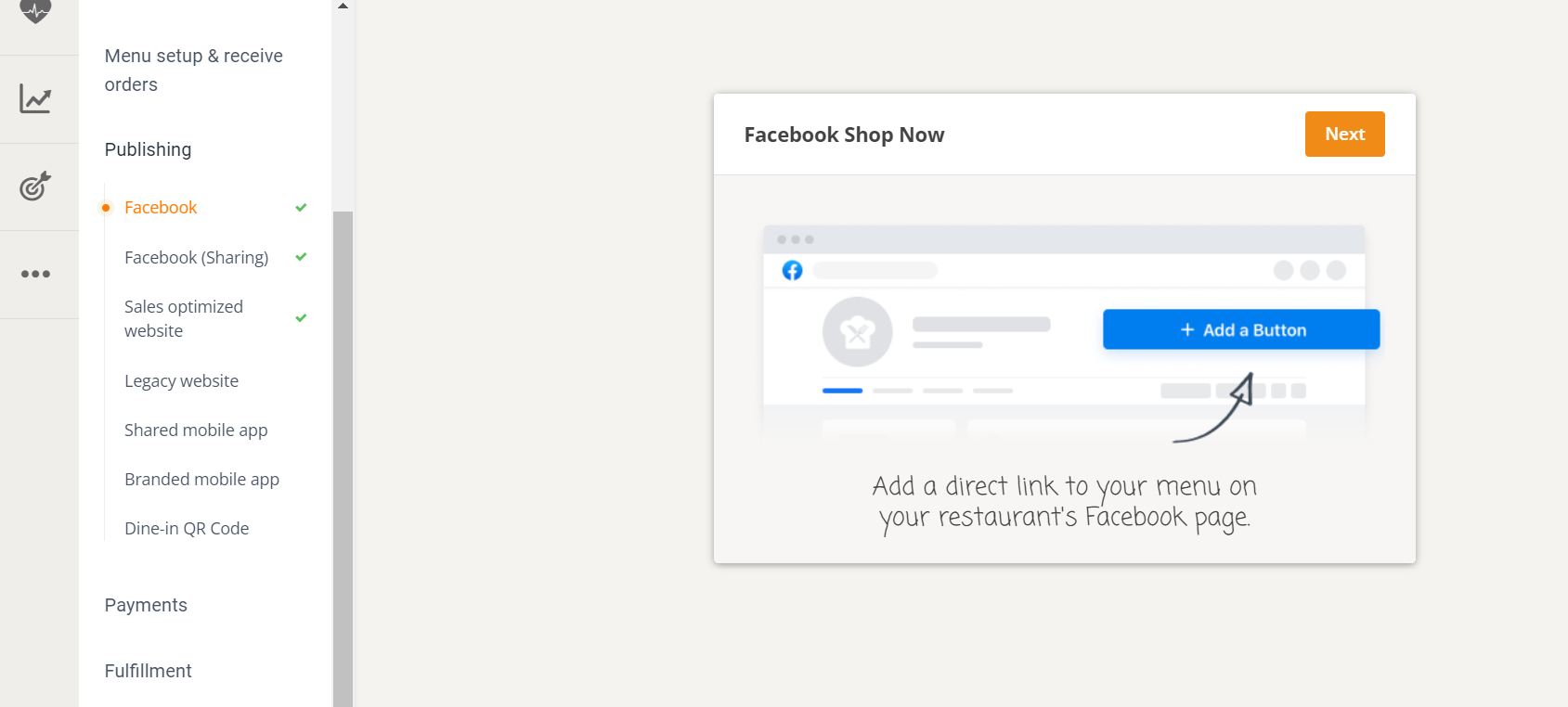 To get a smart link to include in posts on Facebook, go to admin -> Setup -> Publishing -> Facebook (Sharing):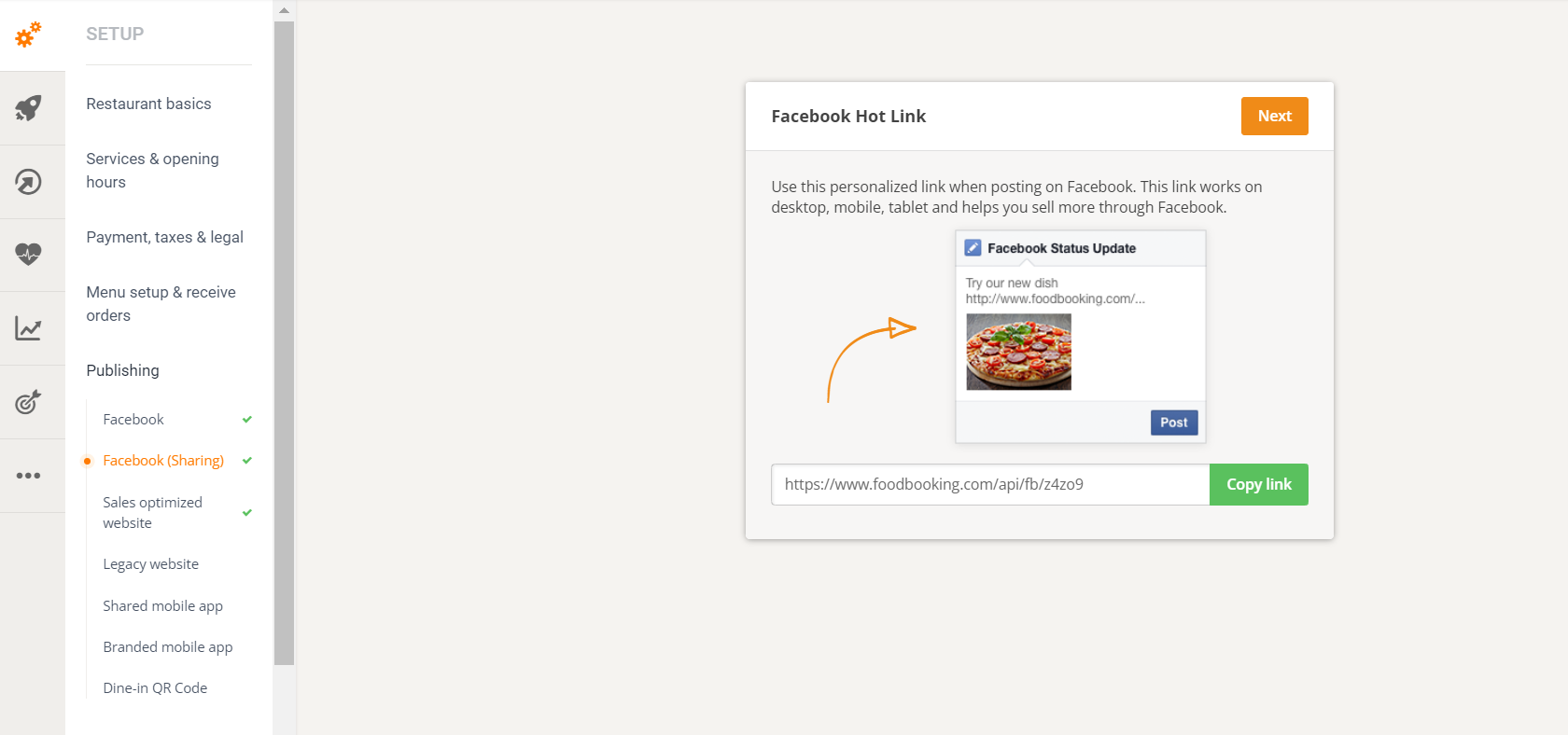 How to use social media for restaurants to sell food on every platform
Now that you have the tool for selling on social media, you must learn how to use it. Not every platform works the same, some don't allow links in posts, some are of greater relevance to your audience, and all need powerful Call-to-Actions to entice clients to order.
Here are the three most used social media platforms and tips on how to turn them into revenue-making machines:
How do I start a Facebook food business?
If you have a business page for your restaurant, you must take advantage of the Facebook "Start Order" button. People are already accustomed to its existence, and they expect to be able to use it. Give them what they want!
Go to settings and personalize your restaurant's "Start Order" button with the first smart link we provide in the online ordering system's admin. Afterward, it is time to let your audience know they can now order your food directly on Facebook. Here are a few ideas for your restaurant's social media content calendar:
Add a few posts with amazing pictures of menu items that people can't say no to. Let people know in the captions how great your delivery system is and how easy it is to order directly from social media;
Organize a contest where you offer a free 60-dollar order for one lucky winner who ordered from social media. Our online ordering system allows you to see where the orders come from, so it will be easy for you to monitor them;
Collaborate with small food influencers and have them promote your Facebook online ordering system to get the word out.
If you are using Facebook to promote your business, you don't have to send them to the "Start Order" button every time. You can actually add a direct link to your restaurant's menu in any post you make.
Just copy the second link from the online ordering system's admin and paste it into a post with a mouth-watering picture. Don't forget to add a strong call to action, such as "Don't miss your chance to order our famous pizza!" or "Order now!".
Get more orders, directly from your Facebook page
Install a free online ordering system and customize the "Start Order" button with a link to your menu
Start now
How can I start selling food on Instagram?
Selling food on Instagram isn't as easy as on Facebook, but we have a few tricks up our sleeve that we will share with you.
One of the easiest and most common ways to allow clients to order food on Instagram is to add your menu link in your bio. First of all, you must be aware that you can have three types of accounts on Instagram: Personal, Business, or Creator.
To be able to add a link in bio, you must choose one of the last two. Afterward, go to Edit Profile, then to the Website section, and paste the first smart link we give you in the online ordering system's admin. Click Submit and voila! When clients click the link, your restaurant menu will open immediately.
You can add links in posts and reels, but they will not be clickable. To access them, people will have to remember the link and write it in the browser. That seems like a bit too much work, doesn't it? Potential clients want things to be simple and easy, so they will not make the effort to memorize a link.
Instead, do you want to know how to promote the food business on Instagram? Make interesting posts that use a call to action to send people to the link in bio. Check out these ideas:
Promote user-generated content from clients who already ordered online and enjoyed their experience. People trust other people's opinions and they will see your restaurant as trustworthy if others recommend it;
Advertise promotions to encourage people to order directly from Instagram. Potential clients will run to the chance of benefiting from a great offer. With our online ordering system, you can easily set up a promotion or more. We provide you with tried-and-tested promotions templates that you can personalize. After you implement them, they will show up at the top of the menu to immediately attract attention. Go to admin -> Marketing -> Promotions -> Self-made promos and start creating attractive offers:
Check out this video to learn more about how easy it is to set up a promotion with our online ordering system:
There is one more way to add a link to your online restaurant menu on Instagram: directly in Stories. When you add a photo or a video in stories (choose a great picture of one of your menu items, a promotion, or a video of your restaurant's interior), do this:
Tap on the sticker icon on the screen where you edit your story before posting it;
Browse until you reach the Link Sticker;
Customize it with the link we provide to your menu;
Post the story;
That's it! When clients click on the link in your story, the menu will open instantly.
How do I add a TikTok restaurant menu?
TikTok is a bit different from other social media platforms because it only allows you to post video content. But having an active account will give you access to a big audience that can be encouraged to visit or order from your restaurant if you tempt them with quality content.
Let's see how you can get a TikTok restaurant menu that converts followers to clients. There is only one place where you can add a link, and that's in your bio. The catch here is that you need to have a business profile and over 1K followers to be able to add a link in bio.
Follow these steps to add a direct link to your online menu in the bio:
Go to Profile -> Edit Profile. Copy the link to your restaurant menu on the website section;
Click save and you are done. Customers can now order your delicious food directly from TikTok.
Here are a few video content ideas to help you promote the new link function on your TikTok for restaurants:
Film the restaurant customer journey from a client's point of view, from accessing the link in the bio, to receiving their order. Don't forget to add captions on the screen to encourage them to access the link;
Make a showcase of the most photogenic dishes, for example, a burger with dripping sauce, ripping a fresh pizza apart, using a spoon to get a bite of a sweet dessert, etc. Don't forget to end it with a powerful call to action, such as: Get all of these amazing dishes, and more, at the link in bio.
Conclusion
If you want to sell more food and increase your revenue, you must know to use social media for restaurants. Use the tips we gave you in this article to add a direct link to your restaurant menu on all the main social media platforms, so you can increase the conversion rate.
Furthermore, ensure you have plenty of posts and stories where you let people know that you made their lives easier by allowing them to order directly from social media, with no extra steps.