How to Create the Best Restaurant Social Media Content Calendar (Example+Tips)
By

Otilia Dobos

JAN 26, 2023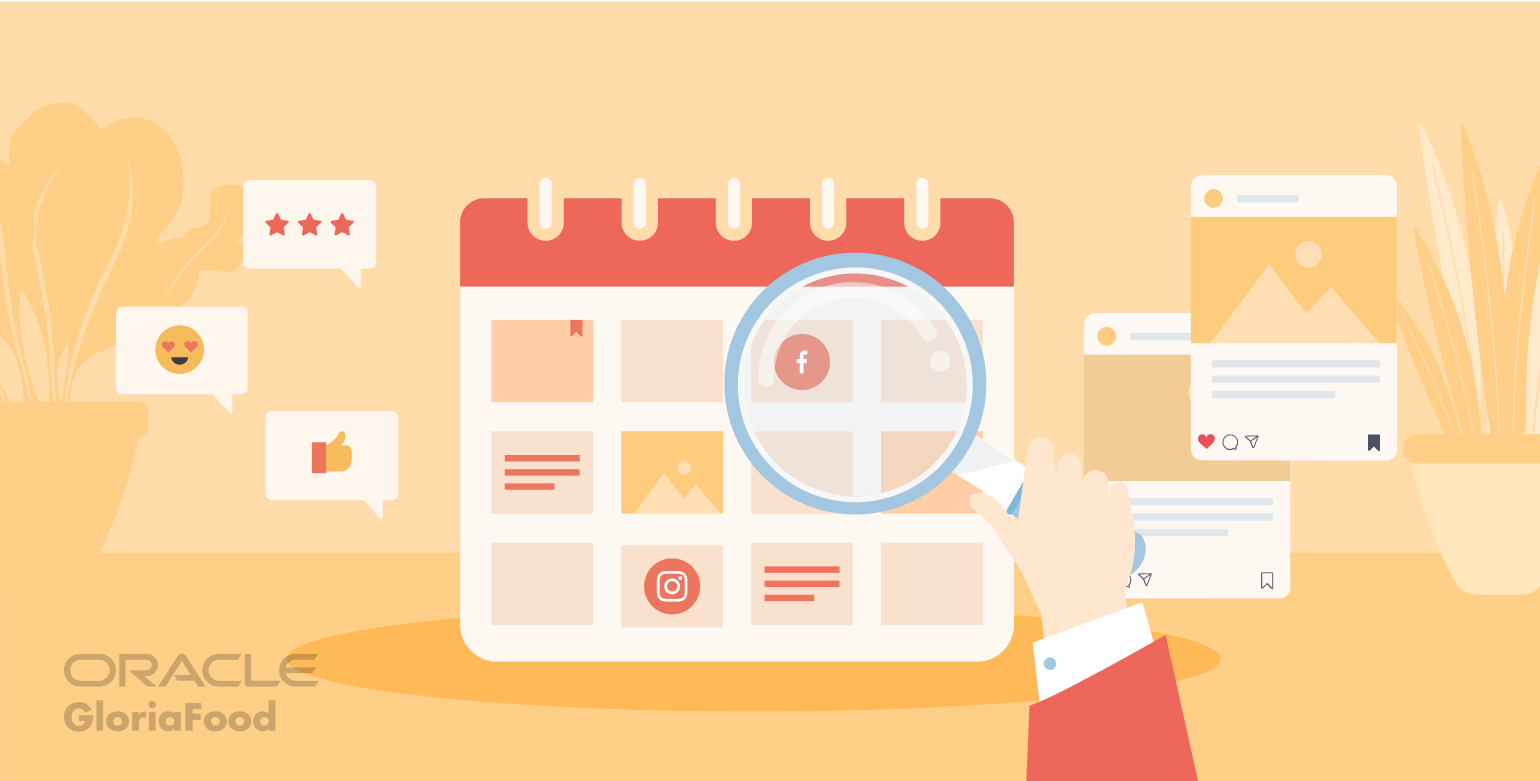 Learn how to make the best social media content calendar for restaurants:
A successful restaurant can't be achieved by just creating a delicious menu, hiring great staff, and acquiring the perfect restaurant space. You also need to invest in marketing in order to constantly attract clients to your business.
One of the most effective marketing strategies for restaurants is having a constant social media presence. While hiring a marketing agency is a good solution, if you own a small restaurant or are on a tight budget, that may not be an option.
Not to worry, you can still achieve amazing results with a bit of effort and planning. In this article, you will find an easy-to-follow restaurant social media content calendar, as well as example and tips on how to make the most of it.
What is a restaurant social media content calendar?
What is the purpose of marketing? To increase your restaurant's visibility and help you get more customers. What better way to do this than advertise your business where your clients already spend most of their time? Precisely on social media.
Coming up with restaurant social media marketing ideas is less of an art and more of a science. You need to put yourself in your client's shoes and imagine what you would like to see on a restaurant's social media.
We'll give you plenty of restaurant social media post examples in the next section to get you started. Also, when you accumulate a larger number of followers, you can interact with your restaurant fans and ask them directly what type of content they would like to see on your page.
Finding restaurant content ideas is just the first step. To make a mark on social media, you need to be organized. The best way to do this is to create a social media content calendar.
It may sound complicated at first, but it is as simple as creating a new file in Excel or Google Docs and establishing what you will be posting on social media for a period of two weeks.
You can do it for a longer or a shorter period, but two weeks seems to be the sweet spot where you only come up with posts once a fortnight and still have the flexibility to change if you come up with something new.
Tips for a successful social media plan
Here are some restaurant social media content calendar tips to follow if you want to see your restaurant business grow constantly:
Different social media platform, different content plan: before you start searching for ideas, decide on what social media platforms you want to be active. Look at your audience. Are they from the older generation? Then Facebook is the way to go. Are they younger? Choose from Instagram, TikTok, or YouTube. You must have a different content calendar for each, as the type of posts will differ (for example, TikTok only accepts videos);
Don't forget to include the posting hours: you can find recommendations for the best hours to post on social media and experiment to see when you get the biggest reach. You can schedule all the posts at once, so you don't have to take time out of each day and risk forgetting to add them.
Create a bank of various food images: Avoid having to scramble for photos at the last minute by creating an extensive gallery of pictures of your food (every menu item and collective photos), candid photos of food being made, staff photos, restaurant décor, and restaurant atmosphere;
Use hashtags: at the end of every post, add a list of related hashtags to help your post reach a bigger audience;
Maintain a consistent voice that reflects the branding: when writing the copy for each post, ensure you have the same tone of voice (cheery, serious, etc.). This will help you turn your restaurant into an easy-to-recognize brand.
Social media content calendar for restaurants: a two-week, easy-to-follow example
Now that we've covered the basics, let's get into the specifics. Initially, you may find it hard to develop ideas to populate your content plan, but don't worry. We've created a thorough restaurant social media content calendar example that you can copy until you gain experience.
In time, you can adapt it to your restaurant's needs and add posts catered to your audience. Watch out for the number of likes, comments, and shares to determine which posts are more popular and will increase your restaurant's success.
Let's get started:
Day 1: How it's made
Clients love behind-the-scenes photos. It allows them to see how the food they enjoy is made and builds a stronger connection. Go for impressive moments like troughing a pizza into the air, flambéing meat, or making pasta from scratch.
You can even go further and teach your restaurant followers how to make a particular dish or sauce with a short and informative video.
Day 2: Meet our staff Tuesday
People need to see the faces behind your restaurant to create an emphatic connection. Organize a fun photoshoot with your team members so you have content for your restaurant social media content calendar in the long term.
There are a couple of ways you could write the caption. Here are some ideas:
A short presentation of the staff member (name, age, experience, their passions);
Their favorite thing about working at the restaurant;
Their menu recommendation;
Day 3: Promote a menu item (with a direct link to the menu)
The end goal of having an active social media page is to convert fans and visitors into clients. A great and easy way to do this is to promote a menu item with a high-quality photo.
To increase the conversion rate, eliminate any unnecessary steps. With GloriaFood's online ordering system, clients can click on the caption link and immediately access your online restaurant menu.
Get more clients by adding a direct link to your menu on social media
Start by installing the best free online ordering system
Start now
Here is what you must do:
Sign up, fill in your restaurant's information, create a delicious menu and publish the ordering button on your website;
Go to admin -> Setup -> Publishing -> Facebook (Sharing), copy the link we give you, and paste it into the desired caption.
Day 4: Restaurant décor day
Encourage people to visit your restaurant by showing how great it looks and how much care you put into decorating it. It helps if you have a few Instagramable corners you can feature (where people could take photos of themselves in a fun, different décor).
You can add your location and directions to your restaurant in the caption to let people know how easy it is to reach. Don't forget to always mention your location in your restaurant's social media pages' bio or description.
Day 5: Advertise a promotion
Offers are an efficient way to encourage people to order, especially if they are limited-time ones. No need to start brainstorming ideas. We have an easy solution for you: GloriaFood's Promotions module.
Attract customers with easy to implement promotions
Install an online ordering system and enjoy the benefits
Start now
Just go to admin -> Marketing -> Promotions -> Self-made promos and choose one of the tried-and-tested promotions to entice customers.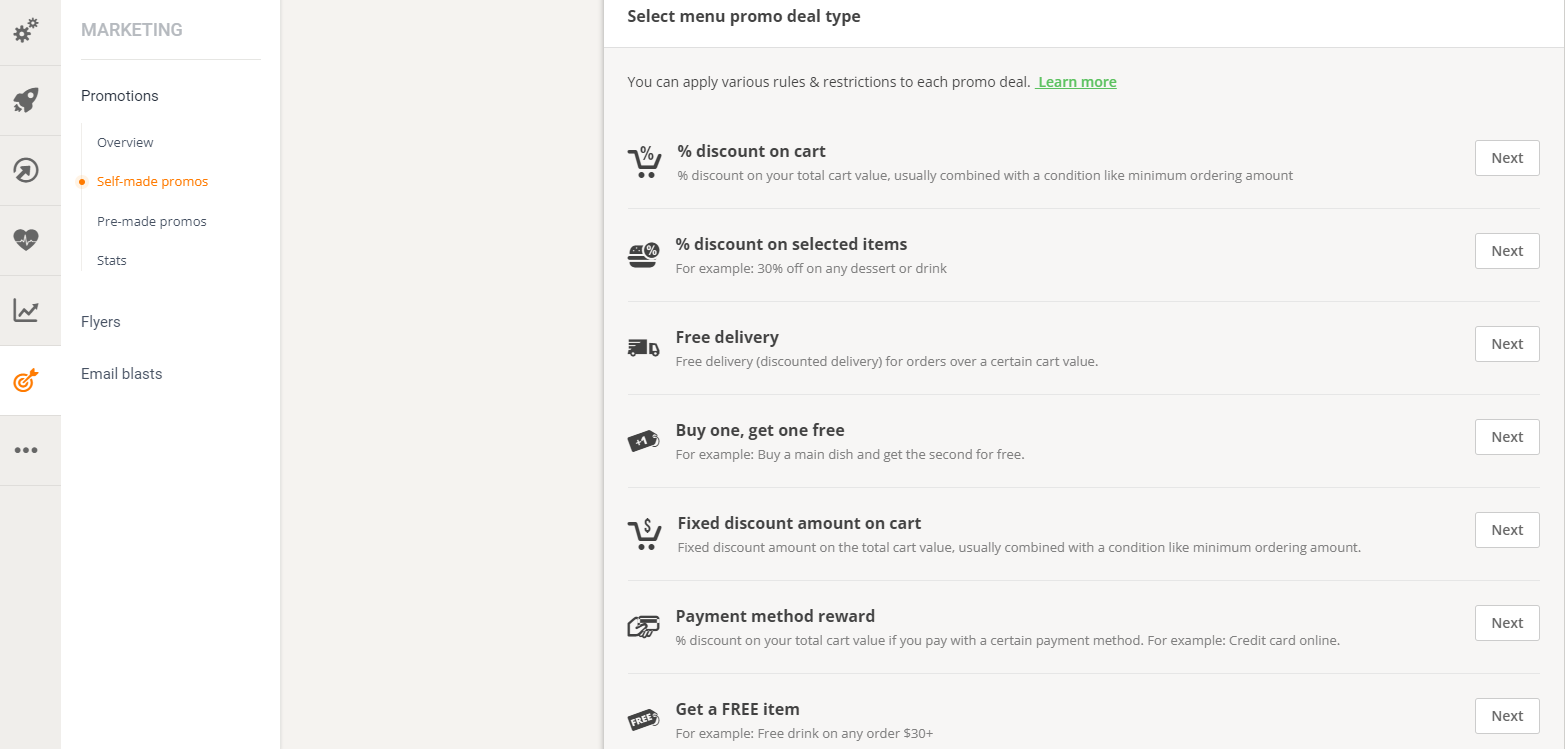 You can personalize the text, picture, and even the type of customer it is available for (new or returning). Include the link to the menu we spoke about before and a powerful Call to Action, such as "Get 30% off dessert today! Hurry, you don't want to miss out on our amazingly refreshing pavlova!".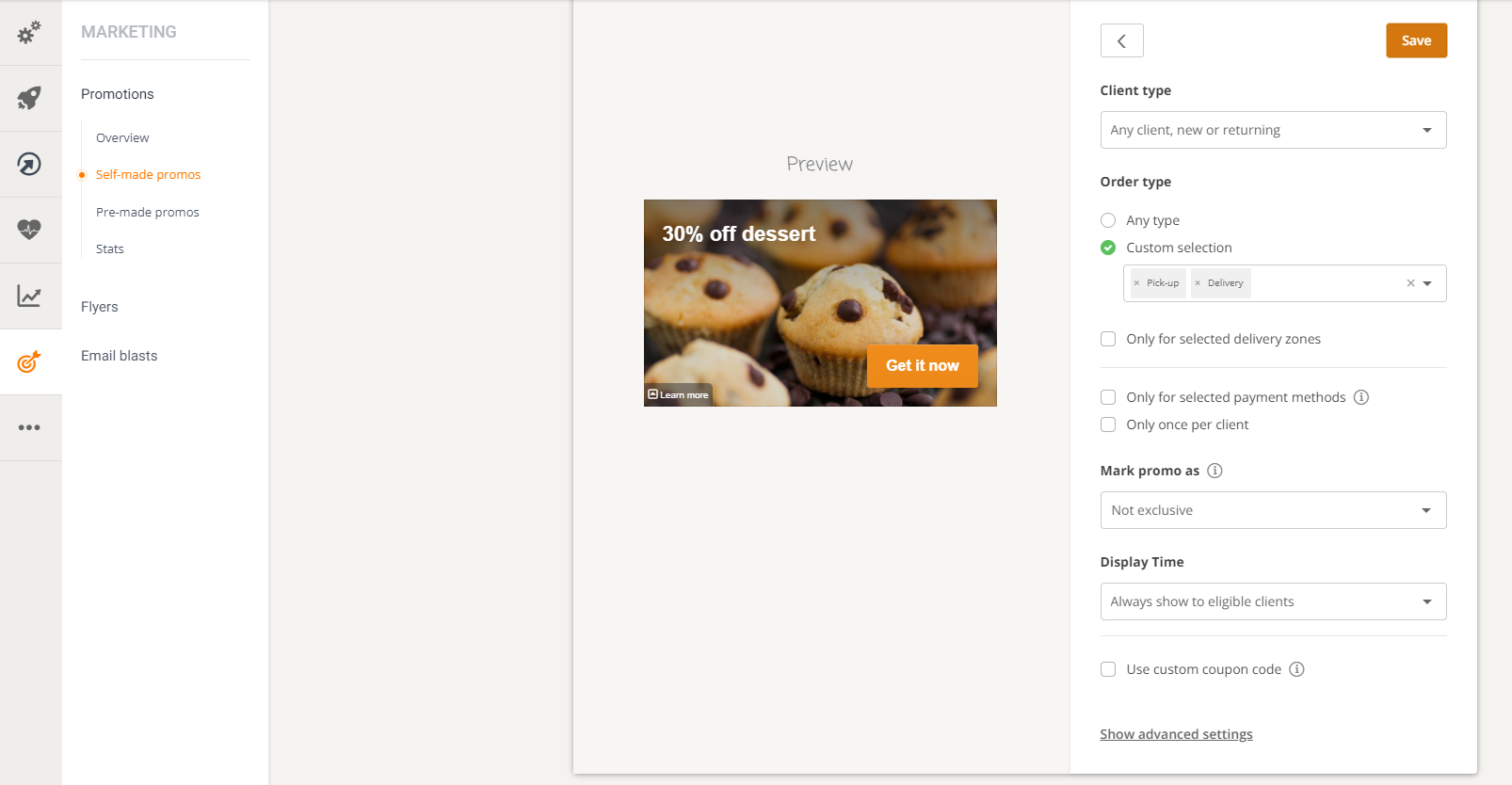 Day 6: Client testimonial
What is one of the first things you do when choosing a new restaurant? Look at other people's reviews, of course! Create an account on every review platform available in your area, like Google My Business, TripAdvisor, and Yelp, and encourage people to share their positive experiences.
This way, you will always have content for your restaurant social media content calendar. Client testimonials will portray your restaurant as trustworthy and attract new customers.
Day 7: Chef's recommendation
Who better to advertise your restaurant on social media than the person responsible for your delicious food? You can go for two types of content here:
Photo: take a photo with your chef holding the recommended dish. In the caption, have the chef say what makes this dish special: ingredients, mode of preparation, taste, etc.
Video: a short video of your chef talking about the dish's taste, ingredients, etc.
Day 8: Mouth-watering picture of a dish
The real reason anybody follows a restaurant page on social media is to see amazing food photos. So, give clients what they want and fill your restaurant's social media content calendar with pictures that will make anyone instantly hungry.
Consider hiring a professional photographer to get a large number of outstanding pictures of your food or make an effort to learn how to efficiently photograph restaurant menu items.
Day 9: Encourage online ordering
If you want your restaurant to succeed, you can't solely rely on your physical location to serve clients. You need to have an online ordering system to help you increase your revenue by selling to more customers.
Good news, we have the best free online ordering system just waiting for you. With just a few clicks, you can have it up and running by the end of the day! Afterward, let people know they can now enjoy your delicious food from the comfort of their own homes. Don't forget to include the direct link to the menu!
Day 10: Video of a menu item
Photos will always be a safe option, but one of the rising restaurant social media trends is video content. Here are a few video ideas you can try:
Position the menu item on a high table and take a 360 video of it;
If it's a dish with sauce, take a slow-motion video of a hand pouring the sauce on the menu item;
Have someone cut into the dish to show the flavorful interior.
Day 11: Candid shot of the restaurant atmosphere
Food is the main motive for choosing a restaurant, but it isn't the only one. People want a restaurant where they will feel good, admire the décor around them, and be treated with respect by the waiters.
Show them your restaurant's fun, relaxed, or calming atmosphere with candid shots. Think along the lines of: restaurant staff having a good time together and clients enjoying their food (no face visible unless agreed before).
Day 12: Food, food, food
There can never be enough pictures of your food in your restaurant social media content calendar. Encourage people to try your dishes by highlighting what makes them special in the caption. Is it a family recipe? Do you use local or hard-to-source ingredients? Is the food served extra fast?
Day 13: You guessed it, more food
You surely have a lot of interesting dishes on the menu, and it would be a pity not to showcase them online. Don't forget to also feature desserts and drinks in your restaurant's social media post. Everyone deserves a treat!
Day 14: Giveaway
Giveaways have two major benefits for your restaurant: they attract new clients and turn first-time customers into regulars. There's no set amount you must offer as a prize. You can go as low as a 50% voucher for a meal or as high as food covered for a party of 10.
Check out these ideas for restaurant competitions:
To increase your restaurant's visibility: have contestants like & share your post for a chance to win;
To get more loyal clients: have them answer a question or perform an act related to your food. For example, ask them what their favorite dish is from the menu or have them post a picture from the restaurant.
Conclusion
A restaurant social media content calendar is a great way to keep you accountable when posting on your social media page. Use our extensive example to get you started, adapt it to your audience, and sit back and enjoy the new stream of clients!