Menu Marketing Tips: How to Promote New Menu Items Online & Offline
By

Otilia Dobos

JUL 20, 2022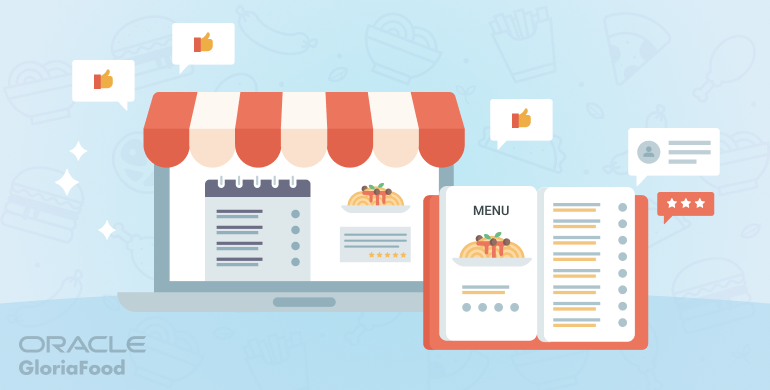 Would you like to refresh your restaurant's menu but need some inspiration for restaurant menu marketing? Look no further. We are here to help you gain knowledge on how to promote your restaurant menu, especially while launching new dishes.
In this article, you will find an easy-to-follow guide to menu marketing, taking into account both online and offline opportunities:
Online restaurant menu marketing
Most of your potential customers are online, so it makes sense that you also do a big part of your restaurant menu marketing there. Take advantage of all the platforms, be it your website, online ordering system, or social media, to get the word out about your new menu items. Learn how to do digital marketing for restaurants:
How to promote a new restaurant menu on your website
Regarding restaurant menu marketing, your website is the first place anyone will look for the menu. Help your clients and your business by making the menu button as visible as possible, using contrasting colors and easy-to-read font.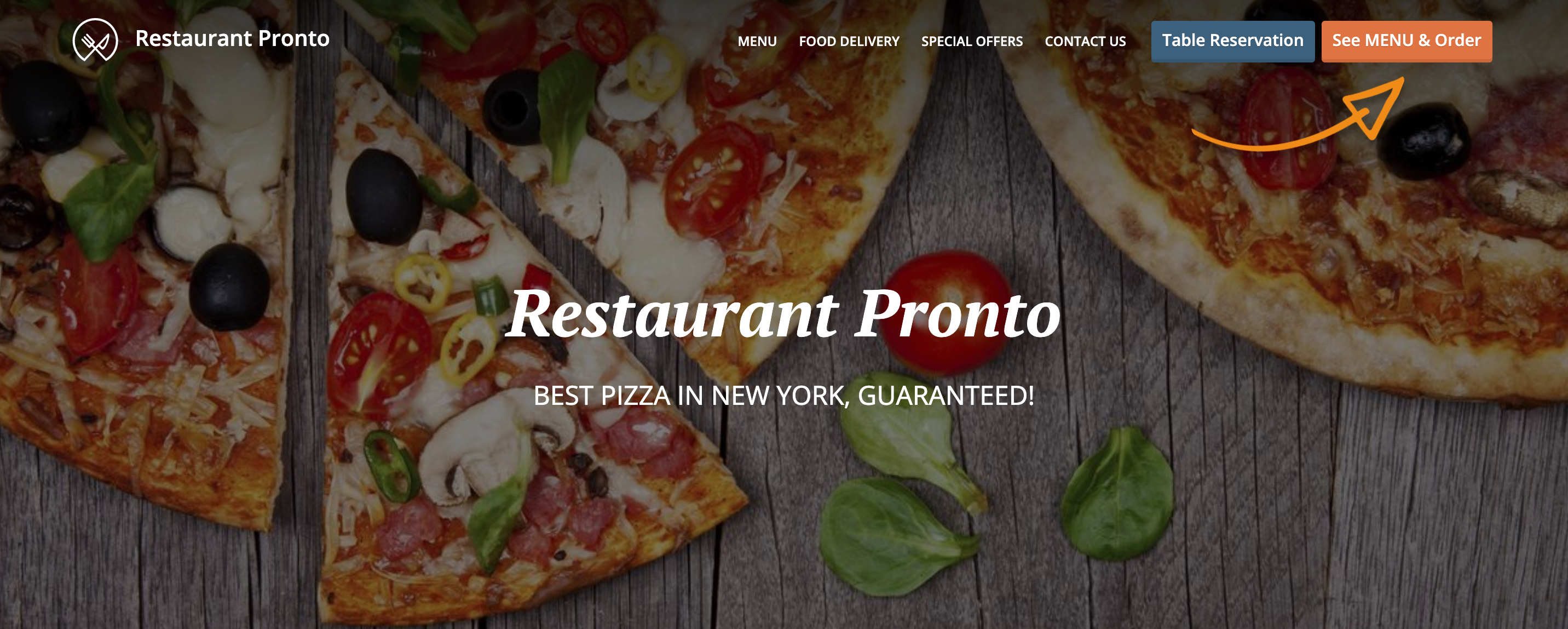 If you want to highlight a new menu item, you can do so by adding a section on your homepage. Make sure to include an attractive copy with a strong CTA to determine people to order the recommended dish.

With GloriaFood you can get a Sales Optimized Website that is easy to navigate and highly optimized for search engines so potential customers can easily find your restaurant. You can update the info section yourself at no additional cost, which is great for when you want to market new menu items.
How to promote a new restaurant menu for pickup and delivery
While many of your clients enjoy going out and eating at your restaurant, some may like to order your food from the comfort of their homes. You can easily make that happen by installing an online ordering system on your restaurant's website.
Learn more: 7 Reasons Why an In-House Online Ordering System is the Best Choice
GloriaFood is a free online ordering system that helps transform your website into a money-making machine. The platform is ideal for restaurant menu marketing, as it allows you to set up your own menu, making as many changes as you like.
Get a free online ordering menu for your restaurant website.
Promote your mouth-watering dishes for pickup and delivery
Get started
It is also the perfect place to promote your new menu items, as people are likelier to order if you draw their attention to something new and exciting.
Here's how easy it is to customize your own online menu with choices and add-ons:
Here are some ways you can encourage clients to try out your new menu items:
Label your newest menu items with "NEW" or "BEST OFFER";
Use promotions: a better price will incentivize people to try out new menu items. There are many types of promotions, but you must choose the ones you think will work the best for your audience.
Adding new items and categories to your online menu is easy and fast with GloriaFood. Let's say, for example, you have two new menu items, Pizza with shrimp and Pizza with anchovies. To add them at the top of the menu, you must go to your restaurant dashboard -> SETUP -> Menu setup & Receive orders -> Menu setup.

After adding all your new information, you can also click on Preview to see how it will look from the client's end.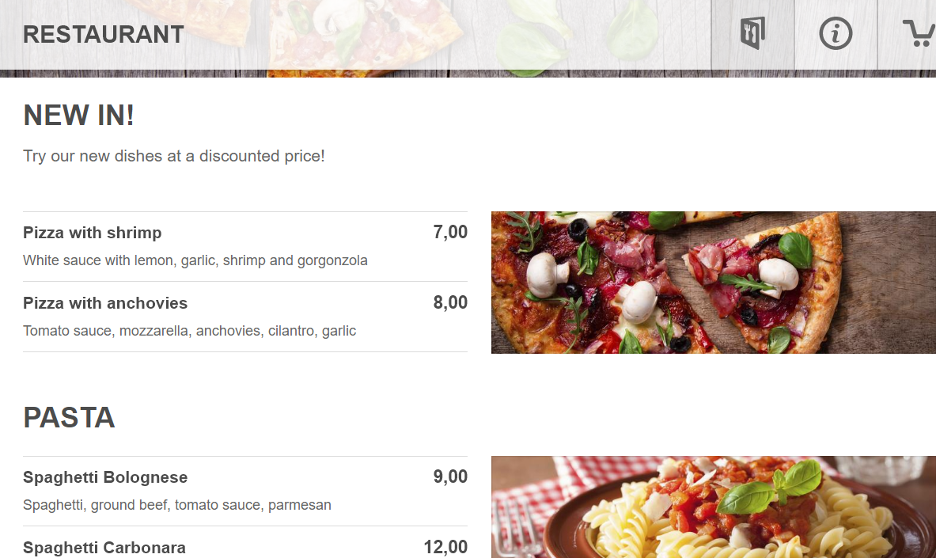 You can check out the video below to learn more about setting up and customizing your online menu with GloriaFood:
GloriaFood also offers a paid feature for advanced promo marketing that allows you to run multiple promos simultaneously and enables client segmentation and targeting for the best results.
These are some new item promotions that you can try as part of your restaurant meu marketing strategy, directly implemented in the system using our restaurant promotion templates:
Buy one, get one free: have more people try out your new items with this promo;
% discount on selected items: clients will be more likely to order it if it's cheaper;
Free delivery: no tax for delivery if they order the new menu item;
Free dish or discounted item as part of a meal: offer the new menu item for free for a set number of orders.
Read more: Restaurant promotions ideas to try
How to promote a new restaurant menu on social media
Harness the power of social media to promote your new delicious menu items! Come up with a series of posts meant to create hype and get people feeling enthusiastic about your new launch. Here are a couple of food promotion ideas you can try for your restaurant menu marketing:
Tease them: share posts announcing the launch, but don't let the secret out yet. Let people become curious;
Hire a photographer: get quality photos of the new menu items in different settings such as in the studio, at the restaurant, and with the chef. Aim for images that make your mouth water instantly;
Play guess the item: use your menu as a marketing tool! Share a picture of the new dish without description and have the audience guess what is on the plate. You can offer prizes for the first three people that guess right to motivate them;
Use Instagram stories: regular posts don't have a significant reach. Try announcing the new items on stories and save them as a highlight. You can also invest in sponsored posts to reach a bigger audience;
Host a contest: use the classic "like and share" contest to promote your new dish and offer an attractive prize such as an all-expenses-paid meal.
But how do you get potential clients from your social media to your menu? With just a simple click of a button!
If you choose to use the online ordering system provided by GloriaFood, you will get access to a smart link that you can use to post your menu to your restaurant's Facebook page.
Up your restaurant menu marketing game with Facebook ordering! This is what it would look like:

The process to setup this direct link is very simple. Our platform has intuitive navigation that guides you through all the necessary steps. To add the link, you must go to your restaurant dashboard -> SETUP -> Publishing -> Facebook and you will reach this screen: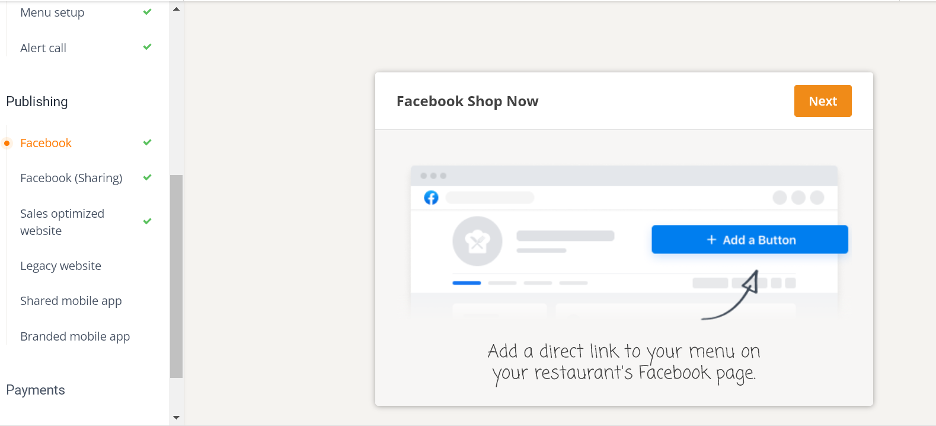 Go to Facebook, click on Add a Button, select Start Order and copy the link provided on our platform. You are all done!
When you promote your new menu items through regular posts on Facebook, you can also add a personalized link that takes clients directly to your menu. You can do that by accessing your restaurant dashboard -> SETUP -> Publishing -> Facebook (Sharing).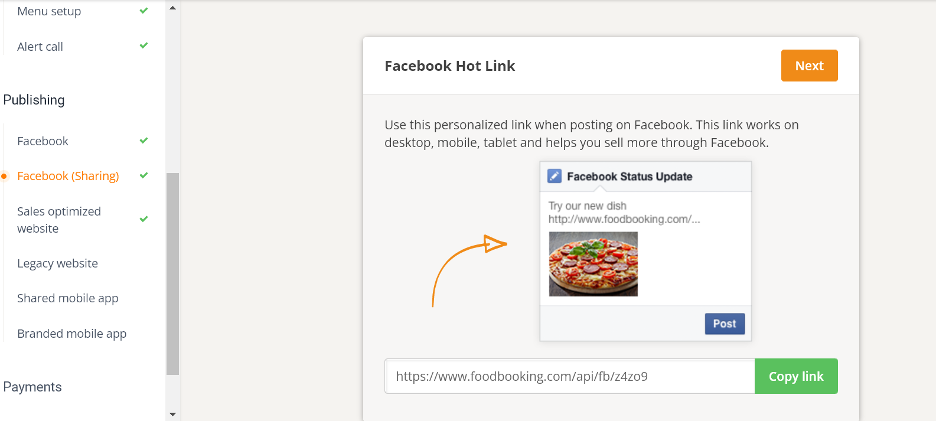 Another way to use social media for restaurant menu marketing is to contact influencers. These people have a big following that trusts their recommendations. You can find the perfect influencer for your menu marketing strategies by doing the following:
Set a budget: the maximum sum you want to spend on this will help you make a short-list of available influencers;
Choose the platform: you need to identify what platform your audience uses the most; as a general rule, Facebook is for the older generation, while younger people predominantly use Instagram and TikTok;
Search locally: you will have better restaurant menu marketing result with an influencer that is active in the exact location as your restaurant;
Check Instagram hashtags: try searching for #foodie #foodgram #foodblogger and the like and find posts from possible influencers;
Investigate the competition: what influencers have they collaborated with? They could also align with your values;
Search Google: type "food blogger" or "food influencer" followed by your city name to discover a sea of possibilities.
Read more: Restaurant Influencer Marketing Guide: How to Do It and Why
How to promote your new menu items in a newsletter
Integrating newsletters in your restaurant menu marketing strategy can help you build a loyal base of clients and share your news on a platform that most of us use daily. Here are some tips for the perfect newsletter to promote your new menu items:
Keep it simple: don't add too many graphic elements, you risk overpowering the text. Let the message be the star;
Mobile-first: a big part of menu marketing management is done with mobile in mind. Optimize the design for mobile users and always test the newsletter before sending it;
Match the color scheme: use the same color scheme for your website and newsletter to create a cohesive look that is easy to recognize. Don't forget to add the logo in a visible place, preferably in the left upper corner;
Link, link, link: the newsletter should link directly to your menu so customers can instantly order the promoted items.
Read more: 12 Restaurant Newsletter Ideas That Will Convert & Engage
Offline restaurant menu marketing
While most restaurant menu marketing is done online, there are still many ways to make your new menu items known offline. We are here to help you with easy-to-implement ideas that will prove successful for your business.
Read more: Back to Basics: 10 Offline Marketing Ideas for Restaurants
How to get a digital QR code menu for dine-in
If you still offer a paper menu, updating it every time you introduce a new item may be costly. Consider adding an insert with the same design as the menu that can be changed as often as you need, helping you save money on your restaurant menu marketing efforts.
Or even better, consider a QR-accessible menu that can be changed without any extra cost. Immediately after being seated, clients can scan the printed QR code on the table and access the menu in seconds. Safe and fast!
Allow customers to order your delicious food fast and safe
Install an online ordering system to your website for free
Start now
The Covid-19 pandemic made people more aware of safety measures. Therefore, a QR code menu becomes a natural solution, as clients don't have to hold the same menu other people touched.
Furthermore, a QR code menu benefits you because it ensures faster table turnover and allows waiters to concentrate on offering the best service possible.
With GloriaFood, it is very simple to get your own QR code menu that allows clients to order at the table. You can see the step-by-step instructions here:
How to organize food-themed events
Restaurant events can be used to build hype around certain dishes and create a loyal community that will predominantly choose your restaurant.
You can choose a theme that you know your audience likes or experiment with several different types to attract new customers. Here are some menu marketing event ideas you can try:
Private tasting: organize an exclusive event where you only invite influential people such as the press, food bloggers, and influencers. All the work will surely be worth it after everyone raves about your food on social media. You can also gather helpful advice on how to improve restaurant menu from them;
Single price tasting: create a menu for the event at a fixed price. People are more likely to make a reservation if they know exactly how much it costs in advance;
Holiday food party: holiday food is something we all love, so why not offer your customers the chance to enjoy a restaurant-grade holiday meal? You will need to invest in decorations and music too, but you will not regret it if you gain more clients;
Single dish event: organize a gathering that gravitates around a single type of dish. For example, if the dish is pizza, you can come up with a lot of variations such as seafood, rustic or chimichurri.
How to teach your employees to do restaurant menu marketing
Who better to promote your new menu items if not the employees that interact daily with clients and are often asked for food recommendations? Make them your restaurant's ambassadors with this simple advice:
Organize a tasting just for them: before launching the new menu items, organize a lovely evening where everybody gets to try the dishes and can find out about the ingredients and preparation directly from the chef. After seeing how tasty the food is, your employees can knowledgeably recommend it to clients and aid you in your restaurant menu marketing efforts;
Have monthly training sessions: you can bring in experts to teach your employees how to be the best at their job, how to sell certain items, and when is the right time to recommend a new dish.
Read more: How to Develop a Highly Effective Restaurant Training Manual
How to do menu marketing with limited-time offers
Promote the new menu items, both online and offline, as a limited-time offer to create FOMO (Fear of missing out). Suppose potential customers see a specific item is only available for a day, a week, or a time period. In that case, they will be more motivated to order it, so they don't lose the opportunity.
But how to promote a restaurant menu item with this type of offer? You can display unique restaurant promotions as advertisements in the restaurant, have your waiters recommend it, and, most importantly, promote it on your social media.
A few organic posts and maybe some sponsored posts about your limited offer will reach many people who can turn into clients.
Conclusion
Restaurant menu marketing is an essential part of your business as clients need to not only be aware of your new menu items, but also be incentivized to order them for your sales to skyrocket.
Consider both online and offline ideas for promoting new menu items and choose the ones that best fit your business profile.