The true restaurant website cost no-one will tell you about
By

Otilia Dobos

MAR 30, 2023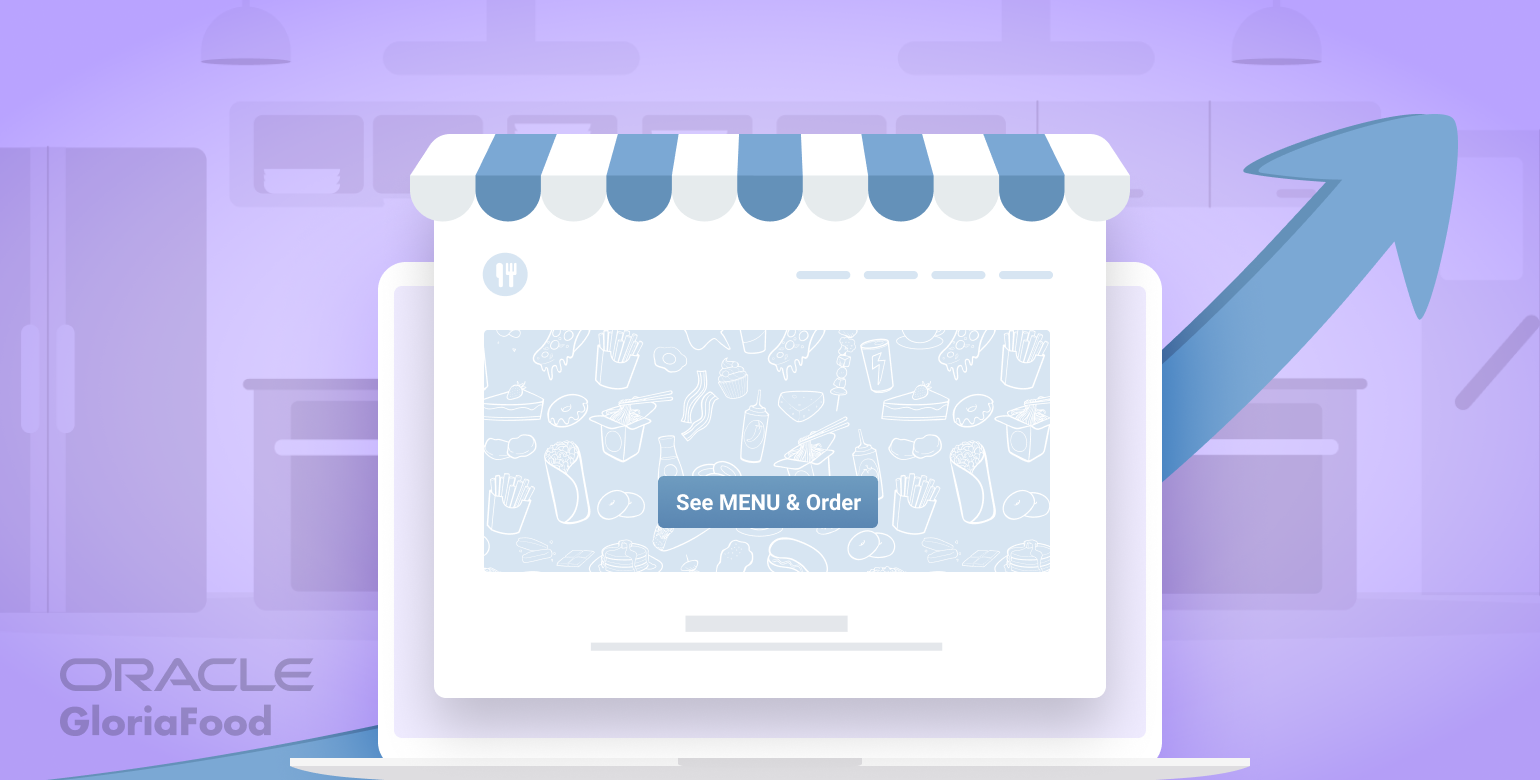 How much does a restaurant website cost:
Even if you've just opened a restaurant or have been running one for a while, you will eventually realize you must have a restaurant website. How else will clients know where to find you or what type of dishes you sell?
A restaurant website is the online representation of your restaurant and you need it to get more exposure and gain more customers. But once you identify the need, how do you go about getting one, and, most importantly what will it cost you to build one?
In this article, we will go into detail about the factors that make up the restaurant website cost and what pricing options you have:
Advantages of having a restaurant website
If you want to own a successful restaurant for many years to come, the answer is YES. Remember the business cards people used not so many years ago? Your restaurant website is just that, your online business card that gives people the information they want to know about your business.
In these technologized days, a small part of your clients come into your restaurant because they passed by it and liked the looks. Instead, most of your clients conduct a small research on restaurants around your area serving your type of cuisine, analyzing the website, menu, and ratings.
86% of diners stated that they check a restaurant's website before they decide where to eat, and 24% of clients declared that reviews are a big factor when choosing a restaurant.
Here are the benefits of having a website for your restaurant:
Increased online visibility that will attract new clients: a search engine-optimized website will help your restaurant rank high on Google, so clients can find it easily when they search for keywords related to your cuisine and location. For example: Neapolitan Pizza in Tribecca; Furthermore, an easy-to-browse and responsive design coupled with a great menu will turn visitors into paying customers;
Builds trust with potential clients: a professional site with all the important information within easy reach (address, contact info, menu) will let people know you pride yourself on quality;
Can be turned into a source of revenue: if you add an online ordering system to your website with a fast checkout process, you can start accepting orders directly from your website and increase your revenue.
How much does it cost to design a website for a restaurant? The Breakdown
Before you calculate a restaurant website cost, you must first know what is needed to build one. Therefore, in this chapter, we give you a breakdown of all the factors that can influence the price of a restaurant website.
Domain name, web hosting, and SSL certificate
These three are the basis, you can't create a restaurant website before you buy all of them. Here is why they are important and what you can expect to pay for them:
Domain name: is your address on the internet and must be bought from a domain registrar. You will have to check if the domain name you want to use is available. The price will vary according to the type of domain (more expensive for extensions such as .com and .net and less expensive for country-specific ones like .uk or .fr) and can be anywhere between $1 to $20/per year. Beware, the prices increase over time;
Web hosting: you buy the space you occupy on the internet with your restaurant website from a web host. The price will depend on the size of your site and the traffic you expect to get and can vary from $100 to $500 per year;
SSL certificate: protect your clients from data theft by adding an SSL certificate, especially if you deal with card and personal data. The average price is around $60/per year, but you can find certificates between $10 and $300, depending on how much protection you need.
Restaurant website design
To get a restaurant website that looks and works just like you envision, you need to work with a graphic designer and a developer for implementation. The restaurant website design cost is contingent on a series of factors, such as:
Page number: there are a lot of one-page restaurant templates that do the job, but if you want to go for a bigger website, be prepared to pay more for each added page;
Website layout: if you choose a customizable theme, the price will be substantially lower. But, if you want a designer to create a layout from 0, be prepared for a substantial investment;
Images & graphics: you can illustrate your restaurant website with pictures purchased from an image bank to save money, or you can have the designer create original content for a bigger price;
Logo: if you don't already have a logo for your restaurant, now is the time to get one. Don't skimp on it as it will be the image people will associate your business with from now on;
Revisions: agencies and freelancers usually offer up to five revisions included in their initial price. Any update needed after that will come at an additional cost.
With all the above costs factored in, the average cost for a restaurant website design is $10,000 and can be a lot higher depending on how many extra options you need.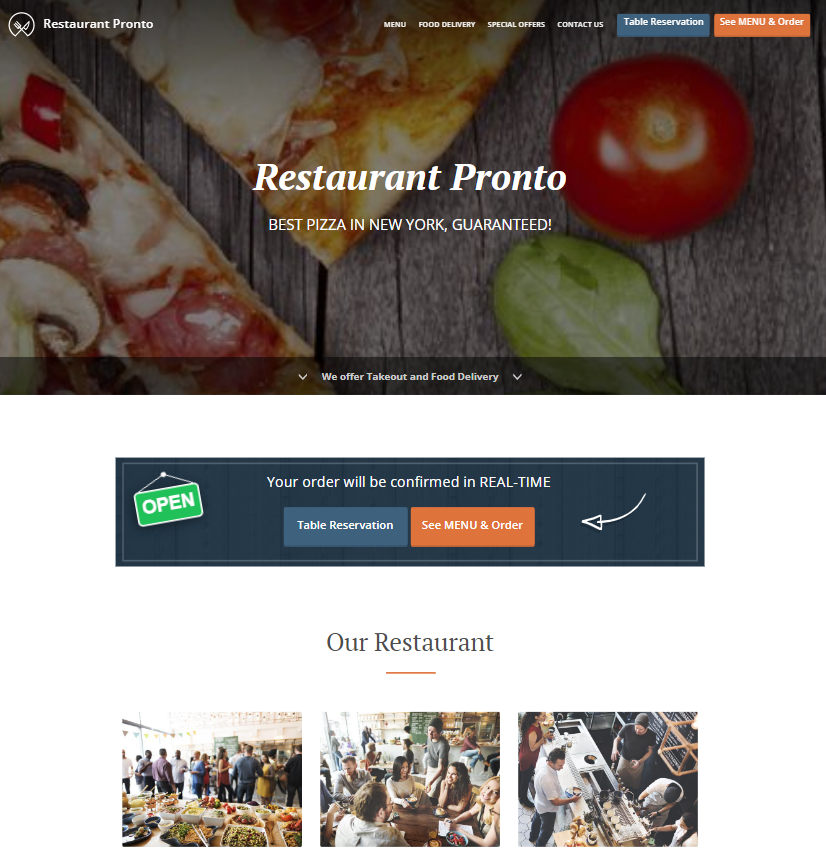 Restaurant website content
For this factor of the restaurant website cost, you will need an experienced content writer that can produce quality content that encourages visitors to become clients.
The content on your website must be easy to understand for anyone and must include countless calls to action to persuade people to visit or order from your restaurant. Expect to pay about $150 per website page.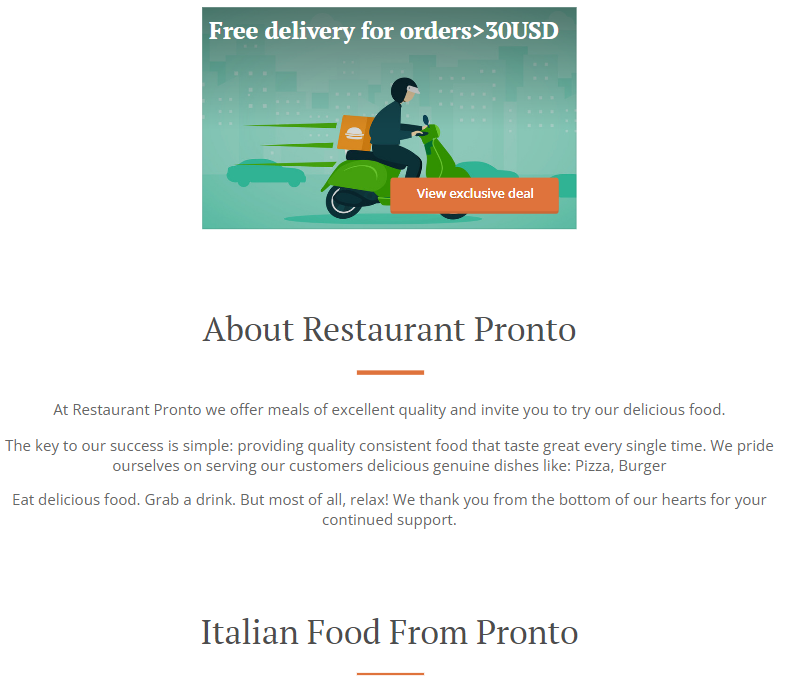 Search engine optimization
If you want to rank high in Google searches, so potential clients can find your website easily, you need a search-engine-optimized website. Visibility is currency nowadays, so you need to factor SEO experts in your restaurant website cost. They can help you optimize the website from the beginning with links, keywords, etc.
A popular rate per project can be anywhere from $2,500 to $5,000. You must be aware that SEO is always a never-ending job. Your website must be constantly updated, and link-building is a long-term strategy. Therefore, you may consider choosing to pay someone monthly with rates between $500 to $1000.
Integrations
A restaurant website isn't just for show, with the right integrations it can be transformed into a money-making machine. One of the most common ones is an online ordering system that allows clients to place orders directly on your website.
Depending on the features every system offers, the price varies from free to $700 per year.
If you want to save money on your restaurant website cost, we have the solution! The efficient online ordering system from GloriaFood is free, with no hidden fees or commissions. In just a few clicks, you can add it to your existing website (if you have one) by tonight and start increasing your revenue by accepting online orders.
The system is easy to use, both for you, and your clients. Customers place the order after browsing the responsive menu on your website and you accept the orders using the intuitive order-taking app, on any smart device.
Turn your restaurant website into a money-making machine
Install an online ordering system to your website for free
Start now
Furthermore, you also get access to a powerful marketing engine integrated into the system that will help you market your business. For example, a promotions module to add attractive offers to the menu and a reports module to monitor your online sales.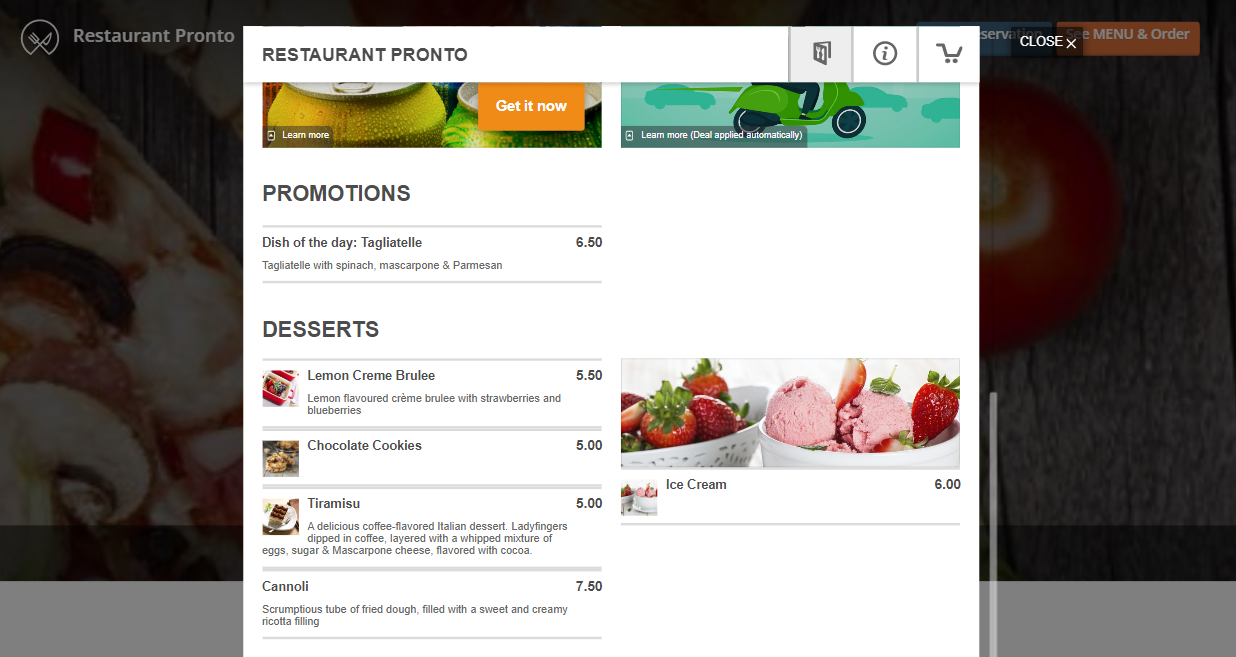 Maintenance
The restaurant website cost should also factor in what happens after the launch. You will need constant technical maintenance, a backup system in case of failure, error repairs, and security patches to protect you from hackers.
Therefore, you need an experienced website developer on retainer to help you when the need arises. A restaurant website maintenance plan can set you back between $40 to $300/per month.
The Options:
Now that you know a restaurant's online location is a necessity and what makes up the restaurant website cost, it is time to find out what your options are. What are the advantages, disadvantages, and prices of choosing an agency, doing it yourself, or using a restaurant website builder?
The expensive one: Hire an agency
The advantage of hiring an agency is they do all the work for you. You meet with a project manager, tell them what you need, and they will have a whole team working on your project. You can give feedback throughout the project to ensure the end result is to your liking.
The disadvantage is it is the most expensive option. The average restaurant website cost with an agency is around $5,000 to $10,000 but can be a lot higher depending on how big you want it, integrations, or other extra features.
Ensure you check other projects done by the agency to see if they produce quality content that fits your style. Most agencies will not have the prices available on their website, you will have to write to them and they will send you an offer.
The less expensive one: Do it yourself with freelancer help
If you have a lot of free time and are up for learning a variety of new things, such as coding, copywriting, and SEO, you can try to create a restaurant website yourself.
There are some website builders out there, such as Wix, WordPress, or Squarespace that can help you launch a simple website in a few days. The restaurant website cost can vary from $12 to $40/per month.
But, be aware, this is only a simple template, you will still have to hire some freelancers if you want to optimize your website for search engines, add engaging content, interesting photos or graphics, etc.
While it may be cheaper, the disadvantage is you will have to do a lot of work and the result may not be what you are hoping for.
The cheapest one: Choose a restaurant website builder
If you don't want to do all the work but still want to enjoy the benefits, your best choice is a restaurant website builder. It will only take you ten minutes to generate a website with the following features:
Increase your revenue with a sales-optimized restaurant website
Use the best restaurant website builder
Start now
How much does it cost to build restaurant website? You can get a sales-optimized website for just $9/per month, the same price you would pay for a pizza.
Click here to see a demo website built with our restaurant website builder. Check out this video to learn how to create a restaurant website in under 10 minutes:
Conclusion
When you are part of such a competitive industry, it is important to be informed about all the factors that make up the restaurant website cost, so you can make the best decision for your business.
We believe our restaurant website builder is the best solution that delivers a highly optimized website for a small price. Don't believe us? Try it for yourself!