Small chain restaurants: how to increase your online orders for all locations
By

Otilia Dobos

MAR 23, 2023(Updated: Nov 21, 2023)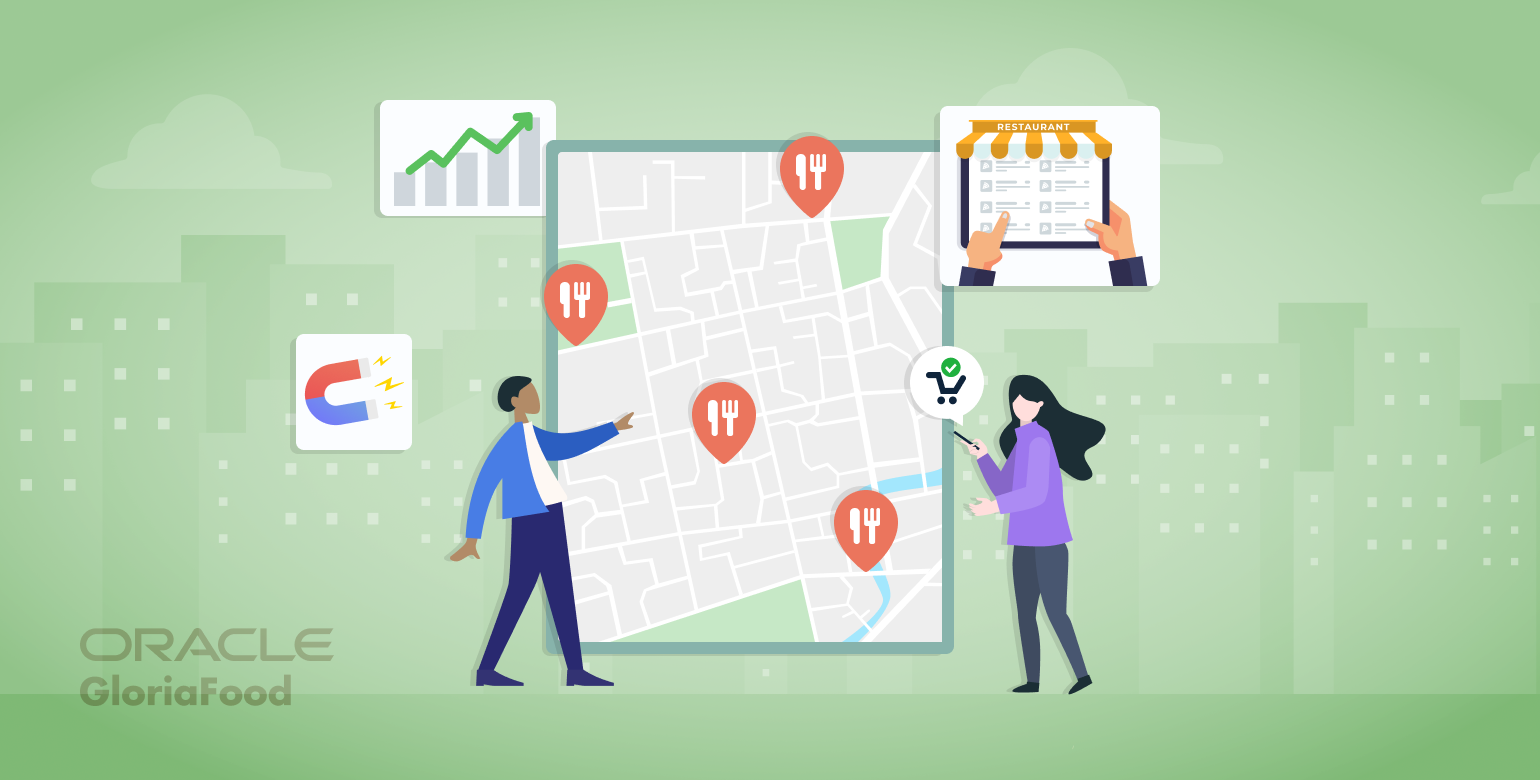 How can restaurants with multiple locations attract more online business:
Well done. You don't just own a successful restaurant, you have actually done so good you have expanded to multiple locations. Now you are faced with another big task: how to keep your small chain restaurant profitable?
Increasing sales in your locations is great, but it can only go so far as you are limited to a certain number of tables. But, if you sell your food online, you can serve a bigger number of clients and grow your revenue exponentially.
In this article, you will find solutions and tips & tricks to help your multi-location restaurant succeed:
Why using online ordering can increase your sales
What was the goal of extending past one restaurant? To sell more of your delicious food? This is exactly what focusing on online sales can help you achieve. Here are the benefits of expanding your restaurant business online:
How can GloriaFood help your multi-location restaurants succeed online
To successfully sell your restaurant food online, you need an easy and error-free way to do so. You can't be taking your orders over the phone. Imagine how many problems can arise: what if people order from the wrong location, what if there is no one to answer the phone, or what if the order is written down wrong?
Too many things can go wrong and can lead to bad restaurant reviews. And because reviews are the currency for all online businesses these days, you can't afford to get many negative ones, as it will deter potential customers from ordering from your place.
Therefore, you need an online ordering system that will streamline your order-taking process and make it easy for customers to order directly from your website or through social media.
No need to look further, we have the best solution for you: the GloriaFood online ordering system. You can set it up in minutes and start taking orders by the end of the day. Want to know the best part? It is free, with no hidden commissions or fees.
You can easily set it up for a multi-location restaurant and choose if you want the same menu available for all locations, or a different one for each space. To accept the orders placed after browsing the menu, all you have to do is tap a button on the order-taking app and provide an estimated time of arrival.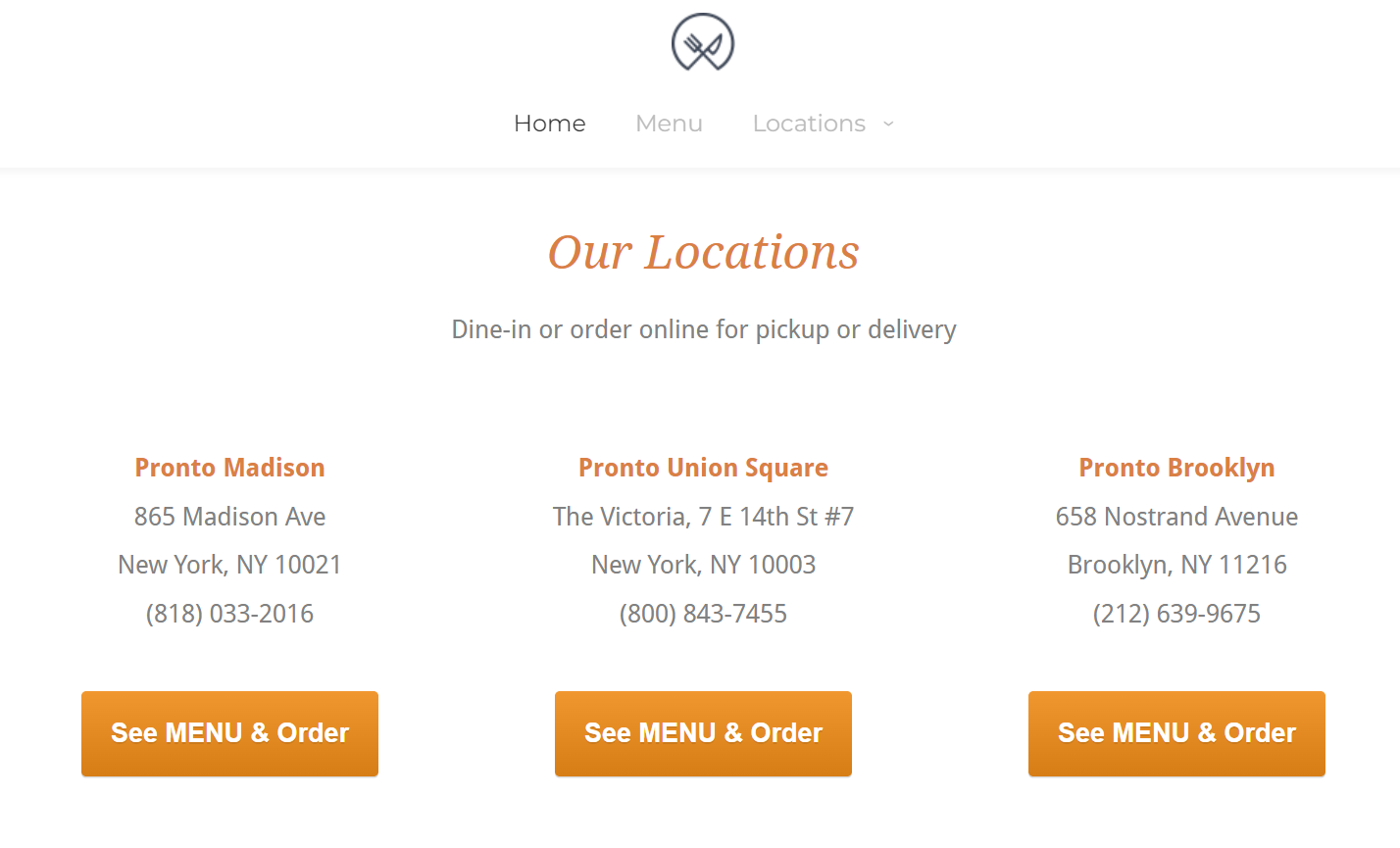 Every location of your multi-location restaurant needs to download the order-taking app on iOS or Android to manage their online orders.
Once you sign up on GloriaFood, you will see the online ordering system is equipped with a powerful marketing engine that helps you promote small chain restaurants.
Centralize your small chain restaurants management
Install a free online ordering system to your website & enable the multi-location dashboard
Start now
Here are some of the modules you will enjoy:
Promotions module: attract more clients and encourage them to buy more by implementing attractive promotions at the top of the menu;
Autopilot module: implement results-oriented SMS and e-mail campaigns to drive repeat business;
Reports module: monitor your restaurant's statistics so you can identify any problems and come up with solutions.
Step-by-step guide to growing small chain restaurants
We care about your success, and we want to be a part of it. Therefore, we've constructed this easy-to-follow guide that will lead you through all the steps of setting up an online ordering system for your small chain restaurant. Start now and you will see results in your online sales in no time.
Step 1: Sign up on GloriaFood
Create an account with us and fill in all the information in the Restaurant basics section, such as name & address, location, restaurant website (if you don't already have one, we can help you generate a sales-optimized site by tonight), and type of cuisine.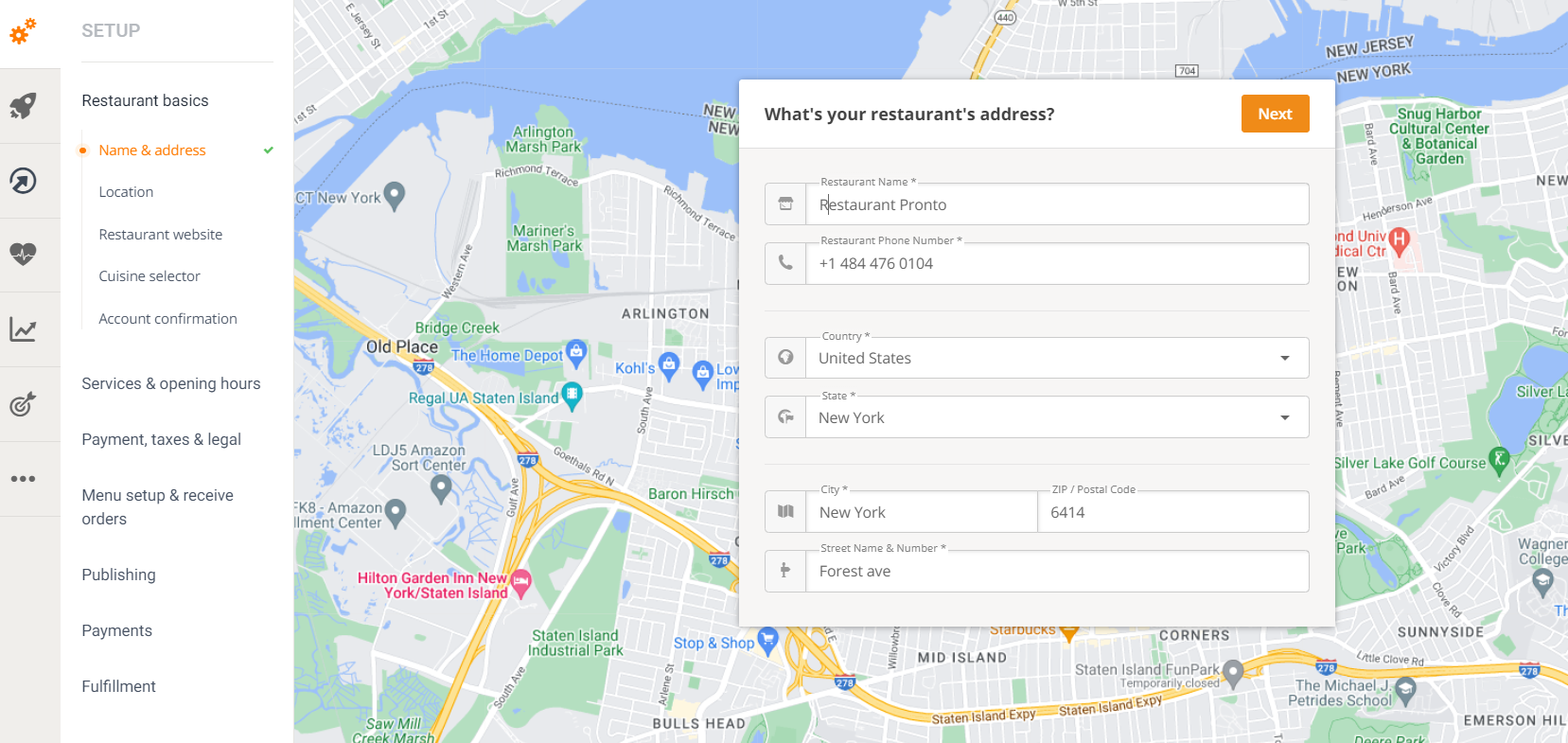 Step 2: Enable the multi-location dashboard
Right now, you have set the restaurant up for a single location. To manage your small chain restaurant, you must click on your restaurant's name in the top left corner and click on "Enable multi-location dashboard".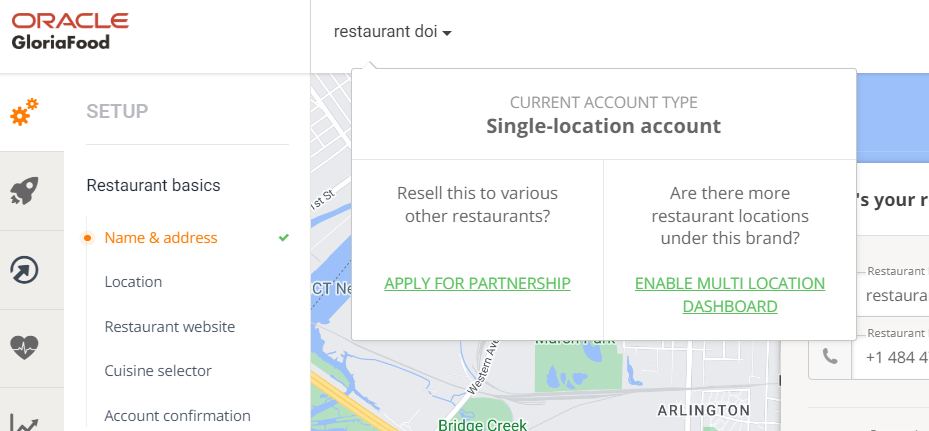 Afterward, a new screen will open up where you have to fill in your new location's information, like address, contact info, and preferred language.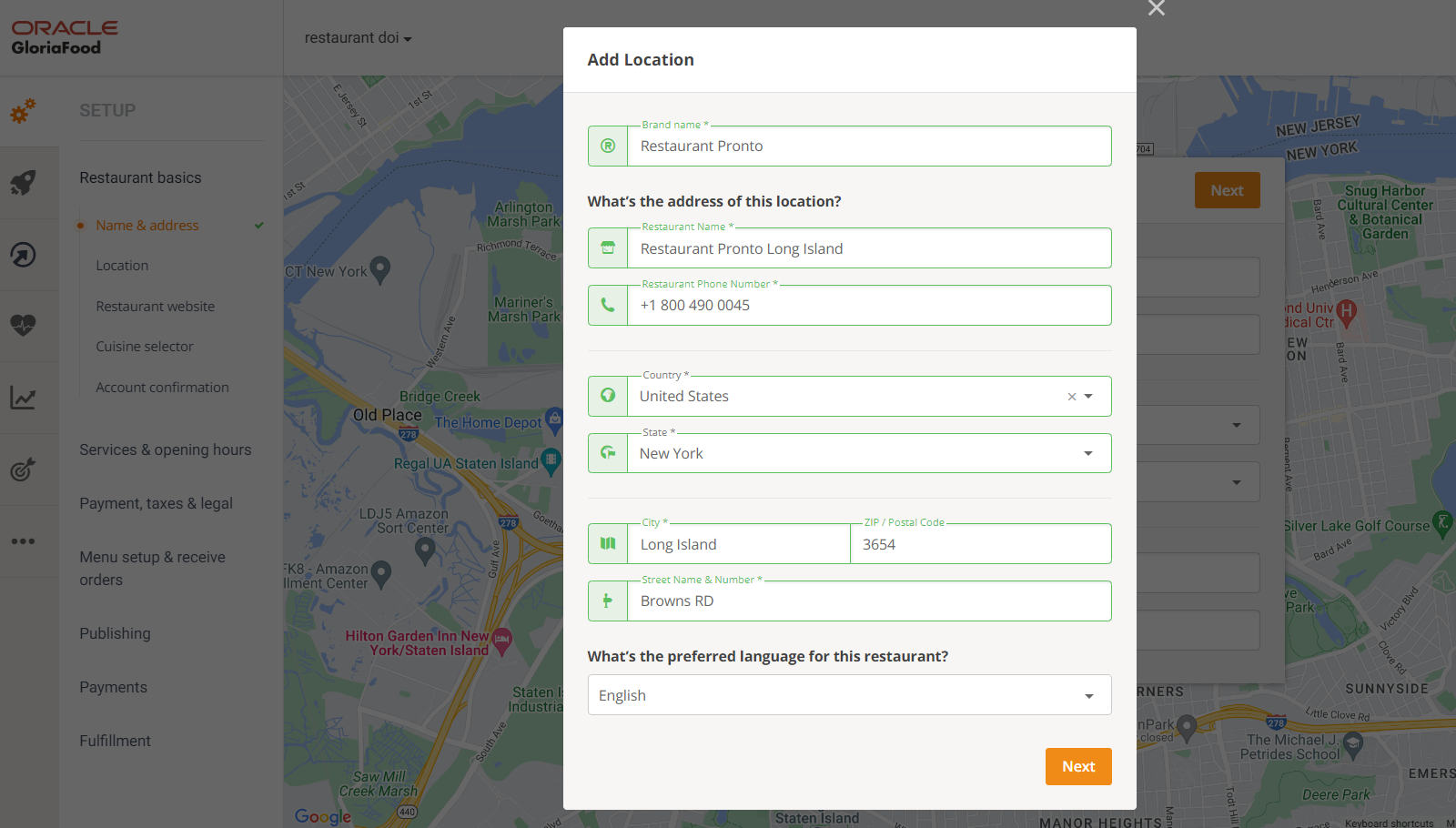 Click next to go to the next screen where you set up the information for the restaurant owner or manager for the new location.

Step 3: Create a menu for small chain restaurants
The menu is arguably the most important thing you can have on your restaurant's website. It is the spark that entices visitors to become clients. You must let go of old PDF format menus because they load slowly and they must be downloaded, leading potential clients to look elsewhere for food.
A restaurant menu with an incorporated online ordering systemis the best choice because it allows clients to easily browse the menu from any type of device. Once they decide what they want to eat, they just add the items to the cart, select delivery and payment options, and click order. Convenience at its finest!
This video teaches how to create a restaurant menu using mouth-watering photos and enticing descriptions:
Our online ordering system allows you to make any configuration regarding the menu for your small chain restaurant. You can have the same menu for all your locations, for only two of them, or a different menu for each location. It is all up to you.
Attract clients with the best menu for each of your restaurant locations
Easily create one or more restaurant menus with this online ordering system
Start now
You can even duplicate the menu and change the prices for one of your locations. Start by going to your multi-location dashboard -> Setup -> Menu -> Management.

Check out this video to learn more:
How to use GloriaFood features for multi-location restaurants
After you complete the previous steps, you get access to a new dashboard that you can use to manage all your locations at once to save time. When you go to Locations -> Services, you can add as many new locations as you please by clicking the "Add location" button.
You can also click on the "Manage services" button to add or cancel one of the following features: Sales optimized website, Online Payment, Promotions, Branded Mobile App, and Autopilot.

To achieve the best results and skyrocket the online sales for your small chain restaurant, we highly recommend you enable all these services.
Sales optimized website for small chain restaurants
If you don't have a website or you have an old one, you can upgrade to our sales-optimized website that you can generate in just 10 minutes. It comes already SEO-optimized so you have a bigger chance of reaching the first page on Google.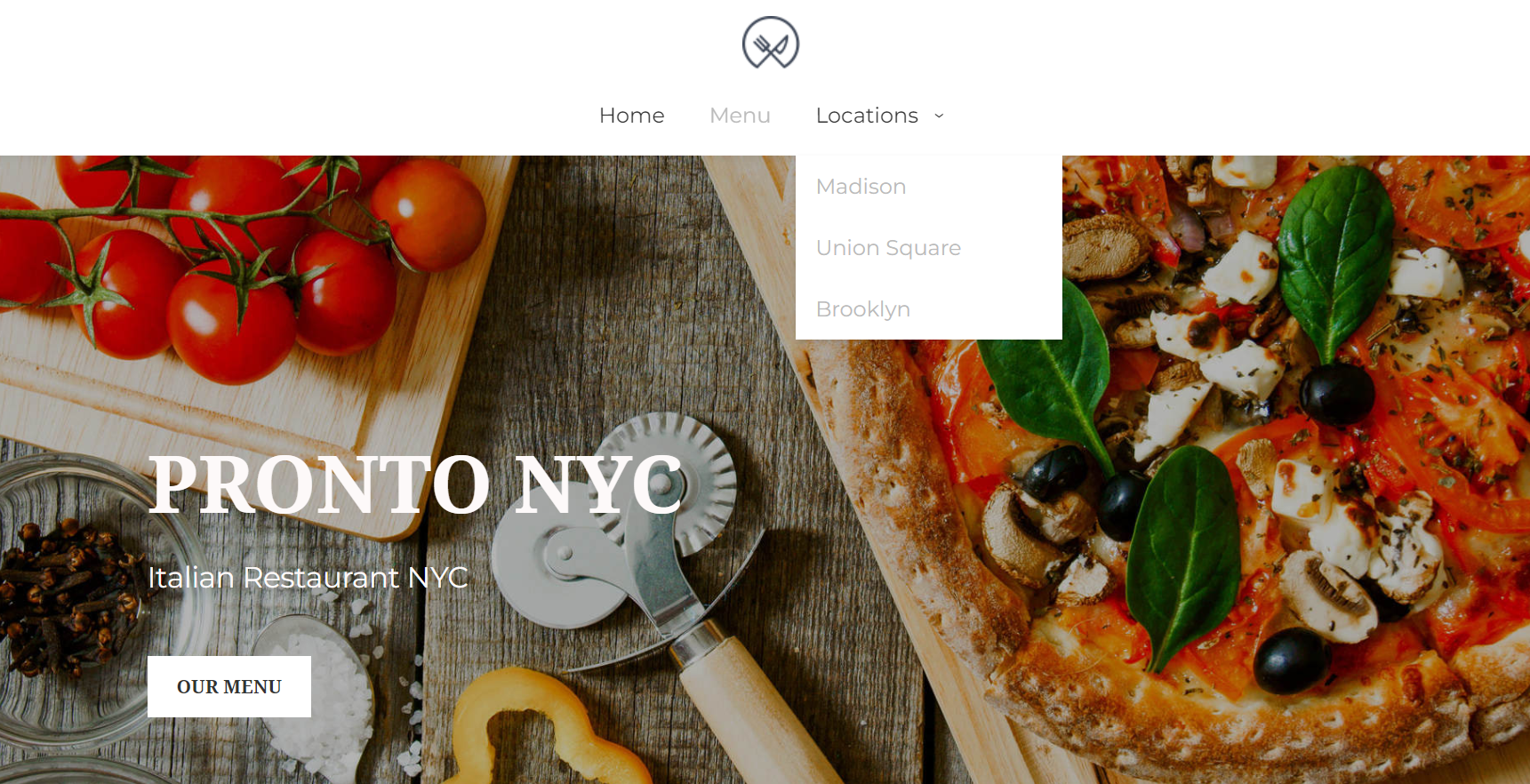 With an optimized website, potential clients will be able to find your restaurant faster and easier. Also, once they reach it, the creative design will lead them to all the important information, such as an address, contact, and, most importantly, your menu, so they can be converted to customers.
Check out this video to see detailed instructions on how to easily create a restaurant website:
Online payment for chain restaurants
In this day and age, people don't usually carry cash anymore as they are used to paying by card for every service. Therefore, if they can't pay online when they order from any of your small chain restaurants, they may start looking elsewhere.
Ensure you enable a variety of payment options, such as card, Apple Pay, Google Pay, and PayPal to appeal to a variety of clients.
Learn how to accept credit cards & other restaurant payment methods from this video:
Promotions for multi-locations restaurants
A great menu will attract clients, but promotions will entice them to click the Order button. You can easily add promotions that can either be available for all locations or only for specific ones. After you implement them in just a few clicks, they will be immediately available at the top of the online menu for maximum visibility.
What's more, you can personalize them, from updating the image and description to more advanced settings like how many times an offer can be redeemed and what type of customers can use the promotion (new or returning).
To get started setting up promotions, go to Marketing -> Promotions -> Group promotions and select one of our tried-and-tested promotion templates.

You can also create separate promotions for each location of your restaurant by going to each location's dashboard -> Marketing -> Promotions -> Self-made promos. Here is a video that shows you how to attract more customers by using restaurant promotions:
Autopilot for restaurants with multiple locations
There are only so many new clients that you can get to order from your small chain restaurant. To ensure your business's success, you must also focus on getting customers to order again and eventually turn them into loyal clients.
The Autopilot module focuses on sending SMS and e-mail campaigns to drive repeat business. You only have to set up the campaigns once and the system will do the work for you. What's more, Autopilot segments customers according to their purchasing history to deliver them relevant campaigns.
Check out this video for more details about the Autopilot module:
Conclusion
Owning small chain restaurants can be a challenge. But, with our online ordering system, you can ensure your online sales will continue to grow every month. Start by creating an account and setting up a multi-location menu, and don't forget to take advantage of the useful modules for promotions and marketing campaigns.