How to Invite Influencers to Your Restaurant for a Successful Collaboration
By

Otilia Dobos

SEP 23, 2022 (Updated: Apr 6, 2023)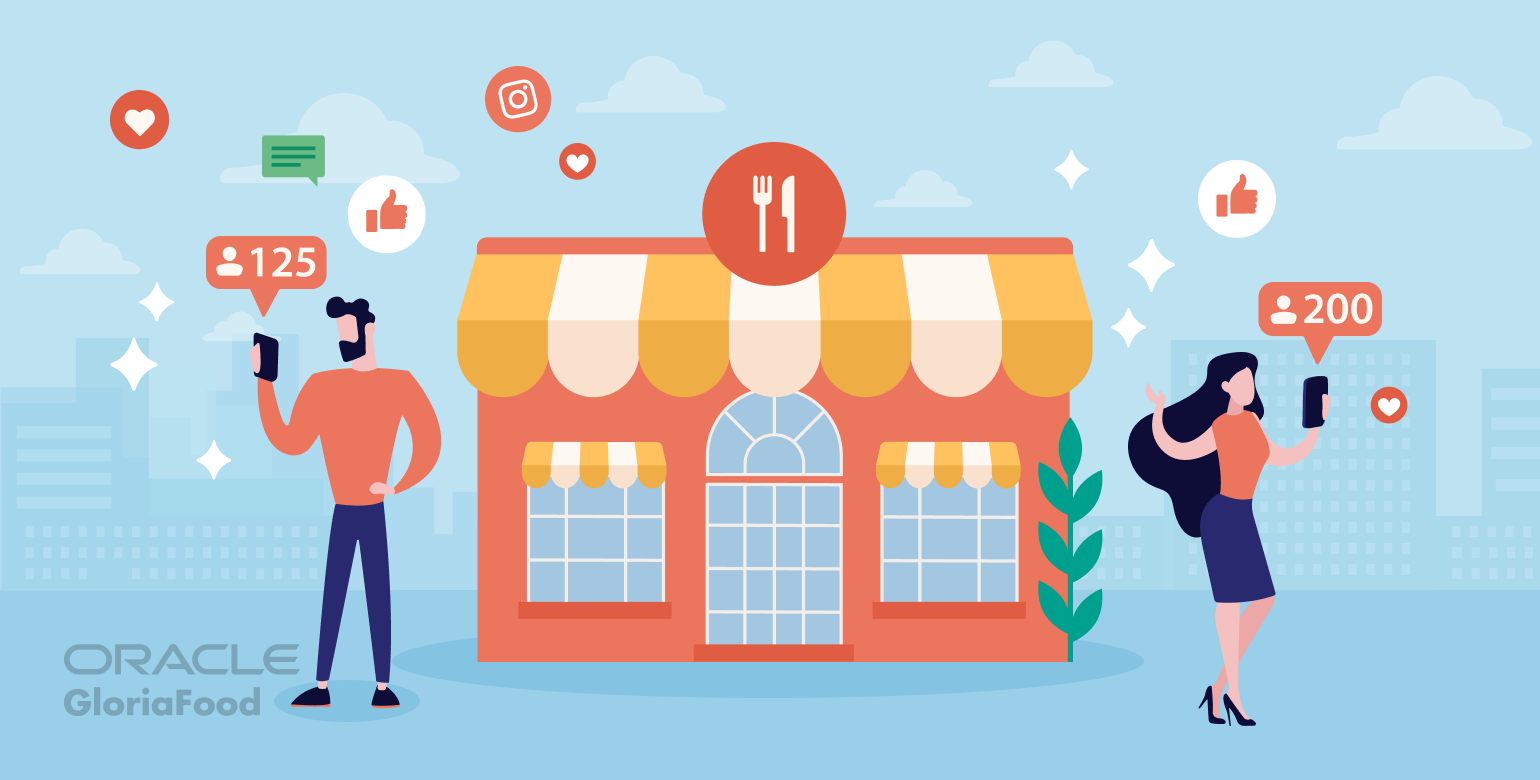 There is no denying it, you must have an effective social media strategy to run a successful restaurant. A great strategy should encompass a variety of ways to make your mark, such as creative organic posts with mouth-watering pictures, sponsored posts with compelling Calls to Action, and fruitful collaborations with food influencers.
In this article, you will find a comprehensive guide to working with influencers with relevant information such as how to find the right one for your business, how to invite influencers to your restaurant, and best practices when working with food influencers.
Creative restaurant marketing ideas: working with food influencers:
How can food influencers help your restaurant's marketing
Food influencers are content makers on social media with a big following who trust them and their recommendations. If they tell their audience a certain product is good or the food at a specific restaurant is delicious, their fans will likely check out the suggestions.
Here are the benefits you will enjoy if you collaborate with food influencers:
Reach a bigger audience
If you just launched your restaurant, not many people know of its existence. To get the boost you need for people to try out your delicious food, partner up with a like-minded influencer who will encourage their fans to become your clients.
Get credibility
People buy products and try experiences recommended by food influencers because they empathize with them and trust their opinion. When those influencers advise people to eat at your restaurant, that trust is automatically transferred to you.
Access new content
Content is king on social media, and content produced by an influencer with lots of followers can go a long way. You get to fill your social media calendar with posts created specially to promote your business and open your business up for new and interesting partnerships.
How to find the right influencers for your business
Before you learn how to invite influencers to your restaurant, you must know how to choose the perfect one for your business. Not every collaboration will help your restaurant grow.
For example, you can't choose a fashion influencer that only posts about clothes and never about food and expect people to actually convert from their page to yours.
These are the most common ways to find a food influencer for your restaurant:
Google Search: like any other time you are looking for information, type your interest in the Google Search Console. For example, try "food influencer [your location]" or "restaurant influencer [your location]".
Instagram hashtags: find restaurant influencers on Instagram by searching through relevant hashtags for your niches, such as #bestfoodin[yourlocation], #pizza[yourlocation], or #restaurant[yourlocation]. This will help you find both big and small influencers, depending on what you are targeting with your campaign;
Competitor research: how to find restaurant influencers fast? Check out the people your competition chose to work with to see if they align with your values;
Speaker lists from industry conferences: influencers often participate in industry conferences related to food and can even be directly contacted there;
After you find names proficient in the food influencing business, you need to narrow it down to the few that you completely resonate with. Check out these easy-to-follow tips:
Prioritize location: the closer the influencer is to your location, the more relevant the audience will be. If you have to choose between a bigger influencer that lives in the same country but in a different city and a smaller influencer from your own city, choose the one closest to you, as their fans are more likely to be in the same location;
Scroll through their entire feed: check out the type of content they post and how they interact with their followers to determine if you share the same values;
Check their sponsored posts: if you want to get an idea about the type of content they will create for you, analyze their other sponsored posts;
Do a quick Google search: this type of search will show you if they were involved in any type of scandal that you do not want to associate with.
How to invite influencers to your restaurant
Let's say you have done your due diligence, are past the where to find restaurant influencers stage and have your eye on some people you would like to collaborate with. Now comes the important part, how to invite influencers to your restaurant? What is the best way to contact them?
The truth is, it depends on the platform they are popular on and the type of collaboration you are after. Let's see the most common ways to reach a food influencer:
Instagram/Facebook private message
Before learning how to contact Instagram influencers for business, show interest in their content by following them and interacting with their posts through likes and comments. They may not immediately notice you if they have a big following, but it creates a precedent, so a proposal doesn't come out of the blue.
Contacting directly through social media messages is ideal if the influencer has a smaller audience and doesn't have any contact info available on their page. The message should be concise, easy to read, include the subject and invite further communication.
If you are wondering how to invite someone to your restaurant, here is a message example you could send to food influencers on Instagram:
Hello, Food Influencer,
I am a representative of Restaurant X and would love to collaborate with you! I love how creative and authentic your content is, and I believe we share the same values. How you engage with your followers inspires me to be more active on Instagram.
Here at Restaurant X, we provide soul food and showcase quality ingredients that are often forgotten in this fast-paced world. I would like to invite you to try our delicious food and discuss a partnership that would be mutually beneficial.
If you are interested, please contact me at xxxxxx@restaurantx.com or by phone at +1 234-567-8900.
Have a grand day!
Read more: Instagram for Restaurants: How to Successfully Promote Your Business
Food blogger collaboration email sample
Most food influencers that are open for collaboration have their email visible in their contact info or bio, so they can be easily reached by brands or restaurants. Contacting a food blogger by email is the way to go when you want to establish a fruitful partnership.
How to invite food bloggers to your restaurant? Check out this sample email you can personalize and send out to food influencers:
Hey, Food Influencer,
My name is [Insert name], and I am writing to you on behalf of [Insert Restaurant Name]. I have followed your activity on Instagram for a while, and I enjoy [ Insert identified assets, such as quality photos, constant and real content, or positive attitude].
[Insert Restaurant Name] is a [Insert your type of cuisine], and we stand for [Describe your values, goals, other things you want to advertise].
I would like to propose a collaboration that consists of [Insert type of collaboration you are after with a few details].
I hope to hear from you soon to discuss further details.
Have a magnificent day!
Make sure to add a descriptive title such as "Collaboration with Restaurant X", so they know what to expect when they open the email.
Sample invitation letter to food bloggers
Sometimes, you are not looking for a collaboration with a certain influencer, but you want to build hype around your restaurant with an event. For this purpose, you need to create a letter that will be sent by email or actual mail that will act as the invitation that guarantees them entry.
You can have fun with it and make it as light or as professional as you would like, depending on the type of event you are organizing. Here is a sample idea for how to invite influencers to your event, so you can personalize it to your needs:
Good Day, [Insert influencer name]
[Insert Restaurant name] has the pleasure of inviting you to a soiree that will change your perception of food. We are launching our new fall season menu in style and want you to be the first to taste it!
Come enjoy an exquisite tasting experience provided by [Insert Chef's name] accompanied only by the finest drinks in existence.
This invitation grants you and a partner access to this exclusive event by scanning the QR code attached.
We eagerly await to share our newest menu items with a true connoisseur!
Invitation letter for restaurant opening
A restaurant opening is arguably the most important event your business can celebrate. The way this first event is perceived will affect your restaurant's wellbeing, so it is important to have a lot of relevant guests to promote your launch.
There are plenty of great grand opening ideas that go a long way to generate brand hype, but if the right guests aren't there, you won't receive the marketing push you'll need.
The invitation should be in tone with your restaurant's persona. For example, if you have a fine-dining establishment, go for a luxury, professional launch and if you have a more family-oriented place, extend the invitation to the guest's family members.
Here is an invitation example you can send to restaurant influencers:
Dear [Insert influencer name],
Are you ready to have fun with your whole family? Because we, at [Insert Restaurant name] are ready to offer you a day to remember. Join us on our launch day to celebrate tasty, natural food, fit for every member of your tribe!
Scan the QR code to get more information and accept the invitation.
See you soon!
4 strategies for acing restaurant influencer marketing
There is no right way to collaborate with restaurant influencers. There are many possibilities, and you can mix and match to achieve the desired goal. When deciding how to invite influencers to your restaurant, clearly communicate the type of partnership you are after.
Food reviews
If you don't have a big budget for marketing, you can try asking food influencers if they would review your food in exchange for a comped meal or a gift card. Word-of-mouth is still extremely important for a restaurant business, so a positive review from a knowledgeable person will attract more clients.
Beware, as it is a barter arrangement, not a paid one, most food influencers will post an honest review. Therefore, you need to ensure they have the experience of a lifetime when they visit your restaurant or order online.
Make their online ordering as seamless as possible with the online ordering system from GloriaFood. Easily create an attractive menu with pictures you can't say no to and publish it on your website for easy access.
Create a seamless online ordering experience for influencers and their followers
Install an online ordering system to your website for free
Start now
After food influencers see how simple it is to order with an intuitive menu and how delicious the food you prepared for them is, they won't have any other choice but to leave a positive review.
Content creation
Most restaurants prefer to partner up with food influencers to create content that represents both of them.
After you present your restaurant and food to the influencer, you can either give them a free hand to create a post and check it at the end or work together to figure out how you would like the post, video, or story to look.
To have them create content specifically for your restaurant, you will have to pay, and the sum depends on the influencer's notoriety. What's more, the influencer is obliged to add the "sponsored" tag to any post that has been paid, even if they love the food.
Ambassador role
A food influencer collaboration doesn't have to be short-term, consisting of a few posts and then forgetting about each other. If you find an influencer that likes the same things you do and shares similar values, you can make them your ambassador.
This way, they will constantly promote your partnership and send people your way. A single post may reach a big audience and convert a few people, but imagine what constant content promoting your business by an authority in your industry can do.
Influencer events
If you want to get people interested in your restaurant, organizing a big event where food influencers are the guests of honor is the way to go.
You will have to invest quite a bit of money in paying for their whole experience, but you will get a lot of content in return as they will document every part of the event.
You can use influencer events to promote new menu items, whole new menus, new locations, or any other occasion where you can splurge for advertisement.
Read more: Menu Marketing Tips: How to Promote New Menu Items Online & Offline
Best practices for working with food influencers
Food influencers are a new addition to the marketing game as they only started gaining popularity with the invention of social media. But their usefulness for promoting a restaurant business cannot be denied, so we are here to help with a few more tips for a successful collaboration:
Send a follow-up email or private message: food influencers receive many messages daily, so some may get lost. It is no problem to send a new friendly message inquiring about the arrival of the first;
Pay them on time: influencers promote you to their audience, but they can just as easily leave a negative review. Make sure you have a solid contract and pay them what they are owed;
Get creative: an influencer can help you promote more than your food; they can tell your restaurant's story and help their public bond with your business. Be open to new types of content;
Monitor the collaboration: at the end of the partnership, you should have a clear view of how many people they reached with their content and how many converted to clients.
How to monitor the results of influencer marketing for restaurants
To ensure your efforts in searching and working with influencers for restaurants will help your business grow, keep watch on the results. Here are a few pointers:
Check the number of likes, shares, comments: and compare it to other posts by the same influencer to see how yours is performing;
Track the competition participants: if you organized a giveaway or another type of contest with the influencer, check how many people participated in it;
Use a UTM link: when you ask the influencer to link to your menu or website, provide them with a UTM (Urchin Tracking Module) link, so you can track how many people click it and order.
Conclusion
How to invite influencers to your restaurant shouldn't be a secret to you anymore.
After you carefully do your research and choose a food influencer that shares your values and is relevant to your location, send them a message through the most available form of communication and reap the benefits. Collaborate to choose the best strategy that is mutually beneficial to promote your restaurant successfully.