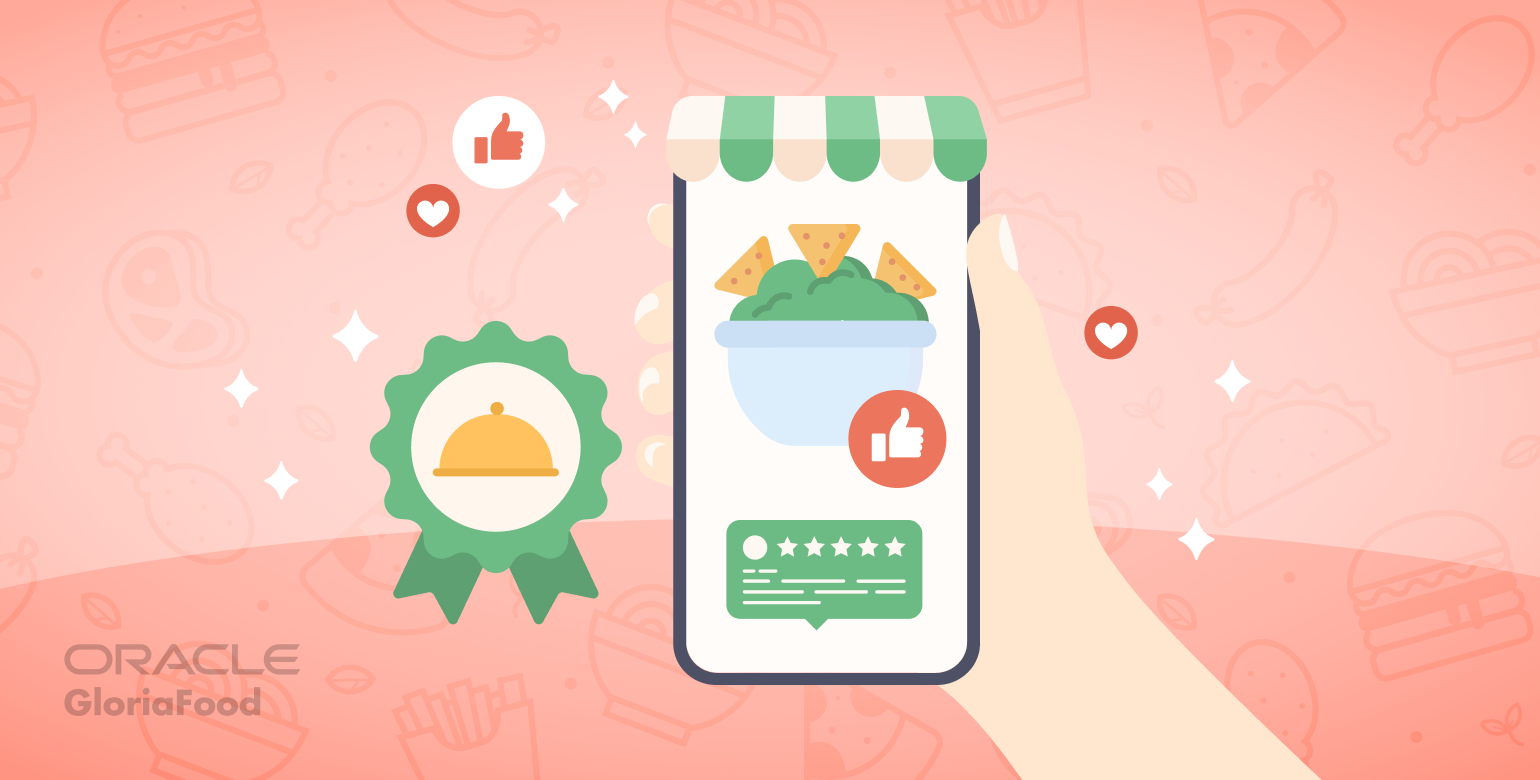 Delivery orders increased by 142% from 2020 to 2021 in the US alone, indicating the customers' preference to order food online. If you don't offer clients the option to order your delicious dishes, you are losing a lot of revenue.
But how you implement online ordering for your restaurant also matters, as it will greatly affect customer satisfaction. And, in this digital age, every unhappy client can write a review that will convince potential customers to avoid your business in the future.
Therefore, to run a successful restaurant online, you must concentrate on increasing your restaurant's customer satisfaction.
In this article, you will find out the importance of customer satisfaction in the restaurant industry, how to measure and increase it.
How to measure customer satisfaction in restaurant
To measure restaurant customer satisfaction, you need two things: a restaurant KPI (Key performance indicator) and an appropriate customer survey. Let's talk about the three most used customer satisfaction KPIs.
Customer Satisfaction Score (CSAT)
The customer satisfaction score is a restaurant KPI that measures the client's satisfaction at a specific moment, as their feelings can change with time. Therefore, restaurants usually measure this KPI on the day of the order.
The question on the customer satisfaction survey form for the restaurant should be "How satisfied are you with your experience at the X restaurant?". You can measure it using a scale from "Bad" to "Amazing", emojis, or, in the simplest of way, from 1 to 10.
If 1 is a bad experience that you would avoid in the future and 10 is an excellent one, you can use this formula to calculate the CSAT:
CSAT = Total score / Number of participants
Customer Effort Score (CES)
Customer Effort Score is usually measured when a client encounters a problem with your restaurant. Let's say they receive an incomplete order, and they call you up to solve the issue. After this interaction, you may want to know if they were satisfied with your solution.
You can do so by sending over a survey that includes any of these questions:
How hard did you have to work to get your problem solved? The answers provided are usually "Easy", "Medium", and "Difficult." To calculate the CES, use this formula (the higher the score, the better): CES = Percentage of "Easy" respondents – Percentage of "Difficult" respondents

On a scale of 1 to 5, how much effort did you put in to solve the issue? Where 1 is low effort and 5 is high effort, and the formula to calculate it is (the lower the score, the better): CES = Total score / Number of participants
Read more: 25 Restaurant Survey Questions to Help You Gain Valuable Insight
Net Promoter Score (NPS)
The Net Promoter Score KPI determines if your customers are happy enough to recommend your restaurant to their friends and acquaintances or if they are dissatisfied and will encourage others to avoid your business.
Start by including the question "How likely are you to recommend our restaurant to a friend or colleague?" and use a scale from 0 to 10 to let them answer. Afterward, calculate the numbers of "Promoters", "Passives", and "Detractors:"
Promoters: people that chose 9 or 10;
Passives: people that scored 7 or 8;
Detractors: people that chose a number from 0 to 6.
Net Promoter Score = Percentage of "Promoters" – Percentage of "Detractors"
You should aim to have a score close to 100, the maximum.
Restaurant customer satisfaction survey examples
It is a best practice to send the client a survey either immediately after their food order or in the same week because they will forget how they felt about your restaurant the longer you wait.
You can start the restaurant customer satisfaction survey with the questions for CSAT and NPS and add some specific queries that interest you.
Here is a customer satisfaction survey example:
How satisfied are you with your experience at the X restaurant?
How likely are you to recommend our restaurant to a friend or colleague?
Would you like to see lunch promotions from us?
Was our recyclable packaging to your liking?
Would you like to see more dessert options at our restaurant?
Remember, keep it short and sweet if you want people to answer. Nobody has time for a survey that takes longer than 5 minutes!
How to ensure online customer satisfaction at a restaurant
Ensuring online customer satisfaction in a restaurant always starts with a great ordering experience. Clients should find ordering food from your restaurant extremely easy, so they keep returning for great service. Furthermore, we have prepared a few tips and tricks to make sure your customers will only have good things to say about your business.
Offer a seamless online ordering experience
To create a satisfying customer journey, you need the efficient online ordering system from GloriaFood. Not only is it free, but easy and fast to install. You will be ready to take orders through your website in just a few steps.
Increase your restaurant customer satisfaction
Install an online ordering system to your website for free
Start now
Learn how to get started:
Create an account on GloriaFood.com;
Fill in the required information (restaurant name, location, working hours, etc.);
Create an enticing menu with mouth-watering pictures and long descriptions;
Publish the "See MENU & Order" button on your website;
Watch this video to learn more about how to set up your online ordering system account:
Read more: Why you need to have a restaurant with online ordering [Plus a HOW-TO blueprint]
Create a small takeaway menu
Clients view a small menu as indicative of high-quality food. If you have fewer menu items, you can focus on perfecting them and not struggle to simultaneously prepare five different types of cuisine.
Furthermore, if your menu is small, clients don't have to spend much time deciding, they can choose a menu item in less than five minutes.
You can create an attractive menu in no time with the online ordering system from GloriaFood. Go to admin -> Setup -> Menu setup & Receive orders -> Menu setup and discover how easy it is to set up an intuitive menu with instructional videos.

Click here to preview a fast-loading menu that will increase restaurant customer satisfaction. You can learn more about adding menu items and choosing hunger-inducing photos from this video:
Read more: How to Build a Restaurant Menu That Will Skyrocket Your Online Sales
Offer allergy-safe menu items
Almost 32 million Americans suffer from food allergies, some of the most common allergy-inducing ingredients being shellfish, milk, peanut, egg, wheat, and soy. On top of that, many people choose a vegan or gluten-free diet.
To increase restaurant customer satisfaction among people with specific food preferences and allergies, you must cater some menu items to their needs and specify them in your online menu.
The good news is that the online ordering system from GloriaFood allows you to easily mark a menu item as one of the following:
Hot
Vegan
Halal
Dairy Free
Vegetarian
Gluten-Free
Nut Free
Raw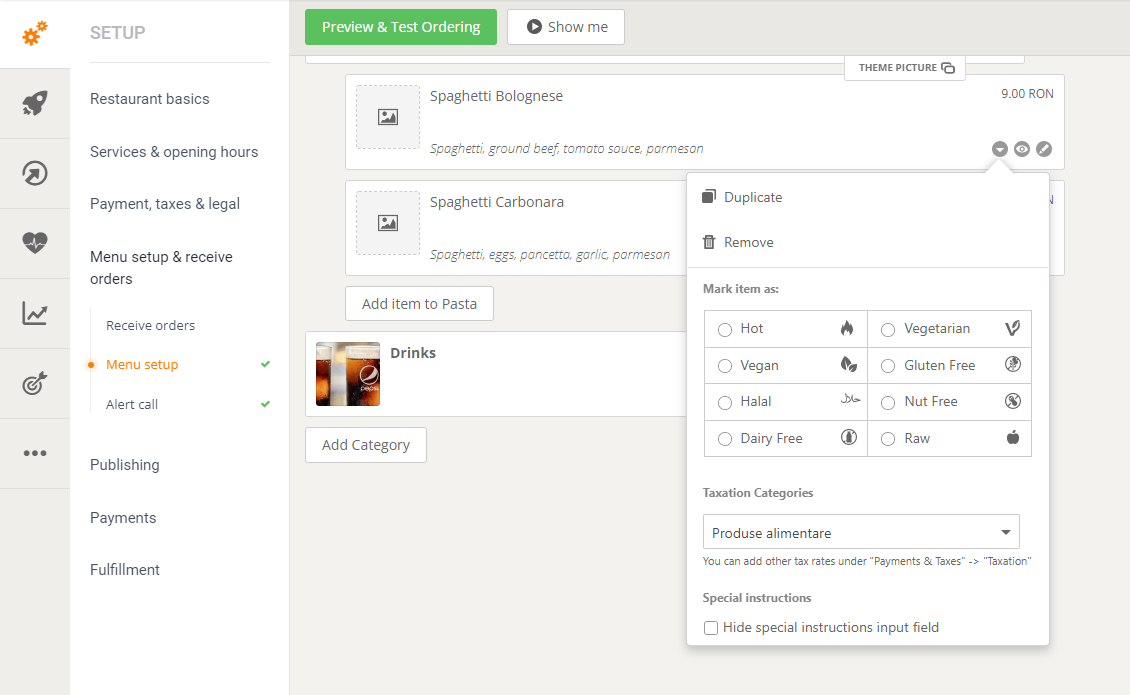 Learn how to easily set up advanced settings for every menu item, including marking them for a specific food preference, from this video:
Reply to online reviews
When people have a great experience with your restaurant, they go online and write about it. If people are unhappy with your food quality or service, guess where they go? Online, on review platforms, to tell others about their problems.
Therefore, if you want to increase restaurant customer satisfaction, you must keep an eye on your online reviews. Claim your account on all review platforms available in your area to allow clients to voice your opinion and carefully monitor them to let them know you care.
Make a habit of checking your reviews at least once every two days and reply to each and every one of them. Here are a few tips:
Mention your restaurant's name only when replying to positive reviews;
Say thank you to every person that left you a review because they took time from their busy day to do so;
Come up with solutions for every negative review and try to move the discussion in private. If you apologize for your mistake and offer an incentive for a new order, you may turn an unhappy customer into a satisfied one.
Read more: How to reply to bad restaurant reviews: easy-to-follow tips and examples
Offer exclusive online promotions
A great way to improve restaurant customer satisfaction is to offer great deals. Clients will be happy to see they can skip the delivery fee if they order with their work colleagues or get a free dessert with their usual lunch menu.
Attract customers with exclusive online promotions
Set up deals in seconds with this free online ordering system
Start now
Setting up promotions with GloriaFood is easy. You just access admin -> Marketing -> Promotions, choose a tried and tested promotion template, configure it to your linking, and publish it to your menu.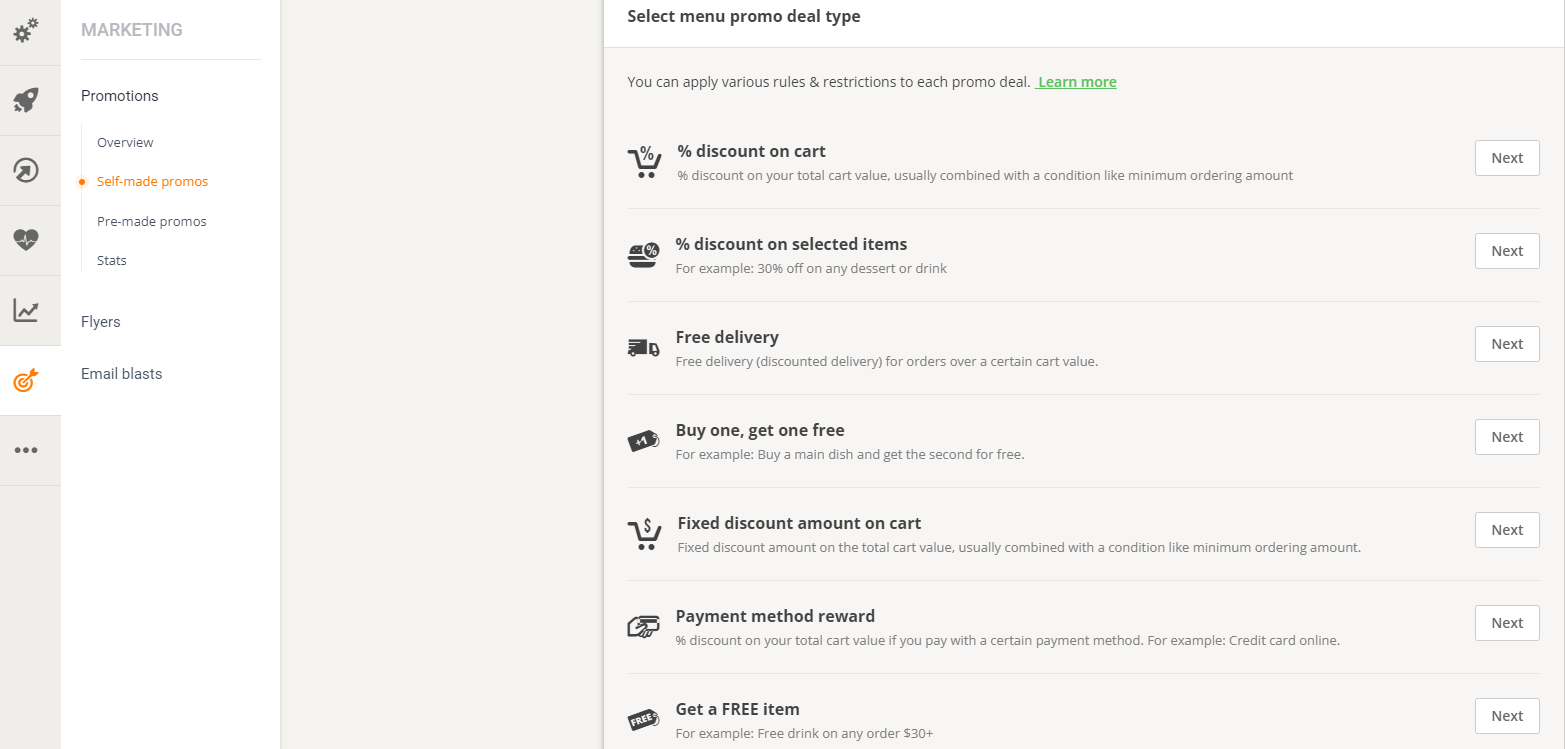 It will be displayed at the top of the menu so clients don't miss it when they order. You can not only change the name and text for the promotion but also delve into more advanced settings, such as the time of the day the deal will be available and the type of client that can profit from it (new or returning).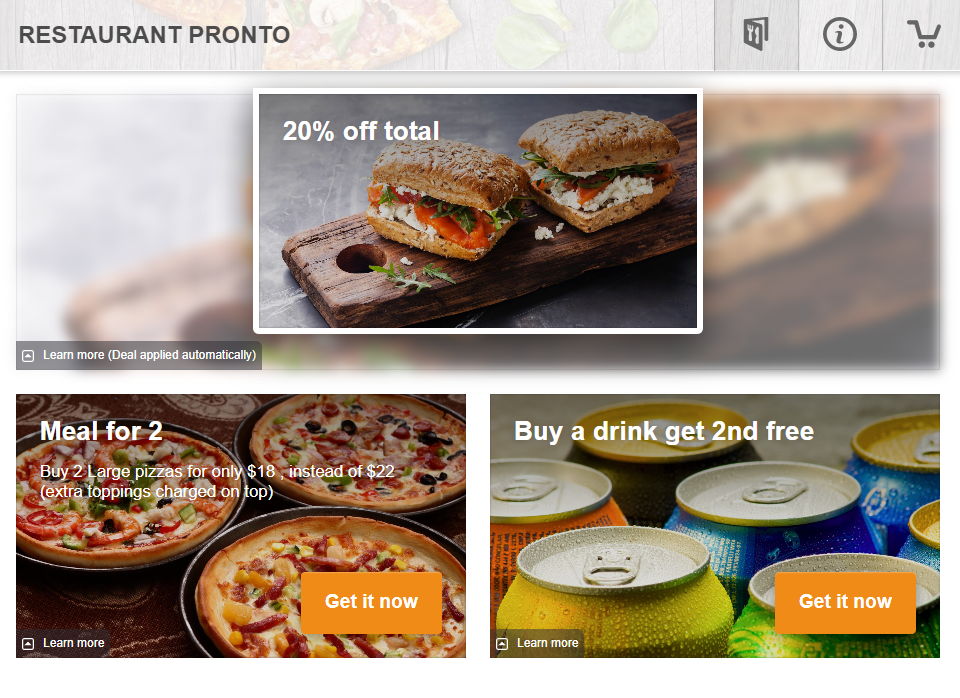 Read more: 10 Restaurant Website Promotion Ideas for Delivery & Takeout
Conclusion
Increasing online restaurant customer satisfaction should be a goal for every restaurant owner. If you can make clients happy, they will become returning customers and recommend your business to their friends and colleagues.
Make customer satisfaction an important KPI for your restaurant and offer an excellent online ordering system with an enticing menu and great online promotions.