5 common challenges faced by restaurants and how to solve them to increase profitability
By

Otilia Dobos

MAR 09, 2023
Learn how to easily solve these popular problems faced by restaurants:
Maybe opening a restaurant was your dream, maybe it is a family business passed down to you or maybe you just wanted to venture out of your comfort zone. No matter the reason, you are now a restaurant owner that is faced with countless challenges, just like many others in the industry.
You are competing for your customers' money with many other restaurants in your area, all while being faced with various new and old problems such as the rise of a pandemic, inflation, employee shortage, and much more.
In this article, you will learn how to efficiently deal with the five most common challenges faced by restaurants to secure your profit every month.
1. Constantly growing operation costs
Managing a restaurant is no easy feat. The costs keep adding up from paying for the location, the workers, the ingredients, etc. On top of that, since the start of the pandemic, we have been experiencing inflation that made the price of everything go up.
One of the biggest challenges faced by restaurants right now is maintaining their physical locations open when everyone seems to have moved online.
A great solution is to focus on selling more food online to increase your profit enough to pay for real estate, water, electricity, and everything else needed to serve customers in person.
For that, you need an efficient online ordering system, like the one provided by GloriaFood, that can help you streamline your ordering process and market your business to online customers.
In just a few clicks, you can allow your clients to order your food online, on your website, or directly from social media. Create an amazing restaurant customer experience that will help you sell more by following these simple steps:
Sign up on GloriaFood;
Complete your restaurant's profile with basic information like name, location, contact info, and type of cuisine;
Easily create an appealing online restaurant menu by following the wizard's instructions;
Publish the online ordering button on your website;
Start offsetting the growing operation costs by selling more food online!
Sell more food online to overcome the challenge of growing restaurant costs
Install an online ordering system to your website for free
Start now
You can also consider going fully digital to maximize your profit. Let go of your restaurant's location and open a ghost kitchen. You will significantly reduce your costs with a small location that is just a kitchen, with fewer employees and no place to serve clients.
Use our online ordering system to increase your revenue by offering delivery and pick-up from your virtual restaurant.
2. Not enough new clients
For your restaurant to be successful, you need a constant stream of new clients. But how do you get them? How do you reach a new audience and convince them your business is a great place to visit and order food from? With efficient marketing!
And it all starts with your restaurant's website. Think of it as your online location that you want people to find when they search on Google for keywords related to your cuisine and dishes that you offer. The higher you rank in searches, the bigger the chance to get a new order.
We have just the solution for this: our restaurant website builder. With the smallest effort, you can have an SEO-optimized website by the end of the day that will make your business easy to find online.
Go to our online ordering system's admin -> Setup -> Publishing -> Sales optimized website and request a restaurant website with the following benefits:
Already SEO-optimized: we deliver you a website with relevant keywords inserted in texts, alt images, and headlines to help you rank high in searches:
Clean, one-page design: clients appreciate simple design, so they can find the important information fast, such as the menu, your location, and contact info;
Responsiveness: the website loads fast and adapts to every type of device so it can be used without problem on desktops and smartphones;
Designed to sell: we've added the menu button on the top right side of the website, just above the fold and we used a contrasting color for it to be the first thing a client sees when they open your website. This will encourage people to click on it, browse the simple-to-use online menu, and order.
Watch this video for detailed instructions that take you through every step of creating a sales-optimized website that helps your restaurant attract more clients and sell more food:
Now that we've established that local SEO is very important for visibility and reaching new clients, here are a few more things you can do to get more paying customers:
Optimize your Google My Business page: add a link to your website and menu, working hours, correct address, and many pictures of your food and your restaurant's interior;
Be active on review platforms: create an account on the review platforms available in your area such as Yelp and TripAdvisor. Invite people to review your restaurant and respond to every review, be it negative, or positive to show potential customers you are trustworthy;
Create a community on social media: put in the effort to post constantly on social media and interact with your followers. People spend a lot of time there, especially when they are hungry, so you can entice them to order from your restaurant with mouth-watering food pictures and videos.
3. Difficulty in getting loyal customers
Because there is only a limited number of people in your area, you will bump into one of the most popular challenges faced by restaurants: getting repeat customers. How do you convince a client they should order from your place again?
It all starts by offering them a great experience that makes it worth it for them to return. Keep these in mind:
An efficient online ordering process, where they can find the menu easily and place their order in just a few clicks;
Transparency for the whole ordering process. With our online order-taking app, you can give customers an estimated time of arrival when you accept their order and keep them in a loop;
Amazing food that transports well so clients can enjoy your delicious food like they would if they visited your restaurant;
A table reservation system for when they want to reserve a table, but don't have time or don't want to speak to anyone in person. You can get one by going to our online ordering system's admin -> Setup -> Services & opening hours -> Table reservation.
Do you know what else can tempt people to order from your restaurant again? Great promotions! Who can resist a great food offer? Our online ordering system is equipped with a Promotions module that helps you add deals at the top of your restaurant menu in just a few minutes.
By going to admin -> Marketing -> Promotions -> Self-made promos, you get access to a variety of tried-and-tested promotions templates you can use to attract loyal clients. You can personalize the text, image, minimum order amount, and choose to have the offer available only for returning customers.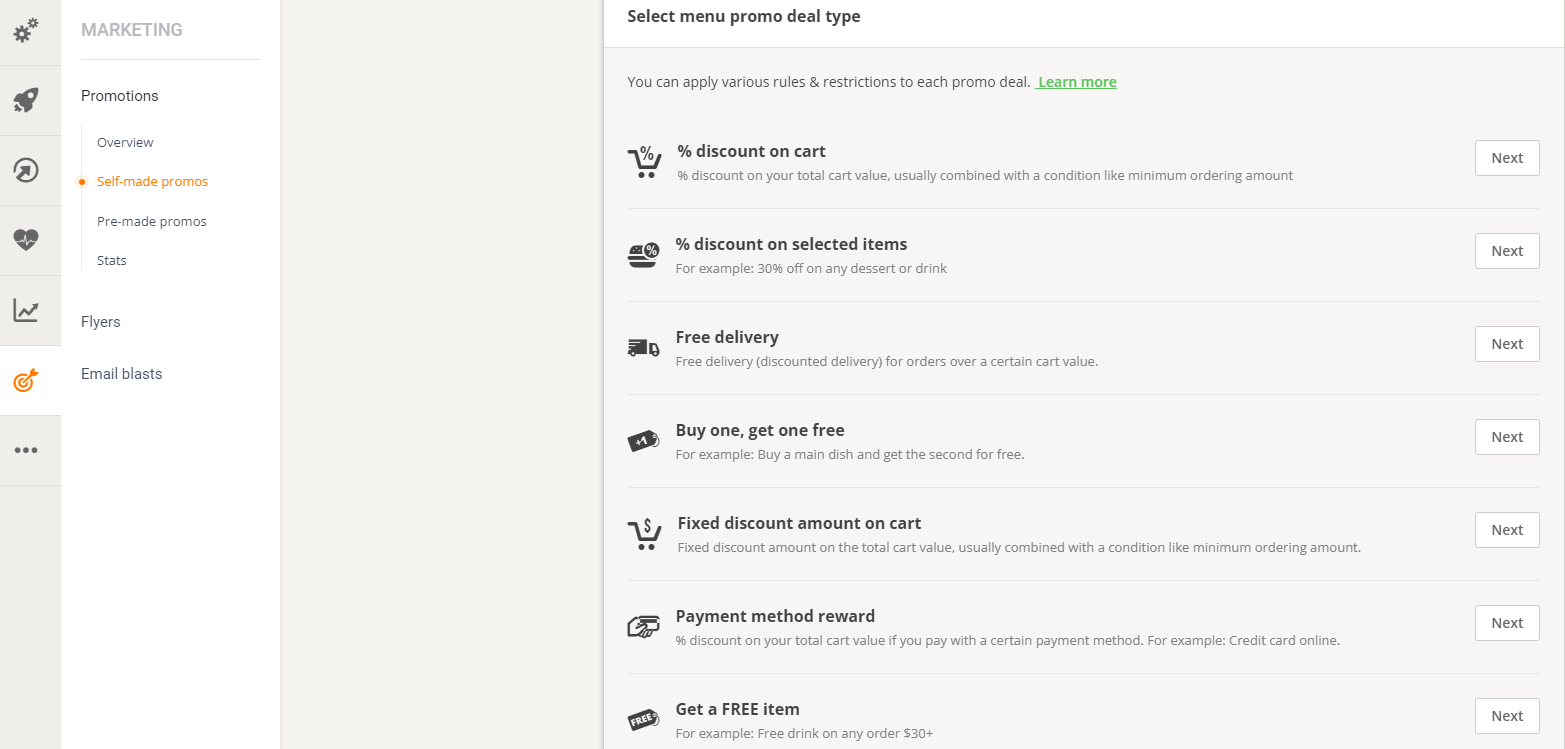 If you want to learn more about setting up promotions and their benefits for a food business, watch this video:
Gain your customers' trust from the first order by offering them a 5% discount for their next order. To do so, choose the "% discount on cart" promotion, set it to 5%, click Next, and, in the last screen, select "Use custom coupon code".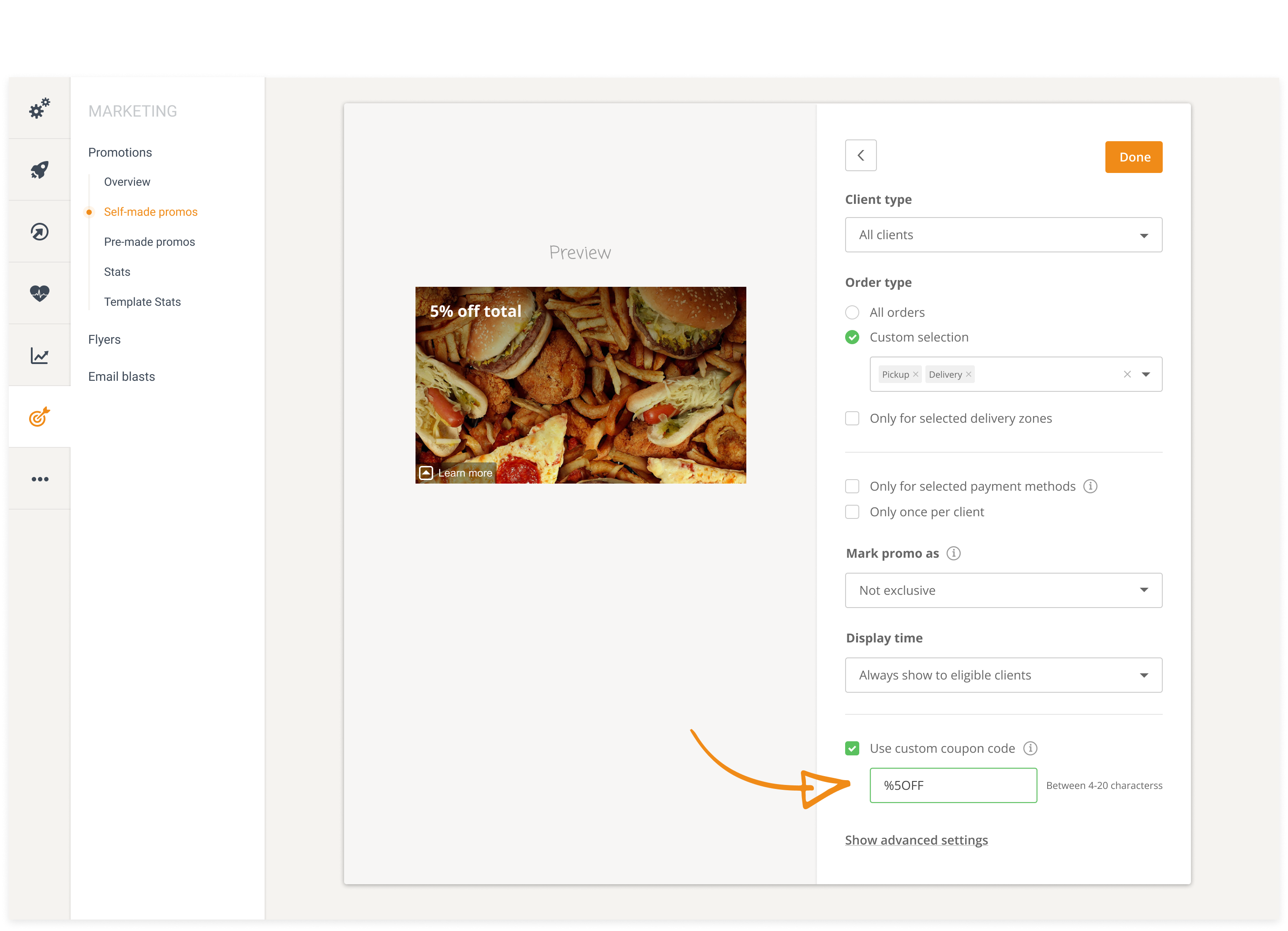 This will create a coupon code you can easily print on a flyer to add to the delivery bag for every new order. Check out this video to learn more about how easy it is to create custom restaurant coupon codes:
Another solution to get more loyal clients is email marketing. You can lure people in by sending them targeted promotions or reminders to finish the order they started.
Get more loyal clients with efficient email marketing
Install a free online ordering system and try the Autopilot Module
Start now
Check out our Autopilot module which can do this job for you. You only set up your email campaigns once, and the system does the rest, as the name, suggests, on autopilot. It automatically segments clients according to their purchasing history to deliver them emails that will encourage them to order again.
Watch this video to see how to use Autopilot to get more repeat customers:
4. Retaining and attracting productive employees
It is safe to say that one of the biggest challenges faced by restaurants right now is the employee shortage. Many restaurant owners complain that they can not find people to fill their open positions and they have a big problem retaining the ones they do hire.
This can happen due to a couple of reasons:
Unfair pay and no benefits. Ensure you pay your workers a living wage and offer health insurance to keep your employees happy and productive;
Problematic scheduling. Make sure every employee is scheduled to work when they are available and the whole process is transparent; However, this task can be difficult without the proper employee time management resources. If you don't stay organized, you're going to have a bunch of employees that either can't make their shifts or quit due to scheduling conflicts. Try to be flexible when asking for your employee's work schedule, as it's impossible to expect open availability for all staff members;
Bad management. Most employees don't quit because of money, but because they don't get along with their managers. Train the people in positions of power to be fair, yet understanding to keep team members satisfied;
Inefficient work sharing. Take advantage of technology to take the load off your employees. For example, using an online ordering and table reservation system instead of having staff members answer the phone is a great first step. You can also change your old paper menus with a QR-code one to allow employees to get rid of jotting down orders and focus on serving clients. Get your QR code menu by going to admin -> Setup -> Publishing -> Dine-in QR Code.
5. Rising food costs due to the inflation
The inflation made food costs grow constantly over the last years, making it hard for restaurants to maintain a profit. But it also affects the customer's purchase power, pushing them to try to save money and order less from restaurants.
Here are some changes you can do to ensure your restaurant's success despite the rising food costs:
Reduce portions size: we don't mean to make menu items fit for kids, just to make the portions smaller so you use fewer ingredients, reducing food costs in the progress. Furthermore, you also reduce food waste with smaller portions with no leftover food on plates that gets thrown out.
Make your menu smaller: smaller menu, fewer ingredients, less money. A smaller menu is easier to browse and makes your restaurant seem more trustworthy because it guarantees all the ingredients are fresh. It leaves room for experimentation, yet it helps you save money.
Increase the price: customers expect a price change for your menu items as they can see every food they buy is more expensive. The trick is to do it with small increases, over some time, so as not to shock loyal clients and deter them from ordering.
Conclusion
In these trying times, there are many challenges faced by restaurants, but you shouldn't let them stop you from owning a successful business. Take advantage of our restaurant website builder with an online ordering system and powerful marketing engine included to overcome any problem.