Gen Z restaurant trends: how to attract the younger generation
By

Otilia Dobos

JUL 20, 2023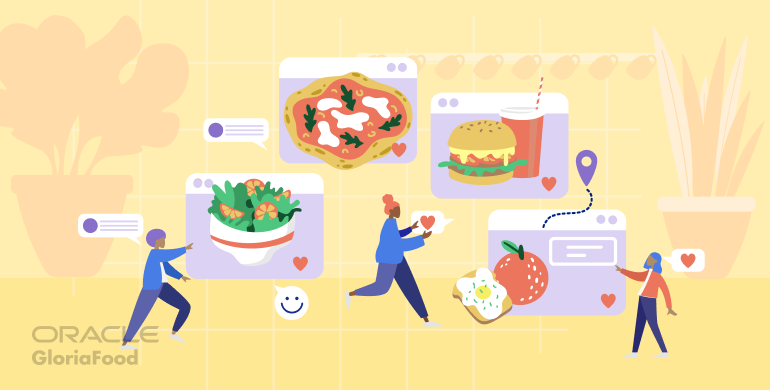 Gen Z, gen alpha, millennial, boomer. These are all terms you keep hearing people use, but you may have ignored until now. It's nothing complicated, it's just the classification of all people according to the year they are born.
You now may be wondering what use do you, as a restaurant owner, have for this division system. The secret is that every generation shares a couple of preferences, including food, leisure time, and values.
If you find out what their proclivities are, you can use the knowledge to persuade them to visit and order from your restaurant, and even become loyal clients.
In this article, we will be focusing on Gen Z restaurant trends so you can attract more younger customers to your business:
Who is considered a Gen Z?
Generational cutoffs aren't an exact science, as there may be people that are born in the Gen Z years but identify more with millennial struggles or preferences.
Despite that, the universally accepted convention is that the Gen Z generation is composed of people born between 1997 and 2012. Therefore, now, in 2013, they are between 26 and 11 years old.
We are obviously going to focus on Gen Zs (zoomers) with purchasing power because they are the ones creating the Gen Z restaurant trends.
Why should you care about Gen Z food preferences?
According to the US Census, there are 68.6 million Gen-Zs, making up 20% of the whole US population. 38% of Gen Zs have already entered the workforce, with more to come each year.
Those are a lot of potential customers that you are ignoring if you don't cater to Gen Z food preferences. Imagine how much your sales would improve if you could attract Generation Z.
We've gathered a few facts about Gen Z behavior, concerns, and social media usage that can influence their restaurant choices:
64% of Gen Zs use Instagram at least once per day;
34 % of social media influencers are Gen Zs aged 18-24;
69% of Gen Zs prefer Instagram over TikTok for product research. TikTok is regarded as a platform for entertainment;
1 in 3 Gen Zs follow their favorite brand on social media;
44% of Gen Zs are concerned about climate change;
79% of Gen Zs would like to eat more meatless meals.
6 Gen Z restaurant trends you can use to make a profit
Try to incorporate all the Gen Z restaurant trends mentioned below to attract a variety of new clients and encourage them to spend more of their money on your menu items.
1. Online ordering is a must
Gen Zs is the first generation that grew up with technology, so it is only natural to presume they have the online world at their fingertips. Zoomers not only expect to be able to order their food online, but they also expect to be able to do it in a fast and convenient way.
Gen Zs spend about 21% of their monthly budget on restaurant food, so you know they are willing, you just have to give them the opportunity to try your delicious menu items.
Ordering by phone? Not likely. Gen Zs prefer messaging and no added human interaction, so you may lose them as clients. Instead, install the best online ordering system from GloriaFood to allow people to order directly on your website.
All a Gen Z has to do to order is access the website, click on the menu button, browse the intuitive menu and, in just a few clicks, they will have placed an order.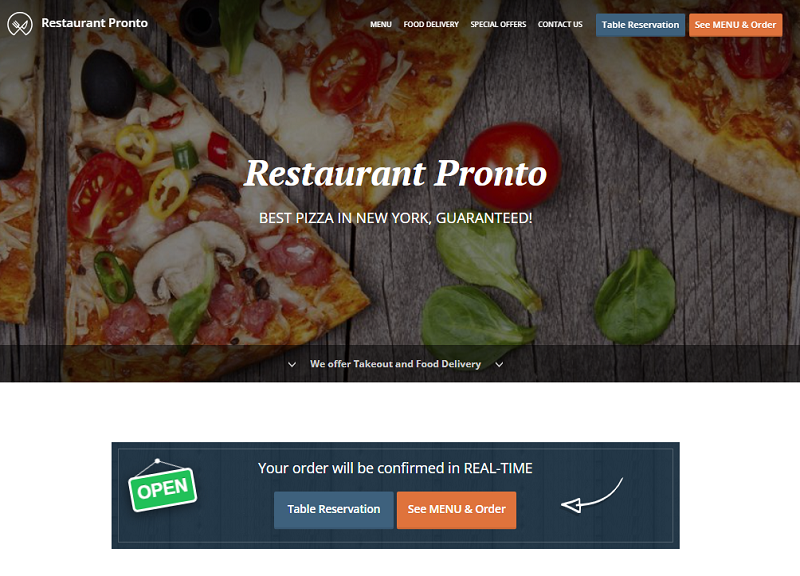 The online ordering system creates the seamless customer experience Zoomers are looking for, so, if you pair it with some amazing food, you will surely win loyal clients.
Start attracting the younger generation to your restaurant by following these simple steps:
Sign up on GloriaFood and fill in your profile with basic information such as address, location, and type of cuisine;
Create an attractive menu with dishes that appeal to Gen Z;

Publish the menu on your website. If you don't have one, you can generate your own from the system. Watch this video to see how easy it is to create an SEO-optimized restaurant website in just 10 minutes:

You are now ready to expand your business by accepting online orders!
Offer Gen Zs the best restaurant online ordering experience
Install an online ordering system to your website for free
Start now
2. Gen Zs want more plant-based alternatives on the menu
Because many people from the younger generation are more environmentally conscious, they tend to consume less meat and prefer a plant-based diet.
To cater to Gen Zs restaurant trends, you can create a category in your menu with only vegetarian and vegan dishes. The dishes can be as simple as a veggie burger or a veggie pizza or as complicated as cauliflower steak. We will leave the cooking to you because you are the expert.
The great news is that the menu builder integrated into this online ordering system can be changed as many times as you want, free of charge. You can add categories, menu items and customize them to persuade people to order.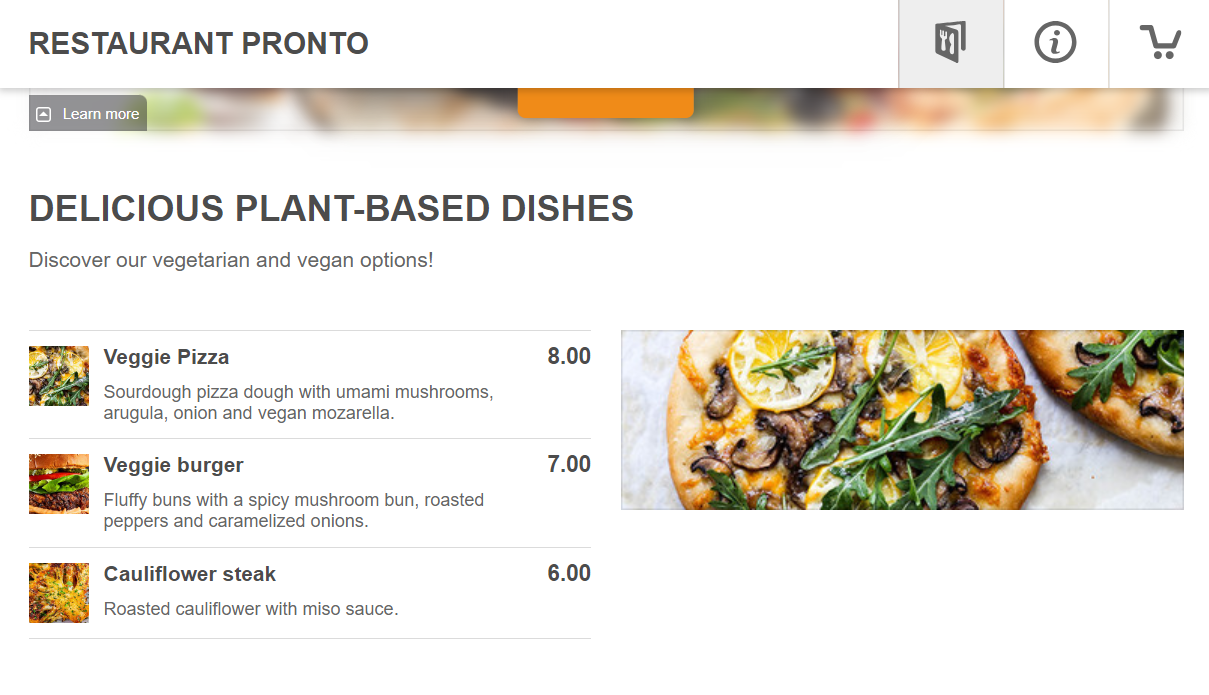 You can signal if an item is Vegan, Vegetarian, Raw, and more by adding an icon in the dish's description. Watch this video to see how easy it is to do with our menu maker:
3. Zoomers prefer a complete menu with nutritional and allergy information
Many Gen Zs want to know more about their food before they order, not just a simple name and catchy description. They want to know what ingredients go into the dishes, how they are prepared, and what their nutritional value is.
Furthermore, there are also a big number of Gen Zs that suffer from a variety of food allergies, which you can attract to your restaurant if you include allergy-safe foods in your menu.
Keep up with Gen Z restaurant trends with. You can signal all the allergens that a dish has, so customers can tell at a simple glance if it is safe for them to order that specific menu item. The allergens will be visible at the end of the description, just like in this example: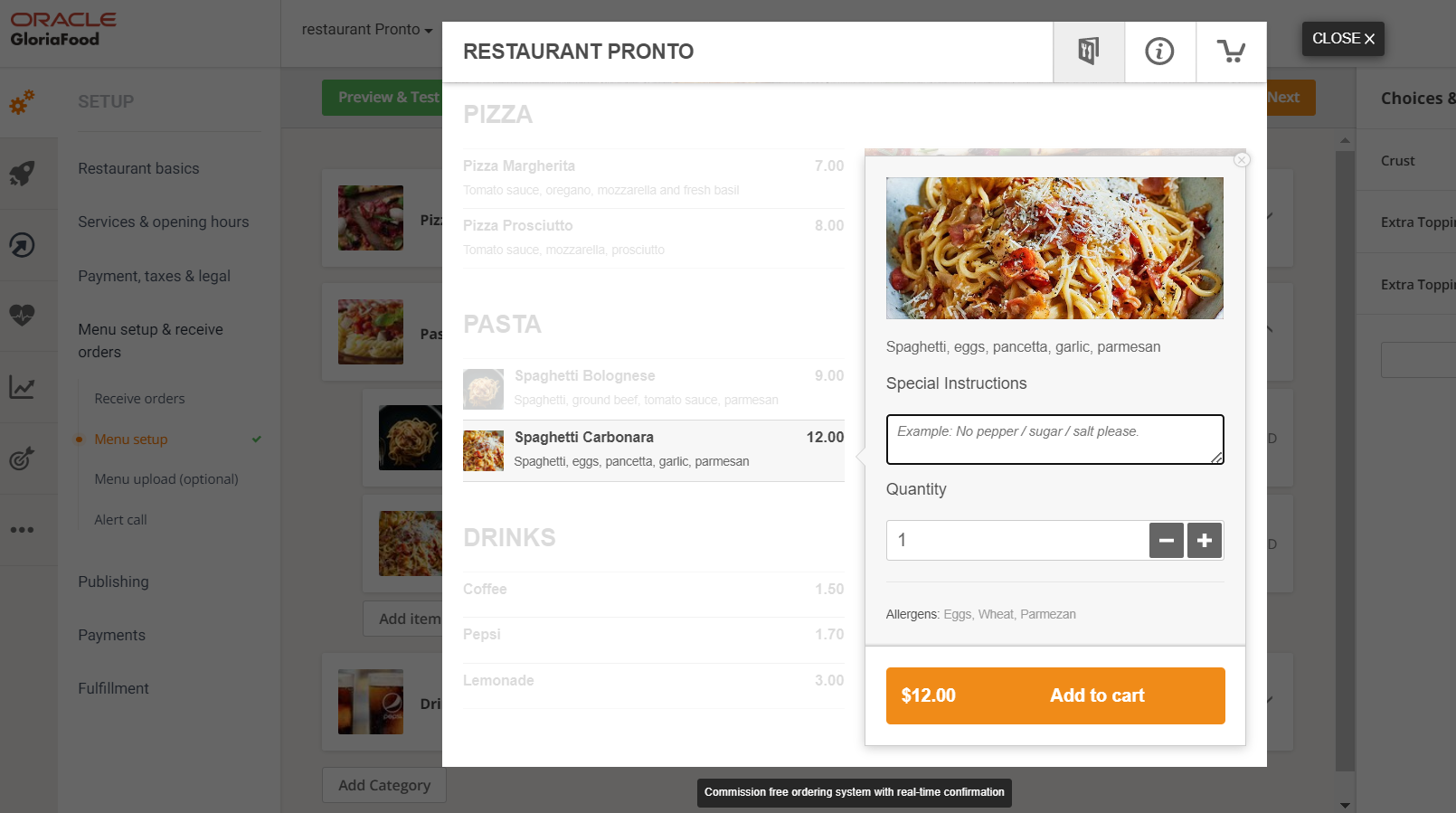 Furthermore, you can to easily add nutritional information to all of your menu items. Health-conscious Gen Zs will appreciate your effort and they will be tempted to order from your restaurant.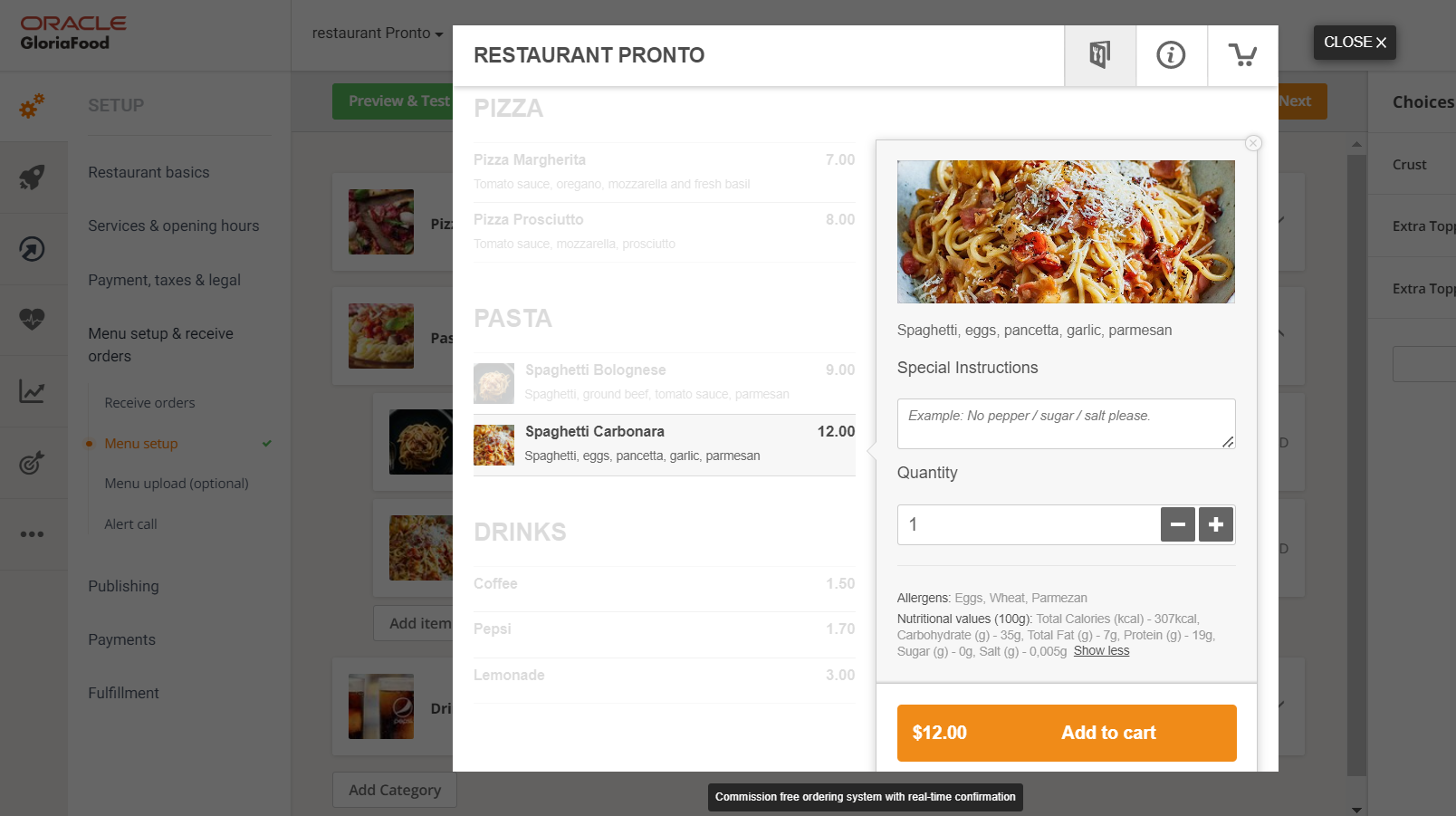 4. Sustainability initiatives are appreciated
Because Gen Zs have a big interest in climate change, they are attracted to sustainability in restaurants. Therefore, you can get more Gen Z clients if you implement some tactics to reduce food waste.
Here are a couple of ideas inspired by Gen Z restaurant trends you can try:
Make your menu smaller: if you have a long menu, chances are not all items get ordered as often so many perishable ingredients go to waste. But, if you have a small menu, you use fewer ingredients so you reduce the quantity of food waste;

Adopt the "surprise takeaway box" tactic: at the end of each day, you may have leftover prepared menu items that would otherwise get thrown away. How about selling these menu items at a considerably discounted price in the last two working hours as a combo box? You get to make a profit and also prevent food waste. Use the promotions module integrated into this online ordering system to add a 50% off promo to the dishes that didn't sell that day.
5. Creativity on social media will get you noticed
When we're talking about Gen Z restaurant trends, we can't ignore the marketing side. To get more Gen Z clients, you must not only change your restaurant to cater to them, but you must also implement advertising strategies that will convince Zoomers to visit and order from your business.
Let's face it, social media is the place to be for everyone, from boomers, and millennials, to Gen Z. The only difference is the platform different generations use. If you want to attract a younger generation, you should focus your marketing efforts on Instagram and TikTok because this is where Gen Zs spend their time.
There are countless restaurants that got a huge number of new clients because of a viral video. If you want to join them, here are a few social media pointers:
Participate in trends: make it a habit to follow all restaurants and food influencers in your area and notice what type of content they post. Moreover, participate in food trends, be it a tour of your restaurant or adding a viral menu item to your menu, to increase your chances of getting noticed online;
Make your food and restaurant look good in photos: many Gen Zs like to show off what they eat and what they do. If your menu items look interesting and your restaurant is decorated in a special way, zoomers won't be able to resist immortalizing every moment of their experience. You get the bonus that they will tag your place in their social media posts and advertise your restaurant for free;
Video content is king: while TikTok is mostly used for entertainment, it is also a great place to find new special places to eat at or order from. Show your food and restaurant interior in video form, ranging from funny shots to a day in the life of a chef or how it's made;
Consider adding educative content: Gen Zs are always up for a challenge, especially if it is an easy one to try at home. Show them how to poach an egg, sharpen their knives, and cook a simple recipe. They will appreciate the effort and keep you in mind for future restaurant visits.
6. Gen Zs are attracted by out-of-the-box ideas
There will inevitably be many other restaurants in your area, so if you want Gen Zs to pick your business, you need to stand out. The younger generation likes to experiment and is attracted by out-of-the-box ideas that give them a new food experience.
Try out these Gen Z restaurant trends to stand out from the competition:
Global cuisine menu items: Gen Zs may not be able to travel all the time, but they try to replicate the vacation experience with food. Therefore, if you can offer authentic cuisine from other countries, you will surely attract new customers. You can have an event one day a week where you serve menu items from a new country, for example, Caribbean Day, Italian Day, or Greek Day;
Street food galore: Gen Zs are the biggest consumers of fast food. They like tasty food that they don't have to wait an hour for. Consider elevating the usual street food dishes with unusual ingredients such as kimchi and great sauces like honey mustard with gochujang;

Build your own: the younger generation likes to customize their dishes to their taste, even if it is just a burger or a pizza. Offer Gen Zs the option to personalize their menu items with Addons and Choices. This is also great news for you because toppings have a high-profit margin. Check out this video to see how easy it is to offer customization options with our menu maker:

A shared dining experience: while Gen Zs often order takeaway, when they go out, they usually do so in groups and like to share food. Attract large groups by implementing food combo promotions with a variety of menu items Zoomers can try. You can do so easily with the Promotions feature integrated into this online ordering system.

Spicy food is trending: Gen Zs are more open to spicy food and they look for it on restaurant menus. If you don't want to totally change the recipe for a dish, you can add some great spicy sauces made in-house. Make sure to promote them on social media to get people interested.
Use the best online ordering system to create restaurant promos Gen Zs won't be able to resist
You can set up attractive deals in just a few seconds
Start now
Final Words
The younger generation is slowly, but surely, gaining more buying power, and their preferences should not be ignored if you want a big number of clients to visit and order from your restaurant. Keep up with all Gen Z restaurant trends and make the effort to cater to their taste to increase your sales.