How to Grow a Restaurant Business: 5 Easy and Cost-Effective Ways to Increase Your Revenue
By

Otilia Dobos

JAN 05, 2023 (Updated: Oct 6, 2023)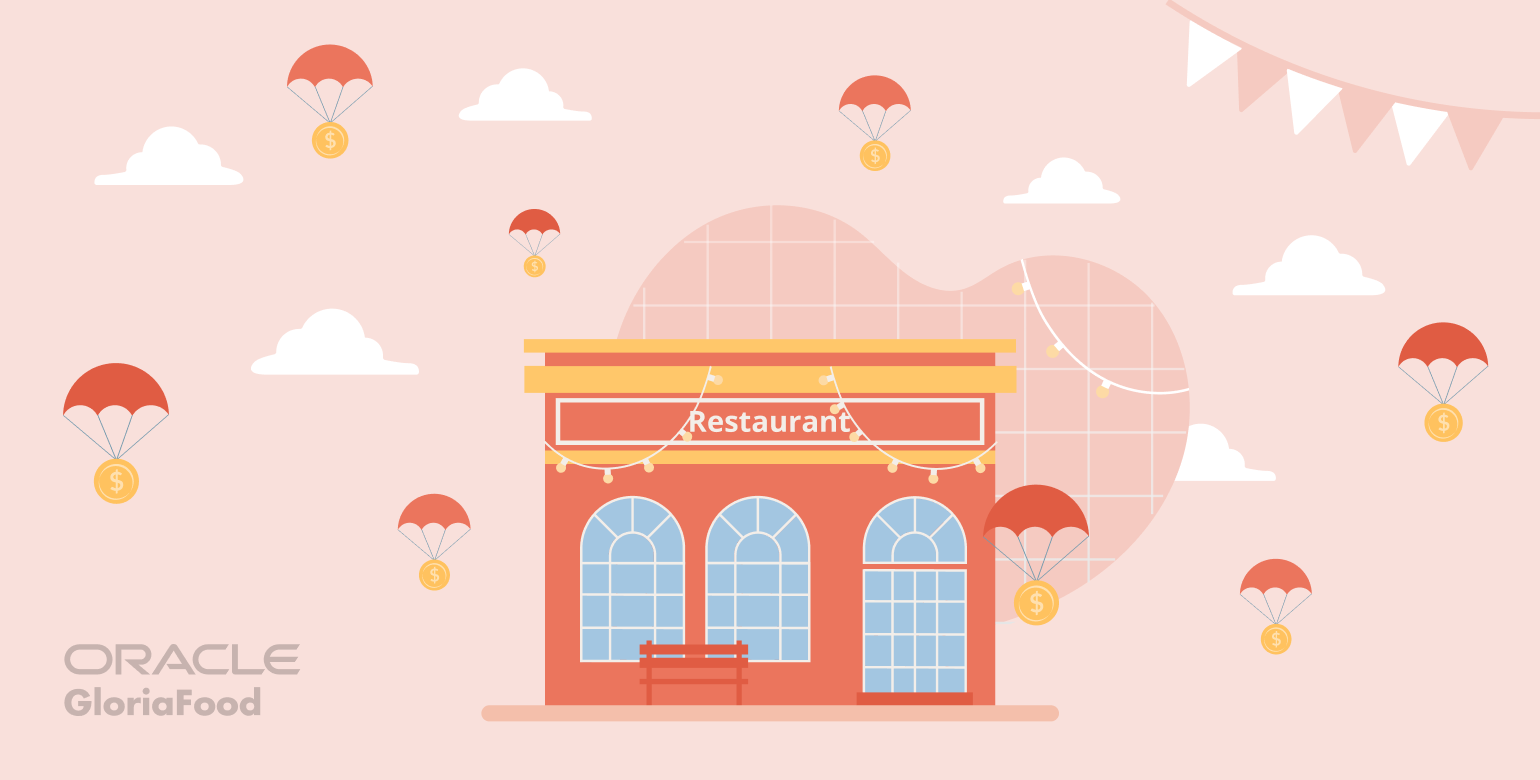 How to grow restaurant sales:
You've already done the first part: you found a location, hired staff, established a menu, and opened a restaurant. But the work doesn't stop here. How do you grow a restaurant business to ensure its success year after year?
The answer is simple yet complicated. You must find cost-effective solutions that consistently attract new clients and increase your revenue.
In this article, you will learn how to develop your restaurant business with the right technology and methods.
1. How to grow restaurant sales by leveraging an efficient online ordering system
If you just started, you may only be focusing on serving clients in the restaurant. But you have a limited number of tables that can only fit a few people simultaneously. Therefore, only offering a dine-in option is not helping you grow your restaurant business.
To increase your sales, you need to find a way to sell more food. The solution is offering delivery managed by an efficient online ordering system that is easy to use both for you and your clients.
The free online ordering system provided by GloriaFood will not only streamline your ordering process, but it will also help your marketing efforts by providing a powerful promotions feature and a necessary reports module.
You can start accepting online orders in just a few minutes by following these steps:
Sign up for a free account and fill in the necessary information;
Create a beautiful menu with the help of our detailed videos;
Publish the "See MENU & Order" button on your website and social media;
Start increasing your profit!
Leverage technology to grow your restaurant business
Install an online ordering system to your website for free
Start now
2. How to grow your food business by creating an unforgettable online presence
If you want to find the best way to attract new clients, you need to put yourself in the customer's shoes.
Let's say you find yourself in a new town, and you are craving pizza. How do you decide which restaurant to order from? By searching for trustworthy places in your area, right? You inspect the Google results and the website and maybe read some reviews.
This is typical behavior for any of your potential clients. Therefore, building an unforgettable online presence that people find attractive and reliable is the key to getting more customers.
Here are the three main aspects that help you create an easy-to-recognize image for your business:
Menu
The menu is the first and last thing that people see when they want to order. The way it looks and works can make the difference between a potential customer who clicks the X button and doesn't order and one who happily clicks the order button.
If you want your online menu to convert visitors to clients, you need:
Amazing photos: while paper menus can get away with just words, people want to see what their dishes look online. A hungry customer will be persuaded to order if they are greeted by a mouth-watering picture. Therefore, make sure every menu item is illustrated with great professional images customers won't be able to resist;
Appetizing descriptions: photos are the hook, but if you want to catch the clients you need to come up with great menu descriptions that either tell a story or focus on what makes the dish and ingredients special. Bonus points if you also add food allergen informational and nutritional values.
Intuitive use and responsiveness: say goodbye to PDF menus that need to be downloaded and take forever to load. Nobody wants to wait ten minutes to see what kind of food you offer. Do you want to know how to grow a restaurant business? You need an online restaurant menu that loads fast on any type of device and is brilliantly organized so clients can browse it easily and get to checkout in just a few clicks.
Look no further, our online ordering system will help you create the best online restaurant menu in no time. You will benefit from the help of our wizard that will guide you along every simple step to ensure you create a menu that converts.
Learn how to make an online restaurant menu for your website:
Website
Just like in the saying, "All roads lead to Rome", all internet paths should lead to your restaurant website. You must make sure you get one that has all the following characteristics to ensure its efficiency:
SEO-optimized: you create a restaurant website for your clients, but for your clients to reach it, it must first pass the Google test. Therefore, ensure your content is fully optimized, from keywords to structure, to rank high in searches;
Mobile-friendly: your website should be easy to use on every type of device. Choose a website template that adapts to mobile screens and allows the same ease of use as the desktop version;
Loads fast every time: as technology progressed, people became accustomed to everything on the internet loading very fast. Nobody has a few seconds to spare waiting for a page to load, so you need a restaurant website that will load instantly on every click;
Friendly and intuitive design: a website with many pages and disorganized widgets will be very hard to use and encourage people to exit it. Opt for a simple design that guides the viewer to all the relevant information, especially your menu and contact information.
Read more: 10 Must-Have Restaurant Website Features You Need to Sell More
No need to spend your time researching agencies or developers to get a restaurant website. You can get the perfect one that fits all the criteria above from us!
All you have to do is fill in your restaurant's information, add some pictures and simply customize the provided widgets to your liking with drag & drop.
Afterward, you will receive a personalized website that is already SEO-optimized and will help you attract more clients.
Grow your restaurant business with an SEO and sales optimized website
Generate your own in minutes and reap the benefits
Start now
SEO
SEO can be split into two parts: On-page SEO and off-page SEO. We got you covered on the on-page part with our efficient restaurant website builder, but you will have to do some work off-page as well to get the best results possible:
Optimize Google My Business: Complete your profile with working hours, contact information, exact address, link to your website, and lots of pictures of your food and restaurant;
Spread the NAP (Name, Address, Phone) information: try to add this listed information in online business directories, social media, local food bloggers' posts, and local press;
Get positive reviews: claim your profile on the available review platforms in your area, such as Yelp and TripAdvisor, and encourage people to review your restaurant.
Read more: Key Benefits of SEO for Restaurant Websites
3. How to increase restaurant sales online by upselling
Upselling is a technique meant to increase restaurant sales by convincing people to buy more than they initially planned. You can do it both in person and online. Let's find out how.
Firstly, you must organize a training for your team members on upselling, as they are the ones who interact with clients daily. Here are a few tips:
Menu tasting: allow your servers to taste the dishes on your menu, so they know what they are recommending. This will make it easier for them to remember what all your menu items are;
Recommendations: teach them what garnish will go well with a specific main course so they are prepared to offer clients suggestions. You can also come up with polite yet enticing ways to present a dessert that will make clients crave the sweets;
Pairings: drinks can be a great way to increase your profit margin if servers can recommend great wine, beer, or cocktail pairings for every menu item. Show this great infographic to your staff to make it easier for them to suggest pairings:
A great way to upsell online is by providing add-ons such as toppings. The best instrument for upselling online is the online ordering system from GloriaFood.
Offering people the opportunity to customize your menu items allows them to create the perfect dish and helps you sell more. Toppings have a big profit margin, as the difference between the selling price and the cost you pay to buy them is greater than for any other dish.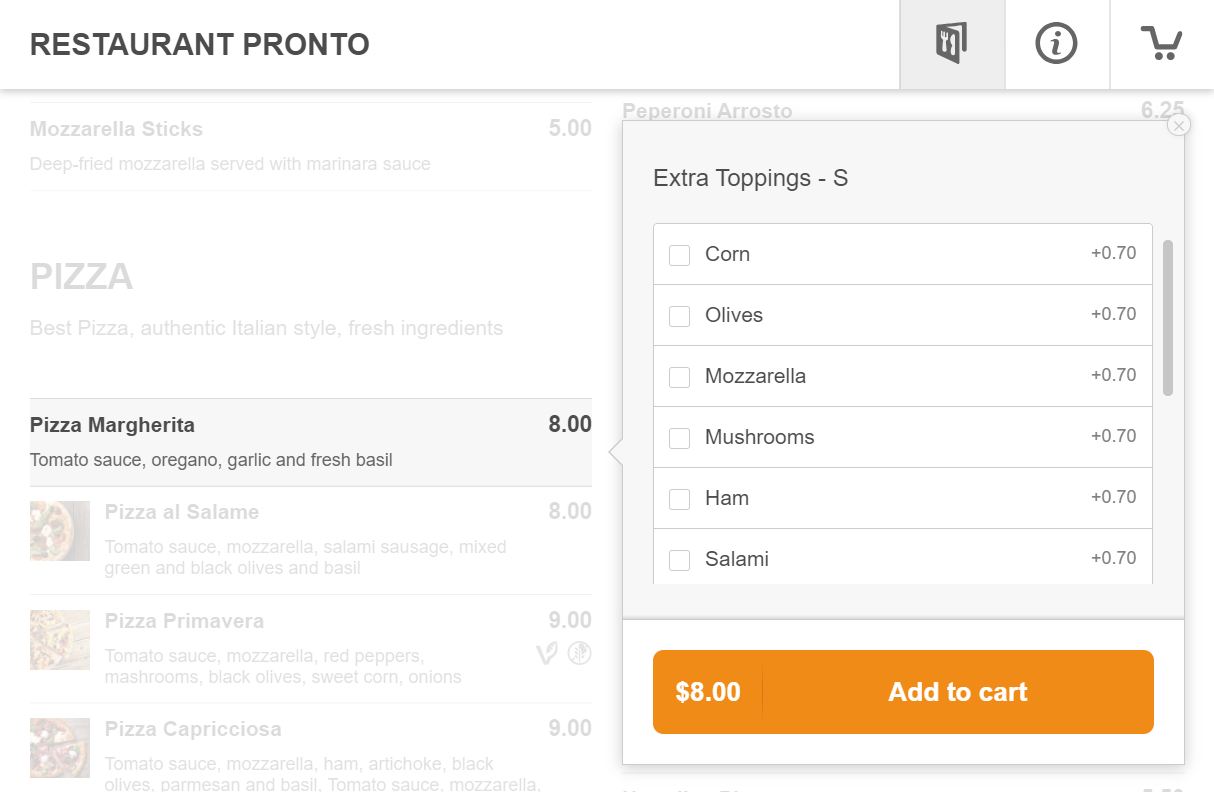 With the menu creator provided by our online ordering system, offering add-ons is easy-peasy. Watch this video to learn how to do it in a few seconds:
4. How to grow a restaurant business with appealing promotions
You can easily add promotions to your online restaurant menu by going to admin -> Marketing -> Self-made promos. Click on "Add promo deal" and select a promotion that encourages buying more, such as:
Get a FREE item: set a minimum order amount for which clients will receive a cold beverage they can't say no to;

Free delivery: people will be tempted to pay more for food if it means they do not have to spend money on delivery;
You can choose any of the tried-and tested restaurant promotions to grow your business, even targeting clients according to their status (new or returning) or purchasing history. Learn how to set up restaurant deals in a matter of seconds:
In order to increase your restaurant sales, you need to engage your clients and persuade them to return again and again. A great way to do this is to create FOMO (fear or missing out) with a promotion. For example, you can have a reoccurring promotion on Friday where you give out a free dessert with every order.
Our online ordering system allows you access to advanced promotion settings so you can play around with segmentation and making a deal only available for a day or even a couple of hours.
One thing that could hinder your restaurant's growth is food waste. Some items don't sell as well as others and this leads to ingredients being thrown own and money being wasted. But what if we told you there is a way to minimize food waste while selling more?
The trick is to keep a clear inventory of your ingredients and when you see they are a few days away from going bad, create some menu items with the excess ingredients and include them in an attractive promotion such as 2+1 free, meal bundle, free item or % off.
For example, let's say that you have some arugula, mushrooms and tomatoes close to their expiration day. No problem, all you need is dough and some cheese to make a pizza you will sell with a 15% off deal.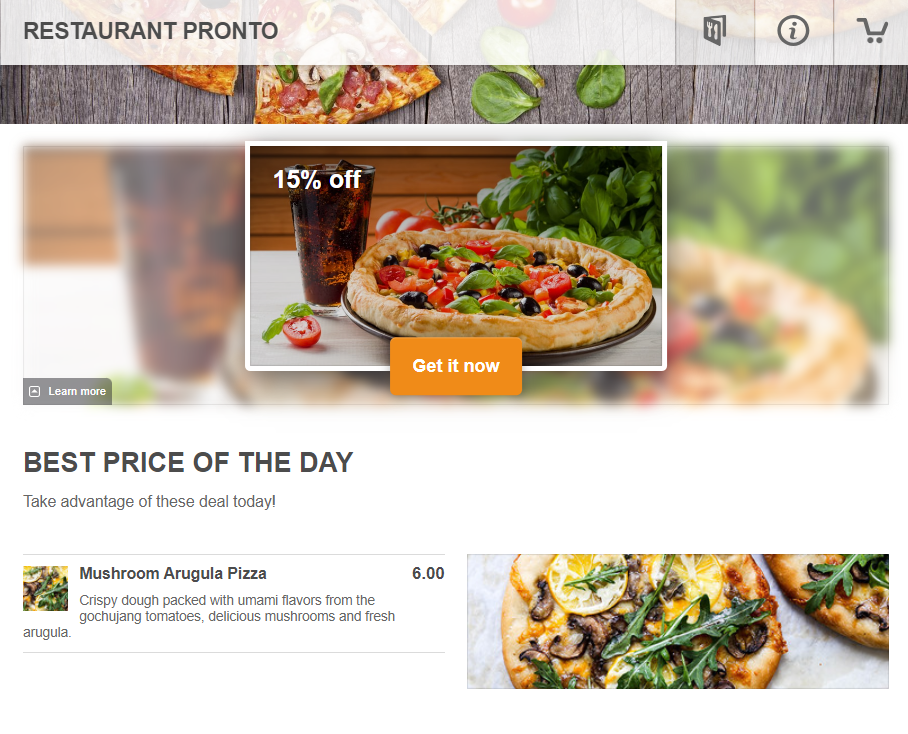 5. How to increase restaurant sales through social media
Let's face it, everybody uses social media. It's where we go to post about our lives, check on our friends, and stay connected to businesses we want to support.
If you want to grow your restaurant business, social media is a great cheap, or even free way to do it. You have the opportunity to both reach a bigger audience and create a community of loyal clients. Check out these tips for creating a great social media presence:
Don't forget about SEO: every social media profile, be it Facebook, Instagram, or TikTok, should be optimized with your name, address, location, and a link to your website or directly to your online menu;
Focus on food: the main reason people follow your restaurant account is to see the food. Add hunger-inducing pictures often to determine people to order. You can also give clients a glimpse into the kitchen by showing how some of the dishes are made;
Show the team members: use some of your social media posts to present your staff. Write a few words about them as a person, their hobbies, and their passion for working in the restaurant industry. This will show people the human side of your business.
Read more: Social Media Marketing for Restaurants: 10 Strategies You Must Try
6. How to develop your restaurant business by improving table turnover
To increase your profit, you must serve as many clients as possible daily. This can be achieved in the restaurant location by improving table turnover. We don't mean you should rush people, but rather take advantage of technology to give them a better experience.
For example, a table reservation system with the ordering ahead feature will allow customers to order their food online and even pay for it. This way, when they arrive, you can serve them their food immediately without wasting time by providing a menu and taking down the orders.
The great news is our online ordering system has a table booking system incorporated. Go to admin -> Setup -> Services & Opening hours -> Table reservation to activate it.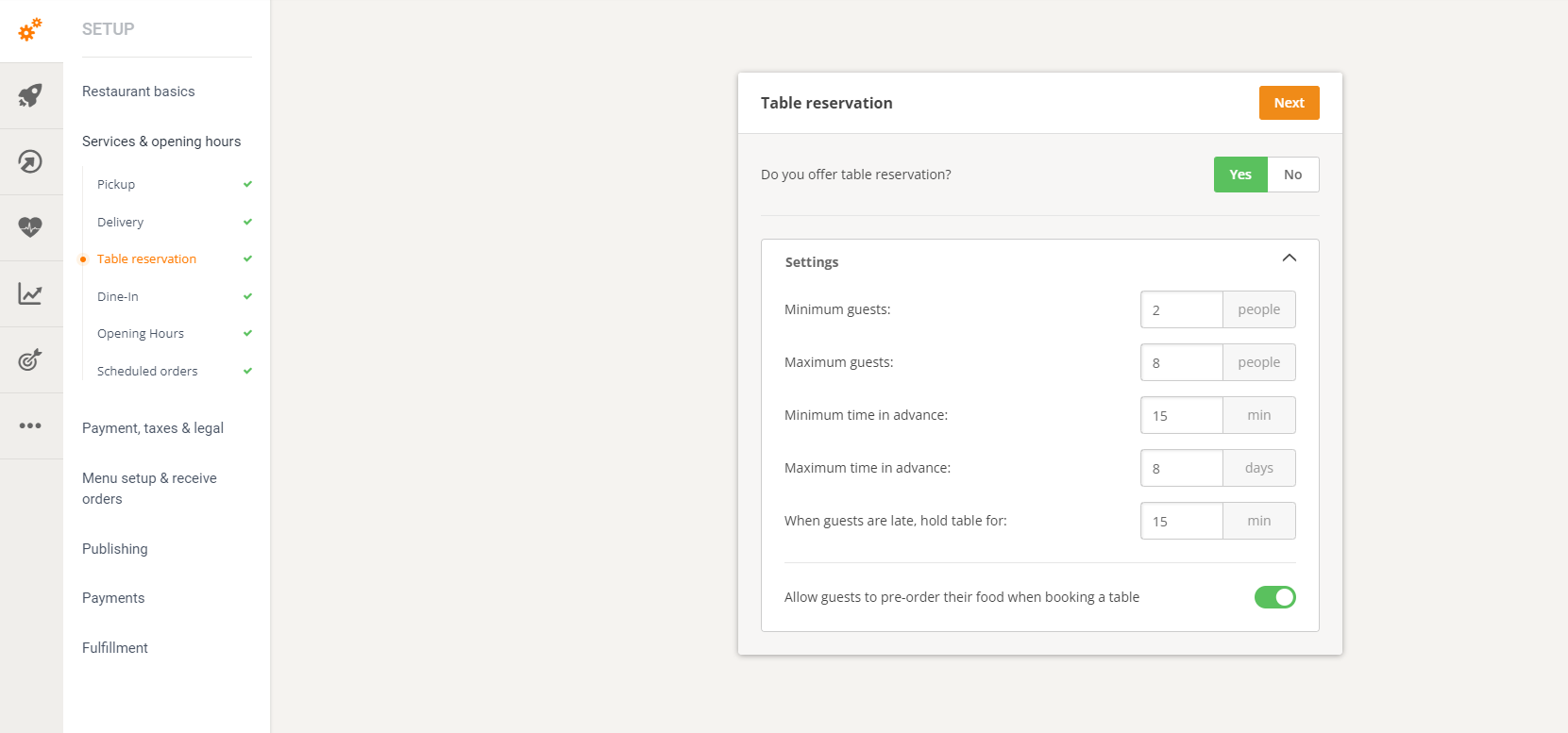 To enable ordering ahead, slide the button next to "Allow guests to pre-order their food when booking a table."
Check out this demo website to see how easy it is for a potential client to book a table and order a meal with our attractive and intuitive menu.
Increase your restaurant sales by improving table turnover
Get a table reservation system with an ordering ahead feature
Start now
Conclusion
You must always ask yourself "How to grow a restaurant business?" if you want to constantly improve and increase your profit.
Start with the basics: get a sales-optimized website, an efficient online ordering system, a table reservation system, and spend time on social media to create your community. In time, these tools will help you identify new growth opportunities.