How to counter the restaurant employee shortage by leveraging technology
By

Otilia Dobos

MAR 03, 2023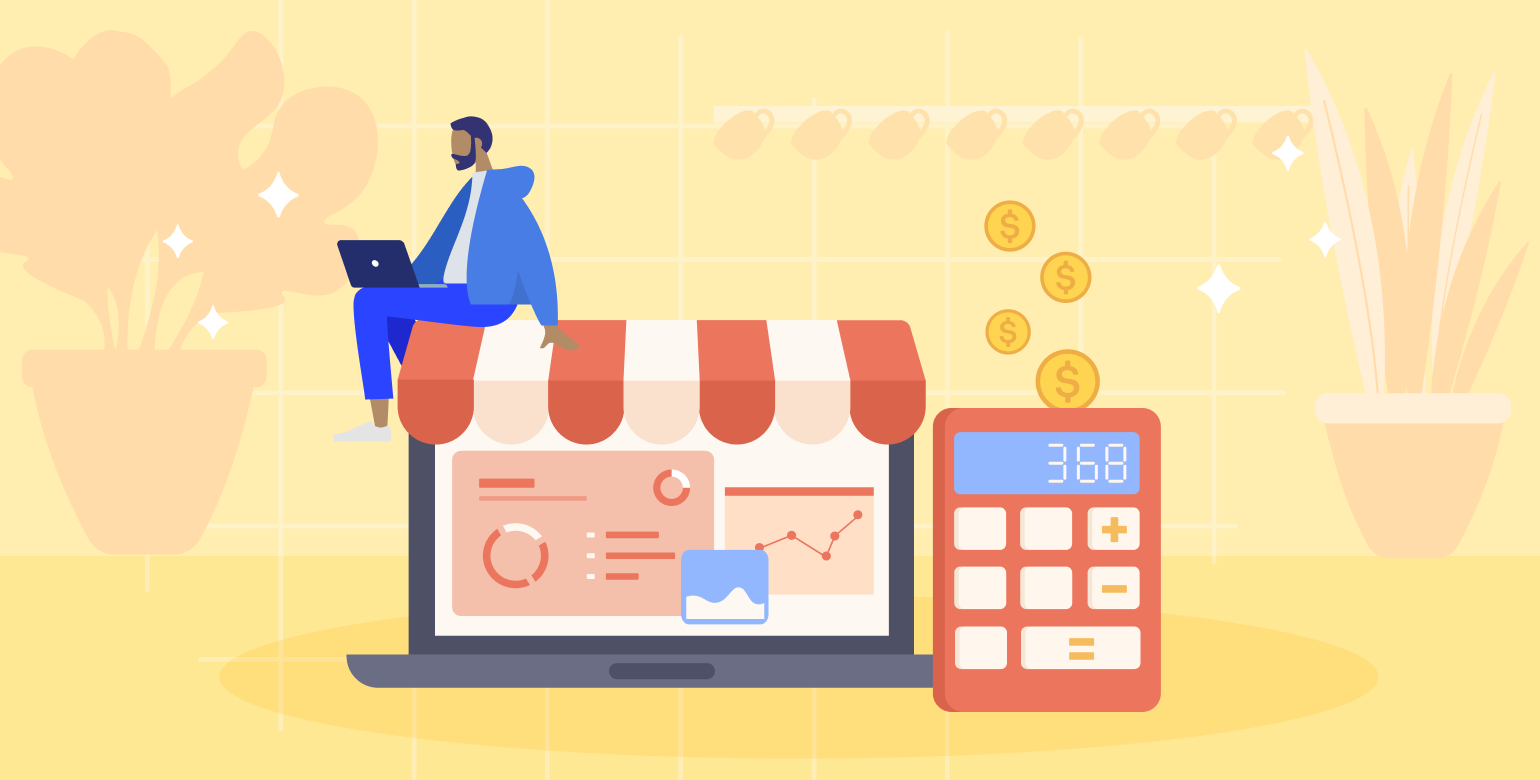 Learn how to manage your restaurant staffing shortage:
All business owners in this industry fear the dreaded words: restaurant employee shortage. Many restaurant owners struggle with finding new staff and retaining them for a long period.
And this problem severely affects every process in a restaurant: from preparing the food, and serving customers, to getting loyal clients and increasing profit.
If you struggle with a restaurant staffing shortage, you have come to the right place. We are here to teach you how to rely on technology to give customers an amazing experience, while also creating a better workplace for each one of your employees.
Restaurant employee shortage statistics you should know
Are you faced with a restaurant employee shortage? You are not the only one. This is a common problem, and the statistics prove it. If your business doesn't have this problem, you should still implement our solutions to ensure your staff remains satisfied with their jobs.
Check out these facts about restaurant labor that present a dire situation for many business owners:
In December 2022, there were 11 million job openings in the U.S., the biggest increase being in accommodation and food services (+409.000), according to the U.S. Bureau of Labor Statistics;
45% of small business owners reported their job openings were hard to fill, according to a study done by the NFIB Research Foundation;
In January 2023, eating and drinking places were 166,000 jobs – or 1.3% – below their February 2020 employment peak, according to the National Restaurant Association;
Restaurants added nearly 100,000 jobs in January, yet the increase is slow to get to pre-pandemic levels, says the study mentioned in the previous bullet.
How to use technology to take the load off your employees
Allow your employees to focus on offering clients the experience they deserve by implementing a variety of technological solutions. The ideas we provide you with below come at little or even no cost to you, but the results will speak for themselves.
When your staff is no longer overwhelmed with work and can do each task successfully, your restaurant will have room to grow. Happy employees -> happy customers -> more profit.
Implement an efficient online ordering system
To own a profitable restaurant, you can't ignore the online market. While you may have many customers visit your restaurant, your table number is limited, and you could be serving a lot more clients by selling your food online.
But the way you choose to do so has an enormous effect on your employees and customers. If you still have someone answer the phone to take down orders, you risk human errors that upset clients. When someone receives a wrong order, they are prone to never order again and even talk badly about your business to others.
Furthermore, you put a huge strain on employees to be on the phone when they have many other duties to fulfill. Errors are bound to occur by mishearing an order, an address, a quantity, etc.
All of this could be avoided by simply installing an online ordering system that streamlines your order-taking process and makes your employees' lives easier. All they will have to do to accept an order is push a button on the order-taking app and there will be no order errors.
No more time wasted answering the phone and no miscommunications. Here is what you must do to get a free online ordering system:
Sign up on GloriaFood and fill in your restaurant's profile;
Create an attractive menu in an intuitive way, guided by our smart wizard;
Publish the menu on your website (or request a sales-optimized website from the admin panel that will help you rank high in Google searches, if you don't already have one);
Start accepting online orders to increase your revenue!
Use technology to take the pressure off your employees
Install a free online ordering system that makes your staff's job easier
Start now
This useful online ordering system can do much more than help with managing your online orders. It includes a whole marketing powerhouse, including a Promotions module that can help you attract customers and increase the order value.
Do you usually have someone on the staff write your offers on a board? Or have them update the menu every so often to let customers know about your newest deals? Save time and effort by creating a promotion and adding it to your online menu in just a few minutes!
Go to admin -> Marketing -> Promotions -> Self-made promos and choose one of our promo templates. Customize the text, image, minimum order value, and even what type of client the offer will be available for (new or returning.)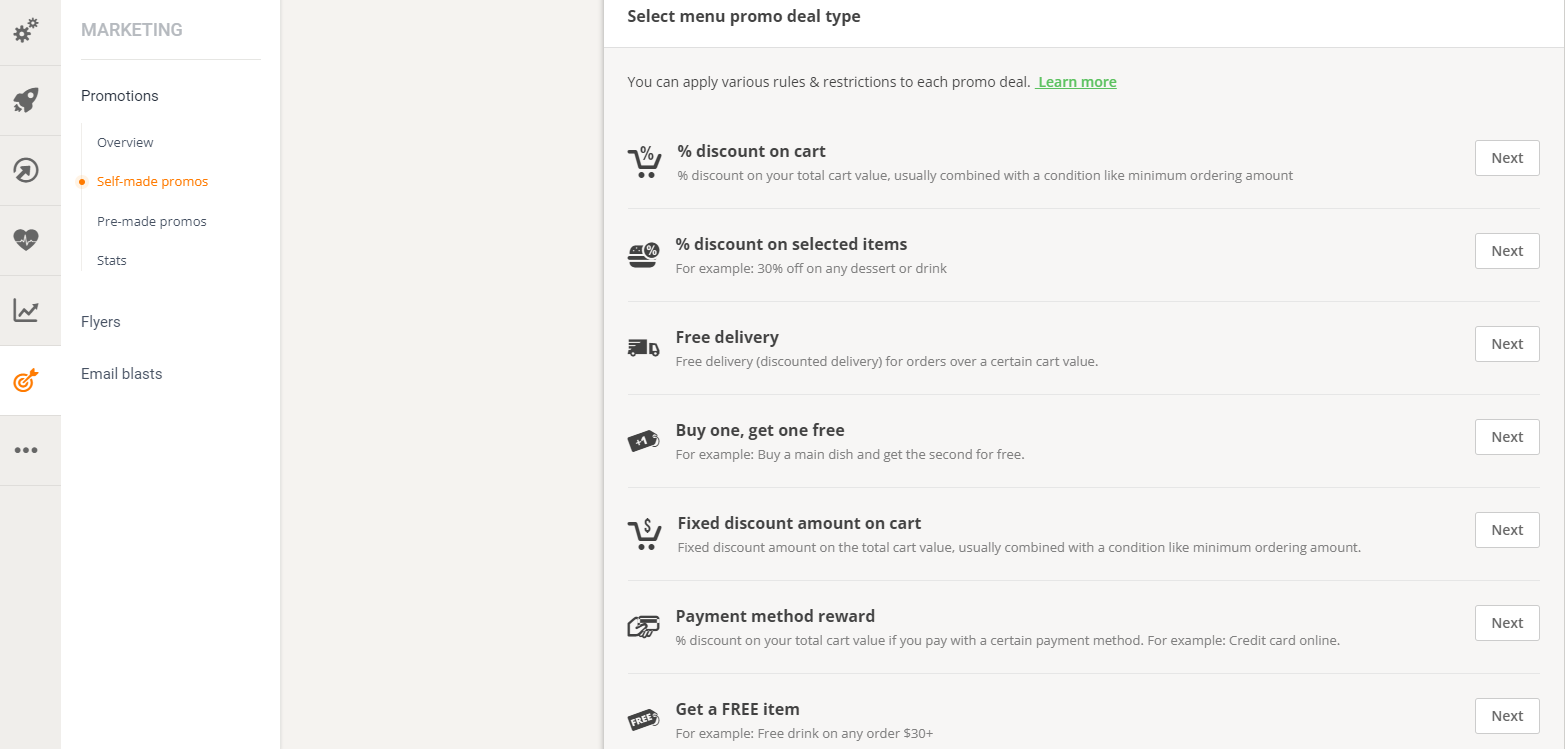 After you click save, the promotions will immediately appear at the top of your online restaurant menu where everyone can see them. You can change them as often as you wish, with no extra costs.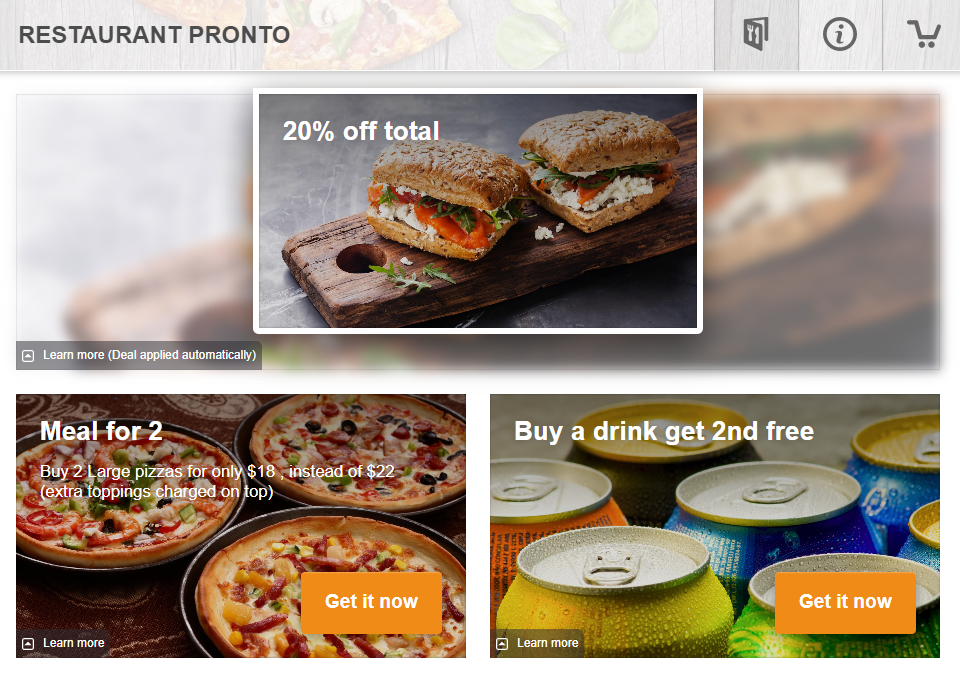 Check out this video to learn more about how easy and fast it is to set up a promotion with our online ordering system:
Use a table reservation system with the order-ahead feature
Clients enjoy the comfort of knowing they will have a table waiting for them when they decide to eat out. They also enjoy when they can reserve a table fast and easily, without having to talk to anyone.
Do you know what they don't enjoy? Wasting precious time out of their busy day waiting for someone to pick up the phone so they can book a table. And getting to the restaurant only to see the reservations were for the wrong hour or the table was double-booked.
This can happen if you take restaurant bookings the traditional way, by having an employee answer the phone. Take the pressure off your staff and implement a table reservation system.
Good news for you, there is a free and efficient table booking system included with our online ordering system. To activate it, go to admin -> Setup -> Table reservation and click Yes. Don't forget to click on Setting and check the box that says "Allow guests to pre-order their food when booking a table".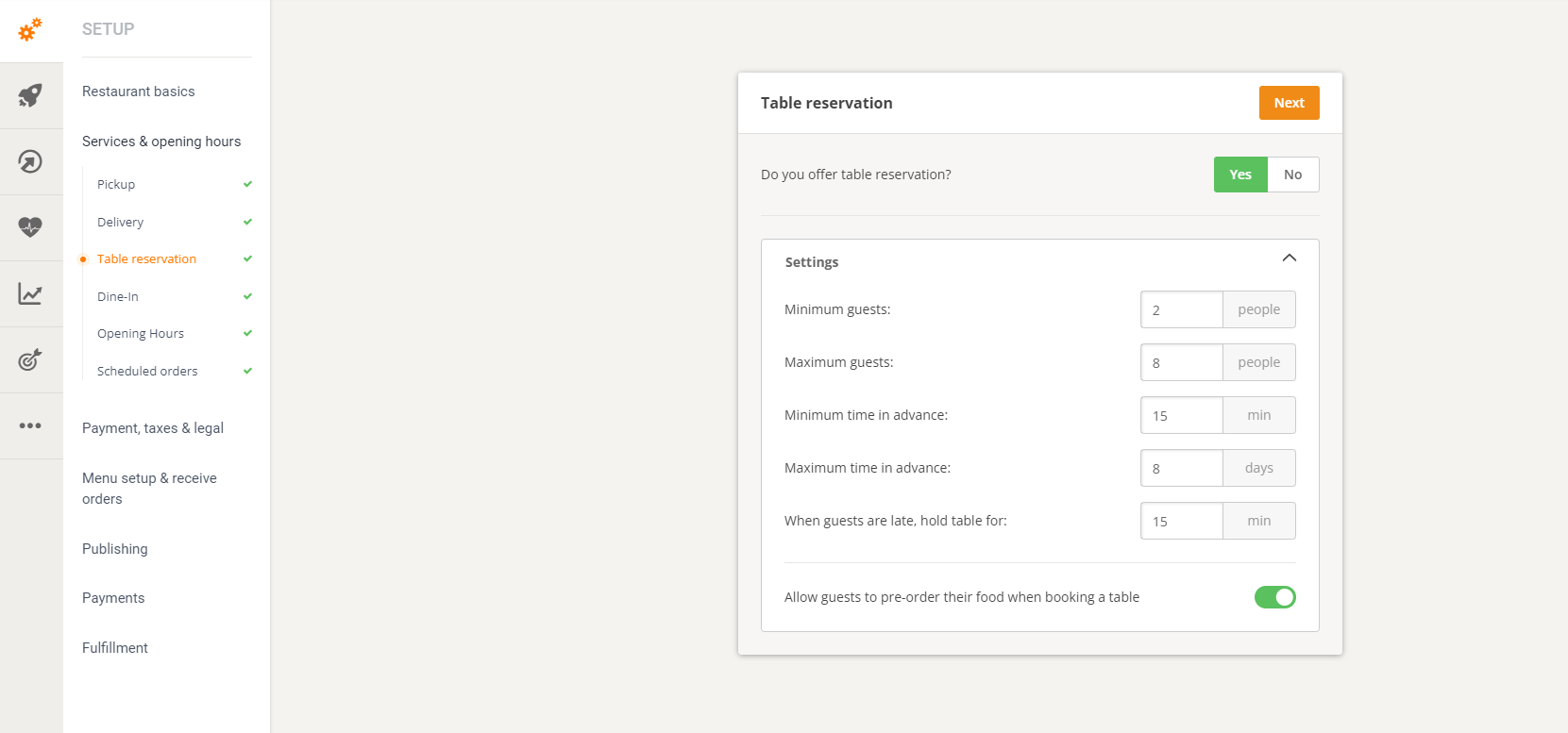 By enabling this, clients can place their orders and even pay when they make their reservation, leaving little work for your employees. This can be a lifesaver when you have few team members working on a full day and they are struggling to serve every table.
All there will be left to do is greet, sit and serve the clients. Less work with more satisfaction!
Replace the old menu with a QR code one
When your restaurant is short-staffed, it can be a struggle to get to every table in a timely manner to deliver the menu, take the order, serve the food, and take payment. What if you could eliminate one or two of these steps, allowing employees to do their best and focus on the rest?
You can if you choose to replace your paper menus with a QR-code one. After clients are seated, all they have to do is scan the QR code they find on their table to instantly access your online menu.
There, they can easily browse through all the options, consider your promotions, and can choose to either wait for a server to order or order online and choose the dine-in option.
To get your own free QR code menu, go to admin -> Setup -> Publishing -> Dine-in QR code and click Yes. All there is left to do on your part is print the code and stick it on every table.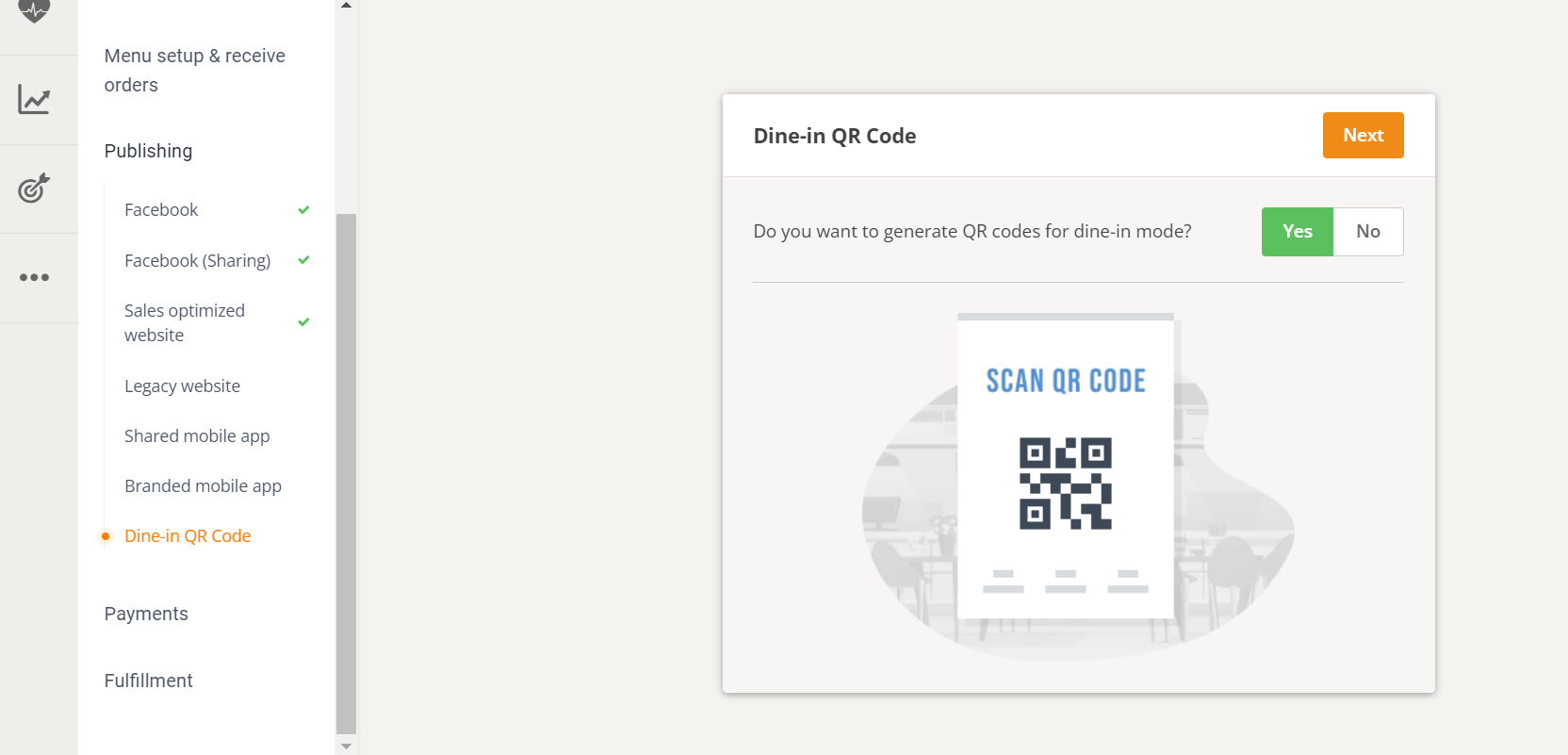 Check out this video for more detailed instructions for creating your QR code menu using our online ordering system:
Accept orders with a state-of-the-art order-taking app
Accepting online orders will most surely be the responsibility of one of your employees. Why not make it easy for them and for you and offer them access to the efficient order-taking app that comes with our online-ordering system?
No need for a time-consuming training, anyone can learn to use the order-taking app in a few minutes. All the orders and table reservations placed by the customers through your website, social media or app with be visible immediately in the order-taking app.
The employees only have to tap a button to confirm the order and table reservation. There is one small extra step for food orders: giving an estimated time of arrival so the client knows when they should be expecting their ordered menu items.
You will receive visual and auditory notifications even when the app is closed so you don't miss any order. Moreover, you can also receive orders while your restaurant is closed, so you will have them nicely lined up when you open up.
Advertise your job listings on your website
Restaurants don't struggle just with maintaining employees, but also with finding great ones to be part of the team. It all starts with the hiring announcement. There are a couple of ways to go about it, and we recommend you try them all to increase your chances of receiving relevant applications:
Post on job aggregators: ensure you mention the role's responsibilities and what you expect from a candidate, including experience;
Post on your website: your listing may get lost among many other similar ones on job aggregators, but it will stand out on your restaurant's website. Adding it here will show potential candidates it is a real job, and they can confidently apply. Check out how the job listings could look on your site if you used our intuitive restaurant website builder.

Post on social media: advertise your job openings to the large audience you can find online. Ensure you add a link to your website where they can easily apply. Make it easy for them and you will increase your chances of countering the restaurant employee shortage.
Make your job listings visible on your restaurant website
Use this restaurant website builder to attract both employees and customers
Start now
Conclusion
The restaurant employee shortage is a big problem that can lead to a business's demise if not resolved. Your restaurant's success is dependent on productive employees that offer a great customer experience.
Therefore, if you want to grow your business, rely on all the technological solutions provided above to ease the work of your employees.
An online ordering system to streamline your order-taking process, a table booking system to eliminate errors, a QR-code menu to free up staff's time and a state-of-the-art order-taking app are all must-haves.