5 post-pandemic restaurant trends and how to keep up with them
By

Otilia Dobos

JUN 8, 2023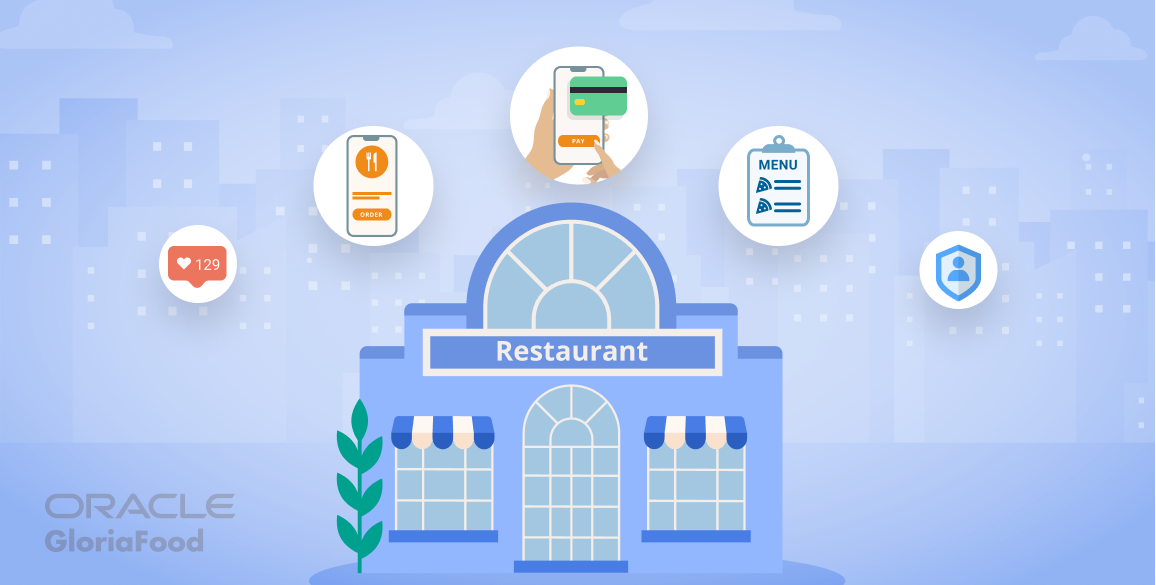 How to ensure the success of restaurants post pandemic:
On May 5th, 2023, the World Health Organization ended the global emergency status for COVID-19. This is not to say the virus doesn't exist anymore, but the safety measures are more relaxed, and people learned to live with it.
But the three-year-long state of emergency has had long-lasting effects on everyone, including the restaurant industry. For example, we saw a decrease in restaurant visits, but a huge increase of 67% for digital restaurant delivery from 2019 to 2020.
Did you just open a restaurant or thinking about it? Or do you already own a restaurant that has faced all the challenges of a worldwide pandemic? Either way, if you wish for your place to remain profitable long-term, you must get acquainted with post-pandemic food trends.
In this article, you will find the most popular post pandemic restaurant trends you must hop on to ensure your restaurant's success.
1. Online ordering is here to stay
The revenue for the online food delivery market worldwide has been in steady increase from 0.13 trillion dollars in 2019 to 0.39 trillion dollars in 2023. This is the result of a couple of factors:
At the beginning of the pandemic, people couldn't go out so the only way to enjoy delicious food cooked by someone else was to order in. Do anything enough times and it becomes a habit.
The convenience of ordering food from the comfort of your own home as opposed to having to dress up and go out often wins. As restaurants started to offer better online ordering customer service, people are tempted to just tap a button to receive the desired food.
There is still a big safety concern so many people try to limit their exposure to unknown mediums and a variety of people.
Therefore, offering delivery and pickup services at your place can be considered one of the biggest post pandemic restaurant trends. You can't solely rely on service in your location if you want to observe a big profit at the end of the year.
People expect to be able to order your food online and you will disappoint them if you don't give them this option. If you want to save money, stay away from delivery aggregators that perceive a commission and where your restaurant can be easily overlooked in a sea of competitors.
Instead, allow clients to order directly from your website or social media using the best free online ordering system from GloriaFood. It will make the ordering process extremely easy for clients and organize the orders for you so you can accept new ones with a simple tap on any smart device.
Don't miss out on one of the biggest post-pandemic restaurant trends
Install an online ordering system to your website for free
Start now
All you have to do is sign up, fill in your restaurant's basic information, create a menu (you will be guided at every step by our wizard), publish it on your website, and download the order taking app for iOS or Android.
Check out this video to learn how to add an online ordering system to your website in just 10 minutes:
Ghost kitchens also come up as one of the most popular post pandemic restaurant trends. Many restaurant owners choose to save money by not having a physical location, just a kitchen where they can prepare the dishes.
Because the sole focus of virtual restaurants is pickup and delivery, an efficient online ordering system is imperative.
2. Smaller restaurant menus become the norm
The pandemic was followed by an economic crisis that made all prices increase and many ingredients hard or next to impossible to find.
Consequently, many restaurants found themselves in a problematic situation: they could no longer prepare some of their menu items or they couldn't make a profit and still sell their dishes at a reasonable price.
The solution was to do some menu merchandising and downsize their menu to only include dishes with easy-to-find ingredients at a sensible price that would allow them to charge a fair, profitable, yet attractive price. This is how one of the newest post pandemic restaurant trends appeared: the small menu.
The plus side of this practice is you get more happy customers and reduce food waste. Clients prefer a smaller menu because it guarantees fresh ingredients, and it takes less time to decide on their order. Furthermore, less food thrown away because it doesn't get used equals more profit.
Therefore, you should concentrate on creating quality menu items that will persuade clients to order again and again. With our menu editor, setting up a restaurant menu and editing it is free, no matter how many times you do it.
You can attract clients with mouth-watering food pictures (or choose some from our gallery if you don't have professional ones yet) and enticing descriptions.
Instead of adding more items to your menu, you can offer clients the possibility to customize their dishes with choices and add-ons. For example, you can offer different sizes and a variety of toppings for pizza (toppings have a high-profit margin, so it will help increase your revenue).
Find out how you can easily allow customization at your restaurant from this video:
3. Online payment is a must
During the pandemic, everybody feared the germs of cash and unnecessary interaction with the delivery person, so they only ordered from restaurants that offered online payment and contactless delivery.
Furthermore, in most countries, people can pay everywhere with their cards and phone, so they don't carry cash anymore. Therefore, when they are hungry, the only option to pay for their delivery of food is online.
If you don't allow people to pay online for their orders, you may be losing clients who either don't have cash or don't want to pay with printed money and risk their health.
Don't worry, if you use our online ordering system, you can easily implement online payment in just a few clicks. Give your clients the gift of convenience by going to admin -> Setup -> Payments -> Online Payment and selecting "Yes".
Watch this video for more detailed instructions on how to set up one of the most important post-pandemic restaurant trends: online payment for your restaurant.
4. Social media becomes the most efficient marketing channel
People already spent a lot of their time on social media before the pandemic, but with nowhere to go, the online space became a refuge. The habit still stands, people open their phone first thing in the morning, they use it while commuting and eating, and even while hanging out with friends.
To conclude, most of your clients and potential customers spend a lot of their time browsing social media. Therefore, it makes sense that if you want to market your restaurant to them, you should also be present on social media.
Here are the must-haves on your social media profile if you want to be on top of the post-pandemic restaurant trends and convert followers into clients:
A link to your menu: allow people to order directly from your social media with no unnecessary clicks by adding a link to your menu in your bio, description, posts, and stories;

Allow clients with food allergies to order directly on your website

Generate an SEO-optimized website that will help you sell more

Start now

Constant interaction: don't just post some photos and forget about your accounts. You need to reply to all messages and comments to show people you care about their input and convince them to order from your place;
Mouth-watering pictures of your food: everyone who follows a restaurant on social media is interested in one main thing. The food. They want to see pictures of your food in all stages, from the preparation to the final delicious product;
Strong Calls to Action: Persuade people to order your food online or make a reservation by including strong calls to action in your post descriptions. For example, "The authentic Sicilian arancini is only available this week, order now so you don't miss out on the vacation taste";
Occasional contests: keep people engaged and reach a new audience by organizing restaurant competitions. It can be as simple as tagging a friend in the comments to win a free meal for two or go more complicated like post a photo from our restaurant and tag us to win a dining experience for you and three more friends;
Candid photos that show the atmosphere at your restaurant: attract people to your restaurant by showing them how great the interior is decorated, how fun the atmosphere is while dining, and how friendly your staff is.
5. Safety is still a big concern
The state of emergency may be over, but Covid-19 and other diseases are still out there, and many people are still cautious to order because they fear safety measures may not be of importance to restaurants.
Give potential clients the peace of mind they deserve by not only implementing safety measures in the kitchen, restaurant, and delivery but also being vocal about it. How will people know you do all this if you don't let them know?
Here is what you can do to participate in one of the safety-focused post pandemic restaurant trends:
Add a banner on your website announcing you are still respecting safety measures to offer the best customer service possible. With our restaurant website builder, it is easy to customize the website to your wishes, while ensuring you reach the first page of Google;

Share your safety measures on social media: add one post a week where you describe how you keep everything clean and safe for your clients. You can even do a TikTok video to get the word out to a bigger audience;

Insist on online payment: the safest way to pay for food because it doesn't involve handling cash for clients or delivery personnel;

Offer contactless delivery: quite easy to do if the order is already paid online. The delivery person just has to place the food near the door and ensure the clients received it through the phone, no physical interaction needed.
Post-pandemic restaurant trends are shaping the food and beverage industry
The restaurant industry is constantly changing and adapting to the challenges thrown its way. If you want to succeed in this business, you must not only be aware of the post-pandemic restaurant trends popular right now, but you must also make them part of your restaurant.