What is menu merchandising and how to use it to increase your restaurant's sales
By

Otilia Dobos

MAR 16, 2023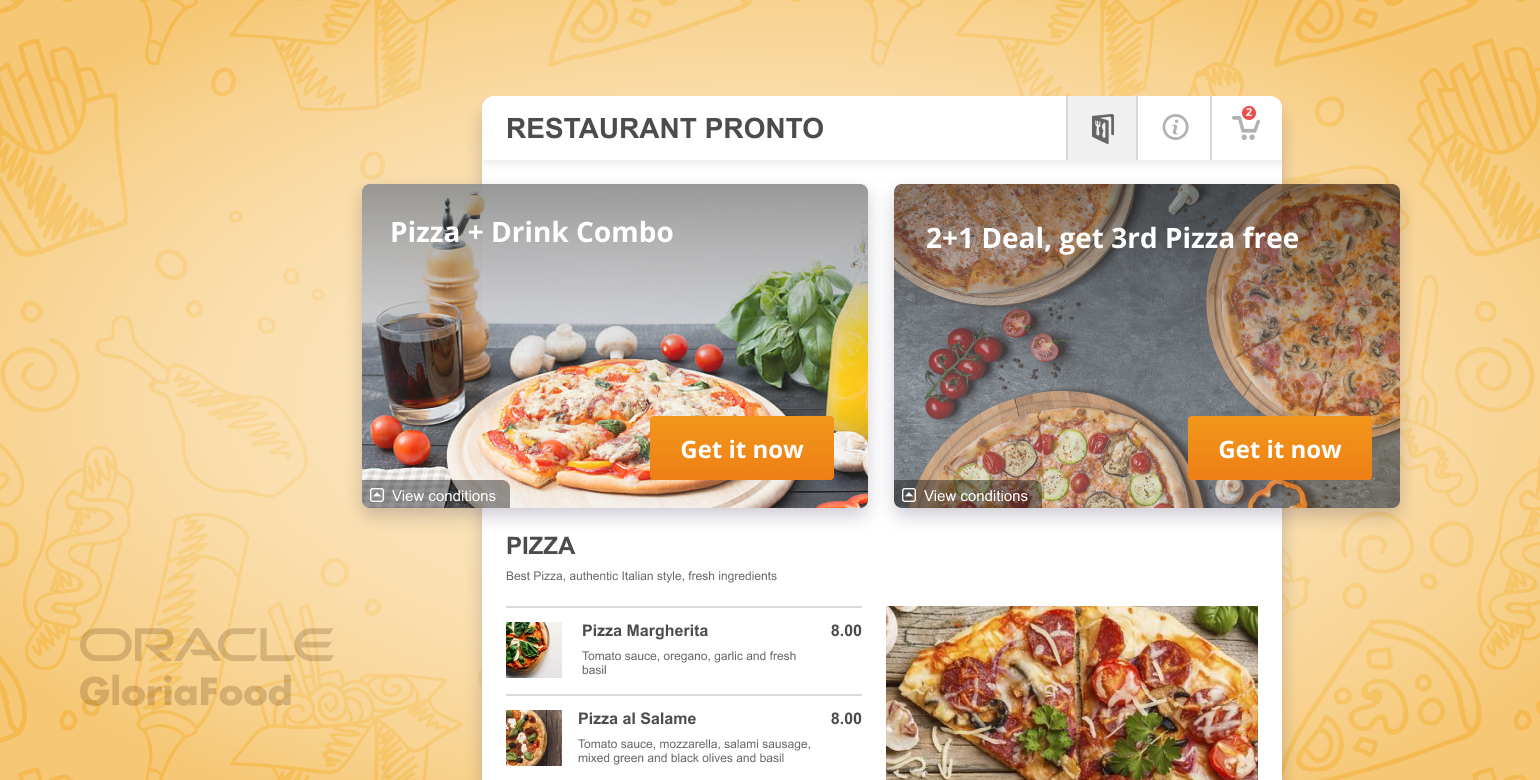 Start restaurant merchandising with your online menu:
While the restaurant menu started as a simple piece of paper with some dish names written on it, once technology became an important part of our lives, it had to adapt and transform into a new, more encompassing form.
With this change, a new question arose: what is menu merchandising? And how do I do it? As the restaurant menu is the first thing a client seeks and remembers about your business, it is important to create one that leaves a mark.
In this article, we give you all the answers you seek about menu merchandising:
What is menu merchandising?
Simply put, menu merchandising refers to all the processes involved in creating and advertising a restaurant menu. The goal is to obtain a menu that will attract clients and encourage them to order more, in order for your business to succeed.
You can merchandise a menu only used in the restaurant (usually a paper one, or written on a board for more visibility), but, lately, the focus has shifted more to digital menus.
As more and more people started ordering their food online, restaurant owners found themselves competing with countless other businesses to attract customers. The ones who know the answer to what is menu merchandising and how to do it well can gain an important advantage.
Why is merchandising the menu important?
We hear news constantly about the decreasing attention span. Therefore, you won't be surprised to know that potential customers spend very little time browsing your menu and deciding what and if they should order from your place.
If you focus on menu merchandising, you have a bigger chance to convince clients to order from your restaurant. Here are more benefits you could enjoy if you start menu engineering now:
Attract clients: an intuitive menu that allows you to order food online fast will be the preferred choice to a slow-loading PDF. Offer your clients what they seek most: convenience;
Sell more food: with menu merchandising, you can learn how to organize your menu and place your dishes to encourage customers to not only order more but also order more expensive items;
Increase your revenue: if your restaurant menu is better than your competitor's, potential clients will choose your place. Therefore, more sales lead to more revenue and a successful business.
7 tips for restaurant menu merchandising that will help increase your revenue
Now that you know what menu merchandising is, it is time to find out how to properly do it. There are two types of food and beverage menus you could do it for (in the restaurant and for delivery/pickup) or just one if you decide to unite both and use a QR code-generated one.
For now, as online food delivery statistics tell us that 60% of consumers order delivery or takeout at least once a week, we are going to focus on how to merchandise an online restaurant menu. Check out these useful tips:
1. Offer the utmost user experience
When hungry clients decide to order food, they want to be able to do it easily and fast. They don't want to spend time searching for a menu button on your website, only to be met with a PDF-format menu that must be downloaded.
Not only will it be slow to load, but it will be hard to read for clients with smartphones that must zoom in and out constantly. Furthermore, when they want to order they have to start searching for your contact info and call you.
This opens up the possibility of human error with a miswritten order or delivery address, on top of requiring countless unnecessary steps to place an order. Many potential customers will be put off by the amount of effort required to order and choose to take their business elsewhere.
What you need to sell more is a digital restaurant menu with an online ordering system included combined with a very visible menu button on your restaurant's website.
This way, when someone accesses your website, they will spot the menu button immediately. Once they click it, they can browse it, add the desired menu items to the cart, settle payment and delivery data, and order. Easy-peasy.
No time lost and no room for error. It is important to choose a responsive online menu, that adapts to every screen size and loads almost immediately. Nobody has time to wait on a slow-loading page nowadays.
2. Prioritize simple & intuitive design
You don't need a variety of background images, design elements, and different types of fonts. You need to keep away from the clutter that may distract the customer from what's important: the food. Therefore, you should strive for:
Clean design: that leads the client's eye to the important menu items;
A simple combination of colors: use no more than three, and they should ideally match your branding;
Legibility: all the fonts you use should be easy to read and big enough so clients don't have to zoom in;
Organization: split the menu items into categories, so customers can find their desired dishes fast. Also, arrange the categories in the same way you would serve them: appetizers, entrees, main dishes, side dishes, desserts, and drinks.
3. Add illustrative images
While a paper menu isn't usually adorned with pictures, a digital menu would be incomplete without mouth-watering images that tempt potential clients into ordering.
People like to have an idea of what their food looks like, and pictures can help them decide if they want to order a specific menu item. Therefore, it would be a great idea to invest in a professional photographer to get some amazing food pictures.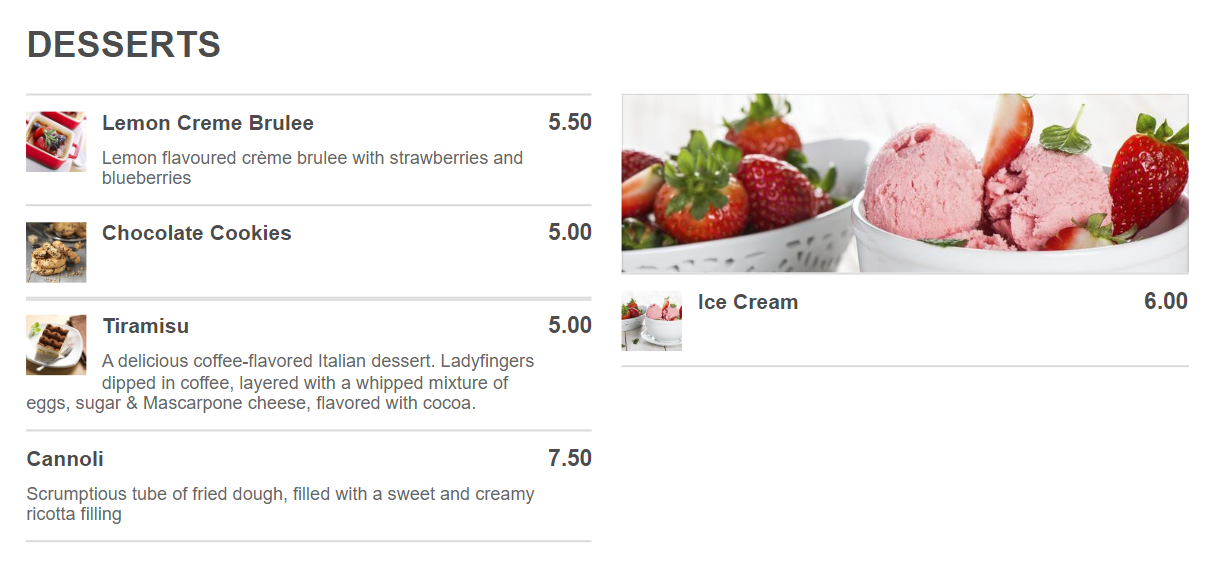 Here are some tips for beautiful menu item photography that will tempt clients to order:
Pay attention to the background: for mood photography, you have more freedom to experiment with an object behind and around your dishes. But, for menu pictures, the dish must be the only star;
Use complementary colors: Help your menu items stand out by choosing a complementary background color. For example, if you have an orange pumpkin soup, go for a blue background, and for a brown pizza, choose a green-blue backdrop. When editing, increase the saturation so your pictures look more vibrant;
Choose the best angle: just like people, menu items look good when they are photographed from a certain angle. Experiment to see what looks best, but keep in mind pizza, soups or other flat food looks best from above and tall food like burgers and sandwiches look great from the side so you can see the layers;
Light is your friend: great lighting is the difference between a boring photo and an amazing one. Go for diffused, natural light when you can or use an artificial source and play with it to get different effects. Strive to get as little shadow as possible on the dish.
4. Use inviting descriptions
Pictures may be the main thing people look at on the menu, but don't underestimate descriptions. Well-written ones can encourage potential clients to click the add to cart button. Check out these easy-to-implement tips:
Use words that stimulate the imagination: help people envision how the dish tastes and feels by using words like velvety, creamy, fruity, citrusy, crisp, etc.
Highlight the mode of preparation: especially if it is a more complicated one, such as sous-vide, flambeed, or slow-roasted;
Talk about the ingredients: what makes them special? Are they locally sourced? Are they bio? Are they from a foreign country recognized for quality produce or meat?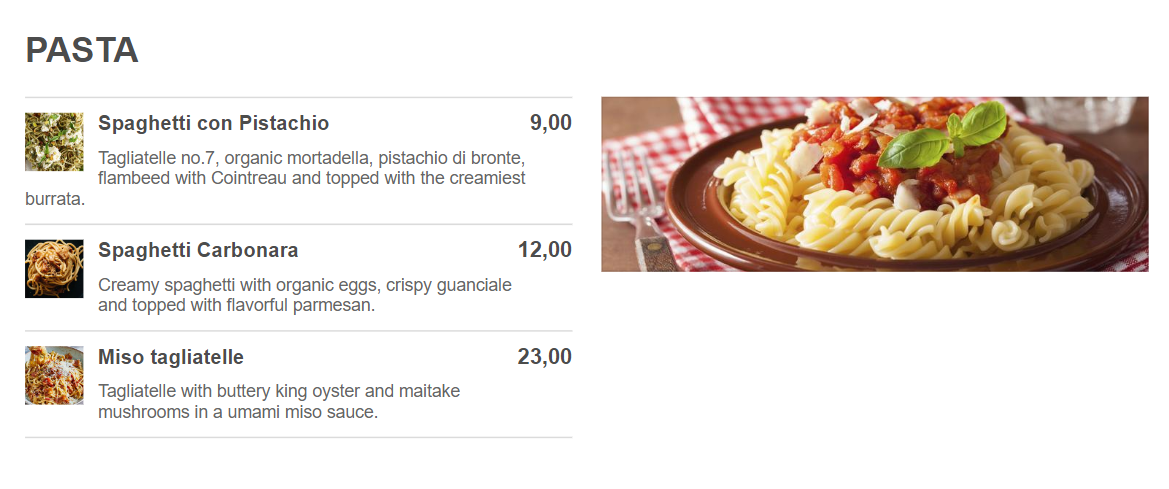 5. Keep it short & sweet
A short menu is ideal both for you and your clients. On your part, you spend less on ingredients, you eliminate a big factor of food waste, and you can concentrate on perfecting the existing menu items.
Clients appreciate a shorter menu because it doesn't take forever to go over all the options and it guarantees fresh ingredients.
You get bonus points if you mark your menu items for allergies or specific diets. For example, a small icon could indicate if a dish is vegetarian, halal, dairy-free, nut-free, etc.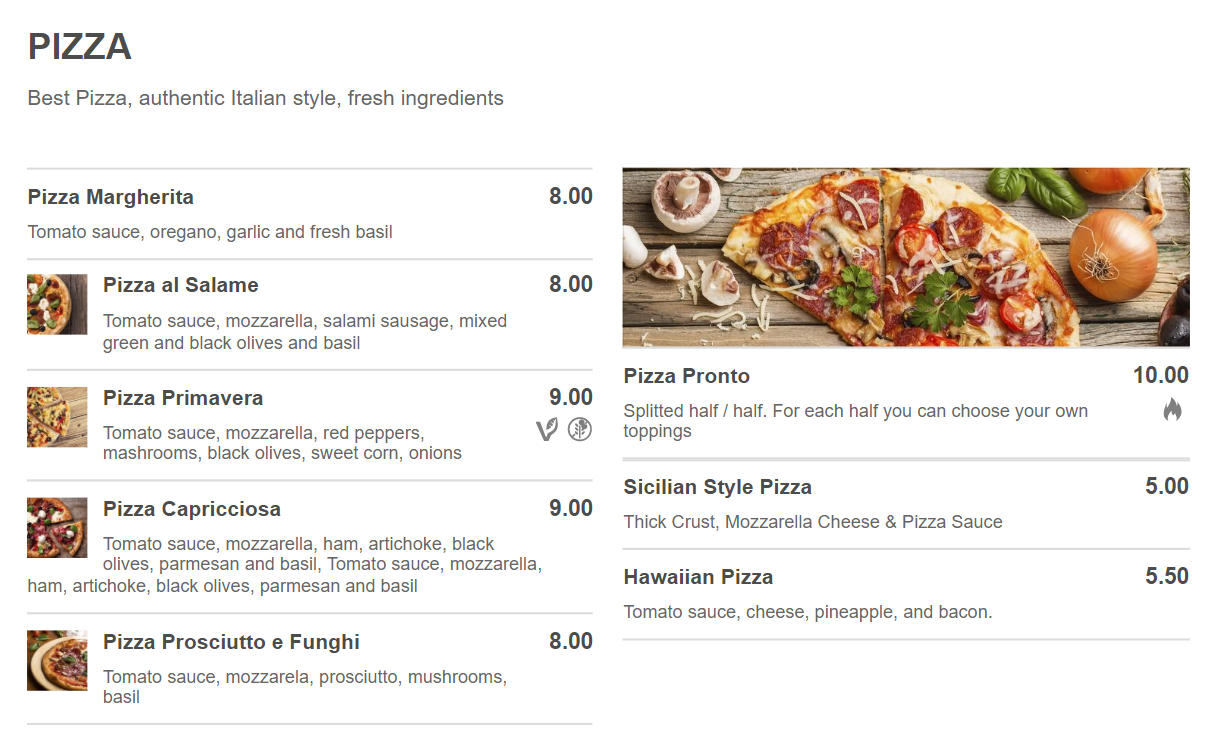 6. Use a format that allows infinite changes
This feature will allow you to save time and money because you don't have to constantly pay to print out new menus (and even worse, make changes to old menus with a pencil) or hire designers to make changes to the online versions.
You are bound to change some menu items at some point, and you should be able to do this easily and at no added cost. It would also be ideal if you had an online menu where you could mark items as out of stock, so as to not disappoint people who want to order them, only to be told you are out.
7. Add attractive promotions
When we talked about what menu merchandising is, we specified it is a way of advertising it. And what better way to advertise a menu than use efficient promotions? Ensure the promotions are placed at the top of the menu, so they will be the first thing a client sees when they open it.
Clients will be more tempted to order if they can profit from a good deal, such as free delivery over a certain amount, a free item for orders paid online, a 1+1 bundle offer, a 5% off the first order, etc.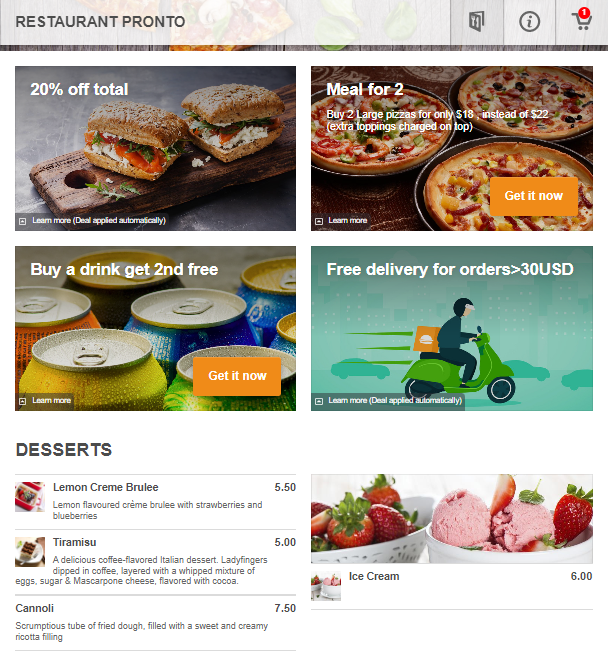 How to get the benefits of menu merchandising without all the work?
If you don't want to invest time and effort in merchandising your menu, but still want to reap the benefits, we have the perfect solution: our digital menu creator with an incorporated online ordering system.
Here are the most important features of our online restaurant menu that will help you increase your revenue:
Intuitive menu editor: our wizard will guide you step by step to ensure you create the best menu for your clients.

A free gallery of images: on top of the online ordering system being free, we also provide you with free access to an extensive gallery of food images. You can use them to illustrate your dishes until you get your own professional pictures.
Responsive design: The menu you create will load fast and adapt to every type of device to create a great user experience for your clients. Check out this demo website for a menu preview.
Easy customization: With just a few clicks, you can mark your item as one of the following: Hot, Vegan, Vegetarian, Gluten-free, Halal, Nut-free, Dairy-free, or Raw. You can also signal when a dish is out of stock to not disappoint your customers.

Personalization options for your customers: you can allow clients to choose a different size for their dishes (small or large pizza) and also customize their items with a variety of toppings.

Powerful promotions module: entice customers to order more by adding attractive promotions at the top of the menu. You can do it in a few seconds and they will automatically appear in the online menu.
Follow these steps to get the advantages of menu merchandising without all the effort:
Sign up on GloriaFood and fill in your restaurant's basic information;
Create an amazing restaurant menu with tempting images and descriptions;
Publish the menu button on your website (if you don't have one, we can help you);
Start taking online orders with the menu merchandising all done for you by our system!
Conclusion
It is important to know what menu merchandising is and how to do it properly if you want to increase your restaurant's revenue. The goal is to make the online menu as user-friendly as possible and to use design, images, and descriptions to attract clients.
If you don't have the time to put all this information to practice, you can always get an online restaurant menu from us and have the merchandising work done for you.