Seasonal factors affecting the restaurant industry and how to succeed despite them
By

Otilia Dobos

APR 28, 2023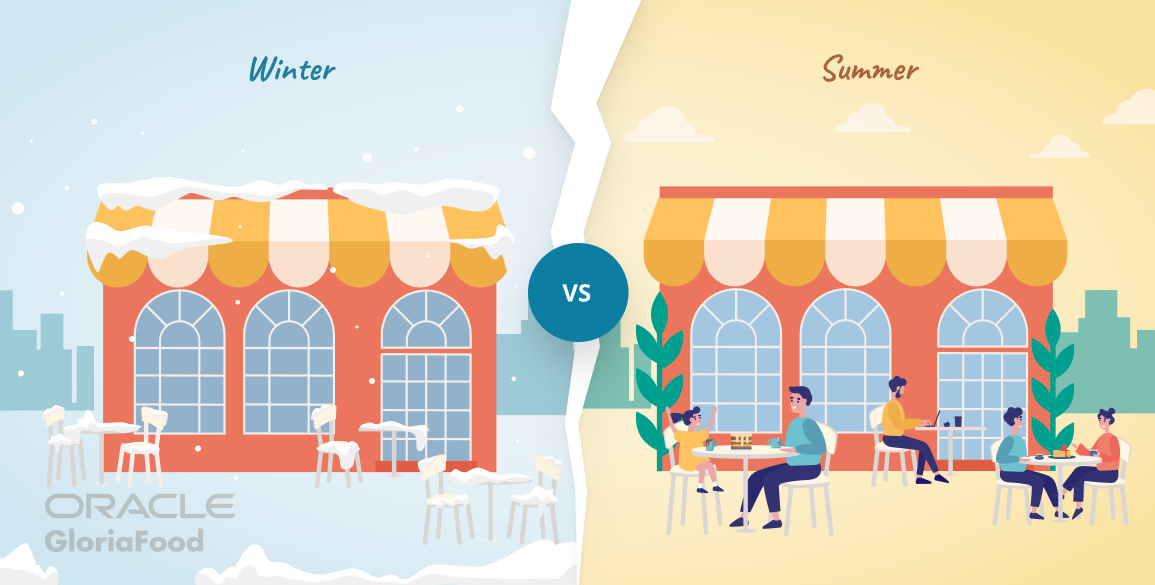 What are the common seasonal factors affecting sales in a restaurant:
Owning a restaurant is a finicky business. You get the satisfaction of creating amazing dishes that many people enjoy, but you are also faced with constant challenges that you must overcome if you want to succeed long term.
For example, it can be a challenge to overcome the reoccurring seasonal factors affecting the restaurant industry. Fortunately, we've researched the most common factors to provide you with easy-to-implement solutions.
What is seasonality in the restaurant business?
Seasonality in the restaurant industry refers to the fluctuation of business according to the change in weather, holidays, or other events that are reoccurring.
If you monitor your sales, you have surely noticed they are never constant. You have periods with a full restaurant, and times when you struggle to fill your tables.
It is common for people to dine out more during the warmer months, so that may be when your restaurant is experiencing its biggest success. If you are located in an area that's attractive to tourists, you will also see an increase in revenue during the tourist season in your country.
On the other hand, in the winter, people often can't be bothered to face the cold to reach your restaurant. You may also notice a drop in business during the holidays because people usually choose to spend them with their loved ones at home.
What are the most important seasonal factors affecting the restaurant industry + Solutions
There are a couple of seasonal factors affecting the restaurant industry, like the type of weather, location, and even menu. But don't be discouraged, with the right tools and a bit of effort, you can overcome them and ensure you run a successful restaurant all year round.
Fewer sales in the winter months
The weather outside is frightful, at home it is delightful and because there's no place to go, restaurants suffer a decline in sales. Is this the way the holiday song went?
Joke aside, the cold weather encourages people to spend more time at home and makes them less interested to go out in the snow to eat at a restaurant. Therefore, you will surely experience a decrease in the number of dine-in customers.
Solution
If clients can't or won't come to you, you must go to them! How? Easy, by adding an online ordering system to your website that allows clients to order your delicious food without having to step out of the comfort of their warm homes.
Make it as convenient as possible for them to increase your number of online orders. Clients should be able to find your menu button instantly after they access your website. Afterward, the menu must be intuitive, so customers can easily browse it and get to the checkout screen in just a few clicks.
If you want to increase your winter sales, you need the online ordering system from GloriaFood. Not only will it streamline your online orders, but it will also help promote your restaurant with the powerful integrated marketing features:
Promotions module to create attractive offers customers won't be able to say no to;
Kickstarter module to attract new customers, no matter the season;
Autopilot module to persuade clients to order again and again;
Reports module to monitor your restaurant's evolution.
Follow these simple steps if you want the best free online ordering system:
Sign up on GloriaFood;
Fill in your restaurant profile;
Create an online restaurant menu with our wizard's help;
Publish the menu button on your website (or generate a sales-optimized restaurant website using our website builder);
Start accepting online orders.
Sell more of your dishes online during the cold season
Install an online ordering system to your website for free
Start now
An abundance of clients in the warm months
After you've put in a lot of effort during the winter to attract clients, you are now faced with the challenge of countless customers that want a seat at your table. While this doesn't seem like a problem at first, it can easily turn into one.
For example, clients who reach your restaurant but don't find a free table may turn to the internet to leave a bad review. Long lines and reservations made over the phone (which leave an open door to errors) can have the same effect.
Solution
To manage the big number of clients in the summer, you must implement a table reservation system. This way, when people want to eat at your restaurant, they can easily book their table online with just a few clicks and no human interaction.
If you still take reservations by phone, you risk writing down the name, hour, or other information wrong and disappointing the clients. An online system does the job for you and eliminates errors.
Make it clear on your website and social media channels that people should make reservations to ensure they get a table to enjoy your delicious food. If the process is easy, clients will take advantage of this tool to make their life easier.
Increase your client's user experience with a table reservation system
Add a free table booking system to your website in minutes
Start now
Good news, with the online ordering system from GloriaFood, you also get a free table reservation system! Check out this demo website to see how it will look on yours and how intuitive it is to use for your customers.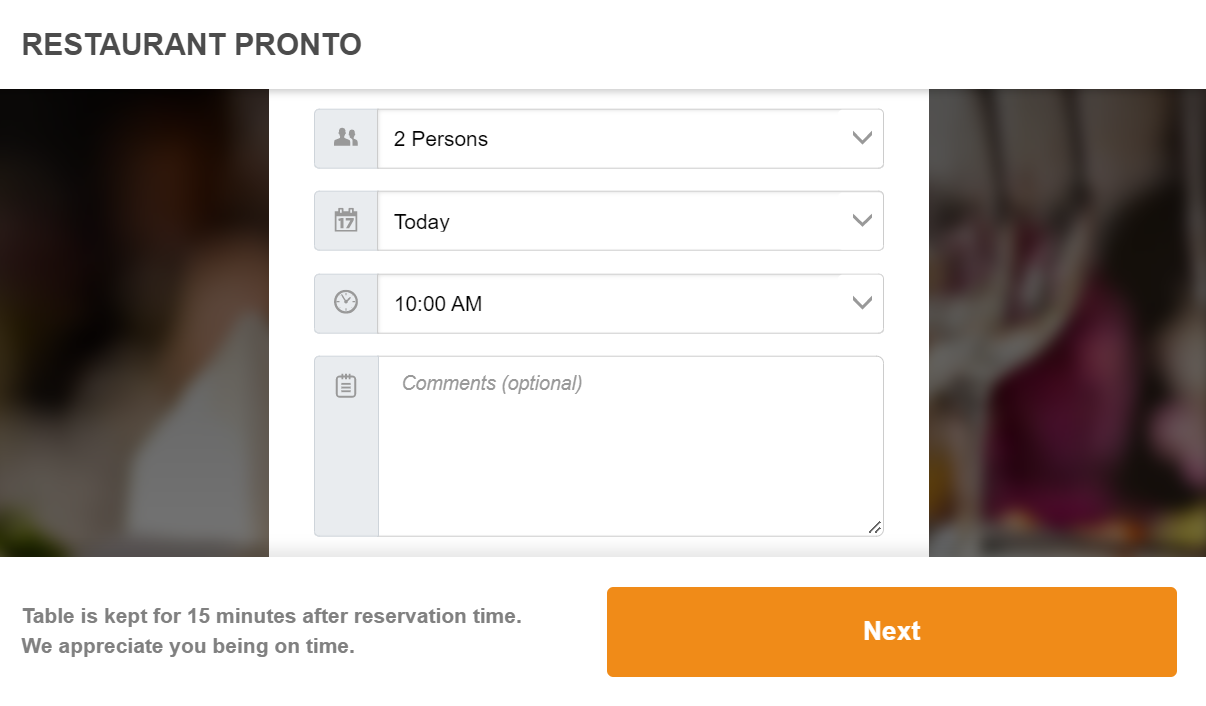 To get it, go to admin -> Setup -> Services & opening hours -> Table reservation. You can also allow clients to order their dishes and pay online when they book a table to increase the table turnover and serve more customers in a day.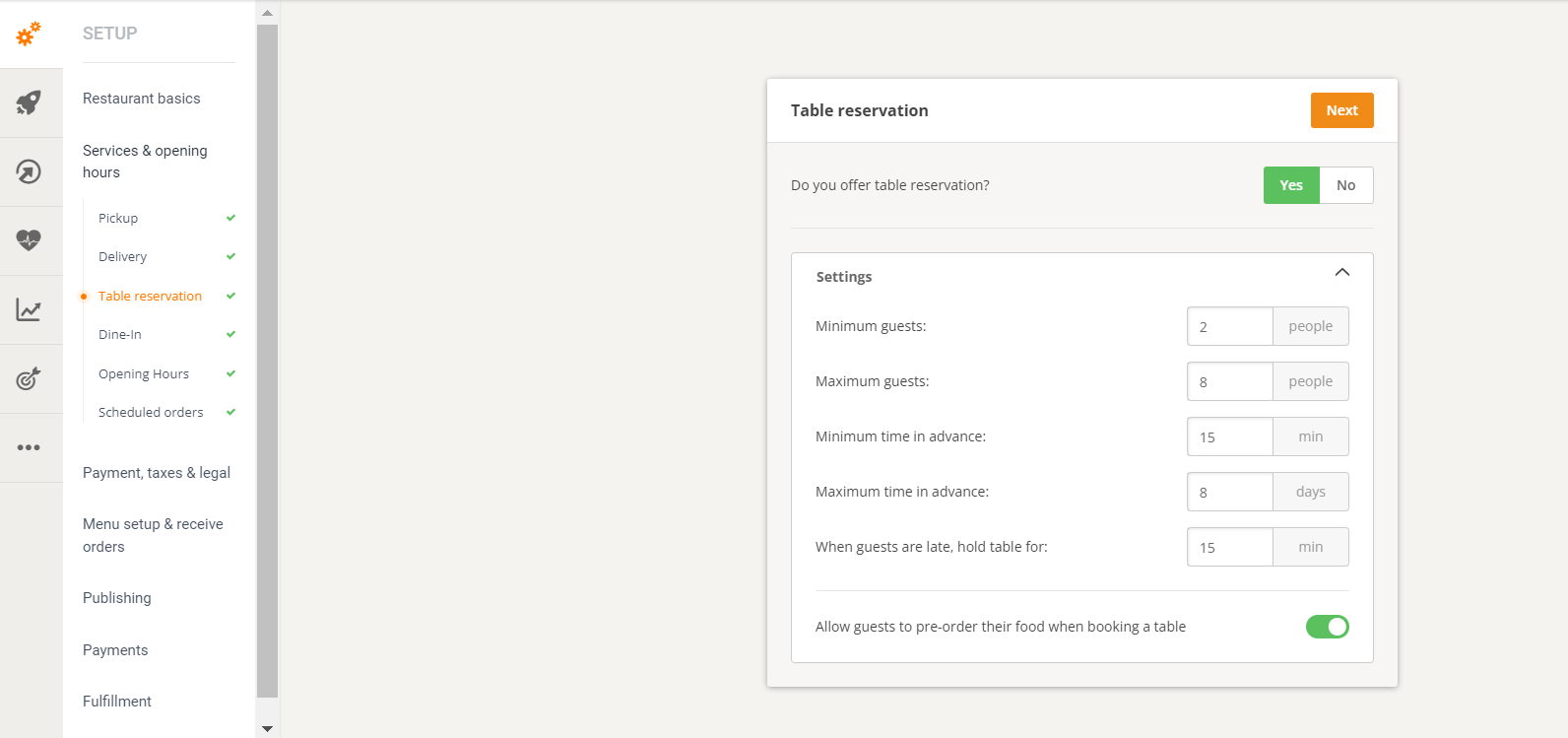 Tourist season challenges
If your restaurant is located in a place that is usually visited by tourists, you know there is a reoccurring period each year when people from other countries or cities gather to see all the attractions, experience the culture and search for the best food.
The tourist season can affect your restaurant in two ways: you could get a large number of tourists lining up outside your restaurant or you can be envious of other restaurants that grow their sales by attracting tourists.
Solution
If you have the first problem of many tourists looking for a table at your restaurant, you must consider hiring more team members. Because it is a busy period for your business, you need additional seasonal employees that can serve the big number of new tourists.
On the other hand, if you aren't visited by tourists in full season, you must up your marketing game to make your restaurant easy to find for people from other countries and cities.
Here is what you must do:
Get an SEO-optimized website: by going to admin -> Setup -> Publishing -> Sales-optimized website you can generate a restaurant website that is fully SEO-optimized to help you rank high in search engines. This way, tourists can easily find your website and menu when searching for related keywords;

Complete your Google Business Profile: fill your profile with pictures, a menu, a link to the website, and working hours so tourists who search on Google Maps will find your restaurant with a simple search;
Claim your account on review platforms: when tourists are looking for a place to eat, they usually check tourist-centric review platforms like TripAdvisor because they trust others' opinions. Complete your profile, encourage clients to leave you positive reviews, and reply to every review, be it positive or negative to build trust with new potential clients.
A decline in sales during the holidays
During the holidays, be it Christmas, Easter, or Mother's Day, restaurants around the world experience a lack of clients. The holidays are usually spent at home with family and friends eating traditional food that isn't generally found on a restaurant's menu.
Solution
If people want to eat traditional food, why not change up your menu and serve special dishes to increase your sales during the holidays? No need to make a permanent change, just create a seasonal menu with a few dishes created to celebrate a specific holiday.
With our online ordering system, not only can you make infinite changes to your menu free of charge, but you can also create a different menu for each day of the week.
Check out this video to delve into the advanced settings of our online menu maker:
To advertise your new menu items, you could add a promotion like Free delivery or 5% off the entire order. You can choose from a variety of promotion templates if you go to admin -> Marketing -> Promotions -> Self-made promos.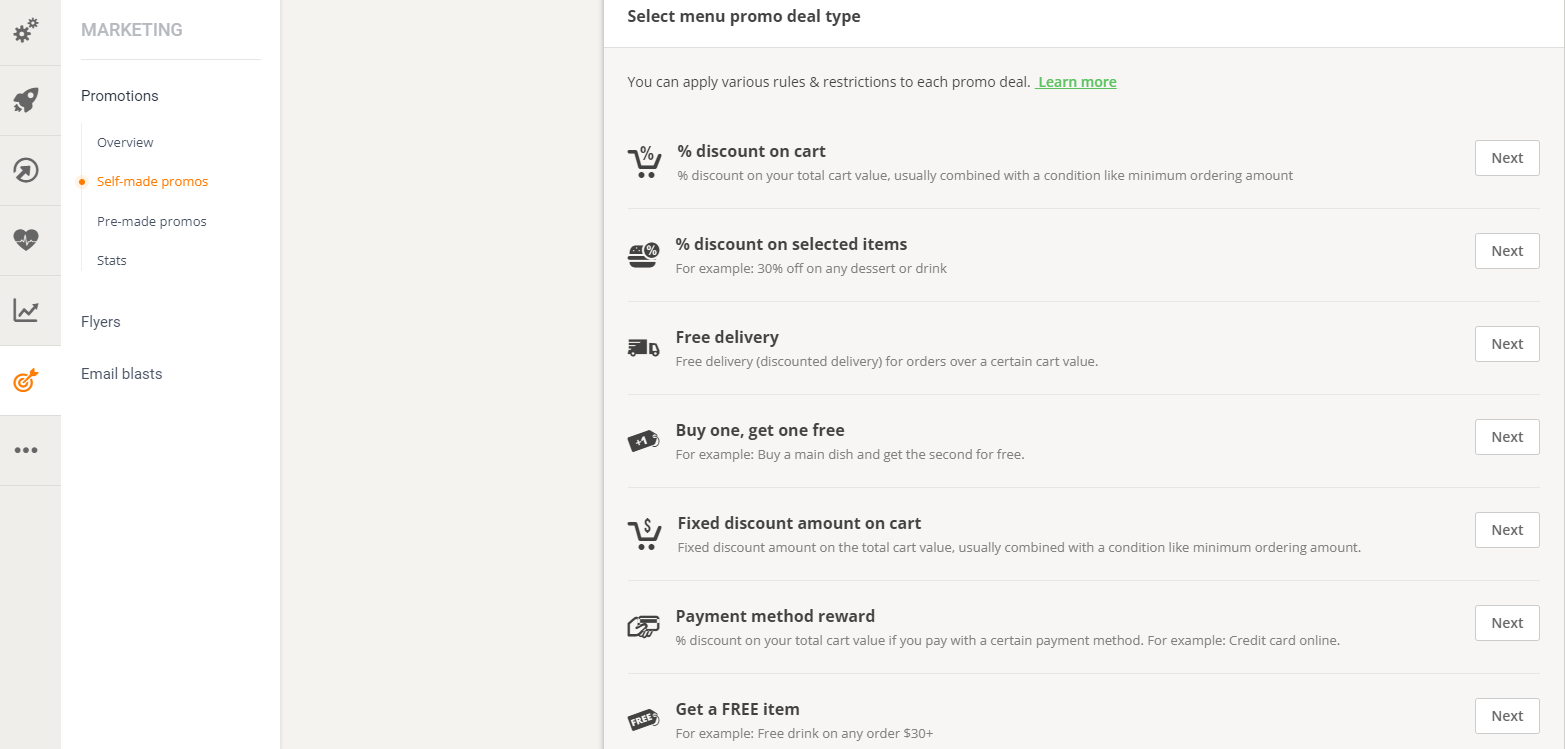 You can personalize each offer by choosing a name, photo, and minimum order amount and even select the type of customer it will be available for (new or returning) or the time of day it will be displayed at the top of your restaurant menu.
Watch this video to learn how to set up a restaurant promotion in seconds:
Extra tip:
If you are wondering "how can seasonality affect restaurant menus?", the answer may have to do with the basis of any dish: the ingredients. Every season comes with new fruits, vegetables, and other items that are available fresh and at a smaller price compared to other seasons.
Therefore, if you want to increase your profit margin and market your food as fresh, you may consider changing your entire menu seasonally or just adapting some menu items to incorporate cheaper ingredients.
Final words
It is important to be aware of the seasonal factors affecting the restaurant industry, so you can find easy and effective ways to counter them and ensure your business is thriving no matter what.
The online ordering system from GloriaFood will help you have a successful restaurant by increasing your online sales and marketing your business to new and returning clients.