How to make your restaurant stand out: 5 creative ideas you must try
By

Otilia Dobos

OCT 7, 2022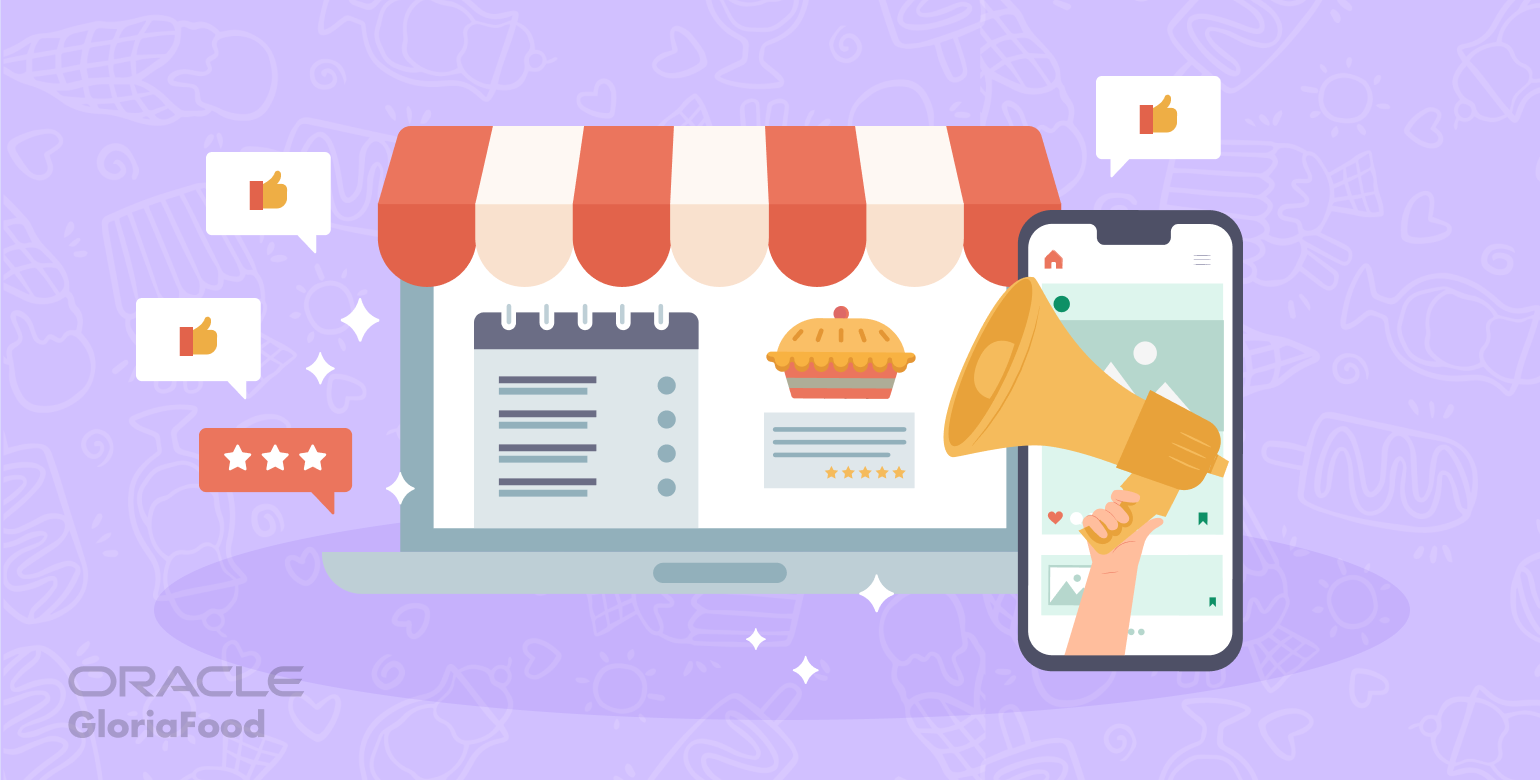 There is a lot of competition in the restaurant industry right now. If somebody wants to order food, they have countless options, so how do you ensure they choose your business? The answer is both simple and complicated: you must differentiate yourself from the competition!
Your restaurant must offer clients an unforgettable experience with multiple benefits that will determine them to constantly choose your place over other food businesses. This article will teach you how to make your restaurant stand out with five creative ideas.
How can a restaurant differentiate itself from its competitors:
1. Have a sales and SEO-optimized website
A website is an essential element that can make you stand out from your restaurant competitors. Let's say someone is searching for your type of food in your location. They will obviously choose a restaurant from the first page of Google as they trust the search engine's algorithm.
Therefore, you must ensure your website will be one of the first results they find when they search for your restaurant's niche. How can you do this? SEO, of course. Search Engine Optimization (SEO) refers to a set of practices that improve your site's quality to help it rank higher in Google searches.
Here are a few key tips that can help you improve your restaurant's SEO:
Have a mobile-responsive website: 63% of Google searches are done from a phone, so you need to make your website smooth and easy to navigate on mobile. Moreover, mobile responsiveness is one of Google's main factors for SEO ranking, so if you don't optimize your website, you have no chance of being on the front page.
Choose relevant keywords for your business: people use keywords to search for restaurants, so your website must have those key phrases naturally integrated into the website's content. Try to use specific keywords, such as "pizza restaurant in [your location]" and "best restaurant in [your location]", not generic ones like "great pizza at a low price."
Claim your Google My Business: sometimes, people search for restaurants directly in Google Maps, and if you want your business to show up, you need to create a Google My Business account. Include as much relevant information as possible (working hours, menu photos and prices, location images, exact location, link to website).
Be active on review sites: for SEO to properly work for your website, you also need backlinks from trustworthy sites. You can get them by guest posting on other businesses' blogs, inviting food bloggers to your restaurant, or creating an account on review platforms such as Yelp and TripAdvisor. Include up-to-date information and a link to your website.
Extra tip: Reply to all reviews, but only include your restaurant's name when you respond to positive reviews.
A good restaurant website design should not be complicated, but it should be easy to navigate. The key information must be visible with just a single glance at your homepage (what type of restaurant you are, what food you are serving, location, key hours). And the most important part, you should have a visible menu button that can convert a visitor into a client.
What would you say if I told you you could skip all the effort of finding an agency and contacting a developer and jump directly to getting a sales and SEO-optimized website, all in a few clicks? It's not magic. It's just GloriaFood.
Differentiate from your competition with a great website
Enable customers to order directly from your homepage
Start now
You will get access to the easiest restaurant website builder, where you just have to fill in your restaurant info and menu to get a personalized website in seconds. No need to be technically skilled, the builder is visual and intuitive.
In no time, you will receive a customized website with relevant texts and images. What's more, it will already be SEO-optimized, so you can focus your energy on how to make your restaurant stand out.
To get your website and attract more clients, sign up on GloriaFood, complete the setup steps, and then go to admin -> Setup -> Publishing -> Sales Optimized Website. Here is a demo website of what you could get enabling our sales-optimized website service.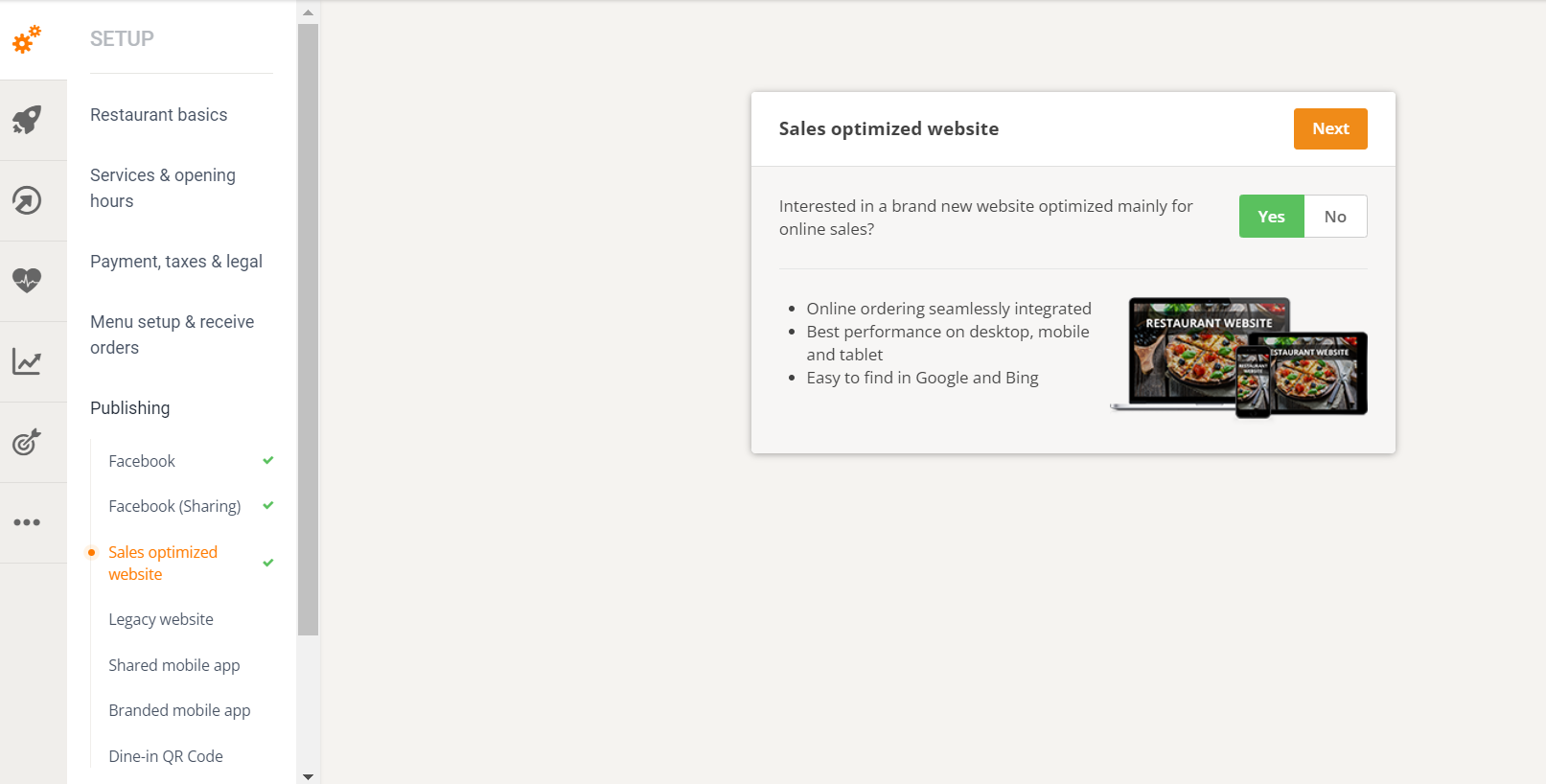 2. Create an unforgettable menu
The first step everyone takes before ordering at or from a restaurant is checking out the menu. If they find blurry, badly lit photos, short descriptions with no details, and a hard-to-follow design, they will deem your business untrustworthy and avoid trying out your food.
On the other hand, a properly thought-out menu with few menu items and intuitive navigation will have people reaching for the order button. A beautiful menu is a great way to advertise your business and encourage people to order your delicious food.
Here are a few tips for building an unforgettable menu that everyone wants to order from:
Less is more when it comes to menu items: you can't guarantee the same amount of freshness and attention to detail when you have 100 items on your menu compared to when you only serve 15. A small menu not only makes it easier for the customer to choose what they eat, but it also promotes trust as you show clients you concentrate on the food quality, not quantity;
Use mouth-watering pictures: there is nothing like a good image to make you instantly crave the pictured food. Hire a professional photographer or educate yourself on how to take the best photos to wow your clients with great composition, lighting, colors, and of course, the best-looking food;
Show the most expensive menu items first: clients generally order items at the top of the menu, be it because they think it's the best food or because they are in a hurry. Therefore, ensure you add the most expensive items or the ones you want to promote at the beginning;
Offer promotions: the beginning of your menu should always feature a dish you want to increase sales for. No one can resist restaurant promotions, and you will end up with bigger, more expensive orders in the long run;
Have a mobile-responsive menu: similar to a website, people browse mostly from mobile, so you need a menu that can be easily opened and scrolled through from a phone. The better the navigation and the faster it loads, the bigger the chances a customer will order;

Offer toppings: when creating a menu, you should consider what you can do to increase the profit. Toppings such as extra cheese for pizza have a big profit margin, as it costs way less to produce than the price you sell them for. Consequently, if you give clients the option to customize their order with toppings, not only do you make them happy, but you also make more profit;

Add the menu button to your homepage: to have a website that converts, you need a visible menu button on the homepage that links to your beautiful menu.
Read more: How to Build a Restaurant Menu That Will Skyrocket Your Online Sales
Creating a restaurant menu doesn't have to be complicated. With the online ordering system from GloriaFood, it is not only simple, but you also have access to videos that teach you how to easily go through every step.
Check out this video that will help you get acquainted with the basics of setting up your online menu:
If you are at the start and don't have professional pictures yet, you can choose beautiful ones that fit your niche from our gallery. You also have options like marking items out of stock, hiding items from the menu, assigning different tax rates to menu items, etc. You can learn more about the advanced features from this video:
To create the perfect menu that will determine clients to order, sign up on GloriaFood, go to admin -> Setup -> Menu setup & receive orders -> Menu setup.

Read more: How to customize your restaurant's menu
Consider a QR code menu if you want to give clients a more sanitary option to view your menu when dining in. No more touching the same menu as previous clients and no more unnecessary waiting times.
Also, when you change your menu or add new menu items, there is no need to waste money printing new menus, you can just change the online one.
To generate a QR code that will link directly to your menu, go to admin -> Setup -> Publishing -> Dine-in QR code.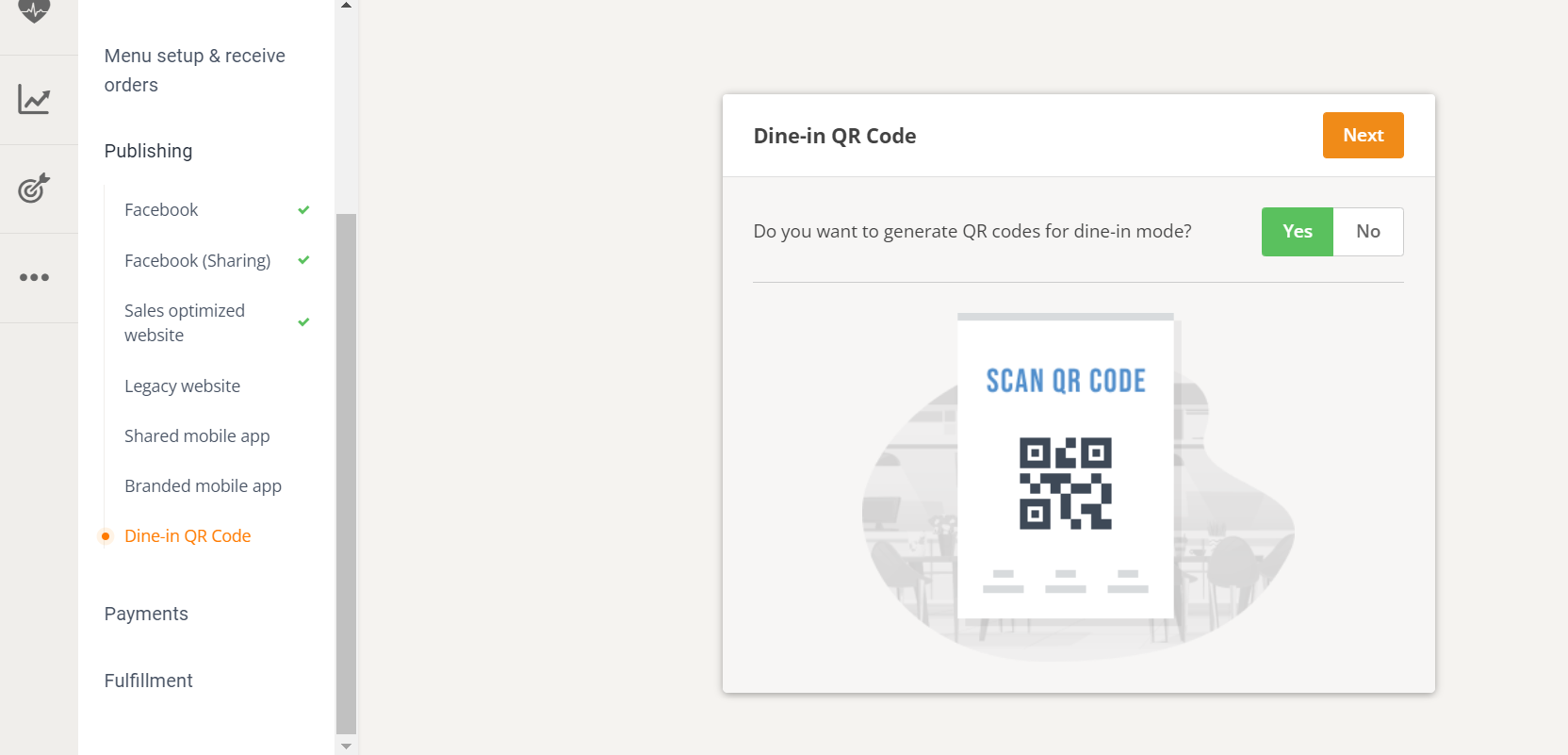 Read more: How to Set up Contactless Ordering at Your Restaurant via QR Code
3. Offer unique promotions
The answer to how to make your restaurant stand out can also be offering relevant and unique promotions that will encourage people to become your clients or return if they have previously ordered from you.
While people may already think your food looks good, a promotion can be the catalyst that turns them from visitors to regulars. An efficient promotion must not only be visible at the top of your menu but should also be constantly promoted on social media to create hype around your restaurant.
Implementing promotions is easy with GloriaFood. By signing up, you gain access to a promotions module that includes tried and tested promotion templates, and, in just a few steps, you are ready to sell more.
To set up a promotion, go to admin -> Marketing -> Promotions and choose the type of deal you want to offer.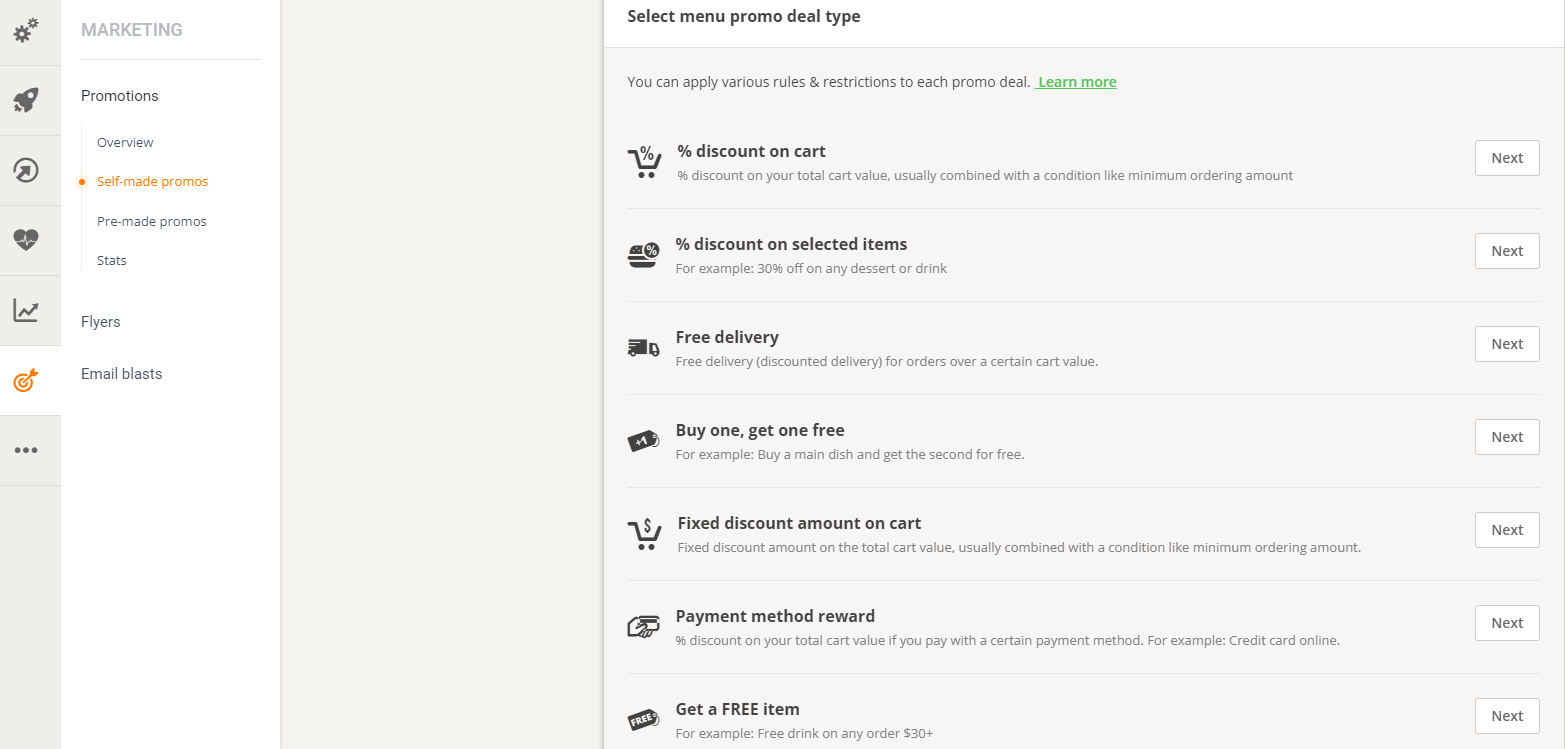 Here are some promotions ideas and how you can use them to make your restaurant stand out:
% discount on cart: encourage people to order more by offering a discount if they reach a certain cart value. Customers will be tempted to add more items to their cart just to get a discount;
% discount on selected items: have you noticed certain categories don't sell as well? Maybe dessert, maybe pasta? You can determine people to order more desserts by offering a discount, so people will discover how delicious your food is;
Free delivery: it is a common technique to offer free delivery for big orders, and people get accustomed to having this feature for every restaurant. Customers want to feel valued, and free delivery can be a small gesture of appreciation for big buyers;
Buy one, get one free: If you just launched a new menu item, you can get people to try them by offering them for free if they buy another product.
Payment method reward: encourage people to pay online and streamline the ordering process by offering a discount for people who choose to pay by card, not cash.
Get more loyal customers with unique and targeted promotions
Install an online ordering system to your website for free
Start now
When setting up a promotion, you also get access to advanced settings that allow you to choose the type of order the promotion applies for, the time of day it is shown, and much more.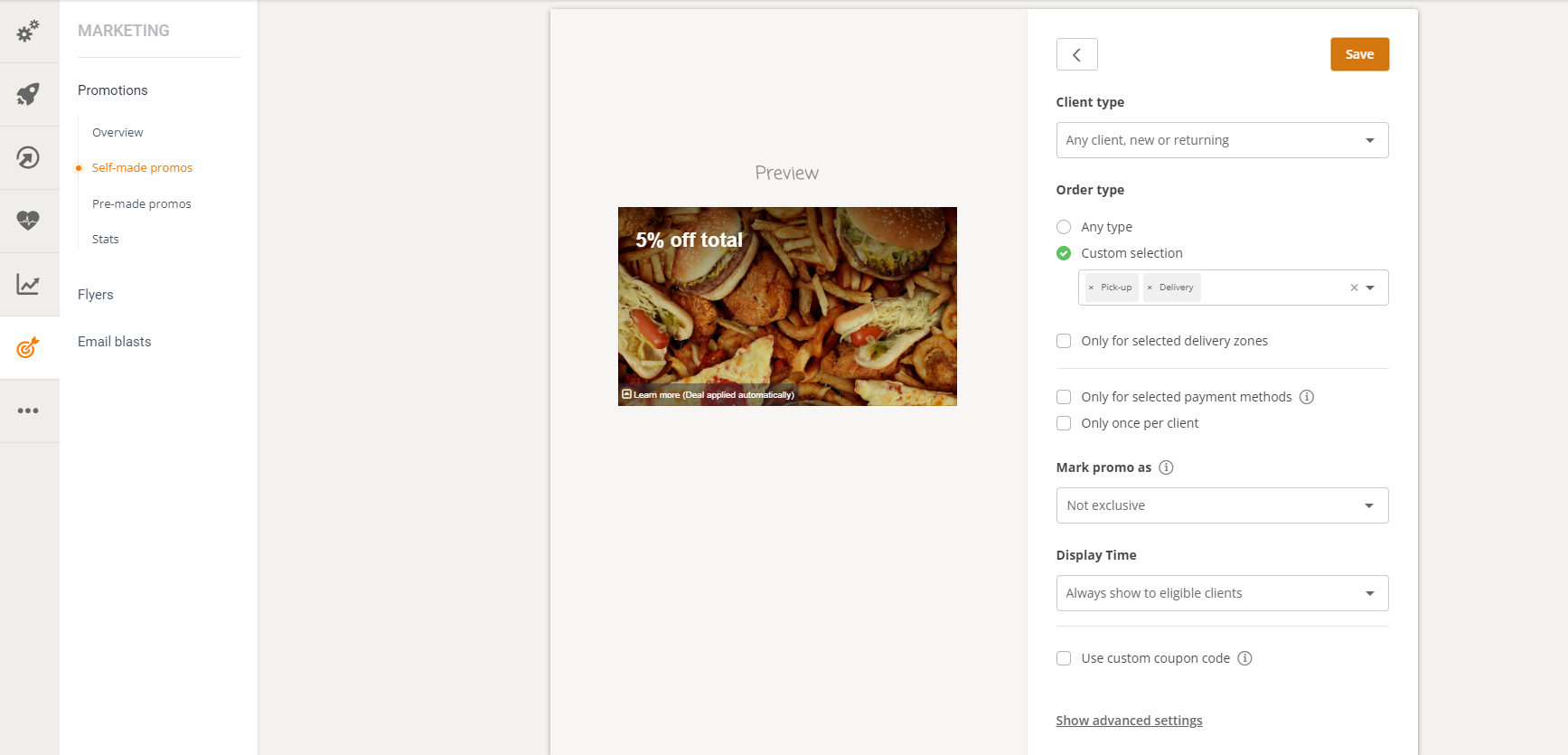 Read more: 10 Restaurant Website Promotion Ideas for Delivery & Takeout
4. Become a trendsetter on social media
Many restaurants participate in social media trends to become relevant and reach a bigger audience. This is a valid marketing technique, but so is creating your own trends that are so interesting that people will follow. If you are wondering how to make your restaurant stand out, becoming viral on social media is the way to go.
A social media presence is vital for your visibility and ability to attract new customers. When you brand your restaurant, it is important to create a restaurant persona that fully represents you and your values. This restaurant persona will help keep you accountable and use the same tone of voice across all your social media platforms.
Before you start coming up with trends, ensure you follow the best social media practices, such as:
Have updated information available: every profile, be it Facebook, Instagram, or TikTok, should be complete with information such as exact location (add pointers if it is more complicated), working hours, and a link to your menu so people can see what you sell and order online;
Focus on the food: most of your posts should show how great your food looks to entice people to order;
Include Calls to Action (CTAs): to encourage people to engage with your content, be it through likes, comments or shares, you need to ask questions. No need to go overboard, simple questions like "What is your favorite ingredient?" or "What menu item would you like to order next?" will be enough;
Interact with your followers: social media isn't just a place for you to post content, showcase your food and forget about it. To get organic results, you must put in the effort and constantly interact with your followers by replying to every comment, liking their posts, and sharing user-generated content.
There is no perfect recipe for starting a trend. It involves a lot of trial and error before you come up with the idea that aligns with your restaurant's values and captures enough people's attention.
You can first test your ideas through competitions by offering small prizes such as a free meal or a gift card and then launch a challenge with no prize and see if people respond.
Here are a few challenges you can personalize and transform into trends:
"Make a pizza in just 30 minutes with this simple recipe! Have you tried it?": people are constantly struggling with time in their lives, so recipes that take as little time as possible to make are a win. Have your chef come up with a dish that can be easily cooked in less than 30 minutes, film it, and encourage others to try it and film themselves. Don't forget to create a hashtag that everybody must use when replying;
"The easiest way to make crepes Suzette, impress all your friends!": you need a dish that can be cooked by anyone but look impressive. Your followers will be curious to try out their hand at making such a delicious-looking dish;
"Have you tried the cheesiest pizza in Orlando? It is to die for!": find the most interesting item on your menu and promote it with great imagery and maybe a slow-motion video proving how tasty it is. Encourage people to visit your restaurant and tag it after they try the food.
5. Offer behind-the-scenes footage to build a community
The greatest part about social media is that it allows you to engage with your followers and build a loyal community that will often order or eat at your restaurant.
If you put the effort in, you will differentiate your business from the rest of the restaurant competition and get the return customers you need for a successful restaurant.
There are several ways you can use social media to build a community, and one of the most efficient is showing behind-the-scenes footage.
When people see how life really is at your restaurant, they start trusting your food and the people that prepare it. Moreover, you create a connection with them that will persuade them to choose your restaurant over other competitors.
Here are some behind-the-scenes ideas you must include in your content:
Employees having fun: if the people preparing their food and waiting on them at the tables are having a good time, customers will conclude your restaurant treats them well, and they will support you. Go for candid shots such as waiters having a laugh on break or sharing a joke with a customer;
Food preparation: if you want clients to trust you, show them how clean and organized your kitchen is, and how much food hygiene means to you. They will be impressed by your chef's cooking skills, the mise-en-place, or any other detail you want to share;
Employee presentation: share a photo of every employee and a short description to allow followers to get to know every member of your team;
Menu decisions: involve your followers in choosing new menu items. Have them vote between two dishes or choose their favorite ingredients to show them you care about their opinion.
Conclusion
Knowing how to make your restaurant stand out is imperative in the competitive restaurant business where countless places sell the same food as you.
Start with a sales-optimized website that will increase your visibility and constantly help you bring in new customers. Continue with a creative menu that can be easily accessed from your website, complete with unique promotions to encourage repeat customers.
Finish things off with a strong social media presence which is key to building a community that will choose your restaurant other any other competitor.