Key elements of a successful restaurant you need right now
By

Otilia Dobos

JUN 16, 2023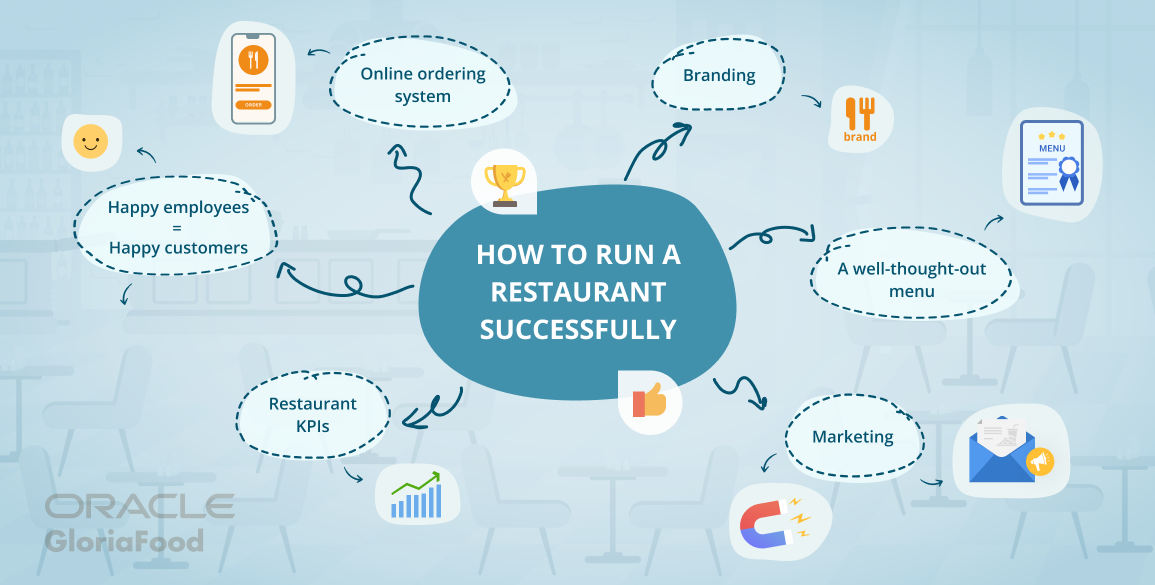 How to run a restaurant successfully:
Are you considering getting into the restaurant business? Or do you already own a restaurant that isn't bringing you the profit you were hoping for? Then you need to know what the key elements of a successful restaurant are and how to easily incorporate them into your business.
Just opening a food place in a great location is not enough to guarantee clients and sales. There is more to a restaurant than the food, but you do need great food to keep customers coming back.
In this article, you will find essential, yet easy-to-implement tips to run a restaurant successfully:
Restaurant branding is imperative
If you decide to be an active player in this competitive industry, you need to differentiate your place from the countless other restaurants in your area. You can do so with efficient restaurant branding, way before you even open your doors to clients.
Branding your restaurant will help you create a unique and consistent voice you will use on all your channels, that customers will get accustomed to and will easily recognize in the future. The effort you put in will come with the huge benefit of more loyal customers.
Here is what you must do to achieve the key elements of a successful restaurant:
Find your restaurant's concept: this step is about defining your restaurant in the general sense, such as the type of establishment (fine dining, fast food, etc.), type of cuisine (Italian, Indian, etc.), and price range.
Choose your restaurant's mission: to discover the answer, you must answer a couple of questions: What determined you to open a restaurant? What are you hoping to achieve by opening the restaurant? What will make your place special?
Position your restaurant on the market: you need to define where you stand on the market, so you can identify your direct competitors and then surpass them. You do so by clearly identifying your location, price range, and cuisine.
Create a restaurant brand voice: think of your restaurant as a person to easily give it a voice. What type of person would it be? A relaxed one, always up for fun and new adventures? Or a stiffer and more professional one?
Conceive the design elements to support your brand: branding is not just the voice you use, but also the visual elements involved with it. After you choose them, you must forever stick with them (unless you do a rebranding) to create a unitary image. You will need a logo, colors, fonts, menu, and website. If you don't already have a website, you can generate your own from our online ordering system which will be sales optimized and will reflect your branding.
A well-thought-out menu will skyrocket your sales
What is the thing that ultimately convinces people to order from your restaurant? Your menu, of course. That's why one of the key elements of a successful restaurant is having an intuitive and responsive menu that will persuade people into pressing the order button.
Here are a few tips for building a menu clients will love:
Make it easy to navigate: every menu should be organized in logical categories so people can find what they are looking for fast. For example, promotions are always on top, followed by entrees, main dishes, side dishes, desserts, and drinks;

Keep it short: a short menu builds trust with your clients because it lets them know you use fresh ingredients and care about quality not quantity. It is also easier for them to choose a dish when they don't have to spend 10 minutes looking at all menu items;
Add pictures: hungry clients will be easily enticed to order by a mouth-watering picture that illustrates a menu item. Ensure you add great photos for all your dishes so clients will order more;

Ensure it is responsive: the first place people look for your menu is online. They may be using a desktop, a tablet, or a smartphone to do so. No matter the device, they should be able to browse the menu with no problems. Stay away from slow-loading PDF menus that must be downloaded and go for a responsive online restaurant menu.
Give clients the gift of convenience with a responsive online restaurant menu
Use our menu creator to skyrocket your sales
Start now
Do you want to get the benefits of a well-thought-out menu without a lot of effort? Use our online menu creator! It is embedded in our online ordering system and it will help you generate a menu that converts in no time.
You will not only enjoy an intuitive menu creator and a helpful wizard, but you will also be happy to get the results of a responsive menu that is very easy to use and quickly leads people to the checkout screen.
Another one of the key elements of a successful restaurant is upselling. With our menu creator, you can allow people to customize their dishes with Choices and Add-ons. The great news is the toppings used as add-ons have a high-profit margin so they will help you earn more.
An online ordering system is a must
Restaurants that pass the test of time all have one common thing: they don't rely only on their physical location for sales, they also take online orders. Expanding your business online will help you serve more clients, and therefore increase your sales.
Furthermore, one of the key elements of a successful restaurant is to rely on efficient technology that makes your work easier while increasing your profit. The perfect example is the online ordering system from GloriaFood which will help you streamline your online orders and promote your business online with a variety of useful features.
Here is what you must do to kickstart your business online:
Sign up on GloriaFood and fill in your restaurant's basic information;
Create an enticing menu with our wizard's help;
Publish the menu on your website (if you don't have one yet, you can generate a sales-optimized restaurant website by going to admin -> Setup -> Publishing -> Sales optimized website);
Enjoy increasing your restaurant's sales!
For more detailed instructions, check out this video:
Happy employees make happy customers
One of the key elements of a successful restaurant is the team that makes sure it runs smoothly, starting with the front-facing employees like the servers and the bartenders to the often-forgotten ones that take care of the kitchen.
To have the best employees that create an amazing experience for your customers, start with a thorough restaurant hiring process that attracts a variety of qualified candidates. Here are a few tips:
Start by creating an accurate job description: ensure you attract the right candidates by listing all the responsibilities, necessary experience, and benefits in the job description;
Publish your job openings on your website: having a job section on your website will seem more trustworthy for potential employees and it will also allow you to easily monitor them and make sure no good candidate is ignored;

Use a scheduling tool: many conflicts arise because employees are either over-scheduled or don't get enough shifts. A scheduling tool will allow you to create a plan and notice any errors. You can also share it with your staff so everything is transparent;
Organize constant trainings: no matter how much experience an employee has, things can be different from one restaurant to another. Therefore, train people constantly to teach them about your dishes, customs, and new features so they can have all the necessary knowledge to be the best version of themselves;
Reward high-performing employees: money is the greatest motivator of all, and you can use it to persuade your employees to give it their all at their job. For example, you can have a contest every month for the server that sells the most and reward the winner with a great bonus.
Restaurant KPIs will help you manage costs
How can you know if your business is on the right track or if you are bleeding money? One of the key elements of a successful restaurant is monitoring all parts of your business and adjusting along the way.
A great way to do this is by setting restaurant KPIs (key performance indicators) at the beginning and checking them at the end of each month to quickly fix any problems and find areas where you can improve. Here are the most common ones you should implement:
Restaurant profitability KPIs: if you want to know if your restaurant is making a profit, look out for Gross Profit, Cost of Goods Sold, Prime Cost, Food Wasted, Break Even Point, and Net Profit Margin;
Restaurant employee management KPIs: your employee's productivity and happiness directly affect your success. Therefore, start monitoring the Turnover Rate, Server Benchmarks, and Labor Cost Ratio;
Restaurant customer experience KPIs: find out if your customers are happy with the food and service you provide by setting KPIs for Average Table Occupancy, Spend per Head, Revenue per available seat hour, and Canceled Reservations;
Restaurant marketing KPIs: you may spend a lot of money on marketing, and you must know if it is a wise investment. Find out if you achieve your goals by monitoring Returning customer percentage, Website visits, Online orders, Engagement, and Conversions.
Easily monitor your restaurant's online success
Install an online ordering system with a built-in Reports module
Start now
Our online ordering system is equipped with the Reports module that allows you to monitor a variety of important restaurant statistics such as website visits, online orders, and the number of new vs returning customers.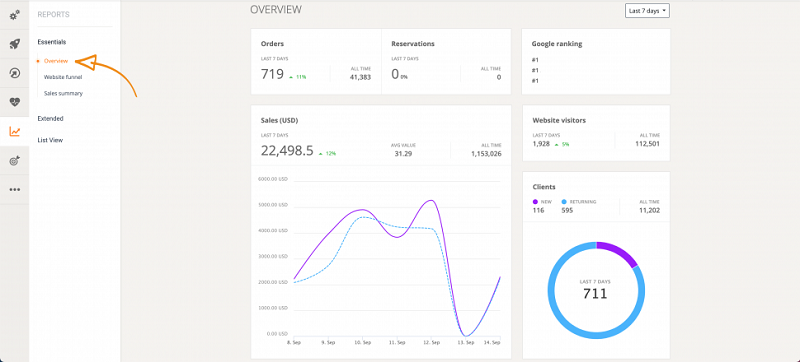 Marketing will get you a constant stream of clients
It's no secret that one of the key elements of a successful restaurant is marketing. To attract customers to your restaurant, you need to get the word out about your meals, deals, location, and much more.
Look no further, our online ordering system has all the marketing tools you need to launch your business online already integrated. Let's discover them:
Kickstarter module: if you have a database of client data, you can use this feature to invite clients to order online for the first time. You can also create flyers to encourage potential clients to place their first order;

Autopilot selling: attract more return customers with efficient SMS and e-mail campaigns. The system segments clients according to their purchasing history to send them relevant campaigns that can persuade clients to order again;

Promotions module: adding deals at the top of your menu will encourage clients to order more to take advantage of them. Free delivery? 2+1? Meal Combo? Free item? You can set up any of these tried and tested promotion templates and more in a matter of seconds.
Why you must know the key elements of a successful restaurant
Knowing and implementing the key elements of a successful restaurant will ensure your business will shine against the competition. Use our online ordering system to kickstart your business online and constantly attract new and loyal customers.