10 Small Restaurant Marketing Strategies to Increase Your Profit
By

Otilia Dobos

OCT 10, 2022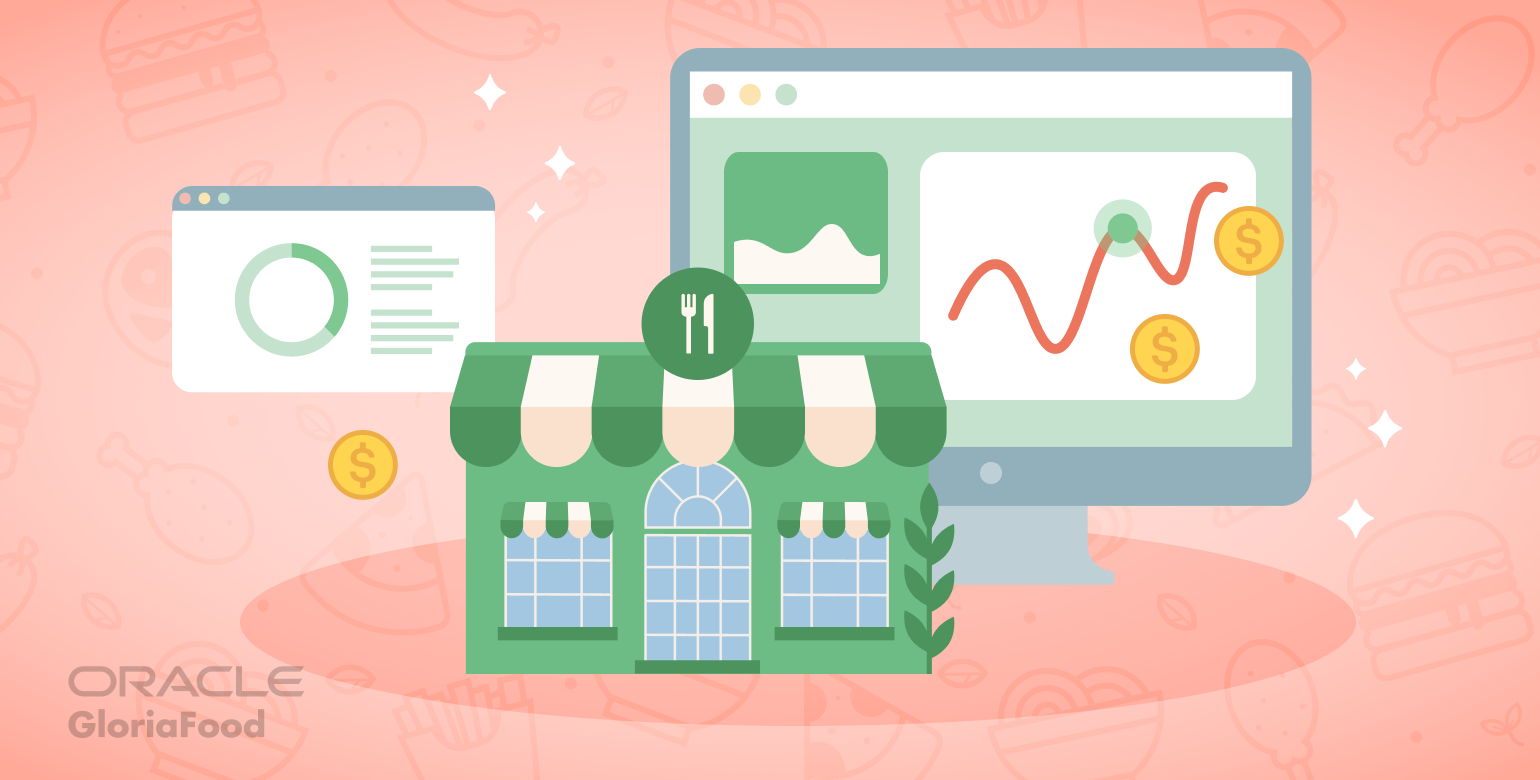 Owning a small restaurant comes with a few challenges: a small space that can't fit many people, few employees, and a small marketing budget. But don't let the size of your restaurant discourage you. If you serve great food and are willing to put in the time and effort, you are on the right road to success!
Turn the size of your restaurant into an advantage with these small restaurant marketing strategies! In this article, you will learn about the essential steps of marketing a small restaurant that will help you make a profit every month.
Small restaurant marketing ideas you must try:
1. Get an optimized website
A website is essential for any type of restaurant, big or small. How else would people find you and learn about the delicious food you cook? But you don't need any kind of website. You need an SEO-optimized website that will boost your business on the first page of Google.
This is what an optimized website for a small restaurant should have:
A great domain name: don't start searching for witty puns to put in your domain name. If you want to be easy to find, your domain name should always match your restaurant's name;
Fast server response time: nobody has time to wait around until your homepage loads. Customers will exit it if they can't immediately reach the information they are looking for. Therefore, you need a website that loads fast and is easy to navigate with natural links from one page to the other;
Mobile-responsive: 58,99% of consumers use a phone for internet browsing as it is more convenient. Make sure your site loads just as well on mobile as on desktop if you don't want to lose customers;
SEO-optimization: both on-page and off-page optimization are needed for your website to rank on the first page of Google. You will need relevant keywords, internal linking, a great on-page user experience, and many pages with authority linking back to you (you can start by adding your info on review sites with a link to your website);
You probably think all this sounds great, but how can you afford to own such an efficient website? The good news is you can get a sales-optimized website for a small monthly price if you sign up on GloriaFood. No hidden commissions or sign-up fees.
Get an optimized restaurant website that sells
Online ordering and table reservation widgets built-in for free
Start now
All you have to do to get a website with texts and images tailored to your niche is fill in your restaurant information and menu. Moreover, the website is already SEO-optimized, so you don't have to do all the hard work.
Click here for a preview and an idea of what yours would look like. You can see how easy it is to navigate and how it includes all the relevant information, such as a visible menu button that converts visitors to clients.
2. Start taking online orders
An ordering system is essential to your small restaurant marketing strategies. As your location is small, you aren't able to serve many clients in a day to make the profit you want. An online ordering system can help boost your profit margin by selling food to a bigger number of hungry clients.
The best part is it will not eat into your marketing budget because the online ordering system from GloriaFood is free. All you have to do is sign up, fill in your data, create an attractive menu with beautiful pictures and creative descriptions, and publish the menu button on your website so you can start receiving orders.
Check out this video on how to set up your ordering system in just 10 minutes:
After setting up all the information, you must download the efficient online order-taking app, either on iOS or Android, and start taking orders. The app will notify you whenever someone places an order, and you have 3 minutes to accept it.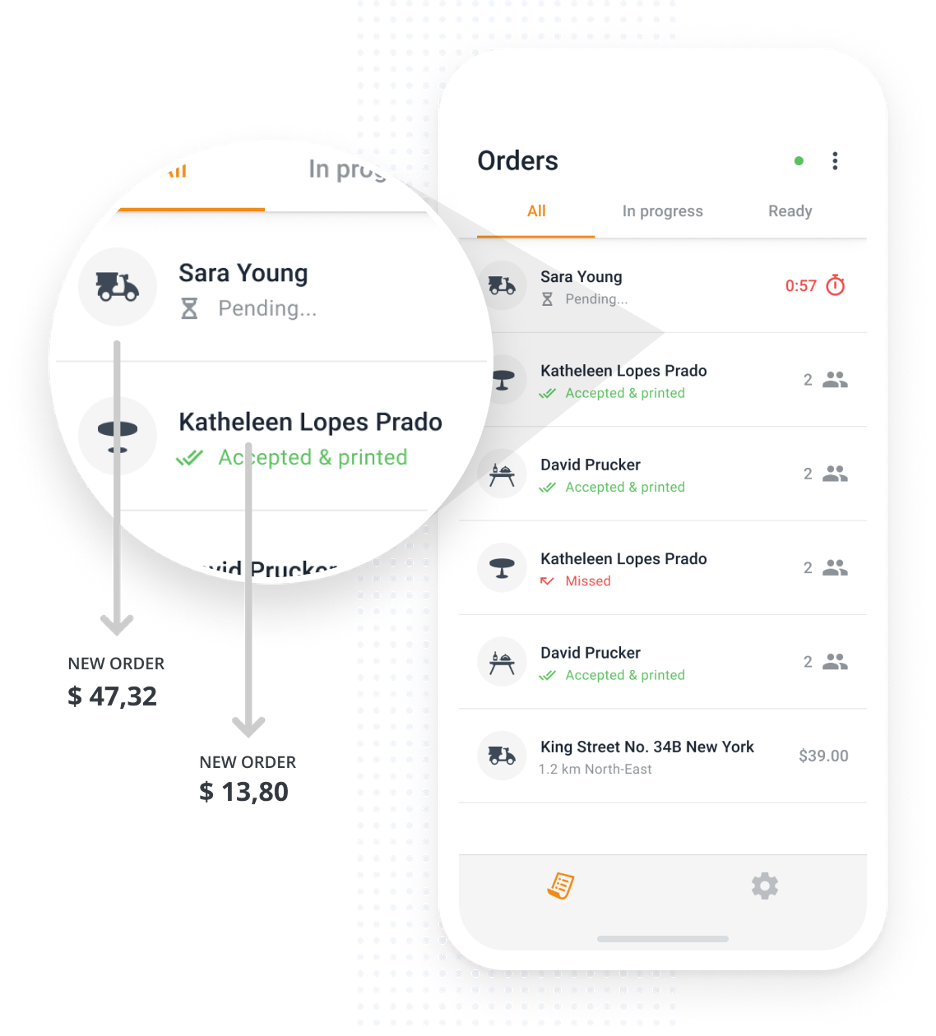 A good online ordering system makes your life easier, increases your profit, and offers users a great experience. They can easily order directly from your website and will be kept in the loop the whole time, so they know when to expect their food.
Moreover, with this online ordering system, you also get access to many useful marketing features, including table reservations. As a small restaurant, you need to serve as many people as possible in a day to increase your sales, and the Table Reservation feature can help you do just that.
Add the Table Reservation button on your website for free to allow clients to choose the time they eat. This will also help you get organized and get a bigger table turnover. Moreover, you can allow customers to order and pay ahead, so they only wait a few minutes before they receive their food when they walk through the door.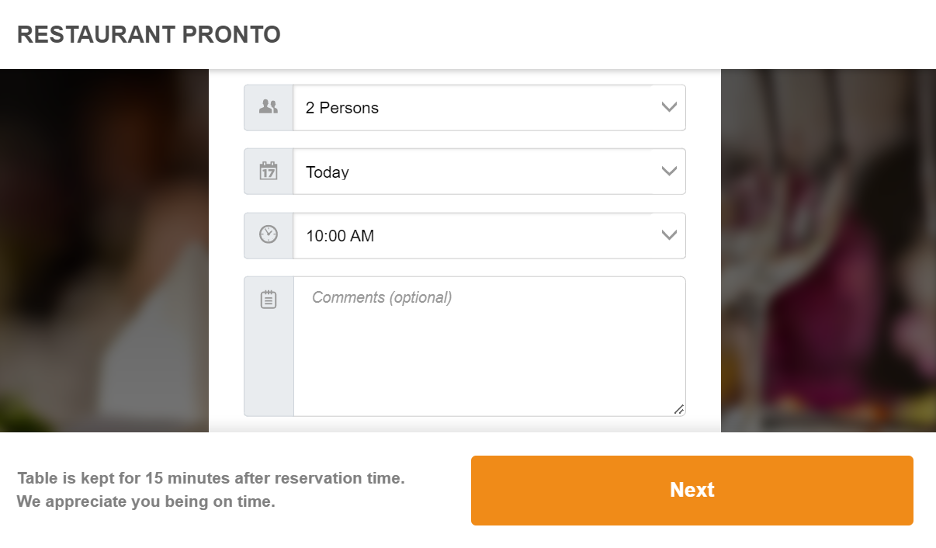 To enable Table Reservations and allow your employees to focus on delivering a great experience, go to admin -> Setup -> Services & Opening hours -> Table reservation. Click the button next to "Allow guests to pre-order their food when booking a table" to enable pre-orders too.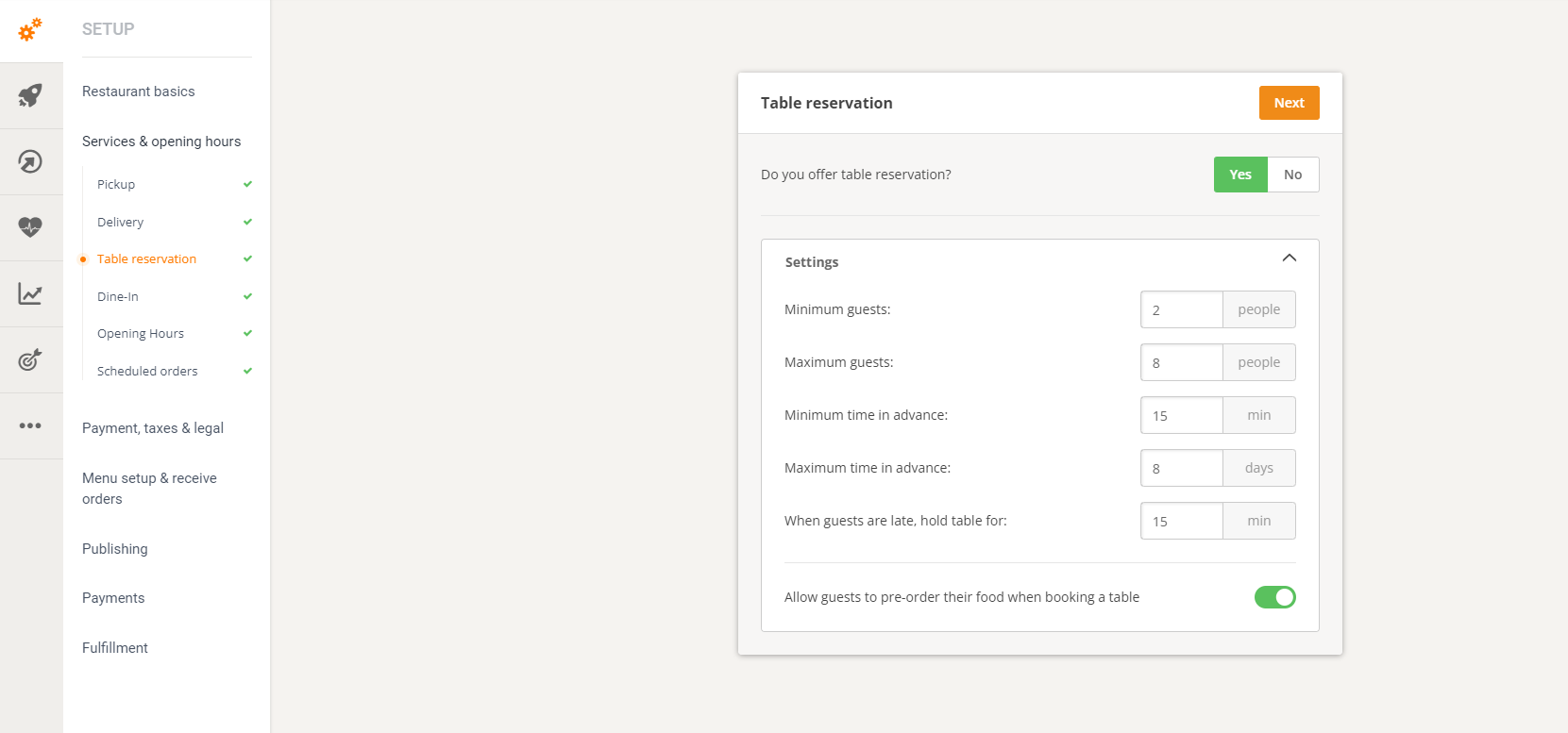 Read more: How to Set up Online Ordering System for Your Restaurant's Website
3. Create a menu that sells
You can't talk about small restaurant marketing strategies without prioritizing the menu. You don't need an ordinary menu. You need one that sells to steadily grow your business and serve more clients.
Here are a few tips for creating a menu that will determine people to order:
Use hunger-provoking photos: you can't have an online menu without photos. It is the first thing clients look at before ordering, so you must put your best foot forward. As you are at the start, invest in learning how to photograph restaurant food, how the light should be used, what is the best composition and why colors matter;
Use long descriptions: your descriptions should encourage people to click the order button, so stay clear of short, non-descriptive ones. Try to come up with an original idea, either focusing on the ingredient origin, product freshness, or even funny writing.
Place the expensive items at the start: people usually order the menu items at the top of the list, so ensure to add the ones you are proudest of or want to promote.
Include a mix of staples and unique menu items: You'll want a menu that includes loved staples, like chicken fingers and fries, and unique options that draw customers to your restaurant. For example, if you're known for incorporating fruit purees into your beer recipes, patrons will come to your restaurant specifically to try your cocktails. And if customers aren't sure what to order, they always have a loved staple to fall back on.
Don't upload your menu in PDF to force customers to download it if they want to see what kind of food you offer. It is an unnecessary step and takes away the opportunity to order directly while browsing the menu.
Instead, create an interactive menu with the online ordering system provided by GloriaFood. It is easy, intuitive, and you have access to educational videos that will help you complete every step, like the following one:
Don't forget to offer customization options. Toppings have a higher profit margin, and people love being able to create their perfect dish. After you add your delicious items with beautiful photos (you can choose some from our free gallery) and great descriptions, publish the menu on your website and start receiving orders.
Grow your small restaurant with an attractive menu
Install an online ordering system to your website for free
Start now
The menu is not only easy to set up from your side, but it is also intuitive to use for users. Here is a preview of how easy it is to order as a client: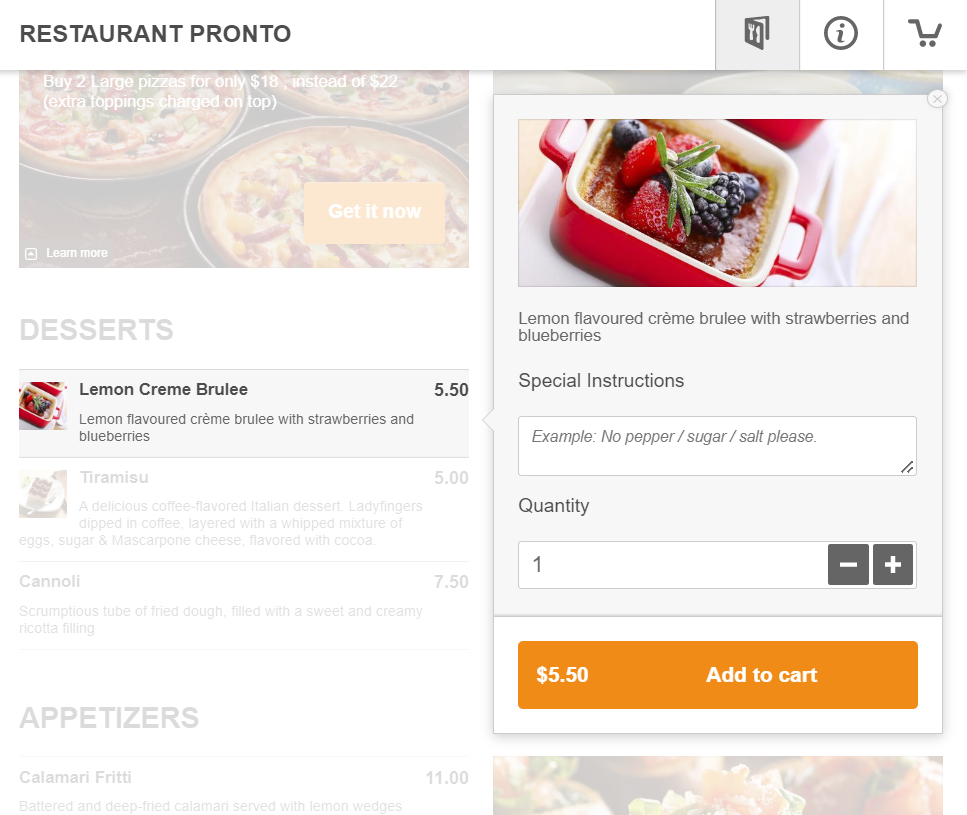 Read more: How to Build a Restaurant Menu That Will Skyrocket Your Online Sales
4. Optimize Google My Business
Remember the SEO part we talked about at the beginning? In just a few words, SEO is a set of practices that, if done right, will determine Google to rank your website higher in the results, preferably on the first page.
You can do many things to improve SEO, but one of the simplest and most efficient is optimizing your Google My Business page. This will also help your restaurant be visible on Google Maps when people search for your type of food near them.
Create a profile and fill in all the relevant information, such as:
Correct location: people should find you easily, so update your location every time there is a change. If your restaurant is in a hard-to-find place, you can add some photos with pointers;
Up-to-date working hours: there is nothing more disappointing than craving a certain type of food, choosing a restaurant, and finding it closed when you arrive. To prevent any problem, keep your working hours updated, including legal days off or vacation time;
Link to your website: this is helpful both for SEO purposes and also for clients that want to check out your food before ordering;
Photos, photos, photos: think of the Google listing as a place to advertise and add many mouth-watering pictures to encourage people to visit your restaurant or order online.
Read more: How to Optimize Google My Business for Your Restaurant: Must-Know Tips
5. Build a social media community
Your restaurant may be small, but your social media community doesn't have to be. One of the most efficient small restaurant marketing strategies is to create and maintain a social media image that your followers grow to love.
Here are some tips for a successful marketing plan for a small restaurant on social media:
Choose relevant social media platforms: you need to be present on the social media platforms your audience uses. Are you more of a fine dining restaurant aimed at an older generation? Try Facebook or Instagram. Are you a small restaurant that caters to young people? TikTok may be a better choice.
Focus on the photos/videos: people follow restaurant accounts to see beautiful food photographed or filmed professionally. Give your followers what they want and invest in creating quality visual content;
Hold contests: Increase your visibility and attract more customers by hosting contests. You can start with a simple "comment on this post to get a free meal" or "share this story to get a gift card" and slowly grow to more complex contests, such as food challenges;
Reply to every comment and message: to create a community, you need to interact with your followers. Make them feel seen and valued by replying to every private message or comment, even if sometimes it is only with an emoji. Make it a habit to check your new messages at the end of the day, so you don't fall behind.
6. Partner with complementary businesses
You can try many small restaurant marketing strategies to become successful, but you don't have to do it alone. As they say, there is strength in numbers! Tap into your local community and find a complimentary business you could partner up for a mutually beneficial collaboration.
One of the most effective restaurant strategies to attract customers is collaborative events. Let's say Sunday is a very slow day for you and you would like to increase the number of clients. Here are a couple of partnership ideas you could try:
Hold a plant selling event: find a local plant shop and offer your space for a plant sale and food tasting. The local plant-loving community would love such an opportunity, and you may gain return customers;
Alcohol tastings: do you have a brewery or maybe a vineyard in your area? Propose a collaboration and come up with easy-to-pair dishes that will offer a complete experience for your diners;
Photography exhibition: turn your restaurant into an art gallery for a night. Expand your audience and attract new customers by promoting local artists;
Vintage clothes sales: in every city, there is a large community passionate about clothes. You can turn them into clients if you offer them a space to buy unique pieces of clothing and enjoy tasty food.
7. Turn your restaurant into a brand
One of the best small restaurant marketing strategies that will help differentiate your restaurant from its competitors is branding. To efficiently promote your business, you have to clearly know what you stand for, what your goals are, and why you are serving your type of food.
After you identify the answer to the previous questions, you can also come up with a Unique Selling Proposition that you can use to describe your restaurant while promoting it.
For example, "Nona Pizza, the secret ingredients are love and fresh dough", or "Marico, farm to table, only the freshest of ingredients."
Restaurant branding helps you create a unique voice that people will grow to easily recognize and trust. The easiest way to come up with a consistent voice that you can use on every platform, be it a website or social media, is to think of your restaurant as a person. What type of persona would your restaurant be?
If your restaurant is fun and bubbly, your posts, comments, review replies, etc., should match. If you view your restaurant as more upscale, professional but polite, write your copy in the same manner.
8. Encourage positive reviews
Reviews are the most used currency in the restaurant world, so you need small restaurant marketing strategies that encourage them.
Before ordering from a new restaurant, people will check reviews to see if other clients had a positive experience. Positive reviews can be considered word-of-mouth recommendations.
Here are some small restaurant marketing ideas to help you get more positive reviews:
Claim your restaurant on review platforms: to get the reviews, you first need to allow people to write them. Therefore, make an account on every review platform used in your area, such as Google, Yelp, or TripAdvisor, and update all the relevant information (especially a link to your menu/website);
Offer discounts on social media: encourage people to leave positive reviews by giving them a small discount;
Involve your staff: Train your staff to ask diners to leave a positive review if they had a good experience at your restaurant;
Reply to negative reviews: negative reviews can seem like the end of the world, but they are not. They are a learning experience and will help you grow. If you reply to every review, negative or positive, you have a chance to change the client's mind. Apologize for their bad experience, offer a solution, and invite them to talk in private. Only mention your restaurant's name when you reply to positive reviews. You don't want the internet to index a bad review forever.
9. Start email marketing
Small restaurant marketing strategies should focus on client retention as loyal customers are the core of the business. An effective way to invite former clients to pay you a new visit is to implement an email marketing campaign.
If you have no knowledge about how email marketing works, it may seem complicated at first, but you will get the hang of it in no time with the Autopilot module from GloriaFood.
The useful feature allows you to set up your email campaigns once, and, as the name predicts, the emails will be sent on autopilot.
Autopilot segments your customers to deliver targeted campaigns according to their purchasing history. To get started on your email marketing journey, go to admin -> Autopilot Selling -> Autopilot.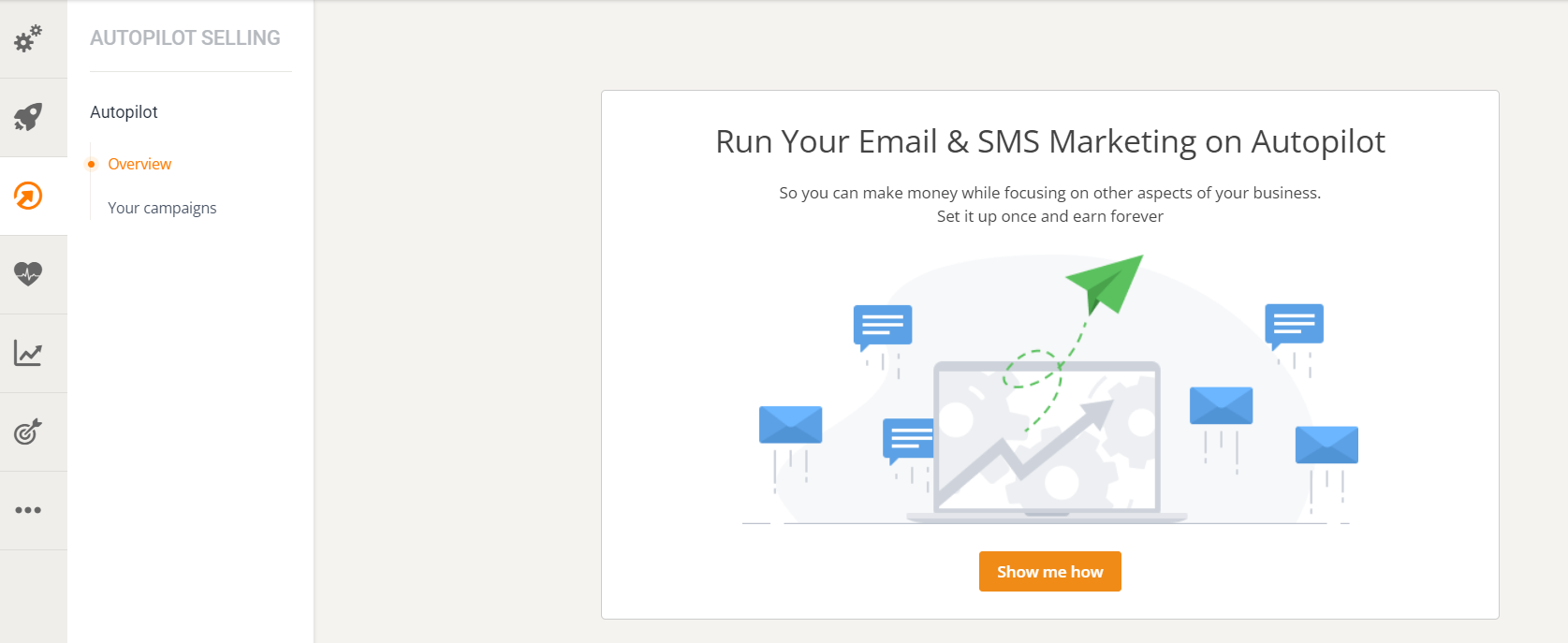 If you want to learn more about the Autopilot feature, check out this video:
Read more: Ultra-effective Email Marketing Ideas for Restaurants
10. Implement relevant promotions
Promotions make the small restaurant marketing world go round! It is one of the most relevant restaurant marketing strategies in 2022 as it delivers immediate results. People enjoy getting a discount for good food rather than paying the full price.
The best way to implement small restaurant promotion ideas is directly in the restaurant menu, so clients can easily see them when ordering. How can you do this?
Easy, with the online ordering system from GloriaFood. You will get access to tried and tested promotion templates that allow you to create deals you can add at the start of the menu for the best visibility.
To create a promotion, you go to admin -> Marketing -> Promotions, choose the promotion you want to add from the list and follow the provided steps to set up the name, image, and other advanced settings such as the time of day you want it to show.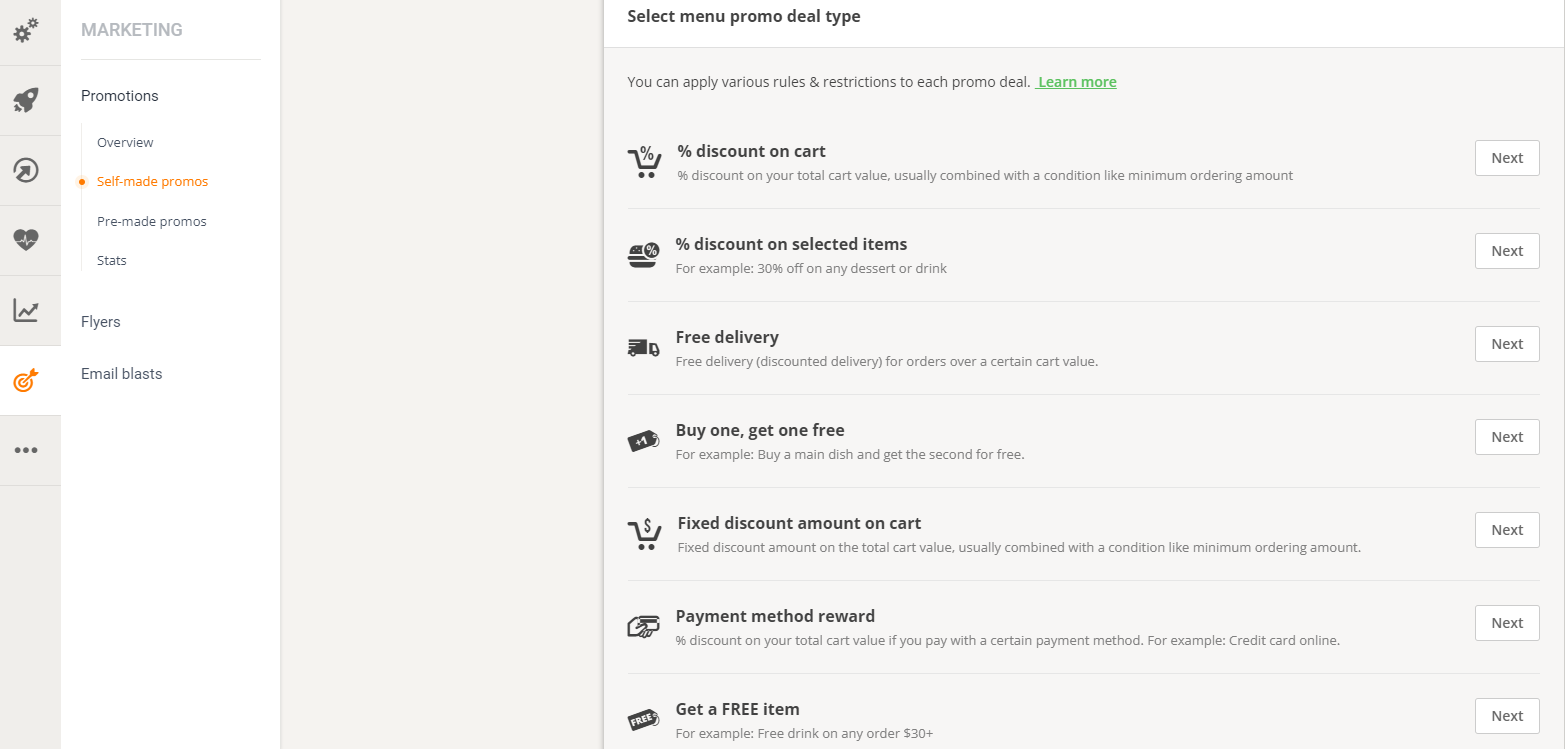 After you set up the desired promotion, it will be automatically added to your online menu. Clients will see the available promotions at the beginning of the menu and will surely be tempted to get that discount or free menu item.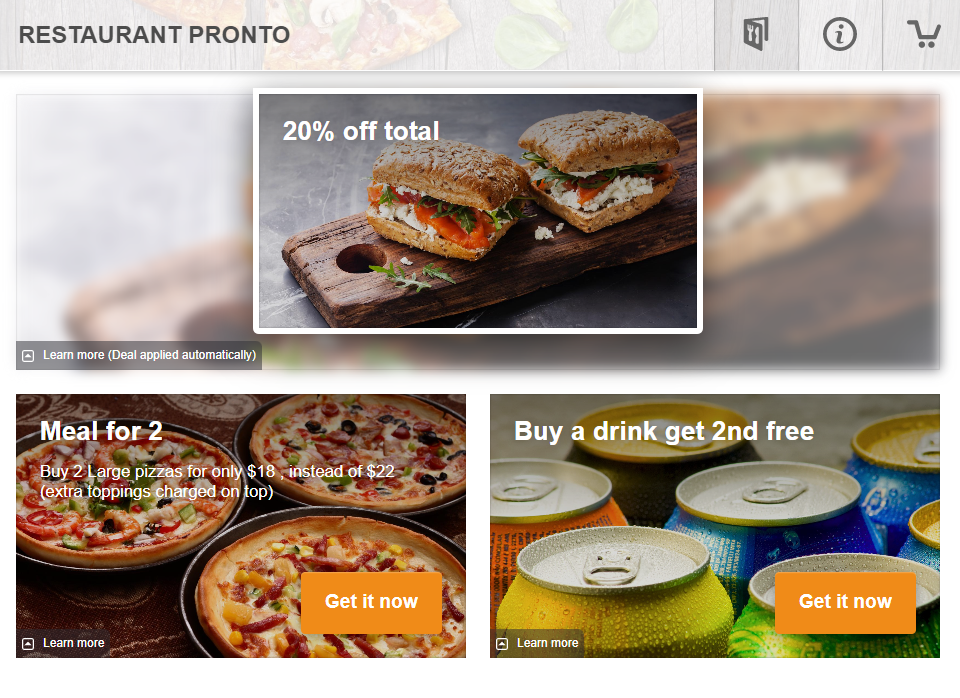 Read more: 10 Restaurant Website Promotion Ideas for Delivery & Takeout
Conclusion
Your restaurant's size should not prevent you from achieving your big dreams. By implementing the right small restaurant marketing strategies, you will consistently gain new and return clients and up your profit margin.
You don't have to have a huge marketing budget; an online ordering system and an optimized website are the base you need to transform your restaurant into a well-known brand that sells.