The Ultimate List of Restaurant Website Mistakes - How to Spot and Avoid Them
By

Silvia Palasca

APR 6, 2020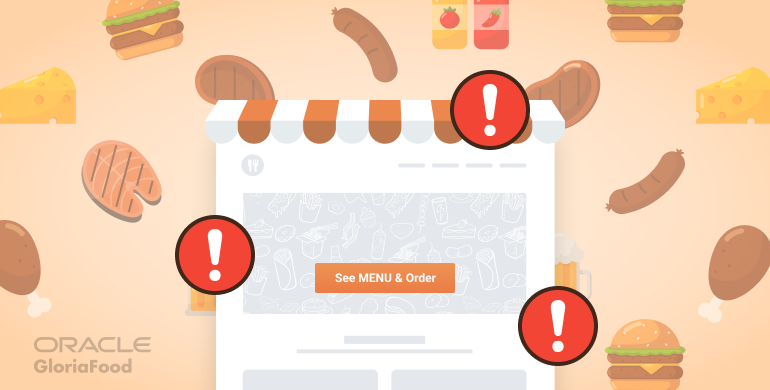 Most diners wouldn't trust a restaurant that doesn't have a website. The site works as your 24/7 sales agent, and you need to make sure it conveys the message you want, to the type of clients you hope to attract, in an engaging way. To help you stay on top of your game, we've created a list of the most common restaurant website mistakes that you should avoid. You can consider this a "what makes a bad website checklist".
Structural and Technical Mistakes in Restaurant Websites
When creating a website for a restaurant, keep in mind the two entities for which you build it: people and search engines. Each needs to find the information they are looking for fast and effortlessly. Continue reading to find out what are the most common errors that can be made when creating web pages.
Not mobile-friendly
Research shows that over half (52.2%) of web browsing comes from a mobile device. In the case of people looking for a restaurant, this percentage could be as high as 80-85%, because usually, they are on the go, trying to decide where to eat. For these potential clients, you need to think mobile-first. A website that is not mobile-friendly will make you lose business and get a bad reputation.
Ask your developer to create a website that allows visitors to call you quickly, make a reservation or see the menu and picture gallery, all from their smartphones or tablets. Modern platforms like WordPress have beautifully crafted themes that are also mobile-responsive. If you feel this is too complicated, you could use an off the shelf system, like GloriaFood which is already mobile-first.
Read more: Benefits of Responsive Web Design and How to Get It for Your Restaurant Website
JPG or PDF menus
Using the PDF or image (JPG) formats for the food list instead of creating a dedicated website page can be included in the non-responsive fault mentioned before. However, it is so widely spread and so wrong, we think it deserves its own spot as a capital sin in the book of restaurant website mistakes. This is how a responsive menu should look: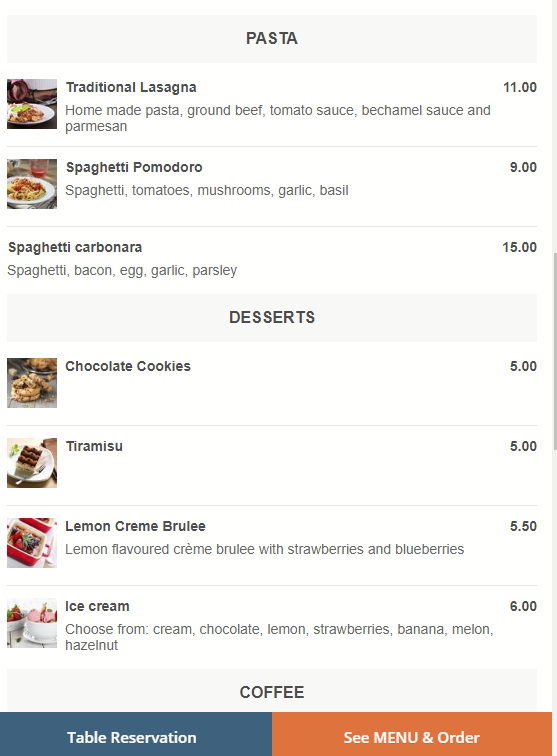 If you use these formats, you force your clients to download and to zoom in to see additional documents, usually taking them away from your page. If they have already closed the browser, they might do another search and find a competitor. Also, they could get tired of waiting for the menu to download and leave your site altogether.
Learn more: How to Use an Online Menu Builder to Boost Restaurant Sales
No local SEO
Regardless of whether they go out to eat or order at home, most people choose restaurants close to them. You need to optimize your website for searches that would be relevant to people near you. Include terms like the name of the neighborhood, streets or landmarks near your place to make it easier to find. Also, describe the type of cuisine you offer and even the name of your chef if he or she is famous.
Hard to find information
Think about clients and search engines every time you create a website or update an existing one. First, make sure you have a search box. Some people don't have the time or patience to navigate your website, so not offering them the opportunity to look for information is a huge restaurant website mistake.
You also need a clickable phone number and email address. If you have a brick and mortar location, include a map with directions on how to get to you.
Make sure to state clearly if your restaurant takes reservations or not, and if these are mandatory.
If you include a contact or reservation form, test it on all platforms and devices; otherwise, it can lead to frustrated clients and missed business opportunities.
Old-School Vibes
Web design trends are like fashion. What was cool five years ago is considered obsolete now. Since Adobe discontinued Flash Player, if you have a Flash Website or important Flash components on your current website, it's time to replace those as soon as possible. These are not mobile-friendly and are some of the worst mobile websites. Moreover, later in 2020, the website will become unusable.
Another trend that has to disappear is auto-playing music on websites. Imagine you are in a meeting and looking for a restaurant for you and your colleagues, and a song starts playing out of nowhere after you have already been waiting a few extra seconds for the website to load. This is one of the worst restaurant website mistakes you can think of.
If you worry that this would cost you too much, you can try a cheap, off the shelf, easy to customize solution like GloriaFood's restaurant website builder. It is already pre-built to avoid these restaurant website faults.
Create a visually striking menu filled with royalty free images
Enjoy GloriaFood's library of high-quality stock images
Create an online menu
Website Design Issues
The look and feel of your restaurant's website are also important to clients. They use this as a first clue to evaluate if they are interested in what you offer. Here are some of the most common design mistakes that you can easily avoid.
You might also like: Must-Have Restaurant Website Features
No Brand Convergence
Your website is your digital storefront and should convey your message as clearly as possible. The colors, fonts, tone of voice, and pictures should all tell your story and give potential clients a taste of what they will find in the restaurant.
Since web design is much cheaper than interior design, some restaurant owners are tempted to have expensive-looking websites. This is one of the common mistakes when designing a website. The problem with this approach is that if you create a more elegant website than your restaurant, your new clients will be disappointed because they were expecting a high-end experience.
Low-Quality Pictures
Even if you can get away with pictures taken with a phone for social media, when it comes to your website's gallery, you need high-quality, good-resolution, mouth watering images. Sometimes, pictures do all the persuasion you need. Think about your food pictures as an investment and hire a photographer. You can crop and reuse the photos on social media, flyers, or banners.
Related: 10 Successful restaurant flyer ideas to help you sell more
Not using food colors
Even if it is cliché, all of us associate colors with different emotions and actions. For example, bright, neon colors are better for gyms than restaurants. When creating your website and interior design, using food colors like rich browns as well as shades of fresh ingredients like fruits and vegetables will make visitors hungry. Avoid blue which is not found in any natural food; you can use it only as a highlight or to convey a Mediterranean theme. Bet on red if you want to make people crave your products., Coca-Cola and KFC know their color marketing rules.
Customer Experience (CX) Problems
Your restaurant's website needs to be as friendly and professional as your best employee. Imagine if one of your patrons would have to ask two or three times before they get their coffee. It is the same if they have to use a website that is not optimized for CX.
No updates
One of the worst customer experiences you can provide is having a website that has not been updated to reflect your current menu and opening hours. If your guests chose your place for a couple of dishes that are no longer available, they will not only be disappointed but could even leave bad reviews (with good reason.)
To avoid this problem, be sure that you either have a designated team member to check these for you or outsource the website maintenance to a dedicated provider.
No social proof or prominent social media
When selecting a restaurant, most people look for others' opinions on the place, food, and service. They can do this by using third-party services like TripAdvisor, but it is a good idea to have some testimonials on your website. To show that these are from real clients, use a social media import plugin and connect your website to your Facebook reviews.
Even if you have consistent social media pages and you want to use them as social proof, it makes no sense to replicate them on your website in their entirety. This slows down the site consistently and creates duplicate content. Just place working buttons in a visible area first, and again in the footer.
Read more: Why Restaurants Need Social Media
Avoid costly website mistakes, and generate a foolproof restaurant website in a few easy clicks, watch this video tutorial to find out how.
Don't let mistakes ruin your restaurant's success
Get a sales optimized website that runs smoothly
Start now
Final Thoughts
We hope we've given you some ideas about what to avoid when creating a website.
Clients are heavily influenced by what they find online and your website acts as a digital storefront, especially if they had no previous interaction with your restaurant before. In fact, a social experiment showed how a great online presence can manipulate general opinion and turn a non-existing restaurant into a London craze. We don't advise you to manipulate, but you should aim to have a site that offers a flawless experience and serves both people who are curious about your place, as well as established patrons.