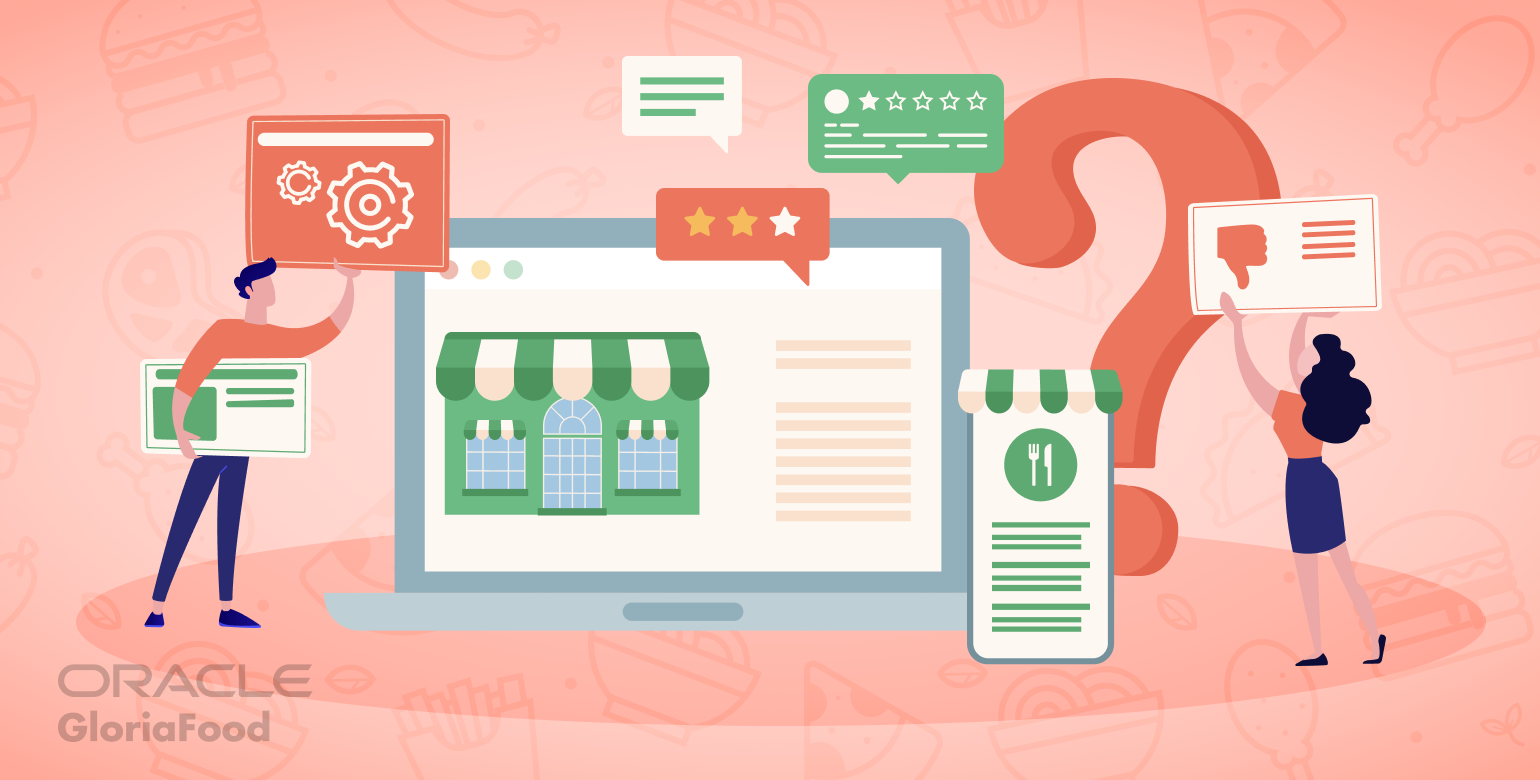 According to the National Restaurant Association, 30% of restaurants fail in the first year. The restaurant business is notorious for being complicated, but the fact that 1 in 3 restaurants fail could scare anyone away from opening their dream restaurant.
During the Covid-19 pandemic, many restaurants moved their business online as a means to survive, and they never left. Restaurant owners discovered they could make a big profit online and strive daily to promote their business and attract new customers.
But why do restaurants fail? In this article, you will find out the most common reasons for restaurant's online failure and how to prevent them:
Why restaurants fail and solutions to guarantee your success:
Why do restaurants fail online & solutions to every problem
Reason 1: No optimized website
The website is your restaurant's virtual location that potential customers visit to check out the menu and order if they like what they see.
Contrary to an actual location where people can be encouraged to order by a beautiful décor or helpful staff, you only have your site's design and functionality to help you convert online.
Why do restaurants fail because of a bad website? Let's see:
Without SEO optimization, no one will be able to find your website when they search for exactly the type of food you sell;
Slowly loading pages will determine people to exit immediately as it is indicative of an unmaintained website. Learn how to reduce server response time to get your restaurant website to load faster.
Too many widgets, pop-ups, and banners overwhelm the clients and ultimately annoy them as nobody has time to close a hundred pages to get to the important information;
A random mix of elements and colors will look unprofessional and may lead people to believe the food matches;
Without a visible menu button, potential customers won't be able to reach your menu and order;
No working hours and contact information available can seem suspicious. Is this even a real restaurant website?
Solution
All the problems mentioned above and much more can be easily solved with a Sales Optimized Website. Check out how easy it is to get one from GloriaFood.
All you have to do is sign up, fill in your restaurant's information and menu, and get a customized website in just a few seconds!
Here are some of the features of a Sales Optimized Website that will help your restaurant succeed:
One-page template: it loads fast, is intuitive to navigate, and will help people enjoy their experience browsing your website;
SEO-optimized: you don't need to hire SEO experts for the job. The website automatically does the SEO for you, so your restaurant will be on the first page of Google;
Visible menu button: placed in an easy-to-notice spot and sporting a contrasting color, the menu will be the first thing everybody notices when they access your website;
Customizable: you can add and rearrange sections as you please, including essential information such as Opening Hours, Contact, Review Portals, Jobs, Gallery, and Social Media.
Here you can see a demo of the sales optimized website to get a better idea of how your own website could potentially look.
You can make an optimized restaurant website in under 10 mins by following these detailed video instructions.
Reason 2: No online ordering system
A restaurant's online profits come from deliveries. But how you handle the process – from taking orders, organizing them, communicating with the staff, to delivering the food can make or break your business.
For example, if you receive your customer's orders through calls, SMS, or social media, there are countless problems that can act as signs a restaurant is failing:
You get the wrong details about the order or the address. Imagine the bad reviews if people complained they got the wrong dish or they never got the food because you misspelled the street;
You don't answer an order fast enough. Let's say someone sends you a message with an order on Facebook, but you forget to check your social media. You lose both the money and the client.
Solution
The best solution is the free online ordering system from GloriaFood. It will transform your website into a money-making machine in just a few minutes.
Setup your account -> Create a delicious menu -> Add the menu button to your website -> Use your online order-taking app to accept orders and sell more food.
The setup process is easy and fast, the navigation is intuitive, and, in no time, you will be ready to receive orders on your online ordering system. You can confirm an order with just a tap on your phone's screen.
Check out this video on how the online food ordering system works:
The online food ordering system will have numerous benefits for your restaurant:
Streamline the ordering process: no more human error, the correct order will be visible on the screen, and you will have 3 minutes to confirm it;
Better experience for customers: they can order from the comfort of their home and will be kept in the loop the whole time;
Increased visibility: promote your restaurant with a delicious menu and mouth-watering pictures.

Guarantee your restaurant's online success

Install an online ordering system to your website for free

Start now
Reason 3: A big menu
One of the reasons restaurants fail is an inadequate menu. When you decide to open a restaurant, you may be tempted to create an extensive menu with many dishes so clients have many options to choose from. But the truth is clients prefer a smaller menu for several reasons:
Creates trust: a large menu with many different cuisines will make clients think your food is not good. How could you deliver high-quality food when you serve pizza, burgers, traditional food, Italian food, etc.?
It is faster to read: people don't like to spend hours reading through the whole menu. They are hungry and want to find a delicious dish to order fast.
A big menu will not only deter clients from ordering but will create inventory problems for your restaurant. How will you always manage to have fresh ingredients to prepare so many different dishes? You will have problems with food spoilage and spend a lot of money to keep replacing the expired items.
Solution
Choose to create a small menu with a few dishes made with fresh ingredients and give your clients the option to customize their order. For example, let's say you own a pizza restaurant. Allow customers to choose what type of dough and toppings they want.
With GloriaFood's online ordering system, setting up a menu is easy. You can create your menu with the helo of intuitive navigation and instructional videos in no time. Learn more about how to make an online restaurant menu for your website in this video:
Here are a few tips to ace menu marketing:
Use mouth-watering pictures: images are the most important part of the menu. A good photo will encourage clients to click on the order button. Consider hiring a professional photographer or use the provided images from the online ordering system;
Long, creative descriptions: don't just list the ingredients. Offer the clients a reason to try out your food. For example, talk about the ingredient's source, or try a funny caption - humor generally builds trust.
Read more: How to customize your restaurant's menu
Reason 4: Bad menu pricing
Why do restaurants fail in the first year? Because they either price their menu items too low or too high. Some restaurant owners initially try to price their food very low to attract more clients, but they end up closing the establishment because they did not make a profit.
On the other hand, if you start selling your food at a very high price for your audience, you won't have many clients because most people won't be able to afford to order from your place.
Solution
To profit as a restaurant, you must carefully evaluate every cost (ingredients, labor, utility bills) and price your menu items accordingly. Here is a menu pricing formula that will help you price food by food cost:
Price = COGS/Ideal food cost, where COGS means the cost of goods sold, in other words, how much you paid for the ingredients used in the dish. The ideal food cost is the percentage of the whole cost you would like to be reserved for food. For example, 20% can be a profitable choice.
Reason 5: Not enough repeat customers
For a restaurant to successfully pass the one-year mark and many more, you need orders. Those orders can come from new clients each time, or from repeat customers.
You can only get so many new people to order from you, but you will constantly have orders to deliver if you focus on encouraging repeat clients.
Why do restaurants fail can be easily explained with a bad strategy of only marketing your food to a new audience every time, without taking the time to create a great experience for people so that they will keep coming back to order.
Solution
You can implement many strategies to get the repeat customers you need for a successful business. First, make sure to offer the best online experience possible to give clients a reason to come back, such as a smooth-running website and an efficient online ordering system.
Afterward, it is all in the marketing. Implement email marketing campaigns directed at people who have already made one purchase and offer them an incentive to return.
For example, the Autopilot feature from GloriaFood sends out tried and tested SMS and email campaigns specifically targeted to increase return customers. You only have to set up the campaign once and then sit back and reap the benefits as the campaign is sent automatically.
Learn more about the Autopilot feature from this video:
The online ordering system also allows you to implement promotions. You can choose the type of offer from the promotion templates, some free, some paid, and access the advanced settings to segment the audience. Target existing clients to encourage them to make another order.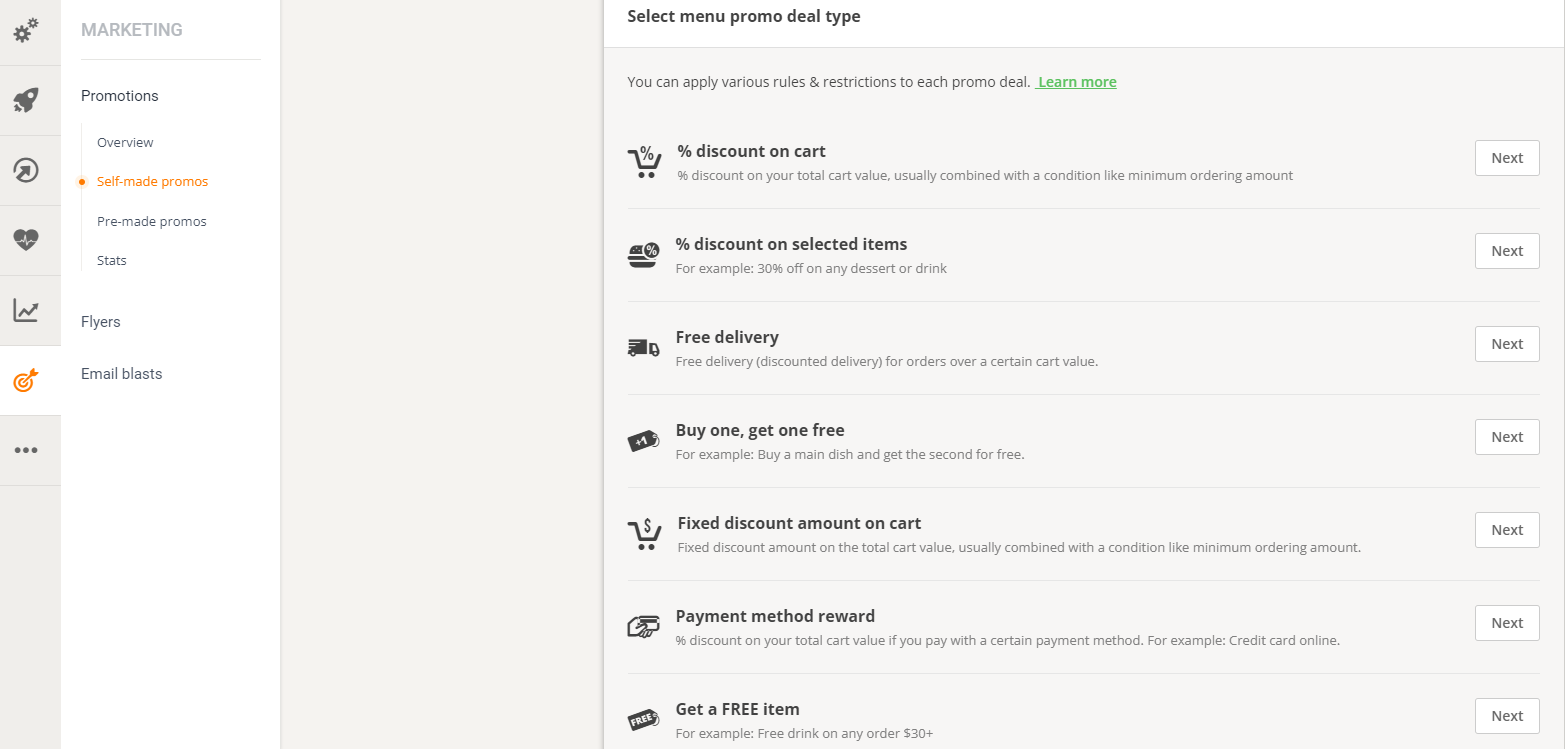 Read more: 5 Simple & Effective Customer Retention Strategies for Restaurants
Reason 6: Poor customer experience
The customer's experience is one of the top reasons why restaurants fail, both offline and online. As mentioned above, all the interaction the clients have with your restaurant matters, from the second they open your website to the moment they decide to leave a review.
Why do restaurants fail online? Bad reviews! As everybody checks a restaurant's reviews before ordering, too many negative reviews will close your business. People trust other customers' experiences and won't risk getting food from a place that disappointed many other clients.
Solution
The best solution is always prevention. Try to solve a problem as soon as it arises. For example, if somebody alerts you they did not receive the whole order, it is better to reimburse them or offer a discount for a future meal than risk getting a bad review.
But, errors do occur, and getting negative reviews is often inevitable. The way you react to them can make a difference. Seeing your restaurant slammed online can be disheartening, but try not to act angrily and have a plan.
For instance, every two to three days, check the review platforms (Facebook, Google, Yelp, TripAdvisor) and answer every positive or negative review. You can encourage a client to change the review or show others that you care and are open to change if you reply calmly and offer a solution.
Follow this formula when replying to bad reviews and customize it to your needs:
Apologize for their experience – Thank them for their review – Empathize with their situation – Offer a solution.
Reason 7: No online marketing
If you ask any expert "why do restaurants fail," one of the top reasons will always be no marketing. How can your restaurant thrive if nobody knows about it? All your money goes down the drain if you don't put effort into promoting your business.
Especially if you are just opening up, you must create hype around your restaurant and promote your Unique Selling Proposition to encourage people to order.
No matter how good your food is and what great service you provide, you need marketing to get clients in the door or, in this case, the ordering system.
Solution
Marketing is complex, but there are a few key steps every restaurant has to take to ensure their visibility online. Check out this easy-to-follow advice on how to promote your business:
Optimize Google My Business: do you want your restaurant to be on the first page of Google when somebody looks for food near your location? You need to claim your business on Google My Business and offer all the important information such as location, working hours, and a link to the menu;
Add a smart link to your Facebook page: enable clients to order directly from your Facebook Page. Go in GloriaFood's admin -> Setup -> Publishing -> Facebook, copy the smart link provided and add it to the Start Order button on Facebook;
Post constantly: create a content plan for all your social media and try to post quality images and descriptions at least three times a week. End your posts with questions and organize competitions with prizes to increase engagement;
Consider sponsored content: reach a bigger audience and get more clients with targeted ads.
Read more: 10 Restaurant Website Promotion Ideas for Delivery & Takeout
Reason 8: No reporting and data analytics
If you don't measure everything, you won't even know why your restaurant failed. There could be a drop in sales, you could be missing an important marketing channel, or you could be getting many bad reviews, but you won't know if you don't constantly monitor it.
Because a restaurant's online success depends on marketing, you need data analytics on every aspect, such as how clients reach your menu, how many clients your website converts, or how many users ordered directly from Facebook. This way, you can see what works and doesn't and change it to prevent failure.
Solution
The solution here is obvious: you need a tool for reporting and data analytics. Good news, you have such a feature already available in the online ordering system from GloriaFood. After setting up your account, you can monitor all the important data and receive suggestions for how to sell more.
To access the data, go to admin -> Reports: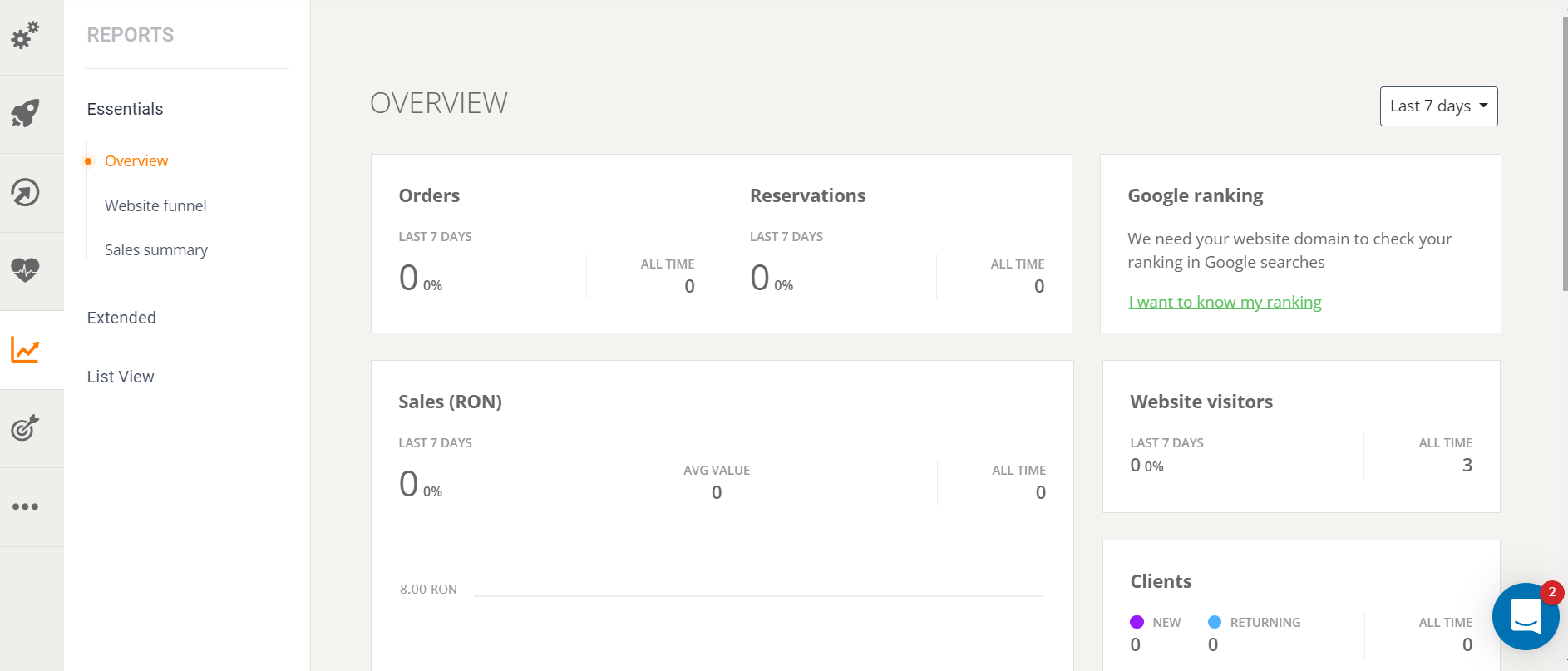 The performance data is grouped into three sections:
The Essentials: you can see your sales summary, the connectivity report of the order-taking app, and a map of your delivery orders;
The orders: you have access to details about pickup and deliveries (with graphs) and sales per ordering channel, website, or Facebook (desktop or mobile);
The lists: you get the client's contact and order details.
Read more: How to grow your food business with Restaurant Data Analytics
Easily monitor your restaurant's performance
Install the best free online ordering system in minutes
Start now
Conclusion
The answer to "Why do restaurants fail online?" can be quite complicated, but you can help your business thrive by learning from other people's mistakes.
An optimized website and an online ordering system are imperative for a successful restaurant, and so are good customer experience and constant data analysis.
Make sure to follow all the advice provided above if you want to increase your chances of not being one of the three restaurants that fail in the first year.